There's no doubt that top-loading washing machines are easy to access. However, the technology is what decides how clean your clothes will be, provided everything else was done right like the settings, temperature etc. And guess what! In some cases, you don't have to even select the wash settings. It happens automatically. This feature is called a one-touch operation.
There are many such features present in washing machines that will make your life easy. So if you are planning to buy a washing machine and want to check out your options, this article is for you. Do read it till the end to know everything about washing machines and to know what you are signing up for.
You can directly jump to the section of your choice and come back later for the others or continue reading in the flow which we thought would be great for you.
1) Top 10 Washing Machines In India
2) Top loading washing machines Pros and Cons
3) Common problems in machines
4) Frequently Asked Questions
5) Terminology
The washing machines can also be bought from Croma, one of the leading electronic goods stores. The shop has its presence online and offline so you get mobiles, headphones, speakers, TVs, refrigerators at the click of a button. Don't forget to check out Croma offers when you shop from its eCommerce store. You would safely be able to make some savings on the products you buy.
Top 10 Top – Loading Washing Machines
Last update was on: January 27, 2022 2:34 pm
Best Fully Automatic Top Loading Washing Machines
Samsung Inverter Fully Automatic Washing Machine(WA65T4262GG/TL)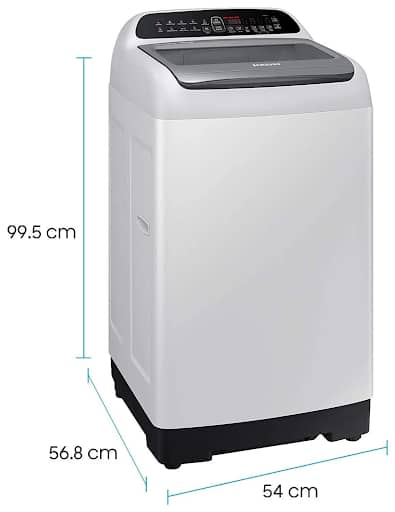 The height of the Samsung washing machine is 99.5 cm. The base is 54 cm x 56.8 cm. The washing machines come with inverter technology that causes less noise, consumes less energy and gives long-lasting performance.
Special Features:
Inverter technology,
Wobble technology,
Energy efficiency (5-star),
Tub clean cycle option,
Fully automatic,
Capacity: 6.5 kg
Colour: Light grey
Suitability: Families with 3 to 4 members
Verdict: It's an excellent option if you want great wash quality at an affordable price.
LG Inverter Fully Automatic Top Loading Washing Machine (T65SKSF4Z)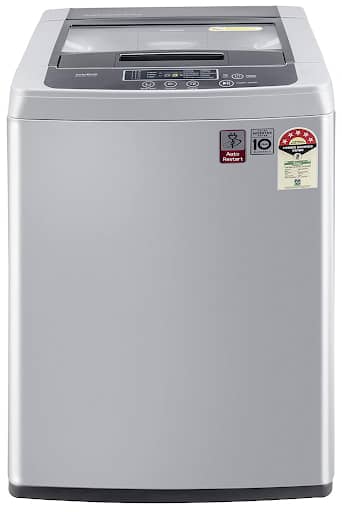 The washing machine comes with a tub sterilization feature that cleans the tub and prevents unpleasant smells. Moreover, it auto restarts in case of power loss from the same cycle. The body is made of stainless steel that prevents rust and increases its life. The highlight of this machine is its smart diagnosis feature that lets you see what is wrong with your machine through the SmartThinQ app.
Special Features:
5-star energy rating
Smart inverter technology
Waterproof motor
Child lock
Auto balance system
Capacity: 6.5 kgs
Colour: Middle free silver
Suitability: Bachelors and couples
Verdict: Choose this washing machine if you want an efficient wash and smart features.
What is a digital inverter?
Washing machines that have digital inverters use strong magnets that reduce friction in the motor. This leads to smoother functioning, creating less noise and less vibration. If you are planning to place it in or near the living space and also want to keep your budget in check,  an inverter-based washing machine is for you.
Amazonbasics Fully Automatic Top Loading Washing Machine (B07V838GTT)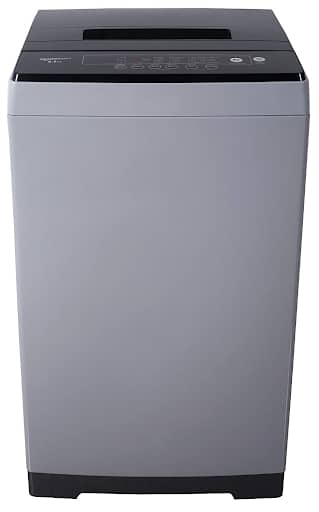 The washing machine is enabled with Fuzzy logic which automatically measures the wash load and programs the wash cycle for optimum results. Just start the operation with one touch and let the machine do the rest. It has a sturdy and stable thus the machine hardly vibrates during wash cycles. It handles high-speed spins with ease ensures less damage and better wash (Diamond technology).
Special Features:
Energy and water-saving
Tub clean function
Rat cover protection
Rust-free body
Efficient washing
Capacity: 6.5 kg
Colour: Dark Grey
Suitability: families with 3-4 members
Verdict: It's best if you are looking for a great washing machine on a budget.
LG Fully Automatic Top – Loaded Washing Machine (T70SKSF1Z)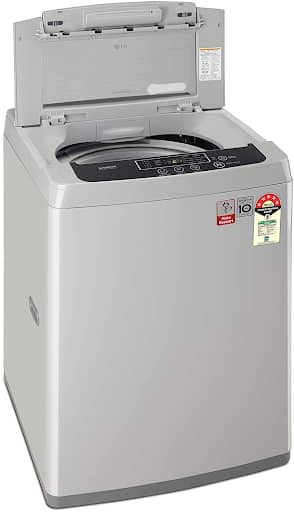 This LG washing machine has smart cleaning technology which gets rid of up to 99.9% of detergent residue. It comes with the memory backup feature which lets you reuse a previous wash setting. It has a turbo drum feature that creates the perfect wash by rotating the drum and the pulsator in opposite directions thereby removing the toughest dirt particles.
Special Features:
Inverter technology
Corrosion-resistant motor
Turbo drum
Fuzzy logic control
Auto balance system
Child lock
Capacity: 7 kgs
Colour: Middle free silver
Suitability: Families with 3 to 4 members
Verdict: It's an excellent choice for daily washing requirements.
What is the balance feature?
When the agitator/ spinner or the drum is unbalanced, the washer starts rocking creating a loud noise and more vibration. A loose tub causes the washer to shake. Also, an uneven platform will make the machine unbalanced. A washing machine that has an auto-balance feature ensures it is balanced at all times.
Godrej Eon Audra Top Loading Washing Machine (WTEON ADR 75.0 ROGR)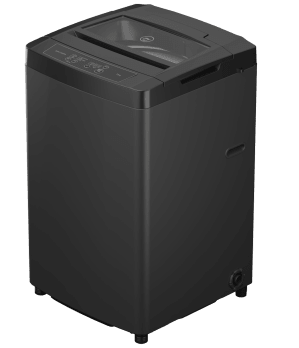 It has a pulsator wash technology which leads to better penetration of detergent for easy cleaning. Moreover, it is equipped with an in-built soak technology that soaks the clothes for about 5 to 8 minutes in each wash program for the effective removal of stains. Toughened lid provides the machine with additional strength.
Special Features:
5 Star rating
Child lock
Quick wash (within 29 min)
9 different wash programs
Auto balance system
Capacity: 7.5 kgs
Colour: Royal Grey
Suitability: Small families
Verdict: It's an excellent choice if you are looking for a strong washer that washes effectively.
IFB Fully Automatic Top Loading Washing Machine (REWH AQUA)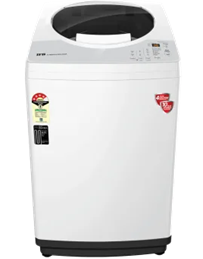 The machine has a 3D wash technology in which water is jet sprayed into the washer from 3 nozzles instead of two. This helps in thorough soaking of clothes leading to an excellent wash. It has a lint tower filter that traps the lint and other microfibers released from clothes that otherwise enter the drain and harm the environment. It also has a state-of-the-art inbuilt heater which increases the temperature of the water for better cleaning.
Special Features:
5 Star rating
Protective rat mesh
The smart weight that adjusts the program as per load
Auto balance system
6 wash programs
Capacity: 6.5 kgs
Colour: White
Suitability: Bachelors and couples, families
Verdict: It's a good option if you are looking for an efficient washing machine filled with useful features.
Did you know?
The first washing machine was a small box that people filled with clothes and rotated by hand.
Whirlpool Royal Plus Fully Automatic Top Loading Washing machine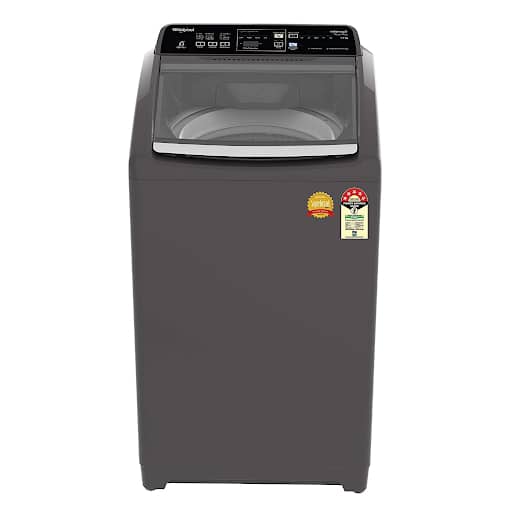 The washing machine's Spiro Wash action moves clothes thoroughly leading to a more consistent wash. It has an Aqua store feature that lets you store water in its tub for later use. Moreover, you can delay the wash from 3 to 24 hours as per your convenience. It's hard water friendly.
Special Features:
5-star energy rating
Lint filter
Auto tub clean
Express wash – reduces wash time by 30-40%
Zero pressure fill technology – fills water tub even in low water pressure (50% faster!)
Capacity: 7.5 kg
Colour: Grey
Verdict: if you are looking for a washing machine that will make your life convenient, this is the one to go for.
Whirlpool Fully Automatic Top-loading Washing Machine (White Magic Royal Plus)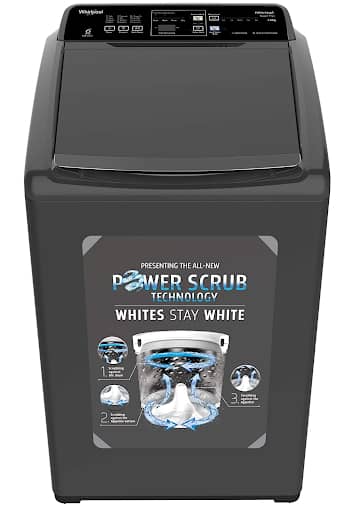 The washing machine has a 6th sense technology which takes in the appropriate water level as per the load. Its Express Wash feature reduces the wash time for clothes, thereby saving energy and detergent. It has a drum with 50% fewer holes than other machines which decrease the amount of lint generated and washes clothes smoothly.
Special Features:
Hard water wash
Auto tub clean
Lint filter
Capacity: 7 kg
Colour: Shiny grey
Verdict: it's a great choice if you want useful features along with good wash quality.
Panasonic Fully Automatic Top Loaded Washing Machine (NA-F65L9HRB)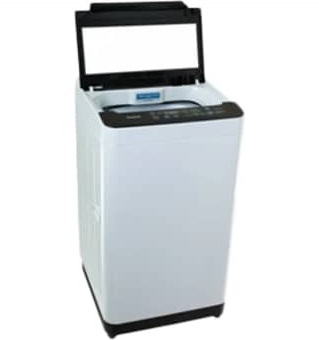 It has an Active foam technology which creates high density foam before the wash cycle. This carries away all dirt particles even before the cycle starts and also leads to deep penetration of the detergent for thorough cleansing. In addition to it, the machine works on Active beat technology which uses a 3-beat water action that causes water movement in horizontal and up and down motion through high pressure water jets leading to complete cleansing of the clothes.
Special Features:
5 Star rating
Fuzzy logic
Filter
Tub clean, tub dry
Rust-proof body
Capacity: 6.5 kgs
Colour: White
Suitability: 4 – 6 Members
Verdict: This washing machine is affordable, provides great wash quality and is easy to use.
Onida Fully Automatic Top Loading Washing Machine (T70FGD)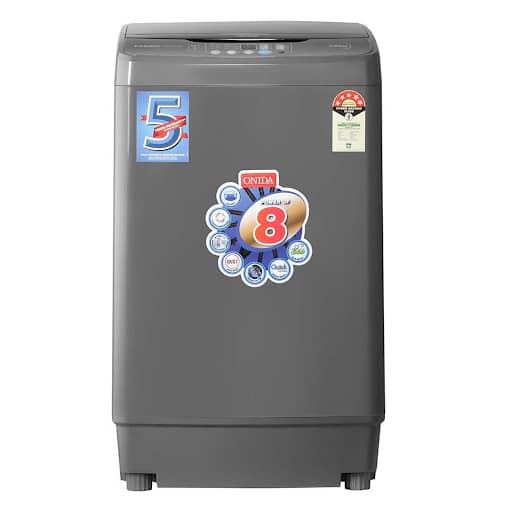 The machine uses less water and still provides a great wash, even if you increase the load. Its Aqua Saver Technology helps adjust the wash cycle duration for a power-saving wash. Its inside drum looks stylish, thanks to the crystal drum technology which gives it a crystallized look. This also allows for faster speed leading to more removal of water from the clothes and drying them fast.
Special Features:
5 Star rating
One-touch operation
Anti-rust body
Shock-proof body
Magic filter – traps dirt and lint
Capacity: 7 kgs
Colour: Grey
Suitability: Large families
Verdict: It's an excellent option if you are looking for a great washing machine and don't mind a little bit of manual effort.
Pros and Cons of Top Loading Washing Machines
The following advantages and disadvantages will also give you an ides of which is better:
Top Loaders Vs Front loaders
Advantages:
Top loaders have the following advantages:
They don't have agitators, hence have space for larger loads
They do not develop mold, mostly (Consumer Report)
High efficient top loaders dry clothes faster thus using less energy
They mostly produce less vibration than front loaders (Consumer Report)
They are gentle on fabrics than front loaders (Consumer Report)
They are less expensive than front load washing machines
Comfortable to use than front loaders as one doesn't need to bend down
Faster cycle times than front loading
Disadvantages:
Top loaders do have some lower points too!
They spin faster thus can cause tangling of the clothes
Normal detergents don't work well with them
Repair costs might be high
Some users complain that top loaders create lots of lint
Top loaders work better with cold water; warm water might reduce their efficiency
They are said to use more water than front loaders
Do you think a front load washing machine is for you? Check out our list of Best Front Loading Washing Machines in India before you finalise.
Problems You May Face with Top Loaders
Here are some problems associated with your washing machine.
Noise problem in the Washing machine
Loose drum bearings lead to a rumbling sound in your washing machine which aggravates during the spinning cycle. In such instances, you need to call a mechanic to replace the scrum bearings. The mechanic removes the drum by using a flattened screwdriver and replaces the bearings that sit at the back of the drum.
Smell problem in the washing machine
If you get a rotten egg smell from the washing machine, it means that bacteria is growing inside your washer because of soap residue, lint or dirt.  You will need to clean the washer. The washing machine will also smell musty due to mould being present inside it. If you use excess soap, the water remaining in the machine stays for longer creating mould. Regularly clean the tubs and the washer to avoid smell problems.
Washing machine leakage
Leakage is caused due to faulty hose connections or a compromised pump.
Washing machine shaking a lot
This happens due to a faulty pump.
The door won't open
Top loading washing machines are easy to use thanks to their easily accessible top lid. The lid is usually made up of transparent plastic or even glass. While using a washing machine that has a glass lid, you must take extra precautions while handling the door.
The washing machine door has an interlocking system that activates when the cycle speed is above 50 RPM or the washer is sensing load before or during the fill. But sometimes, even after the cycle is complete, the door may not open. This can be due to water still being present in the washer. In order to relax it, try running a spin or drain cycle. If it still doesn't open, a part of the door mechanism might be broken. In this case, you can call a mechanic who will see the broken parts and replace them.
Washing machine Overflowing
Washers overflow due to faulty pressure switches or loose water inlet valves. Replace the faulty parts in order to fix the problem. Sometimes overflowing happens due to low water supply.
Clothes tearing
Tearing clothes is a major issue. It might be happening because they get stuck if there's a gap between the drum where they get stuck or the presence of a burr. Sometimes simply excessive load can lead to tangling and tearing of the clothes.
FAQs
How to clean the top-loading washing machine tub?
You need chlorine bleach, hot water and vinegar to clean a tub completely. First use chlorine, then rinse it with hot water. Later add vinegar to add that fresh smell and kill the germs.
Can I use hot water in the top-loading washing machine?
A washer functions with hot water too. But heating water required more power consumption. Moreover, you don't need hot water to wash clothes as laundry detergents are good enough.
Which powder to use for top loading washing machine?
Use a powder that is specially designed for tough stain removal like Surf Excel, Ariel. Normal detergents are not good for energy-efficient washing machines and they can even damage them.
Terminology
Tub and Drum
The inside of the washer where the clothes get washed in the tub. There is another drum surrounding this tub which holds the inner tub and also water. This is called the outer drum.
Agitator
Agitators are tall spindles in the middle of the washer that twist or agitate in order to clean the clothes by breaking down the soil between them.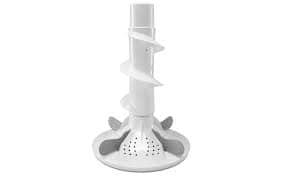 Image: Whirlpool
Pulsator
The pulsator pulses the water through the clothes to create a gentle flow.
RPM
'Rotations per minute' is the speed of the washing machine cycle. The RPM for delicate clothes is between 300-500 and for thicker clothes like jeans, it is 1000 RPM.
Jet spray
Some washers have a jet spray that sprays the water from the top during the rinse cycle to get rid of the stains in the rinse cycle itself.
Door sensor
Door sensors are present under the top door of the washing machine. When the door is disengaged, the cycle stops and prevents any accident.