Door mats are a very important aspect of our homes. They stop the dirt, mud and other debris from entering into our houses. From wiping your feet to protecting the floor from dampness, a door mat plays multiple roles. Here we have compiled a list of the best door mats for your convivence.
Our picks
Best in Budget – Shankara Reversible Door Mat
Best in Looks – Fernish Decor Jute Carpet
Best in features – VMPS Door mat
Best in comfort – Solimo Premium door mat
Top Door Mats For Your Home
Codes to add in Indulge articles

Last update was on: January 24, 2023 8:36 pm
These stylish and durable door mats are among the best available in the market. While compiling the list we focused on factors such as design, quality of the materials used, flexibility, etc.
Kuber Industries Microfiber Door mat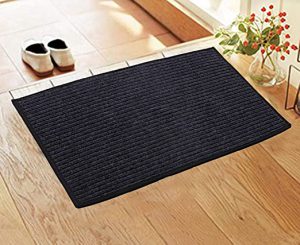 Kuber Industries presents elegant door mats that are designed to absorb dirt and water, keeping your home clean of impurities from outside. These door mats can also protect your feet from cold and hot conditions.
Features:
Microfiber for durability
Anti-slip
Easy to wash
Unique design
Color: Grey
Size: 36 x 54Verdict: This door mat is unique and stylish and extremely affordable.
Onlymat Natural doormat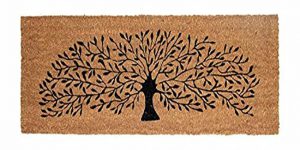 An effective door mat for keeping the dirt, mud, and sand away. This heavy mat is extremely durable, and can be used in your home, office, etc. Also has high levels of resistance to UV rays and moisture.
Features:
Made with coir
Natural rubber PVC backing
Shake to remove dirt
Weave type: handcrafted
Pile height: high pile
Size: 120 x 40
Verdict: This coir mat is perfect for the entrance of your home and office spaces, the design on the mat is elegant and very welcoming.
Julone Indoor Doormat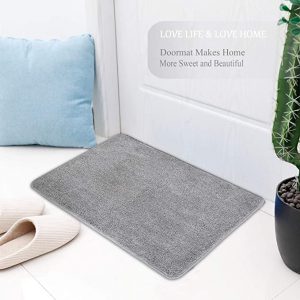 This indoor door mat Julone will keep your floor clean for a long time. Designed with an extra absorbent top layer that traps moisture and mud from footwear, keeping all the debris away from your floor.
Features:
Polyester, microfiber and cotton
Machine washable
Non-slip
Color: Grey
Pile height: Low pile
Size: 23 x 35
Verdict: These plush and comfortable door mats are best for regular use and can also be used to meet your home décor goals.
Status Anti-Slip Door Mat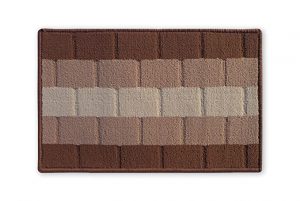 High quality polypropylene door mat by Status. These mats are easy to clean, soft and are very durable.
Features:
Anti-slip
Great absorption
Machine washable
Sizes available: 15 x 23 I 18 x 28
Material used: Polypropylene
Pile Height: Medium pile
Color: Beige
Verdict: Most affordable doormats for home available online.
ATMAH Coir Doormat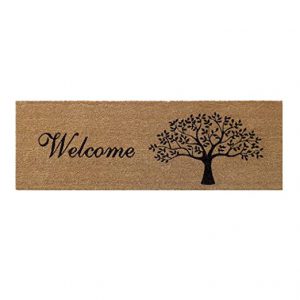 ATMAH is known for their sustainable home décor products. The coir door mat is perfect for people looking for something natural and stylish at the same time. Coir mats are naturally anti-microbial, keeping dirt and other impurities away from your home.
Features:
Tough and resilient
PVC backing
Hand painted design
Flexible
Can be vacuumed (not washed)
Color: multicolor
Size:120 x 40
Pile height: medium pile
Verdict: This sustainable coir mat is among the best door mats; they are durable and very economical.
SARAL HOME Microfiber Bathmats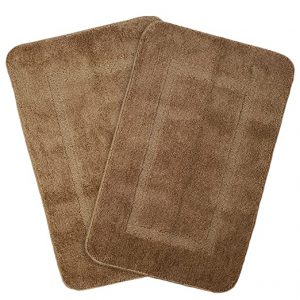 These beautiful door mats by SARAL HOME add elegance to your home décor. The door mats have been designed with your convenience in mind.
Features:
Anti-skid backing
Microfiber for comfort
Easy maintenance
Set of 2
Color: Beige
Pile Height: High Pile
Weave type: Tufted
Verdict: These high-quality mats are the best bathroom door mats available on the market.
Solimo Premium door mat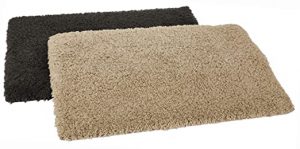 Solimo is an Amazon brand, made to deliver good quality products. These premium door mats are made for you to experience luxury at an affordable price. Made with a 2000 GSM polyester fabric, it is very effective in soaking up water and dirt.
Features:
Anti- skid latex
Machine washable
Dires quickly
Set of 2
Color: Light taupe and steel grey
Size: 60 x 40
Pile height: medium pile and low pile
 Verdict: This is the perfect for people looking for Luxurious bathroom door mats at an affordable price range. The color combination is also quite classic.
Tex Homz Artificial Grass Door Mat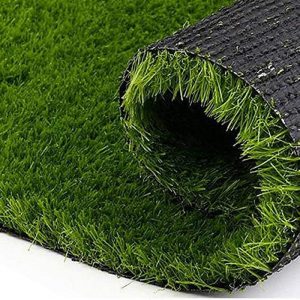 Tex Homz door mat is perfect for the nature lover in you. These door mats resemble the refreshing experience of walking on the grass.
Features:
High quality polypropylene material
All season use carpet
Easy maintenance
Can be used indoors and outdoors
Realistic looking
Pile height: High pile
Size: 2 x 3 feet
Verdict: This easy to wash, rubber backed grass door mat is perfect for decorating your homes and keeping the dirt away.
Fernish Decor Jute Carpet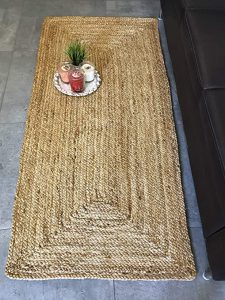 Fernish Décor jute carpet is unique and beautiful, a perfect piece for home décor. The natural fibers used in these carpets give an aesthetically pleasing rustic look to your home and keeps it clean.
Features:
Made with jute
Weave type: braided
Back material type: cotton
Color: beige
Size: 2.4 x 6 feet
Verdict: The jute mat is classy and instantly makes your home look great. Good for people who like a certain smooth texture on their door mat.
Shankara Reversible Door Mat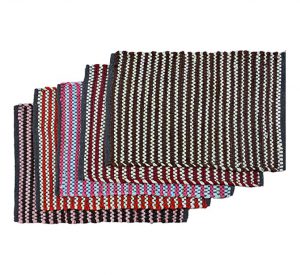 These reversible door mats from Shankara are durable and stylish. Perfect for regular use, and comes in multiple colors.
Features:
Made with cotton
Set of 5 door mats
Multicolor
Machine washable
Stain resistant
Weave type: hand-loomed
Size: 16 x 24
Pile height: high pile
Verdict: These affordable cotton blend door mats are easy to clean, and can be used as kitchen door mats, bathroom door mats, welcome door mats, etc.
VMPS Door mat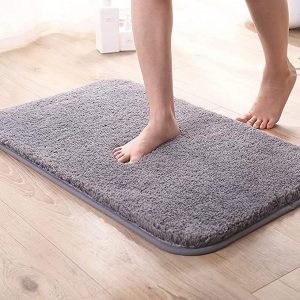 VMPS door mats are super absorbent. Made with cotton and microfiber, these mats are easy to clean and maintain. Pamper your feet on their plush mats without the worry of dust and debris.
Features:
Non-slip
Machine washable
Heat resistance
Non irritating odor
Pile height: high pile
Size: 40 x 60
Back material type: TPR (rubber)
Color: grey
Verdict: The superior features and the ultra-soft texture make this among the best door mats at this price range.
Skive Anti-skid Door mat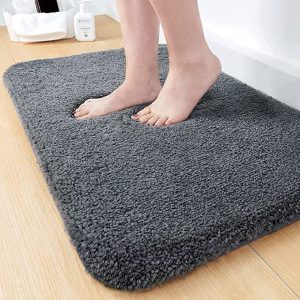 This washable doormat is perfect for daily use, it's durable and comfortable and most importantly, pocket friendly.
Features:
Made with polyester
Slip and fall protection
Size: 40 x 60
Pile height: high pile
Color: grey
Verdict: Perfect for winters, these door mats can keep your feet warm and cozy.
Amazelo Cart Door Mat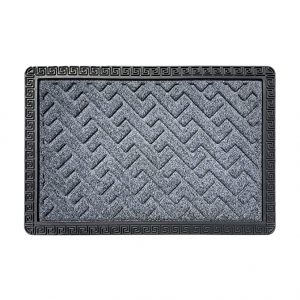 Amazelo door mats are heavy duty mats with durable design. Made with 100% high-quality natural rubber.
Features:
Waterproof and dirt trapper
Super absorbent
Easy to clean
Rubber backing
Anti-skid
Size: 60 x 40
Color: grey
Pile height: low pile
Verdict: These are ideal door mats for both indoors and outdoors and are easy to maintain. The dirt trapper is a convenient feature especially for people living in cities. Go for it if you are looking for an affordable mat that can absorb a lot of dirt.
Roseate Modern Bath Mat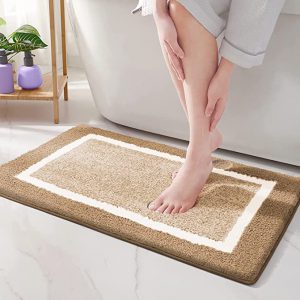 Roseate modern bath mat has everything that you expect in a bath mat. This affordable yet luxurious bath mat is thick and fluffy at the same time. The materials used in the mat make it long lasting and durable.
Features:
Non-skid
Super absorbent
Machine washable
Quick drying
Size: 40 x 60
Color: beige
Back material type: cotton
Pile height: high pile
 Verdict: Perfect for people looking for an affordable and durable bath mat, this mat can also be used in the kitchen, and living room.
Luxe Home International Door Mat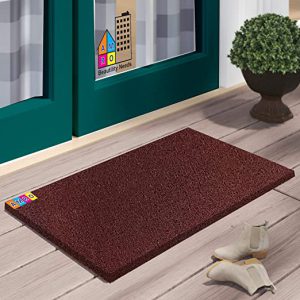 LUXE home trendy door mats are multi-purpose and made for everyday use and can withstand all weather conditions.
Features:
Soft cushion feel
Easy to clean
Size: 40 x 60
Pile height: high pile
Weave type: tufted
Color: brown
Verdict: This door mat can be used in all weathers, hence perfect for outdoors. Go for it if you are looking for something cheap and stylish, and can do the work.
Factors Considered for Ranking – Comparison
| | | | | | |
| --- | --- | --- | --- | --- | --- |
| Brand Name | Value for money | Easy to clean | Absorbency | Softness | Durability |
| Kuber Industries | 3.8 | 3.9 | 3.8 | 4 | 3.9 |
| Onlymat | 4 | 3.8 | 3.8 | 3.5 | 4 |
| Status | 4 | 3.8 | 3.6 | 3.8 | 3.9 |
| Solimo | 4.3 | 4.3 | 3.9 | 4 | 3.8 |
| Fernish | 4.4 | 4 | 4 | 3.9 | 4.3 |
| Shankara | 3.6 | 3.5 | 3.4 | 3.8 | 3.7 |
| VMPS | 3.8 | 3.9 | 4 | 4.2 | 4 |
| Skive | 4.2 | 3.4 | 3.2 | 4 | 4 |
| Amazelo | 4.2 | 3.9 | 3.9 | 3.7 | 3.7 |
| Roseate | 4 | 3.8 | 3.8 | 4 | 4.1 |
| Luxe | 3.8 | 3.9 | 3.8 | 4.3 | 4 |
This above table is a comparison based on several key factors such as absorbency, softness, and durability of the doormats listed in the article to help you find the best product. The data has been gathered from various e-commerce platforms and the customer reviews.
Importance of Doormats
Door mats increase the overall cleanliness of your house by stopping the bacteria and other pollutants from entering your home. Doormats also provide slip protection especially during monsoon season when there can be a lot of dampness on the floor. For protecting your feet during monsoon visit Crocs store coupons page and find exciting offers on Crocs products.
Some Tips to Select Your New Door Mat
Ensure the door mat you buy is at least 80% in width compared to the doorway. Buying a doormat that fits in with your door is very important.
Considering the height of the mat is another essential factor; too thick door mats can get struck when the door is opened. Hence thick mats should always be used for the outside.
A rubber backing is the best choice for indoor mats, making them easy to clean and vacuum.
Conclusion
While the products in the list have been compiled after much research, if we have missed out on any product and you would like to see it here, please let us know. If this article has helped you find the right door mat, you can share your experience with us, we would be glad to hear from you.