As a new mom, you will agree that life gets super busy with your little angel, as you will have to carry your baby while going out or when running errands. This is why baby strollers have become an indispensable addition to every home. These strollers are developed specifically to adhere to the norms of safety standards to ensure your baby is safe and secure.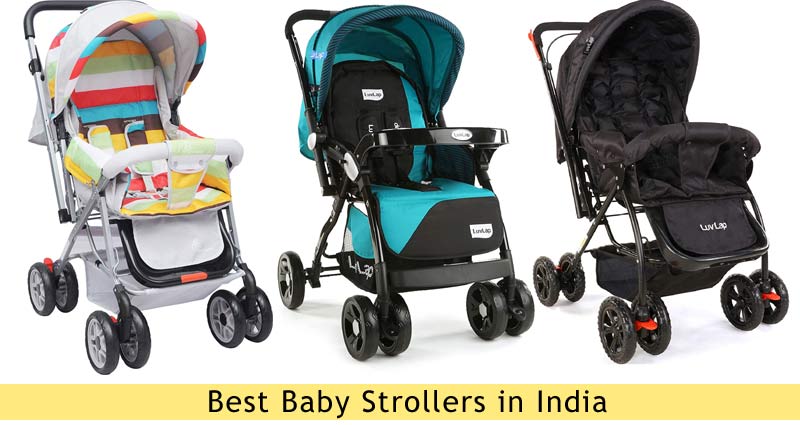 Choosing a lightweight and practical stroller will be a wise decision to travel with your little one in style. Baby strollers are a lifesaving boon for moms, as they can cut down the risks of physical pain involved in carrying the baby on arms for long hours. Plus, the canopy of the stroller is designed to protect the baby from the harsh rays of the sun. Please take a look at our list of the 10 best baby strollers to help you choose a lightweight and sturdy product to experience a durable service.
List of Top 10 Baby Strollers in India For 2022
Last update was on: June 18, 2022 8:12 pm
LuvLap Sunshine Baby Stroller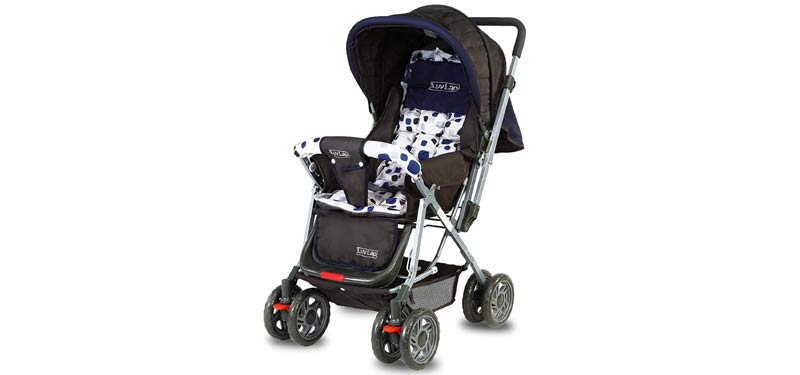 This comfy baby stroller from the popular brand, LuvLap is bestowed with a 5-point safety harness feature to help you stay assured of your little one's safety. It is designed with a reversible handle to enable you to walk your baby by facing him and it comes with a 15 kg carrying capacity. The stroller comes with a sturdy canopy that prevents the sun rays from falling on your little one. It comes with a 3 stage adjustable seat to set it based on your baby's height. The spacious storage basket lets you store diapers, foods, toys, etc.
Top Features
It comes with a washable and detachable seat with cushion
The front wheel with lock swivels at 360 degrees
The rear wheel brakes help in safe operation
The stroller has adjustable foot and leg support
It has a looking window and a back pocket for added convenience
Cons
The leg support latch is a bit unstable
The mosquito cover is made from thin material
LuvLap Galaxy Baby Stroller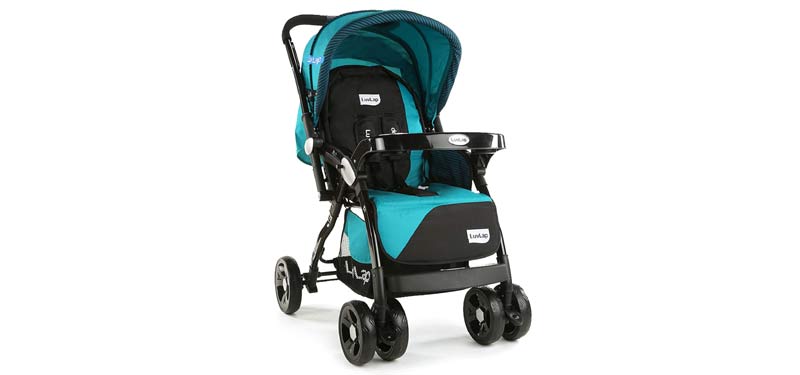 This baby stroller from the Galaxy series is ideal for babies up to 3 years of age and has a carrying capacity of up to 15 kgs. This product is created by adhering to the European safety standards, which makes it a safe choice. The 5-point safety harness can hold your baby intact by securing it around the waist and shoulders. The handlebar is reversible to make you face the baby while using the stroller. The adjustable seat can be kept flat, inclined,se or upright to suit your baby's preference. The footrest and leg with adjustable features help you use the stroller even after the baby grows up as a toddler.
Top Features
The link brake fitted rear wheels assure one-step operation
The front wheel has brake, lock and a 360-degree swivel
It has a looking window as well as an extendable canopy
The stroller is offered with a cushioned seat and back pocket
It comes with a huge storage basket and one-hand fold design
Cons
The seat is not very soft and cushiony
The mosquito net is absent
LuvLap Starshine Baby Stroller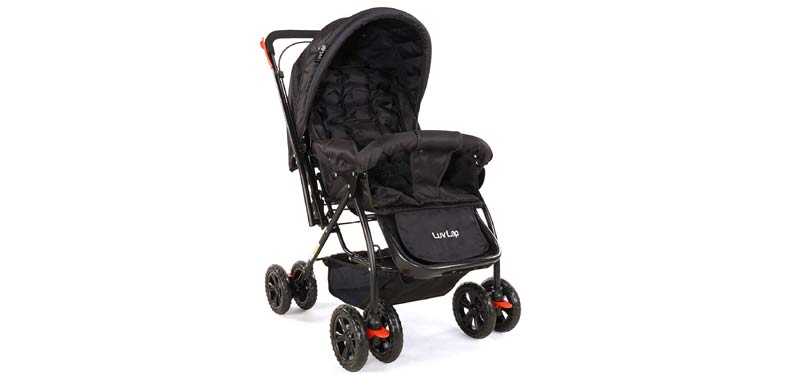 The Starshine range of baby strollers from the trusted brand, LuvLap is designed with a reversible handle to let you talk with your baby while enjoying an evening stroll. This product comes with a total carrying capacity of 20 kgs, which makes it an ideal choice for toddlers too. The front wheel with lock, 360-degree swivel, and lock feature as well as break-linked rear wheels makes maneuvering easier.
Firstcry.com is yet another website where you can get the best deals for baby strollers from infants to adult babies. Using the coupons available for Firstcry, you can save on the retail price.
Top Features
It has safety belt for securing the baby
Made from solid steel and has canopy with 2 layers
The stroller has washable and removable seat cushion
Back pocket, looking window, big sized storage basket needs special mention
Adjustable seat with 3 positions and 180 degree recline
Cons
Cannot be used in busy streets
Not for extreme use
R For Rabbit Lollipop Baby Stroller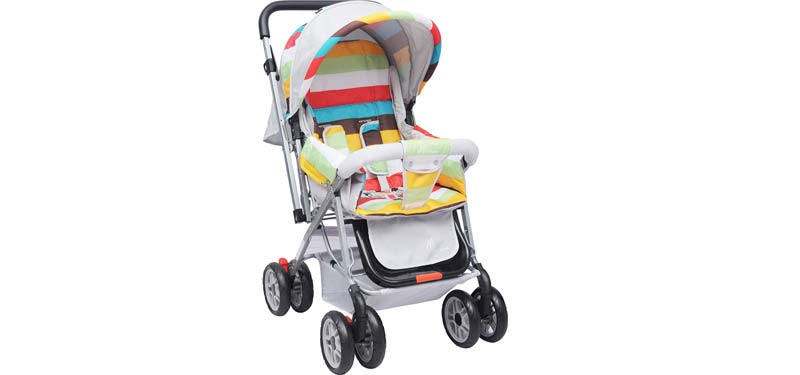 This colorful baby stroller is designed with safety as its first priority. The front wheels measuring 6.5 inches has perfect suspension to give your baby a smooth strolling experience. The easy-to-fold design lets you fold the pram easily with your foot or hand. Have a chat with your little one face to face by using its reversible handle. The multiple reclining positions ensure the baby stays comfortable and the extendable canopy design prevents the intrusion of sunlight.
Top Features
Colorful, compact and lightweight design
It can be used as a pram and as a stroller
Comes with an adjustable leg rest
3 recline position to deliver a comfortable ride
Storage basket with a spacious design for ample storage
Five-point harness design and wheel lock for enhancing the baby's safety
Cons
It is an expensive stroller
LuvLap Apollo Baby Stroller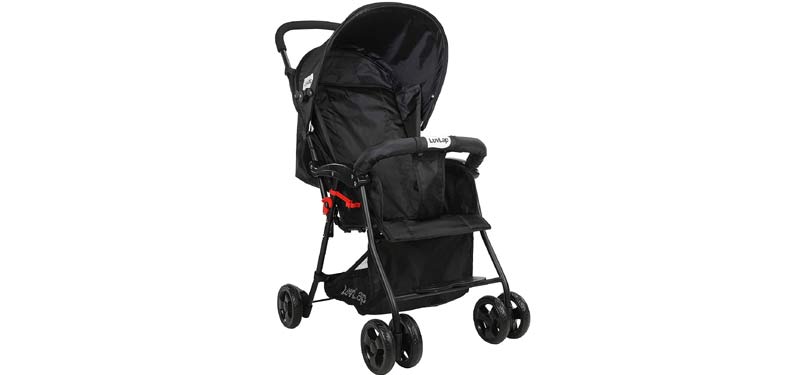 LuvLap is a popular brand that specializes in introducing a safe and sturdy line of baby strollers by complying to European safety standards. This Apollo lineup of baby strollers is carefully designed with high-end safety features like rear-wheel with brake connection and front wheels with 360-degree swivel. The cushioned seat with an adjustable canopy and leg rest ensures the baby remains comfortable and cozy.
Top Features
The triple seating position of the seat with 180-degree recline helps in ensuring the baby's sitting position
It comes with a large storage basket and a safety handle
The stroller can carry up to 15 kgs
It is ideal for 3 month baby to 3 year old child
This product is tested and approved by moms across the globe
Cons
The seat is stitched with nylon material
Little Pumpkin Buggy Baby Stroller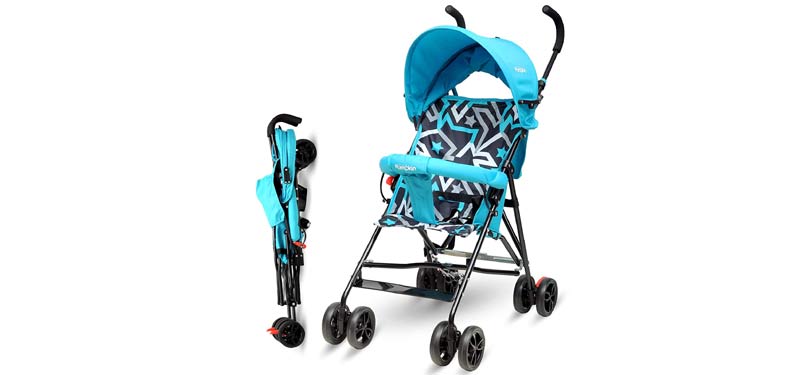 Crafted in an elegant shade of aqua blue, this baby stroller boasts of meeting the safety standards of EN 1888 to assure your kid's safety. This lightweight pram cum stroller flaunts a lightweight design and weighs around 4 kg. The full canopy on top assures the baby stays protected even on a hot sunny day. The umbrella fold design helps you store this compact stroller while traveling. The 2-point harness secures the baby and the seat is designed to offer utmost comfort.
Top Features
The stroller comes with a stylish and minimalist design
The rear wheels fitted with perfect brakes assure safe and instant stop
Compact umbrella fold design for space saving storage
Affordable stroller with optimum safety features
Built using sturdy material for durability
Cons
There is no adjustable seat recline
Little Pumpkin Kiddie Kingdom Baby Stroller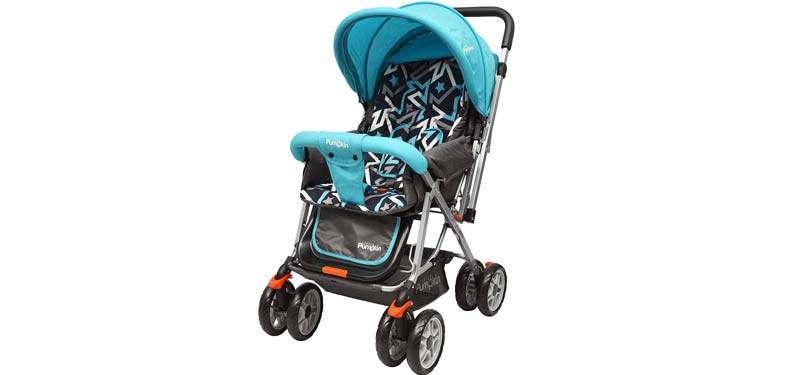 Little Pumpkin strives to deliver safe and sleek looking prams and strollers for babies and their Kiddie Kingdom range of baby strollers are popular for their attractive colors and trendy designs. This stroller is designed with a big storage basket to help the new mums store milk or snacks or do quick shopping while going for a walk. The simple one-hand foldable design saves the trouble of outing in a lot of effort to store it while not in use. Travel to any terrain with ease with this baby pram with sturdy front wheels with suspension.
Top Features
It comes with comfortable leg rest
Has a lightweight design for convenient usage
Seat with triple adjustment recline for comfortable seating
Available in attractive colors like blue, green, red etc.
Suitable for newborns to 3 year olds
Offered with up to 20 kgs carrying capacity
Cons
Chicco Baby Stroller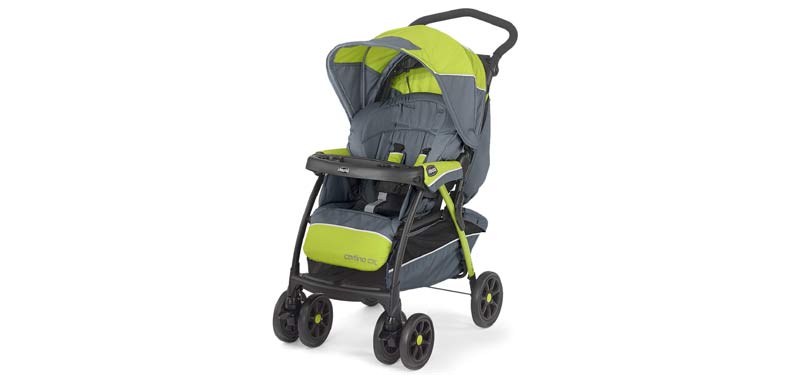 The Chicco baby stroller can also double up as a baby car seat carrier, as it is adjustable to accommodate the growing baby. The backrest of the seat with recline feature helps you choose from multiple positions to put your cranky baby in a comfortable position. The adjustable and huge canopy offers excellent shade against the sun while the front swiveling wheels with full suspension assure a bump-free ride. The back wheels with brake link stop the stroller in a jiffy to avoid accidents.
Top Features
It comes with padded handle with triple adjustments
Has compact foldable design for quick storage
Can be folded with one foot or hand
Easy to handle design
Cons
Canopy doesn't have a flap
No storage section
Has a bulky design
R For Rabbit Chocolate Baby Stroller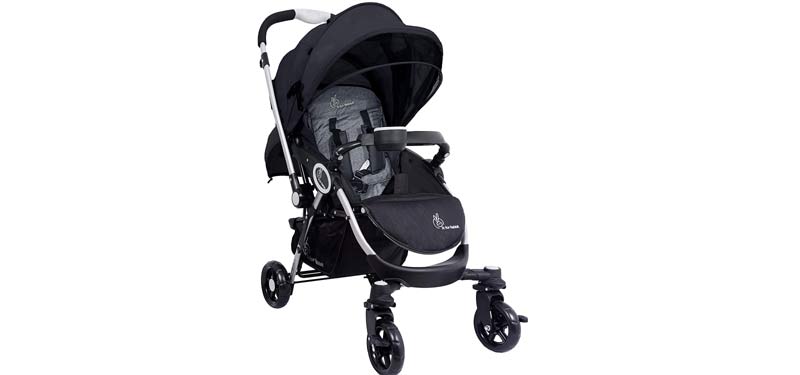 If you are ready to splurge some extra bucks while investing in a perfect baby stroller for your bundle of joy, then the one offered by R for Rabbit should be on your list. This EN 1888 certified stroller is the safest choice, as it adheres to the stringent safety European standards for the safety of toddlers and babies. You just have to pull or push the bottom bar of the stroller to fold and lock it. The unique standalone design occupies less space for storage.
Top Features
It comes with a cup holder and a detachable front tray
The 5-point safety harness and dual positioning of the leg rest ensures safest seating position
One-step brake link on rear wheels stops the stroller with a single feet click
The UV protected canopy and Picaboo window deserve special mention
Plus, it also has a big storage basket and front wheels with good suspension to prevent bumps on the road
Cons
The stroller's seat is made from synthetic material
Very expensive
Small wheel design
R For Rabbit Poppins Plus Baby Stroller
This product with EN 1888 safety certification reaches you after undergoing tests for checking the quality of parts and colors used, crash testing, and mechanical strength testing to assure maximum safety for your baby. It is crafted with a unique one-hand folding technology to fold it with a single hand while holding the baby in the other. Weighing just 6.5 kgs, this lightweight pram is an effective choice to stroll with your baby in style. Enjoy fun-filled chat sessions with your little one by making use of the reversible handle.
Top Features
This versatile stroller comes with a cup holder and detachable meal tray
It is designed with a five-point harness and 360-degree front wheels for enhanced safety
The foldable canopy protects the baby from harsh weather conditions
The mosquito net of breathable material keeps the insects away while on the move
Cons
Foldable storage lock does not have a smooth operation
Baby Stroller FAQs
Which brand of stroller is best in India?
Of all the stroller brands, we have chosen LuvLap as the top priority across India. It comprises a 5-point safety harness feature, reversible handle, detachable mosquito net, and washable cushions to secure the baby. Compared to other brands, it makes use of Ethylene Vinyl Acetate and Aluminium frame, making it highly durable.
What is the safest baby stroller?
Shop for the stroller that comes with a reclining option (few are available as fully-reclined strollers) to support the baby. We highly recommend you to purchase R for Rabbit baby stroller as it maintains all the standards for the baby's safety. Moreover, the reversible handle makes it easy to push on hard surfaces.
What is the difference between a pram and stroller?
| Stroller | Pram |
| --- | --- |
| Suitable for toddlers | Suitable for newborns and infants |
| Features harness and safety belts | Harness and safety belts are not available. |
| Lightweight and easy to move | Bulky yet easy to move |
| Comes with foldable option | Cannot fold Pram |
Are expensive strollers worth it?
There are several high-end strollers available online that fit the baby's purpose. They feature a detachable tray, pockets to put baby essentials while traveling, which you might not find in cheap models. They look fantastic with the modern design and are easy to handle. Few of the products are expensive because they are made right. These are ergonomically designed for both parents and kids; Buy them. Avoid the ones that are just expensive because they are from an XYZ brand.
Baby strollers are boon in disguise for parents, as it helps them to travel with their baby without having to endure painful hands and shoulders. These strollers also make the babies enjoy their day out without nagging their parents to hold them in their hands. Choose a stroller with a trendy design while making sure that it is created by adhering to safety standards. We hope our list of top 10 baby strollers was helpful in finding the best one that prioritizes the safety of your little one.