It's 2013, and the world of online shopping is like a vast, untamed jungle. Coupons? They were scattered all over the internet, hidden in the digital underbrush. And that's where we come in GrabOn, the coupon-crazed brainchild of our parent company, InspireLabs Solutions Pvt Ltd.
Back then, finding a coupon was like searching for a needle in a haystack. But we thought, why not make it as easy as grabbing candy from a baby?
With a mission as clear as our website's interface, we set out to change the game. Imagine having all the discounts, deals, and savings from your favourite e-commerce platforms just a click away! That was our vision, and boy, did we roll up our sleeves to make it a reality.
Fast forward to today, and we've transformed the digital shopping landscape. We're not just a company; we're your trusty sidekick in the world of savings. Our journey of 10 glorious years is a thrilling tale of ups, downs, and more savings than you can shake a coupon at!
We're not just a company; we're your partner in savings, and together, we're rewriting the rules of online shopping.

The Eureka Moment: How GrabOn Gave Birth to Savings
When asked about the principle behind starting GrabOn, CEO and Co-founder, Ashok Reddy replied back with a quick, knowing smile,
"The hard way is the only way I knew.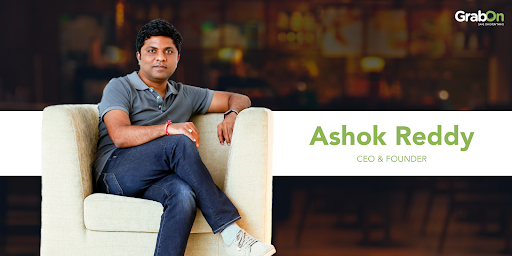 Ten years later, we stand by the same principle, the hard way, one where we need to fight our way out of an upward battle. Recently, a few of us at GrabOn were sitting around a table, trying to narrow down our working principle and the motif came in again. This is what we came up with:
We believe in breakthroughs.
The hard way around.
Running head-first into the labyrinth.
And then finding our way out, slowly, but sure-footed.
Most successful business stories often begin over coffee and a group of aspirants sitting in a cramped space, wanting to make a change.
We are really not that different.
It all began on a warm summer morning in Hyderabad, when a bunch of wide-eyed entrepreneurs, sipping on their respective iced drinks, had a crazy idea. Why not bootstrap our way into the wild world of online shopping?
We were scrappy, determined, and armed with nothing but ambition and five enthusiastic interns. Back then, the national and international affiliate marketing landscapes were like uncharted territory, and we were the pioneers setting sail on a grand adventure. We didn't have a fancy office or a team of experts it was just us, our laptops, and a vision to make online shopping more affordable and fun.
There is a famous saying we stand by,
"Sometimes all you need is twenty seconds of insane courage, just twenty seconds of embarrassing bravery and something great will come out of it.
This was our defining twenty seconds. Our twenty seconds of insane, embarrassing bravery.
That's when GrabOn truly came to life.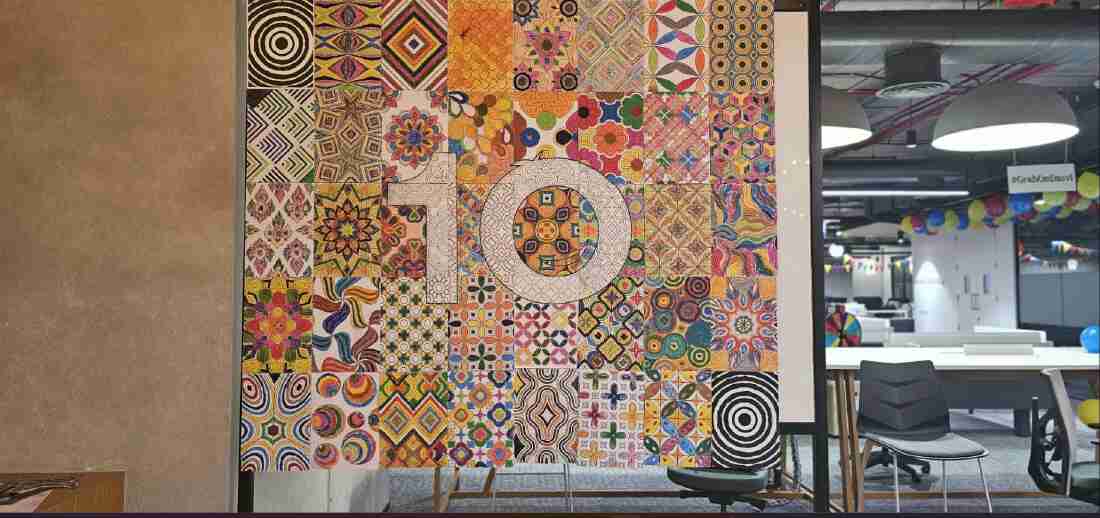 Then vs. Now: GrabOn's Evolution in Work and Play
Fast forward a few years, and GrabOn had blossomed into the ultimate online shopping destination. We had forged partnerships with over 4,500+ brands, big and small, transforming our platform into a treasure trove of savings. Our subscriber base swelled to an astonishing 45 million, a testament to the trust our users placed in us.
We didn't just become one of the coupon dealers in the country; we became the top dog in the digital coupons marketplace. People all across India turned to GrabOn as their go-to platform for accessing the best coupons, discounts, and deals. We were not just a brand; we were a shopping companion, a trusted friend in the world of e-commerce.

Here are a few things you need to know about us:
First things first, we've always been all about YOU, our incredible users. Our mission: to make your coupon-hunting experience as thrilling as a treasure hunt. We've got your back with a sleek, ad-free interface that's smoother than butter on a hot pan. Our tech wizardry, search tools, and filters make finding coupons a breeze.
Our rise simply did not go unnoticed, we are truly the 'go big or go home' kind of dreamers.
Partnerships with titans like Amazon and Myntra gave us an all-access pass to a treasure trove of deals that became the foundation of the brand.
Then came the "Buzz Me" feature. Well, it's like having your very own coupon genie, delivering real-time deal notifications straight to your inbox.
GrabOn is supported by a group of talented, determined, passionate team of leaders and experts who work tirelessly behind the brand. They are basically the Avengers of the coupon world.
We're all about nurturing creativity and personal growth because when you're having fun, you do your best work.
"The team at GrabOn believes that a person can give his or her best when they are in a relaxed state of mind. And the cool office space bears testimony to this fact. The workspace is the very definition of 'style meets substance'. Elegant yet practical, GrabOn's floor is divided into various zones which serve different purposes.
–Ashok Reddy,
CEO and Co-Founder, GrabOn
You know we're kind of a big deal when CNBC, YourStory, Business Standard, Inc42, and other heavyweights in the industry start noticing. Over the years, we've scooped up awards like candy on Halloween night. IBM even gave us a shiny Startup Star Award back in 2016. Plus, we've had our moment in the limelight with features in the Financial Times and the Economic Times.
But we're not just about business; we've got a heart too. Our commitment to society goes beyond the virtual world of coupons. We've launched awesome campaigns like 'Save On Everything,' 'Cricket Fantasy League,' 'Christmas Carnival,' and 'Bachat Wali Diwali' that are not just about savings but also about making the world a better place.
We've teamed up with NGOs like Teach For Change, Akshaya Patra Foundation, Robin Hood Army, WWF India, and CRY India to champion causes we hold dear to us – education, hunger relief, and environmental conservation.

Bigger, Bolder, and Better
At GrabOn, we're not just thinking big; we're thinking colossal! We're strapping on our rocket boots and aiming for the stars.
You wake up in the morning, grab your smartphone, and there it is – a world of personalised deals and offers right at your fingertips.
This is probably your dream, but it is ours too.
How? Thanks to our cutting-edge generative AI, we're cooking up a storm to make this dream a reality.
We've already made our mark on the global stage with our platforms in the US and Australia. We're not just local legends anymore; we have gone global.
But here's the kicker: We're not just about making moolah. We're also all about making a difference, driving headfirst into initiatives, partnerships, and collaborations that tackle digital marketing challenges that keep most people in the industry up at night.

Stories from the Inside: A Decade Through the Eyes of Insiders
We took the time to sit down with our leaders, the names behind the brand, names you will probably never know, but at the office, they inspire us. Each of them gave us a few minutes of their time to tell us their insights about building a successful, self-sustaining, symbiotic business.
"Customer centricity is key. It's all about putting the customer at the centre of the operations, understanding their preferences and needs. Because, at the end of the day, the deals and discounts and coupons are for them, not us. One of our secrets is to regularly seek out the consumers, sometimes even become them for a few minutes.
"For me, it's about being adaptable. There is always something new in the market. Over the past year, it was the sudden boom of generative AI and we immediately jumped on the wagon. You can't just stick to the principles you started with, you have to change, step up your game and keep an eye on the competitors.
"Learn. Learn. Learn! Learn as much as you can. That's one of my biggest insights over the past 10 years. Especially when we expanded into the global market, we realised how important and helpful our study of the local consumer base was. The idea is as simple as this, never lose touch with the preferences and needs of your basic consumers.
"A business like us, we survive on our large network of partners and the community we have built from scratch. Also, we can't just think about how we can monetise these connections. It's important to think about their gain too. That's the only way you make it work in today's world. One word, symbiotic relationships.

To Infinity and Beyond: GrabOn's Exciting Journey Continues
Ten years is a long time, some people might call us veterans in the business, but we feel very young. We have only grazed the surface of what we can truly achieve. There is still so much to do, and GrabOn has no plans of backing down.
As our captain, Ashok Reddy, very concisely put it,
"Last but most important is the typical crossroad at which you must stand and decide for yourself – to exit or to drop the gear and take it to the next level. GrabOn has performed consistently despite stiff competition, and I have reached the juncture from where the only way is ahead. So, I'm going to do what I always do, keep walking, keep pressing on, keep persisting.