A mixer-grinder is the quintessential kitchen appliance found in almost all Indian kitchens. Given the variety of Indian food we prepare on a daily basis, a mixer-grinder is a must not just for ease and comfort but also for the fact that it saves us from hours of intense physical labor and time. But buying the best mixer grinder in India is not so easy – a number of factors come into play when choosing the best mixier for your kitchen.
Our Top Picks
| | |
| --- | --- |
| Best Overall | Bajaj |
| Best Budget | Cookwell |
| Best Warranty | Philips |
| Best Design | Bosch |
Top 18 Mixer Grinders in India
Certain compulsory features must be considered when buying a good mixer, while there are some specifications that may be overlooked. In this article, we take you through the country's best mixer grinders and also help you with a buying guide so you can make an informed decision. Buying the best mixer grinder in India couldn't get easier than this!
Our Brand Selection & Ranking Process
The below table contains the evaluation criteria that we have implied to segregate and give ranking to the brands in this article. Some major aspects like – easy to use, lock feature, value for money, sturdiness, noise level, & ease of cleaning, have been evaluated. On a scale of 5, all the pointers have been evaluated for each segment.
Further, to help you assess the best mixer grinder for yourself, all the other major segments such as – capacity, number of jars, Watt usage, speed of the blades, and service from the manufacturer end, are discussed along with the brand. This process aims to help you make the right decision and get your hands on the right fit for your needs by reckoning all the necessary features and specifications.
Let's first have a look at the table below for a broader understanding:
Bajaj Rex 500-Watt Mixer Grinder with 3 Jars
Founded in 1938, Bajaj is an Indian consumer electrical equipment manufacturing company, renowned for delivering high-end products for diversified segments like – lighting, luminaries, appliances, fans, LPG-based generators, engineering, and projects.
Bajaj is one brand that is known for quality, efficiency, and durability – three very important criteria when buying a mixer-grinder for your kitchen. The very same aspects have helped it garner the first position in our list as well.
Coming to the product, Bajaj Rex 500-Watt Mixer Grinder, comes with the below-listed specifications and features to allure Indian buyers.
It has a 500-watt motor and comes with vacuum feet so that it does not slide when grinding heavy duty foodstuff
You can use Bajaj Rex Mixie for both wet and dry grinding .
The Rex 500W mixer grinder comes with 3 stainless steel, rustproof jars – a 1.2L liquidizing jar, a 0.8L dry grinding jar and a 0.3L chutney jar
It offers 3-speed controls and lets you choose the speed for various kinds of grinding jobs
It has an LED indicator to let you know when the appliance is powered on.
Comes with 1 year warranty
Comes with a sturdy rust proof body that is highly durable.
Also, a 2-in-1 multi-functional blade system is incorporated to let you grind and blend ingredients of different textures in no time and without any hassle.
Bosch Pro 1000W Mixer Grinder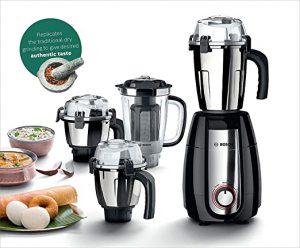 Bosch, the third largest home appliance manufacturer in the world, was founded in the year 1886 by Robert Bosch in Germany. Along with high-end daily consumer products, it is also the world's leading maker of auto ignition, fuel injection, and antilock braking systems.
Bosch Pro 1000W Mixer Grinder has obtained the 2nd place in our list because it comes with a stylish look, robust makeover, high-safety measures, and is also highly durable. Some other noteworthy details are below:
High-quality stainless-steel blades for high-performance wet and dry grinding.
1000-Watt high torque motor with 100 percent copper winding for high efficiency.
The black color chrome finish gives it a very stylish and elegant look.
4 jars of varied sizes ranging from 400ml to 1500ml that are made up of high-quality stainless steel.
Comes with a uniquely designed blunt pounding blade that uses the technology of traditional pounding stone to ensure the authentic Indian flavor of spices.
The jars of this mixer come with robust nylon lids for hands-free grinding.
Strong suction feet for grip and stability.
Comes with 2 years of manufacturer warranty.
Comes embedded with an overload protection mechanism.
Preethi Zodiac MG 218 750-Watt Mixer Grinder Juicer with 5 Jars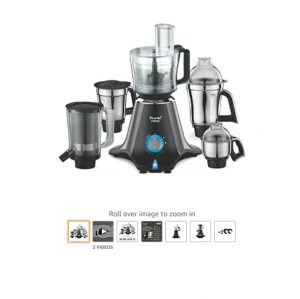 Preethi is a four-decade-old Indian brand known for transforming cooking experiences through its perfect kitchen tools. It has a wide range of Zodiac series products that aims to hone your art of cooking at home by making everyday chores like – instant grinding, chopping, juicing, and kneading much simpler
Preethi Zodiac MG 218 is one of the best juicer-mixer-grinders that will take care of all your mincing, chopping, juicing, grinding, blending needs. It is the first mixer grinder in India that is ROHS compliant and has passed rigorous tests. Go ahead and invest in this one if you want a durable, high duty product with a long life. Some other major specifications and features are:
Comes with a powerful Vega 5 Motor 750 Watt that can grind turmeric in just 2 minutes
Zodiac is the first Mixer Grinder to have 3-in-1 insta fresh juicer jar – One Jar which can do three functions – (1) Centrifugal juicer which can juice fresh fruits, (2) Super extractor which can extract tamarind essence of coconut milk (3) Blender which can make shakes and lassi.
Equipped with razor-sharp stainless steel blades for finest and fastest grinding and juicing performances
Also doubles up like a food processor- you can knead Aata and chop vegetables within minutes
Comes with 3-speed rotatory switch knob with incher
Sophisticatedly designed, it adds elegance to your kitchen
Comes with 5 years warranty on motor and 2 years on the product
In-built safety indicator for overload scenarios.
Philips HL7756/00 Mixer Grinder
Philips is a Dutch multinational conglomerate founded in 1891 that needs no introduction when it comes to consumer electronics goods. Today the company has a presence in more than 100 countries and apart from the electronics segment, it also has a significant impact on healthcare technology.
Talking about Philips HL7756/00 Mixer Grinder, this mixer has been embedded with a newly designed 750-Watt turbo motor that has an advanced air ventilation system to allow you 25 minutes of continuous grinding. It has a unique eye-catching compact triangular body design along with ease of use. Moreover, the discounts offered by Philips are impressive versus other brands on our list, helping it earn a place in this list. Other significant features and specifications are mentioned below:
3 high-quality food-grade rust-free stainless steel multipurpose jars of 1.5 Liters, 1 Liter, & 0.3 Liters.
3 user-friendly speed knobs to control speed as per the need.
The 750W turbo motor allows 25 minutes of non-stop grinding, suitable enough to grind tough ingredients like black gram dal, turmeric, and other spices.
Comes with 5 years warranty on the motor and 2 years on the product.
Semi-transparent lid on the jar allowing to see whether the ingredients are ready or not.
Has an overload protection feature that automatically turns off the motor in case of overheating.
The advanced air ventilation system provides faster cooling of the appliance, ensuring longer life of the motor.
Cookwell Bullet Mixer Grinder
Cookwell is an Indian brand that was founded in the year 1995 to provide the best quality kitchen appliances in the country. Today, it is known for manufacturing high-quality kitchen appliances and has more than 70 products under its name. The company is ISO certified, and its mixer grinders come bearing certification by ISI.
The Cookwell Bullet Mixer Grinder comes with a compact design that helps it occupy less space as compared to other bulky mixers. It can be used in two ways – rotary mode, and a unique push mode. The rotary mode is initiated through the regular speed knob, while the push mode is enabled once you push the jars inside the mixer with your hand. All in all, it is a complete kitchen solution that provides four different functions (mixer, grinder, juicer, & chopper) in a single machine. If yet not convinced about this, perhaps below features and specifications will help you get more clarity:
Comes with a 2-speed rotary switch knob with incher
Has 3 dynamic stainless-steel blades to blend & grind foods of all types
It has 5 portable jars that can also be used as sippers, which you can carry with yourself
Easy to operate, and clean, and has easily detachable and washable parts
Embedded with commercial grade 600 Watt motor made up of copper
It comes with 3 different sets of blades – 6 wet blades for the juicer, 4 dry blades for grinding, and a froth blade for cream.
Also, the blades are made up of alloy steel which makes it rustproof.
Pick and drop service is available throughout India. Also, it comes with 1 year of product warranty that can be further extended for 6 months.
Panasonic MX-AC400 550-Watt Super Mixer Grinder with 4 Jars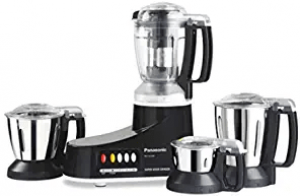 Panasonic – a global conglomerate, was founded in the year 1918 as a light bulb socket maker, and since then the company has emerged as one the biggest electronic goods manufacturer on this planet. In India, the company is renowned not only for manufacturing top-notch mixers/grinders but also for products like – washing machines, refrigerators, electric rice cookers, electric irons, and many more. Interestingly, one can also use Panasonic's coupons to get up to 30% off on latest product ranges.
If you dislike the knob speed control function and prefer the piano-type switches in an elegant design, then Panasonic's MX-AC400 550-Watt Super Mixer Grinder with 4 Jars is an ideal choice. Have a look at the below points for more understanding about this product:
Powered by a 550W heavy-duty motor, the toughest ingredients can be easily grounded with this product
Comes with a safety lid-locking system – the motor won't start until the lid is secured and locked
3-speed settings with a pulse button in a piano-like setup make it easy to regulate the speeds as per convenience
3 Stainless steel jars and 1 extremely durable blender jar will definitely make your life easy
Jars come with a flow breaker mechanism to increase the grinding efficiency
Strong Samurai edge blades for that smooth paste-like consistency for the toughest ingredients
Circuit breaker system that prevents motor exhaustion.
2 years warranty on the product and 5 years warranty on motor.
Prestige Delight Plus 750 W Mixer Grinder
Prestige is an Indian company that came into being in 1955 and is known for manufacturing high-quality kitchen appliances and cookware. The company aims to deliver high-performance and well-designed appliances to make our kitchen smarter.
Prestige Delight Plus 750 W Mixer Grinder is a colorful, stylish, and powerful, ISI-certified mixer grinder embedded with a powerful motor. It comes equipped with 4 super-efficient blades, 3 stainless steel jars, and 1 juicer jar. The look is very stylish and attractive and has a robust design and this mixer aims to yield high performance whenever required for use at your home. Its other major features and specifications are listed below:
A powerful 750-Watt motor having pure copper winding is highly efficient in grinding tough ingredients
Superior-grade plastic body made of ABS plastics
Embedded with overload protection feature
It has 4 blades that are made up of stainless steel which makes it highly durable
Polycarbonate dome-shaped jar lids
3-speed control knob
2 years warranty product and 5 years warranty on motor
Available in an attractive color combination of black and yellow
Strong plastic made tough handles for a firm grip
Extremely lightweight at just 2.08KG
Orient Electric Kitchen Kraft MGKK50B3 Mixer Grinder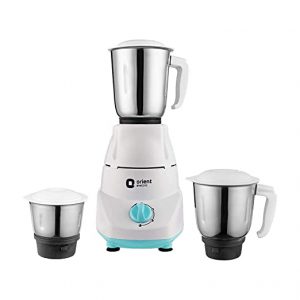 Orient is yet another electrical equipment manufacturer that has carved its way to this list. The company is a part of the renowned CK Birla group and is well-known for making quality fans, lighting, switchgear, and home appliances.
Orient Electric Kitchen Kraft MGKK50B3 Mixer Grinder aims to give a superfine grinding experience and it has a sleek and compact look to make your kitchen don a contemporary and graceful look. Whether you are looking for healthy and tasty smoothies while workout or fine grind wet spices while cooking, it has got everything covered for you. Some more noteworthy features and specifications are below:
500-Watt copper motor for all types of grinding purposes
Comes with 3-high-quality stainless steel jars having flow breakers for consistency
Nickel-coated stainless-steel blade to ensure superfine grinding as well as high durability
It has 3-speed control options with incher to moderate speed as per the need
It comes with an advanced heat dissipation system, making it safe to touch even after prolonged use.
The base of this mixer has suction feet to ensure proper gripping
Crompton Ameo 750-Watt Mixer Grinder
Crompton is an Indian company, based out of Mumbai which was established in the year 1937. Since its inception, it has become a well-known name for the electrical consumer durables segment and with time it also carved its mark for – household appliances like water heaters, air coolers, and kitchen appliances.
Coming to the product, Crompton Ameo 750-Watt is a premium and powerful mixer grinder with an enhanced motor ventilation system- motor vent-x technology along with a multifunction blade system for adequate performance. Also, for the finest grinding, it comes with unique jar contours and blade design that facilitates radial and axial flow. Some other worth mentioning details and features are below:
It comes embedded with a powerful 750-Watt powerful motor for longer usage and to suit grinding requirements of all sorts.
To ensure longer product life, it has been enabled with an increased air flow mechanism to check the rising temperature of the device.
At the time of motor overload and blockage, it has been equipped with a resettable overload protector to cut off the motor in these scenarios.
It has a three-speed inbuilt pulse switch for better grinding and mixing control.
Three premium quality stainless steel jars (0.5L, 1L, and 1.5L) that have anti-corrosive properties. Also, all the jars are leakage free.
For a firm grip, it has cushion pads that resist any movement while using it.
With respect to the other mixer, it saves up to 10 percent time and also ensures finer grinding, all thanks to the latest MaxiGrind technology that it has been equipped with.
A 5-year warranty on the Motor and 2-year warranty on the product is provided by Crompton from the date of purchase.
Havells Capture 500 Watt Mixer Grinder
Havells is an Indian multinational electrical equipment manufacturing and distributing company that was founded in the year 1958 and today has a presence in more than 50 countries across the globe. It is one of the most trusted Indian brands when it comes to electrical home appliances and the credit for the same goes for its long list of high-end products like – LED lighting, fans, grinders, modular switches, water heaters, induction motors, capacitors, and many more.
Havells Capture 500-Watt Mixer Grinder is equipped with a unique ACS mechanism (air channelization system) alongside dual exhaust, to ensure the longevity of the motor inside this device. Apart from this, for superior grinding results, blades come embedded with stainless steel that complies with 304-grade quality. More specifications and details of this gadget are mentioned below:
3 superior stainless-steel jars of 400ml, 800 ml, & 1.5L. Further, all jars have flow beakers for better grinding/liquidizing and have high durability.
Two 304 Grade Stainless Steel blades are included for best grinding results that are also corrosion free.
500-Watt superior motor for grinding and mixing ingredients of all sorts.
Has an RPM of almost 2100, which is far greater than other grinders.
3-speed control system through the knob switch that also has pulse function for best grinding results.
Built-in overload protection in form of an auto-cut feature, to avoid any mishap during overload and excessive heating.
5 years of warranty on the motor from the manufacturer.
Croma 500W Mixer Grinder
Croma, a subsidiary of the Tata Group, is an Indian retail chain of consumer electronics and durables that has more than 500 products under its belt to serve its Indian buyers. The company was formed in the year 2006 and since then it has made its presence in 35 major cities of the country with its 300 retail stores. You can shop for any of these products, including mixer grinders to get up to 70% using Croma's exclusive coupon codes.
This Croma 500W Mixer Grinder comes with 3 stainless steel leak-proof detachable jars and is also highly lightweight in comparison to the others in the list with just 2.5kg of weight. Some other noteworthy features and specifications are mentioned below:
500-Watt powerful motor that gives the best grinding experience even for tough ingredients like black whole gram.
3 Speed control with pulse function for the finer texture of the ingredients.
3 powerful stainless-steel blades for the best chopping, grinding, and juicing experience.
It comes equipped with three high-quality stainless-steel jars (0.3L, 5L, & 1L) that are rust-free and safe for food.
It has a suction base to ensure more stability while grinding or mixing.
It has an elegant plastic body and to ensure safety it has been made with shockproof ABS plastics.
It comes with Inbuilt overload protection i.e., if the ingredients of jars are exceeded then the motor stops functioning.
This Croma mixer has 2 years of serviceable onsite warranty.
Usha RapidMix 500-Watt Copper Motor Mixer Grinder
Usha – an Indian brand was incorporated in 1962 as a manufacturer of semiconductor devices. Since then, the company has forged into diverse segments ranging from electromedical equipment, and telecom products to household appliances. Of all, its home appliances such as – washing machines, mixers, vacuum cleaners, irons, toasters, etc. are of top-notch quality and have wooed Indian buyers for ages.
The Usha RapidMix is capable of grinding even the toughest ingredients to the finest of quality with its 500-Watt motor that has 100-percent copper winding for higher efficiency and longer life. Also, this can provide 30-minutes of the continuous grinding session without any heating issues because of its unique RapidMix feature. Alongside, it has many other specifications and features that are listed below:
500 Watt-efficient motor that generates less heating during heavy grinding and mixing procedure.
4 fine hardened blades made of stainless steel that have techno blade features for fine grinding and are food safe with corrosion free capabilities.
20000 plus RPM for faster grinding.
3 stainless steel & food-safe jars of 1.2 L, 800 mL, & 400 mL for grinding, mixing, & blending ingredients to perfection.
All 3 jars are equipped with flow breakers and leakproof features for finer and faster grinding.
It has anti-skid suction feet for better stability.
It comes with a stylish dual-tone body with an attractive blue & white color premium finish.
5 years warranty on the motor and 2 years on the product
It has a high-quality, long-lasting shock proof ABS body.
Morphy Richards Superb 500-Watt Mixer Grinder
Morphy Richards is a British brand that was founded in the year 1936 as an electrical appliance manufacturer. This company is known to have a world-class range of products, and the list does not only include mixers and grinders but also products like – refrigerators and washer-dryers, digital radio, and dry iron.
Whether it is hard ingredients or soft ones, you can expect the same level of performance from Morphy Richards Superb 500-Watt Mixer Grinder. Its numerous noteworthy details are listed below:
Effortless grinding jobs with the Superb 500 – Watt motor
3 Jars mixer grinder with capacities 1.5 liter, 1 liter and 0.4 litre
It offers 3 speed function control with incher facility
It guarantees flawless functioning for 30 minutes at a go to complete intense grinding jobs with ease
The jars, handles, lids, blades, and the body are all made with superior quality materials and are ergonomically designed
Sleek and stylish looks and occupies minimal space in your kitchen
Comes with 2 years warranty on motor
Also has overload protection feature, safety locks
Weighs quite heavy and so you may not like to move it again and again.
Lifelong Power Pro LLMG02 500-Watt Mixer Grinder with 3 Jars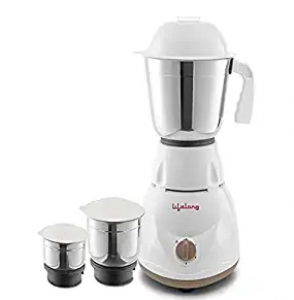 Lifelong is yet another Indian brand on this list which has 25 years of the glorious history of wooing Indian consumers with its high-end kitchen appliances. Apart from home & kitchen, the company also has numerous products under its belt for health & wellness, Sports, personal grooming, and smart IoT home devices.
If you are looking to ease your kitchen tasks with superior juicing mixing, and grinding functions then you can consider this Lifelong Power Pro 500-Watt mixier without any doubt. To further add weightage to this, you can look below for its other major specifications and features:
To dole out smooth pastes within seconds, it comes with a 500-Watt turbo motor.
Can be used for both wet and dry grinding functions.
Comes with 3 jars, 1.25L, 0.88L and 0.3L with extra tight PP lids to prevent spillage.
3-speed setting with a whipping function.
Also has an incher for momentary operation.
1-year warranty on the product.
It has an overload protector that saves the appliance from overloads, fluctuations, and excessive heat.
Anti-skid feet for better gripping while operating this device.
It comes with sturdy and rust-resistant blades for effortless grinding and mixing.
It is made with an aesthetically designed high grade plastic body that further enhances its look.
ISI certification for high quality and safety standards.
Butterfly Smart 750-Watt Juicer Mixer Grinder with 4 Jar
Butterfly is a five-decade old Indian brand that has become a common household name in the country, all thanks to its wide range of magnificent home appliances. Whether it's a stainless-steel gas stove or smart mixer, Butterfly has been the first choice of many in India.
In addition to standard mixers, you should definitely read the linked post if you're looking for some of the best juicers in the town. It includes a thorough analysis of each type of juicer, including manual, masticating, centrifugal, and many more. Coming back to Butterfly's juicer mixer, here's what it offers:
You get the benefit of a juicer with Butterfly Smart 750 model
Comes with an efficient pusher that acts as an enveloping cap and also helps in releasing more juice from fruits
1.5 L juicer jar, and 3 other jars with capacities 1.5L, 0.75L and 0.4L
The jar handles are sturdy and strong and do not lose grip
Has razor-sharp blades have an RPM of 17000 – 20000 which precisely cuts, chops and mixes ingredients of any shapes or sizes
To prevent skidding, it comes with special vacuum rubber shoes
Automatic overload cut off facility and a beautiful 3-speed knob with a whipping function
Comes with 2 years warranty on the product
Maharaja Whiteline Joy Turbo 750-Watt Mixer Grinder with 3 Jars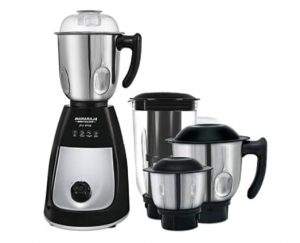 Maharaja Whiteline, the 2nd most known small appliance brand in India was founded in 1976. Since its inception, the company is known to produce unique kitchen solutions through its innovative products. It is the market leader in mixer grinder, food processor, air collier, and room heater segments.
Maharaja Whiteline Joy Turbo Mixer Grinder aims to make your cooking process more joyful through its powerful product that has been embedded with a splendid 750-Watt motor for a faster and more effective grinding and mixing experience. Other major specifications and features are below:
750-Watt copper motor ensures smooth, fast, and effective grinding results in no time
A compact design mixier with a lightweight construction
3 heavy-duty stainless-steel jars with capacities of 1.5L, 1.0L, and 0.4L
Super-sharp stainless-steel blades to give the best wet and dry grinding results
You can control the speeds 3 ways and you also get a pulse function
It has been equipped with vacuum-based anti-slip feet coupled with Nylon 66 for better stability even under heavy-duty grinding jobs
5 Years Warranty on the motor and 2 years on the product
Comes with efficient cooling technology to avoid overheating and ensure lasing operations
Food grade safe body aims to maintain the quality of food
Unique jar flow breaker to ensure preparation of smooth paste and batters
30-minutes of continuous grinding is available
Philips HL7699/00 750-Watt Mixer Grinder
Philips needs no introduction when it comes to electronic consumer goods! It is a Dutch conglomerate that's been in operation since 1891 and today it is one of the largest electronic companies in the world.
Sleek, efficient, powerful, and durable – that's the Philips HL7699/00 750-Watt mixer grinder for you. The super stylish looks and the minimal maintenance make it an indispensable asset in the kitchen. It has numerous attention-grabbing features; some are mentioned below:
Philips HL7699/00 750-Watt Mixer Grinder has a powerful 750-watt motor that makes grinding jobs easier and smooth.
It has 3 jars made of stainless steel and ABS plastic and leakproof technology with secure locking.
The jars have capacities of 1.75L, 1L, and 05 L having flow breakers to maximize the grinding process.
Comes with vacuum feet and an auto cut-off feature that turns the mixer off when overloaded.
Offers 3-speed settings and a separate feature for whipping ingredients.
Suitable for heavy grinding tasks – both wet and dry.
Comes with 2 years of warranty.
Reviewers have been concerned with the jar handles so you may need to use them with care.
It has a unique triangular compact-shaped body with fewer grooves for easy cleaning.
Comes with an advanced air ventilation system that checks the overheat and ensures continuous 25 minutes of grinding.
Preethi Blue Leaf Diamond 750-Watt Mixer Grinder with 3 Jars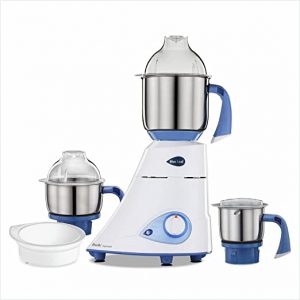 As stated above, Preethi is a four-decade-old Indian brand known for transforming cooking experiences through its perfect kitchen tools. It has a wide range of home appliances aiming to make everyday chores like – instant grinding, chopping, juicing, and kneading much simpler.
Preethi Blue Leaf Diamond 750-Watt Mixer Grinder is one of the best mixer grinders in India. Quite popular for its rugged, robust, efficient mixing and grinding performances in Southern India, and is quickly gaining a foothold in North India as well.
Preethi blue leaf diamond mixer grinder has a powerful 750-watt inbuilt motor that takes care of grinding jobs very well
3 high-precision stainless steel jars with a chutney jar and a flexible-lid
Polished and machine-grounded blades to give you quick and efficient grinding performance
Operates at 3 variable speeds and has a pulse function as well
Shockproof ABS body to ensure your safety at all times
Comes with 2 year's warranty
Highly reputable and trusted brand with the assurance of superior performance
A heavy model, you may prefer not to move it much.
As we have seen some of the best mixers and grinders in India, let us have a look at the process involved while buying the perfect mixer and grinder to suit your requirement.
How to Choose the Right Mixer Grinder: Buying Guide
A mixer grinder is one of the basic kitchen gadgets that has become an inseparable part of our kitchen. In India, we all have grown up listening to the high-pitch grinding sound of mixer grinders. Especially when some delicious coriander chutney is on the menu or when pureed tomatoes or onions are required for making a spicy curry. Also, for making the simplest of curries, intermixing species to prepare a delicious paste is mandatory, and for that, a mixer is required.
All said, when it comes to buying a mixer grinder for our household use, we often tend to get confused with a long list of brands to select from and where each claiming to be superior to the other. So, in lieu of assisting you in this regard, below, we have enlisted a buying process and by evaluating each you can get the idea to choose the right fit for you.
The Wattage Of The Mixer
This is one of the first things that needs to be evaluated when buying a mixer. You need to check the wattage of the mixer grinder because more wattage will ensure faster grinding of tougher ingredients. For home, it's best to buy a mixer grinder with 500 Watt to 750 Watt. Anything in between these two ranges will be good enough for the kitchen.
Speed Of The Mixer
It is another major factor that needs evaluation and this totally depends upon the RPM of the gadget. RPM, rotation per minute, tells you how fast the blade of the mixer grinder is rotating in a minute. For home purposes, a mixer with 18000 to 23000 RPM is required. It must be noted that for juicers and spices a moderate to low RPM is good enough and for tough ingredients like black gram higher RPM is required. So, it's advised to have a mixer grinder that comes with a speed control knob, so that you can adjust the speed and accomplish the desired grinding procedure as per the requirement.
Size And Number Of Jars
The size and number of jars depend totally upon the number of family members. If you have more members in your family, you will need a large mixer with heavy-duty features. Also, more jars will give versatile grinding options. Based on usage, you can segregate the jars for specific functions. Suppose, you have a grinder with jars, then in this case you can use one to grind spices, another to make pastes, and the last one as a juicer. Also, while selecting a mixer based on jars, you need to pay heed to its composition and durability. It is advised to select a grinder that has jars built either of stainless steel or ABS plastic body, both are highly durable and unbreakable. Further, the handle of jars should have an ergonomic handle for better grip.
Blades
Blades are the most important component in your mixer that actually performs all the key tasks – grinding the ingredients of all sorts. So, it is of utmost priority to check the quality of blades included in your mixer grinder. It is best to buy a mixer with stainless steel made blades, and if you get 304 Grade in it, that would be the best. Stainless steel made blades have corrosion resistance properties and are highly durable and also, these blades retain the sharpness and agility for years.
Overload Protection
This feature is necessary to protect the mixer grinder from damage or break down. Once in a while, we tend to run the mixer for longer than required or even sometimes overfill our jars, which may cause some damage to the motor of the grinder. Hence to avoid these scenarios, and to protect the motor from the overload pressure, a protective gear in the form of circuit breaker is required. So, it is best to look for the mixer grinder that has an overload protection feature to protect your mixer from any uncertain mishap.
Warranty Of The Mixer Grinder
Higher the warranty, the better it will be for you. Mixer is an electrical device that may get some wear and tear with the time. Or even can experience failure on the motor front or by mistake some other parts can get damaged. So, it is in your best interest to buy a mixer that offers warranty for a longer stretch of time. It is adequate to look for warranty ranging in between 2-5 years when selecting a model that fits your needs. Also, you need to pick a grinder that has a separate warranty on its motor as this will ensure that you don't just get assurance on the body of the mixer but also on its motor.
Pricing
Though this is the last but one major aspect that needs your attention! You can't be on a spending spree on just a mixer, there are several other gadgets that you require in your kitchen. So, it is most reasonable to evaluate your requirement and then decide for the mixer available to meet those requirements at the minimal value. There is always a huge line of products from the different brands available to select from.
Conclusion
In the last, I would like to add that mixer and grinder is an important kitchen gadget and selecting the best amongst many to suit your needs can be exhausting. So, to enlighten you and to help you find a perfect mixer grinder, an extensive list of top mixer grinders in India has been discussed above. You can evaluate, compare, and get your hands on the most suitable mixer grinder for yourself. And if you are looking for some top-rated wet grinders, we've also got this list covered for you.
And finally, even though we tried to include all of the major mixer brand names in the lengthy list above, if you know of any notable products that we missed, please let us know in the comment section. We would be more than happy, and willing to add them here.
FAQs
1. Which is the most silent mixer brand in India?
Prestige Delight Plus 750 W Mixer Grinder is best in this regard, as per our evaluation.
2. How much RPM is good for a grinder?
18000 to 23000 RPM is good for any mixer grinder.
3. Which is the No 1 mixer grinder in India?
Based on our evaluation, Bajaj Rex 500W Mixer Grinder is best for Indian users.
4. What is the ideal mixer grinder power level?
500W to 750W. Any mixer with a wattage capacity between these two will be ideal for Indian households.