A cup of coffee is an essential part of a balanced breakfast.
If you are a regular coffee drinker, you might want to choose powdered coffee as it is much easier to make and tastes just as good as coffee beans.
The nutritional content of 100 grams of Instant Coffee is:
Proteins: 14.42 grams,
Fat: 0.5 grams
Carbs: 73.18 grams
Fibre: 0
Calories: 352 calories
For 1 cup of instant coffee,
Caffeine: 30–90 mg
Calories: 2 Cal
No wonder filter coffee powder makes it almost as half the source of coffee consumption in many countries.
But with the options of coffee powder available out there, it can be daunting to choose the best one. Don't worry as we've done the research for you and have brought to you the best instant coffee powder present out there.
Top Coffee Powders In India
Here's our list of the top coffee powders that we recommend for different occasions.
Last update was on: March 31, 2023 8:57 pm
Best Coffee Powders In India
Nescafe Gold Blend Rich and Smooth Coffee Powder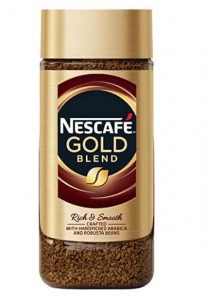 Nescafe Gold Blend is a rich and smooth coffee powder which gives the best results. This product is made from the finest Arabica beans that are grown in Indonesia that give you the best flavour and aroma. Serve this coffee for extremely happy guests during different occasions such as dinner parties, breakfast, snack times, early mornings and more.
Quantity: 100g
Packaging: Glass jar
Pros: It's great for coffee lovers and provides a rich taste and flavour. It is also a good value for money.
Cons: Rich but different taste which might not suit regular coffee drinkers.
BRU Instant Coffee Powder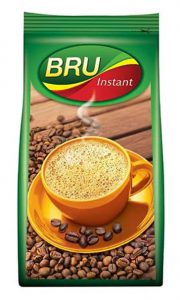 One of the world's best-selling instant coffee powder brands, BRU Instant Coffee is a great pick when you want the rich, aromatic beverage. Bru Instant Coffee is the ideal blend of 70% coffee and 30% chicory. These coffees are made with the highest quality Arabica beans with the robust Robusta beans rounded out to create a rich beverage. You can make a fresh cup of coffee in seconds by tossing this delicious blend into any of your favourite hot beverages! A perfect way to get energy in the morning or kick-start your day in the evening after a long nap.
Quantity: 200 gms
Packaging: Pouch
Pros: Full of taste and easy to make. A great replacement for filter coffee.
Cons: Reviews say that it doesn't have the best coffee-like aroma.
Country Bean Instant Coffee Powder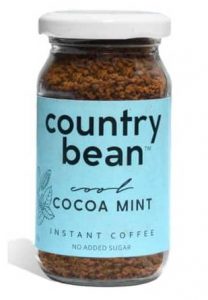 Crafted by the finest flavour experts, Country Bean coffee powder adds a delicious taste to your coffee. Country Bean Instant Coffee Powder is a healthy and stimulating drink. The delicious Cocoa mint flavoured coffee contains no artificial sweeteners or additives and is free from preservatives. It tastes great both hot or iced and is the perfect pick-me-up any time of the day. With the Instant Coffee powder from Country Bean, you can make espressos, frappes or lattes anytime, anywhere.
Quantity: 60 gms
Packaging: Jar
Pros: No artificial additives or added sugar. 100% vegan, gluten-free and keto friendly coffee.
Cons: The flavours can be too strong for some drinkers.
Rage Instant Coffee – Irish Hazelnut Flavoured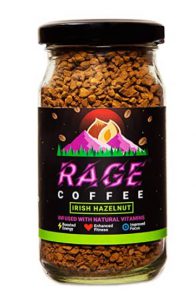 Looking for an instant coffee that has the flavour of an Irish Tea? Well, we have just the best for you! Made with 100% Arabica beans and infused with natural flavours, Rage's Irish Hazelnut Coffee is your perfect choice. It is free from additives, preservatives, or gluten and is even 100% vegan.
Quantity: 50 gms
Packaging: Jar
Pros: Smooth taste with the perfect hazelnut aroma
Cons: it's overall mild. Thus, not for you if you love strong coffee strikes.
Davidoff Café Espresso 5 Intense – Best Coffee powder for Black Coffee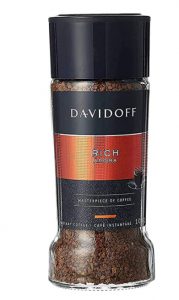 This instant Black coffee is highly intense. The flavour is smooth and very rich. It has a robust finish with a punch of sweetness. You will be delighted with the taste of this coffee. The coffee is rich yet mellow and has a smooth aftertaste. Especially, if you are looking for heavenly aromatic espresso, this one is going to be just the best for you. It's that intense and it makes you feel awesome.
Quantity: 100 gms
Packaging: Jar
Pros: It has a rich aroma and provides great value for money. It has a creamy texture and its flavour and aroma stands out.
Cons: Can be high on the budget for some as compared to Nescafe and Bru.
Flying Squirrel Coffee Powder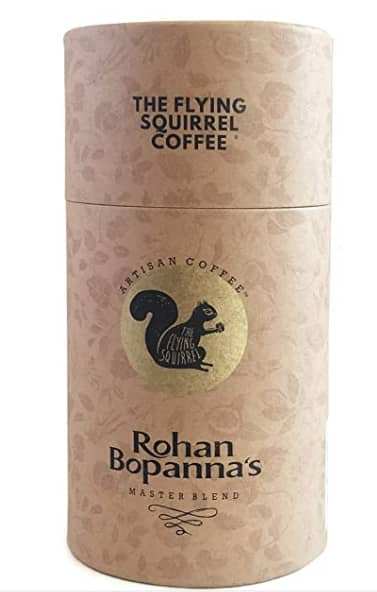 Flying Squirrel Coffee Powder is the perfect way to give your coffee a delicious and unique flavor. This ground coffee is made with only the highest quality beans, and it is sure to provide you with an amazing cup of coffee every time. Not only is Flying Squirrel Coffee Powder delicious, but it is also vegan-friendly too.
Quantity: 250 Grams
Packaging: Cylindrical jar
Pros: Medium grind flavor, Vegan-friendly, Ideal for coffee lovers, Affordable
Cons: No added ingredients and flavors
Seven Beans – URUBAGE South Indian Filter Coffee Powder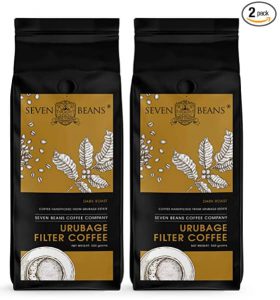 Seven Beans – URUBAGE is ideal in the morning to start your day on a rich and intense note. It is made with strong and fragrant dark roast beans that are rich in an intense flavour and aroma. It is freshly roasted before packaging which means it maintains its exceptional quality. You can also use it to make decoction with boiled water to make the perfect cup of black coffee/filter coffee in a matter of few minutes and get an aromatically thick experience. This blend is a staple in the South Indian filter coffee market and blends 80% coffee and 20% chicory.
Quantity: 500 gms (Pack of 2)
Packaging: Pouches
Pros: Interesting packaging with personalised note
Cons: Minimum order quantity of 1 kg required
Muziris Coffee Powder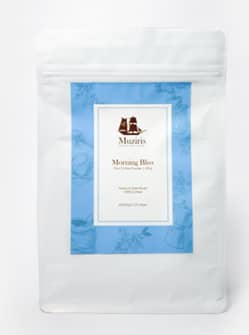 Looking for a delicious and convenient way to start your day? Check out Muziris Coffee Powder! This unique coffee blend features notes of spice, nuts, and chocolate, making it a delicious and unique option. Whether you are a coffee lover who wants to add a new flavor to your rotation, or you just want to make the morning routine a little more pleasant, Muziris Coffee Powder is the perfect choice for you.
Quantity: 200 Grams
Packaging: Paper bag
Pros: medium to dark roast, 12-months shelf life, Spices, nuts, and chocolate flavors
Cons: Tastes bit strong due to the caffeine content
Blue Tokai Coffee Vienna Roast Arabica – 250 Gm Dark Roast (Freshly Roasted) (South Indian Filter)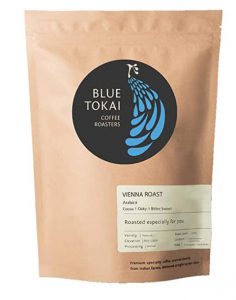 Bring home a taste of exotic coffee from the far south of India. Blending the best 100% Arabica beans from across India, this special blend is milled to perfection to allow the roast to develop a rich and distinctive flavour. Ideal for those who like their coffee strong, yet mild and smooth, it's sure to leave you in awe!
Continental Coffee Xtra Instant Coffee Powder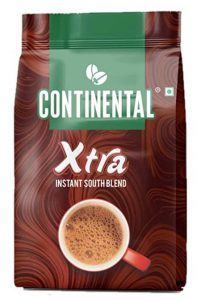 Whether you are drinking to get you through a long work day, or want to get the perfect coffee to start your day in style, Continental Coffee Xtra Instant Coffee Powder is one of the best choices. Packed with rich and robust flavours, it is a coffee that is sure to keep you going and help you start your day on the right foot! It is made with 70% coffee and 30% Chicory.
Quantity: 200 gms
Package: Paper bag
Pros: Chunky aromatic granules, delicious taste, and great for strong coffee lovers.
Cons: It's pretty strong, thus would not suit everyone.
Beantree Foods Nutty Hazelnut Instant Coffee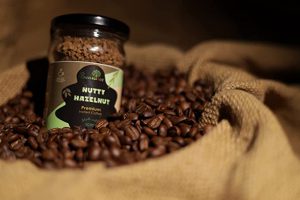 Beantree is a fastest-growing, ready-to-eat healthy food company that provides nuts, seeds, berries, coffee, and other goods on a single platform. Their items are also of high quality and offer substantial value for money.
The Nutty Hazelnut Instant Coffee is something one should try, especially when discussing Beantree's coffee category. It has high-quality Vietnamese Arabica beans and is delicious. These beans are micro-crystallized, which allows them to be quickly and easily absorbed by the body. This means that you will get a burst of energy thanks to their caffeine content, as well as improved cognitive function and concentration due to their antioxidants.
Quantity: 70 gms & 140 gms
Packaging: Glass Jar
Pros:
The hazelnut extract present in this coffee helps to promote healthy skin, hair, nails, and teeth while also reducing inflammation.
It also offers three more unique flavors, Green Coffee Beans, Rich Original, and French Vanilla that are good for the health.
Cons: Nothing specific about the coffee, but has limited flavors to offer.
PRISTINE Deccan Gold Roasted Premium Pure Filter Coffee Powder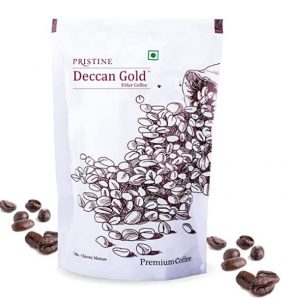 Enjoy the taste of pure filter coffee that is roasted to perfection. It is a rich, yet smooth coffee with a velvety texture that masks the bitter aftertaste. The aroma and the flavour are full of bitterness and over-roasting, and perfect in a cup or a pot. The coffee beans are sourced from places known for its quality coffee produce like the valleys of Kudremukh, and the banks of the river Bhadra. This coffee powder contains 80% coffee and 20% chicory, and, if brewed properly in water, will bring an awakening of the palate to your taste buds especially if you are having a cup of freshly made cup of Deccan Gold Roasted Premium coffee after you wake up.
Quantity: 500 gms
Packaging: Pouch
Pros: Very aromatic and long lasting taste
Cons: Too expensive when compared to the other equally good options in the market out there
Tata Grand Filter Coffee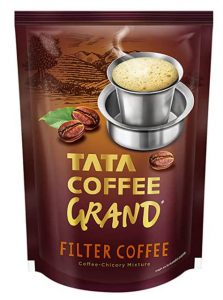 The Tata Grand Filter coffee has a supremely rich flavour, a velvety taste that lingers on your palate, and a sense of deep satisfaction at the end of each cup. These are the characteristics that make Tata Coffee the choice of coffee addicts all over the country. It contains 53% coffee and 47% chicory which gives it a pleasing and smooth taste. Surely a great one to start your day with.
Quantity: 500 gms
Packaging: Pouch
Pros: Less in caffeine content with great coffee taste makes it perfect for those holding back on caffeine
Cons: The description title of 70% coffee and 30% chicory can be misleading as this coffee is in fact 53%-47. Rest it is all good and has the classic taste promise and quality of Tata company.
NESCAFE Sunrise Rich Aroma, Instant Coffee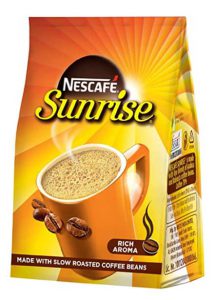 The very own Nescafe brand creates magic with its Sunrise line of coffee too. It has the finest blends of arabica and robusta coffee beans which are slow roasted to give the perfect aroma. The coffee beans are handpicked from the farms in South India which makes it an incredibly authentic product. It's a 70-30% combination of coffee and chicory and is well under budget. The coffee has a mild taste and soothing coffee aroma, giving to it the classic coffee taste.
Quantity: 200 gms
Packaging: Pouch
Pros: Pretty old in the game and trustworthy brand for many coffee drinkers. Great for new coffee connoisseurs too.
Cons: Tastes different from older Sunrise coffee powder. Old users of Sunrise coffee products will find the taste of this one slightly amusing.
Colombian Brew Press Coffee Powder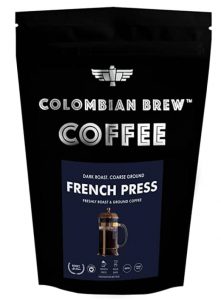 Colombian Brew Colombia is Arabica french press coffee. It gives you a perfect cup of brew with a smooth and creamy texture and beautifully aromatic notes of roasted beans. It has a bold, bitter taste that is pleasant in the morning, on the way to work or when you want to just relax after a long day. It is made out of dark roast and has a very strong flavour. The best cup of coffee is the one that has quality, taste and above all – simplicity.
Quantity: 250 gms
Packaging: Pouch
Pros: Keto friendly, freshly ground high quality coffee beans from all over the world. Good for Espresso.
Cons: the flavours can be overpowering. Is mildly strong so a stone coffee lover would need to add in more quantity of powder for a strong taste.
Lavazza Crema E Gusto Ground Coffee Powder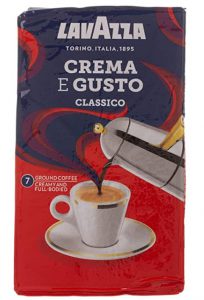 The perfect coffee for any occasion this coffee is creamy, smooth, and satisfying with a hint of sweetness. Enjoy it in the morning with a cup of steaming hot coffee or use it for afternoon tea with friends. This Italy originated coffee is a beautifully crafted blend made from the finest Arabica and Robusta beans. Rich and creamy texture would be an understatement. It has a round and enveloping taste that will probably be the end of your search for the best coffee in India if you are a fan of strong and spicy notes .
Quantity: 250 gms
Pros: Reasonably priced and good flavour. 100% value for money.
Cons: The beans are found to be over roasted which would not go well with classic coffee drinkers like Nescafe and Bru. If you would like to try, there are options present here in this list that you can check out.
TGL Co. The Good Life Company Euphoria Instant Coffee Powder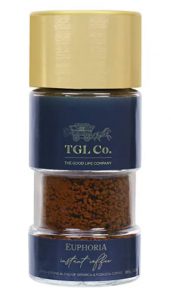 The Good Life Company is the pioneer of instant coffee powder and has a reputation for best-tasting products. TGL Co. Euphoria Instant Coffee Powder (100 gm) has become a global favourite for its rich, bold flavour that's enhanced by the perfect balance of flavours from Java Robusta and Arabica coffee beans. It is a well-balanced coffee blend with significantly higher caffeine content than other brands that make it a great choice for those who like to drink coffee daily or as an occasional beverage. The perfect way to describe its aroma is hints of burnt wood, clay, minerals, and corn-like.
Quantity: 100 gms
Package: Jar
Pros:  The premium imported coffee blend made from Arabica and Robusta coffee beans, has a great flavour and an excellent aroma.
Cons: Too strong! Everything else about this coffee is good.
Amazon Regular Coffee Premix Powder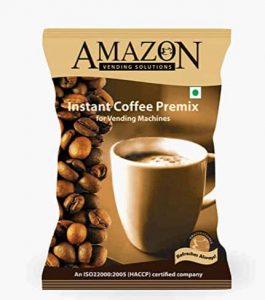 The all new coffee powder from Amazon is designed to be added to your cappuccino vending machines. Just add hot water and your cup of coffee is ready in no time. The coffee is freshly ground and contains no preservatives, additives or artificial colours and flavours.
Quantity: 1 Kg
Packaging: Packet
Pros: Coffee mix that can be instantly made and is reasonably priced.
Cons: It has a sweet taste, and thus, it's not for sugar patients.
FAQs
Which is the Best Coffee powder?
The enjoyment of coffee depends on many factors, including the quality of the beans used to make it. A good-quality coffee will have a rich and complex taste, whereas poor-quality ones are weak and bitter.
What you should know about Chicory?
All coffee cpower does not contain 100% coffee. There are some amounts of chicory as well. Chicory is a plant based extract from the dandelion family. These are basically roots of plants and are roasted, dried and then used in coffee. The reason they are used is because they taste similar to coffee and even have less caffeine which is another benefit of the ingredient.
Which coffee is better: Jar or Pouch?
Jar coffee and pouch coffee are the same. The only concern might arise concerning its quantity. Jar has more volume, thus, can contain a good enough quantity. Whereas the quantity might drop when sold in pouches.
Is instant coffee better than coffee beans?
Instant coffee has more or less similar health benefits as regular coffee. More is described in the table below.
| | | | |
| --- | --- | --- | --- |
| Nutrients | Powder Vs Beans | Is that good? | Why? |
| Antioxidants | More than coffee beans | Yes | Antioxidants has many health benefits |
| Caffeine | Less than coffee beans | Yes | If you are cutting back on caffeine |
| Acrylamide | More than coffee beans | No | Causes cancer, heart diseases etc. However, it is present in much less than harmful levels prescribed. Thus acrylamide from coffee as a source is not harmful. |
How do you make powdered coffee?
Powdered coffee is in fact made by brewing coffee beans which are then dried and powdered. Vacuum energy is used to obtain the powder. Another way to do it is the spray technique. When coffee extract is sprayed into hot air, it quickly dries and loses its water content.