Humans are born with a heart that beats for delicious food! Some tantalize their taste buds just by eating good food wherever they go while others take their love for food to the next level by making it their profession! Yes, you guessed it right! We are talking about food bloggers who not just like eating good food but also enjoy cooking awesome dishes, reviewing various eateries and restaurants and exploring different places in hunt for the most scrumptious food.
If you too have a thing for tasty food, you can satisfy your cravings by religiously following some incredible food bloggers. But, with umpteen food bloggers available in the country, you must be wondering which are the best ones? Don't worry! In this article, we bring you the most sought-after and remarkable food bloggers from the country that will just make you go 'yummmmm' with their outstanding cuisines.
Indian Food Bloggers Who Can Teach You The True language of Food
List of Fabulous Food Bloggers
We have compiled the most extraordinary food bloggers from across the country just for you! We have also reached out to a few and asked them to share a bit about their blogging journey. So, without any further ado, let's get started!
Sowmya Venkatachalam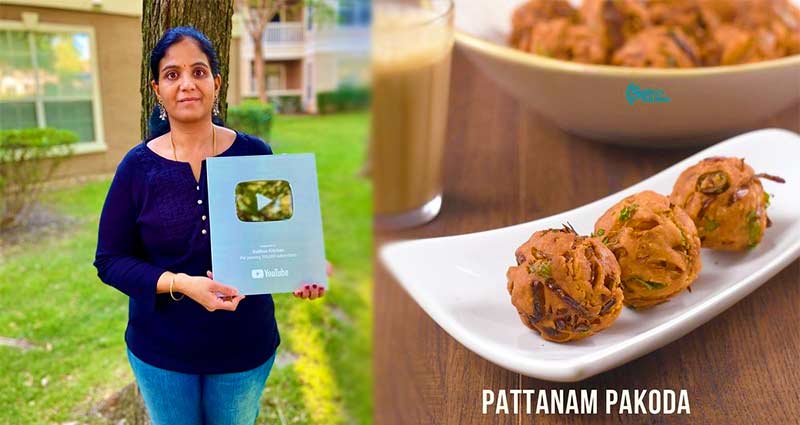 Hailing from a South Indian Brahmin family, Sowmya Venkatachalam is one of the most inspiring food bloggers today. And, if you are a vegetarian, then Sowmya's Subbu's Kitchen can be your all-time favourite. With more than 14k followers on Instagram and an excellent food blog, you can find some authentic south Indian recipes on her feed.
On being asked about what made her start this food blog, she says,
"I used to stay with my husband in the Netherlands. In late 2009, my husband got an idea of making the blog which will benefit so many ladies like me who are away from India but are very keen to follow the customs and traditions. So I requested my MIL to send recipes and she wrote in paper, scanned and sent it to me through email. With those repository I started the blog subbuskitchen.com."
Sharing a bit about her favourite cuisine, Sowmya states,
"My Favorite cuisine is always "South Indian". Being born in Chennai, our regular Idli/Dosa, Poori, Sambar, Rasam are my favorite."
Chitra's Food Book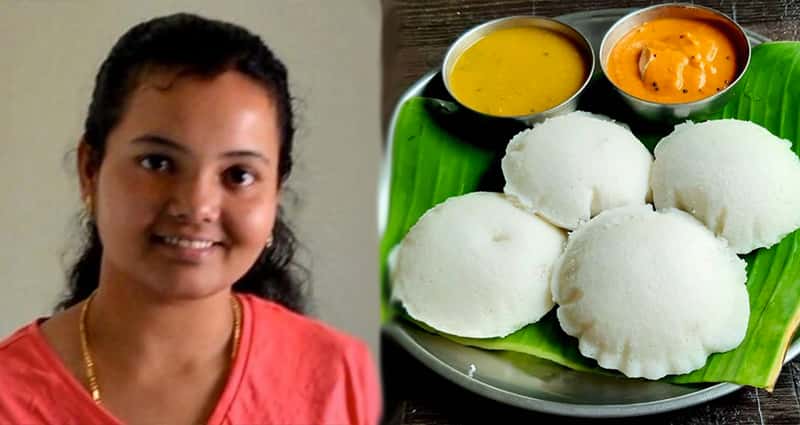 If your heart dies to eat south Indian food, then Chitra's blog is a must follow. Be it fantastic dishes from Andhra, Karnataka, Kerala, North India or International, she is simply a pro at everything! Besides tempting south Indian cuisines, Chitra has also tried her hands at baking. She prepares toothsome cakes, pastries and cookies which just look compelling and attractive.
On being asked about her entry into the food blogging segment, she says,
"I started food blogging to record my family recipes that I learn from my in law and mom. It's to help beginners in cooking and also to pass my free time in a useful way without sleeping in the afternoons."
She also shares a bit about her most favourite cuisine,
"My all-time favorite cuisine is Tamil Nadu and kerala dishes. But, recently I became fond of Karnataka cuisines."
Padhu's Kitchen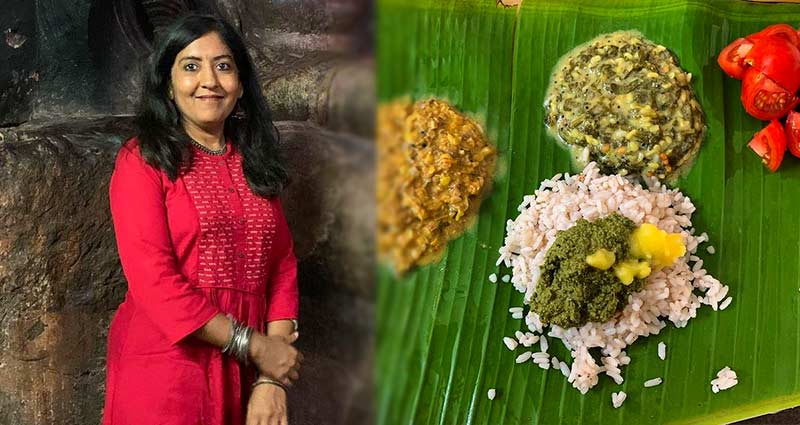 If you think veg food is boring and monotonous, Padhu's Kitchen is all you need! With huge varieties to hop on, Padhu Sankar has listed an array of veg recipes that will just make you go 'wowww'. Besides being a foodie, she is also a beauty blogger, nature lover, traveler, painter and yoga freak. And, if you are really looking for some healthy yet delicious recipes, then Padhu's kitchen is all you need!
Thasneen Nazeema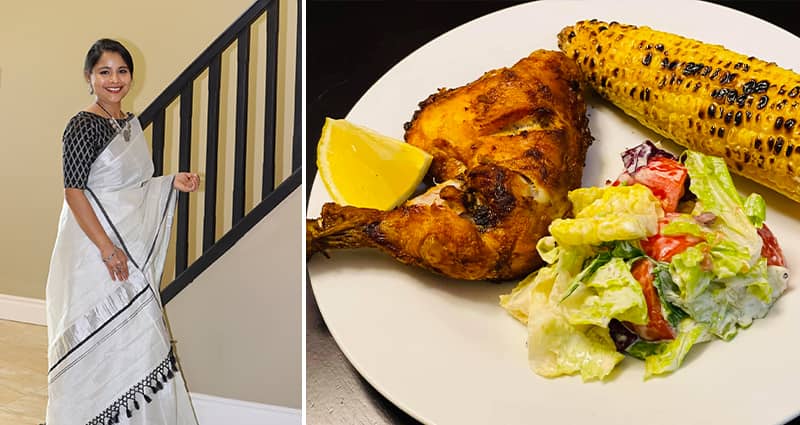 Thasneen Nazeema is an IT professional turned food blogger and YouTuber hailing from Kerala, and now settled in Canada. Her amazing food-blogging journey started in 2009 and is still going strong with more than 1000 unique & incredible recipes. Initially, she posted pictures on Facebook and soon she launched a food blog when her friends and family started showing curiosity to the recipes she made.
In a nutshell, she has gained 25.9K YouTube subscribers for posting the cooking videos in an engaging way till date. She made it possible by doing all with heart, being consistent, and keeping it original.
When we asked about what made her start this food blog, she says,
"Being miles away from my family, nostalgia hit me hard. My humble attempt at recreating favorite food made me fall head over heels into the cooking world. In the beginning, my taste buds had a hard time devouring my own food. That's when I explored different cuisines in my kitchen."
She also shares a bit about her most favourite cuisine,
"Two of my favorite cuisines are Malabar and Thai."
When we asked her about how to look for good restaurants, she says,
"In this digital age, good online reviews and ratings are essential for a restaurant. If a restaurant has negative reviews on the food quality, I tend to decline. Location and ambiance are the key determining factors too."
EdibleGarden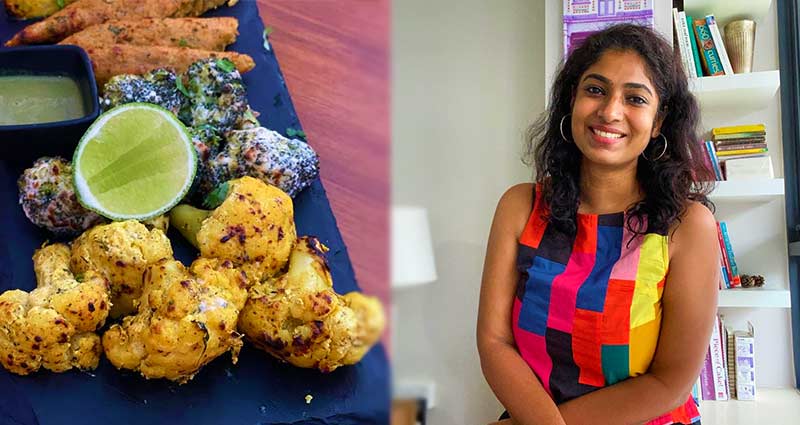 From flavoursome Kerala recipes to delectable quick bites to tempting chocolate dishes, Edible Garden is full of toothsome food and cuisines. Managed by Nags, a super cool mommy and a loving wife, this blog will help you with some healthy home-made recipes. You can also follow her beautiful Instagram handle and get instant updates on her new dishes, cooking hacks and much more.
F and B Recipes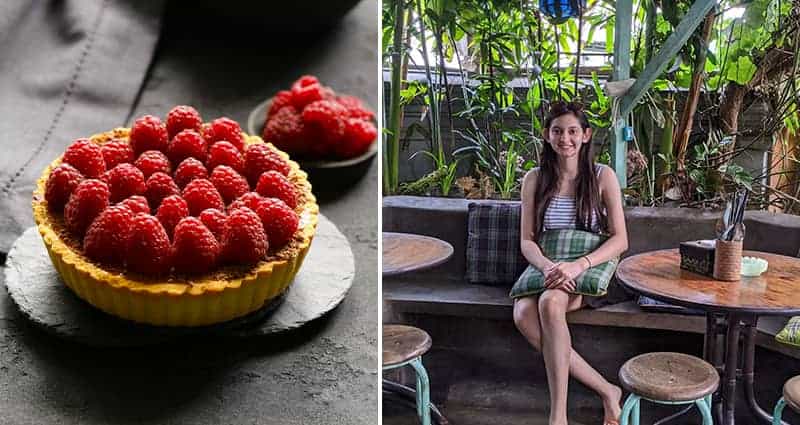 During the lockdown, all of us were trying something different at home, especially trying new recipes and Shristi is one among them. She was born and brought up in Indore, the food capital of central India. She started her corporate journey working as a freelance content writer and worked her way towards becoming the Chief Content Officer at a prestigious IT company. Her first e-cookbook was published in September 2020 after which she decided to start her own blog F and B Recipes.
When we asked Shristi about her passion for starting a blog, she says,
"I always share fresh, flavorful recipes that I love to make and eat in my everyday life with friends and family. During the pandemic, I was sharing recipes almost every day. That's when my cousin suggested to start a blog so more people could try and enjoy healthy recipes."
On being about her favorite cuisine, Shristi  says,
"Italian and Chinese!"
Flavors of Mumbai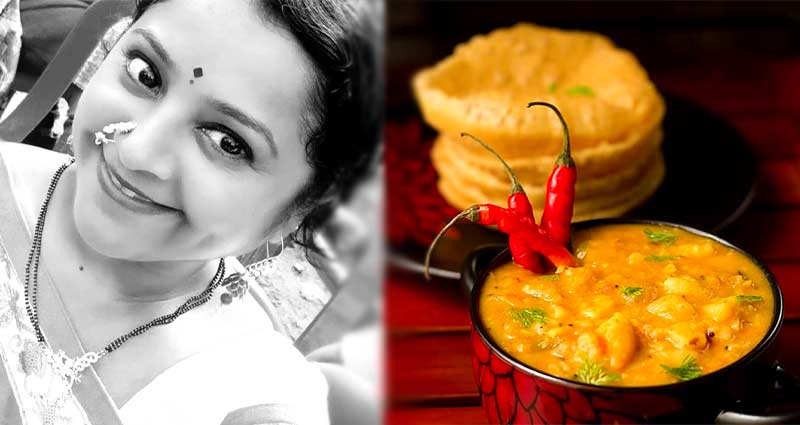 Flavors of Mumbai is one of the most celebrated blogs in India handled by this cute Mumbai girl Maria. Be it seafood, punjabi food, desserts or sweets, you just name it and Maria is going to help you out with the best recipe. Specialising in Mumbai street food recipes, her blog will never leave you disappointed.
Maria shares few lines about how her food blogging venture came into existence,
"When my father was hospitalized, I left my job and stayed with him home. I started venturing in the kitchen, started shadowing my mom, learned to cook, bake and get some culinary skills from my mom. I fell in love with cooking, baking and experimenting with cooking nuances. Slowly everyone loved my food and started getting a lot of appreciation. Then my sister, brother in law and hubby inspired me to start a food blog. This is how flavorsofmumbai came into existence."
She also shares a bit about her favourite cuisines and says,
"My favorite cuisine is Goan, Kerala, Punjabi and Italian. But raised in Mumbai love Maharashtrian and Punjabi Cuisines too followed by Gujrati."
Poojas Cookery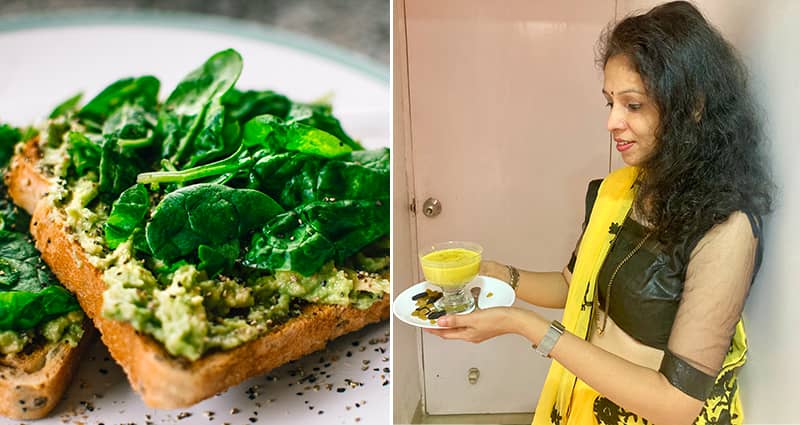 Pooja is a passionate blogger, recipe creator, and food photographer too. She loves to cook and try different dishes in the kitchen. In her blog, she talks about vegetarian, non-vegetarian, snack items, baking, and desserts. So, if you are a foodie and want to try something new, do check out the Poojas Cookery blog.
When we asked Pooja Nadkarni about her passion for starting a blog, she says,
"I had no intention of starting a blog as I was a full-time technical assistant in Engineering college. Later, I had to leave my job and move to California with my family. I was feeling depressed sitting at home and then started blogging on a free website. Thanks to my husband for giving me this idea."
On being about her favorite cuisine, Pooja says,
"Of course Goan Cuisine. I was born and brought up in Goa, India and love all kinds of food my mom used to cook, especially mackerel curry, Fish fry and Goan sweets."
Spoon Fork And Food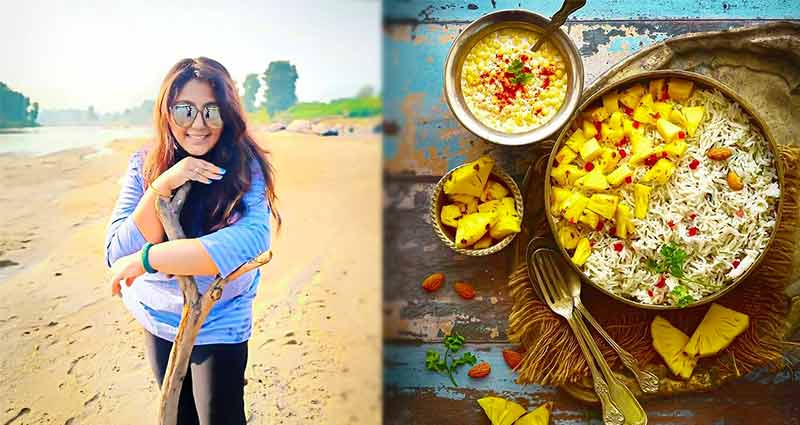 Spoon Fork And Food is a wonderful food blog by Shaheen, a foodie by heart and a physiotherapist by profession. Honoured with many awards such as Best Food Stylist 2021 and Best Recipe Blog 2021, she is indeed one of the leading food bloggers in the country. Scroll through her Instagram feed and you are sure to see a plethora of irresistible and mouth-watering dishes.
On being questioned about what made her enter the food blogging segment, she says,
"I started blogging after quitting my job in 2014. I Was always a good cook and i believe following one's passion is the most satisfying thing one can do in life. Aways had an artistic approach towards anything I did, and cooking, plating, styling, photography was something that made me happy."
She further shares some of her most favourite recipes with us and states,
"Indian, precisely Bengali, Awadhi and Rajasthani are my all time favorite. Other than this is like Thai food as it has an Indian flavor & touch."
Simply Tadka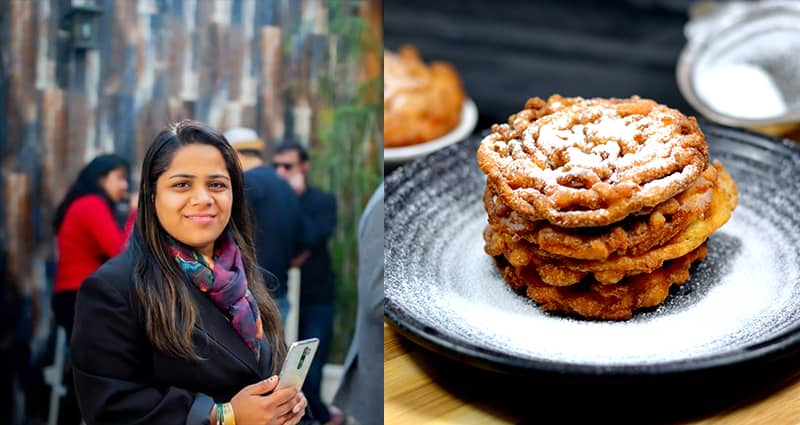 Simply Tadka is a wonderful food blog by Preeti, a foodie by heart and a HR by profession. She lives a life of her own style, very focused in whatever she does. She loves trying new things but within limited boundaries, she loves to approach her life in a practical way. She is an extrovert who shares her views and opinions regarding anything. She believes in "Simple living and High Thinking".
On being ask how did she get into food-blogging?
"My experience with corporate world was not good. That time I love cooking and shared some random pictures in friend groups. One of my friends suggests me to start sharing pictures on Facebook and other platforms. After few times I found Google Blogger platform through which I started my official journey in Jan 2012. Now I completed 9 years in food blogging and my blog name is Simply Tadka. This platform completes both my passions together with cooking and photography."
Sharing about her Favorite cuisine
"South Indian and Mexican cuisines are her go to cuisine."
Her take on how to look for good restaurant
"The main factor which attracts me for good restaurants are cleanliness, taste and quality of food and ambience. Other factors are prompt service, price, something unique menu."
WhiskMixStir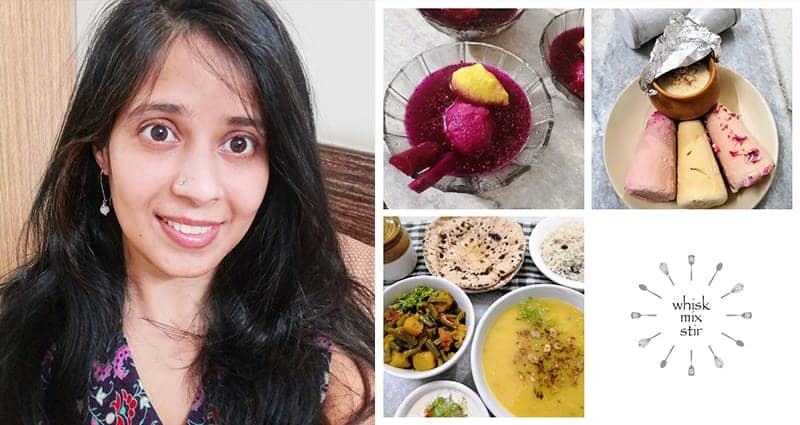 Do you want to try delicious yet healthy recipes at home? Start following Sheetal Jandial on social media platforms like Facebook, Instagram, Twitter, and YouTube. She grew up in Pune and was never limited to the foods from a specific region. She started the blog"Whisk Mix Stir" to connect with the food lovers and share all the food varieties. The best part is she also talks about cooking tips, preparing meals under 30-minutes, and a lot more stuff.
When we asked Sheetal about her passion for starting a blog, she says,
"Cooking has been my go to space for sometime  along with writing and putting the two together was really where WhiskMixStir started. From watching my mom, grandmoms, aunts effortlessly cooking meals for the family to now learning to cook up a meal myself, documenting my cooking journey and adventures, is my way of sharing and giving back."
While sharing a bit about Sheetal favorite cuisine, she says,

"Of Course Indian food! As diverse as it is, homestyle, everyday Indian food is my favorite cuisine. From dals to curries to various sabji to the numerous types of flatbread to unlimited rice preparations in homestyle. And finally ghee in everything."
First Timer Cook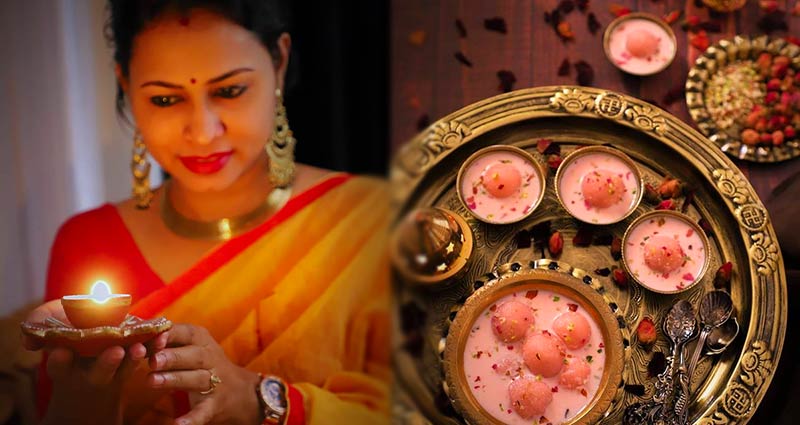 This blog will definitely leave you out of words and make you crave for each and every dish listed here. Owned and operated by Sasmita Sahoo, who did not even know the ABC of cooking before her marriage. Her love and interest towards cooking gradually started to grow day by day which resulted in 'First Timer Cook'. Her blog explains a wide range of tasty recipes in a simplified and easy way.
On being asked about how she forayed into the food blogging area, she says,
"I never used to cook before my marriage. Later, with the help of my mother and MIL, I started to cook some favorite dishes for my family members. When that dish was appreciated, for that moment I was then on cloud 9. So the journey started like this. whatever I learned I just used to pen down in my blog."
Sasmita also lists some of her favourite dishes and states,
"Odia and South Indian cuisine."
Jolly Homemade Recipes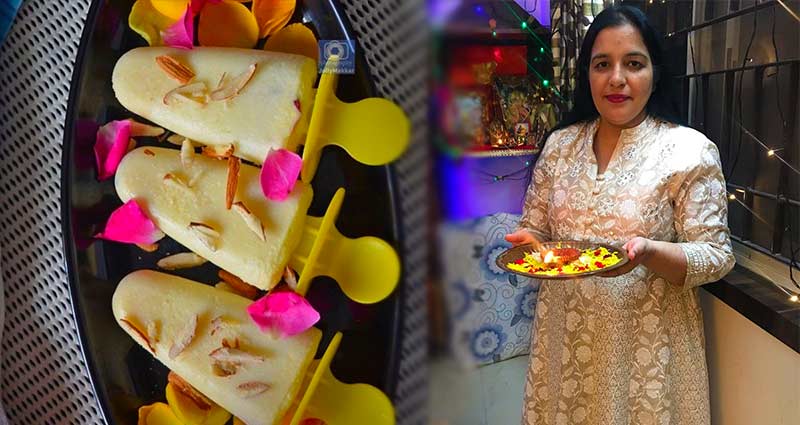 Next on our list is Jolly Makkar, a typical Punjabi girl who married a savage South Indian guy. So, when you visit her blog, you can find the perfect blend of both South and North Indian cuisines. Be it veg, non-veg or vegan, Jolly has a number of finger-licking recipes to offer with some really captivating pictures.
Speaking about her entry into the food blogging industry, she says
"After leaving my job in 2014 due to personal reasons and then becoming a mother in 2017, I have been working on my cooking skills. After a while i decided to brush up my SEO expertise which i gained back when i was studying and working. After having done that, I realised that I should write my own blogs about home made recipes and promote myself on social media."
Jolly also shares a little about her favourite cuisine,
"Every time I try something new and if my husband and my son like it, it becomes my favourite. There are no food boundaries in my life. But, yes mom-made punjabi food will always remain my most favourite one."
Sneha Dalvi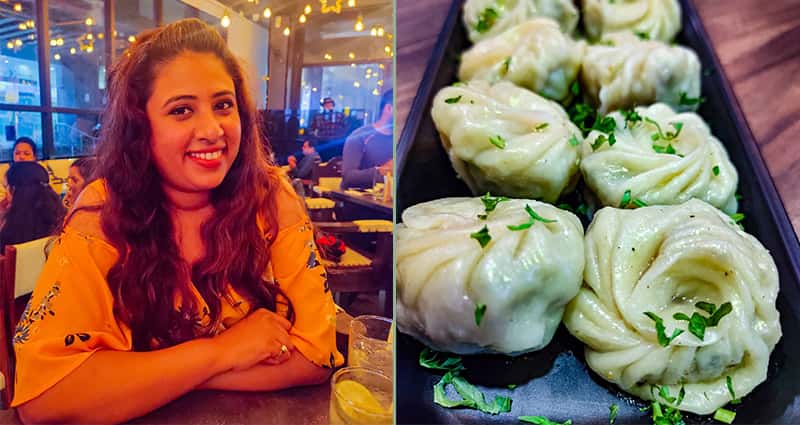 Sneha Dalvi is an avid traveler based in Mumbai. She always loves to have lip-smacking food, explore new places and experiences. She even contributed to popular travel and food sites like LBB Mumbai, Tripoto & Trell, etc. She covers detailed information like restaurant & hotel reviews, Travel blog posts, and recipes in her blog.
To your surprise, she was awarded runner-up for the category Culinary Travel for the FBAI Awards 2020. Zomato reviews and personal cooking experiences have encouraged her to pen down the recipes in a blog. Besides blogging, she is a movie buff. Romedy is her favorite genre, but she ends up watching action, drama, and even documentaries.
​
On being asked about what made her start this food blog, she says,
"I started blogging 6 years ago with my fascination for the F&B industry. My events job would take me to so many different places enabling me to experience the cuisines of different regions and their specialties. This officially marked the beginning of my journey as a food blogger."
She also shares a bit about her most favorite cuisine,
"I love a good hearty regional Indian meal any day, so it can be a good Gujarati Thali or an authentic South Indian Sadhya or a wholesome Maharashtrian meal. However, I indulge in a good old Desi Chinese meal too."
When we asked her about how to look for good restaurants, she says,
"Zomato has been a winner at this game for years, and the reviews from genuine food bloggers have always been a key factor for me to choose a place for dining out. Apart from this, Social Media also plays a big role, especially Instagram."
Wasim Mohideen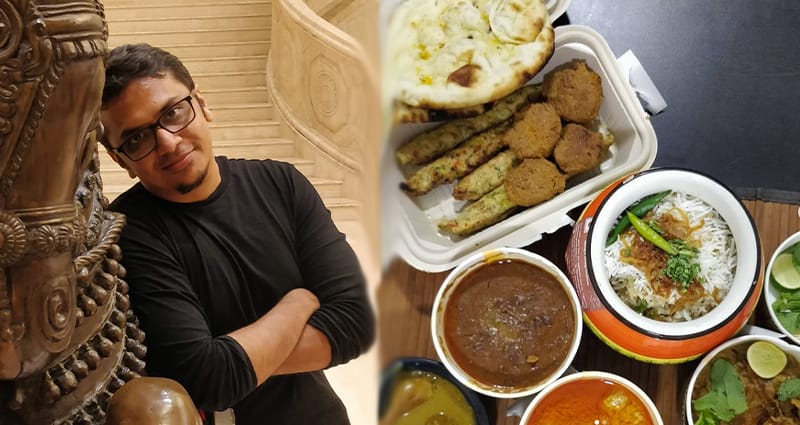 This wellness physician from Chennai, Wasim Mohideen has stolen our heart with his mind-blowing blog 'grubwaz'. His incredible journey was started with reviewing restaurants which has now evolved him into a brilliant cook. His umpteen years of experience in the industry has taught him the true language of food and made him explore the best flavours ever!
On being asked about how he entered the food blogging world, he says,
"I was writing detailed reviews in an ORKUT (anyone remembers?) food group for nearly 3 years before I decided to start a dedicated food blog in 2007. It was probably Chennai's first dedicated food blog. Over the years, I've moved towards a deeper understanding of food and its role in history, culture and health of communities from around the world."
Sharing further about his favourite cuisine, Wasim says,
"I love all cuisines, but Mexican and Indian are very intriguing cuisines for me, given the way they have evolved over a very long time."
Final Words:
"Food is maybe the only universal thing that really has the power to bring everyone together"- Guy Fieri. Be it throwing a party or just planning a dinner date for your loved one, good food will always lighten up the moment. And, in case you are looking out for ways to prepare the most appetizing food, you can follow the above-mentioned food bloggers.
Well, do you want to get some discounts on your favorite delicious pizzas and burgers while ordering online? Give it a try with the Dominos coupons and Pizzahut promo codes where you can find the exclusive offers round the year.
Also, let us know in the comments below if you have any more questions for our phenomenal food connoisseurs.