As a company owner, you have many responsibilities to take care of. One of those which probably takes most of your time and money is how to advance your company with time. If you were ever in this position, you might definitely have considered taking your business online.
Business owners believe that they can experience a 25% growth in their business in a span of 3 years simply by the benefit of a website (wpforms).
It is estimated that by 2040, 95% of purchases will happen online. Almost 40% of the entire Indian population uses the internet and among that 70% have made purchases online. That's from the 136 crores of the entire country's population. Moreover, 85000 new online websites and e-commerce sites were launched in 2020 (internet retailing). You can imagine the magnitude of online stores right now.
If you wanted to host your own website, there are quite a few huge names out there. All have slightly varying services and, you guessed it right, different prices. Consider HostGator. The website has 800000 customers. At the same time, it offers plenty of saving opportunities. And we can't have a good night's sleep without letting you know about all of it.
So we've done the research and brought for you the effective ways to save on HostGator. Let us see how you can make the best use of the offers present and save your money.
Saving Tips on HostGator
1. Check out Coupon codes
Coupons have been around for as long as products were sold. Similarly, the online hosting provider, HostGator, has some lucrative coupon deals that will help you save on almost everything that you can buy from the website. The best destination to check all these coupons is none other than GrabOn.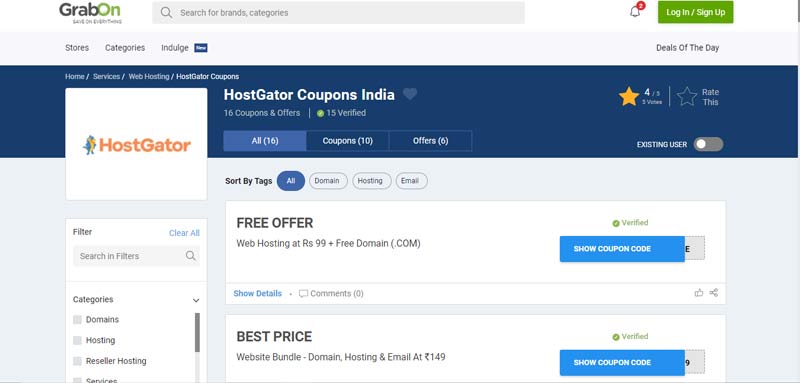 GrabOn features a plethora of deals for the domain, hosting, email, or more. The page is also constantly updated with the newest deals. Most of the coupons are verified. You can also check out ratings to identify the best coupon. So head over to the page and check out the exclusive HostGator coupon codes.
| Hostgator Offer | Coupons | Offer Details |
| --- | --- | --- |
| Web Hosting @Rs. 99 (Up to 50% OFF) | SUNSHI** | Valid On multiple Plans |
| 50% Hosting Discount + Free .com Domain | ONLINE** | Valid On multiple Plans |
| Website Bundle – Domain, Hosting and Email At ₹149 | SHARED*** | Valid On All .com and .net Domain Names |
| 50% OFF | ***SHINE | Valid On multiple Hosting |
| Domain's @Rs. 699/year | GET DEAL | Only on 2 Years purchase |
| 50% OFF | HGI20NEONGS | Web Hosting + FREE G Suite |
Listed are some of the top deals we have hand-picked from our GrabOn's page. You can check the entire list of Hostgator promo codes on the page link above.
2. Visit the Hot Deals page on Hostgator.in
There is a dedicated page on the HostGator website where you can find the latest deals curated by the brand itself. Here is where you will find exclusive offers on all services. These include Linux hosting, SSL, backup, domain offers, and other hosting services. At times we at GrabOn also get exclusive user promotional coupons from the brands. Some of the coolest discounts to look out for right now are:
Up to 40% off on Cloud hosting where you can host your website in a 4X scalable and secure environment.
20% off on Sitelock protection to secure your website against hackers, viruses, and spam.
.Com domain offer for only Rs. 99 per year with 2 free emails and free add ons worth Rs. 5000. No coupon code is needed for this offer.
Clearly, this page is updated very frequently with the latest deals. Keeping an eye on this page will surely help you get great offers.
3. Compare plans before you buy them
We never asked you to blindly choose a deal or just go for those which are recommended on the website from HostGator. We understand you have options and it's good to have them too. All we are asking is to compare all the service providers and choose the best one for your needs. You don't have to scribble the pros and cons of each pack on paper. HostGator makes it very simple for you.
Simply visit the 'Compare plans' page on the website. Use the comprehensive table over there to compare services with other players like GoDaddy, BigRock, and more. There is everything from pricing to a direct comparison of the features. This page will surely help you with some good insights as to which hosting provider to choose.
4. Check out offers during Festivals
Ask why… Oh well. HostGator loves to roll out jaw-dropping deals especially during festivals. The major festivals where you can see the never seen before deals are Black Friday, Independence Day, or Diwali. That's not it! You can stay updated with the deals through other mediums as well like the ones that are up next in this list.
5. Subscribe to the Newsletter
If you hate newsletters because they fill up your inbox, you might have to think again. As some companies send out really useful emailers with info about their products and services. For example, HostGator sends out deals on hosting and other products. If there's a festival, an emailer is the best place for you to know about the ongoing crazy discounts. Yes, you must still select your email subscriptions wisely. But keeping HostGator as one of them might turn out to be beneficial for you.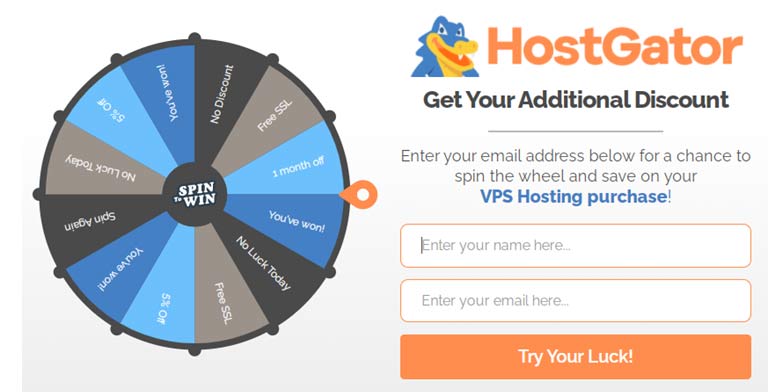 A lot can happen over email!
6. Follow HostGator Social Channels
We sure find ourselves scrolling through Facebook or Instagram feeds multiple times a day. Wouldn't it be awesome if a life-saving offer lands on your page? Social Media is a great place to share deals and discounts about a company's products. And HostGator has a bunch of those to share. Simply follow the Social pages to always be the first ones to learn whenever they have a saving fest going on.
All the HostGator Services That You Need To Know
Now let's talk about the options for hosting your dream website. There is a pool of hosting options including VPS, WordPress, Cloud, and more. And many more services like Email, Domain, Security, etc are available at HostGator too.
Hosting
Once you are done with making your website, the world can only see it if you host it on a server. There are different types of servers including shared one, cloud-based, or Virtual Private Server. All of these have their own advantages and disadvantages.
Cloud server
With a Cloud server, there's more flexibility as your website is hosted on multiple cloud networks. This also leads to less downtime as if one of the networks falls, another network directly takes up your website, thus reducing any lags in website performance. The entire process happens seamlessly without any manual work.
Cloud servers start from $4.95 and go up to $9.95 monthly. These plans come with domains, a huge storage space, security solutions like SSL certificates, and more. The benefits increase with higher packages where you enjoy more storage space and also use SEO tools.
Virtual Private Server
VPS offers more exclusive control over your website. This includes content, security, and more. As a website owner, you want to be able to take full ownership of the website as well. Thus you can opt for a dedicated VPS server that will let you do so. Some of the features of VPS hosting that HostGator offers are huge disc space (up to 240 GB), unmetered bandwidth, and more. The plan starts from $19.95 and extends up to $39.95 in the highest pack.
If you do not wish to  spend more on the VPS server and are looking for an alternative. We highly recommend you to purchase from the GoDaddy platform. This amazing service provider features web hosting, domain registration, web security, VPS, etc. at reasonable prices. However, you can still get them at cheap prices by using the latest GoDaddy deals from GrabOn.
WordPress
Hosting your website on WordPress gives you access to many instant plugins. These will help you with SEO, security, and also Content management. With a WordPress hosting plan, you get a free domain. The starter pack is as less as Rs. 249 for a month that you can begin with. If you need more services you can choose the premium plan for Rs. 49/month. The Performance plan is recommended by HostGator as it gives you 2 WordPress installations, 4GB RAM, and 20GB storage which is good enough for a starter business even if they plan to expand later on. It's priced at Rs. 299 / month.
Domain
With many of the plans, you would get a domain free for the first year anyway. But if you need to just book a domain name, there are .com, .net, .website and many more extensions to choose from. The price for a .net domain is Rs 399. But if you look for .in, the cost will be Rs 599. You can also transfer domains and also get email accounts set up with it.
Importance of a domain name
Creating a custom domain that is unique and creative is the soul of your website. A person will click on your website on Google if they think that they'll get what they're looking for. So is your domain name precise, yet conveys the message clearly? Once you have decided what domain name you want, you can purchase it from HostGator.
Website Builder
HostGator has an easy website builder which will help you create a site in minutes. If you choose a builder pack you will get a domain and SSL certificate with it among other features. A builder is a smart tool that lets you simply customise the template as per your need with a logo other details. In just some time, your website will be up and running.
Go for the website builder pack if you are also choosing to host your website on HostGator. The plans start from $3.84 per month. If you need higher plans there's a 50% off as well. So make use of a coupon code while making the purchase.
History of HostGator
Let's see what the HostGator journey has been like since it started.
2002 – Founded by Brent Oxley, a student at Florida Atlantic University
2006 – Expanded the office for the first time and also went international with their first office in Canada
2008 – Named as one of the fastest-growing companies by Inc. Magazine
2008 – Started 'Green hosting' by working on Integrated Ecosystem Market Services
2010 – Formed another office in the United States (Texas) and operations in India with its first Desi office in Nashik
2012 – HostGator was sold to Endurance International Group for a whopping $299.8 million
2015 – Launched Optimised WP
2015 – Expanded to Brazil, Russia, China, Turkey, Mexico
2019 – HostGator expanded to UK and Australia