Do you want to break away from your boring old hairstyle? If you are, the wonders of the curling iron come to mind! A curling iron is the best and most affordable way to achieve that hair salon-like hairstyle. However, with so many options flooding the market, choosing the best hair curling iron can become a bit confusing. That's why this article will take you through the best options available on the market.
Our Top Picks
| | |
| --- | --- |
| Most Popular Hair Curling Iron Brand | Philips |
| Best Budget Hair Curling Iron | AGARO HC-8001 Chopstick Hair Curler |
| Hair Curling Iron With Best Features | Havells Five in One Hair Styler |
| The Best Overall | Remington CI95 Hair Curler |
13 Best Hair Curling Irons & Wands in India
Choosing the right curling tong for yourself is as easy as buying one because this list of the best hair curling irons has listed all the best options that your hard-earned money can buy.
Havells Five in One Hair Styler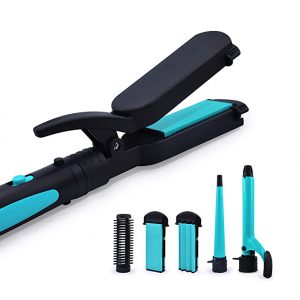 Moving from one good product to another, the five-in-one hair styler, as the name suggests, does everything, be it straightening, curling, or brushing. This might very well be the last hair styling device you buy.
And as for the company, Havells is a very well-known brand and it will be hard to believe that people haven't heard of it. Still, if you haven't, they specialise in manufacturing electrical equipment. They also have a range of beloved consumer products that include fans, lights, coolers, and much more.
Coming back to the hair styler, it comes with 5 different attachments that meet all your styling requirements. Be it an afro or stacked curls, the five-in-one hair styler can do it all.
What We Liked?
The hair styler is equipped with a PTC heater for uniform heating.
It has an insulated tip to prevent injuries.
All the attachments are coated with ceramic to prevent damage to your hair.
The hair styler is compatible with worldwide voltage standards.
 Specifications:
Brand: Havells
Colour: Blue & Black
Max Temp: 190°C
Heating Surface: Ceramic
Warranty: 2 years guarantee
BaByliss PRO Nano Titanium Spring Curling Iron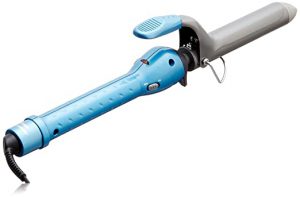 BaByliss is a company that is completely dedicated to providing hair styling products to people. Based in Europe, they manufacture an array of hair styling products such as hair stylers, hair dryers, hair straighteners, and more. And over the years, they have perfected these styling products.
The perfection of these products is well represented by the next curling iron on the list. The PRO Nano comes equipped with a ceramic-coated short barrel that produces tight curls and smooth, shiny hair.
Furthermore, to deliver the perfect style, it's equipped with far infrared heating that prevents hair damage and provides gentle styling.
What We Liked?
The Turbo heat button instantly increases the temperature to lock in the curls.
For simple accessibility, the temperature control is shrewdly placed in the handle.
The titanium finish helps superior dissipation of heat and prevents hair damage.
When the curling iron is turned on, an LED indicator on it illuminates, preventing accidents.
Specifications:
Brand: BaByliss
Colour: Blue & Grey
Max Temp: 232°C
Heating Surface: Titanium or Ceramic
Warranty: 2-year warranty
Conair Instant Heat Curling Iron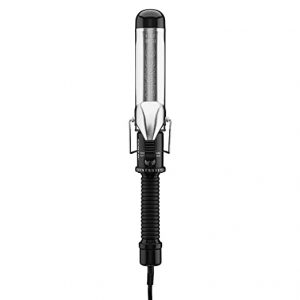 Conair Corporation is an American company that sells various appliances, including personal care products, health and beauty products, and much more.
Their line of hair curling irons has a variety of premium products that are bursting with features that enhance your hair styling experience. And it's the same story with the Instant Heat Curling Iron from Conair.
The 1 1/2 inch barrel ensures soft and loose curls, and the maximum temperature of 204 °C is suitable for all hair types. Furthermore, the ceramic heating pad reduces frizz and delivers smooth, shiny hair.
What We Liked?
The curling iron has a turbo function that instantly heats up to lock in the curls.
It has 25 heat settings that provide a variety of styles.
The iron evenly distributes the heat to prevent hot spots.
It can heat up within 30 seconds and maintain a proper heating level.
 Specifications:
Brand: Conair
Colour: Black & Chrome
Max Temp: 204°C
Philips BHB862/00 Hair Curler

If you are looking for a budget-friendly curling iron, then you should buy a Philips Hair Curler online having a second thought. It has got impressive features that make it worth investing in compared to other popular brands.
Style your hair gently with a protective ceramic coating. Once you switch on the device, it will be ready in 60 seconds due to the fast heating mechanism. The blinking of the LED light indicates that the device is ready to use. The swivel cord technology ensures the kit rotates at 360° to prevent wire clutter.
 What We Liked?
60-seconds of fast heat-up
Protective ceramic coating
2 years of manufacturing warranty
Makesthe hair soft and shiny
200°C high heating temperature
8m length power cord for easy accessing
Creates beachy wave style to look ultra-modern
Specifications:
Brand: Philips
Colour: Black & Chrome
Max Temp: 200°C
Heating Surface: Ceramic
Warranty: 2-year warranty
Remington CI95 Hair Curler
Topping our list is the CI95 from Remington. Not to be confused with the arms company, they manufacture personal care products such as hair clippers, electric shavers, epilators, and curling irons.
When it comes to the CI95 curling iron, it doesn't get any better than this. That's why it has made it to the top of this list, but don't listen to us, listen to the people who have already bought it. The CI95 has received a wave of supportive ratings and reviews on Amazon as well.
Furthermore, the curling iron comes with both a Perl ceramic coat and a real pearl shimmer. Because of such attention to detail, this product is considered by experts as the best curling tong on the market.
It delivers a max heat of 210°C, so if you have thick, coarse hair, you can pump up the heat to the max and get the desired results for your hair.
What We Liked?
Ready to use in 30 seconds.
Heat proof pouch comes included with the product.
Auto shutoff feature turns off the curling iron after 60 minutes.
The wand design makes it easy to use.
The long barrel makes it the perfect choice for people with long hair.
Specifications:
Brand: Remington
Colour: Black
Max Temp: 210°C
Heating Surface: Ceramic
Warranty: 4-year warranty
VEGA Ease Curl 19 mm Barrel Hair Curler

Do you want your hair to be curly while attending parties or events? Shop for the VEGA 19 mm Hair Curler. It is considered one of the best curling devices as it supports tight and vintage curl styles.
The VEGA curling iron comes with chrome plates with a ceramic coating for hassle-free usage. The power indicator light starts illuminating after tuning on the device and clamps to hold the hair tightly. The 360° swivel cord rotates conveniently and prevents unnecessary tangles. All you need to do is wrap your hair around the barrel and hold it with a clamp to get the desired shape.
 What We Liked?
Cool tip and clamp
Power indicator light
Promotes shiny hair look
200°C of maximum temperature setting
Sturdy chrome plates with ceramic coating
Suitable for women with thin and medium-length hair
Specifications:
Brand: VEGA
Colour: Black & Gold
Max Temp: 200°C
Heating Surface: Ceramic
Warranty: 2-year warranty
Revlon Extra Loose Curls Curling Iron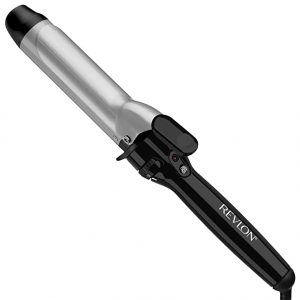 Revlon is an American multinational company that deals in cosmetics, hair care, skincare, and personal care products. However, they recently launched a line of hair curling irons as well, and by the looks of things, they seem to be doing well.
When it comes to this curling iron, it comes with all the features anyone would want. And as a plus, it's very affordable too! It has a 1 1/2-inch barrel and produces extra loose curls and relaxed waves.
The curling iron has 30 heat settings and can maintain the heat to deliver long-lasting curls. Furthermore, it has 3 layers of ceramic coating that protect your hair from damage.
What We Liked?
It has an auto-shut-off feature for your safety.
The curling iron has an insulated cool tip that prevents any injuries.
It is also equipped with a swivel cord for a tangle-free styling experience.
Equipped with an LED light indicator for safety.
Specifications:
Brand: Revlon
Colour: Black & Chrome
Max Temp: 204°C
Heating Surface: Ceramic
ROZIA Hair Curler

It's pretty exciting to know that chopstick models are suitable for all hair types, textures, and lengths. Sounds crazy! The ROZIA hair curler is one such product that incorporates a chopstick mechanism to make thin hair look thicker.
This corded electric hair curler makes use of a 360° rotatable power cord, which can extend up to 2.5m, making it easy to use. The titanium technology heats the barrel quickly and distributes the heat evenly to the hair strands by setting the temperature to a maximum of 220 °C.
 What We Liked?
Titanium technology
Budget-friendly curl iron
Long-lasting corkscrew curls
360° rotatable power cord
Easy to use and maintain
220°C of adjustable temperature setting
Suitable for teenagers, adults, and elders
 Specifications:
Brand: ROZIA
Colour: Black & Gold
Max Temp: 220°C
Heating Surface: Titanium
AGARO HC-8001 Chopstick Hair Curler

AGARO, one of the top sellers on Amazon, is offering quality products like a massager, electric toothbrush, etc., to its customers at inexpensive prices. One such popular product among its innovations is the AGARO Hair Curler.
Simply switch on the device. It will be ready in a couple of minutes, and you can get started using it to style your hair, be it for a beachy or curly look. It features a swivel cord to avoid the tangling of wires and a cool-touch tip to prevent the burning of hands.
 What We Liked?
LED indicator lights
180°C temperature setting
10mm barrel diameter
Ideal for creating natural waves
 Specifications:
Brand: AGARO
Colour: Black & Rose Gold
Max Temp: 180°C
Heating Surface: Ceramic
Warranty: 2-year warranty
Ikonic Curling Tong – 22mm (black & golden)

Finally, we will end the list with IKONIC Curl Iron. The IKONIC brand strives to provide the best quality products by introducing global technology into play.
Women tend to look beautiful with spiral hair. If you have straight, thick hair, the IKONIC Electric Hair Curler will give you lush ringlets that last for days. You don't have to invest in fraudulent models anymore! This curling iron professionally makes tight spiral curls by featuring a non-slip rubber handle, ceramic shine infused barrel, long power cord, and safety tip.
 What We Liked?
Heat-ready indicator system
Exceptional design quality
Comfortable gripping handle
Integrated safety stand
1-year warranty services
Lightweight curl iron for women
Professional swivel rotation mechanism
Specifications:
Brand: Ikonic
Colour: Black & Gold
Heating Surface: Ceramic
VEGA Ease 25 mm Hair Curler

Are you looking for glamorous and free-flowing curly hair? With the VEGA 25mm Curl Iron, you can get the desired shape in a couple of minutes. Also, the brand is suggested by beauty professionals for the myriad benefits it offers.
Moreover, it features a barrel with a 25mm diameter and a length of 125mm. The cool tip helps to hold the device while curling the hair. It consumes 45W of power to spiral your straight hair in less time. Besides the exceptional features, the manufacturer offers a 2-year warranty on the product. So, you don't have to invest more in the repair costs.
 What We Liked?
Easy to carry and maintain
Even heat distribution
Safety stand and cool tip
Rubber handle ensures comfortable gripping
Power indicator light with On/Off switch
 Specifications:
Brand: Vega
Colour: Black & Gold
Max Temp: 200°C
Heating Surface: Ceramic
Warranty: 2-year warranty
AGARO HC-7001 Hair Curler

Does your hair have dryness or exposure to the sun? Then it may result in frizzy hair. To avoid such problems, use an AGARO hair curler in your daily routine. What's so unique about the product is that it features a 19mm barrel that helps to style hair at your fingertips.
The negative ions present in the tourmaline ceramic coating reduce hair damage and give a lustrous look during special occasions. You can control the temperature depending upon the hair type and length. Moreover, the cool touch tip protects fingers from heat burns and other problems associated with it.
What We Liked?
Best suitable for frizzy hair types
LED power indicator lights
Tourmaline coated ceramic barrel
19mm of barrel diameter for perfect ringlets
Specifications:
Brand: Agaro
Colour: Black & Rose Gold
Max Temp: 200°C
Heating Surface: Ceramic
Warranty: 2-year warranty
Havells HC4031 Chopstick Curler

Have you ever come across a chopstick model on a curling iron? Havells chopstick curlers have a separate fan base due to their unique design and versatile functionality. Hence, it has become our priority in the list of the top 10 best curling iron kits in India.
The chopstick curler makes use of rectangular barrel technology to offer unique styles to hair. Moreover, the ceramic coating adds a lustrous shine to the hair, leaving it bouncy, glamorous, and full of life. In contrast with others, it has an extra feature called a safety stand for easy handling of the curler.
 What We Liked?
Affordable to buy
User-friendly manual
Advanced PTC heating element
8m length of a long power cord
2-years of warranty service
Specifications:
Brand: Havells
Colour: Black & Gold
Max Temperature: 190°C
Heating Surface: Ceramic
Warranty: 2-year warranty
How To Use A Curling Iron?
Creating voluminous, shiny ringlets is the easiest way to glam up your look. If you are not blessed with natural waves, you probably need a curling iron tool to bring beachy, coily curls into your life. With the right set of tools and styling products, it is easy to make spirals without hassle. Here, we have given step-by-step instructions on how to use a curling iron kit. Check it out!
Before curling your hair, make sure your hair is dry and there isno tangling of hair strands.
Divide the hair volume into manageable sections (preferably 2 or 3).
Take one-quarter of the hair volume and wrap the hair around the heating element of the barrel.
Hold the cool tip for 5-10 seconds and release it gently.
Follow the process for all the sections until you achieve the desired hairstyle.
Do not let the curling iron device touch the scalp as it results in hair loss, burns, and other infections.
The Ranking Factors
Here's what customers who bought it felt about the product.
| | | | | | | |
| --- | --- | --- | --- | --- | --- | --- |
| Brand Name | Light Weight | Value For Money | Easy to Use | Temp. Control | Regulated Movement | Drying Power |
| AGARO | 4.6 | 4.2 | 4.2 | 4.2 | 4.7 | 4.6 |
| Havells | 3.8 | 3.6 | 3.8 | 3.8 | 3.9 | 3.7 |
| Ikonic | 4.1 | 3.7 | 4 | 4.1 | 4.1 | 4.8 |
| PHILIPS | 4 | 4 | 4.1 | 3.8 | 4 | 4 |
| Rozia | 4 | 4.3 | 3.9 | 4 | 4 | 4 |
| VEGA | 3.2 | 3.5 | 3.6 | 3.4 | 3.5 | 3.4 |
| Revlon | 3.7 | 3.4 | 3.9 | 3.8 | 3.5 | 3.6 |
As per the data collected, the hair curling iron from AGARO is the best option available because it tops the chart for various parameters, such as weight, ease of use, temperature control, and movement freedom. However, if you want some more options, the curling irons from Ikonic and Philips stand at second and third place, respectively.
How to Choose the Right Curling Iron for Yourself?
When styling your hair, all you should worry about is which style to get, rather than indulging yourself in the complications involved with hair curling iron technology. So, here are the parameters that will help you choose the right curling iron for yourself.
Barrel Size
The barrel size of the curling iron plays a vital role in providing you with the desired results. It's generally believed by experts that you should use curling irons with shorter barrels to get tight curls and, conversely, a longer barrel size for looser curls. Furthermore, curling irons come in various barrel sizes, and the irons with shorter barrels are best for short hair, while anything longer than a 1 ¼ inch barrel is best suited for long hair.
Heating Element
Next is the heating material. The material used to heat up your hair plays a key role in protecting your hair from damage. Most metals used in curling irons can cause irreversible damage to your hair, so experts recommend ceramic heating elements. So, buy a curling iron that uses a ceramic heating element.
Multiple Temperature Settings
As you must know, different people have various types of hair. And different types of hair require different temperatures to style. That's why it's better to go for a hair curling iron with an adjustable temperature control. However, keep in mind that the temperature should not cross 200°C, as this is the recommended safest max temperature for styling hair.
Additional Features
The features of curling irons can make your life a lot easier. Since these come with various safety features, you can protect yourself and your hair from harm and damage. The auto-shut-off feature is amongst the best as it facilitates automatic shut down of the curling iron, so you don't accidentally touch it. There are many such features in various curling irons. Make sure you choose one with these features.
Frequently Asked Questions About Curling Iron
1. Which curling iron is best?
Of all the popular curling tongs, the Remington Ci95 Hair Curler is the best choice to make the hair curly, stylish, and long-lasting. It makes use of ceramic-coated plates for better results. Also, it is possible to adjust the temperature depending on the requirements.
 2. What size curling iron sizes should I buy?
Before purchasing, you should know the length of the hair. It is because the length of hair determines the type of curl iron with the barrel that should be used frequently for styling. Have a look at the table given below for more information:
| | | |
| --- | --- | --- |
| Size | Hair Length | Styles |
| 0.5-inches | Short | Straight |
| 1-inches | Short | Beachy Waves |
| 1.5-inches | Long | Curls |
| 2-inches | Long | Bouncy Curls |
Moreover, if you find that your curls are too tight and want more waves, go for a big-size curling iron and a small curl iron device for tight curls.
 3. What are the types of curling irons?
There are different types of curling irons available on the market, like ceramic, titanium, tourmaline, and gold-plated curl irons. It is essential for an individual to know the types and choose the right model to support the hair type. Otherwise, it results in hair loss or damage.
 4. Is a curling iron safe to use?
Hair curlers are extremely safe to use when you follow the manufacturer's instructions. However, using it daily may lead to split ends, burns, and dry hair due to the heating element.
Final Thoughts
To summarise, a curling iron can solve all your styling problems and eliminate the need for you to visit the salon. However, choosing the right hair tongs can be the difference between great curls and damaged hair. Hopefully, this list of the best curling irons will help you find what you were looking for. Or if you were looking for hair straighteners, here is a list of the best hair straighteners in India.
And if it did, let us know which curling iron you are using right now. Did we miss any of the popular curling iron brands? Do you have any other queries regarding curling irons? Please share it with us in the comment section below. Our team of experts will clarify them as soon as possible. Happy Shopping!