About Them
Hathway is a cable television operator and broadband internet service provider. Hathway was the first internet service provider in India. Initially known as BITV cable networks, it was acquired by the Hathway Investments Pvt Ltd in the year 1999. The firm started out as a cable operator and then branched into the broadband internet industry. Hathway made use of the Hathway cable to provide internet access. Hathway cable uses the CATV ( Cable Television) network for the internet needs. By the year 2011, Hathway launched their HD services in few cities. They operate their cable television in over 140 cities and their broadband service across 21 cities. The firm has been awarded the best MSO ( multiple system operator) awards nine times and has won the 'Star News Brand Excellence Awards for Brand Excellence in Digital Products for Internet Services' in 2011.
Your TV Watch Sorted
Hathway lets you stream on many channels in high definition and standard definition. Channel categories include sports, movies, music, news, travel, entertainment and many. The Hathway digital tv connection lets you select your plan as per your needs. With the customized Hathway plans never miss out on your favorite shows or movies. Enjoy live or recorded, high definition quality streaming. The Hathway online website lets you select your plans online and pay for it. With the Hathway recharge, you can easily recharge or pay for your connection from anywhere. And if you happen to have any queries or have some trouble with your connection, contact customer support. The Hathway broadband customer care offers excellent round the clock services.
Fast Speed Internet
How good is the cable operator Hathway at providing internet service? Quite good indeed. The company is India's first internet service provider and has great Hathway broadband plans in place. Hathway has a separate broadband for home and business. And that means there are different schemes on can opt for. You can select the right one from the Hathway broadband plans list. Hathway broadband offers the best internet services. So what do you get with Hathway broadband? High-speed internet with more download limit and great Hathway broadband customer care. So if you want to download that movie of high quality within minutes, get the Hathway connection. Check out their website for internet plans.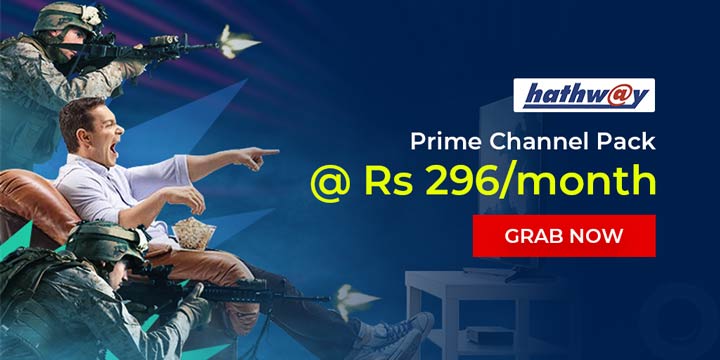 Great Plans Good Deals
Wouldn't be great if you could save on your internet and television subscription? And what if we told you can with the Hathway broadband payment offers. These offers help you get discounts on plans or even fetches you a great concession. Another great deal you need to look for is the Hathway broadband recharge offers. Every time you recharge your plan remember to use these recharge coupons. You can download the Hathway broadbandm app to get your payment sorted and be updated with new Hathway plans. Also, stay tuned on this page for really cool deals. You sure don't need to miss out on them. From crazy deals to offers, you can find it all here. Go ahead, select the right plan and save more with GrabOn.
Want to try out more cable networks before going ahead with Hathway? Videocon d2h can be one of the best options. Its outstanding video quality and fabulous channel options, makes it one of the top players. You can also check out Tata Sky, for it is known for its stunning plans and providing theatre like experience to its users.