BookMyForex- Your Doorstep Forex Partner
BookMyForex.com is India's first and the largest online marketplace for currency exchange and international remittances. They offer complete forex products like currency notes, prepaid travel cards, traveler's cheques, demand drafts and wire transfers in an affordable and easy way. BookMyForex.com operates as a marketplace for foreign exchange. They have partnered with most of the banks and reputed exchange companies to meet the forex requirements of their customers in more than 105 cities across India.
BookMyForex- Student Or Family, Services For Everyone
BookMyForex compares the exchange rate quotes and service-quality standards across hundreds of banks and currency exchange companies in real time. It then connects the customers with the most economical and reliable forex vendors that are closest to them. BookMyForex uses its own unique technology to ensure that their customers not only get the best value on their forex deals but also the best services. Their streamlined process ensures that their average order delivery time is about 4 hours after a customer places his/her order. Customers no longer have to approach different forex vendors and haggle for better rates. They can buy forex for several purposes such as Personal Travel, Business Travel, Education, Emigration, Employment, Medical, and Maintenance of closed relatives staying abroad.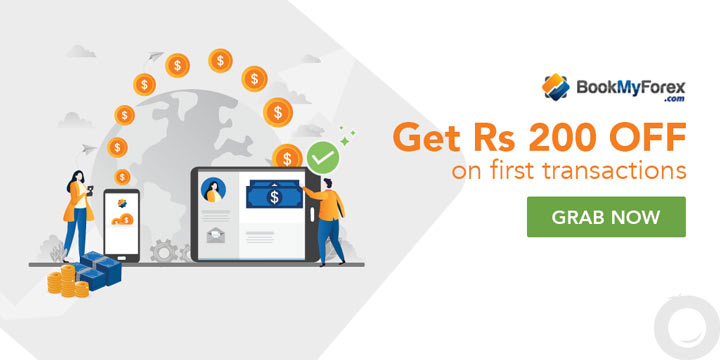 BookMyForex deals with a lot of products to help the customers. Some of their products that they offer are:
Prepaid Travel Cards:
Prepaid travel cards are Visa/ Mastercard cards issued by various banks are accepted at most ATMs and stores/ hotels abroad. Prepaid cards are highly recommended as the safest way of carrying money. You can also get a multi-currency card as well, where you can carry more than one currency for your multiple location travel to avoid carrying multiple cards.
Currency Notes:
A large amount of currency is unsafe to carry but small amounts of currency notes should be carried for incidental expenditure.
Traveler's Cheques:
Traveler's Cheques (TCs) are safer than currency but are not accepted at most establishments these days. However, Prepaid Travel cards are much more recommended option.
Demand Drafts:
Demand drafts are issued in the foreign currency for the purpose of sending money abroad. Demand drafts can be carried or mailed to the beneficiary.
Wire Transfer:
Wire transfers are used to send money directly from an Indian bank account (of the customer) to the foreign bank account (of the beneficiary).
Money Exchange Or Currency Rates, Get It All
They also offer a lot of information about currency rates as well. If you are looking for the highest currency, go to their Live Rates chart and compare which one is the most expensive currency. Euro to Inr, Dollar rate today, usd to inr and other rates can be found easily on their website.
Buy Forex Online With GrabOn
If you are looking for the best bookmyforex offer, this is the best page to be. GrabOn, India's best coupons website, has all the deals you need. Find the most amazing bookmyforex coupon code, cashback offers, discounts and much more!