Blackberrys - One of the best formal wear brands for men
Yes, Blackberrys is one of the most celebrated formal wear brands for men. The pieces they put together are in every way special and that is because they have taken a completely different approach to formal wear, which used to be pretty boring in the old days. Wearing a piece designed by Blackberrys makes you more confident, given they have such classy designs, good quality materials, superior stitching and more. If you love wearing formals and still don't own a piece from Blackberrys, then you are at a loss.
They have more than just apparel
Blackberrys offers more than just apparel in formal wear. They have a wide range of accessories and shoes as well and smart casuals too. You can get really classy numbers at their stores, both offline and online. And shopping online definitely has its perks….that you are here proves you know it already! So, they are nothing less than a one-stop shop for the modern man's wardrobe solutions. And yes, they are affordable too. But, if you wanna lower the cost of shopping at Blackberrys, which I am sure you would love, use the Blackberrys discounts and offers listed down on this page.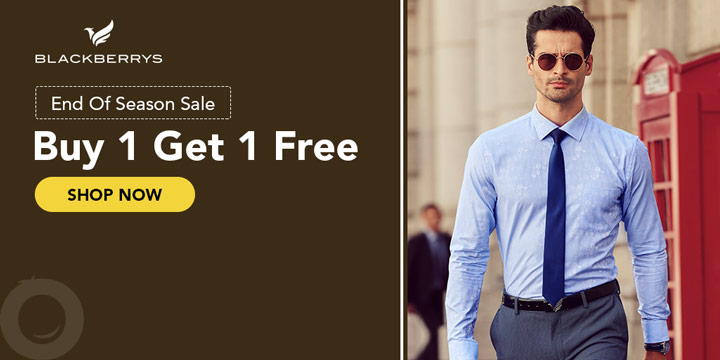 Experience matters
They have more than 25 years of experience in tailoring and clothing. They were once a small, but well-known readymade garments shop in old Delhi. In actuality, the shop is a 128 year old one, which was established back in 1881! The experience of bringing out the best in design with respect to the formals has been passed down from one generation to another. No doubt, they have such an awesome collection. And it is not only about the family that started the shop, but also the passionate workers, who work around the clock to bring out the best, as always! They make great offers as well on their site. Make sure you check those and if you miss out on any, check back over here. We at GrabOn, work hard to bring the best discounts from online retailers. And it is no different for this well-known brand. If you check the page, you will find there are lots of Blackberrys deals listed down on this page. Use one to save big while shopping at Blackberrys!
Your best style partner ever
Blackberrys is truly the best style partner ever, always helping you achieve a look that brings out the confidence in you. Did you know the styles that you can shop for at their store? You can shop for formal shirts and trousers, waist coats, suits, denims, casual shirts and t-shirts, khakis, knitted wear, jackets, innerwear and footwear on their site. Besides this, you can also check their collections, which are Urban, 9 to 9 and Not Shy of Colours. So, did you shop at Blackberrys till now? No, then what are you waiting for? Start shopping now and don't miss out on the exciting offers. Grab the best of Blackberrys deals with us today.