What Is Zostel?
Zostel is India's first and the largest brand of backpackers' hostel. The company boasts a solid track record, having served over 2,25,000 guests across 19 cities in the country. It offers more than 900 beds across the length and breadth of not only India but Nepal also. From the popular tourist destinations like Agra, Delhi, Goa, Jaipur to exotic locations like Bir, Leh, and Spiti, all are on the Zostel map. In 4 years, the company has garnered over 16000 positive reviews online. The online buzz that Zostel has managed to create early on in the travel industry is a resounding signal of its success and growing popularity among young travelers.
Why Choose Zostel?
The clean, safe, centrally located, and affordable accommodations it offers make Zostel the number one choice for female travelers, especially those who love to make solo trips, explore unknown territories and push boundaries (pun intended). Twenty thousand and more women travelers vouch for Zostel as a young, fun, and last but not the least dependable brand for planning their trips.
Zostel The Game-changer
Zostel has revolutionized the concept of budget travel beyond recognition! Holidaying and budgeting may seem opposites but not for you if you are a Zosteler! Zostel unleashes the infinite potential to explore with its funda of freedom to travel at any cost literally! The pocket-friendly travel packages that Zostel offers are quite a steal! It offers four types of packages Coastal, Mountain, Heritage, and Cultural. You can select any of these, and Zostel will customize it as per your preferences to complete your idea of a perfect holiday. The Coastal package allows you the choice of exploring the eastern or the Western coastline of South India. The mountain package is ideal for you if you love the hills and want to explore the snow-capped mountains and lush green valleys while adhering to your budget limitations. As the name suggests, the heritage circuit will help you relive the glorious history of our country while visiting the palaces in Rajasthan and hearing tales of extraordinary bravery. The cultural circuit allows you to visit popular tourist destinations like Agra, Kathmandu, Khajuraho, etc.
The unbelievable price at which Zostel offers accommodation is what makes it a clear winner! Zostel has managed to grab many industry awards like Trip Advisors Travellers' Award, Best Hostel in India at the Hoscar Award 2017. It has created a lot of buzz in the world of both print and digital media. Zostel has enjoyed coverage from the likes of National Geographic, The Indian Express, etc.
Introducing Zostel Escape
Zostel has also come up with a new concept called 'Zostel Escape'. Escape's quintessence provides a local and authentic experience to its patrons, whether it is in terms of the lifestyle, room decor, or culinary delights.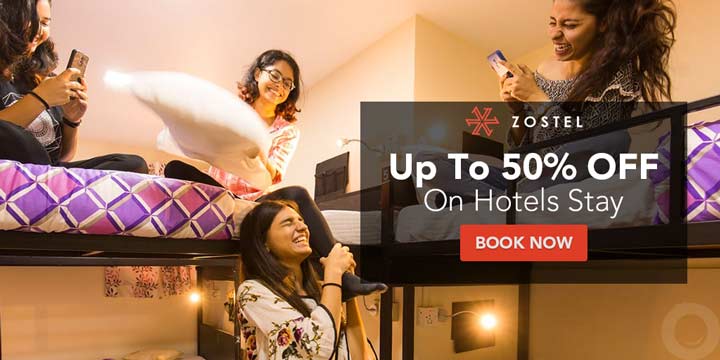 Amazing Zostel Offers
If the idea of a perfect budget holiday is not exciting enough already, here's some more good news for you! Zostel has partnered with GrabOn to offer young travelers the opportunity to explore Goa at 349! Too good to be true, isn't it? Then go ahead and check out the exclusive coupon codes and pinch yourself!