We Have Listed OnePlus TVs & 7T Mobile Offers, Promo Codes & Coupon Codes | GrabOn
| OnePlus Accessories | Oneplus 3T Offers |
| --- | --- |
| Oneplus 8 Pro | Just Rs 54,999 |
| Oneplus 8 | Just Rs 41,999 |
| Oneplus 7T | Just Rs 34999 |
| Oneplus 7T Pro | Just Rs 43,999 |
| OnePlus TV Y Series | Starting At Rs 14,999 |
| OnePlus TV U Series | Starting At Rs 49,999 |
| OnePlus TV Q1 Series | Starting At Rs 62,999 |
| OnePlus Protective Case | Flat Rs 600 OFF |
OnePlus- Never Settle
Ever since OnePlus came into the scene, it took the mobile world by storm. Staying true to its tagline 'Never Settle', the brand has ushered in a new era of innovation and technology. Its smartphones are designed to be practical and functional, but that is only a portion of what it does. Beyond making your day-to-day tasks much quicker, OnePlus also lets you do things that you never thought possible with your phone. The result is a seamless experience, that always keeps its users up and about.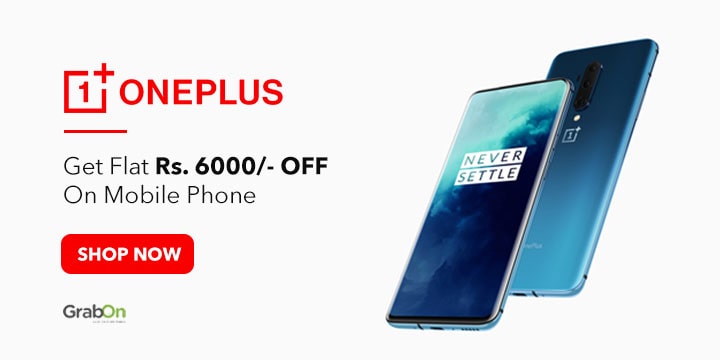 Experience The OnePlus Community
Running on a 4000 mAh battery, and up to 10GB RAM, the brand's phones are designed to keep going. And as the phone never stops, neither do you. Impressed by this efficiency that the phone gives to its users, the OnePlus Community keeps increasing year after year.
Age of Flagship Killers
Flagship Killers, aka, the best of OnePlus phones that don't cost you your family treasury. The one thing that separates this brand from most other mobile phone manufacturers is that it builds its gadgets in close collaboration with the end-user. The result is a range of superior smartphones that are affordable, as well as give you way more than your money's worth.
Things You Can Do In 20 Minutes- Cook 4 Packets Of Instant Noodles, And Charge Your OnePlus Phone
Fast charging of smartphones is not a new concept, but when OnePlus came up with its Warp Charger, it completely changed the game. Taking forward the legacy of its predecessor, the Dash Charger, Warp Charge powers your phone in 20 minutes and gets you going. Now you don't have to choose between a fast charger that overheats your phone and a slow charger that keeps your phone cool. With Warp Charge, the heat is dissipated even before it reaches your phone. This means that not only is your charging faster and safer, but it is also cool as ice.
The Superior Experience
From the beginning, the brand was all about delivering more than just a better phone. Ever since 2013, its effort has been to provide a 'better way of doing things'. By building a large and involved community, it has enviable insights into what the users want in a phone they'd like to own.
Features To Look Out For
Impressive specifications can be seen in the upgraded front shooter that comes with a 16 MP sensor and lets you stream videos in HD. Small yet meaningful features like Smile Capture that takes your photo automatically once you smile, is precisely the reason why OnePlus prides itself on providing specs that actually matter. And that's not all. The front camera helps you take sharper and clearer images by negating the noise and combining pixels to shed more light. Among the arsenal of functional specifications is the lightning-fast Shutter Speed, snappy and quick Autofocus, and Optical Image Stabilization that lets you take sharper and crisper images despite jerks or sudden shaking of hands. Most of the OnePlus phones also include modes such as ISO, Fine-tune exposure, and RAW image file support that helps you edit photos post clicking. In other words, OnePlus doubles as a DSLR!
Color Variants like Never Before
The brand continues to churn out colors that are sophisticated at the same time as they are psychedelic. Beautiful colors like Glacial Green, Polar Silver, and Interstellar Glow make the smartphone more desirable than it already is. Of course, there are also the signature blacks in every new edition. There's the Midnight Black that keeps making an appearance across the series. And then there are the glossier blacks like OnePlus 6's Mirror Black. There are the greys that look like black, like 7's Mirror Grey and 5's Slate Grey. And then, of course, is the classic Sandstone Black that's been around since the beginning, and the recent addition- Onyx Black.
Fun Fact: The brand's most-loved Midnight Black variant came from a painstaking process of trying over 30 variations of the color black!
Known for sweating it out over the tiniest of details, OnePlus finally produced the premium all-black phone by applying a 14-micron thick coating on the regular space-grade aluminum thus resulting in the awe-inspiring black.
Save on OnePlus Latest Edition With GrabOn
If you have an eye on OnePlus' new launches, then head to this page as soon as it comes out. What is the price of the phone in India? What is the biggest discount you can get it for? Where to get it from? All of your questions will be answered on this page. Oh, and we give more than just answers. Did we mention that the biggest deals on OnePlus are right here? It's true, you can use our coupons to increase the coolness of your purchase, and decrease the price of it.