Weddings, oh, they're a whirlwind of emotions, joyful chaos, and meticulous planning. From picking the perfect flowers to selecting that oh-so-dreamy wedding attire, every detail is carefully framed to create a day that sparkles with love and enchantment. And as you gracefully waltz into your happily ever after, say goodbye to post-wedding planning blues because we are gifting you a list of the best honeymoon destinations in India, where love ignites; and adventures await!
So, hold hands and let the butterflies in your stomach take flight as you plan to head on to a journey that celebrates your love in the most magical way.
Our Top Picks:
| | |
| --- | --- |
| Best Location | Darjeeling |
| Most Romantic | Srinagar |
| Easily Accessible | Allepey |
| Most Promising | Andaman |
Top 16 Honeymoon Destinations in India in 2023
India offers a rich tapestry of culture, architecture, and natural beauty that will leave you enchanted. From exploring the stunning hill stations in the north to experiencing the tropical paradise of the Andaman and Nicobar Islands, here are India's top honeymoon destinations.
1. Darjeeling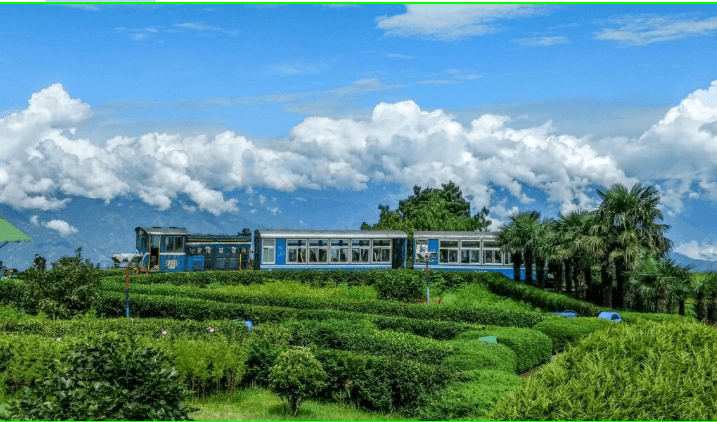 Darjeeling is a charming hill station cradled in the embrace of the Eastern Himalayas, where enchanting landscapes and alluring allure await. This idyllic town boasts breathtaking views of snow-clad peaks, lush green tea plantations, and a peaceful atmosphere that invites couples on a romantic getaway. The renowned toy trains add a nostalgic touch as they meander through the scenic routes, creating a truly magical experience for you and your beloved.
Places to visit:
Tiger Hill
Batasia Loop
Japanese Peace Pagoda
Ghoom Monastery
Darjeeling Ropeway
Things to do:
Trek to Sandakphu
River Rafting on Teesta
Stroll in Darjeeling Tea Gardens
Rock Climbing
2. Kodaikanal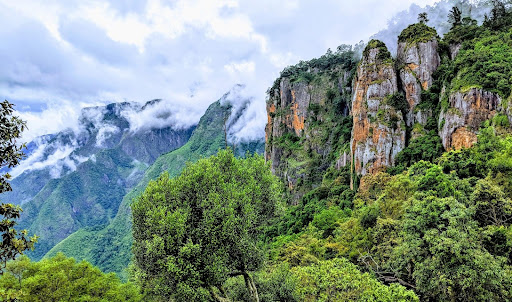 In the "Princess of Hill Stations," Kodaikanal, embrace the natural beauty and the company of your loved one to find yourself lost in a world of romance and enchantment. From serene lakeside moments to thrilling adventures, Kodaikanal offers a dreamy canvas for your perfect honeymoon escapade. Let the misty mountains and lush landscapes be witnesses to your love story as you embark on an unforgettable journey hand in hand.
Places to visit:
Kodai Lake
Coaker's Walk
Pillar Rocks
Bear Shola Falls
Bryant Park
Things to do:
Trek to Dolphin's Nose
Explore the Berijam Lake
Cycling around the Hills
Boating in the Silver Cascade Falls
Night Safari at Bison Wells
3. Rann of Kutch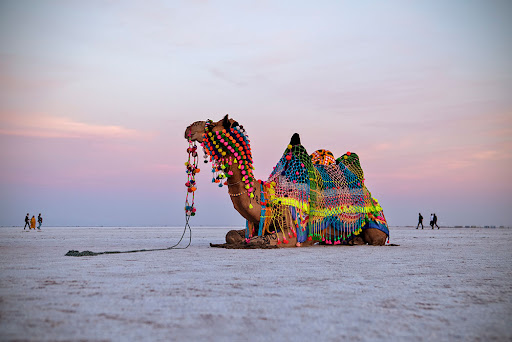 A journey to the Rann of Kutch is nothing short of a magical adventure that will leave you both spellbound. As you explore this surreal destination, you'll find yourselves creating cherished memories amidst the vast, gleaming expanse of the white desert. It's where romance intertwines with adventure, and nature's beauty meets human culture. Embark on an unforgettable escape and let the Rann of Kutch weave its magic on both of you.
Places to visit:
Great Rann of Kutch
Kalo Dungar
Mandvi Beach
Chhari-Dhand Bird Sanctuary
Aina Mahal and Prag Mahal
Things to do:
Camel Safari
Hot Air Balloon Ride
ParaMotoring
White Desert Camping
4. Gokarna

Love the fresh air of beaches and enjoy walking on the smooth sand along the seashore? Then this small town of Gokarna can be the go-to place for your honeymoon. Located in the Uttara Kannada district of Karnataka, Gokarna is also a perfect fit if you like virgin beaches and wish to spend your honeymoon peacefully. It also lets you indulge in adventure sports like trekking and water sports.
Places to visit:
Yana
Mirjan Fort
Half Moon Beach
Mahabaleshwar Temple
Kudle Beach
Things to do:
Beach Trekking
Banana Boat ride
Beach camping
5. Spiti Valley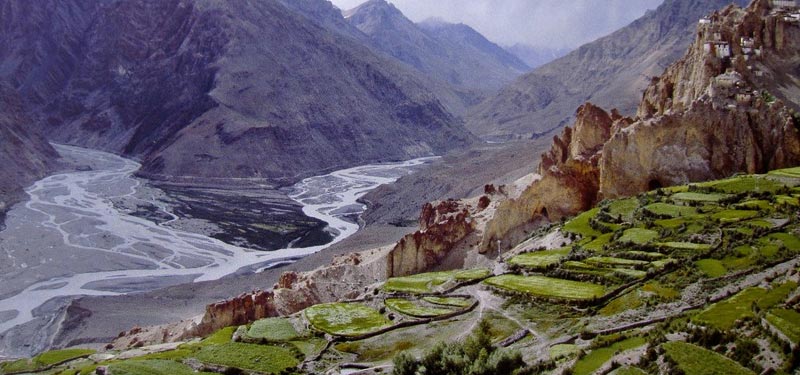 If you and your partner are "mountain people", nothing can be better than spending your honeymoon surrounded by magnificent hills. Himachal Pradesh's Spiti Valley is known for its breathtaking snow-capped mountains, cultural heritage, stupas, trekking, etc., making it a perfect honeymoon spot for all mountain lovers And, if you want to try something really unique, then Spiti also offers a yak safari.
Places to visit:
Chandratal Lake
Key Monastery
Baralacha La
Things to do:
Pin Valley Park Trek
River Rafting
6. Andaman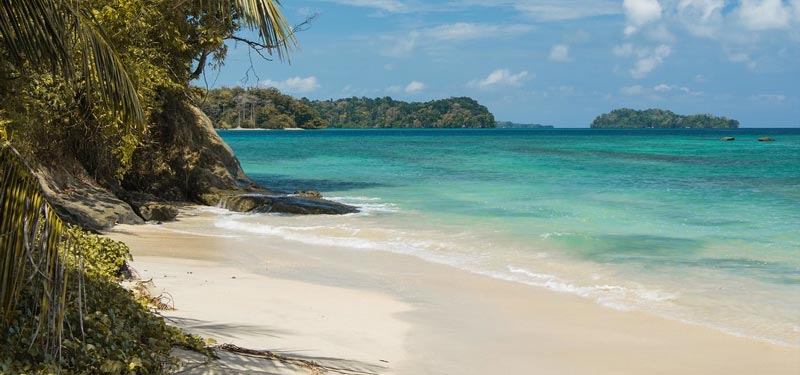 With a cluster of nearly 300 islands, Andaman is all about love and romance. If you want to spend your honeymoon amid tropical rainforests and white sand beaches, Andaman fits your list. The island attracts not only tourists from across the country but also from other countries. It also has a plethora of activities to do, scuba diving being the most important one. And, if you are planning your honeymoon in December and January, then it's like a cherry on the cake as the island hosts an annual tourism festival for two months.
During your honeymoon, you may have many plans like shopping, adventure games, night parties, etc.Why waste money on traveling when you can use emirates discount code to give your partner the holiday of a lifetime?
Places to visit:
Havelock Island
Historical Cellular Jail
Radhanagar beach
Ross Island
Things to do:
Boat Ride to Jolly Buoy Island and Snorkeling
Trek to Mundapahad and Chidiatapu
Scuba diving
7. Matheran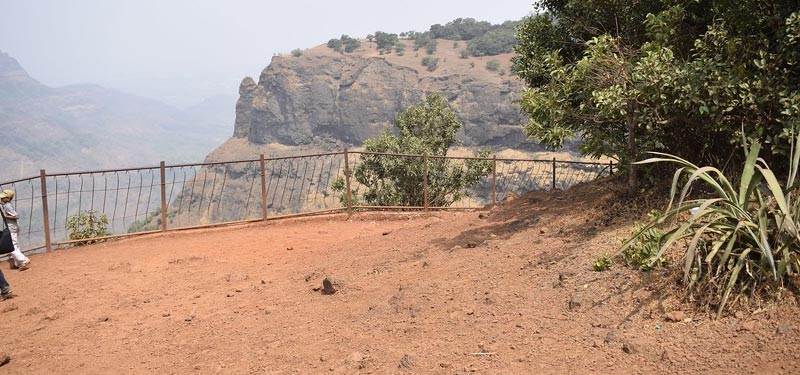 Are you and your partner nature and adventure enthusiasts? If yes, then this small and lovely town of Matheran, located in the Raigad district of Maharashtra, can no doubt be considered one of the most romantic getaways in the country. With its scenic beauty and mesmerizing views, the hilly town will surely make you fall in love with it. It also has many dazzling resorts and villas to make your honeymoon more cozy, romantic, and joyous.
Places to visit:
Dodhani Waterfalls
Louisa Point
Irshalgad Fort
Things to do:
Take Neral-Matheran Toy Train
Trek to Chanderi Caves
8. Alleppey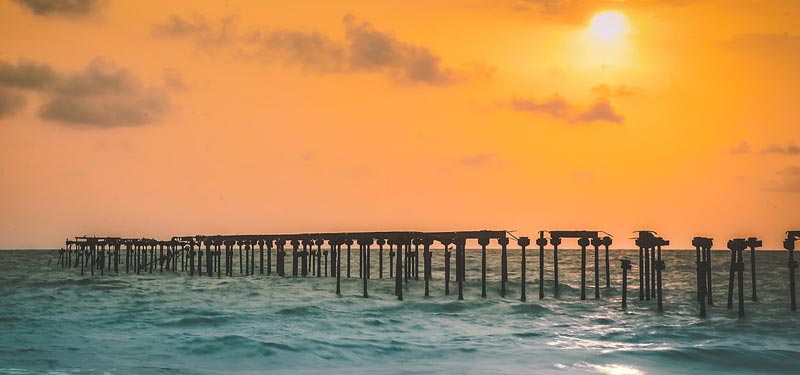 Also called 'Venice of the East', Kerala's Alleppey is one of the most romantic and ravishing destinations in the country. Located in the Laccadive sea, Alleppey also has many other places to visit apart from its beauty of backwaters. This town is widely known for its rejuvenating ayurvedic resorts and lavish houseboat stays. You can also enjoy Kerala's mouth-watering cuisines in Alleppey and witness their culture.
If you want a unique honeymoon experience, find our list of favourite places to vacation in India during the monsoon season. There is room for all kinds of people and vibes across this country.
Places to visit:
Alappuzha Beach
Alleppey LightHouse
Triveni Floating Market
Things to do:
Kayaking
Backwaters boat ride
9. Rajasthan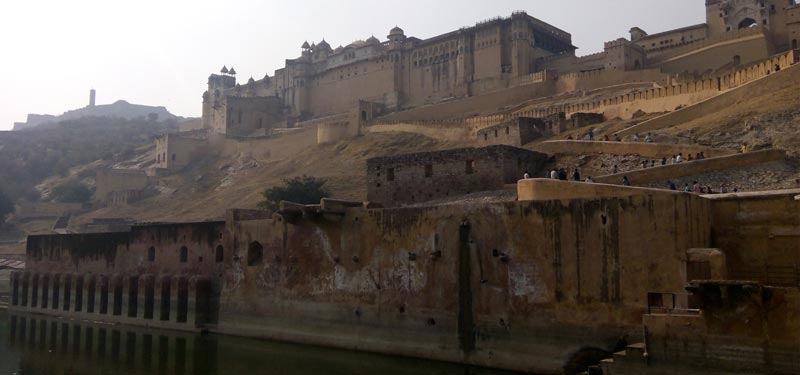 The state of Kings, 'Rajasthan' as the name suggests, has many luxurious yet charming honeymoon destinations in its pocket. With its culture, forts, and lanes, it truly reflects the beauty of India. From captivating sunsets in the desert to the pleasing lakes of Udaipur, Rajasthan can be a complete package for your honeymoon destination. However, it is advisable to visit the state during winter only. Also, do not forget to give your taste buds a chance to relish the aura of authentic Rajasthani food.
Places to visit:
Jaisalmer
Mount Abu
Jaipur
Udaipur
Things to do:
Desert Safari and desert camping
Zipline
10. Alibag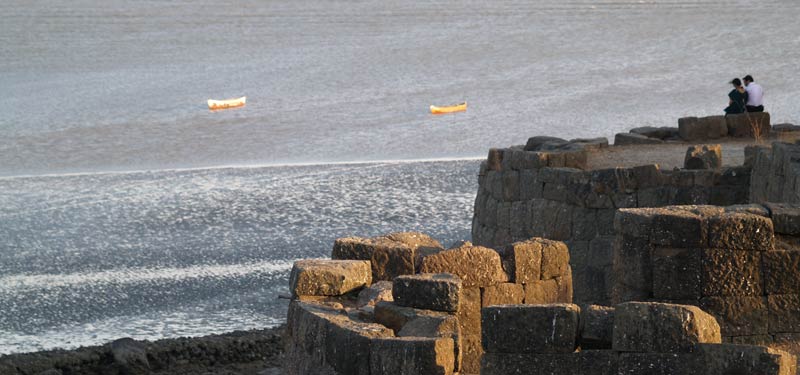 Alibag, also known as Alibaug, is around 110 km from Mumbai and can be reached by ferry from the Gateway of India. The mini coastal town surrounded by beaches is yet another perfect honeymoon destination for beach lovers. It also has many adventure and water sports for tourists. Alibag also offers luxurious home and cottage stays, best suited for honeymoon couples.
Places to visit:
Alibag Beach
Kolaba Fort
Kasim Beach
Akshi Beach
Things to do:
Beach camping
Parasailing
Monsoon Trek at Sagargad
11. Khajjiar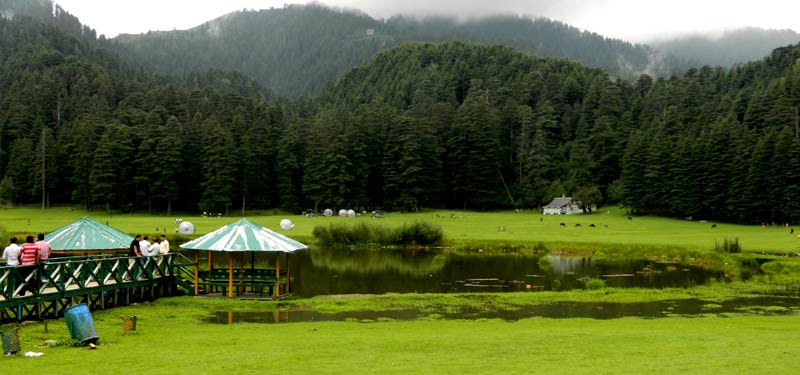 Ever dreamt of visiting Switzerland for your honeymoon? Then Khajjiar is the one! All because of its vast green landscapes and celestial snowclad mountains, Khajjiar is undoubtedly the most alluring honeymoon destination in the country and no less than Switzerland. This region attracts adventure lovers too, since it has many extreme sports like horse riding, zorbing, etc.
How to reach Khajjiar?
Pathankot is the nearest railway station. From there, you can easily hire a taxi to reach Khajjiar. Gaggal Airport in Dharamsala is the nearest airport at a distance of 122 km.
Places to visit:
Khajjiar Lake
Kalatop Wild Sanctuary
Kailash Villages
Dhauladhar Range
Things to do:
12. Lakshadweep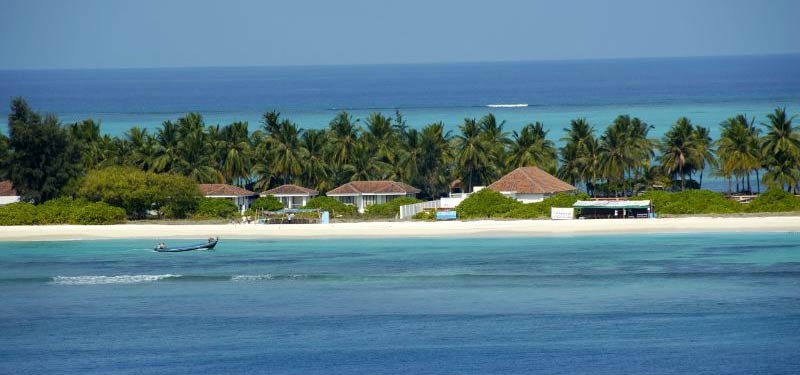 Like admiring shining sunny skies and soothing untouched beaches? Then nothing can beat the magic of Lakshadweep. Its exotic beaches and crystal-clear blue waters are sure to die for. The island also has many adventure sports, including fishing and canoeing at Minicoy Island. The best time to visit the island is from October to mid-May.
Don't have a lot of time for your honeymoon? We've got you covered there too! Check out our top picks for best weekend getaways to break free from the mundane.
How to reach Lakshadweep?
Lakshadweep can be easily reached through ferries and flights from Kochi.
Places to visit:
Kadmat
Kavaratti Island
Bangaram Atoll
Agatti Island
Marine Museum
Things to do:
13. Sikkim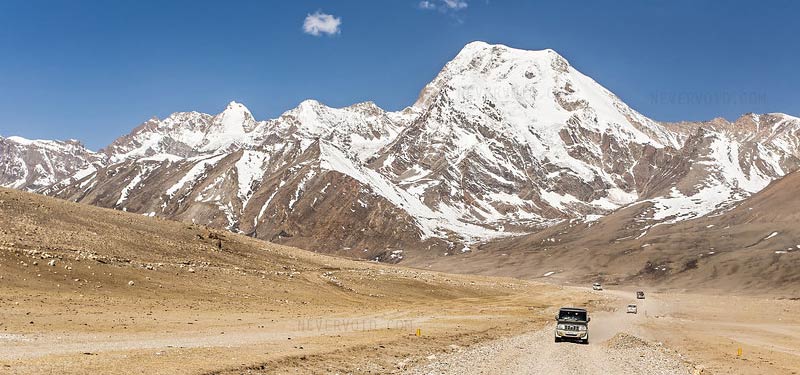 Be it the majestic mountains of Kangchenjunga or the pleasant view of the lakes, Sikkim is ideally the most romantic honeymoon destination in India from the Northeast. The Buddhist monasteries, wide Himalayan range, alpine meadows, and adventurous sports are its major attractions. And, if you and your better half are mountain bums, you can relax and recharge yourself amidst the splendid valleys of the Himalayas.
Places to visit:
Yuksom
Tsomgo Lake
Lachung, Lachen and Yumthang valley
Nathula Pass
Pelling
Things to do:
Visit charming monasteries
Rafting at Teesta
Ride a yak
Paragliding
14. Srinagar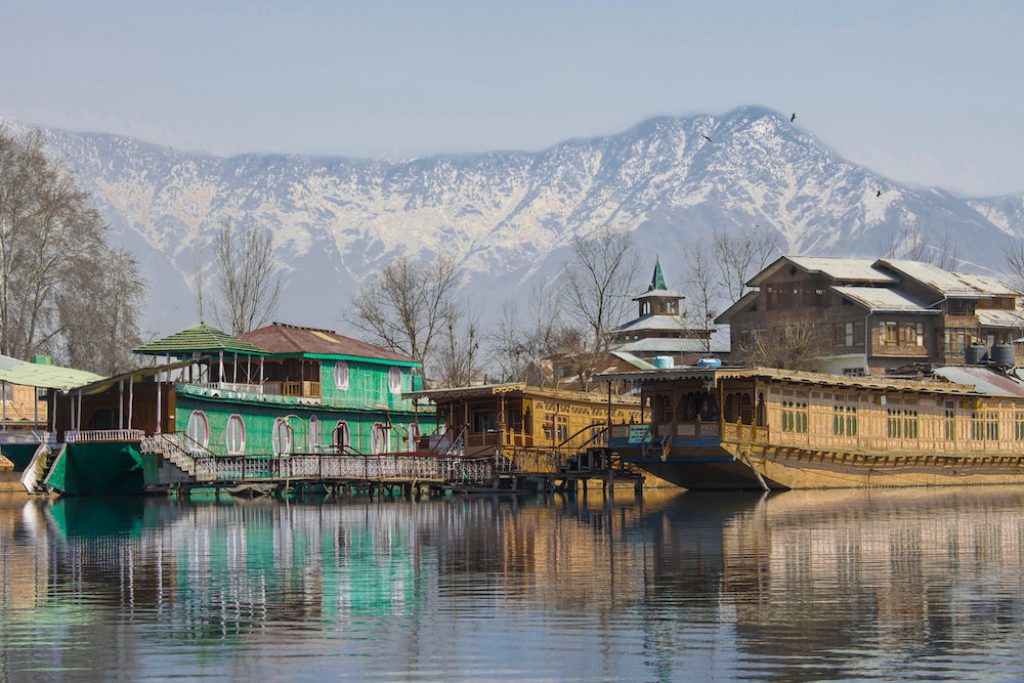 Srinagar, located in the heart of the beautiful Kashmir valley, is a popular tourist destination known for its picturesque landscape, rich culture, and delicious cuisine. The city, situated at 1585 metres above sea level and surrounded by the Himalayan mountain range, is ideal for nature lovers and adventure enthusiasts. The nearest airport to Srinagar is Srinagar International Airport, located about 12 km away from the city centre. The city also has a railway station connecting to major cities in India.
Places to visit:
Shalimar Bagh
Nishat Bagh
Hazratbal Shrine
Jamia Masjid
Things to do:
Shikara ride
Trekking
Street shopping
Birdwatching
Rafting
15. Dalhousie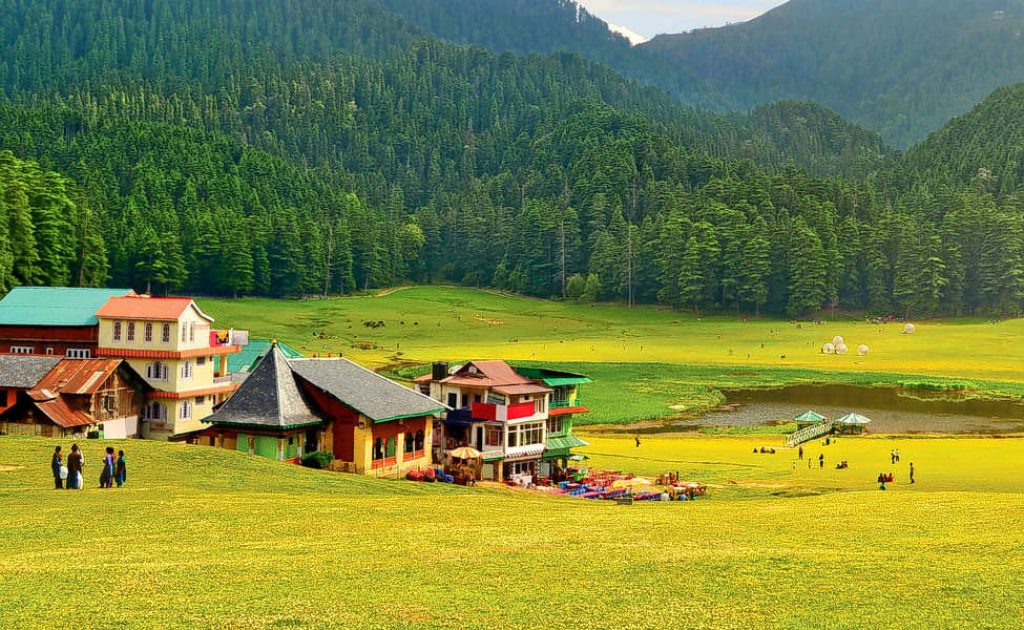 Dalhousie is a serene and scenic hill station in the Chamba district of Himachal Pradesh, India. The town is named after the British governor-general Lord Dalhousie, who established it as a summer retreat in 1854. The location is well-loved for its stunning views of the Himalayan mountains, lush greenery, and pleasant climate. The nearest airport to Dalhousie is the Gaggal Airport in Dharamshala.
Dalhousie offers a range of food options, including Himachali cuisines such as Dham, a traditional feast, and Siddu, a steamed bread made with wheat flour and stuffed with vegetables or meat.
Places to visit:
Panchpula
Khajjiar
Satdhara Falls
Kalatop Wildlife Sanctuary
Chamera Lake
Things to do:
Trekking
Boating and adventure sports
Picnics
Nature Walks
Meditation
16. Kasauli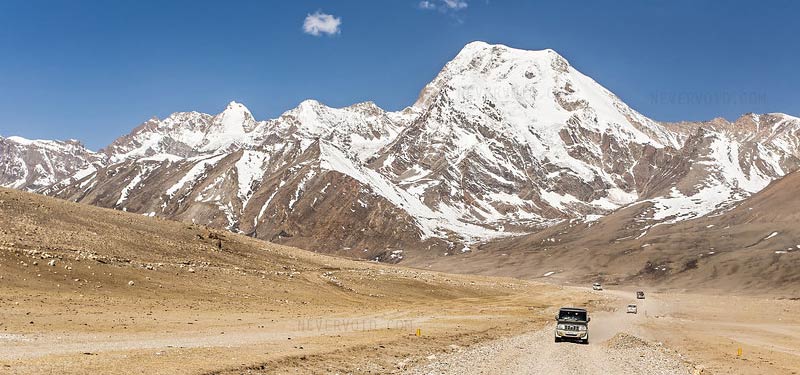 Kasauli is a small hill station situated in the state of Himachal Pradesh, India. The town is known for its charming colonial architecture, picturesque views, and serene atmosphere. It is a well-loved destination among couples for a peaceful and scenic getaway. The nearest airport to Kasauli is the Chandigarh International Airport, approximately 65 km away.
The nearest railway station is Kalka, which is around 25 km away from the city centre. Himachali cuisines such as Madra, a spicy chickpea dish, and Chha Gosht, a lamb curry, are worth a try.
Places to visit:
Christ Church
Kasauli Brewery
Gilbert Trail
Mall Road
Timber Trail
Things to do:
Trekking
Nature Walks
Toy Train Ride
Bar and Cafe Hopping
Photography
Final Verdict
India boasts an array of captivating destinations, each offering its unique charm and allure, making it a land of endless possibilities for couples seeking the best honeymoon destinations. From the breathtaking landscapes of serene hill stations to the pristine beaches of tropical islands, India is a canvas of romantic experiences waiting to be explored.
So, pack your bags, hold hands, and set forth to create memories that will forever be etched in your hearts.
Happy Honeymooning! 🙂
Honeymooning In India 101
If you're planning your honeymoon in India, congratulations! You're in for a treat. India is a country of contrasts, with diverse landscapes, cultures, and cuisines that will keep you enthralled throughout your trip. But with so much to see and do, it can be overwhelming to plan your itinerary.
Here are some things to note to make your honeymoon in India unforgettable.
Choose the right time to visit:
While the winter months from November to February are ideal for most parts of the country, you might want to avoid the scorching summer months from March to June. If you want to visit the northern hill stations, the summer months are perfect, and the coastal regions are the best during winter.
Plan your itinerary carefully:
Ensure you plan your itinerary carefully, keeping your interests and budget in mind. Whether you want to explore the historic cities of Delhi, Agra, and Jaipur, go on a wildlife safari in the national parks, or relax on the beaches of Goa, plan your itinerary in advance to avoid any last-minute hassles.
Be prepared for the crowds:
Be prepared to jostle with the crowds at landmarks such as the Taj Mahal or the Red Fort. It's also a good idea to hire a local guide who can help you navigate the crowds and give you insights into the history and culture of the place.
Try the local cuisine:
From the street food in Delhi to the seafood in Kerala, each region has unique cuisine. Don't miss the opportunity to try local delicacies such as butter chicken, biryani, dosa, and chaat. And if you're feeling adventurous, try the street food, but make sure it's from a hygienic vendor.
Respect the local customs and traditions:
Dress modestly when visiting religious places and avoid public displays of affection. Also, be mindful of the local customs and traditions, such as removing your footwear before entering a home and using your right hand to eat and offer or receive items.
FAQs
1. What are the best honeymoon destinations in India for beach lovers?
If you're a beach lover, head to Goa or Andaman & Nicobar Islands. Goa has a vibrant nightlife and offers water sports such as parasailing and jet skiing. The Andaman and Nicobar Islands, on the other hand, offer a more serene experience with pristine beaches and crystal-clear waters.
2. Is it safe to travel to India for a honeymoon?
India is generally a safe country for travellers, including honeymooners. However, take precautions such as avoiding isolated areas at night, keeping an eye on your belongings, and using registered taxis. Research the local customs and traditions to avoid unintentionally offending anyone.
3. When is the best time to visit India for a honeymoon?
The best time to visit India for a honeymoon depends on the destination. The winter months, from November to February, are ideal for most parts of the country, while the summer months, from March to June, are perfect for visiting the northern hill stations. Coastal regions are best during winter.
4. What are some of the best honeymoon accommodations in India?
India has various accommodation options, from luxurious resorts to heritage hotels. Some of the best include The Oberoi Amarvilas in Agra, The Leela Palace in Udaipur, and Taj Exotica in Goa. If you're on a budget, homestays and guesthouses offer comfortable and affordable stays.
5. What are the best honeymoon destinations in India for a romantic experience?
For a romantic experience, head to Udaipur or Jaisalmer in Rajasthan, Alleppey in Kerala, or Darjeeling in West Bengal. These destinations offer stunning natural beauty, historic architecture, and a romantic ambience perfect for couples.