When you are feeling adventurous, there are several activities in India that you can do. From reaching the skies to touching the floor of the seas, there's everything that you can try.
If your next trip plan is to do something fun, new, and create wonderful memories, we have created a list for you. Here you will find the 10 best adventure activities that you can do in India. Hustle these adrenaline-boosting activities.
Have fun and do not even go hard on your money. While planning your trip, save on your travel bookings with amazing deals and offers. This adventurous trip will surely make you forget all the sorrows you have in life. It will probably give you some of the best memories to cherish throughout life. So, get ready to get the best of the experience in these exotic places at an affordable price.
Here's our list of 10 best destinations for adventure lovers in India for 2022
1. Thane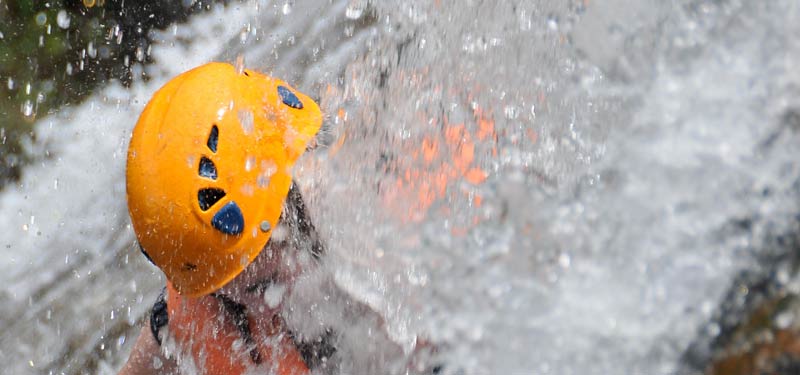 Water rappelling
Ever got down from rocky mountains by ropes and loved it? Then you will love this water rappelling activity in Kasara, near Thane where you can climb down the waterfall. This is a magical experience and a great gig for adventure lovers. This is a one of its kind of adventure sports. It's a must-try if you are not scared of waterfalls or heights.
A rappelling package will give access to meals and also first aid among others. However, the things that you should carry with you are the comfortable footwear that you need and other essentials like personal medications if any.
Other activities
Thane is also famous for Trekking. Mahuli Fort, in particular, is the choice for trekking lovers. The fort is rocky where you can do rock climbing. There are many pinnacles to explore.
Apart from this, there are resorts, water parks, and campaign activities to indulge in and experience the exciting offerings of the adventurous place Thane. And, the good news is you don't have to spend so much on your domestic flight tickets. With many coupon companies prevailing today, you can save big on domestic flight tickets and get upto Rs. 1000 off using MakeMyTrip deals.
2. Goa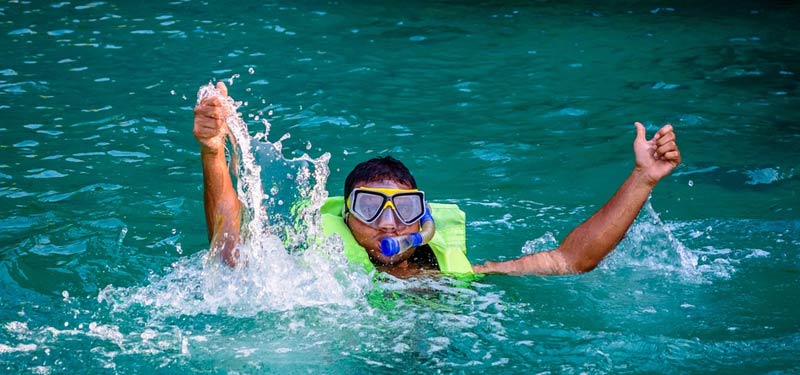 Scuba diving
Have you ever experienced what it would be like when you are surrounded by exotic water plants and animals?
That's the kind of experience that Goa's beached offers where you can scuba dive at the coral reef. The coral reef at goa is beautiful and is full of things you wouldn't get to see otherwise. Spending that time in the water is an exciting adventure and introduces you to another world that you've only seen on TV.
Underwater walk
Get up close and personal with the marine life under the sea. The weightlessness, the excitement of what you will see next and misty water as long as your eyes can take you. This experience of an underwater walk in Goa is a super cool adventure activity for those who would like to try out something new.
An unforgettable experience like this mostly doesn't require you to be a pro at swimming. Trained guides will be constantly by your side to help you get your hands on one of the most beautiful experiences you can have.
Other activities
Goa is all about adventure and there are so many other adventure activities that you can go for like parasailing, kayaking, water skiing, and more.
3. Rajasthan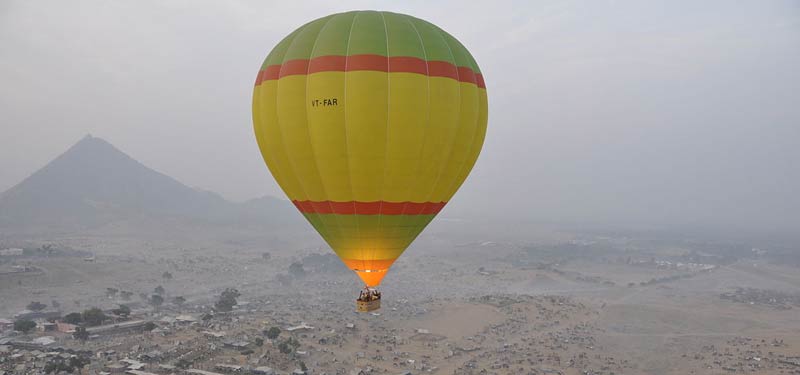 Hot air ballooning
Reach at the top of the world in a hot air balloon. This adventure activity makes you feel elevated and will surely be an experience of a lifetime. Enjoy the amazing landscape from the height. I=Mingle with the clouds and say help to the birds.
Other activities
The dessert land is full of other exciting activities for adventure lovers. Go on a desert safari. Or hop on the back of a camel and enjoy the bumpy ride. Click pictures of the beautiful place and create memories for life.
4. Gujarat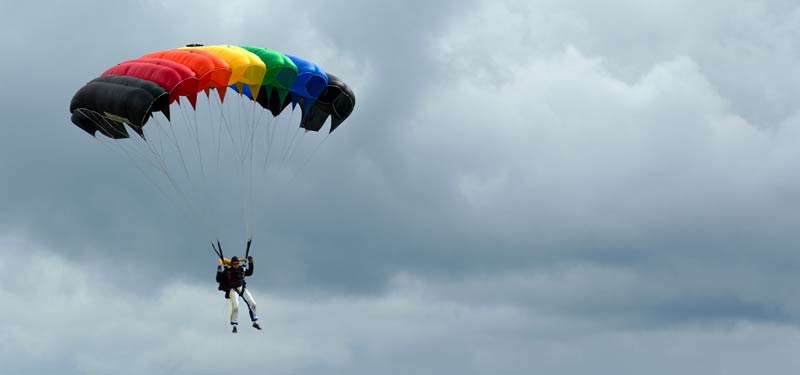 Paragliding
All of us dream of flying when we are kids. It's time to get your dreams to come true with the paragliding experience in Mandvi beach. With many location options to choose from, indulge in the breathtaking activity and make your trip more adventurous. Paragliding is sure to give you an adrenaline rush and be an experience that you won't forget.
Other activities
Other activities include water scooter ride, rock climbing, water skiing and so many more that yu can go for. Camel ride on the Rann of Kutch is a magical feeling. The white widespread land on the beautiful camels is an experience worth having.
5. Kullu Manali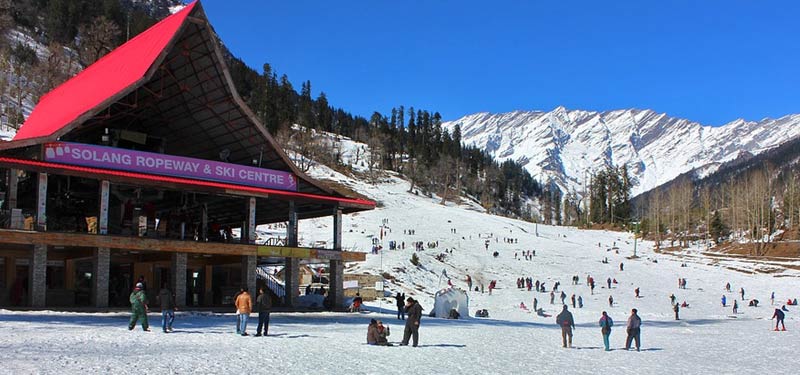 Heli Skiing
Kullu-Manali offers an amazing experience pf Heli-Skiing. You get the ride of the helicopter and the snowboarding experience in this ride. Reaching the top in a Helicopter makes you all the very excited for what's next to come. This is one of the places that offer Heli-Skiing and you should try it.
The breathtaking view from the top is another adventure to witness. The activity captures the beauty of the mountains in all ways.
Other activities
There's hardly anything you do in Manali that is not adventurous. Manali is the capital of breathtaking activities that you shouldn't miss.
River rafting, jeep safari camping, trekking are few of the most carried activities in the hill station.
6. Auli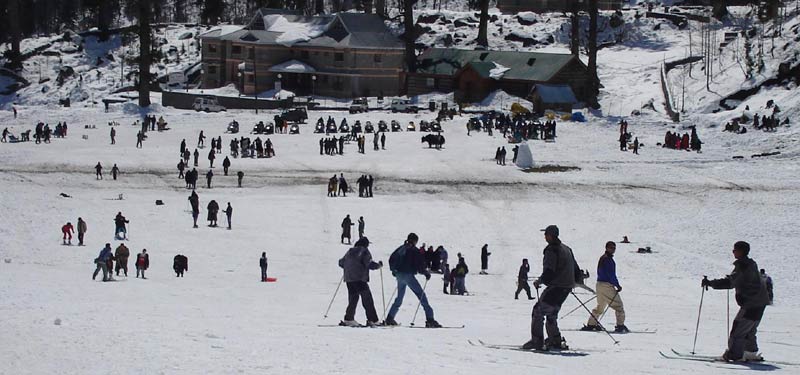 Skiing
How can we miss the much loved and must-try activity of skiing? Auli is a ski resort and one of the best places to ski in India. If you are a ski lover, you can't miss skiing in Auli at least once. But once when you do, there are chances that you might get hooked.
Other fun activities
Other activities like trekking and caving should be tried. The ropeway ride is something you shouldn't miss either.
Auli is full of mountain views and you can also climb on one of the peaks in the town to enjoy the beauty of the Himalayas.
7. Dandeli Karnataka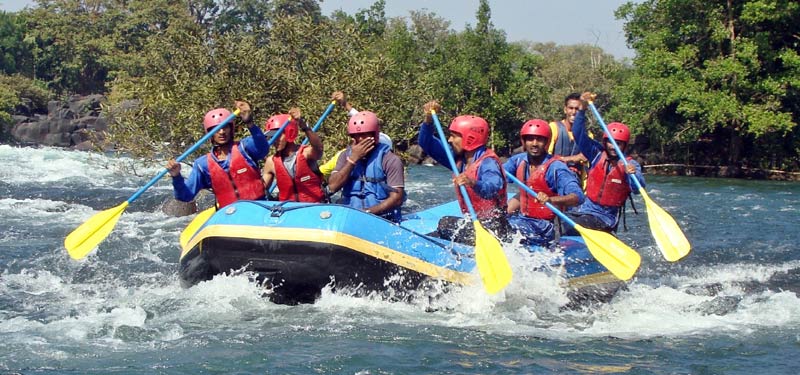 White water rafting
Water adventures are given a whole meaning at Dandeli. The water rapids are thrilling here, and so is the rafting experience. With a 12 km rafting rail, rafting in Dandeli is a joyful experience.
Dandeli is a town in Karnataka. It can be reached via local buses from nearby cities like Bangalore and Hubli.
Other activities
Other than rafting, there are many more exciting adventures to indulge in. Some of these include visiting the caves, or the mountain peaks. These places form to be very picturesque. You get a full view of the sunrise and sunset from Shiroli peak. Other than that, you get a captivating experience in the lush green forests of the Dandeli wildlife sanctuary where you also get to see wild animals.
8. Bangalore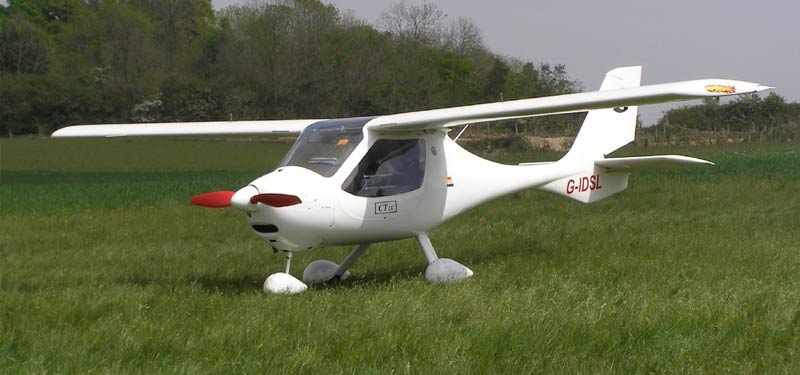 Microlight flying
Have you tried anything like microlight flying before? Well, Bangalore offers the opportunity. In this 2-seat huge winged aircraft, you get an experience of a lifetime. View the city from the clouds and enjoy the thrill of the microlight itself.
You get to indulge in such an activity and sore up to the skies at a cost that is quite less than other flying options. You can take this adventure in Bangalore's Jakkur for about 3500 for a 10-minute ride.
Other activities
Other than the unique experience of microlight flying, there are many more adventurous activities to do in Bangalore. Parasailing, trekking, and camping are just a few of them. All these acts give you the thrill of nature and a must-try for the adventure seekers.
9. Odisha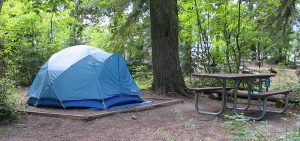 Camping on an island
If camping is your favorite thing to do when on a trip, go to the Chilika lake. Enjoy the waters around you as you get to camp on an island here. Along with camping, you can carry out water rides in the lake. This is a fun-filled experience.
Water sports and dolphin watching are among the other so may activities to do when in Odhisa.
10. Kerala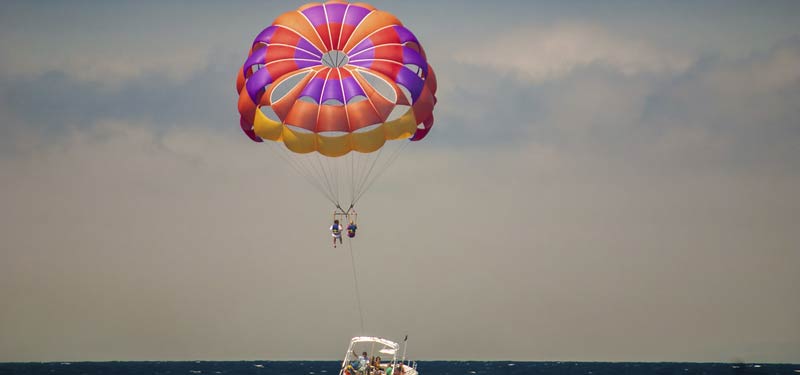 Parasailing
Out of the so many places where you can parasail, in Kerala, you can also have a heavenly view of nature and the surroundings. Drop down from a high altitude and give yourself wings. If you have dreamt of parasailing, doing it in Kerala while you are on a vacation is a must.
Other activities
God's own country is just like its name. Boating on the backwaters and the houseboats is a must-try activity when in Kerala. Camping and trekking are the other popular things to do.