In the vast landscape of online entertainment, YouTube has emerged as the catalyst that reshaped India's content economy and transformed the way consumers engage with media. From hilarious comedy sketches that leave us in stitches to mesmerizing music videos that transport us to another realm, YouTube has become the ultimate hub of entertainment and inspiration.
India's insatiable appetite for diverse, relatable content finds an ideal outlet through YouTube's personalized recommendations and interactive features. This virtual arena has nurtured a thriving community, where creators find fame, fortune, and influence, while viewers discover a captivating world at their fingertips.
YouTube India has pretty much monopolized India's content creation and viewing space since 2014 and one of the biggest beneficiaries of the platform are the creators. Nisa Madhulika, the face behind one of the oldest YouTube cooking channels, says,
"As long as there is content, people will keep watching and new content will keep emerging to satisfy the demand.
We can quite confidently claim that YouTube has indeed revolutionized the way in which content and consumer viewership is accepted in India. However, to truly witness this slow, yet consistent development, we need to take a step back and examine the enchanting tale of how YouTube has captured hearts, minds, and the screen time of millions in India. In this informative blog post, we cover everything about YouTube, its user statistics, trends, its impact on Indian economy, the most popular channels, top influencers, videos/songs, and much more. Read further…
YouTube User Statistics (Editor's Picks)
In 2023, YouTube is the second most used social media platform in the world with 2,562 million global active users
YouTube.com is the second most visited website in the world
India has 467.0 million active YouTube users.
YouTube's advertising reach in Southern Asia: 580.1 million users.
45.6% of YouTube's global users are female and 54.4% are male.
T-Series, an Indian music video channel, is the most-subscribed YouTube channel with 223 million subscribers
According to Alexa, an average Indian user spends about 19 minutes on the platform daily.
'YouTube' is believed to be the fifth most popular search query in India.
With a little over 36.5 million followers, CarryMinati is the most popular YouTuber in India.
According to Oxford Economics, around 750,000+ jobs are currently supported by the YouTube creative ecosystem in 2021.
Quick Facts About YouTube India
India has one of the largest user bases on YouTube, with over 450 million monthly active users as of my last knowledge update in September 2021.
YouTube India supports content in multiple languages, including Hindi, Tamil, Telugu, Bengali, Punjabi, Marathi, and many more, catering to the linguistic diversity of the country.
The most popular category of YouTube videos in India is music, followed by comedy, movies, and gaming.
The most popular YouTube channel in India is T-Series, a music channel with over 222 million subscribers.
Other popular YouTube channels in India include SET India, ZeeTV, BB Ki Vines, and Amit Bhadana.
YouTube hosts the annual YouTube FanFest in India, where fans can meet their favorite creators in person and attend live performances.
YouTube Originals, exclusive content produced by YouTube, includes shows and movies featuring Indian celebrities and creators.
YouTube has a "YouTube Space" in Mumbai, which provides creators with access to high-quality production facilities and workshops to enhance their content.
Leading Countries Based on YouTube's Audience Size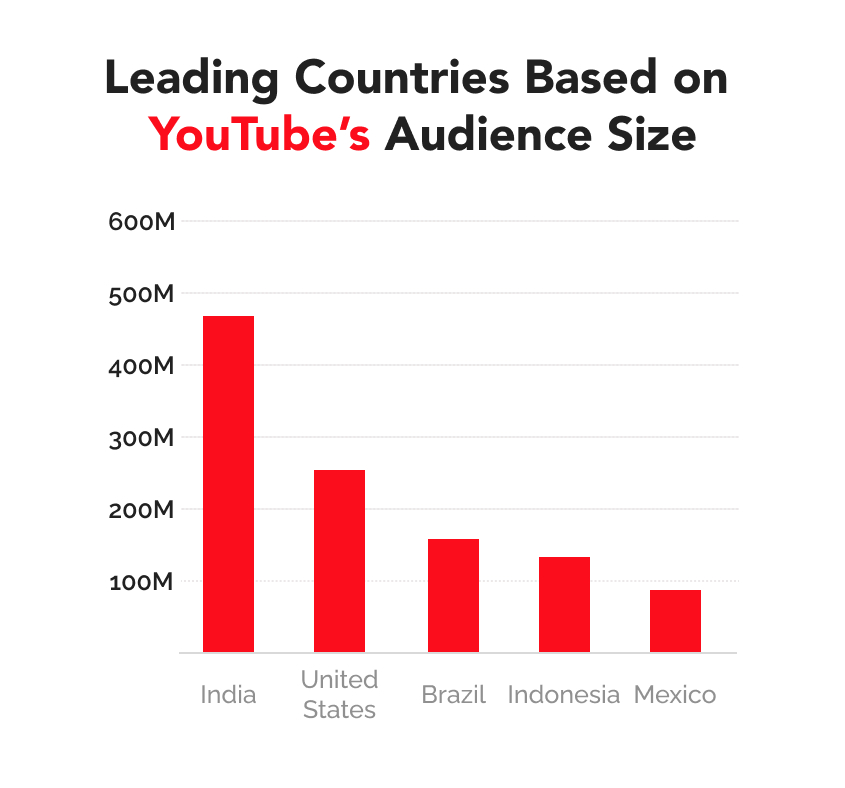 | | |
| --- | --- |
| Countries | Users (in millions) |
| India | 467 |
| United States | 246 |
| Brazil | 142 |
| Indonesia | 139 |
| Mexico | 81.8 |
Countries with the most YouTube users in 2023, based on the advertising audience reach numbers published in YouTube's own resources in April 2023, are as follows:
India: 467.0 million active YouTube users
The United States of America: 246.0 million active YouTube users
Brazil: 142.0 million active YouTube users
Indonesia: 139.0 million active YouTube users
Mexico: 81.8 million active YouTube users
Japan: 78.4 million active YouTube users
Pakistan: 71.7 million active YouTube users
Germany: 70.9 million active YouTube users
Vietnam: 63.0 million active YouTube users
Turkey: 57.9 million active YouTube users
Note: Please note that these numbers may change over time due to shifts in user behavior and demographics.
According to Ishan Chatterjee, the Managing Director of YouTube India,
"…this is the power of the creator economy, and that economy is coming of age today in India.
The Evolution of YouTube in India
What started as a humble video-sharing website in 2005 has transformed into a cultural phenomenon, reshaping the way Indians consume and create content. The evolution of YouTube in India has been nothing short of extraordinary. From humble beginnings to a cultural powerhouse, YouTube has transformed the Indian digital landscape, enabling ordinary individuals to become digital stars and sparking conversations on a global scale.
Here's a table depicting the evolution of YouTube in India over the years:
| | |
| --- | --- |
| Year | Milestones and Evolution of YouTube in India |
| 2005 | YouTube was founded in February 2005, but it had a limited impact globally during this early stage. |
| 2007 | YouTube started gaining popularity worldwide, and India began to see an increase in users as internet access improved and smartphones became more prevalent. |
| 2008 | YouTube rolls out in India in Hindi, Bengali, English, Gujarati, Kannada, Malayalam, Marathi, Tamil, Telugu, and Urdu. |
| 2010 | YouTube introduced localized versions and began offering content in regional languages, making it more appealing to Indian audiences. The number of Indian YouTubers and content creators started growing. |
| 2013 | The launch of 3G and 4G services in India significantly improved internet speeds and accessibility, leading to a surge in YouTube usage. Online video consumption in the country soared. |
| 2015 | YouTube India reached a milestone of 100 million monthly active users, making it one of the largest user bases for YouTube globally. The platform became a popular source of entertainment and education for Indian users. |
| 2016 | The "YouTube FanFest" was introduced in India, bringing together popular YouTubers and fans in live events. This helped foster a vibrant YouTube community in the country. |
| 2017 | YouTube continued to expand its offerings, introducing features like YouTube Originals and YouTube Live, providing more content options and interactive experiences for Indian users. |
| 2018 | The popularity of YouTube creators in India grew exponentially, with several Indian YouTubers crossing millions of subscribers. YouTube became a viable career option for many content creators in the country. |
| 2019 | YouTube witnessed a surge in regional content creation, with channels producing content in various Indian languages. This further boosted YouTube's popularity and engagement in India. |
| 2020 | During the COVID-19 pandemic, YouTube became even more essential for Indian users, serving as a source of entertainment, information, and learning during lockdowns. |
| 2023 | India became the country with the highest number of active YouTube users, reaching a massive milestone of 467.0 million users. YouTube's influence on Indian culture and society continued to grow significantly. |
The Birth of a Digital Star:
As high-speed internet became more accessible in the early 2010s, YouTube exploded onto the Indian scene. Memorable personalities like Bhuvan Bam, who found fame with his channel BB Ki Vines, pioneered the rise of homegrown YouTube stars, captivating audiences with their relatable content. Indian viewers, hungry for entertainment beyond traditional media, flocked to YouTube, fostering a sense of community and belonging.
Content Diversity Takes Center Stage:
The evolution of YouTube in India was marked by a fascinating shift in content diversity. From comedy skits and music covers to educational tutorials and vlogs, YouTube became a breeding ground for creativity across genres.
For Chatterjee, the MD of YouTube India, the lines between consumer and creator are blurring. Content from hyperlocal communities is exploding across the platform as access to technology and internet as well as digital literacy is on the rise. As he rightly points out,
"YouTube is helping take niches mainstream.
Indian YouTubers leveraged the platform to address social issues, spread awareness, and ignite discussions on topics ranging from mental health to gender equality. This newfound power to influence and inspire reshaped India's digital landscape.
Beyond Metros: A Digital Gateway:
One of YouTube's most profound impacts in India was its ability to bridge the gap between urban and rural areas. By offering content in regional languages, YouTube became a digital gateway, enabling creators from smaller towns and villages to find their voice.
"A lot of this growth is coming from local, native Indian languages across genres. While genres like comedy, food, health and beauty continue to rise, we are seeing tremendous growth in uniquely Indian content like village food, farming, etc.
– Satya Raghavan, Director,
YouTube Content partnerships, India
From Assamese cooking shows to Bhojpuri music videos, YouTube became a vibrant tapestry of India's diverse culture, attracting millions of viewers from all corners of the country.
Monetization and Entrepreneurship:
As YouTube's popularity skyrocketed, Indian content creators discovered new avenues for entrepreneurship. The platform's monetization features allowed creators to earn revenue from advertisements, sponsorships, and merchandise sales.
This financial incentive propelled a new wave of professionalism, encouraging creators to treat YouTube as a full-time career. It gave birth to an entire ecosystem of talent agencies, production houses, and influencer marketing, further propelling the evolution of the Indian digital economy.
YouTube User/Demographic Statistics in India
In 2023, India boasts the highest number of YouTube users, reaching approximately 467 million, according to Statista.
Age-wise, the largest user group on YouTube in India falls within the 18-35 age bracket.
Regarding gender distribution, YouTube's popularity in India leans more towards men, with male users constituting 62.2% of the viewer population, while female users account for 37.8% of visitors.
In terms of language preferences, Hindi dominates as the most popular language on YouTube in India, followed by English, Telugu, and Marathi.
Mobile devices are the most common means of accessing YouTube in India, with a majority of users using smartphones, followed by desktop computers and laptops.
Users in India spend approximately 29 hours per month on YouTube.
India has the largest number of YouTube users, totaling 467 million, which accounts for 18.68% of all YouTube users globally. The United States of America ranks second in terms of YouTube users, with a total of 246 million.
As for the time of day, YouTube experiences its peak usage in the evenings, after work or school, indicating that many users prefer to unwind and consume content during that period.
General YouTube Statistics
The most popular YouTube categories in India are music, entertainment, and comedy.
The most popular Indian YouTube channels are T-Series, CarryMinati, and BB Ki Vines.
YouTube is estimated to generate over $1 billion in revenue in India each year.
In 2009, YouTube India garnered about 265 million users, with reports predicting that the platform could 826.44 million by the end of 2028. (Source: Statista)
The number of YouTube users in India is projected to increase continuously from 2023 to 2028, with a total growth of 252.2 million users (+43.92 percent).
By 2028, the YouTube user base is expected to reach 826.44 million users, marking the fifth consecutive year of growth.
The first Indian YouTube channel was created in 2008.
The first Indian YouTube original series was launched in 2014.
The first Indian YouTube original film was launched in 2016.
YouTube has played a significant role in the growth of the Indian entertainment industry.
YouTube has also been used to raise awareness for important causes in India, such as the Swachh Bharat Abhiyan and the Beti Bachao Beti Padhao campaign.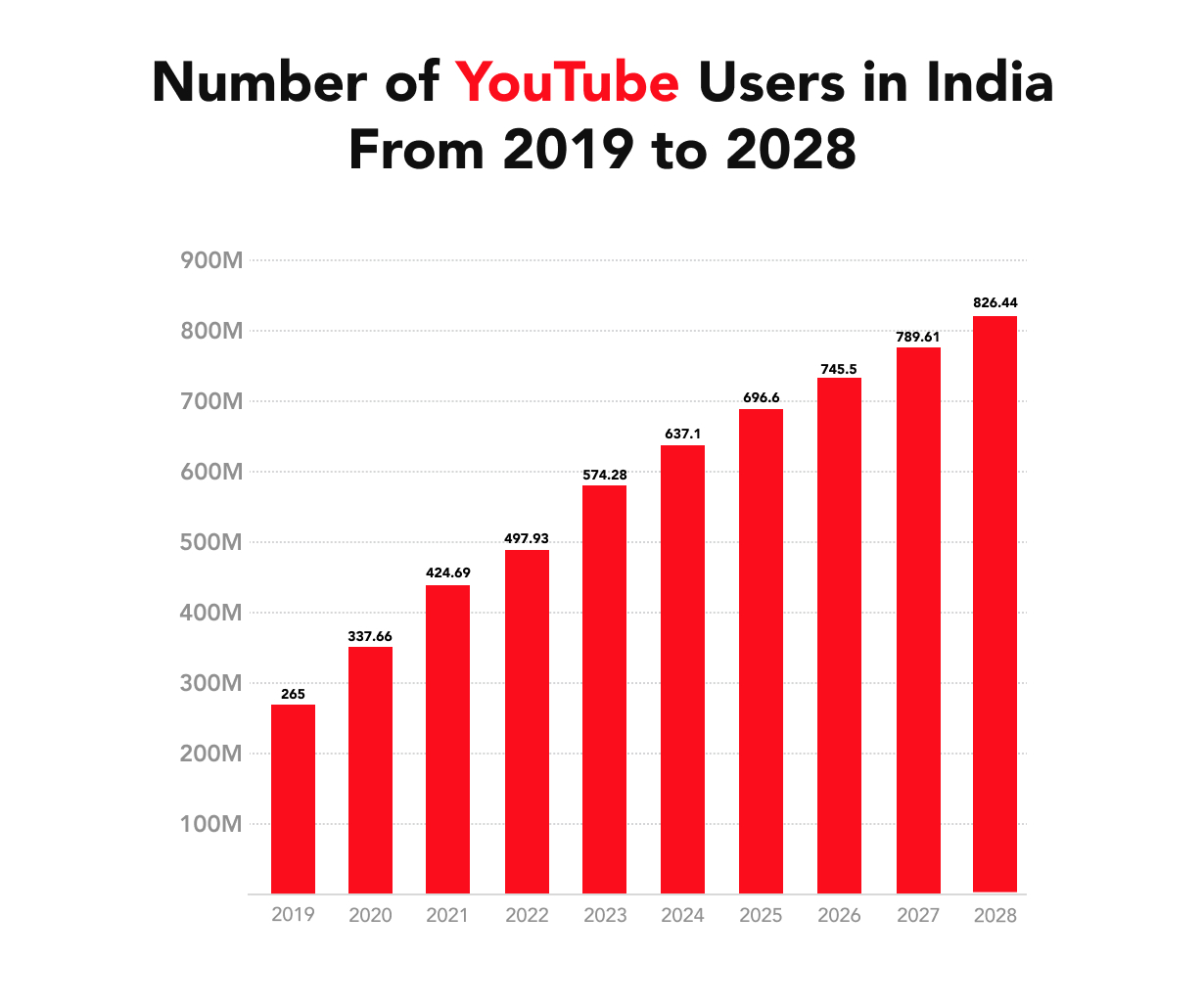 How Has YouTube Changed the Creator Economy in India?
YouTube's impact on the creator economy in India has been nothing short of revolutionary. Since its emergence in the Indian market, the platform has provided a transformative space for aspiring content creators to thrive, breaking down barriers to entry and redefining the traditional notion of fame and success.
Economic Impact
According to analysis by Oxford Economics, the YouTube creative ecosystem made a significant impact on the Indian economy in 2021, contributing over ?10,000 Crores and supporting more than 7,50,000 full-time equivalent jobs.
Beyond the numbers, YouTube has revolutionized the way creative entrepreneurs operate in India. It has democratized content creation, enabling individuals from all walks of life to showcase their talent and passion without traditional gatekeepers.
Empowering Indian Creators
81% of creative entrepreneurs agree that YouTube provides an opportunity to create content and earn money that they wouldn't get from traditional media.
YouTube democratized content creation by offering a level playing field, enabling diverse talent from all backgrounds and cultures to emerge.
"With the growth of YouTube in India, it is an amazing time to be a marketer; as you can do full-funnel growth, creative storytelling and cross-channel planning easily.
– Mark Peterson, CEO, Group M,
Pacific Asia (largest buyer of theYouTube ad space)
Societal Impact
YouTube serves as an accessible educational tool supplementing classroom education for millions of students.
Women across India pursue their passions and ideas, forging a path of their own making, empowered by the platform.
Citizens across the country access authoritative and dependable information from trustworthy sources on current affairs and healthcare.
Cultural Impact
India's content creators represent diverse backgrounds, building socio-cultural understanding and championing diversity and inclusion.
YouTube's content available in various regional languages and dialects enables users to connect with the country's rich cultural tapestry.
Indian creators share their content with audiences globally, exporting Indian culture to the world.
YouTube's Creative Ecosystem
YouTube empowers millions of content creators and viewers to share ideas, skills, and passions, creating a thriving creative ecosystem.
The platform lowers barriers to entry, allowing more Indians to share their knowledge and creativity and build thriving businesses.
Content creators often earn revenue from other sources, such as product sales and brand partnerships, generating a catalytic impact on the economy.
Economic Multiplier Effect
YouTube's direct economic impact includes GDP and job creation from income generated among creators.
Indirect economic impact is driven by creators investing in their content, paying businesses in their supply chains for goods and services.
Induced economic impact occurs as creators and workers in the creative ecosystem spend their earnings, stimulating further economic activity.
Catalytic impact is generated as creators' success leads to additional revenue streams, further contributing to the creator economy.
YouTube India Consumers and Creators Statistics
Top YouTube Searches in India:
From Bollywood blockbusters to tech tutorials, this section unveils fascinating insights into what drives YouTube's popularity in the subcontinent.
| | |
| --- | --- |
| YouTube Searches | Search Volume |
| WWE | 7,64,000 |
| Ashish Chanchlani | 6,82,000 |
| Punjabi Songs | 6,69,000 |
| Dynamo Gaming | 6,32,000 |
| CarryMinati | 6,26,000 |
| PewDiePie | 6,18,000 |
| BB Ki Vines | 6,16,000 |
| T-Series | 5,44,000 |
| PubG | 5,12,000 |
| Tom and Jerry | 4,85,000 |
Most Subscribed Channels in India:
We celebrate and highlight the content creators who have won over the hearts of Indian audiences, earning massive subscriber counts through their engaging and culturally relevant videos.
| | |
| --- | --- |
| YouTube Channels | Subscribers (in millions) |
| CarryMinati | 39.5 |
| Total Gaming | 35.4 |
| Techno Gamerz | 34.5 |
| Mr. Indian Hacker | 31.8 |
| Round2Hell | 30.7 |
| Ashish Chanchlani Vines | 29.8 |
| Sandeep Maheshwari | 27.8 |
| BB Ki Vines | 26.3 |
| Amit Bhadana | 24.3 |
| Technical Guruji | 23.0 |
Most Popular YouTube Videos Based on Views in India:
| | |
| --- | --- |
| Most Popular Videos | Views (in billions) |
| Phonics Song with Two Words | 5.08 |
| Humpty the Train on a Fruits Ride | 3.26 |
| Lakdi ki Kathi | 3.24 |
| Hanuman Chalisa | 2.85 |
| Chal Chal Gurram | 2.39 |
The Current Position of YouTube in India
YouTube has become the home of creative entrepreneurs in India, where a burgeoning community of content creators transforms their skills and passions into viable businesses, making significant contributions to the country's economy. With various revenue streams and o-platform opportunities, YouTube offers creators the chance to generate income and create a positive economic ripple effect that benefits job creation and business growth across multiple sectors.
Skill-Based How-Tos
YouTube hosts a vast array of tutorials, how-to content, and skill-based channels, empowering users across India to upskill and advance in their professions. This open access to knowledge fosters new employment and entrepreneurship opportunities, contributing to a more equitable and inclusive growth.
81% of creative entrepreneurs endore the uniqueness of opportunities YouTube provides for growth and its dynamic changing nature.
45% of job-seekers often find themselves on the skill-based 'how-to' pages of YouTube in India.
Educational Videos
As a powerful resource for learning and inspiration, YouTube plays a crucial role in democratising education, breaking down barriers, and leveling the playing field for students from all backgrounds to pursue their potential.
83% encourage students to use the audio-visual aid of YouTube in their study to make learning more fun.
94% of the students over the age of 18 are consistently dependent on educational YouTube tutorials for their personal study.
81% of the teachers in India support the use of YouTube for conceptual understanding as it allows for learning to be at the pace of the learner.
India has also witnessed the rise of competitive exam coaching through YouTube. Today, there are several coaching institutes such as Byju's Unacademy, Arpita Karwa and PhysicsWallah that offer their services through this open source platform.
Women-Centric Perspectives
YouTube empowers women by offering valuable resources and information for personal and professional growth, fostering creativity and supporting women-owned businesses.
56% of female users find YouTube helpful in learning skills for everyday life.
88% of female creators believe YouTube aids them in expressing creativity and sharing their passions.
News Channels
YouTube serves as a reliable source of information for Indians, providing access to timely, accurate, and credible content on national news events and health-related topics.
87% of users find YouTube helpful during national news events for authoritative information.
85% of users searching for health content on YouTube appreciate access to credible health information.
Culture Specific Reach
YouTube celebrates India's rich cultural diversity, providing creators from different regions, languages, and dialects a platform to share their stories, creating a sense of digital inclusion.
88% of users in India find content in their preferred language on YouTube.
82% of creative entrepreneurs feel motivated to create diverse and inclusive content on YouTube.
YouTube India: Regional Language Content Dynamics
In July, YouTube reported a 45% increase in watch time, encompassing both videos and advertisements, compared to the same period in 2019. Notably, content in regional languages played a significant role in driving this growth.
A research study conducted by Google and Kantar, published in September 2019, revealed that 93% of YouTube viewers in India have a preference for content in regional languages.
The "Taste of India" campaign in Tamil, initiated by Amul, secured the top position with over 800,000 views. It was followed by the Entri app campaign in Malayalam and the Goodknight campaign in Bengali.
Among the most viewed ads in India, other notable entries include PNG Jewellers in Marathi, Byju's Sudeep+Body ad in Kannada, Kalyan Jewellers' "Muhurat at home" in Tamil, Malabar Gold & Diamonds in Telugu, and Cadbury Celebrations' Rakhi campaign in Bengali.
In 2022, YouTube India users watched over 1 billion hours of regional language content per month.
The number of YouTube channels in India producing regional language content has grown by over 50% in the past year.
The number of views of regional language content on YouTube India has grown by over 100% in the past year.
How Quickly is YouTube Growing in India?
According to ComScore data, the platform now boasts an impressive 265 million monthly active users in the country. This remarkable number reflects the incredible popularity and influence of YouTube among Indian audiences.
In the past year alone, YouTube's mobile consumption has soared to a staggering 85%, indicating a significant shift towards mobile viewing preferences. Additionally, a substantial 60% of the platform's watch time originates from regions beyond the six major metros, demonstrating its widespread appeal and accessibility across the nation.
The creator community on YouTube is also flourishing. Over 1,200 Indian creators have surpassed the remarkable milestone of one million subscribers, a feat that was rare just five years ago when only two creators had achieved this status. This surge in successful creators highlights the burgeoning creative talent and entrepreneurial spirit in India.
Global YouTube Trends: User Statistics at a Glance
YouTube is a platform that is both made, supported and sustained by its user population. Let's delve into a comprehensive analysis of the latest data and insights, offering a profound understanding of the diverse and dynamic landscape of YouTube users worldwide.
Global Demographics:
The table below provides a quick overview of the diverse audience profiles that shape YouTube's worldwide reach and influence.
| | | |
| --- | --- | --- |
| Age Range | Users (in millions) | Percentage (of the total audience) |
| 18 to 24 | 379.7 | 15.0 |
| 25 to 34 | 522.5 | 20.7 |
| 35 to 44 | 422.0 | 16.7 |
| 45 to 54 | 303.0 | 12.0 |
| 55 to 64 | 222.2 | 8.8 |
| 65 and above | 227.2 | 9.0 |
*YouTube is primarily concerned with their audience over the age of 18 and all the data provided is based on viewership within this age bracket alone.
Top YouTube Searches Worldwide:
YouTube processes over 3 billion searches in a month and here is a quick look at some of the most popular ones in 2023.
| | |
| --- | --- |
| Top Searches | No. Of Searches |
| BTS | 16,723,304 |
| PewDiePie | 16,495,659 |
| ASMR | 14,655,088 |
| Billie Eilish | 13,801,247 |
| Baby Shark | 12,110,100 |
| Old Town Road | 10,456,524 |
| Music | 10,232,134 |
| Badabun | 10,188,997 |
| BlackPink | 9,580,131 |
| Fortnite | 9,117,342 |
Most Subscribed YouTube Channels Globally:
Here, we attempt to showcase the digital powerhouses that have captivated audiences worldwide, amassing colossal subscriber bases and leaving an indelible mark on the platform's cultural landscape.
| | |
| --- | --- |
| Channels | Subscribers |
| T-Series | 246 million |
| MrBeast | 168 million |
| Cocomelon | 162 million |
| Set India | 159 million |
| Kids Diana Show | 112 million |
| PewDiePie | 111 million |
| Like Nastya | 106 million |
| Vlad and Niki | 99 million |
| Zee Music Company | 96.9 million |
| WWE | 96.1 million |
Most Popular YouTube Videos Based on Views Worldwide: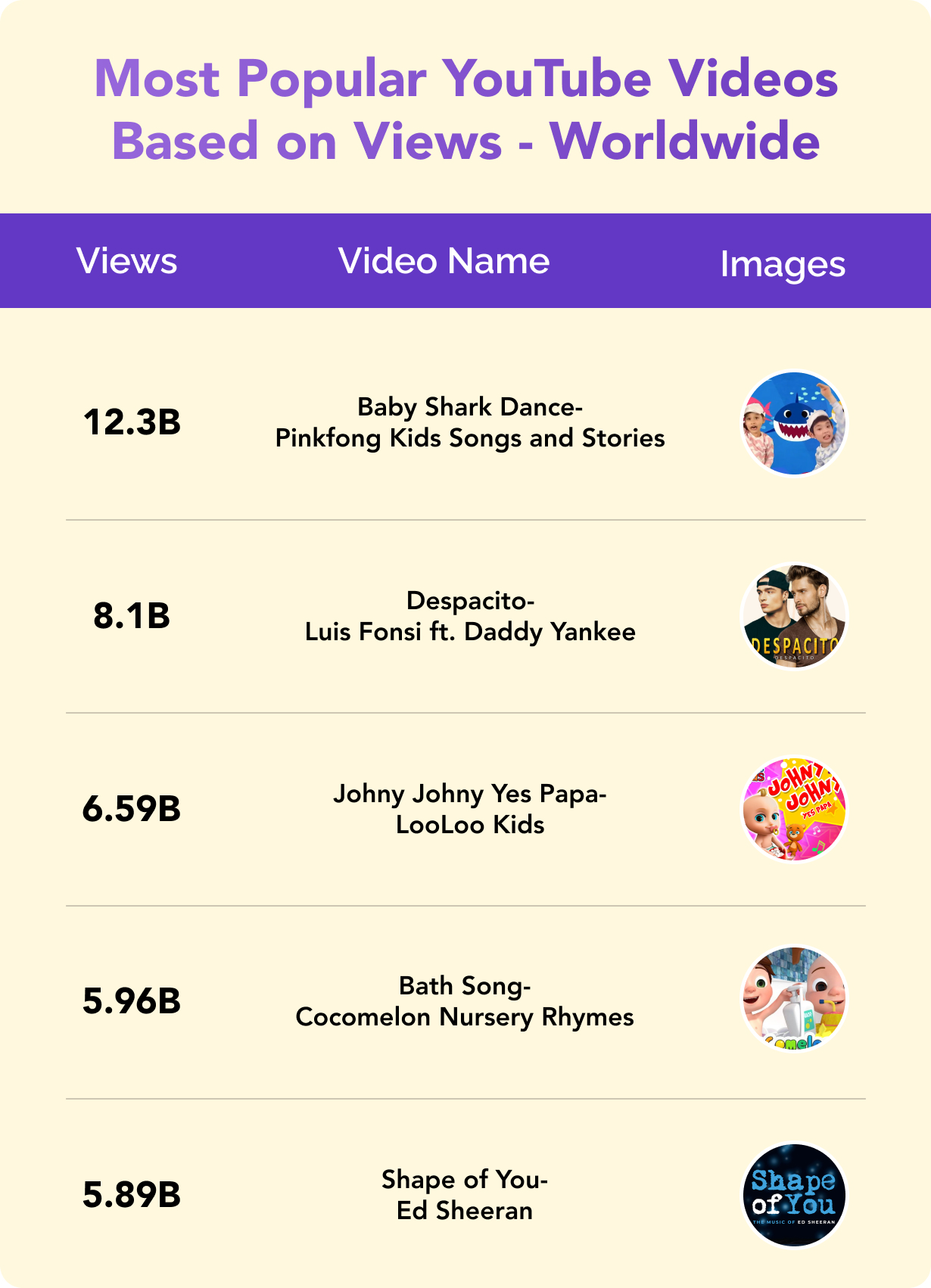 | | |
| --- | --- |
| Most Viewed Video | Views (in billions) |
| Baby Shark Dance Pinkfong Kids' Songs and Stories | 12.3 |
| Despacito Luis Fonsi ft. Daddy Yankee | 8.1 |
| Johny Johny Yes Papa LooLoo Kids | 6.59 |
| Bath Song Cocomelon Nursery Rhymes | 5.96 |
| Shape of You Ed Sheeran | 5.89 |
YouTube Has No Intention of Backing Down
Predictive projections indicate a continued upward trajectory for YouTube in India. Between 2023 and 2028, the platform is estimated to gain a staggering 252.2 million new users, representing a growth rate of 43.92 percent. By 2028, the YouTube user base is expected to reach a remarkable 826.44 million users, marking a remarkable five consecutive years of steady growth.
Ishan Chanterjee, in his closing arguments in an interview with the Social Samosa assert,
"As we look ahead, we think that the growth of the creative economy in the future, the next phase is going to come from creativity and also from finding new ways to make our creative community commercially successful.
To reiterate, yet again, to the question we started with, 'Has YouTube Created a Thriving Content Economy and Consumer Viewing Culture in India?', the facts and figures speak for themselves. YouTube is the fastest growing social media platform in India. It is more than simply just a platform, a phenomenon rather.
The YouTube phenomenon shows no signs of slowing down, and its remarkable journey continues to shape India's digital landscape. With its ever-expanding user base, diverse content, and thriving creator community, YouTube remains an unparalleled force in the world of online video consumption and content creation.