We are all familiar with Shopify (quite possibly one of the biggest e-commerce platforms of the time), the multinational, Canadian brand focused particularly on enabling entrepreneurs to build their online stores and the maintenance of point-of-sale systems. Here, we attempt to unravel the remarkable tale of how this e-commerce powerhouse has conquered the digital landscape.
Brace yourself for a whirlwind of jaw-dropping statistics that illustrate the meteoric rise of this beloved brand. From empowering entrepreneurs worldwide to fueling unprecedented growth, Shopify's triumph is an awe-inspiring spectacle.
Join us as we celebrate the remarkable achievements and groundbreaking milestones that have solidified Shopify's position as a true industry titan.
Top Shopify User Statistics (Editor's Picks)
In 2004, three Canadians, driven by a disappointing online shopping experience for snowboarding equipment, founded Shopify in Ottawa, Canada.
As of January 2023, Shopify boasts over 4.5 million live websites under its wing, reinforcing its position as a dominant force in e-commerce.
In the United States, Shopify reigns as the most popular e-commerce platform, capturing a remarkable 30% market share with over 2.5 million websites built on its platform.
Presently, more than 25,000 live sites are successfully running on Shopify Plus, showcasing the platform's scalability and appeal to larger enterprises.
With a vast array of 8000+ apps on the official Shopify app store, users can easily enhance their online stores with additional functionalities and features.
Outpacing competitors like Squarespace, Wix, Magento, Weebly, and BigCommerce, Shopify ranks second only to WooCommerce in the e-commerce platform hierarchy.
Mobile devices play a significant role in driving traffic to Shopify stores, accounting for a staggering 81% of the total traffic.
On average, a Shopify transaction is valued at $84, illustrating the platform's capacity to facilitate successful sales and transactions.
In the year 2021 alone, Shopify raked in an impressive $4.6 billion in revenue, underlining its substantial financial success.
With an astounding contribution of $319 billion to global economic activity, Shopify's impact on the business landscape is truly remarkable.
Quick Facts About Shopify
Shopify's marketing affiliate program allows affiliates to earn an average of $58 per user who signs up for a paid plan.
For marketing tasks, Shopify boasts an extensive database of Shopify experts, including those specialized in SEO services.
In a bold move in October 2018, Shopify established its first brick-and-mortar storefront in Los Angeles, taking its e-commerce success to the physical realm.
As the core founder and CEO, Tobias Lx?tke's personal worth stands at a staggering $5.3 billion according to Forbes. Lx?tke also holds over 6% ownership of the company and enjoys 40% voting power through a non-transferable 'founder share' structure agreed upon by Shopify shareholders at the annual general meeting on June 7, 2022.
The most successful way to increase the conversion rate of your Shopify store is through email marketing which contributes to a total of 4.29% of the conversion rate.
Key Facts About Shopify
| | |
| --- | --- |
| Feature/Statistics | Details |
| Platform Name | Shopify |
| Description | Cloud-based, 'all-in-one' e-commerce platform for online stores |
| Year of Creation | 2006 |
| Initial Purpose | Selling snowboarding equipment online |
| Targeted Industries | Wide mix of industries |
| e-commerce Features | Themes, Shopify Payments, Shopify POS system, Shopify Email, Shopify Markets, tax calculation tools, shipping solutions, and more |
| Sales Channels | Facebook, Instagram, eBay, Amazon, TikTok, and 'buy button' for embedding on websites or blogs |
| Total Sales Generated (17 years) | Over $700 billion |
| Revenue in 2022 | $5.6 billion (26% increase from the previous year, constant currency basis) |
| Number of e-commerce Sites Built with Shopify | Over 4.3 million |
| Countries with Shopify Users | Over 175 |
| Estimated Percentage of Shopify Stores Based in the US | 62% |
| Gross Merchandise Volume in 2022 | $197.2 billion |
| Shopify's Share of the Global e-commerce Platform Market | 10% |
| Average Order Value on Shopify | $85 |
| Number of Staff (before and after May 2023 layoffs) | Over 11,600 (before) and around 9,200 (after) |
| Sources | Shopify, Builtwith.com, Statista, Littledata.io |
The Rise of Shopify: Empowering Dreams and Redefining E-Commerce
Born in 2006, Shopify is a Canadian gem that began as a humble online store selling snowboarding equipment. Little did anyone know that it would soon revolutionize the way we do business online.
Shopify's meteoric rise to fame can be attributed to its unwavering commitment to simplicity and innovation. With an intuitive platform that required no coding knowledge, it became the go-to choice for budding entrepreneurs wanting to venture into the world of online retail. Shopify democratized e-commerce, allowing individuals and small businesses to compete on a level playing field with industry giants.
What exactly contributed to the rise of Shopify?
While the democratisation of e-commerce is often attributed to Shopify, it wasn't just about the ease of use; Shopify's success is rooted in its adaptability. Anticipating market trends and technological advancements, Shopify swiftly embraced mobile commerce and social media integrations, keeping its merchants ahead of the curve.
The brand's emphasis on community and support further fueled its ascent. Through its bustling forum and informative webinars, Shopify fostered a sense of camaraderie among its users, sharing experiences and knowledge to nurture growth.
Stepping up their game: Shopify's rise in the market
The turning point, however, came in 2015 when Shopify went public on the New York Stock Exchange. Valued at over a billion dollars, the IPO not only validated the brand's potential but also solidified its position as an industry heavyweight.
Today, with millions of active users and a vast ecosystem of apps and partners, Shopify stands as a symbol of entrepreneurial empowerment. From mom-and-pop shops to multinational corporations, businesses of all sizes trust Shopify to help turn dreams into reality in the competitive world of e-commerce. As it continues to expand and innovate, Shopify's rise to fame remains an awe-inspiring testament to the power of vision, simplicity, and relentless dedication to empowering dreams in the digital age.
What does Shopify's revenue look like?
Revenue generation on e-commerce platforms that support other e-commerce platforms is often skewed and tricky to comprehend. However, Shopify has a few ways of generating revenue. Primarily, it generates income through subscription plans tailored to different business needs, offering features like unlimited products and 24/7 customer support.
Additionally, transaction fees are charged on each sale made through the platform, with rates varying based on the chosen plan. Shopify refers to these two forms of revenue streams as subscription and merchant solutions respectively. Let's consider some of the top stats from their revenue streams.
Around 25% of Shopify's total revenue comes from subscriptions, amounting to $382 million in the first quarter of 2023, marking an 11% increase from 2021.
The remaining 75% of revenue, referred to as "Merchant Solutions," is derived from various sources. This includes income from the sales of e-commerce tools and services such as merchant payment services, currency conversion, shipping, etc.
For themed stores and app developers, Shopify charges a 15% revenue share once their sales on the Shopify app store exceed $1 million.
The most substantial portion of Shopify's earnings, accounting for 75% of overall revenue, comes from transaction fees, payment processing fees, and other merchant services.
In the first quarter of 2023, this revenue stream generated a significant $1.126 billion, showcasing an impressive 31% increase compared to the previous year.
Approximately 66% of Shopify's shareholders consist of institutional investors, including Baillie Gifford (5.92%) and Morgan Stanley (5.57%), among others.
These shares are held by 1,400 separate institutions, while company insiders own approximately 0.19% of the shares. Shopify's founder and CEO, Tobias Lx?tke, has a substantial stake, owning around 6% of the company.
Shopify offers their consumers five different subscription plans to choose from:
Shopify Starter $5 per month
Basic Shopify $39 per month
Shopify $105 per month
Advanced Shopify $399 per month
Shopify Plus negotiable, but usually costing around $2,000 per month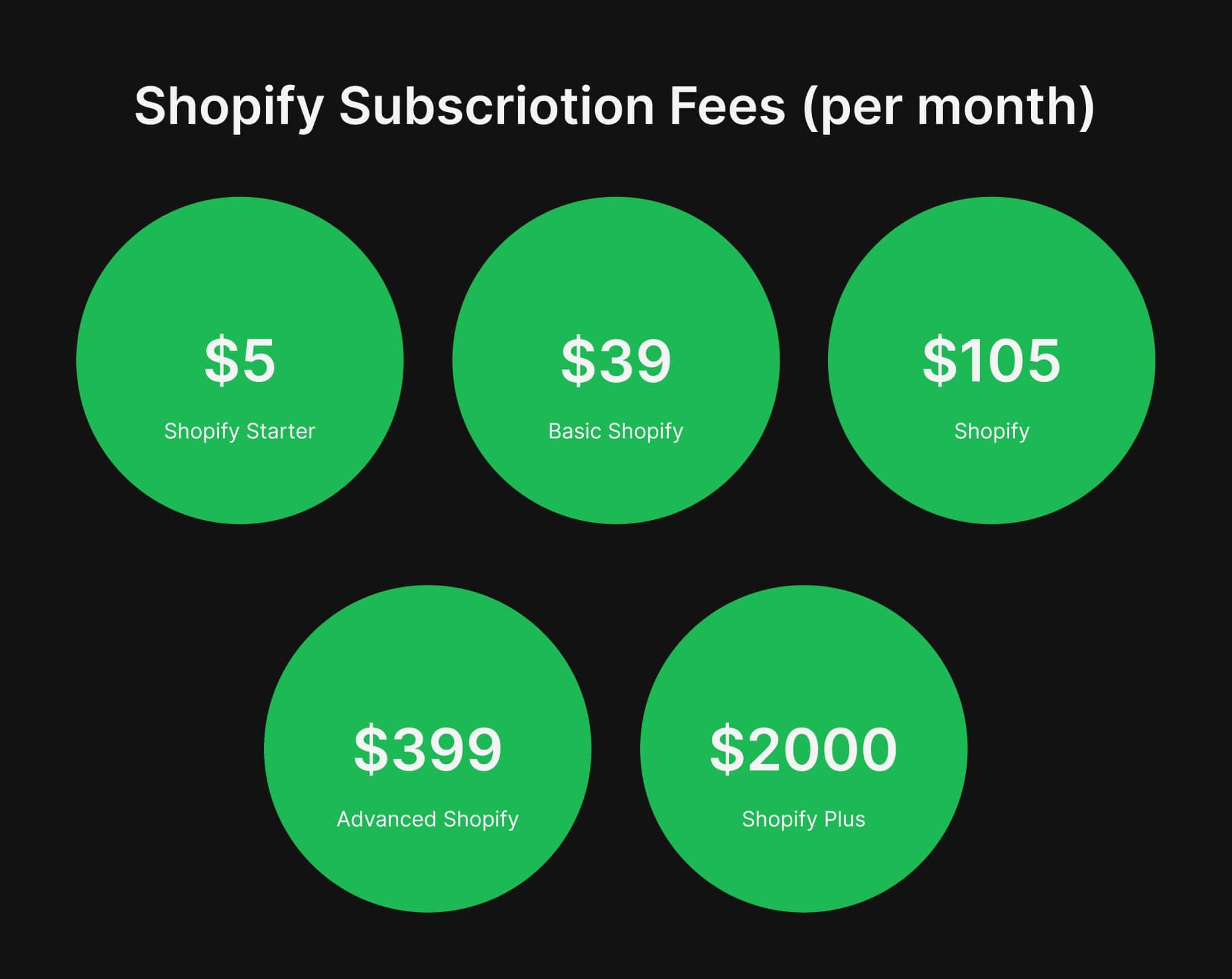 Shopify's Digital Metrics at a Glance
#300 – Most Visited Website Globally
#195 – Most Traffic Generating Website in the US
#3 – Among Websites Providing Business and Consumer Services
91.9M – Total Visits to the Platform in 2022
41.75% – Bounce Rate
9 – Average Number of Pages Visited by a User
09:18 minutes – Average Time Spent on Shopify by a Regular User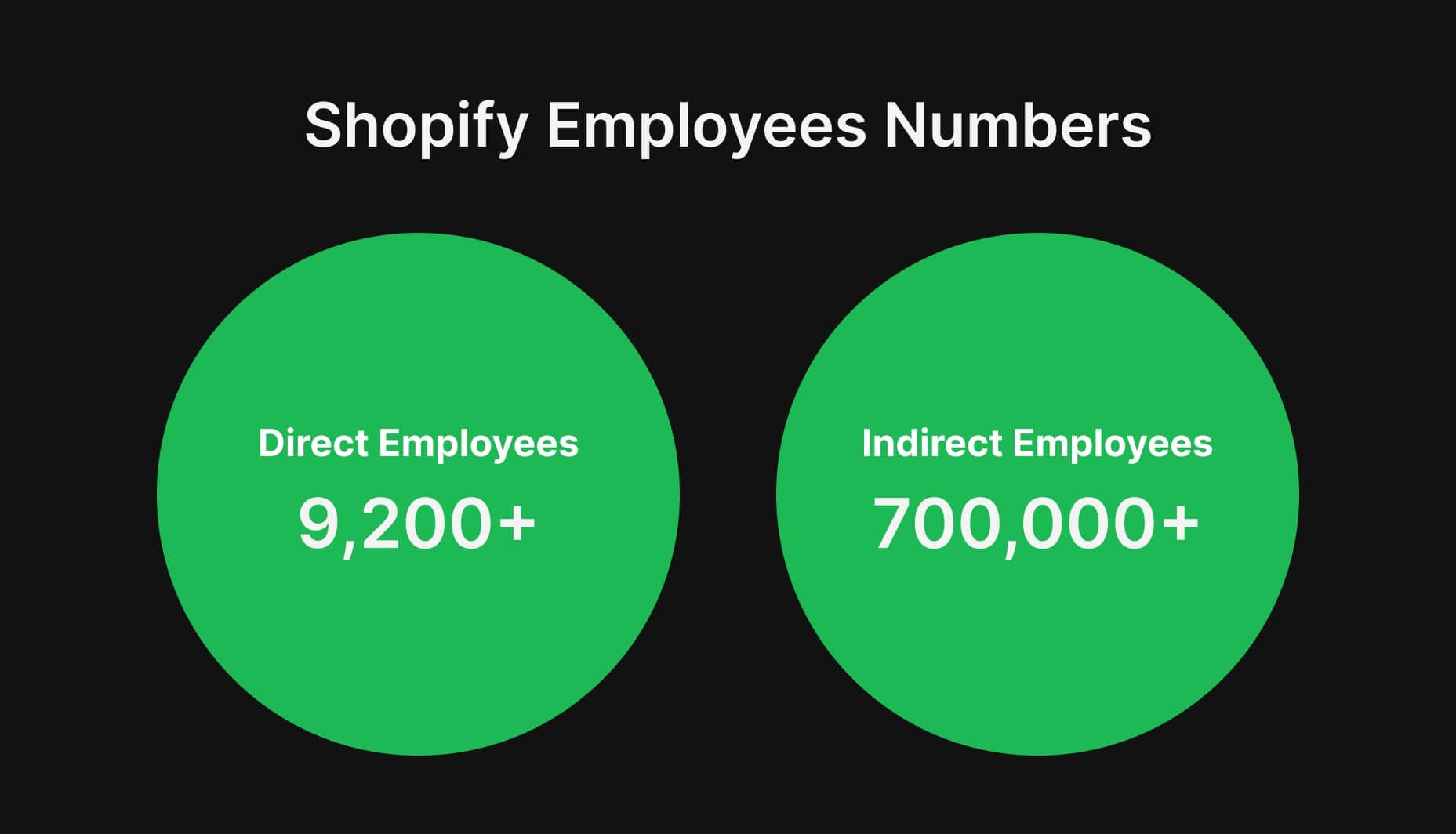 How Many Employees Does Shopify Really Have?
Shopify has categorized its employees into two broad divisions: direct and indirect employees. The former consists of staff working directly under the company, while the latter includes freelance developers, designers, and partners that make up the Shopify digital workspace.
In May 2023, Shopify underwent a significant workforce reduction, letting go of approximately 20% of its employees, resulting in a current staff count of around 9,200, down from over 11,600.
Beyond its direct workforce, Shopify's expansive 'employment ecosystem' encompasses more than 700,000 app developers, designers, and Shopify partners.
The dynamic network of Shopify partners and developers has collectively generated a staggering $12.5 billion in revenue through businesses and products catering to Shopify sellers.
The impact of Shopify's global merchant community extends far and wide with an estimate of about 3.6 million jobs created by the platform globally.
The Popularity of Shopify: A Global Outlook on the User Statistics
There is really no question about the impact and popularity of Shopify. Let's delve quickly into statistical evidence behind the widespread adoption of Shopify and its impact across diverse global markets.
Shopify's global reach extends to more than 175 countries, making it a favored choice for merchants worldwide.
Out of the 4.12+ million active Shopify stores, a significant 63% (2,584,479 stores) are based in the United States, where Shopify plays a crucial role.
Shopify accounted for over 10% of all US e-commerce sales in 2021.
The United Kingdom stands as Shopify's second-largest market, hosting 182,292 operating Shopify websites, amidst its booming $871 billion e-commerce industry.
Australia takes the third spot in Shopify adoption, boasting 132,089 Shopify stores, followed by Brazil, Shopify's fourth most popular market, with 113,999 stores. Germany secures the fifth spot with 103,509 Shopify stores.
Currently, there are over 4,124,801 live websites that are primarily powered by Shopify.
Shopify, in its 17 years of existence has been involved in building over 6.6 million digital stores.
Shopify store numbers have seen a 200% increase and a 201.5% growth between 2020 and 2022 primarily due to the pandemic which forced shopowners to move their businesses online.
Top Shopify Users in the World
As suggested earlier, the US has the maximum number of Shopify users globally. However, UK, Australia, Brazil, and Germany follow closely behind in terms of the number of stores hosted by the platform.
| | |
| --- | --- |
| Country | Number of Shopify Stores |
| United States of America | 2,584,479 |
| United Kingdom | 182,292 |
| Australia | 132,089 |
| Brazil | 113,999 |
| Germany | 103,509 |
Top Shopify Users by Merchants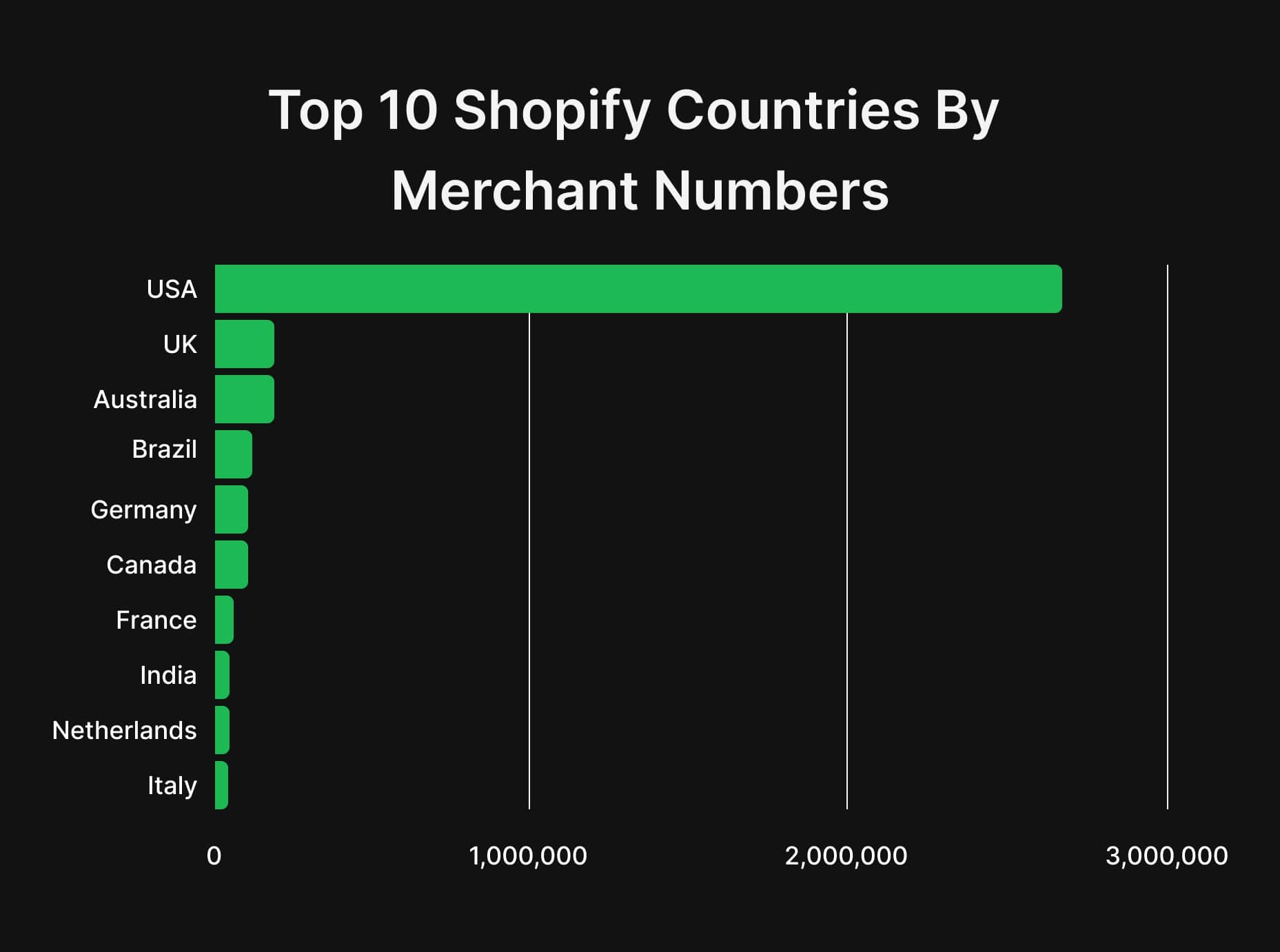 Growth of Shopify Users between 2018 to 2023
The growth of online stores supported by Shopify has seen a brilliant rise in the past five years. However, as the data suggests, the maximum margin of growth was recorded between 2020 and 2022, as the pandemic drove businesses to reconsider their digital presence and more online businesses began to establish their names in the industry.
Europe stands out as a significant stronghold for Shopify, with 11 out of its top 20 countries for merchant numbers situated within the continent.
While Shopify's popularity in English-speaking countries is evident, it is also making impressive strides in the rapidly growing Asia-Pacific e-commerce market.
China's colossal e-commerce market, predicted to be worth $3.3 trillion by 2025, presents both vast opportunities and challenges for Shopify. Despite its difficulty for Western companies to penetrate, Shopify currently powers approximately 8,024 stores in China.
In a bid to access a larger share of the Chinese market, Shopify unveiled a game-changing partnership with JD.com, a prominent online retailer and Alibaba competitor, in early 2022.
This collaboration enables select Shopify businesses from the US and abroad to engage in cross-border e-commerce with Chinese consumers within a remarkably shortened 4-week setup time, defying the usual 12-month period required for foreign brands in China.
The table below provides a brief glance into the highs and lows of Shopify's user growth since 2018.
| | |
| --- | --- |
| Year | Number of Shopify Users |
| 2018 | 820,000+ |
| 2019 | 1,000,000+ |
| 2020 | 1,749,000+ |
| 2021 | 2,063,000+ |
| 2022 | 4,192,000+ |
| 2023 | 4,124,000+ |
Largest Companies That Come Under Shopify
If we were to comment on the range of stores that adopt Shopify as their e-commerce solution, you would be quite taken aback. Several big names and brands, established household names, small businesses, celebrity brands and small home-grown businesses use Shopify as their preferred platform to build their user base.
| | |
| --- | --- |
| Ranking | Name of the Brand |
| 1 | Tesla Inc. |
| 2 | LVMH (Sephora) |
| 3 | Nestle |
| 4 | Pepsi Co Inc |
| 5 | Anheuser-Busch InBev |
| 6 | Kraft Heinz Co |
| 7 | Lindt & Spruengli |
| 8 | Whole Foods Market |
| 9 | Red Bull GmbH |
| 10 | Hyatt Hotels Corp |
Average Customer Revenue For Shopify Stores
The average customer revenue for a store registered under Shopify is listed as $72, with the lowest being $33 and the highest $226. However, the margin of the stores making the lowest and the highest values are also in the extremes, clocking in a 10% on both ends.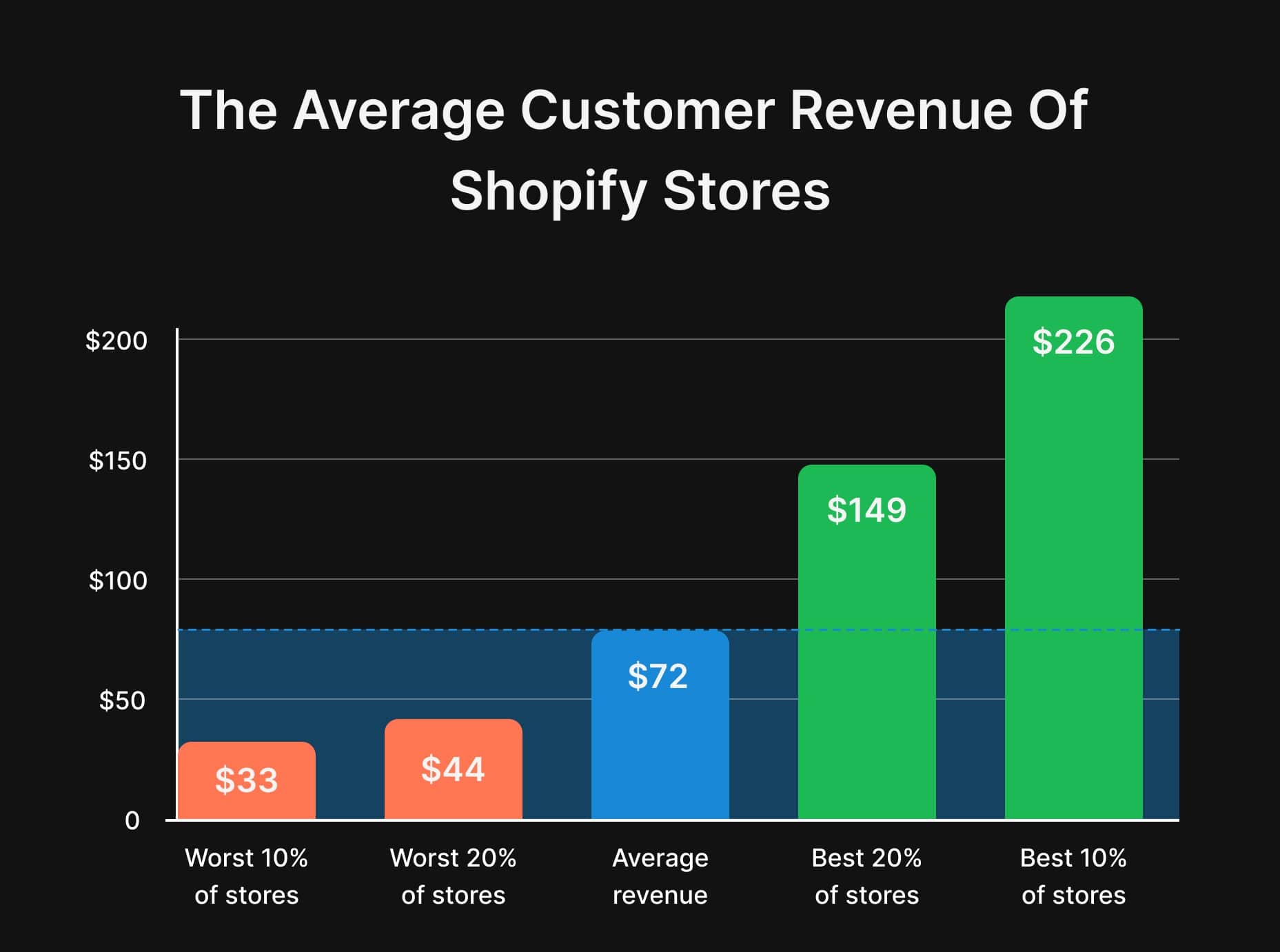 Who Constitute Shopify's User Base?
Gender Distribution of Business Owners:
52% of Shopify stores are owned by women.
47% of the stores on the platform are owned by men.
Gender Distribution of the Visitors:
59.10% of the shoppers on Shopify stores are men.
40.90% of the visitors on online Shopify stores are women.
Age Distribution of Visitors:
| | |
| --- | --- |
| Age Range | Percentage |
| 18-24 | 21.81% |
| 25-34 | 34.35% |
| 35-44 | 20.69% |
| 45-54 | 11.85% |
| 55-64 | 7.02% |
| 65+ | 4.28% |
What is the Audience Primarily Interested In?
Computers, Electronics and Technology
Programming and Development of Software
Fashion and Apparel
Graphics and Multimedia
New and Television
Top Shopify Stores Searched by Users
News, television, and media
Shopping – Fashion and Apparel
Software support and development
Business Development
Statistical Breakdown of Shopify's Merchants and Market Shares
Shopify is a significant name within the e-commerce market space in terms of its global reach, market position, and partnerships, all of which have propelled its success. The total global e-commerce trade is estimated to be around 5.5 trillion and is expected to propel by a margin of 7.5 billion increase by the end of 2025. However, what is of interest to us is the share of e-commerce, which stands at an impressive 17.9% as of 2023.
Shopify is the largest e-commerce platform in terms of traffic and commands a 27% share among the top e-commerce sites. A more detailed breakdown of market shares within Shopify's hierarchy is illustrated below:
Shopify Stores – 21%
Shopify Plus Stores – 5%
Top E-Commerce Sites (Platform Share)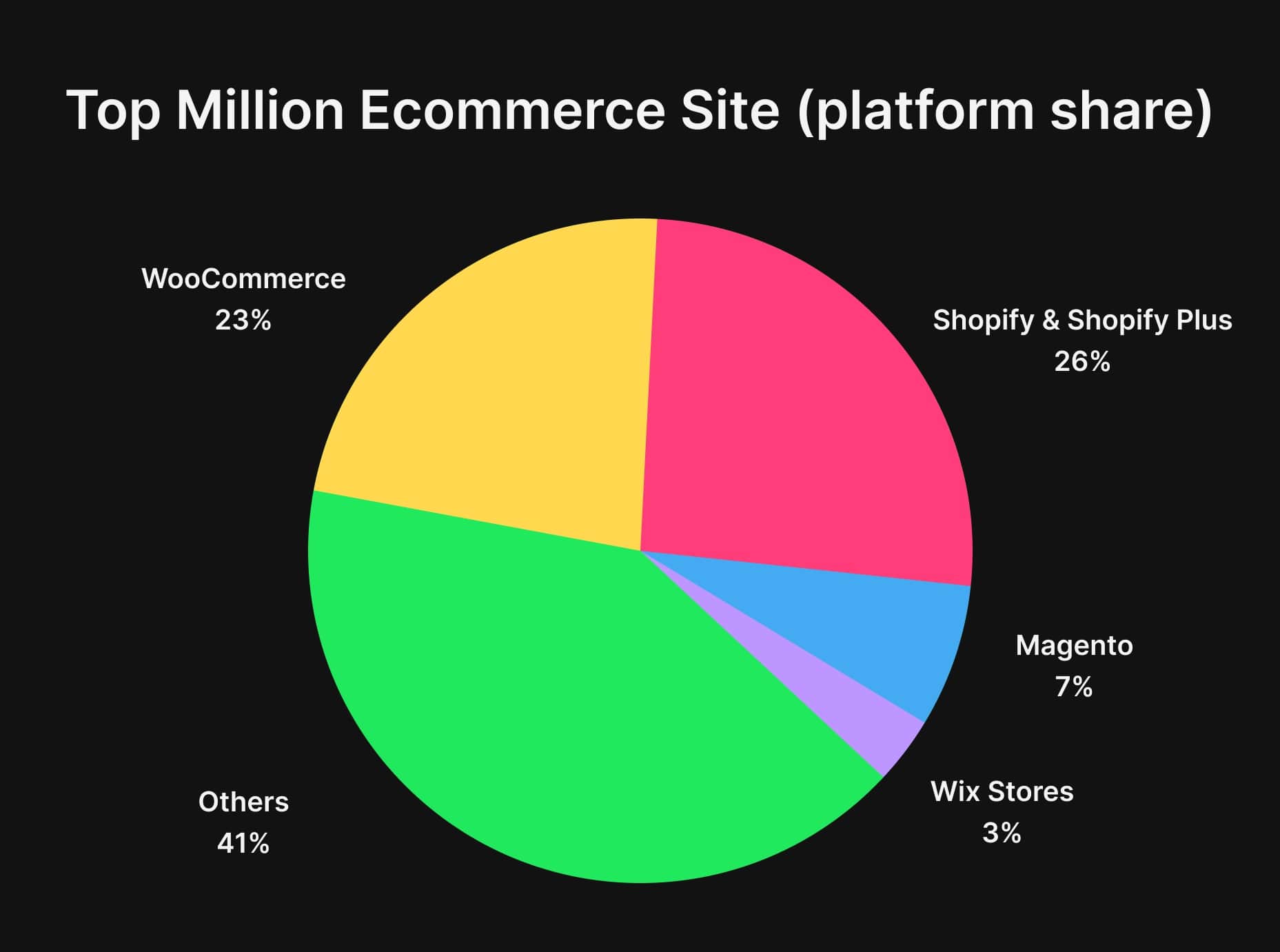 Conversion Rates For Shopify
The conversation rate of any platform is calculated by dividing the total number of purchases made on an e-commerce platform by the total number of visitors who use the sites made by the platform. The general convention of a successful conversion rate is considered to be 3%. That is — if you are able to assume that at least 3% of your site's visitors are paying customers, you are running a successful and viable business.
The average conversion rate for Shopify stores hovers around 1.4%, reflecting the challenges faced by many e-commerce businesses, with a staggering 90% not succeeding.
However, among the thriving Shopify businesses, the top 10% of stores boast an impressive average conversion rate of 4.7%, with the highest conversion rate observed on Shopify reaching an astounding 8%.
Furthermore, the top 20% of Shopify's 4.12+ million online stores achieve a conversion rate surpassing 3.2%, showcasing their exceptional performance.
The success rate for well-performing Shopify stores is estimated to be between 5%-10%.
5 Most Successful Businesses on Shopify
| | | |
| --- | --- | --- |
| Rank | Type of Industry | Name of the Store |
| 1 | Cosmetics | Colour Pop |
| 2 | Cosmetics | Jeffree Star Cosmetics |
| 3 | Fashion | Fashion Nova |
| 4 | Fashion | Red Dress Boutique |
| 5 | Sportswear | Gym Shark |
Shopify's Current Revenue – Statistics
Despite the discussions above, a very common question asked about Shopify is about how profitable it is. There are several factors that determine the profit of a specific company. Based on the data below, Shopify can definitely brag about its position as a successful digital enterprise.
In 2022, Shopify recorded a substantial gross profit of $2.8 billion, marking an impressive 11% surge of $300 million from the previous year.
During the first quarter of 2023, the trend continued, with Shopify achieving a gross profit of $798.5 million, demonstrating a remarkable 12% increase compared to the same period in the previous year.
Currently, on the financial markets, Shopify's profit margin is listed as 0%, while its operating margin stands at 0% as well.
For the entire year of 2022, Shopify's total revenue amounted to an impressive $5.6 billion, showcasing a significant 23% growth over 2021.
A major contributor to Shopify's revenue stream is its 'merchant solutions' income, encompassing Shopify Payments, Shopify Capital, and Shopify Markets. In the first quarter of 2023, this income stream generated $1.1 billion, reflecting an impressive 31% year-over-year increase since 2022.
Shopify Plus Usage Statistics
Shopify has several plans for its users. Shopify Plus is the premium plan that begins at a monthly rate of $2000 and allows users to access several features including customizable checkouts, API calls, and unlimited user accounts.
At present, there are 32,990 active Shopify Plus stores, with a substantial number of 19,417 situated in the United States.
Comprising 5.7% of the top one million internet sites, Shopify Plus stores wield significant influence in the online domain.
The United Kingdom, Shopify's second-largest market, boasts 2,018 Shopify Plus stores, further solidifying the platform's global presence.
Shopify's Most Profitable Revenue Plan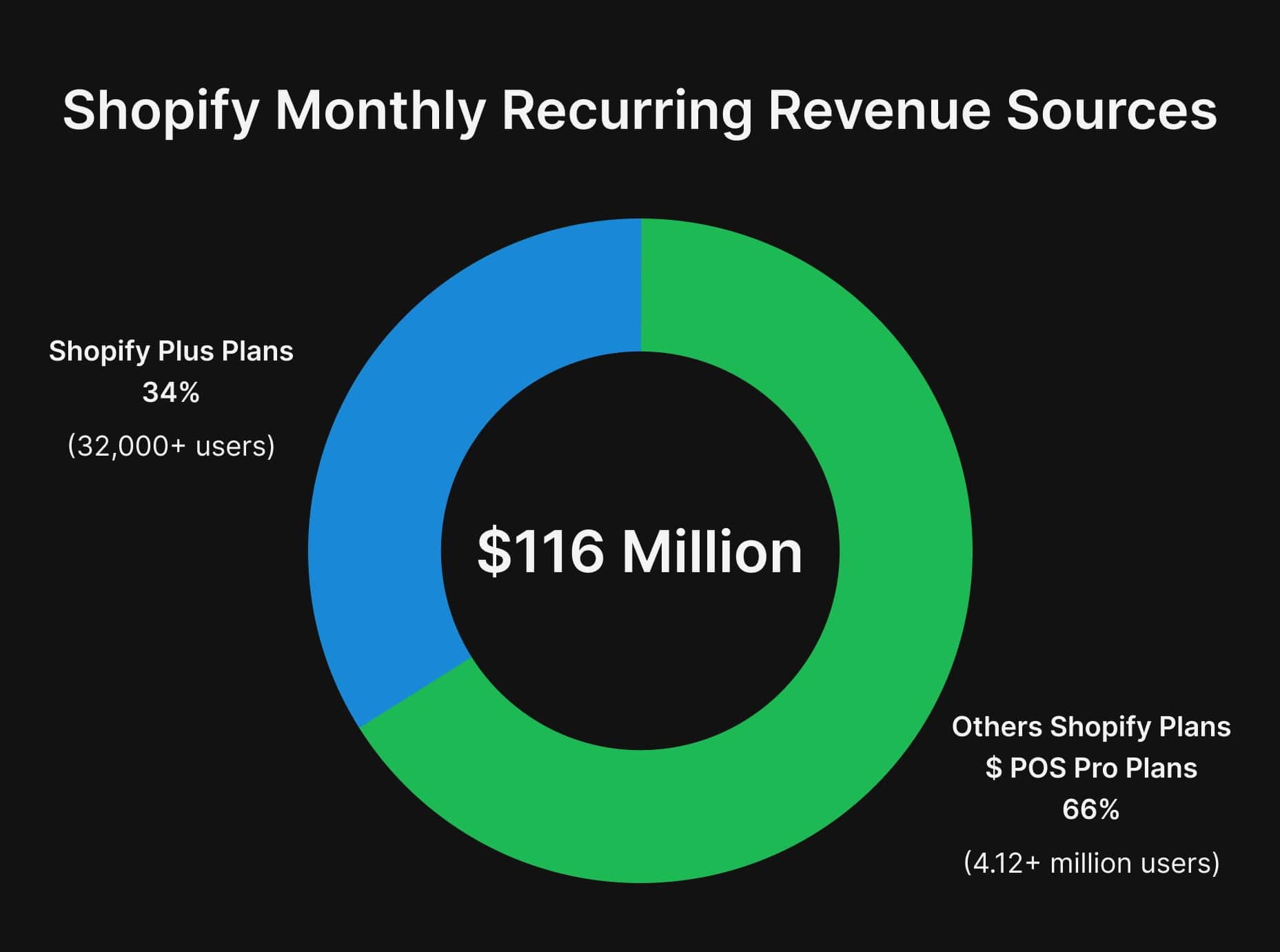 The Numbers Don't Lie!
As we bid farewell to this data-driven adventure through Shopify's world, one thing is crystal clear the numbers don't lie!
From empowering millions of entrepreneurs to conquering global markets, Shopify's meteoric rise is a testament to its unrivaled success. With 32,990 Shopify Plus stores and a 5.7% stronghold on the internet's top million sites, Shopify's impact is undeniable.
Regardless of whether you're a seasoned seller or a budding e-commerce dreamer, take inspiration from these fascinating statistics and let Shopify be your springboard to success.