It is not an uncommon sight in Indian households to find people sitting relaxed on their couch and flipping through several TV channels to watch their favorite daily soaps or films. Videocon D2h is a renowned service provider that has over 30 million people as subscribers. They have managed to reach every corner of our country with their dedicated DTH services. Affordable packages, 500 plus channels, and uninterrupted services remain their mantra of growth.
When you own a renowned DTH set-top box like the one by Videocon D2h service, it is imperative to use a remote control that is compatible with it enjoy your favorite TV shows at the flick of a button. If you are looking for the perfect remote control device, our list of top 10 Videocon D2h remote controls in India will guide you towards the right one.
It is always better to buy the remote from the Videocon DTH provider itself. The guy from the company will come and install the remote for you without any extra cost. The price is cheaper too than the online options. You need to pay the person who comes to deliver on behalf of the company. Contact customer care on this number – 091156 91156.
If you want to go for online options then you can check out the list below.
Top 10 Videocon D2h Remote Controls In India
Last update was on: January 22, 2023 4:25 pm
Top 10 Videocon D2h Remote Controls
Technology Ahead Videocon D2h Remote Control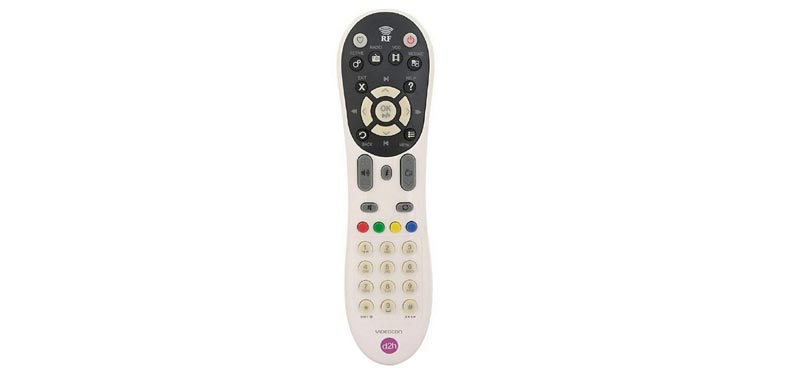 This remote control from the house of Technology Ahead is specifically designed to be compatible with the Videocon D2h High Definition set-top box.
It sports an ergonomic design to fit inside your hand to switch between the channels effortlessly.
The well-spaced buttons on the keypad of this remote control device are made from soft silicone rubber to assure long-lasting service.
The white and black colored remote control is made of high-quality plastic and has dedicated buttons for Active, Radio, Mosaic, On/Off, Menu etc.
It relies on radio frequency technology to provide access to Videocon D2h channels and works with a lithium cell.
Sharp Plus EHOP Videocon D2H Remote Control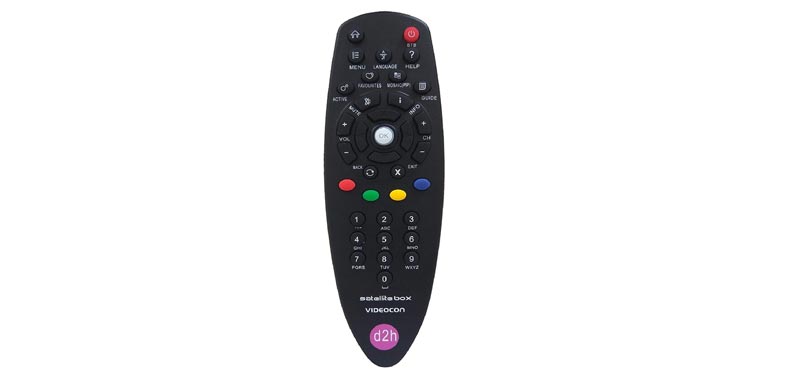 This Sharp Plus remote control is designed with an array of controls with dedicated buttons to help you use the Videocon D2H set top box very effectively and quickly.
This ergonomically designed lightweight remote control comes in shiny black color and can be held with one hand with a good grip while trying to change the channels.
This remote control tool can be used to exert full control over your DTH device from any corner of your room, as it can provide excellent coverage with its long-distance range.
The neatly marked soft silicone rubber buttons on the remote control help in easy operation.
The remote control needs two AA batteries to perform its operations.
Related Article: Best Videocon D2H Packages and Prices
Videocon D2h Standard Set-Top Box Remote Control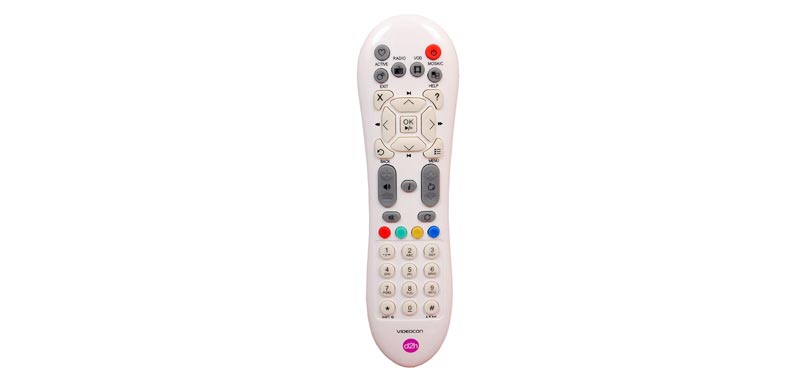 The Videocon D2h remote control is the best product to replace your worn-out remote control to flick through channels swiftly on the set-top box.
The dedicated buttons on the silicone rubber keypad can let you play games, switch to your favorite channels, adjust volume, switch on mute mode or view the Home menu at the touch of a button.
The remote control looks classy in glossy white color and flaunts a handy design for using it effectively.
The durable plastic body of this remote device prevents wear and tear effects in the long run.
The removable slot at the back of this product houses a 3V lithium battery.
M. Electro MTS Enterprise Videocon D2h Remote Control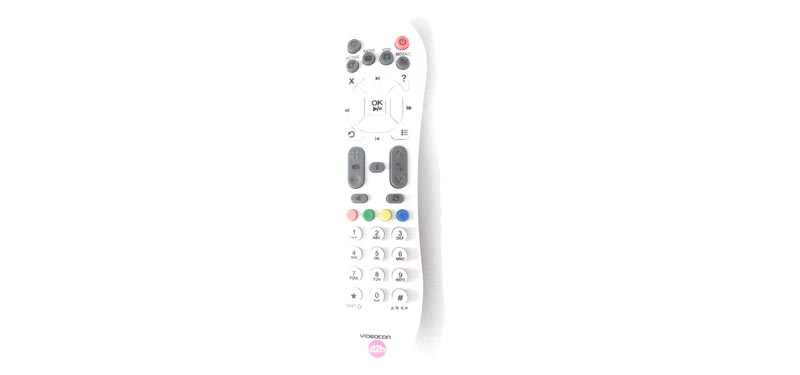 You need not have two different remote controls for your DTH and TV set separately when you own the remote offered by the M. Electro MTS company.
This device comes with an ergonomically designed body in crisp white shade and has colorful buttons to denote separate functions.
It also has an anti-slip design to fit inside your palm easily without sliding.
The soft buttons of silicone rubber are neatly arranged to identify the volume buttons, channels, numbers, Mosaic, Radio and so on.
The remote control device looks elegant in shiny white color and has 2 separate slots at the back for two AA batteries.
Technology Ahead Remote Control For Videocon D2h Box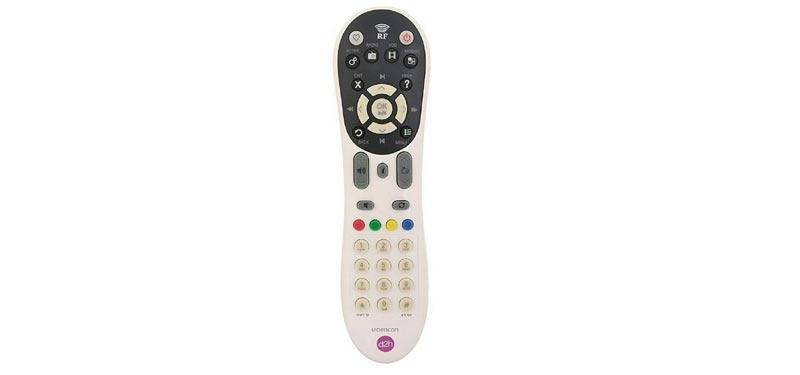 This stylish looking remote control is offered by the renowned seller, Technology Ahead and is compatible with the DTH set-top box of Videocon.
The device sports a handy design in a stunning combination of black and white and has a lightweight design to rest in your hand effortlessly.
The rightly spaced buttons on the keypad are crafted with silicone rubber to last long and to assure ease of use.
It is based on Radio Frequency technology to help you change channels swiftly even at a greater distance away from your television set.
It has a special slot to hold a lithium cell for long-lasting service.
PowerDeals Remote Control for Videocon SD D2h Box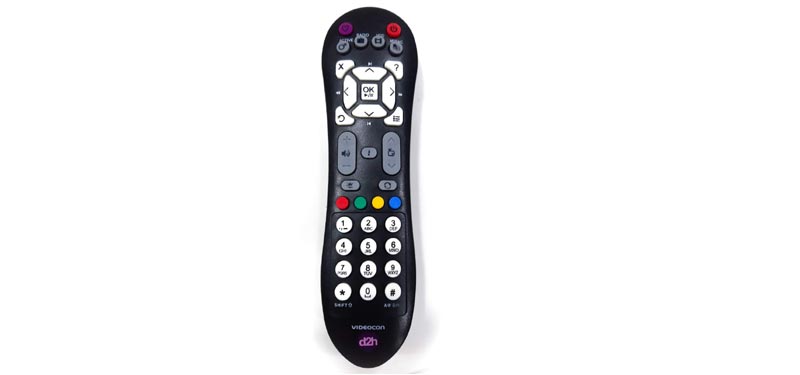 If you own a Videocon D2h set-top box to deliver content with Standard Definition quality, then this remote control from the PowerDeals brand is the right choice.
It flaunts an elegant design with a minimalist keypad design to assure optimum convenience and usage.
Flicking through your favorite channels is a simple process, as it is studded with attractive silicone rubber buttons with clear markings.
This remote control for D2H set-top box is equipped with IR sensor to detect signals and perform with lightning speed.
The handy design of this device in black makes it a perfect find to operate with one hand effortlessly.
CITY EHOP Elite Sharp Videocon D2H Compatible Remote Control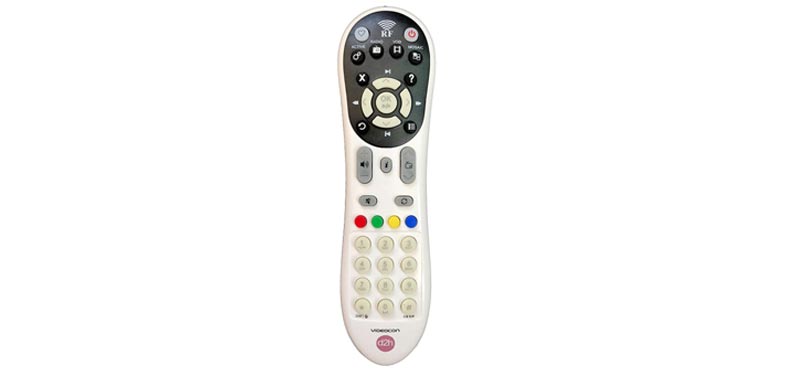 Bring home the City Elite remote Control that is created specifically to be compatible with your HD set top box by Videocon.
This device is crafted out of high quality plastic and its soft keypad is built with silicone rubber that lets it change channels as soon as the user touches it.
The black and white combination of this remote control grabs attention and its ergonomic design helps one hold easily while operating it.
This remote control device for set-top box is based on IR sensor technology to make it perform its tasks at top speed.
e-Remote Remote Control for Videocon D2h Box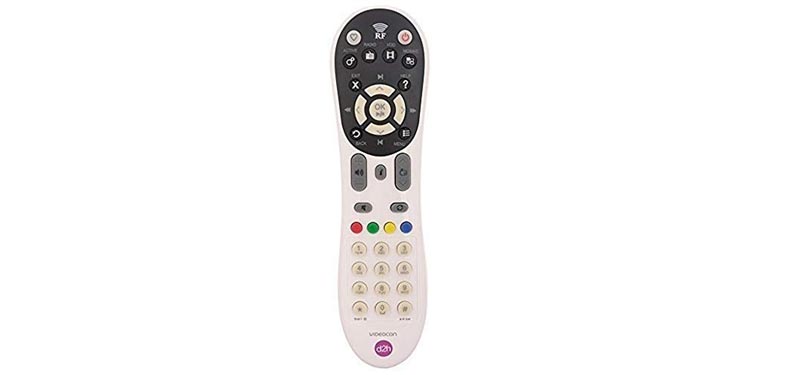 The e-Remote remote control device is a perfect partner for your Videocon D2h set-top box to take your entertainment to the next level.
This high-quality device is backed by radio Frequency technology that offers extreme coverage even when using it at 360 degree angle.
It can help you set your preferences or choose any channel even at a distance of up to 50 meter.
The remote control requires 2 AAA batteries to perform its functions and looks attractive in white and black color.
The ergonomic design of this DTH remote control makes it easy to handle and it has soft buttons made of silicone rubber.
M. Electro MTS Enterprise Remote Control for Videocon D2h box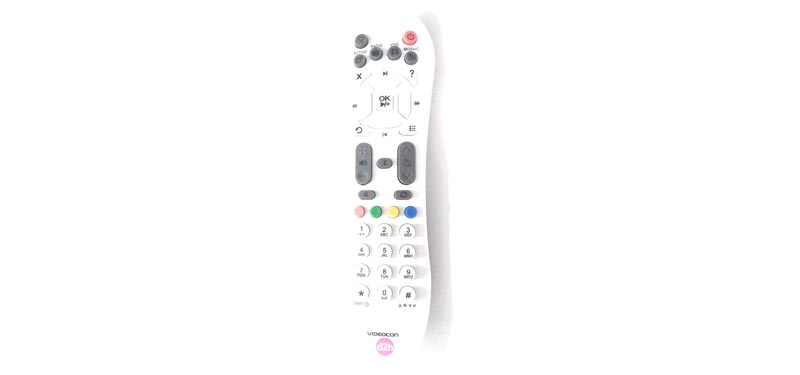 The M. Electro MTS remote control is specifically offered for the homes with Videocon DTH SD set-top box to cater to their entertainment selection needs.
This remote control is a best choice to replace your TV and DTH remote, as it can be easily paired with your appliances.
The anti-grip design of this remote control device in elegant white shade is well-complimented by the soft silicone rubber buttons on the keypad for better usage.
There are special buttons to go to Home menu, Mosaic, favorites, Active, adjust volumes, change channels and so on.
The slot at the back of this device can hold 2 AA batteries.
e-Remote DRS Remote Control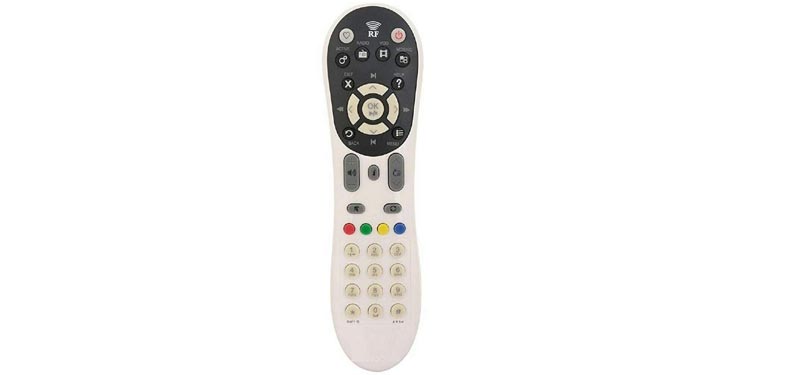 The e-Remote DRS Remote Control is specially developed to be compatible with the Videocon D2h HD set-top box to assure the best entertainment time.
This remote control device relies on Radio Frequency technology to give you the best coverage even if used at a good distance from any point in a room.
The white colored remote control for Videocon set-top box is made from 100% durable plastic and comes with a soft rubber keypad for quick operations.
This product in black and white performs its functions by drawing power from the powerful coin-sized lithium cell to deliver fast-paced performance.
With that, we wrap up our list of best-selling remote control products to help you get the maximum out of your Videocon DTH box. The products listed above can be used as a universal remote control by pairing it up with your TV set and DTH set-top box.