Wrinkle-free, crisp, neatly ironed and fresh-looking clothes are a must if you want to look good and smart. It is an essential household appliance that can help you look your best with crisp looking clothes is a steam iron. An essential appliance, people often don't give much thought to buying the best steam iron and then regret later because no one wants to wear wrinkled and crumpled clothes and make fun of themselves. That is why we are here with a list of best steam irons in India that are easy to operate and make the process of ironing clothes a breezy affair.
Have a Look at Top 10 Best Steam Irons In India for 2020
1. Philips GC1905 1440-Watt Steam Iron with Spray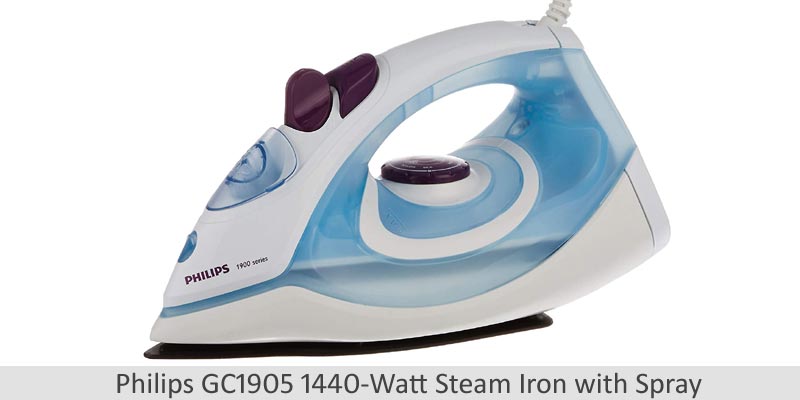 Philips is one of the premier home care appliances brand in India and features more than one model in the list of best steam irons. Philips GC1905 1440-Watt Steam Iron comes with the following features –
With a 1440 watt wattage you can be ensured about constant high steam output
A non-stick aluminium linished soleplate makes it easier to glide over all fabrics
Powerful spray function can help ease out even toughest of creases
A continuous release of steam (13 g/min) ensures crisp and wrinkle-free well-ironed clothes
It is easy to both fill and empty the water tank that has a capacity of 180ml, thanks to the huge emptying hole
Comes with a 2 years on product
It has a feature of self-cleaning with anti-calc function
Price: Rs. 1435
Warranty: 2 years
Power: 1440 watts
Steam: 13 g/min
2. Philips GC1920/28 1440-Watt Non-Stick Soleplate Steam Iron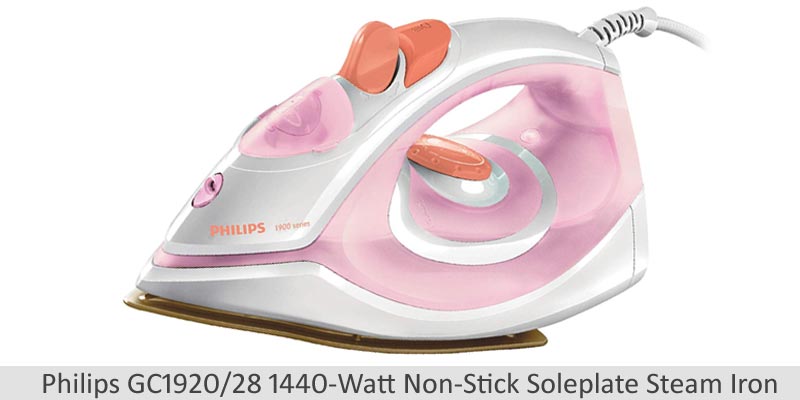 Philips GC1920/28 1440-Watt Steam Iron Box comes with the following features –
A 1440 watt wattage ensures steam is generated quickly and efficiently
Golden non-stick soleplate with Black American Heritage coating so that it glides easily over all fabrics
For tough creases, use the spray function to for superior ironing results
A continuous release of steam (17 g/min) ensures crisp and wrinkle-free well-ironed clothes
The water tank is easy to fill in and empty out. It's capacity is 180ml
Comes with a 2 years on product
Does not have the calc clean feature, so make sure hard water is not filled in this
Priced at Rs. 2095 on MRP
Price: Rs. 1599
Warranty: 2 years
Power: 1440 watts
Steam: 17 g/min
3. Morphy Richards Super Glide 2000-Watt Steam Iron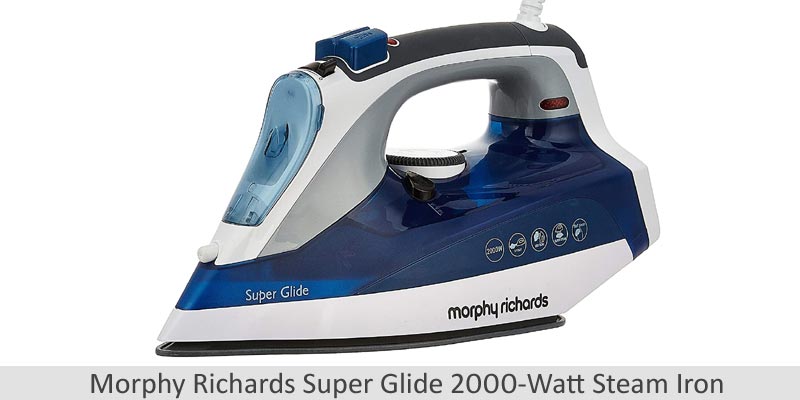 World-renowned and widely acknowledged for its quality, Morphy Richards is another brand that can be considered if you are purchasing a steam iron.
High wattage of 2000 watts ensures you get wrinkle free garments in just one glide and that too quickly
With 46 steam holes the clothes get a perfect blend of steam and heat and smoothen out quickly
Allows for release of11gm of continuous steam
An advanced diamond and ceramic coated soleplate provides for even heating and better ironing experience with a longer life
For stubborn creases, use the Turbo feature that releases 150gm steam at one go
Longevity and efficiency is guaranteed with the self-clean feature
With ISI approved safety standards, it comes with a 2-year warranty
Price: Rs. 1950
Warranty: 2 years
Power: 2000 watts
Steam: 150gm/min
4. Bajaj Majesty MX 3 1250-Watt Steam Iron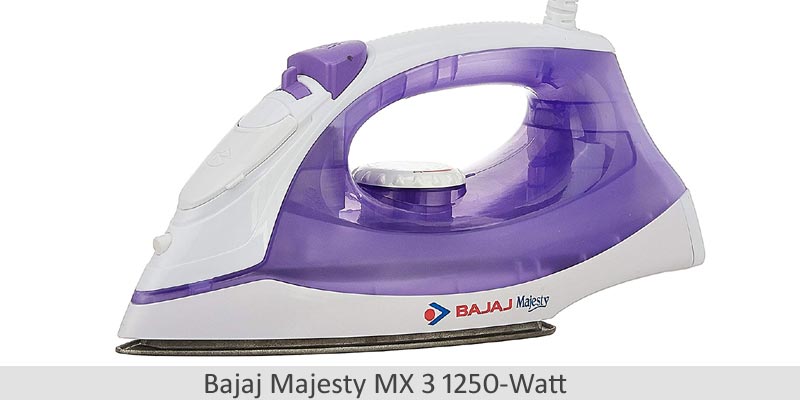 Bajaj is the quintessential Indian brand when it comes to home appliances. It offers affordable yet feature-savvy products that can make our life easy.
With a 1250 watt power, Bajaj Majesty MX 3 1250 watt steam iron can release about 12 grams of continuous steam output for effortless ironing experience
A non-stick coated soleplate ensures that fabrics don't stick onto it and you get a perfect glide every time you use the iron
With 23 steam vents on the soleplate, be assured that steam and heat will be distributed evenly
The tank capacity is 150 mL and it is easier to fill it up
A self-clean function makes sure the product has a longer life
Comes with a 2 year warranty on product
Priced at Rs. 1380 – making it most affordable with the features it offers
Price: Rs. 949
Warranty: 2 years
Power: 1250 watts
Steam: 12 gm/min
5. Philips GC1010 1200-Watt Comfort Steam Spray Iron

The third in the list by Philips, this one has been reviewed to have a longer life. Features include –
A 3-steam setting steam iron box that makes ironing clothes a tad easier
1200 watt power steam iron box that can release a continuous steam of 15g/min
A thin soleplate for better heating and better ironing quality
Cacl clean feature to support a longer life
150 mL water tank that can be easily filled and emptied
A linished soleplate that ensures it does not stick to clothes and irons them effectively
Priced at Rs. 1395 at MRP, available cheaper online.
Price: Rs. 1199
Warranty: 2 years
Power: 1200 watts
Steam: 15 gm/min
6. Havells Sparkle 1250-Watt Steam Iron

To start a crease-free crisp day, opt for the Havells Sparkle 1250 watt steam iron. The plus of this iron is it can be used as a dry and steam iron both.
A 1250 wattage steam iron that comes with a variable steam functionality control feature that enables you to control the amount of steam you want to release to a cloth
A non-stick coated soleplate that ensures effortless gliding on the clothes
An ergonomically designed handle makes ironing huge loads of laundry an easy task
230 mL large water tank that can generate steam at an output of 15 g/min
If you are forgetful like me, then its overheating protection system will come to full use. This feature auto-shuts off the iron if left in switched off stage
2 years warranty on the product
Priced at Rs. 1795 on MRP, it is one of the best steam iron boxes available in the market
7. Black + Decker BD BXIR2201IN 2200-Watt Cord & Cordless Steam Iron

Grab a Black + Decker BD BXIR2201IN 2200-Watt steam iron if you want to but not just a stylish iron but also one that is for heavy duty work.
The most distinct feature of this iron is a cordless function that enables you to iron clothes without plugging the cord in the iron after it has been sufficiently heated
With a 2200 wattage, quick heating of the iron and faster steam production is a given
A ceramic coated soleplate makes it a must buy for a friction-free ironing experience
Large water tank (350 mL) ensures you can iron many clothes at one go without having to refill it, again and again,
Comes with both anti-calc and self-clean functions making it long-lasting and durable
It Comes with 2 years warranty on the product
Priced at Rs. 3795, it is worth every rupee you spend
8. Maharaja Whiteline Pristine SI-103 1300-Watt Steam Iron

Another popular home appliance brand in India, Maharaja Whiteline is a veteran in this market.
A 1300 watts power ensures you get perfectly ironed clothes in no time
A PTFE non-stick coated sole plate ensures all your clothes are delicately taken care of and no sticking happens
Maharaja Whiteline Pristine SI-103 1300-Watt Steam Iron can release upto 13 g/min of steam
150 mL tank capacity that comes equipped with easy to fill water inlet
For stubborn creases, use the steam shot feature that releases 40 g of stem on the target area with just one push
Get longer and elongated life with the self-clean feature
Comes with a 2 years product warranty for hassle-free usage
Priced at Rs. 1295, it is available for just Rs. 688 online.
9. Usha Steam Pro SI 3713 1300-Watt Steam Iron

All of us are very familiar with the brand Usha, and its products are a testimony for the brand's hold in the Indian market.
With a high wattage of 1300, Usya Steam Pro SI 3713 ironed clothes give the look and feel of crisp, laundry-ironed garments
For a smooth hassle free ironing experience, it comes with a non-stick PTFE coated soleplate for smooth ironing
A 180 mL tank capacity ensures you don't have to refill again and again
19 steam holes on the soleplate release about 18 g/min steam
Self cleaning feature lends the appliance a longer life
Comes with an year long warranty
Priced at Rs. 1560 on MRP
10. Philips EasySpeed Plus GC2048 2300-Watt Steam Iron

We couldn't end the list without having Phillips again. Features of this iron include –
Constant high speed output thanks to 2300 watt power
Smooth gliding on all fabrics, no matter how delicate with ceramic soleplate
A powerful 30 g/min continuous steam output
For tough creases, use the 120 g/min powerful steam boost feature
Comes with a calc cleaning function
It Comes with a safety auto-off feature for those instances when you forget to power off the iron
Warranty of 2 years is offered on the product
Priced at Rs. 3995 on MRP
Buying guide for Steam Iron
What Is A Steam Iron?
You must have heard about dry irons and steam irons and would be wondering why a steam iron preferred over a dry iron is? As the name suggests, a steam iron releases steam to clothes when you iron them. It banishes wrinkles from the clothes quickly and effectively.
The steam basically moistens and softens the cloth fibers making it easy for the iron's pressing action to get rid of wrinkles and crumples quickly and giving it a crisp finish.
A steam iron has holes at the soleplate from where the steam oozes onto the clothes. It has a small tank wherein distilled water is filled. When the steam iron is switched on, the water gets heated and converted into steam.
Features To Consider When Buying A Steam Iron
The market is full of many steam irons, but you should choose the best steam iron for yourself considering several factors such as –
Wattage – Higher the wattage, the quicker and better the ironing action would be because steam gets generated instantly.
Controls – Check out the various temperature settings for various fabrics, and you should be able to control the flow of steam as well. This feature should be easily visible and effective.
Soleplate – Opt for non-stick soleplate material such as stainless steel, anodized aluminium, ceramic when it comes to soleplate. The iron box with tapered nose shape is better as it can reach corners and between pleats and buttons easily.
Cord Length – For more flexibility and easy maneuverability, choose an iron with a longer cord length.
Weight – Well, you don't want to tire yourself up while ironing endlessly! Consider lightweight steaming irons if you are going to use it frequently.
Ease of handling – Do consider smaller things like ease of holding the handle, soft and smooth grip auto shut-off, indicators, etc. when buying a steam iron.
Water tank – The capacity of the water tank, the ease of filling it, i.e., it has a full mouth or a narrow filler hole, transparency, shape, etc. are other factors to consider.
So next time you are shopping for a steam iron box, refer to the feature checklist given above and choose from the list of best steam irons in India for a hassle-free, convenient ironing experience.
Safety precautions while using a steam iron
As important it is to have an iron that's easy to use, the safety aspect of it can't be ignored. It's good to read the instructions printed on the manual. Here are some common pointers that you should never forget.
Do not place the iron on a shaky table, especially when hot, and in use
Avoid leaving iron unattended on the ironing table or bed after you are done, especially when kids are around
In case the iron needs servicing, call a professional immediately. Do not continue using it with faults like a damaged cord etc.
Make sure that the iron is turned off and not plugged in before you fill-in or empty the water tank
Store at an elevated location to keep them away from kids
Do not use water near the iron for any purpose other than to fill the tank
How to not burn the clothes you press?
Adjust the setting for the fabric
Avoid longer contacts between the cloth and the iron
Test on a rough cloth
Feel free to let us know any other tips that you use at home. We'd love to see your comments below.