Wearing well-ironed and presentable clothes goes a long way in creating a positive impression of you among your acquaintances. However, just as necessary as this is, not many have time to dedicate to ironing these days. This is why several big brands have entered the market with innovative products, promising to ease your work. In this list, we will explore the ten best steam irons in India, assisting you in choosing what's perfect for you.
Our Top Picks:
| | |
| --- | --- |
| Best Overall | Philips GC1905 1440-Watt Steam Iron |
| Best Features | Morphy Richards Super Glide |
| Best Budget | USHA Armor AR1100WB |
| Best Design | Goodscity Garment Steamer |
Top 10 Steam Irons in India
Without any more delays, let's directly jump into the article and provide you with some insightful deets on the best steam irons in India today!
Last update was on: December 2, 2022 8:57 pm
Philips GC1905 1440-Watt Steam Iron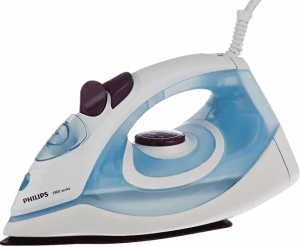 Established back in 1891, Philps is one of the most well-recognized conglomerates in the world today. Their products are some of the most reliable you'll find in the market today, which is why it comes as no surprise that their GC1905 1440 steam iron has earned the top spot on this list. If this is what you're looking for, also check these exclusive Philips coupons to make your purchase affordable.
Key Highlights:
The 1440-watt power steam iron gives the best results, ensuring your ironing experience is enriching and absolutely effective.
Customers can easily and quickly fill water in this Philips steam iron, thanks to the huge filling hole on the side.
The soleplate of the steam iron is made of American Heritage Black Linished, which ensures top-notch performance for all fabrics.
Powerful spray function can help ease out even toughest of creases
A continuous release of steam (13 g/min) ensures crisp and wrinkle-free well-ironed clothes
It is easy to both fill and empty the water tank that has a capacity of 180ml, thanks to the huge emptying hole
Comes with 2 years warranty on the product
It has a feature of self-cleaning with anti-calc function
USHA Armor AR1100WB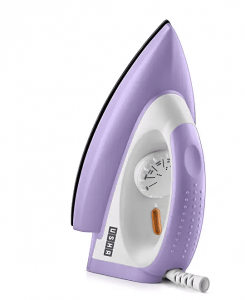 This is another immensely popular brand that has been manufacturing top-tier household products and appliances for close to a century now. As such, it's natural one of USHA's steam irons also found a place on their listicle. The Armor AR1100WB iron has plenty of amazing features that would entice customers to pull out their wallets just as they come across it.
Key Highlights:
Despite being manufactured by a reputable brand, this steam iron is an incredibly cost-effective option for customers with restricted budgets.
The plastic body of the iron and its stylish design gives you an easy-going and calming experience while using it.
The product has several safety options like the indicator lamp, which reflects when the iron reaches the desired temperature.
Crompton InstaGlide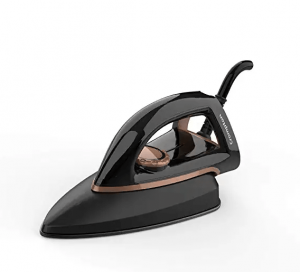 Buy Now
Crompton is a Mumbai-based electrical equipment company that has slowly and steadily become a dominant player in the market. The company manufactures a variety of top-tier products that have won over the customers, one of which is their InstaGlide steam iron which has great reviews on e-commerce platforms, owing to its spectacular features and low pricing.
Key Highlights:
The steam iron has a 14% larger soleplate than usual irons in the market, allowing customers to cover more area of the cloth you are ironing.
Whatever fabric the cloth is made of, be it cotton, silk, nylon, rayon, wool, or linen, this product could help you iron it seamlessly.
The ergonomic design of the Crompton InstaGlide iron helps you easily iron your clothes without having to face any hurdles.
Morphy Richards Super Glide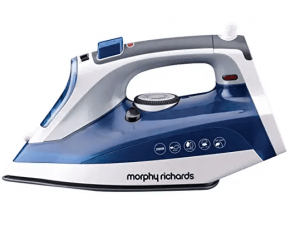 The more said about this British company, the less! One of the most trusted electronic appliances globally, Morphy Richards has carved a place for itself owing to the efficiency and effectiveness of its products. One of their finest offerings is the Super Glide steam iron which comes with loads of impressive features. While they are slightly costlier compared to other products in this list, you can make some cool savings by using these exclusive Morphy Richard coupons.
Key Highlights:
This iron steam's soleplate comes with 46 steam holes, which ensures the steam and heat are released in appropriate measures.
Again, the soleplate is coated with ceramic and diamond so that you can smoothly move the iron on your clothes.
The self-clean feature of the Morphy Richards Super Glide disposes of all the deposits on its own, preventing the iron from getting clogged.
HAVELLS Fabio 1250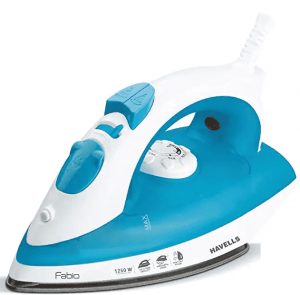 Havells is a household name that manufactures a range of great electronic appliances for its legions of customers. The company more than lives up to its reputation with its Fabio 1250 steam iron. The product comes with several unique specifications and features that make it stand out in the market. And the best part is you can shop at discounted rates using these exclusive Havells coupons.
Key Highlights:
Customers can choose either the spray or the steam function of this product while ironing as per the fabric of their clothes.
The Havells Fabio 1250 steam iron comes with a huge 230 ml water tank, ensuring the steam is generated for a long time.
The soleplate of the equipment is made of non-stick Teflon, which allows you to smoothly and steadily iron your clothes without any hiccups.
Bajaj MX-35N 2000W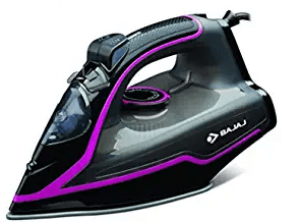 Another easily recognizable name in the electronics market, Bajaj, has been a market leader for decades, leveraging its position to manufacture some of the finest products for its customers. The company's Bajaj MX-35N 200W steam has found a place on the list for all the valid reasons! Though an average consumer might be a little apprehensive looking at its price, they can still use these Bajaj coupons to ensure their shopping is pocket-friendly.
Key Highlights:
The product comes with a unique anti-drip technology, which ensures there's no water leakage whatsoever while you iron your clothes.
Bajaj MX-35N 2000 W steam iron also has anti-scale technology that restricts clogging of pores, resulting in long-lasting durability.
Customers can adjust the steam output depending on the fabric and the kind of cloth they are ironing at any given point in time.
BLACK+DECKER 1600W Steam Iron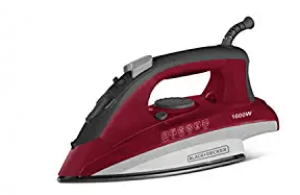 BLACK + DECKER is one of the most globally-reputed household brands, delivering top-notch quality products to its customers across the seven oceans. The American company manufactures everything from clothing to pet care products to kitchen appliances; basically, everything you could ask for. Their 1600W steam has made it to our list, thanks to its cutting-edge features and benefits!
Key Highlights:
The product has a self-clean function, which automatically cleans up the insides of the steam iron by just filling in some water.
The indicator light attached to the iron ensures that you're notified when the heating process is completed, with the light shutting off on its own.
The steam bursting function allows customers to make the clothes they are ironing a little moister for efficient and effective performance.
Inalsa Onyx Steam Iron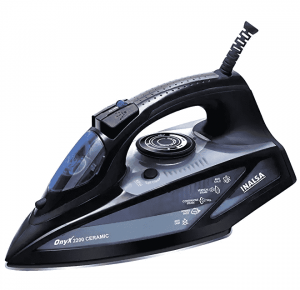 A subsidiary of the Spain-based Taurus Group, Inalsa has been one of the most popular and trusted European brands since it was established in 1962. The company has a strong foothold in the home appliances market, manufacturing only the best and most effective products for its legions of customers across the globe! Among them, Inalsa's Onyx stream iron is one of the finest if customer reviews and ratings on e-commerce platforms are anything to go by.
Key Highlights:
This steam iron comes with horizontal and vertical steam burst function that ensures easy and seamless removal of wrinkles while ironing.
The 36-degree swivel cord allows customers to smoothly move the equipment around the whole cloth, leaving no corner unironed.
The product has a five-range temperature feature that you can adjust as per the kind of fabric you are ironing.
Tefal Maestro Plus 2200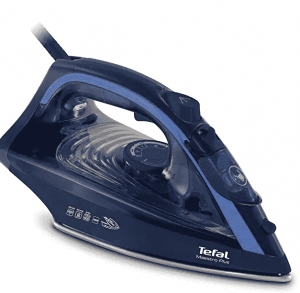 Another European company, Tefal, primarily a kitchen appliance brand, was established 66 years back in France. The company has since diversified and entered the home care and linen market as well, with some amazing items for everyday use. Consumers have come to embrace their line of products, which is why their Maestro Plus 2200 steam iron has found a place on this list.
Key Highlights:
The product has an insane steam boost of 120g/min, which ensures powerful and efficient performance to give you the best results.
The ceramic-coated soleplate of the iron ensures that the process of ironing is smooth and that you get rid of all wrinkles easily.
The anti-calc feature of the steam iron ensures limescale isn't accumulated, thus enabling it to have a long-lasting shelf-life.
Goodscity Garment Steamer
Though a relatively unknown brand among the masses, Goodcity nonetheless manufactures some very fine home appliances for everyday use! One of their best-selling products is their garment steam iron, which comes with a gamut of features that are sure to give your clothes, be it a T-shirt or jeans, the perfect texture.
Key Highlights:
The product has a detachable water tank with a 230ml capacity, allowing you to iron your clothes without any hiccups for 10 minutes.
Unlike other steam irons in this list, this one is lightweight and small in size, allowing you to port it easily whenever you're traveling.
Customers can use the Goodcity Garment Steamer either horizontally or vertically as per their needs and requirements.
Maharaja Whiteline Pristine SI-103 1300-Watt Steam Iron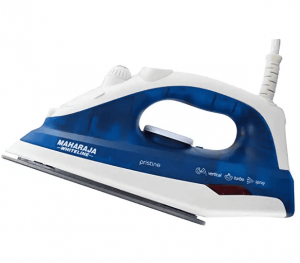 Another popular home appliance brand in India, Maharaja Whiteline is a veteran in this market.
A 1300 watts power ensures you get perfectly ironed clothes in no time
A PTFE non-stick coated sole plate ensures all your clothes are delicately taken care of and no sticking happens
Maharaja Whiteline Pristine SI-103 1300-Watt Steam Iron can release upto 13 g/min of steam
150 mL tank capacity that comes equipped with easy to fill water inlet
For stubborn creases, use the steam shot feature that releases 40 g of stem on the target area with just one push
Get longer and elongated life with the self-clean feature
Comes with a 2 years product warranty for hassle-free usage
Philips GC1920/28 1440-Watt Non-Stick Soleplate Steam Iron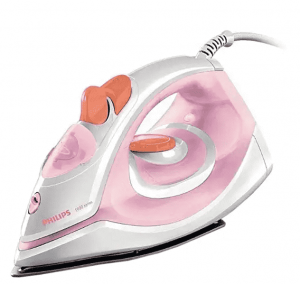 Philips GC1920/28 1440-Watt Steam Iron Box comes with the following features –
A 1440 watt wattage ensures steam is generated quickly and efficiently
Golden non-stick soleplate with Black American Heritage coating so that it glides easily over all fabrics
For tough creases, use the spray function to for superior ironing results
A continuous release of steam (17 g/min) ensures crisp and wrinkle-free well-ironed clothes
The water tank is easy to fill in and empty out. It's capacity is 180ml
Comes with a 2 years on product
Does not have the calc clean feature, so make sure hard water is not filled in this
Warranty: 2 years
Power: 1440 watts
Steam: 17 g/min
Black + Decker BD BXIR2201IN 2200-Watt  Steam Iron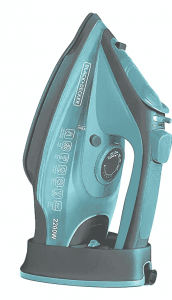 Grab a Black + Decker BD BXIR2201IN 2200-Watt steam iron if you want to but not just a stylish iron but also one that is for heavy duty work.
The most distinct feature of this iron is a cordless function that enables you to iron clothes without plugging the cord in the iron after it has been sufficiently heated
With a 2200 wattage, quick heating of the iron and faster steam production is a given
A ceramic coated soleplate makes it a must buy for a friction-free ironing experience
Large water tank (350 mL) ensures you can iron many clothes at one go without having to refill it, again and again,
Comes with both anti-calc and self-clean functions making it long-lasting and durable
It Comes with 2 years warranty on the product
Usha Steam Pro SI 3713 1300-Watt Steam Iron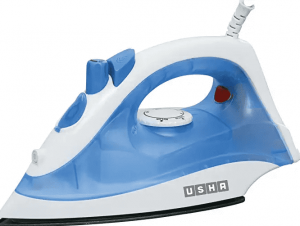 All of us are very familiar with the brand Usha, and its products are a testimony for the brand's hold in the Indian market.
With a high wattage of 1300, Usya Steam Pro SI 3713 ironed clothes give the look and feel of crisp, laundry-ironed garments
For a smooth hassle free ironing experience, it comes with a non-stick PTFE coated soleplate for smooth ironing
A 180 mL tank capacity ensures you don't have to refill again and again
19 steam holes on the soleplate release about 18 g/min steam
Self cleaning feature lends the appliance a longer life
Comes with an year long warranty
Bajaj Majesty MX 3 1250-Watt Steam Iron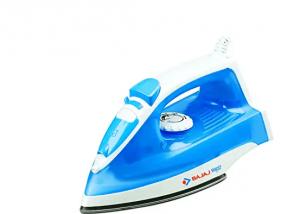 Bajaj is the quintessential Indian brand when it comes to home appliances. It offers affordable yet feature-savvy products that can make our life easy.
With a 1250 watt power, Bajaj Majesty MX 3  steam iron can release about 12 grams of continuous steam output for effortless ironing experience
A non-stick coated soleplate ensures that fabrics don't stick onto it and you get a perfect glide every time you use the iron
With 23 steam vents on the soleplate, be assured that steam and heat will be distributed evenly
The tank capacity is 150 mL and it is easier to fill it up
A self-clean function makes sure the product has a longer life
Warranty: 2 years
Power: 1250 watts
Steam: 12 gm/min
Philips GC1010 1200-Watt Comfort Steam Spray Iron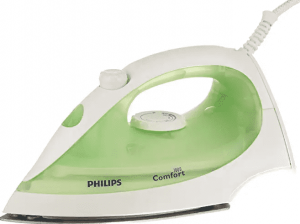 This one by Philips has been reviewed to have a longer life. Features include –
A 3-steam setting steam iron box that makes ironing clothes a tad easier
1200 watt power steam iron box that can release a continuous steam of 15g/min
A thin soleplate for better heating and better ironing quality
Cacl clean feature to support a longer life
150 mL water tank that can be easily filled and emptied
A linished soleplate that ensures it does not stick to clothes and irons them effectively
Priced at Rs. 1395 at MRP, available cheaper online.
Warranty: 2 years
Power: 1200 watts
Steam: 15 gm/min
Key Ranking Factors for Best Steam Irons
| | | | | | |
| --- | --- | --- | --- | --- | --- |
| Brand | Regulated Movement | Wrinkle-Free | Light Weight | Value For Money | Temperature Control |
| Bajaj | 3.3 | 3.3 | 3.7 | 3.2 | 3.8 |
| Black + Decker | 3.7 | 3.7 | 3.9 | 3.7 | 3.9 |
| Crompton | 3.7 | 3.3 | 3.7 | 4 | 3.9 |
| Havells | 3.7 | 3.3 | 3.6 | 3.5 | 4 |
| Inalsa | 3.8 | 3.2 | 3.4 | 3.5 | 3.5 |
| Morphy Richards | 3.5 | 3.3 | 3.4 | 3.7 | 3.4 |
| Phillips | 3.2 | 3.6 | 3.7 | 3.6 | 3.8 |
| Tefal Steam | 3.1 | 3.3 | 3.6 | 3.3 | 3.5 |
| Usha | 3.3 | 3.4 | 3.6 | 3.2 | 3.4 |
| Good City | 3.2 | 3.5 | 3.3 | 3.7 | 3.4 |
| Maharaja | 3.3 | 3.5 | 3.2 | 3.3 | 3.2 |
The above table is a well-researched analysis of every steam iron brand on the list, with comprehensive ratings provided for their performance in every key parameter that you could think of. We have accumulated data from various e-commerce platforms to ensure you don't have to waste your time surfing the internet. This would make it much easier for you to determine which brand and product to opt for, saving plenty of your vital time.
The Findings:
Inalsa's steam iron has scored the highest rating of 3.8 in the key criteria of Regulated Movement. For a Wrinkle-Free ironing process, Black + Decker is the best among all the other brands, having a 3.7 rating. Black + Decker is also the perfect option for those looking for a Light Weight iron, with its rating of 3.9 also indicating the same. Crompton gives the best Value for Money as per the customers, with a rating of 4. Lastly, for the Temperature Control feature, Havells has the highest rating of 4, followed by Crompton and Black + Decker with 3.9.
Key features to look for when purchasing a steam iron
Auto-off feature: It's safe to say all electrical equipment is prone to unfortunate mishaps. This is why it's essential for customers to be doubly cautious before purchasing any electronic product. In the case of steam irons, the availability of an auto-off feature that shuts off the iron when the temperature has exceeded the hazardous limit is vital.
Temperature limit: Every fabric is starkly different from the others. As such, the steam iron needs to be set at different temperatures for every fabric. As such, customers are advised to only go with steam irons which have the feature of adjusting the temperature without any restrictions.
Sole Plate: The sole plate is essentially the back side of an iron which gets heated and is moved around the cloth. There are a variety of products on the market that offer these plates with different features. While a few have a large sole plate to cover a wide area, others are made of non-stick Teflon, allowing you to smoothly press it on the clothes.
Weight: The heavier a steam iron, the more pressure it'll put on your arm, thus leading to long-term repercussions for your health. It's advised to go for a product that's lightweight to ensure that it's easy to use and handle.
We hope our list of the best steam irons in India helped you to determine which brand and product would suit your requirements best. There are plenty of options out there that are yearning to get your attention. However, be wise and only go for those that don't deceive you and deliver upon their promise. Keep reading!