Who doesn't like to be served piping hot, soft and round chapattis with a meal? I sure do! But making round, smooth and delicious rotis is not easy. Hours of labor go into the process, add to the equation the oppressive summer heat, and you have women who detest the thought of making rotis. This is where a roti maker or a chapatti maker comes to your rescue- dole out many perfectly round-shaped, soft and hot rotis within a matter of minutes, sitting anywhere in your home. Sounds like a dream, eh? Well, it is not really. The market is full of roti makers but to help you choose the best roti maker, we have done all the research and hard work and listed the top chapatti makers below.
One may wonder, what exactly is a roti maker or a chapatti maker? Who can use the appliance? How safe is it? Well, let's answer your questions below.
Top 10 Roti Maker In India for 2020 with Machine Price
1. BAJAJ VACCO 900W "Go-Ezzee" Non-Stick Chapati Maker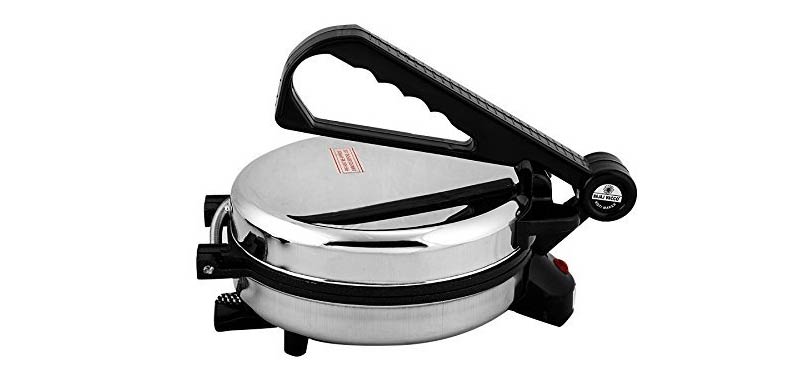 One of the most popular and reputed roti makers in India comes from the trusted house of Bajaj Vacco. Not just round and soft chapattis, you can also use it to make khakras, parathas, papads, and even kulchas – making it a multipurpose roti maker.
Benefits: Made of high-quality components, with a shock-proof body and handles that can withstand high temperatures, it is lightweight, easy to use and manage, comes with an LED power indicator and an auto shut-off feature. The non-stick coating on the tawa and the stainless steel body ensures that you use the chapatti maker for a long time. It is a compact and portable chapatti maker, and you can cook hot and soft rotis sitting anywhere in your home.
Cons: We could not find any disadvantages associated with this product.
Price: Priced at Rs. 1912 online, this is one of the best roti maker machine under Rs. 2000.
2. MOLO 900W Non-Stick Coated Roti Maker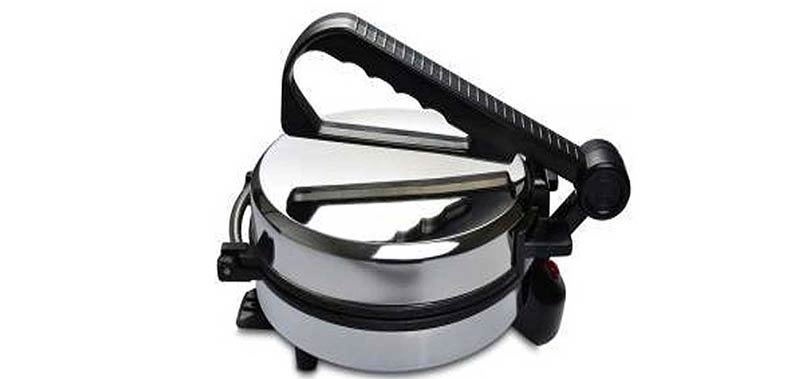 Another multi-purpose and economical roti maker is the MOLO 900 watt roti maker. The best possible features with an equally attractive price are the key highlights of MOLO chapatti maker which can also be used to make khakras, parathas, and papads. Some people have tried making omelets and chillas too and have had success.
Benefits: The most attractive feature of Molo Roti Maker is the price point – it costs under Rs. 1000 and is quite affordable for bachelors and students. It has a stainless steel body, and the tawa has a non-stick coating with the charcoal finish – it is both safe and shockproof.
Cons: There have been a few complaints regarding the handle, so it's better to use it delicately.
Price: Affordably priced at Rs. 890 with a year of warranty on the product.
3. Sunflame RM1 900-Watt Roti Maker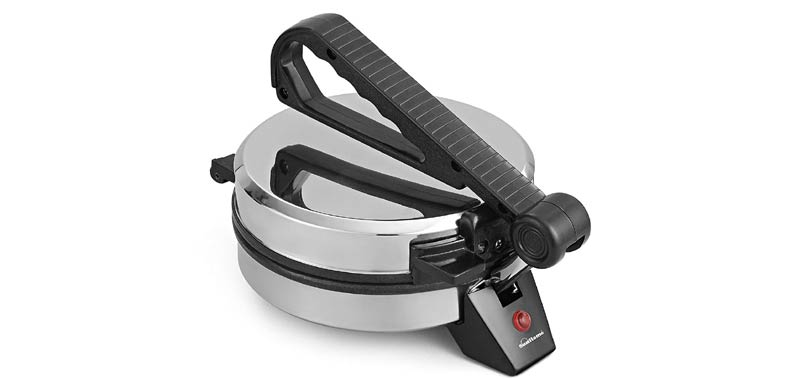 Another best-selling roti maker under Rs. 2000 is from the reputed kitchen appliances brand Sunflame. Sunflame has been part of Indian kitchen since decades now, and with this RM1 900W roti maker, it ensures that it is a part of bachelors' kitchens as well.
Benefits: The standard size roti maker gets heated uniformly and ensures that roti is cooked thoroughly from all sides. Features such as an LED power indicator and thermally insulated handle make it easy to use and safe. The tawa is coated with food-grade non-stick coating making sure the dough doesn't stick to it. Easy to clean and maintain, it is even the right choice for fitness enthusiasts as you can make oil-free rotis with it.
Cons: The dough used for cooking with Sunflame RM1 chapatti maker should be soft and slightly wet to get soft and fluffy chapattis. It does not give good results with old dough, so make a fresh batch when using it
Price: Sunflame RM1 Roti Maker machine is priced at Rs. 1754 and also carries one year warranty with it.
4. Eagle Electric Roti Maker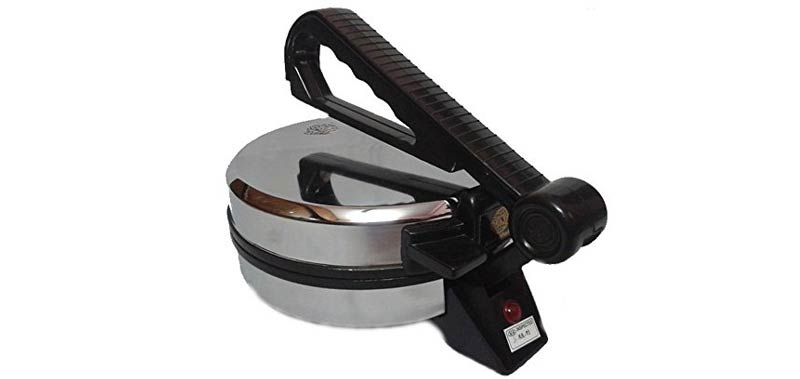 Save time, electricity and your energy with the super affordable chapatti maker from Eagle. Eagle Electric roti maker costs less than a 1000 rupees and makes super soft rotis super quick – in just under a minute. No wonder this is one of the best-selling roti makers in India.
Benefits: It has a robust shockproof body and stainless steel outer material making it durable and safe both. Uniform heating across the tawa ensures proper cooking of rotis. With a sturdy handle, it is easy to use and weighs light. The neon light indicator lets you know when the roti got cooked. The dual heating feature heats both the top and bottom plates for even cooking.
Cons: The diameter of the tawa is quite small compared to other competitors. So you may not be able to make omelet or khakras in this roti maker.
Price: The roti maker machine is priced attractively at Rs. 999(originally Rs. 2499), making it very affordable for single people and students.
5. Baltra BTR-201 900-Watt Magicook Roti Maker

If you are looking for a roti maker from a brand that is renowned for its durability and advanced features, then Baltra's BTR 201 Magicook Roti Maker would be an ideal choice. The brand has a reputation, and it strongly advocates its trust by its consumers with this innovative product.
Benefits: With a dual plate heating system in place, rotis are cooked fast and evenly from both sides. An automatic heat indicator light lets you know when it is hot and when chapatti got cooked. A robust stainless steel body ensures durability and the non-stick coating is long-lasting. Thermostat control is another attractive feature that makes it the best roti maker. The trust of the brand draws many people towards the product.
Cons: Availability might be an issue, as it is with most Baltra products. You may have to hunt this one down specifically!
Price: Online, it is priced at Rs. 1395 along with one year warranty on the product.
6. Jaipan JDRM-901 1000-Watt Jumbo Roti Maker

Another brand that is found in most Indian households is Jaipan. Kitchen appliances from Jaipan have been consistent with quality, and this has made it one of the most trusted brands in the segment. Jaipan's JDRM-901 is a 1000 watt roti maker – unlike the 900 W operating roti makers by the competition. Make puffed up, soft rotis within no time with this super durable chapatti maker.
Benefits: The high-quality stainless steel is used for outer plates and the inner plates are coated with German technology non-stick coating. The product can be easily cleaned. The body is durable, the housing is, and you get a resilient knob to lift the top plate. A cool-touch handle is used to press the dough ball, and it spreads evenly on the tawa. A power indicator lamp lets you know when it's working. A 10-inch diameter of the tawa is also quite an attractive feature.
Cons: It takes about 6-7 minutes to heat up. If the dough is not fresh, the rotis sometimes are thick.
Price: Own your Jaipan JDRM-901 Jumbo Roti Maker for Rs. 2250. The product comes with a one year warranty as well.
7. Hilton Roti Maker (Multi-Utility) With Stainless Steel Lid

A multiutility roti maker that can be made to prepare dosas, omelet, papad, khakra, and chilla. You can even use it to sauté vegetables or prepare some on your own.
Benefits: The best part of buying this roti maker is that it is not flat from the sides, but has a curved edge that prevents liquids like egg batter from falling out. This makes it perfect for single people and bachelors who are looking for something that can do more than just making chapattis. Moreover, it has a power indicator as well as a green indicator that lets you know when the roti maker is ready to use. Easy to clean as well – thanks to the non-stick coating. You can wipe the chapatti maker with a clean cloth. The body is durable and shockproof, and the lid is another attractive feature of this.
Cons: We could garner from Hilton roti maker reviews that it takes more time to heat than other brands. Nevertheless, once it gets heated up, it maintains the heat and cooks evenly.
Price: Priced at Rs. 2490 online, buy it if you are looking to get something that does multi jobs as a chapatti maker.
8. Pigeon by Stove Kraft 12376 900-Watt Roti Maker

Pigeon is the flagship brand of the leading kitchen appliance and cookware brand Stove Kraft offering a wide range of modern and innovative kitchen products. The 12376 900 watt roti maker from Pigeon is another must-have product in your kitchen that will ease your life, especially if you are a bachelor and want to make rotis without hassle.
Benefits: With a brushed stainless steel housing, a power indicator and a ready-to-use indicator, a compact look and easy to use features, this is one of the best roti makers that you will come across at an attractive price point. The plates are non-stick coated and can be wiped clean easily with a cloth after use. The cord gets wrapped up quickly for storage. It can be easily stored even vertically, taking very little space in your kitchen.
Cons: The diameter of the tawa is 8 inches – which may be small for people used to having large, round rotis. It needs the soft, sticky dough to prepare just the right roti for you.
Price: Affordably priced at Rs. 1430, it comes with a one year warranty and makes a good buy.
9. Eveready RM1001 900-Watt Roti Maker

Next on the list of best-selling roti makers in India is the Eveready RM1001 900 that has amazing features and a great price point. A versatile roti maker under Rs. 2000 with a host of features and good reviews, you can look to add it to your kitchen for both ease of cooking and comfort.
Benefits: It has a non-stick coated plate for healthy and hassles free cooking experience. A user-friendly lever, comfortable lift handle, a power indicator with in-built thermostat for safety are some of the features of this roti maker. The base is broad and is suitable for making theplas, khakras, and uttapams. The dual heating element making the cooking process faster and you get perfectly cooked, puffed and fluffy rotis in no time.
Cons: It takes time to heat up, and you need to place new and soft dough balls for getting perfect chapattis. Patience, as they say, is a virtue.
Price: It will cost you Rs. 1800 with a 24-month warranty on the product.
10. Libra Athena Roti Maker

Last but one of the popular roti makers in the market is the Librs Athena, roti maker. From a start-up, this roti maker has quickly gained a loyal customer base because of good make and attractive features, all at a good price point as well.
Benefits: Make chapattis, parathas, khakras or cheelas in this multi-utility roti maker and do not worry about laboring hard. Not just for homemakers, this is an ideal product even for bachelors and old people. Safe and convenient to use without any hassle of storing, energy-efficient and a non-stick surface that can be cleaned easily are some other features. Safe Bakelite handles make using it all the easier.
Cons: As it is with any other roti maker, a good roti depends on the softness of dough and how well the ball is placed in, along with whether roti maker is hot enough. Follow instructions to get perfect rotis within minutes.
Price: At Rs. 1499, you can bring home this versatile and best roti maker and make your life easier.
What Is A Roti Maker/Chapatti Maker?
An electronic small kitchen appliance, a roti maker or a chapatti maker does exactly what it sounds like – it makes instant hot rotis without the need to slog in the kitchen for hours. Pressure and heat are the two principles it works. You need to place the dough patty at the center, gently press it from the upward lid giving it a nice round shape. The lower plate works like a non-stick tawa, and you have perfectly round chapatti within minutes.
Not only is cooking rotis in a roti maker a mess-free, hassle-free, sweat-free, and stress-free experience, it is also an excellent option for people who love rotis but cannot prepare them standing and rolling them. Bachelors may find it particularly useful as well.
Conclusion
So this was our carefully crafted list of the best roti maker in India. Buy one if you are unable to roll rotis for whatsoever reason. Not only bachelors, homemakers and older adults too can benefit from this innovative product. Comes handy when you have many people over and have to make a lot of rotis. We suggest you choose one of the above popular roti makers and forget making chapattis being a daunting task.