The quintessential kitchen appliance used on an everyday basis in Indian kitchens to cook food is the pressure cooker. By using the best pressure cooker suitable for you, you don't only save efforts and time but also fuel – which is fast becoming a luxury anyhow. Easy to use, clean, and maintain, pressure cookers cook food by retaining the steam inside in an airtight environment. There is no loss of flavors, minerals, or vitamins as the pressure cooker cooks food in a sealed setting.
We have been using pressure cookers in our homes for years. To get the best from your pressure cooker, the right size and safety features are of primary concern. As the market is full of options, in this article, we present to you the best pressure cookers in India in 2022 with the latest prices.
List of 10 Best Pressure Cooker In India for 2022
Last update was on: January 27, 2022 1:01 pm
Hawkins Contura Hard Anodised Aluminium Pressure Cooker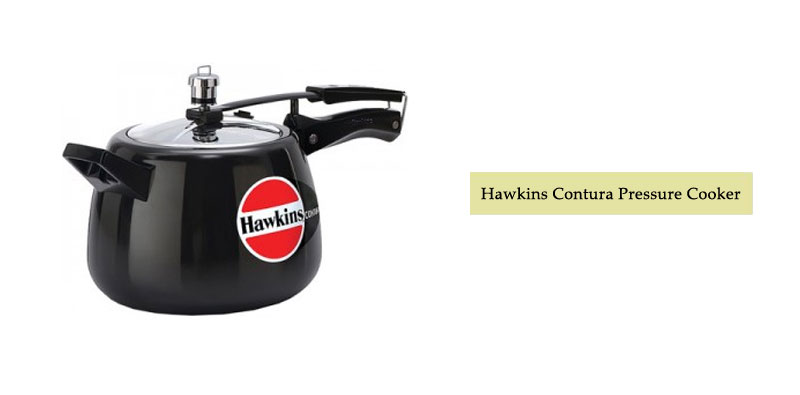 Hawkins has been a leading brand in the pressure cooker domain. Their pressure cookers are manufactured after thorough research and development, with no compromise on quality, performance, and safety.
Benefits: This bestselling pressure cooker in India is available in 7 sizes so you can choose according to your needs. The unique curved shape body with its rounded sides helps in cooking food that requires a lot of stirring. Hygiene and durability are taken care of by the hard anodised cooker body inside and outside and a stainless steel lid. The black finish makes the pressure cooker absorb heat faster, saving you energy. The safety lid will not open unless the pressure inside has fallen to a safe level. It also has an automatic safety valve that ensures that steam and food are deflected downwards. Other features are superior pressure regulation, a fixed sturdy pivot, and robust handles that stay cool.
Cons: This versatile pressure cooker does not work on induction cooktops.
Note: Rice cooker is not a replacement of pressure cooker. Nevertheless, they are essential for a complete kitchen. You might want to check the best rice cookers in one of our product review articles.
Hawkins Stainless Steel Induction Pressure Cooker

Hawkins came up with a sturdy Stainless Steel pressure cooker to cater to the wide consumer base that intends to buy it for both induction and gas stove. This silver looking pressure cooker has a charm of its own.
Benefits: This pressure is induction compatible and also works on gas stoves. Available in 10 capacities ranging from 2 litres to 10 litres, it has something for everyone. The base is 5.8 mm thick- heat diffusing, flat, and will not separate. The cooker cooks food fast as it heats up evenly, and there are no hotspots. The body is made from superior grade stainless steel and the silver colour does not corrode. The lid is pressure locked and will not open until there is pressure inside. For even greater safety, a safety valve has been provided under the handlebar. The gasket is not rubbed sideways and hence lasts longer. The fixed sturdy pivot assists the self-centralising lid in locking securely.
Cons: Some reviews regarding the bottom cracking have been posted. We suggest you check it thoroughly when you buy it.
Prestige Deluxe Alpha Outer Lid Stainless Steel Pressure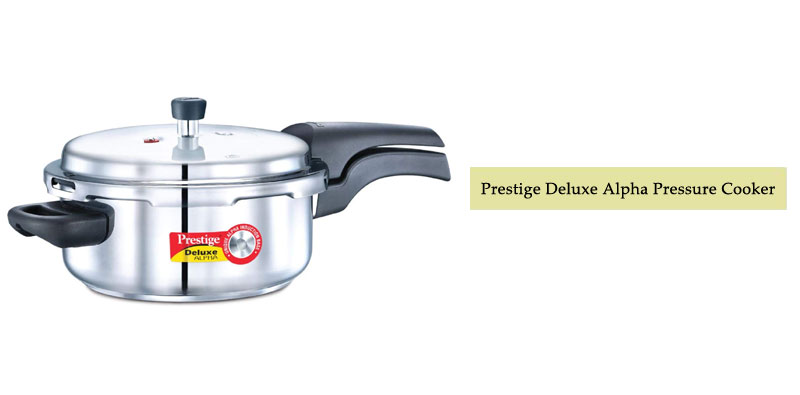 Prestige has been a leader in innovating kitchen appliances and has a wide portfolio of kitchenware catering to homemakers. The Deluxe Alpha Outer Lid stainless steel pressure cooker has been designed for consumers, who prefer outer lid pressure cookers with the most modern and right safety features.
Benefits: The base of Prestige Deluxe Alpha is the steel, aluminium, and steel sandwich base that aids faster cooking and also saves energy. High-quality stainless steel has been used to make the outer cover. The weight valve is designed to release the pressure of 1 kg/cm2, making cooking a safe affair. It acts as the first level of safety, and the second level of protection enables the gasket release system to release the steam. The third level of safety is covered by a metallic safety plug fitted to the lid to release excess pressure over safety limits. Alpha is also durable and has a longer life, thanks to double screw secured handles and body.
Cons: You need to get familiar with fitting the outer lid comfortably. It can be a real cause of trouble if you are using it for the first time!
Hawkins Miss Mary Aluminium Pressure Cooker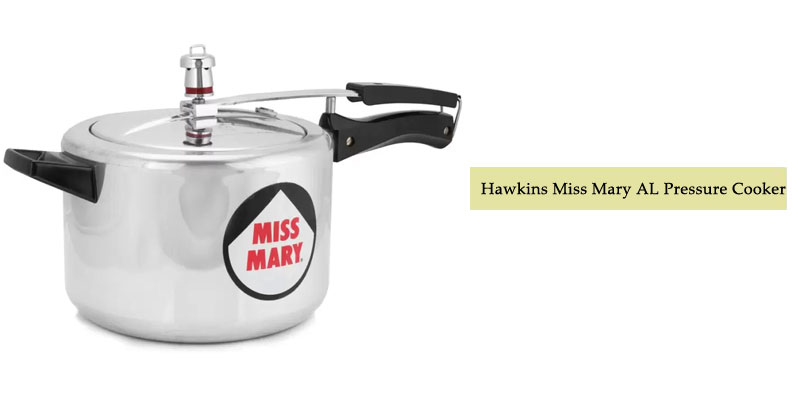 The affordable range of pressure cookers from Hawkins, Miss Mary, go through rigorous quality checks just like other pressure cookers by Hawkins and are completely safe and reliable. ISI marked, Miss Mary range of pressure cookers is only available in India.
Benefits: Apart from an attractive price point, Miss Mary pressure cookers are leak-proof and made from premium grade, pure virgin aluminum metal. The inside fitting lid is made safer by a shielding safety valve and a more extended-lasting gasket. The metal handle bracket is fixed and unbreakable. The pressure regulation system is efficient and enables the food to cook faster, thereby saving gas. The handles are sturdy and do not heat up as food gets cooked. They remain cold for you to touch and operate without any discomfort. Miss Mary pressure cookers are available in 9 sizes, ranging from 1.5 litres to 8.5 litres, though 3 litres one is mostly the bestseller.
Cons: Not compatible with induction cooktops.
Butterfly Cordial Induction Base Aluminium Pressure Cooker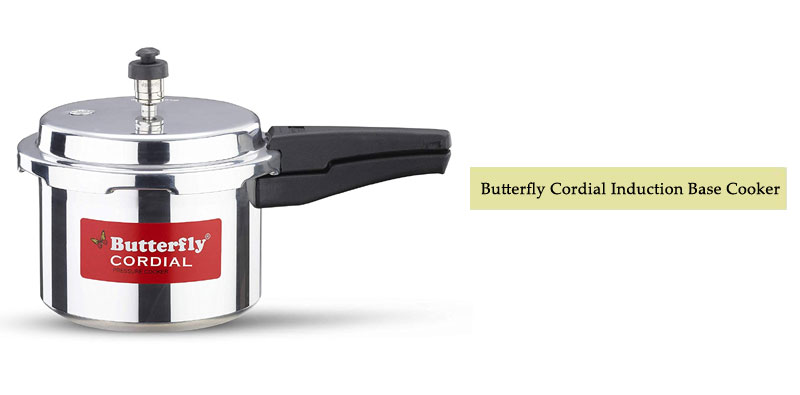 A bestselling pressure cooker from Butterfly, a brand that is a pioneer in the home appliances market is specially engineered for versatile cooking. It serves as an all-purpose cooking vessel – you can pressure cook, sauté, fry, etc. in this pressure cooker.
Benefits: This outer lid pressure cooker boasts of a superior aluminum body resistant to scratches and stains and thus easy to maintain. The Gasket release system serves as the 2nd point of safety after the precision weight valve that regulates the steam pressure. A safety valve on the lid releases excess steam through a small hole if the vent pipe gets blocked. The handles are aesthetically designed and sturdy with a cool touch. Even if you use this pressure cooker daily, it is bound to last longer thanks to its durable construction and material. Whether you intend to use it for pressure cooking or slow cooking, this serves equally well. What's more, you can buy either the induction-compatible model or the gas stove model.
Cons: Available in only 3 litres and 5 litres models.
Pigeon Stovekraft Induction Base Aluminium Pressure Cooker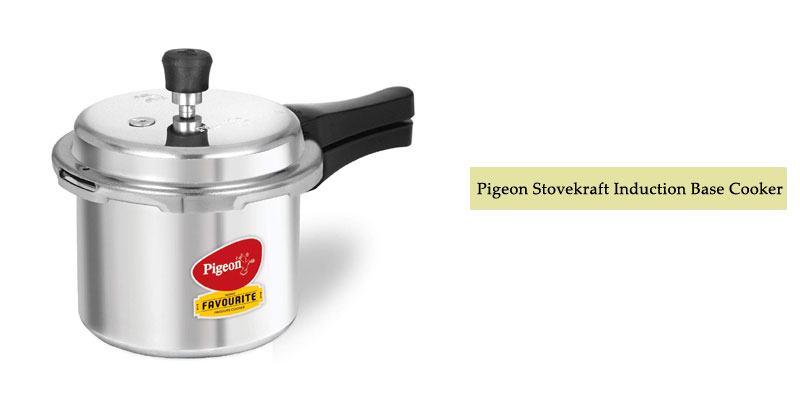 Pigeon has earned a reputation for itself in the kitchen appliance industry. Affordable, economical, popular, and durable – that is Pigeon for you. In fact, this is the bestselling pressure cooker on amazon.in.
Benefits: This pressure cooker works as an all-purpose cooking utensil. Whether its boiling food or slow cooking your favourite dishes, this pressure cooker is ideal for both. With a flat and solid induction compatible base, food gets cooked evenly. The body is made of superior virgin aluminium. Safety features such as the Gasket release system with metallic safety plug and precision weighted valve are also incorporated in the best interest of the consumer. The shape is cylindrical and offers more space, and you can even add sectionals to cook multiple items at one time. The handles are sturdy and do not turn hot while in use.
Cons: You need to get used to secure the outer lid on this pressure cooker.
Prestige Nakshatra Plus Hard Anodised Inner Lid Aluminium Pressure Handi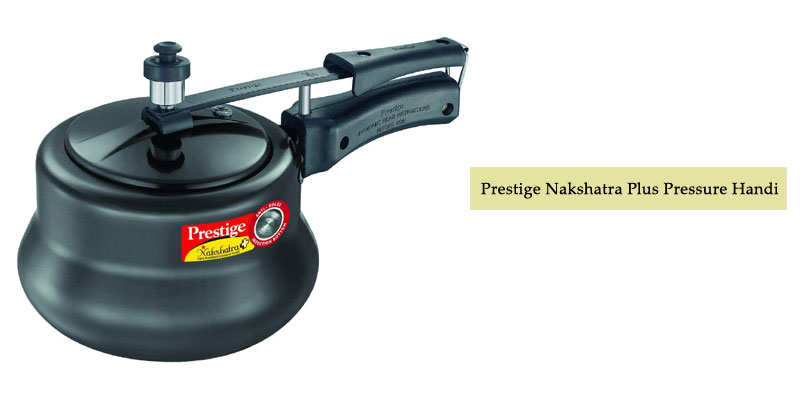 Handis have been the traditional cooking utensils in India – for slow cooking food and retaining the taste and aroma. Prestige has encashed on the same concept of traditional Indian cooking in a modern kitchen set-up – a pressure cooker that works as a handi.
Benefits: The unique shape of traditional handis as a pressure cooker gives you the benefit of cooking delectable food every day. The shape is slightly concaved from the bottom to ensure the shape stays put even after regular use. Suitable for induction cooktops as well as gas stoves, this inner lid pressure handi is made from virgin aluminium and then hard anodised for durability. The handles are sturdy and provide a comfortable grip. The precision weight valve serves as the first safety feature, while the metallic safety plug is a second level safety feature. Available in 4 sizes- from 1.5 litres to 7 litres capacity.
Cons: Scrubbing it regularly with steel may damage the coating.
Prestige Nakshatra Alpha Stainless Steel Pressure Cooker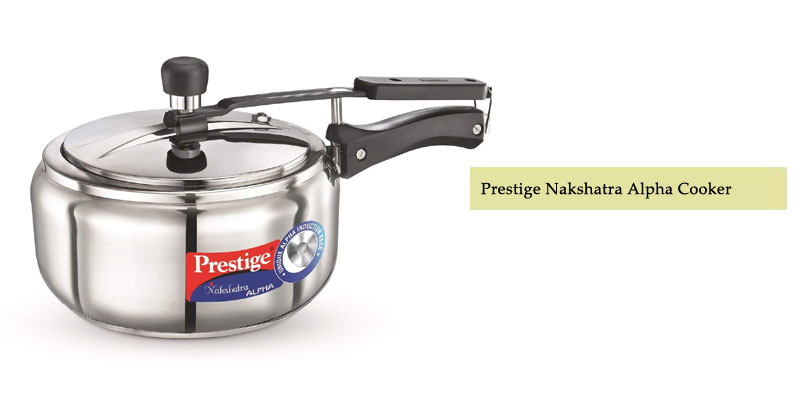 Prestige's products are engineered with the best of materials. This stunning looking pressure cooker has many features that one could ask for. Suitable for both induction and gas cooktops, this is one of the most popular pressure cookers from Prestige.
Benefits: Style, durability, and safety are three significant features of the Prestige Nakshatra Alpha Stainless Steel Pressure Cooker. With an exceptional alpha base steel aluminium steel sandwich, this pressure cooker cooks food evenly and saves you energy. This pressure cooker has a circular shape and is not very tall so that you can see the contents right away. Being an inner lid pressure cooker, it is suitable for direct vessel cooking as well. The precision weight valve acts as the first line of safety, and the metallic safety plug is the second line of protection. For better grip and comfort, the handles are made of sturdy plastic designed to take everyday wear and tear. Available in 4 sizes till 7 litres capacity.
Cons: It is not available in 2 litres, 3.5 litres and 10 litres sizes. Also, an additional gasket would have been great.
Hawkins Futura Pressure Cooker with Induction Base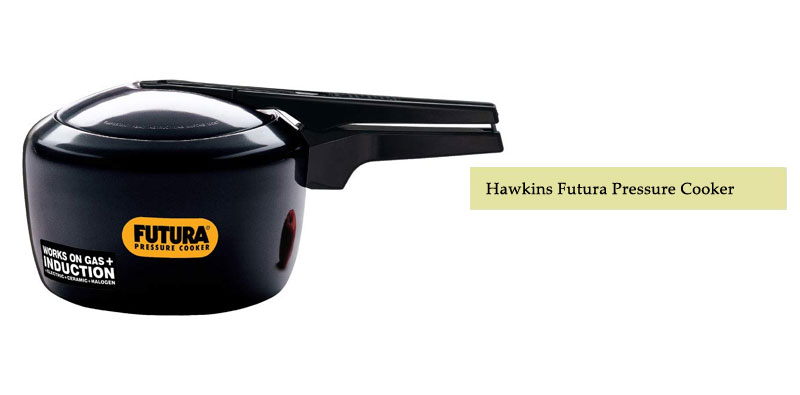 With the Hawkins Futura pressure cooker range, you can rely on the quality, durability, and be in awe of the stunning looks. A premier range of cooking utensils, Futura is likely to win your hearts once you use it.
Benefits: Apart from the stunning looks, Futura pressure cooker is loaded with features such as fast and healthy cooking, safety, induction compatibility, and durability. Hawkins reports that Futura cooks on average, 46% faster than a microwave oven. A 60 micron thick hard anodising coating makes the pressure cooker absorb heat more quickly and better, thus saving you energy. Compared to the usual pressure cooker, you need less oil to cook food in Futura pressure cookers. I t is hard-anodised, the food does not stick or burn and gets cooked evenly. This cooker comes with its pressure regulator with a unique fingertip release feature that releases the pressure safely away from you. The handles are ergonomically designed and provide a firm grip. On durability and maintenance, it scores very well.
Cons: Except for the price, there is nothing that may stop you from buying this pressure cooker.
Butterfly Curve Stainless Steel Pressure Cooker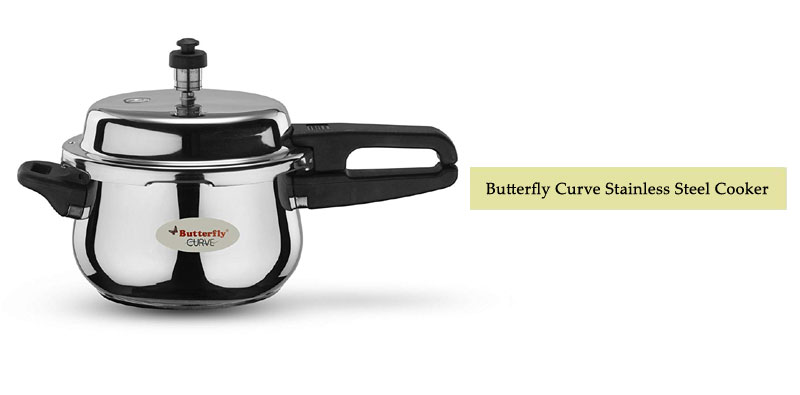 If you are fond of curves and want something that looks aesthetically pleasing, opt for Butterfly Curve Stainless Steel pressure cooker that will shine like a star in your kitchen. You wouldn't like to store it in your kitchen cabinet!
Benefits: Butterfly Curve is made of stainless steel and has an aluminium thermal base, suitable for induction cooktop and gas stoves both. The curbed shape provides extra space at the bottom, thus helping you stir and watch your food quickly. Being an outer lid pressure cooker, safety is taken care of by the weight valve, the gasket release system, and the metallic safety plug. The base is thick and does not corrode with time. Handles are sturdy and comfortable. The outer polish stays as new as long as it is not scrubbed with coarse materials. The looks are unmatchable – it shines bright. Available in 4 sizes – 1.5 litres, 3 litres, 5 litres, and 7 litres.
Cons: You need to be careful that you do not use abrasive cleaning material to scrub the silver.
More about Pressure Cookers
Types and Variants
Types – there are 3 different types of cookers:

First Generation – Works only in pressure mode
Second Generation – Have an option to increase and decrease pressure
Third Generation – Canners or large cookers

Material – Aluminium & Stainless steel
Variants:

Autoclave – They are used in the laboratories or hospitals
Canners – Large ones
Fryers – Used for deep fat frying
Pressure Oven – Oven + pressure cooker. Works at 10 kilopascals, low pressure
Electric Cookers – Works with an electric source
So, we hope that you will be able to choose the best pressure cooker for yourself from this list. Whether you pressure the popular outer-lid pressure cookers or the traditional inner lid pressure cooker, we have covered it all for you. This list of bestselling pressure cookers is all you need to buy yourself a cooker suiting your needs and within your budget.