Pressure cookers are a must-have kitchen appliance in Indian households for cooking rice, boiling veggies, and deep frying. They are a great way to speed up the cooking process and save energy bills. They are versatile and can be used for various tasks by retaining the food's natural flavours and nutrients. If you are looking for the best pressure cookers in India, check out our article.
Our Top Picks:
| | |
| --- | --- |
| Best for Easy to clean | Pigeon by Stovekraft |
| Best for Easy to use | Prestige Deluxe |
| Best for Durability | Hawkins Contura |
| Regulated movement | Butterfly |
List of Top 10 Best Pressure Cookers In India
We have provided the list of best pressure cookers by considering the capacity, materials, type, affordability, warranty, and brand reputation during our extensive research process. Have a look:
Hawkins Contura Pressure Cooker
(GrabOn Recommended)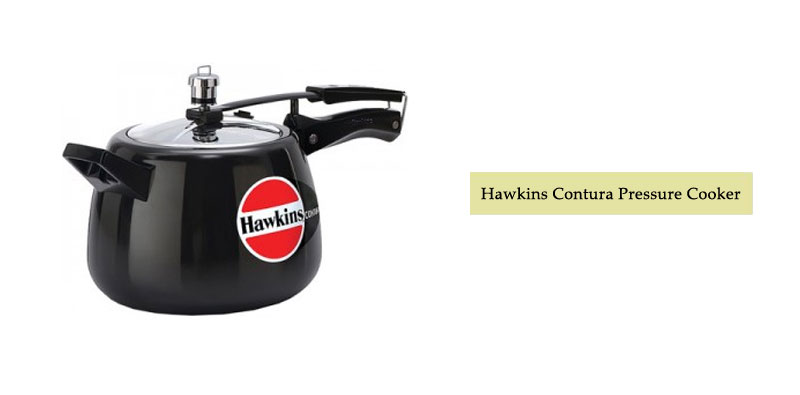 Hawkins has been a leading brand in the pressure cooker domain. Their pressure cookers are manufactured after thorough research and development, with no compromise on quality, performance, and safety.
This bestselling pressure cooker in India is available in 7 sizes so you can choose according to your needs. The unique curved body with its rounded sides helps in cooking food that requires a lot of stirring. Hygiene and durability are taken care of by the hard anodised cooker body inside and outside and a stainless steel lid. The black finish makes the pressure cooker absorb heat faster, saving you energy.
The safety lid will not open unless the pressure inside has fallen to a safe level. It also has an automatic safety valve that ensures that steam and food are deflected downwards. Other top-notch features are superior pressure regulation, a fixed sturdy pivot, and robust handles that stay cool.
Note: Rice cooker is not a replacement for pressure cooker. Nevertheless, they are essential for a complete kitchen. You might want to check the best rice cookers in one of our product review articles.
Pigeon Stovekraft Induction Base Pressure Cooker
(Most Popular Choice)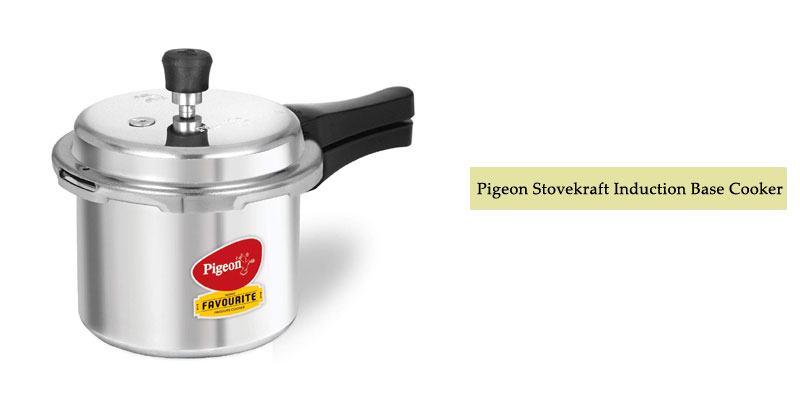 Pigeon has earned a reputation for itself in the kitchen appliance industry. Affordable, economical, popular, and durable – that is Pigeon for you. In fact, this is the best selling pressure cooker on amazon.
This pressure cooker works as an all-purpose cooking utensil. Whether its boiling food or slow cooking your favourite dishes, this pressure cooker is ideal for both. With a flat and solid induction compatible base, food gets cooked evenly. The body is made of superior virgin aluminium.
Safety features such as the Gasket release system with metallic safety plug and precision weighted valve are also incorporated in the best interest of the consumer. The shape is cylindrical and offers more space, and you can even add sectionals to cook multiple items at one time. The handles are sturdy and do not turn hot while in use.
Besides, you can also tap on the Prestige deals and offers section at GrabOn to avail of awesome discounts while making the payments online.
Hawkins Stainless Steel Induction Pressure Cooker
Hawkins came up with a sturdy Stainless Steel pressure cooker to cater to the wide consumer base that intends to buy it for both induction and gas stoves. This silver-looking pressure cooker has a charm of its own.
This pressure is induction compatible and also works on gas stoves. Available in 10 capacities ranging from 2 litres to 10 litres, it has something for everyone. The base is 5.8 mm thick- heat diffusing, flat, and will not separate. The cooker cooks food fast as it heats up evenly, and there are no hotspots.
The body is made from superior-grade stainless steel and the silver colour does not corrode. The lid is pressure locked and will not open until there is pressure inside. A safety valve has been provided under the handlebar for greater safety. The gasket is not rubbed sideways and hence lasts longer. The fixed sturdy pivot assists the self-centralising lid in locking securely.
Prestige Deluxe Alpha Outer Lid Stainless Steel Pressure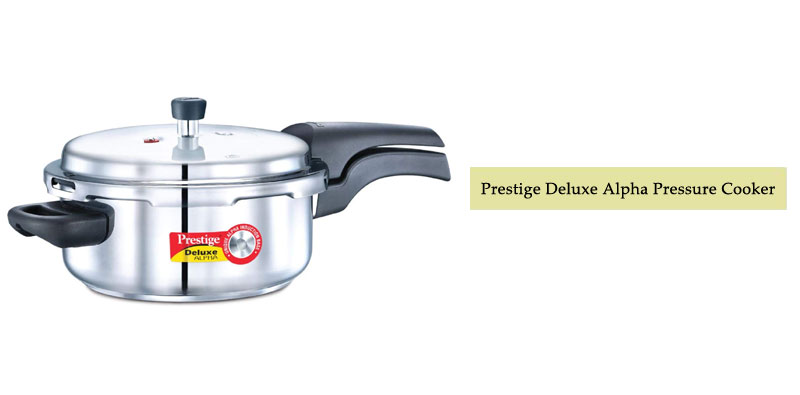 Prestige has been a leader in innovating kitchen appliances and has a wide portfolio of kitchenware catering to homemakers. The Deluxe Alpha Outer Lid stainless steel pressure cooker has been designed for consumers, who prefer outer lid pressure cookers with the most modern and right safety features.
The base of Prestige Deluxe Alpha is the steel, aluminium, and steel sandwich base that aids in faster cooking and also saves energy. High-quality stainless steel has been used to make the outer cover. The weight valve is designed to release the pressure of 1 kg/cm2, making cooking a safe affair.
It acts as the first level of safety, and the second level of protection enables the gasket release system to release the steam. The third level of safety is covered by a metallic safety plug fitted to the lid to release excess pressure over safety limits. Alpha is also durable and has a longer life, thanks to double screw secured handles and body.
Hawkins Miss Mary Aluminium Pressure Cooker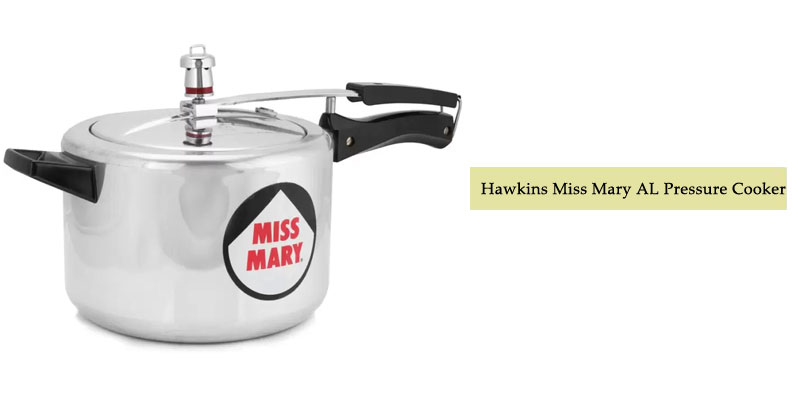 The affordable range of pressure cookers from Hawkins, Miss Mary, go through rigorous quality checks just like other pressure cookers by Hawkins and are completely safe and reliable. ISI marked, Miss Mary range of pressure cookers is only available in India.
Apart from an attractive price point, Miss Mary pressure cookers are leak-proof and made from premium grade, pure virgin aluminum metal. The inside fitting lid is made safer by a shielding safety valve and a more extended-lasting gasket. The metal handle bracket is fixed and unbreakable.
The pressure regulation system is efficient and enables the food to cook faster, thereby saving gas. The handles are sturdy and do not heat up as food gets cooked. They remain cold for you to touch and operate without any discomfort. Miss Mary pressure cookers are available in 9 sizes, ranging from 1.5 litres to 8.5 litres, though 3 litres one is mostly the bestseller.
Butterfly Cordial Induction Base Aluminium Pressure Cooker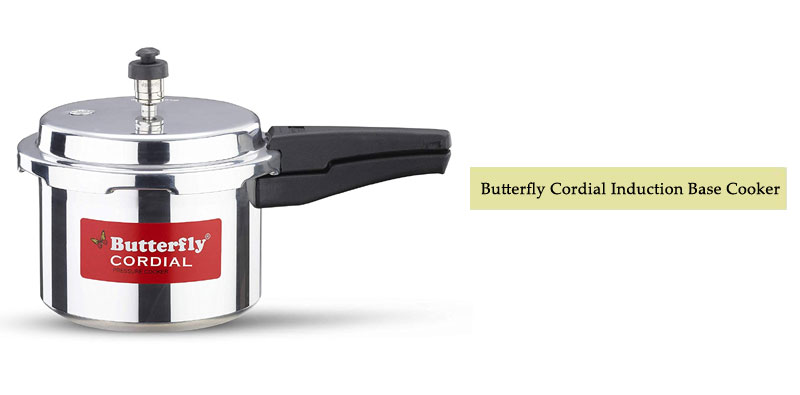 A bestselling pressure cooker from Butterfly, a brand that is a pioneer in the home appliances market is specially engineered for versatile cooking. It serves as an all-purpose cooking vessel – you can pressure cook, sauté, fry, etc. in this pressure cooker.
This outer lid pressure cooker boasts of a superior aluminum body resistant to scratches and stains and thus easy to maintain. The Gasket release system serves as the 2nd point of safety after the precision weight valve that regulates the steam pressure. A safety valve on the lid releases excess steam through a small hole if the vent pipe gets blocked.
The handles are aesthetically designed and sturdy with a cool touch. Even if you use this pressure cooker daily, it is bound to last longer thanks to its durable construction and material. Whether you intend to use it for pressure cooking or slow cooking, this serves equally well. What's more, you can buy either the induction-compatible model or the gas stove model.
Prestige Nakshatra Plus Hard Pressure Handi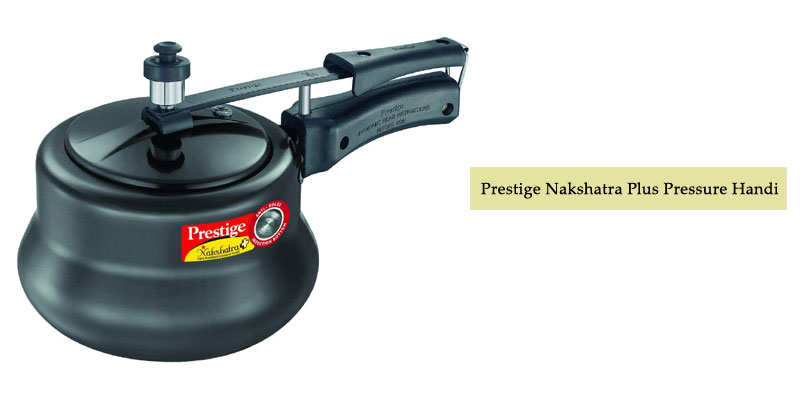 Handis have been the traditional cooking utensils in India – for slow cooking food and retaining the taste and aroma. Prestige has encashed on the same concept of traditional Indian cooking in a modern kitchen set-up – a pressure cooker that works as a handi.
The unique shape of traditional handis as a pressure cooker gives you the benefit of cooking delectable food every day. The shape is slightly concaved from the bottom to ensure the shape stays put even after regular use. Suitable for induction cooktops as well as gas stoves, this inner lid pressure handi is made from virgin aluminium and then hard anodised for durability.
The handles are sturdy and provide a comfortable grip. The precision weight valve serves as the first safety feature, while the metallic safety plug is a second-level safety feature. Available in 4 sizes- from 1.5 litres to 7 litres capacity.
Prestige Nakshatra Alpha Stainless Steel Pressure Cooker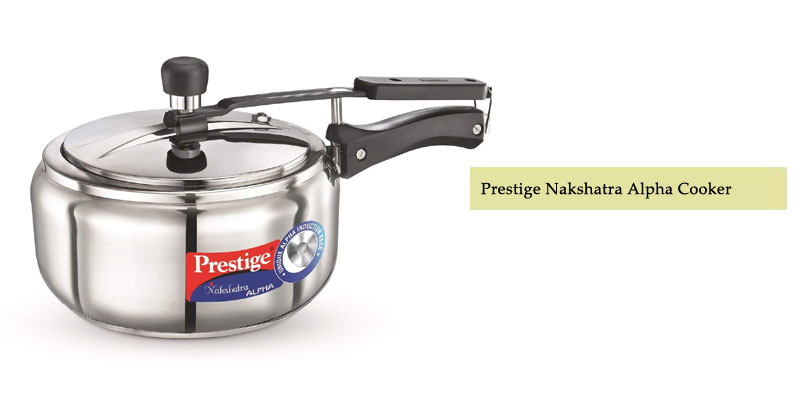 Prestige's products are engineered with the best of materials. This stunning pressure cooker has many features that one could ask for. Suitable for both induction and gas cooktops, this is one of the most popular pressure cookers from Prestige.
Style, durability, and safety are three significant features of the Prestige Nakshatra Alpha Stainless Steel Pressure Cooker. With an exceptional alpha base steel aluminium steel sandwich, this pressure cooker cooks food evenly and saves you energy. This pressure cooker has a circular shape and is not very tall so that you can see the contents right away.
Being an inner lid pressure cooker, it is suitable for direct vessel cooking as well. The precision weight valve acts as the first line of safety, and the metallic safety plug is the second line of protection. For better grip and comfort, the handles are made of sturdy plastic designed to take everyday wear and tear. Available in 4 sizes till 7 litres capacity.
Hawkins Futura Pressure Cooker with Induction Base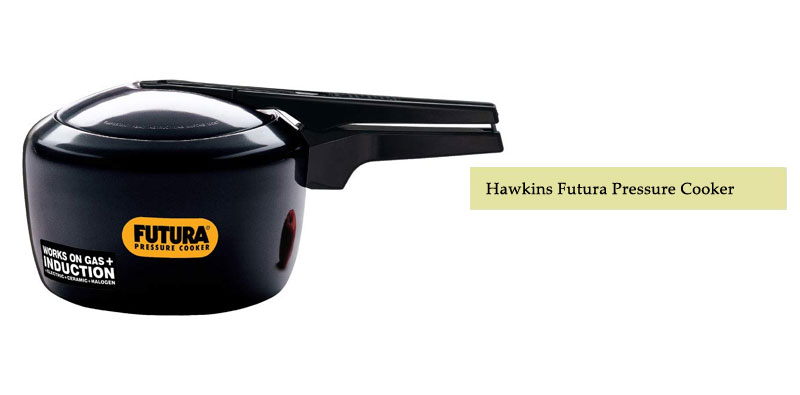 With the Hawkins Futura pressure cooker range, you can rely on the quality, durability, and be in awe of the stunning looks. A premier range of cooking utensils, Futura is likely to win your hearts once you use it.
Apart from the stunning looks, Futura pressure cooker is loaded with features such as fast and healthy cooking, safety, induction compatibility, and durability. Hawkins reports that Futura cooks on average, 46% faster than a microwave oven. A 60 micron thick hard anodising coating makes the pressure cooker absorb heat more quickly and better, thus saving you energy.
Compared to the usual pressure cooker, you need less oil to cook food in Futura pressure cookers. It is hard-anodised, the food does not stick or burn and gets cooked evenly. This cooker comes with its pressure regulator with a unique fingertip release feature that releases the pressure safely away from you. The handles are ergonomically designed and provide a firm grip. On durability and maintenance, it scores very well.
Butterfly Curve Stainless Steel Pressure Cooker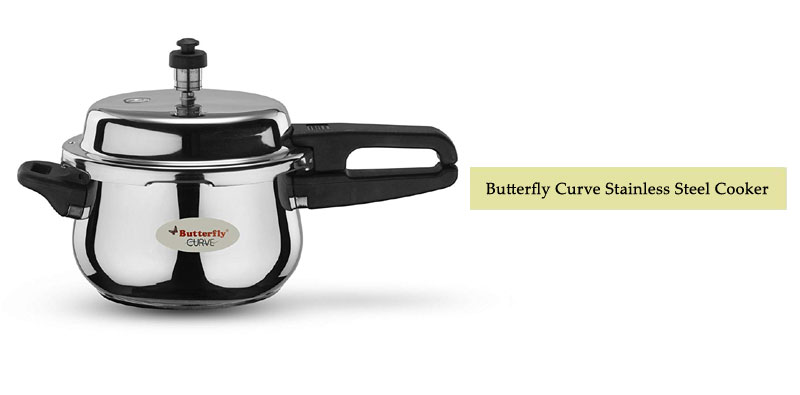 If you are fond of curves and want something that looks aesthetically pleasing, opt for Butterfly Curve Stainless Steel pressure cooker that will shine like a star in your kitchen. You wouldn't like to store it in your kitchen cabinet!
Butterfly Curve is made of stainless steel and has an aluminium thermal base, suitable for both induction cooktops and gas stoves. The curbed shape provides extra space at the bottom, thus helping you stir and watch your food quickly. Being an outer lid pressure cooker, safety is taken care of by the weight valve, the gasket release system, and the metallic safety plug.
The base is thick and does not corrode with time. Handles are sturdy and comfortable. The outer polish stays as new as long as it is not scrubbed with coarse materials. The looks are unmatchable – it shines bright. Available in 4 sizes – 1.5 litres, 3 litres, 5 litres, and 7 litres.
Our Top Picks
How We Tested – Pressure Cookers
We have extensively researched for 96 hours on pressure cooker models available on various eCommerce platforms. And we have come up with popular pressure cooker brands like Butterfly, Hawkins, Pigeon, and Prestige by considering key parameters like durability, ease of use, lightweight, budget, and more. Please ensure that all the ratings below are based on our rating metrics.
| | | | | |
| --- | --- | --- | --- | --- |
| Brands | Durability | Easy To Use | Lightweight | Value For Money |
| Butterfly | 3.8 | 3.8 | 3.4 | 3.7 |
| Hawkins | 4.1 | 4.1 | 3.9 | 3.9 |
| Pigeon | 3.4 | 3.6 | 3.9 | 3.3 |
| Prestige | 3.8 | 3.8 | 3.9 | 3.5 |
Easy To Use
While finalizing the list of best pressure cookers, we noticed most of the consumers are willing to purchase a model that is easy to use. It helps them to cook delicious food and serve it hot effortlessly. Compared to other popular brands, Hawkins scores high due to the minimalist design that makes it easy to operate.
Lightweight
Some of the branded models come in a stylish and lightweight nature to let you carry with ease while cooking on gas or electric stoves. Thus, we considered it the 2nd crucial parameter in picking the top-rated pressure cookers. As per our findings, Pigeon, Prestige, and Hawkins offer lightweight pressure cookers for the handiness of the users.
Durability

The durability of a pressure cooker refers to the ability to withstand tough conditions. Yet again, Hawkins tops the list as their products are made of toughened materials like stainless steel and aluminum, which tends to last longer without forming corrosion.

Value For Money
While buying pressure cookers online, you may come across thousands of models from different sellers. But, which one do you prefer? Would you choose quality over pricing? To simplify things, we've got this list covered to help you match up to all the needs of your kitchen.
If you are in plans to purchase a pressure cooker and are in search of the latest deals on kitchen appliances
In order to help you save on your purchases, we've got you covered with the latest coupons and deals on kitchen appliances on our platform. Do check them out, and strike a great deal.
Different Types Of Pressure Cookers
Electric Pressure Cooker
Built-in heating mechanism is one of the main reasons to switch to the electric pressure cooker these days.  It also comes with a digital timer that will automatically turn off the device once the cooking process is completed.
Stove Top Pressure Cooker
This model lets you quickly control the heat and cook delicious food items by adopting the quick cold water method. The stove top models are a bit affordable compared to electric pressure cookers.
Aluminium Pressure Cooker
Aluminium pressure cookers are excellent heat conductors with lightweight designs. Once you start using this model, you may experience stains and corrosion.  They are a bit affordable and easy to clean using metal scrubs.
Stainless Steel Pressure Cooker
They are highly durable and look new even after years due to their shining nature. In contrast with other types, stainless steel pressure cookers are not good conductors of heat.
Pressure Cooker Buying Guide
Fast Cooking
You can cook your favorite recipes more quickly using pressure cookers compared to other cooking methods. Many studies have shown that this process retains vitamins and nutrients in food.
Capacity
The size of the pressure cooker depends on the foods you wish to prepare. Even though the manufacturer claims full capacity, say 5, 7, 10, or 15 litres, only (⅔)rd of its capacity can be used for cooking purposes.

Dishwasher-Safe
This is an important feature that helps to clean the utensils. Of all, aluminium and stainless steel models go well with the dishwasher options. Hence, looking for dishwasher-safe pressure cookers is advised while shopping online.
Pocket-Friendly Prices and Warranty Details
Most of premium cookers are available at expensive prices as they make use of high-end features and materials to use for a long time. Other brands can also offer top-notch performance by providing their products within the budget range. So, it is recommended to buy one that best fits your preferences.
Apart from the pricing factor, it is also good to keep an eye on warranty information. This will eventually help the consumers to minimise the repair costs.
More about Pressure Cookers
Types and Variants
Types – there are 3 different types of cookers:

First Generation – Works only in pressure mode
Second Generation – Have an option to increase and decrease pressure
Third Generation – Canners or large cookers

Material – Aluminium & Stainless steel
Variants:

Autoclave – They are used in the laboratories or hospitals
Canners – Large ones
Fryers – Used for deep fat frying
Pressure Oven – Oven + pressure cooker. Works at 10 kilopascals, low pressure
Electric Cookers – Works with an electric source
Popular FAQs
Are aluminum-made pressure cookers bad for health?
No! Just make sure to avoid cooking acidic foods like citrus, tomatoes, and vinegar as these foods can lead to aluminum leaching. Also, make sure to replace or discard these cookers in case you see any wear and tear.
What are anodized pressure cookers?
These are aluminum cookers but are coated with a layer of oxide (called as anodizing), which makes them as durable as stainless steel cookers and as fast cooking as aluminum cookers.
Why are stainless-steel pressure cookers expensive?
Stainless-steel pressure cookers cost so much because they offer superior durability, maintain their finished look for years, and are least susceptible to any leakage. However, they are heavy, and don't conduct heat as easily as aluminum-based cookers.
Should I go for the inner lid or outer lid type pressure cookers?
Go for inner lid cookers as they are general-purpose cookers, so they can be used to prepare curries and rice. They are also lighter, more durable, safer, and have a higher capacity. Only go for outer lid cookers if you exclusively want to prepare rice in an easy to clean and functional cooker (a rice cooker would still be a better idea).
How do I decide on the right pressure cooker capacity for my needs?
The capacity you need would depend upon the number of members you are looking to cook for, food consumption levels, and other factors. Here is a basic estimate:
What are some of the most reliable pressure cooker brands in India?
Pressure cooker technology might seem primitive, but only a few manufacturers can get all the intricate details right. Here are the top pressure cooker brands in India that you can rely upon:
Prestige: Prestige is hands down the most popular pressure cooker brand in India, known for its strong and durable pressure cookers. Their cookers feature a gasket release system, and double screw polypropylene-based durable handles. Prestige cookers are available in both Aluminum & Stainless Steel materials and are a go-to brand to buy some of the best pressure cookers across all capacity ranges.
Hawkins: Hawkins is all about cookers, proven by the fact that they were initially known as Pressure Cookers and Appliances Limited. The brand is best known for its stainless steel pressure cookers, which never bulge nor corrode, support all cooking methods like induction, gas, and electric stove, provide uniform heating capability and easy to clean provision. Some of its well-known product lines include Futura, Contura, Hevibase, and Ventura.
Butterfly: The first brand to launch stainless steel pressure cooker brands in India, Butterfly is another well-known pressure cooker brand in India. Their cookers pack some of the best usability features, including ergonomic design, unidirectional rotating handles, durable handles, a gasket release system, fast cooking, and multiple cooking methods support.
Pigeon: Pigeon is most famous for its aluminum range of pressure cookers, which come with an amazing 5 years warranty, ISI certification, induction cooktops compatibility, gasket vent release system, and weight and safety valves. Pigeon is the brand name of Stovekraft, India's leading cookware appliance company.
Borosil: Borosil, India's most trusted glassware brand, surprisingly also manufactures some great pressure cookers. Their aluminium pressure cookers last long, feature an anti-bulge base, support both induction base and flame, and pack in top-notch safety features. Their stainless steel range is also impressive as it features a unique 7mm thick base that transfers heat uniformly and more quickly than regular cookers.
Geek: Geek, a US specialized in building high-capacity electric pressure cookers. Their pressure cookers feature intelligent technology for managing temperature, heat, time, and pressure, which allows them to cook all sorts of vegetarian and non-vegetarian foods like Idli, Sambar, Pongal or succulent Biryani. Their electric cookers are easy to clean, BIS certified, and are compatible with their premium quality accessories.
Vinod: This homegrown brand is getting popular because of its premium quality stainless steel pressure cookers. They sell both inner lid as well as outer lid in their decent-sized catalog. Their pressure cookers are made up of hygienic & easy-to-clean food grade 18/8 stainless steel, are ISI and CE certified, and many of them are even induction-friendly.
Other brands that sell pressure cookers online in India include Kraft, Wonderchef, Stahl, ULTRA, Amazon Brand – Umi, Impex, Baltra, Sunblaze, and some more players.
Bottom Line
We hope that you will be able to choose the best pressure cooker for yourself from this list. If you have any questions for us, please drop them in the comment section below. We will be happy to assist you in the best possible way.