Every homeowner will dream of experiencing a theatre-like experience while watching a movie in the comfort of their living room. Compact-sized home theatre systems have replaced the bulky looking traditional audio boxes at homes with their exceptional features and unparalleled performance.
Apart from delivering high-end audio output, these powerful home theatres have become a vital part of the home entertainment system. If you are a first-time buyer, the plethora of options in the market can confuse you.
Before diving into the list, check out the home theatre systems offered by Croma. You can also shop for refrigerators, laptops, washing machines, etc., without compromising on quality. These are made of robust materials to ensure a long lifespan. In addition to that, the customer support and delivery services are top-notch. Although the prices are a bit expensive, by utilizing the coupon codes of Croma, you can get the desired products at a reasonable cost.
Here in this article, our experts have listed some of the best home theatres in the country to help you make a highly informed buying decision.
Top 10 Home Theatre Systems In India for 2022
Last update was on: January 27, 2022 2:15 pm
Best Home Theatre Systems
Sony HT-RT3 Real 5.1ch Dolby Digital Soundbar Home Theatre System

This 5.1 Channel home theatre system from the renowned brand, Sony holds the first position on our list of best products in the country, as it is equipped with the top features to deliver an immersive movie experience. It comes with a slender looking 3ch soundbar, a subwoofer and two rear speakers to deliver videos with Dolby Digital sound with rich bass.
Top Features:
Assures Real Surround Sound
Power Output: 600 W
One-Touch Listening feature
Near Field Communication to connect devices
Ready to Install
USB port and Optical inputs
HDMI Audio Return Channel
Sony DAV-TZ145 Real 5.1ch Dolby Digital DVD Home Theatre System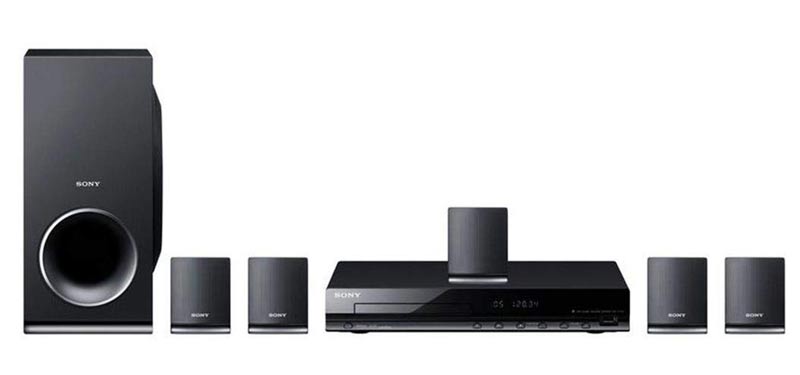 This Sony 5.1 Channel Home Theatre System is offered with advanced video features and impressive sound technology to assure effective multimedia experience. It comes with a space-saving design that includes five speakers and a subwoofer. You can be assured of durable performance even in the long run when you bring home this home theatre system with S-Master Amplifier.
Top Features:
360 Watts power output
Upscale HDMI output (DVD to 1080p quality)
Playback movies from USB devices
Sync with BRAVIA systems
Supports varied video formats
FM radio support with FM antenna
On-screen display to support simple navigation
HDMI port
Auto Standby function
Sony HT-IV300 Real 5.1ch Dolby Digital DTH Home Theatre System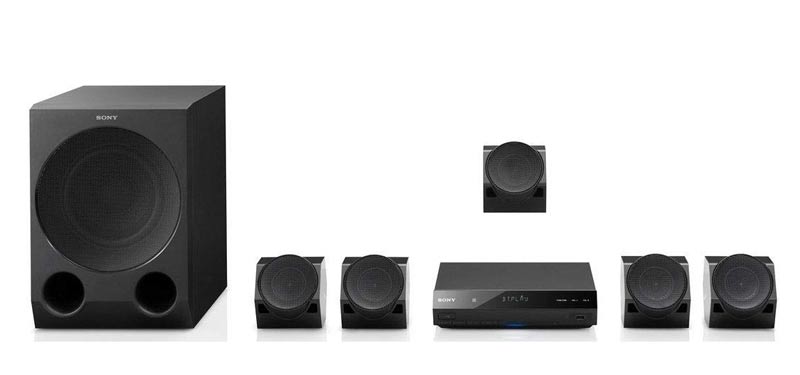 If you are looking for a perfect Home Theatre System that can be connected with the DTH to enhance every home entertainment session, then this Sony system is just the right one. This compact looking 5.1 Channel home theater has excellent connectivity features and a whopping power output of 1000 Watts to watch movies or play music with clear-cut sounds.
Top Features:
4K Ultra Hd resolution
Miracast support
Football mode for Sports
40% smaller than conventional systems
Surround sound delivery: 1000 W
NFC One-Touch connectivity for DTH, Bluetooth devices, Blu-Ray player and play stations
DTS-HD Surround Sound
ClearAudio+ technology
Digital Music enhancing triple technologies
Sony HT-RT40 Real 5.1ch Dolby Digital Tall boy Soundbar Home Theatre System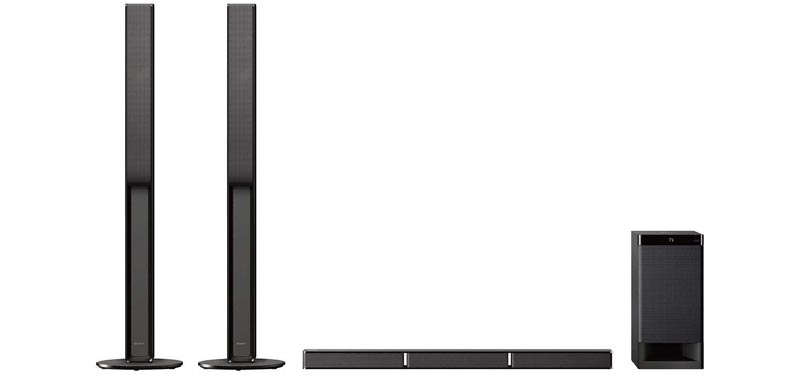 The Sony 5.1 Channel Home Theatre System with a tallboy soundbar is a perfect find for living rooms with sophisticated interiors, as it has a sleek and regal design along with the ability to deliver cinematic surround sound. Flaunting a clutter-free cable design, it comes with two tallboy rear surround soundbars, a speaker and a subwoofer.
Top Features:
Consumes 85 W power
Total Power Output of 600 Watts
USB port
Simple installation
NFC enabled and Bluetooth connectivity support
Better control with Sony Music Center app
Optical input for better sound input
KRX 2.1 (Sonic) Bluetooth Home Theater Speakers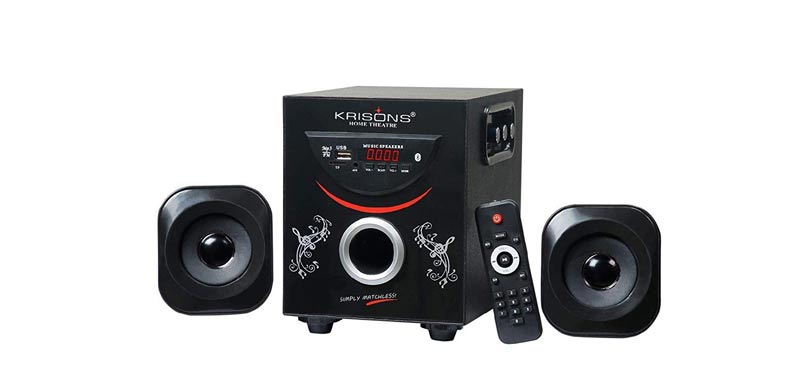 Bring home the KRX Home Theater to transform your LED TV watching time to theater-like experience. It has five varied equalizer settings for assuring a high-end listening feel while watching videos. Equipped with 2.1 Channel dual speakers, it can play files on any devices from gaming consoles, iPads, tablets, Smartphones, PCs to laptops.
Top Features:
One subwoofer and 2 satellite speakers
Consumes 160 Watts power
Delivers with 100 to 1000 Hz frequency
Comes with built-in USB port
Built-in controls to adjust treble, bass and volume
Has digital display
Krisons Nexon 2.1 Bluetooth Home Theater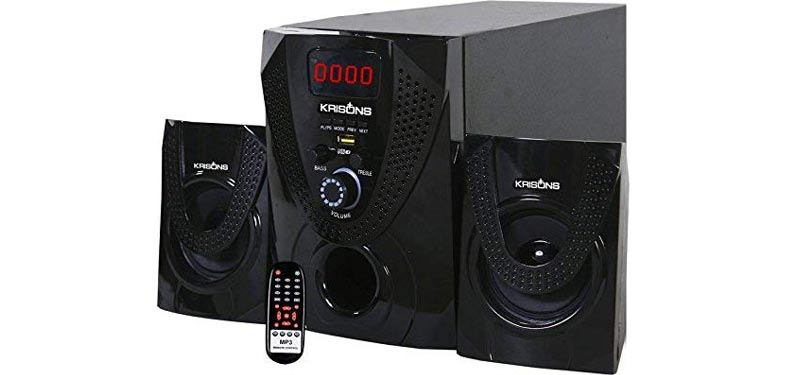 This home theater from the home of Krisons with built-in FM feature has been featured on our top 10 list of home entertainment systems, as it comes with 2.1 channel speakers and amazing connectivity features while being available at an affordable price. It comes with a subwoofer along with dual tall satellite speakers to deliver an enchanting home entertainment feel.
Top Features:
Utilizes Vire technology
Total Power Output: 30 W
Fitted with 4 raised buttons for Play/Pause, Previous and Next track and Mode
Huge digital display
Adjustable knob for volume, treble and bass control
USB, Bluetooth connectivity
IKALL IK-401 60W Bluetooth Home Theatre System with FM/AUX/USB Support and Remote Control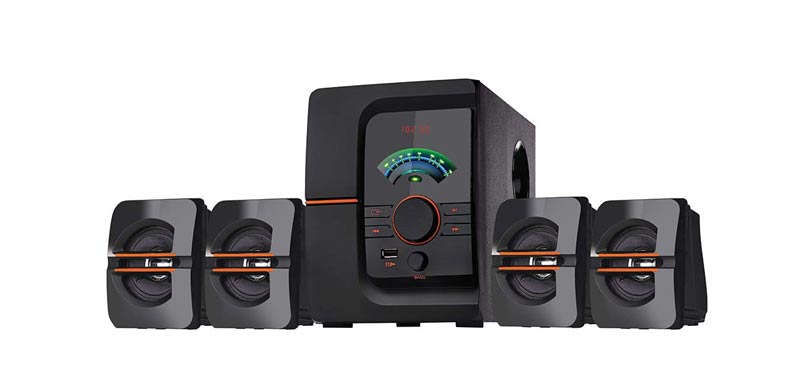 This IKall home theatre unit comprises of a woofer and 4 satellite speakers to deliver a perfect listening experience when watching your favorite films. It comes with a digital display, LED light in green for Power On/Off and glowing volume controls in blue to grab the attention of every onlooker.
Top Features:
Total power output: 60 W
USB port
Comes with Aux and Bluetooth connectivity to pair with devices
Memory card slot
In-built radio
Dolby Sound Output
Impedance of Satellite speakers: 8 OHMS
Impedance of Main Unit: 4 OHMS
Rotary Volume control knob
F&D Speakers A510 2.1 Multimedia Home Theatre Speaker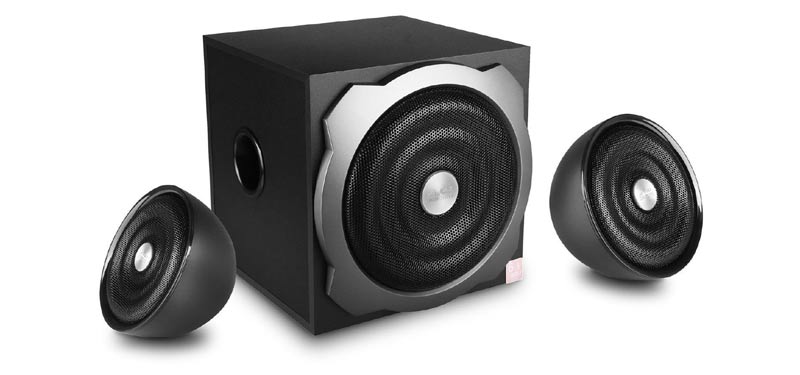 This home entertainment product by F&D is designed with a wooden case that cuts down all distortions even if playing with 5000 W sound. The glossy look over the metal grill and front panel can go well with all living area decors. The satellite speakers of 4 inch and 6.5-inch bass subwoofer can deliver a powerful video experience.
Top Features:
Sound Output: 5000 Watts PMPO
Top-notch connectivity
LED indicator in green
Rotary knob for bass and volume
In-built Automatic Voltage Regulator
Dedicated power switch
Frequency Response: 20 Hz to 20 KHz
Sony BDV-N9200W Real 5.1ch Dolby Digital 4K Wireless Tallboy Blu-ray Home Theatre System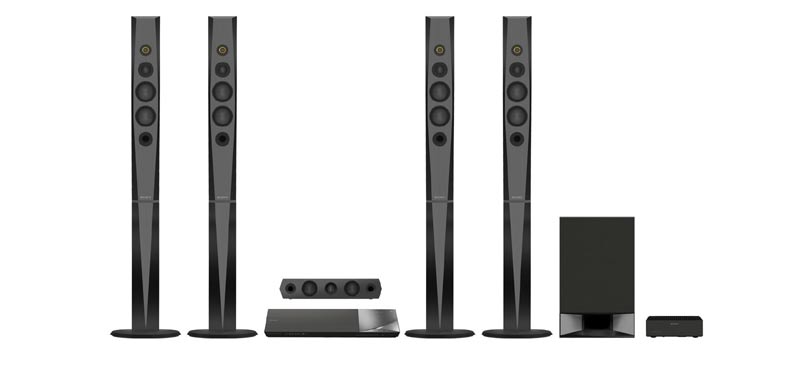 The home theaters from the house of Sony are popular for their high-end features and quirky looks to assure the best performance. This home theatre set is capable of supporting several file formats and is designed with glass fiber cone enforced with Mica to cover a wide frequency range. It comes with a subwoofer and has 5 magnetic fluid speakers to deliver clear and crisp audio notes.
Top Features:
Equipped with DSEE engine for supporting several audio formats
5.1 Channel surround sound quality
1200 Watts sound output
Supports wireless streaming of music and videos
4K, 3D and FHD upscale playback
Wide Dispersion super tweeters
Tecnia Atom 504 Bluetooth 5.1 Channel Home Theater Speaker System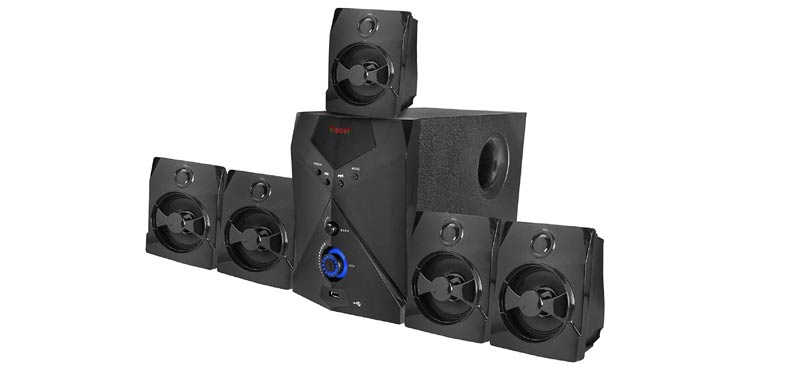 The Atom range of home theater systems offered by the renowned brand, Tecnia are one of its kind products in the market, as they have distinct features and outstanding audio output to assure optimum performance. This home theater having deep bass subwoofers of 4-inch built with a high-quality wooden enclosure to prevent any kind of distortions can provide unmatched cinema viewing experience.
Top Features:
Rotary volume control with blue glow lights
USB reading port
Dedicated bass switch
4 rounded buttons for skipping music and mode
Advanced connectivity features
Compatibility with all handheld devices
FM Radio