Football shoes have evolved drastically from their traditional look, as they are now aesthetically designed to suit the player's body position, playing conditions, etc. It doesn't matter if you are a defender trying to play from behind or a forward shooter, soccer shoes can enhance the kick immensely. Apart from offering a comfortable fit, these football shoes with a rugged look and lightweight construction are a beauty to behold.
These football shoes look stunning on your feet in bright neon shades featuring intricate designs, studs and sturdy soles. If you are looking forward to your soccer practice or trying to be on the winning side to grab your dream trophy, it is important to invest in a good pair of football trainers. We have compiled the list of the 10 best football shoes to help you find the most deserving pair to be a part of your training gear.
Top 10 Football Shoes In India for 2021
1. Nivia Premier Carbonite Football Shoe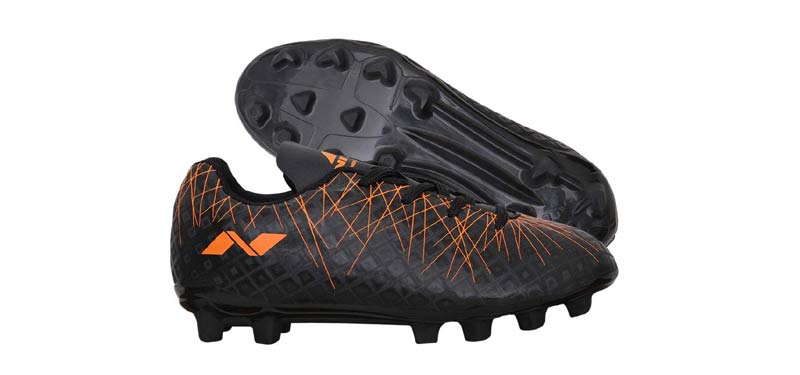 Nivia, the renowned name in the sports gear sector of India offers this pair of football stud under Carbonite series to help you excel in the game. It comes with a heel counter backed by a pre-modeled style to assure top-notch protection to the feet. The non-woven insole board with waterproof feature makes this football shoe a great choice to play in wet pitches.
Special Features
This football comes in a shiny black shade complemented by orange stripes featuring moulded studs to assure a better grip on wet and hard surfaces
It comes with a TPU outsole to kick impressive shots on hard ground and synthetic turf pitches
The upper part is crafted with PVC synthetic leather to resist water retention
The die cut Eva insole with lightweight construction assures excellent comfort
2. Adidas Men's Nemeziz Football Shoes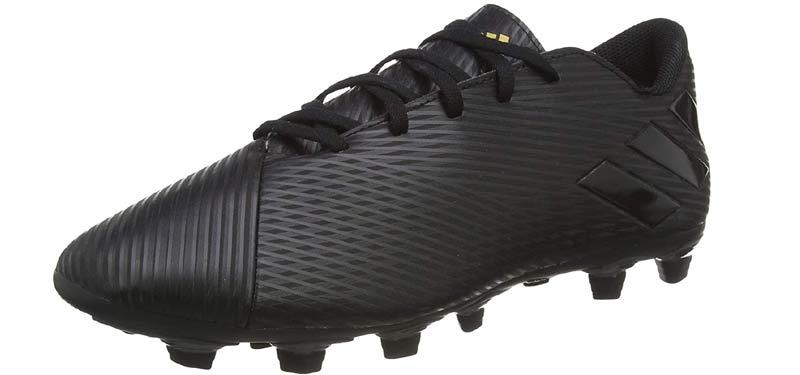 Be it dodging your opponent's move or passing the ball to your teammate, maximize your unpredictability with this pair of football shoes from the well-known brand, Adidas. It flaunts a versatile design to accelerate your agility even when playing on artificial grass, firm and hard ground.
Special Features
This lace-up style football shoe with a round toe style comes in a sleek black color featuring stripes
It has soft synthetic upper that morphs the shape of your foot to deliver a customized feel
The special mono-tongue construction inside the shoe offers a perfect fit to keep your feet stable while turning and twisting during a match
The ground outsole with excellent flexibility helps you move with top speed with great control
You might want to check out the top discount available on Adidas' official website too. In order to save further, you can check out top Adidas deals and coupons too.
3. Nivia Airstrike Football Stud for Men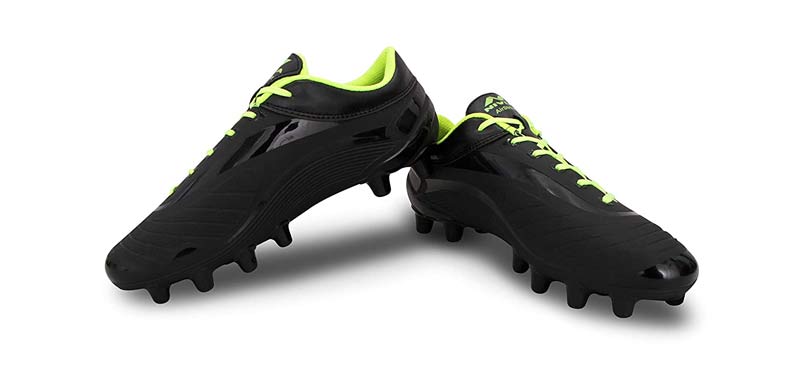 Ignite your passion to play soccer with this Nivia Airstrike series football shoes that are designed to maintain amazing balance and stability. Crafted in premium quality synthetic material, this football stud cuts down water absorption while playing in wet fields.
Special Features
This football shoe pair is designed in a rugged fashion and is offered in a bright shade of black and fluorescent green with shiny toe tip to grab attention immediately
It flaunts a moulded in-sock design to offer good grip for your feet
The sole of the shoe holds moulded studs in round shape to support free movement in every direction
This football shoes from the house of Nivia is a great choice for wet and soft pitches
4. Nivia Encounter Football Stud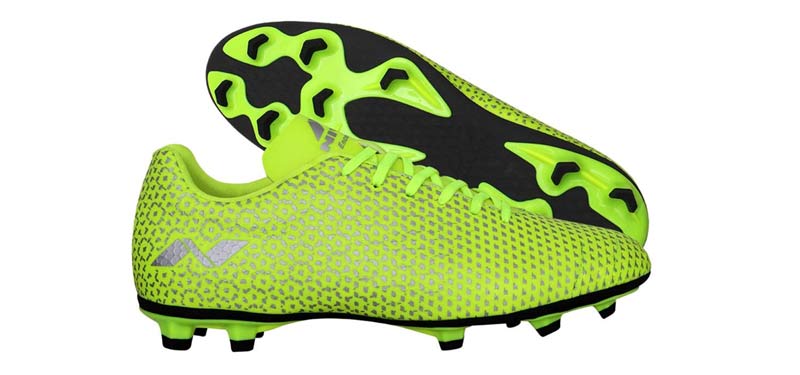 Experience enhanced stability and a better grip while enjoying a game of football with this pair of Nivia shoes that comes in an affordable range. Be it your everyday practice sessions or a league match, these football studs can help you place effortless shots. It is available in an eye-grabbing combination of fluorescent green and black.
Special Features
The upper part of this football shoe is made out of synthetic PVC leather to resist water absorption when playing on rainy days
It is constructed with TPU outer sole and water resisting non-woven insole to assure excellent balance
This pair of football shoes with a lace-up design and arrow shaped studs can offer good stability on wet pitches
5. Adidas Predator FxG Football Shoes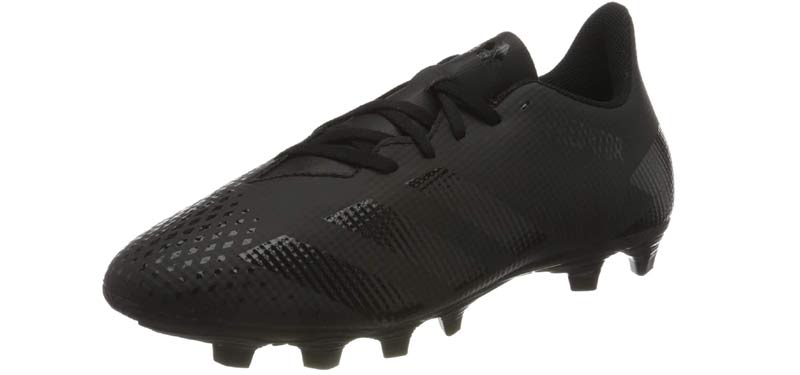 The flexible ground cleats belonging to the Predator series from Adidas is an excellent choice to identify your strengths and take your soccer performance to great new heights. The textured forefoot on the upper part of this shoe helps in improved ball contact.
Special Features
The soft and comfortable upper of textile offers the perfect fit
It is designed with a lace-up closure to assure good fit at all angles
The round toe design of the football cleats helps in placing the shots with good accuracy
It comes in an elegant black color with a shiny design
It has a sturdy outsole with studs to offer good control during high speed movement when playing on hard ground, artificial grass and firm ground
6. Adidas X Ghosted Football Shoes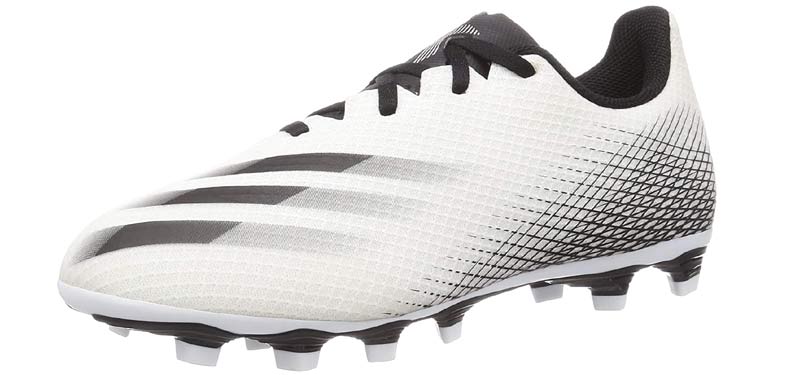 Stay assured of playing ahead of your opponents with the X Ghosted range of flexible ground cleats offered by the notable brand, Adidas. Be it firm ground, artificial grass or hard ground pitches, these shoes can win them with their high-end stability and agility.
Special Features
This lightweight shoe with coated textile upper offers you a better edge than the rest of your team
The flexible outer sole of this pair assure good control over speed when playing on an array of surfaces
The studs at the sole with triangular studs offer excellent grip on the pitch when focusing on shots
The lace closure offers a customized fit for your feet and gives good comfort as well as support
7. Vector X Chaser-II Football Studs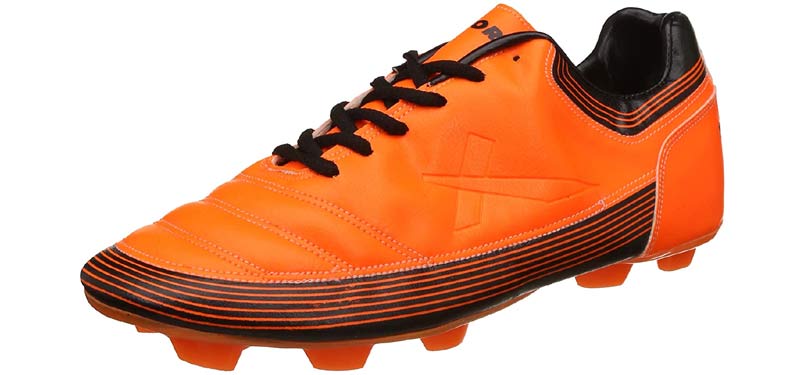 You will have a new reason to love football even more, when you own this pair of studs from Vector brand. These football shoes are an excellent choice for midfielders, as it has plastic studs on the outer sole to provide excellent grip on all surfaces. This stylish shoe comes in an attractive orange shade to go well with your football practice gear.
Special Features
This Vector X shoe is created using top-grade synthetic leather to assure durable service
The high traction sole assures splendid balance when you dribble or sprint suddenly
The upper part constructed using A-Okay synthetic leather delivers lightweight design and ruggedness to withstand the effects of wear and tear
The padded footbed of this shoe with extra cushion offers comfort fit
8. Vector Dynamic Football Shoes For Men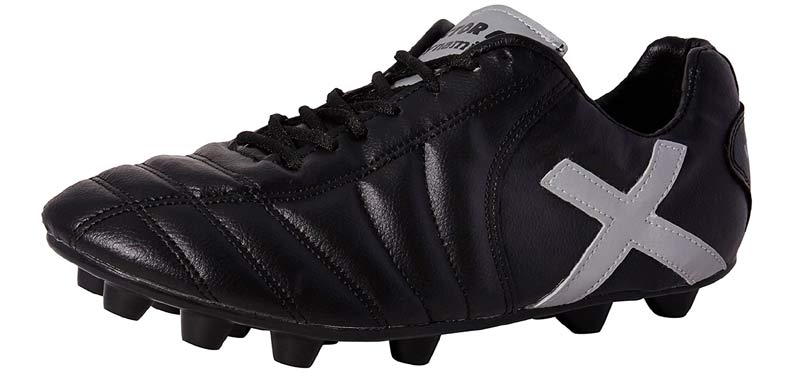 Specifically created for the elusive and swiftest player on the field, this Vector X range football stud comes with studs fitted under the sole to deliver optimum traction. Apart from being trendy and stylish, this pair of shoes are highly durable, thanks to their synthetic leather construction.
Special Features
The flexible traction offered by the studs with special design assures top-notch ball control when playing on hard ground, artificial grass or firm ground.
Designed with PVC sole, this shoe is strong enough to place kicks with force
The lace-up closure keeps the feet secure and firm by preventing it from slipping while you are running
The uniquely designed and stitched border at the side and the brand logo featured on its tongue deserve a special mention
9. Adidas Copa Football Shoes For Men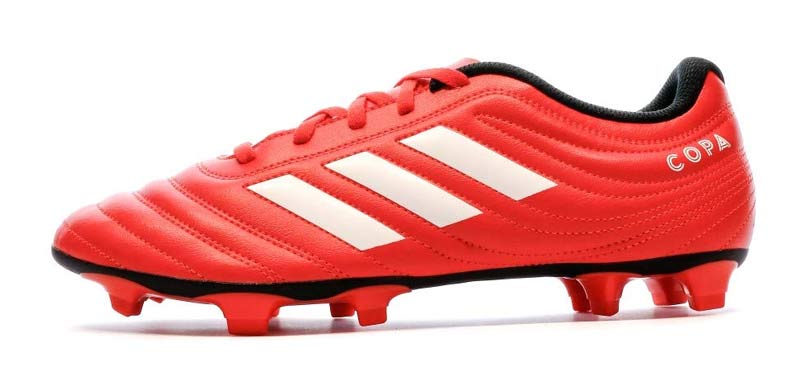 Steal the spotlight of any game you are playing and make it your moment with this Adidas Copa range of football shoes. The synthetic leather forefoot with closed stitching and the durable outer sole can help you unleash power-packed play on the pitch with natural dry grass and firm ground.
Special Features
The shoe upper crafted out of synthetic leather features a stitched vamp to assure excellent control over the ball while preventing slippage
This football shoe comes in sleek red color and black sole with moulded studs to offer maximum grip while running or kicking the ball
The lace-up closure ensures your feet stay intact inside the shoe without slipping while on the move
The white streaks at the side, round toe style and the engraved series name makes it look stylish and trendy
10. Vector X Volt Football Shoes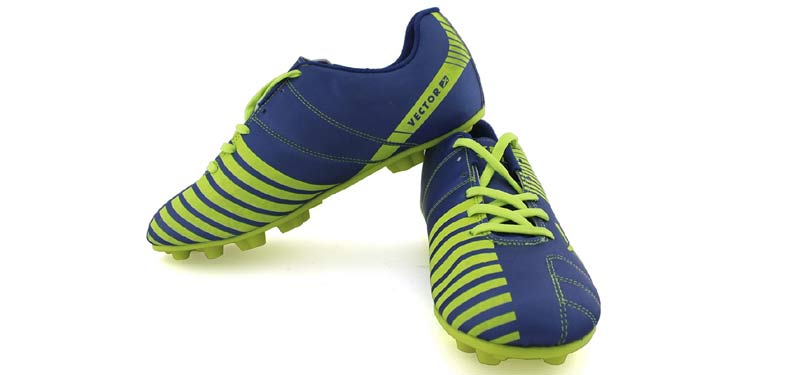 Is your soccer game filled with speed shots, tackles and quick shifts that drive the defenders crazy? Then make sure you own a pair of this Vector shoes. Sporting a trendy look in sky blue and fluorescent green with a lace-up design, this football shoe pair can look great with your team jersey. Be it targeted support at the feet or maximum flexibility, this football stud fulfills them all.
Special Features
The high traction sole with uniquely designed 14 synthetic studs assure secure grip and balance while supporting straight line speed
Crafted in flexible and washable PVC synthetic material, this shoe offers a comfortable fit and the soft inner lining makes it ideal for everyday use
The brand logo is featured in the heel cap and the toe of this ankle length football shoe
About Football Shoes
How To Choose Football Shoes?
While trying to buy the best pair of football shoes, it is important to consider the following factors:
Choosing football shoes after considering the type of pitch you will be playing will help in experiencing better traction underfoot on various surfaces
If you will be using it on the pitch with natural grass go for firm ground shoes with molded studs
For playing on pitches with muddy grass opt for soft ground shoes with cone-shaped studs
If playing on artificial pitches, choose artificial ground shoes that come with short studs to have a better grip while placing a kick
Go for special short-studded astroturf soccer shoes, if the upcoming match is to be held on an astroturf pitch
Synthetic materials are a great choice for football practice, as they are durable and are designed using water resisting materials
Now, let us take a look at our list comprising of the 10 best football shoes.
Buying a pair of football shoes is not a simple task because choosing the wrong pair can cause serious injuries. We have compiled this list of top 10 football shoes made from different types of materials to help you play on different surfaces effortlessly. We have considered different factors to help you narrow down the best pair of soccer shoes to meet your specific playing needs.