Shoes play a vital role in deciding how you look in each outfit. Choosing the right type of shoes for the occasion will spice up your stylish quotient. If you are a fashionable person and love to flaunt your sense of style, then it's essential to pay attention to the shoes you are wearing. Apart from complimenting your attire, shoes are the first thing that creates a positive impression on you.
It's about time to revamp your shoe closet and have a complete stock of all types of shoes, which are must-have essentials to suit every occasion and season. If you are not familiar with different styles of shoes, our guide on the ten best types of men's shoes will help you choose wisely to make that dashing impression. Be it the attention-grabbing brogues or stylish and edgy oxfords, and we have listed them out just for you.
List of Top 24 Types Of Men'sShoes That Every Guy Should Know
We have compiled a list of the most popular types of shoes for men. Take a look at these.
1. Ghillie Brogues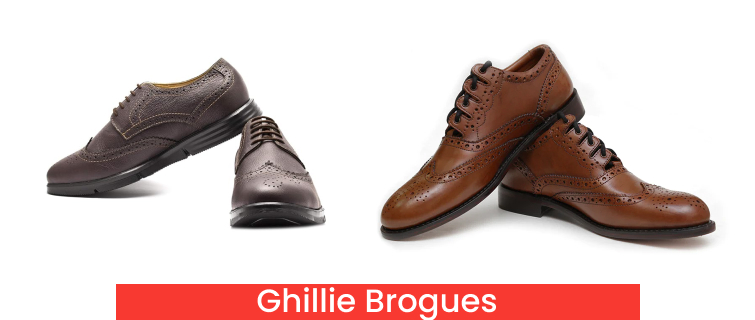 Ghillie Brogues trace their roots back to the rugged landscapes of Scotland, where they were originally worn as part of traditional Highland attire.
These shoes stand out for their unique design featuring a laced front with no tongue.
The lace-up design of Ghillie provides a snug fit, making them suitable for various occasions, from formal gatherings like weddings to casual outings in the countryside.
These are available in a range of colors, including black, brown, tan, and even two-tone variations.
They add a touch of refinement to any outfit, making them an excellent choice for those who want to elevate their style and make a lasting impression.
Styling Tip:
Ghillie Brogues are a perfect match for formal wear, particularly traditional Scottish kilts. Opt for black or brown Ghillie Brogues to complete your formal attire.
These can be paired with well-tailored trousers or smart-casual outfits to add a touch of Scottish charm to your everyday style.
2. Sandals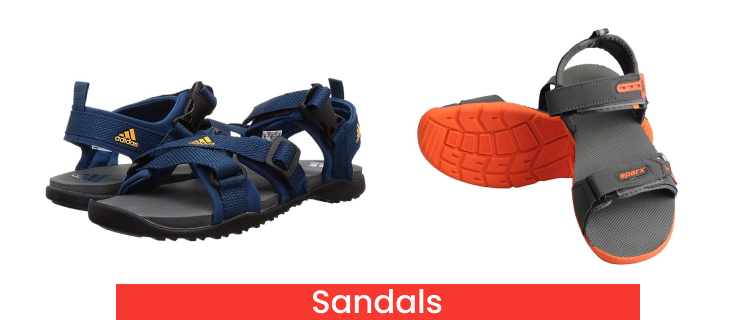 Sandals are open-toed footwear known for their exceptional comfort and breathability. They allow feet to stay cool, making them an ideal choice for hot weather or casual occasions.
They're perfect for laid-back outings, beach trips, or even as post-workout footwear, offering a relaxed and hassle-free style.
Sandals are typically crafted from various materials, including leather, canvas, rubber, and synthetic fabrics. Leather sandals exude sophistication, while rubber or synthetic options are more suited for water-based activities.
Slip-on sandals are convenient and quick to put on, making them a convenient choice for those moments when you need to dash out the door.
These sandals come in a wide range of styles, from simple flip-flops to more structured designs with straps and buckles.
Styling Tip:
Pair your sandals with casual beachwear such as board shorts, swim trunks, or lightweight linen shirts for a relaxed and laid-back look suitable for seaside adventures.
You can combine sandals with shorts, chinos, or even jeans for a comfortable and easygoing everyday style. Opt for neutral or earthy tones to maintain a versatile and adaptable appearance.
3. Trainer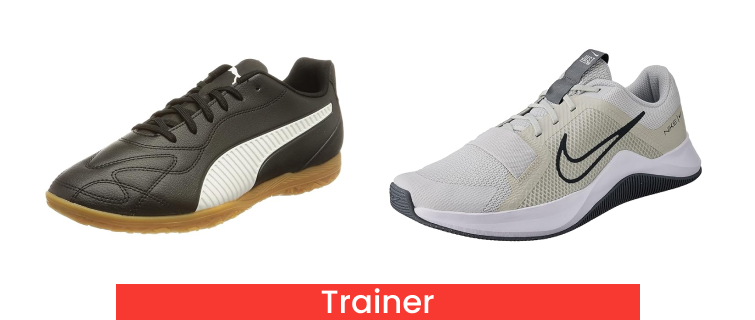 Trainer shoes, often referred to as sneakers or athletic shoes, are a versatile type of footwear designed for physical activity, sports, or everyday casual wear.
They usually feature cushioned insoles, shock-absorbing midsoles, and padded ankle collars, making them ideal for men who prioritize comfort during daily activities.
Trainer shoes ability to seamlessly transition from athletic wear to casual and even semi-formal attire makes them must have shoes for men's wardrobe.
They are made from diverse materials, including leather, suede, mesh, and synthetic fabrics, offering choices for various occasions and climates.
Celebrity endorsements and collaborations with renowned designers have further solidified the status of trainer shoes as coveted items in the fashion world.
Styling Tip:
Achieve a fashionable athleisure look by pairing trainer shoes with slim-fit joggers, a well-fitted T-shirt, and a lightweight bomber jacket. Add a stylish watch to complete the ensemble.
Blend comfort and style by teaming your trainer shoes with dark jeans, a crisp white shirt, and a tailored blazer. This smart-casual combination is perfect for a laid-back yet polished appearance.
4. Service Boot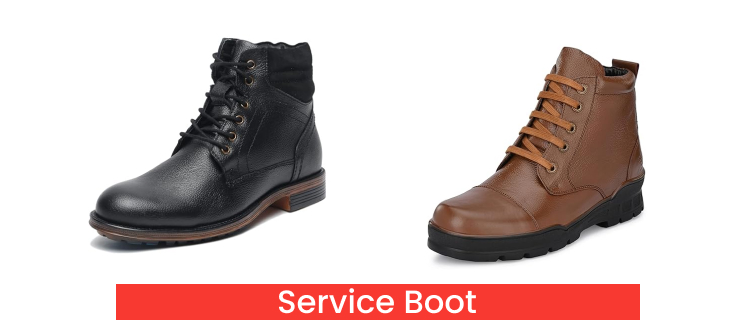 Service boots, a quintessential example of men's footwear types, are a type of rugged and durable footwear characterized by their high ankle length, lace-up design, and robust construction.
Originally designed for military use, service boots were intended to provide soldiers with reliable footwear that could withstand harsh conditions.
These are typically crafted from high-quality leather, often featuring a Goodyear welt construction, which enhances their longevity.
They provide dependable protection against rain, snow, and adverse conditions, making them suitable for year-round wear.
There are a few service boot brands that offer customization, allowing you to choose leather types, colors, and sole options, providing a unique and personalized touch to your footwear.
Styling Tip:
For a rugged and timeless look, you can pair service boots with dark denim jeans, a flannel shirt, and a chore coat. This classic workwear combination exudes authenticity and character.
You can start wearing service boots with tailored wool trousers, a crisp button-down shirt, and a well-fitted blazer.
5. Oxford Shoes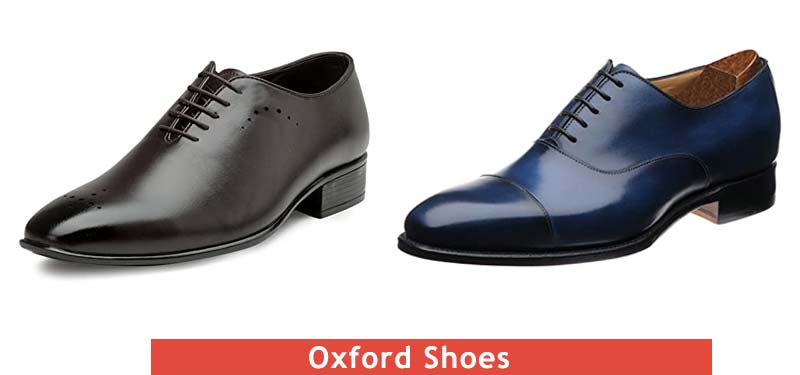 Designed to be one of the finest and most regal footwear for men, Oxfords would easily grab the first place in the list of the popular type of shoes that every man wishes to own
This dress shoe has its origin in Ireland and Scotland and rose to popularity when the Oxford University rebel students wore it instead of regular ankle boots and knee-length boots
While shopping for oxfords, you can also find an array of options, such as wingtip, cap toe, buck,and other such Oxford inspired variations
You can identify the Oxford through its closed lacing system featuring tight stitches along the bottom
Another variant, theone-piece oxford, which is created using a single piece of premium leather material instead of sewing several pieces together to flaunt a minimalist look is also a great choice
Styling Tip:
Oxfords are the first choice to team up with formal wear and are available mostly in brown and black leather
6. High-Top Sneaker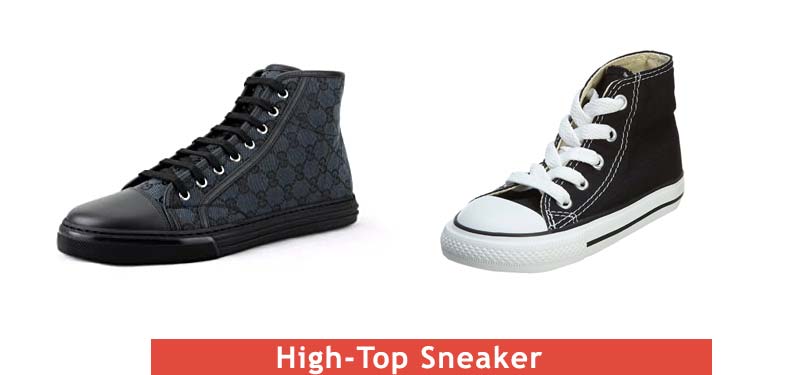 High-top sneakers are a comfortable pair of footwear that have a compelling place in every man's shoe closet, as they can top off any look right from stylish tailored suits to weekend sweats
This footwear was once a favorite choice of athletes and has evolved drastically since its invention in 1890
This classic and cool sneaker is known for its versatility, as it can be teamed up with any ensemble, thanks to the iconic status it has
High-tops are available in different variants, such as side zipped, all-overprint, monogrammed two-tone, classic chucks,and so on
Make sure you stock up on high-top sneakers crafted out of premium leather, soft suede, and canvas to rock your look when meeting your girlfriend, attending a party, or hanging out with your buddies
Styling Tip:
To sport,the perfect look with high-tops, ensure the ends of your pant leg don't get stuffed inside the sneaker
Pair it with shorts, jeans, chinos,or slim-fittorn jeans to sport a cool, comfortable,and relaxed look topped up with a striped or white t-shirt along with a rider jacket
Attend any formal event by experimenting with high-tops in dark colors with an ultra-tailored tuxedo, cropped trousers, and a sophisticated leather belt
Brands
Thetop brands in India selling high-top sneakers are Puma, Woodland, and Nike. You can check out the official Nike website for the best of the products. Do not forget to check out the top Nike coupons and discounts on our website.
7. Low-Top Sneaker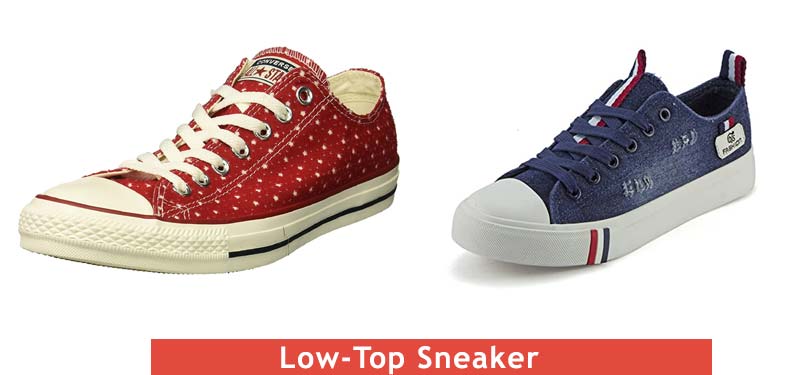 Low-top sneakers are durable footwear featuring a low-cut design at the ankles to offer excellent comfort to the wearer
Adidas company introduced the first low-top sneaker, Superstar made of pure leather in the year 1969 for basketball players. Want to give ita try? Start using the Adidas offers and couponsto get them at a discounted price.
Nike also rolled out the low-top sneakers under the Zoom Kobe series and this footwear has surged in popularity since then
Styling Tip:
Make heads turn at your workplace by pairing white low-tops with a white shirt, blazer in adark shade, thin tie,and matching slim-fit trousers
This footwear will also go well with leather jackets, shorts, cardigans, chinos,and striped t-shirts
Brands
At Amazon, the brands that sell the best low-top sneakers are Sparx, Puma, Fila, and Red Tape. We have a dedicated page for Puma couponsusing which you can save money on your sneakerpurchase.
8. Derby Shoes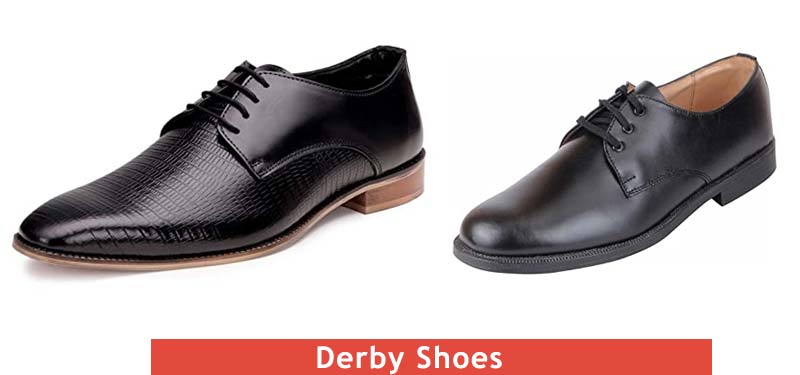 Technically a bit less formal when compared to their oxford counterparts, Derbies are a great choice to make any attire look complete
It is easy to spot a derby pair with its distinct open-throated silhouette, parallel running leather flaps around the lace eyelets and above the vamp
This shoe with an open lacing system and flap design sports a well-segmented design in terms of back, side, top, etc.
While speaking in terms of function fit and comfortability, Derby tops the list of one of the best leather shoes for men, which explains why it was used as a sporting shoe and for hunting activities in the olden days
Generally, Derbies come with rubberized or leather soles to deliver extra durability and grip
Its ability to enhance regular denim and a suit makes it a practical choice
Styling Tip:
If you are opting for a casual, relaxed look, go for Derbies in suede and opt for the ones in genuine leather to pull off a classy, polished look
9. Blucher Shoes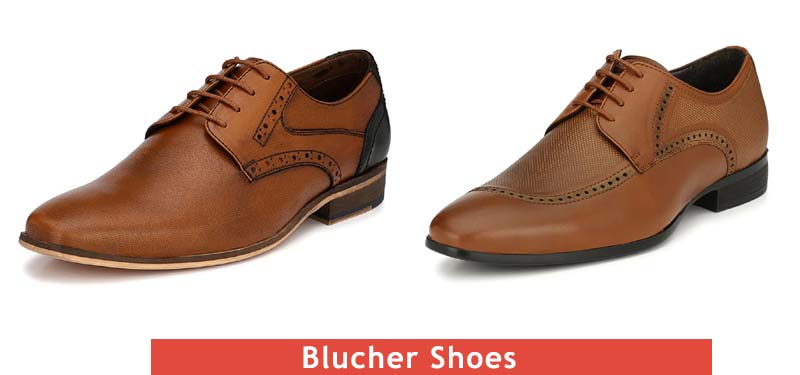 At the first glance, Bluchers and Derbies may look similar with an open lacing style, but when looking closely, you will not miss the large lace eyelet quarters of a Blucher pair
While the two sides are stitched below the vamp in Derbies, two sides under the vamp are connected in Bluchers
Having a rich history dating back to Napoleon's period, Bluchers were worn by the Prussian army to defeat their French counterparts
You can find several variations of blucher shoes, such as wingtip, semi-brogue, plain, etc.
Crafted from fine calfskin leather, cowhide, etc., these shoes are often crafted with the Goodyear technique, which makes them a durable pair
Styling Tip:
To add a bit of bling to your party attire like a velvet shirt or silk shirt, choose Blucher pair with embellishments or perforations while attending a party
Go for a plain classic Blucher to spice up your office look or when meeting clients in a tux or tailored suit
10. Chelsea Boots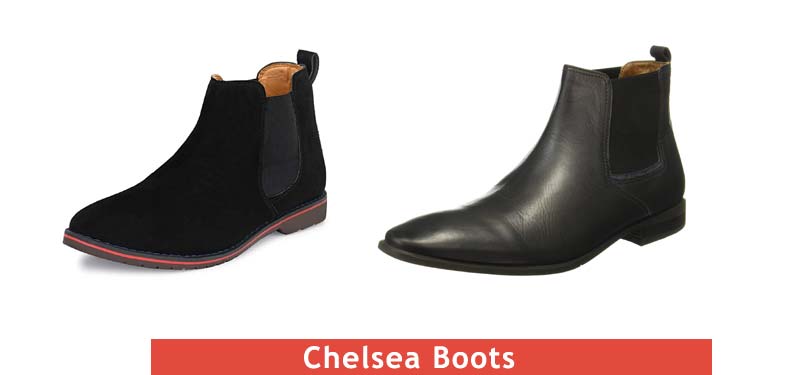 This stylish boot has strong Victorian roots and has been a favorite choice of men for over 150 years
It has low heeled design and rounded toes with a tiny heel tab and the quarters as well as the vamp are built using a single leather piece
Chelsea boots rose to fame after being worn by British rock stars and are a must have addition to your winter or fall closet
The special feature of this pair of dress shoes is the well-pronounced lace design and sturdy construction, which makes it a great choice for trekking, camping, and hunting activities
Elastic sides and sleek toe design make these ankle boots with clean look easy to put on and remove
The minimalist look and classy silhouette make Chelsea boots a great choice for casual to semi-formal events
Styling Tip:
Leather Chelsea boots in black can refine your look while worn with formal and semi-formal outfits
Brown leather boots are a great choice for casual, semi-formal and smart casual clothes
Suede Chelsea boots are edgy options for casual dresses to give off an urban or country vibe
11. Loafer Shoes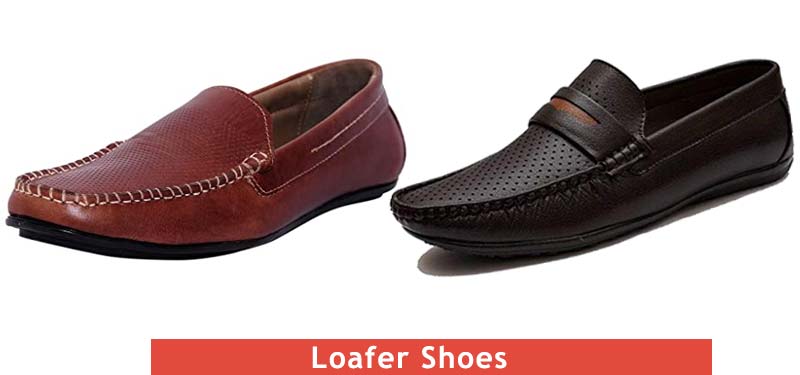 Designed for the stylish male, Loafers have become a quintessential staple in the modern male's wardrobe
These sturdy shoes have Scandinavian origin where it was created as the epitome of preppy culture, and has now transformed into a stylish footwear
Featuring a lace-free design and low-cut profile, loafers are a perfect find for smart casual outfits and airy summer shorts
Styling Tip:
Loafers in leather or suede look great when teamed up with jeans, cargo pants, shorts and t-shirts
Brands
To talk about the Loafers, premium shoe brands like Reebok can serve your purpose. Surprisingly, you can avail of the Reebok promo codes to save your investment while shopping
12. Brogue Shoes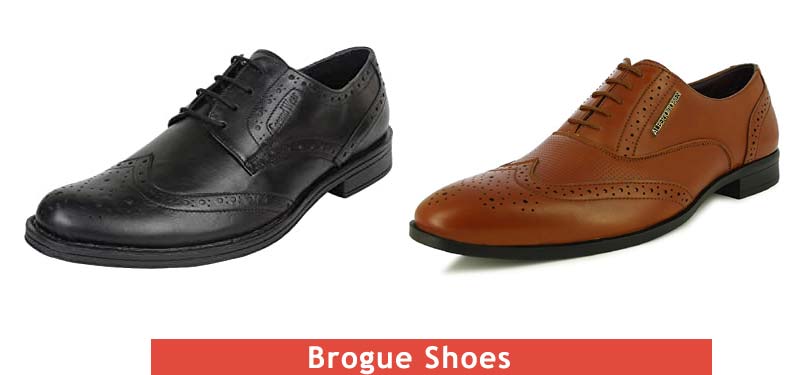 Designed with elegant perforations through the process called broguing, Brogues are classy pair of shoes, which are must-haves in every man's shoe closet.
These signature perforations on Brogues are originally a functional feature that allowed the water to drain through when Irish men wore them while crossing swamps and bogs
Full brogues or wing-tipped shoes that have a perforated design emulating the "W letter at its center and around the sides
Semi Brogue or half Brogue comes with perforations on the tip of its toe cap and a lot of decorative brogues at the shoe's center
Quarter brogue is a plain pair of shoes that don't have any of the signature perforations on it
This footwear with an open lacing style doesn't have the tongue as a separate component
Styling Tip:
Be it a waxed jacket of cotton or a tweed blazer with chinos or jeans, the English Brogues are a great choice as a casual footwear
Brown and black Brogues complement formal wear like suits and jackets
Remember, the less broguing on the shoe, the more formal it is
13. Chukka Shoes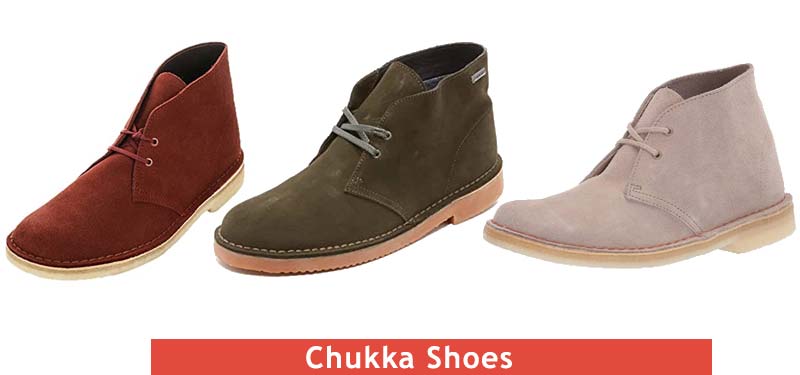 Even though not as formal as brogues, this comfortable pair of dress boot is designed to end at the ankle
This versatile boot flaunts a minimalist design with three to two pairs of lace eyelets and an open lacing system to exude the utmost comfort
The derby-styled ankle high footwear has its roots in the British military owing to its durability and comfortability when used in desert conditions
Chukka boots are available as lined and unlined versions are crafted with polished leather or soft suede
It is available in variations like the plain front, apron, toe cap, full brogue,
Styling Tip:
Chukkas crafted out of polished leather are a great choice for formal suits and trousers
Suede Chukka boots can go well with casual wear outfits and smart casual ensembles
14. Desert Boot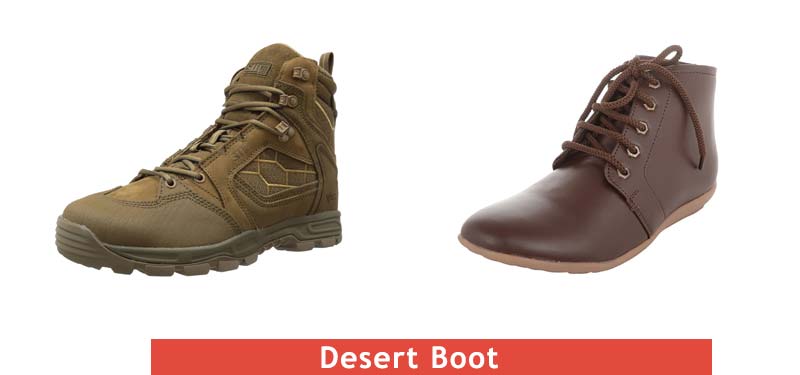 Desert boot has its origin in the North African deserts and has come a long way to find a place in the fashionable streets of London
This shoe with a rich heritage is an essential addition to any man's closet
This comfortable pair of boots are designed with a rubber sole for durability and are crafted using suede leather
Even though Chukkas are designed to bridge the gap between casual and formal dressing, it leans more toward the casual dressing segment
These versatile shoes are available in neutral shades of blue and brown to add versatility and elegance to all outfits
Styling Tip:
From Chinos to denim, this versatile footwear is a practical choice for all trousers
For a relaxed casual style, choose light-colored Desert boots, and for formal outfits choose dark-colored boots.
15. Monk Strap Shoes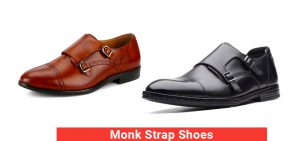 Monk Strap Shoes first originated in the 15th century from Europe. Since then, these shoes have been used by numerous users from monks to the general public.
Today, these shoes are considered savvy dress shoes that are loved by all fashion enthusiasts.
These shoes come in multiple types – single strap, double straps, etc., and can be worn according to personal choices.
Monk strap shoes are known for their versatility as they can go perfectly with both casual and formal wear.
These shoes are built using leather of different types and colors, which makes them comfortable to wear as dress shoes.
Styling Tip:
Monk strap shoes go well with all outfits, like jeans, shorts, suits, and others.
Darker monk strap shoes can go with all outfits over lighter ones.
16. Boat Shoes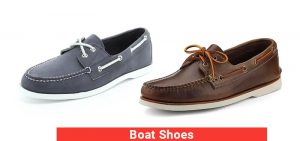 Boat Shoes were designed by Paul Sperry, a sailor, in 1935 and since then these shoes have gained immense popularity worldwide and are used in cities as well as college campuses.
These shoes are comfortable and easy to wear due to their lightweight design and rubber sole.
As these shoes come with lower sides, they can be worn without socks and provide natural ventilation for feet.
These shoes are designed to be worn in summer and warmer climates.
Boat Shoes are perfect for casual wear, like jeans, khakis, shorts, and can also be worn with blazers.
Styling Tips
Boat Shoes can be worn with all types of chinos and jeans.
As they are made from leather, wear boat shoes for 1 hour daily so that they get enough time to break them in.
17. Espadrilles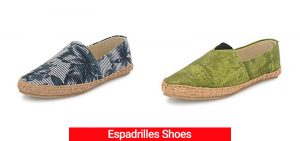 With a history stretching back to the 14th century, it is evident that Espadrilles Shoes remain an iconic choice for fashion-conscious individuals.
One classic design feature of these shoes is their rope-soled outsoles fashioned from jute fabric.
Combined with styles such as flats and wedges, they bring effortless sophistication to any ensemble.
Given their breathability and comfort even in hot weather conditions – perfect for transitioning into spring or summer months – they truly deserve recognition as essential pieces of footwear.
Styling Tips
Espadrilles can be worn with denim jeans, shorts, etc.
These shoes will go perfectly with light t-shirts and shirts of various colors. And, they can be worn without socks as well.
18. Moccasins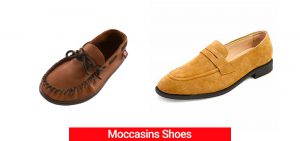 Moccasins have been an integral part of Native American culture for centuries, with the earliest examples believed to have arrived in America from Asia.
The word 'Moccasin' comes from the language Powhatan, which is distinct from the Algonquian people.
Their popularity has partly been attributed to their versatility, as these shoes can be worn for both formal and casual occasions and look great with almost any outfit.
These shoes can be divided into two categories: hard-soled and soft-soled.
Mainly, Moccasin shoes are made from leather which helps them last longer.
Styling Tips
Moccasins shoes can go with shorts, colored skinny jeans, formal dresses/suits, etc.
Always go for colors that will suit your outfit and personality; blue, brown, and maroon-colored Moccasins are considered instant hits.
19. Saddle Shoes
Saddle Shoes were first introduced in the 1900s by shoe designer AG Spalding.
Originally, these shoes were designed for sports purposes.
They are named after a leather piece that has a shape of a saddle and are constructed of leather to last longer.
Most frequent color combination of these Saddle Shoes are black and white or dark blue and white.
Today these shoes are famous among all youngsters and golfers as well.
Styling Tips
These shoes go better with single-colored jeans, chinos, etc., and casual trousers, jackets, etc.
Saddle shoes can be worn all season according to the color of the dress.
20. Snow Boots
Various archaeologists have discovered that the early styles of snow boots were used in ancient iceman eras. However, these shoes were formerly known as carriage boots and were worn in 1860s.
Over the years, these snow boots have seen various changes in design. In the late 1930s, they came with fur, shearling, or a soft cloth along with a collar.
Snow boots are meant for those people who spend more time in snow and wet areas.
Generally, snow boots are made from leather or a mixture of leather and nylon to get protected in wet conditions.
These shoes are waterproof in nature and have a rubber bottom.
Styling Tips
Snow Boots can be worn with short sleeve shirts and navy jeans
They can also go perfect with jeans and overcoats
21. Hiking Boots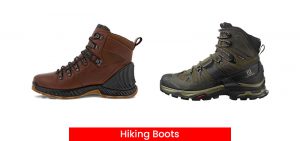 Since the early 1900s, Hiking Boots have been evolving and upgrading to meet adventurers' needs. One of the most impactful releases was in 1937 when Vibram Sole came into existence – allowing even greater comfort and security on treacherous trails.
Originally, they were made from leather, however, today a variety of materials are used to manufacture them including synthetic fabrics and waterproof membranes.
Hiking Boots are popular as they are designed to provide stability, support, and protection to customers' feet and ankles. They help in preventing injuries from rocks, etc., by featuring high-cut uppers, padded collars, and reinforced toe caps.
They are comfortable to wear for a longer time and fit well for most customers. Also, features like waterproofing, breathability, and traction are available in almost all hiking boots.
These boots are available in various styles, and they must be chosen according to the hiking terrain.
Styling Tips
During summer, hiking boots will go perfectly with a colorful tartan twilled shirt and shorts.
It is also cool to wear hiking boots with a vibrant sweater and a pair of corduroy in winter.
22. Casual Slip-On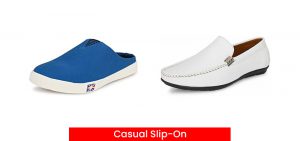 Casual slip-on shoes were introduced in the early 20th century. They were originally made of leather but now materials like canvas, suede, and synthetic fabrics are used to manufacture them.
"Loafer" was one of the earliest and most famous slip-on shoes that was introduced in 1930s. They were first designed as a casual shoe for men but gradually they became popular among both men and women.
Casual slip-on shoes are specifically designed for convenience and comfort of the customer. These shoes have flexible soles, stretchy uppers, cushioned footbeds, etc., making them easy to wear and take off.
These types of shoes are very versatile in nature as they can be worn with a variety of outfits.
Styling Tips
Casual slip-on shoes are particularly best for casual looks, like jeans and t-shirts. But they can also be worn with chinos and button-down shirts.
They can also be worn with formal outfits with simple and minimalistic colors.
23. Active Sneakers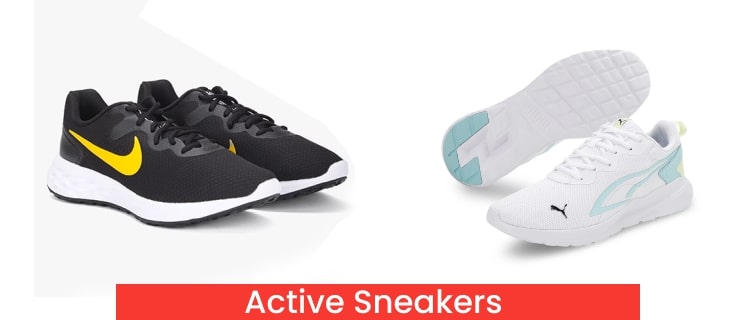 Active sneakers are the go-to footwear for anyone who wants to look good and feel good while staying active.
Whether you're hitting the gym, going for a run, or just running errands, active sneakers provide the support, cushioning, and style you need to keep moving.
With their breathable materials, durable construction, and trendy designs, active sneakers are a must-have for any modern-day athlete.
The upper part of the shoe is usually made of breathable mesh or synthetic materials, which allows for ventilation and helps to prevent moisture buildup.
Styling Tips
Try pairing your active sneakers with casual outfits for a sporty, effortless look. For example, you could wear them with leggings and a sweatshirt for a comfortable and stylish outfit that's perfect for running errands or grabbing coffee with friends.
Don't be afraid to mix and match different styles of active sneakers with different types of athletic wear. For example, you could pair colorful, trendy sneakers with classic black workout leggings, or you could mix and match patterns and colors for a bold and fun look.
24. Double Monks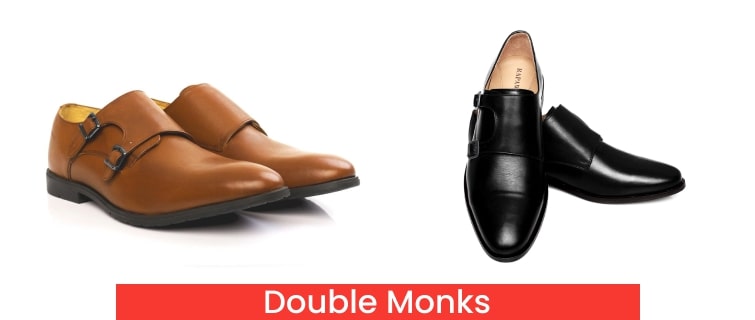 Double monks are the ultimate in style and sophistication when it comes to men's dress shoes.
With their unique double-buckle design, they add a touch of flair and individuality to any outfit. But double monks aren't just about looks they're also incredibly versatile and practical. They can be dressed up or down, worn with suits or jeans, and even paired with shorts in the summertime.
With their high-quality leather construction and durable design, they're sure to last for years to come.
Double monks typically have a low heel and a sleek, streamlined design that is perfect for formal occasions.
Some also feature decorative perforations or brogueing on the toe cap or along the sides of the shoe, adding an extra layer of sophistication to the design.
Styling Tips
Pair your double monks with a suit for a sophisticated and polished look. The sleek, streamlined design of the shoes pair perfectly with the clean lines of a suit, and the double-buckle design adds a touch of personality to an otherwise formal outfit.
Dress down your double monks by pairing them with jeans or chinos. The combination of dressy shoes and casual pants creates a cool, relaxed vibe that's perfect for more casual occasions.
Things to Consider Before Buying Shoes for Men
Know Your Foot Type: Understanding your foot type is fundamental. Different types of shoes for men's feet, like flat arches or high arches, require specific support. Consult a podiatrist or use in-store tools to determine your foot type before shopping.
Occasion Matters: Consider the purpose of your shoes. Are they for formal events, casual outings, or sports activities? Different occasions call for various styles. Classic dress shoes for formal events, sneakers for casual wear, and athletic shoes for sports are common choices.
Shoe Material: The material impacts durability and comfort. Leather is timeless and versatile, while breathable mesh is ideal for athletic shoes. Choose materials that suit your intended use and climate.
Size and Fit: Ill-fitting shoes can lead to discomfort and foot problems. Always measure your feet to find the right size, and remember that sizes can vary between brands. Don't forget to consider width as well.
Arch Support: Opt for shoes that offer adequate arch support, especially if you have flat or high arches. Proper support can prevent foot fatigue and discomfort.
Consider Your Wardrobe: Your shoes should complement your clothing. Neutral-colored shoes like black, brown, or white are versatile and pair well with various outfits. Ensure your footwear matches your wardrobe's style.
Quality Over Quantity: Invest in well-made shoes from reputable brands. Quality shoes may be more expensive but often last longer and provide better comfort.
Frequently Asked Questions
1. What are the different types of shoes for men?
Men's shoes come in various types, including dress shoes, sneakers, boots, loafers, sandals, and athletic shoes, each suited for different occasions and styles.
2. How do I choose the right shoe size?
Measure your feet accurately using a Brannock device or a ruler. Refer to the brand's size chart and consider width as well for a proper fit.
3. What shoe brands are known for quality and style?
Reputable brands like Nike, Adidas, Clarks, Allen Edmonds, and Cole Haan are recognized for their quality and fashionable footwear.
4. How can I clean and maintain leather shoes?
Wipe off dirt with a damp cloth, condition the leather regularly, and use a shoe tree to maintain shape. Polish and protect with appropriate products.
5. What's the difference between formal and casual shoes?
Formal shoes (e.g., Oxfords) are suitable for dressier occasions, while casual shoes (e.g., sneakers) are more relaxed and comfortable.
6. How do I break in new shoes without discomfort?
Gradually wear new shoes, starting with short periods. Use protective measures like band-aids to prevent blisters.
7. Are there vegan or eco-friendly shoe options for men?
Yes, many brands offer vegan leather or sustainable materials for eco-conscious consumers.
To conclude
Our journey through the world of men's shoes has shown that your choice of footwear is a lot more than just comfort.we hope this exploration of less common but equally important types of men's shoes has broadened your footwear horizons. Beyond the everyday choices, understanding these diverse options adds depth to your style. So, step forward with the confidence of a well-informed shoe connoisseur, and let your feet do the talking, one stylish step at a time