Glowing and healthy skin is every woman's dream. But we can't splurge on ourselves in beauty parlours or indulge in expensive skincare products. This is where face packs for glowing skin come into the picture – they are easy to use, affordable and provide quick results. The Indian market is flooded with many face packs that promise to give you tight, taut, healthy, glowing skin. However, you need to be careful when choosing the best face pack for glowing skin in the market, since it's all about your face.
Glowing skin not only look healthy but also radiates positivity. Radiant skin is on every woman's wishlist, but to achieve it, one needs to put in serious efforts. One needs to have a skincare regime that consists of cleansing, toning and hydrating. You also need to get proper sleep to keep those dark circles away. Fighting acne, blemishes, dark spots, and ageing lines is not easy. Using the right face packs regularly can give you desired results over a period of time. Applying face packs and masks can take care of your skin issues and make you look radiant.
Our Top Picks
15 Best Face Packs & Masks for Glowing Skin In India
We have prepared the below list of best face packs and masks that work effectively. Check it out!
UrbanGabru Charcoal Peel Off Mask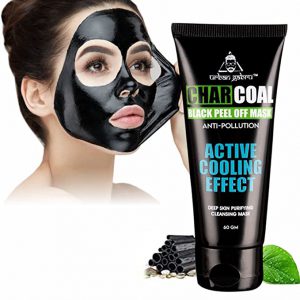 UrbanGabru Charcoal Peel Off Mask deeply cleanses your skin and gives you a refreshing look. It is composed of activated bamboo charcoal that aids in removing dead skin cells. If you are looking for an affordable solution to treat dry and oily skin, then the UrbanGabru charcoal peel-off mask is the best option.
How to apply the UrbanGabru face mask?
First, clean your face with water and use a thick layer of this mask to remove the impurities. Now allow it to settle, dry for 10-15 minutes, peel off completely and wash with water.
Net Quantity: 60 Grams
Suitable For: All Skin Types
Fragrance: Charcoal
Benefits: Whitening, Cleansing, Detoxification, and Nourishing
Biotique Fruit Brightening Tan Removal Face Pack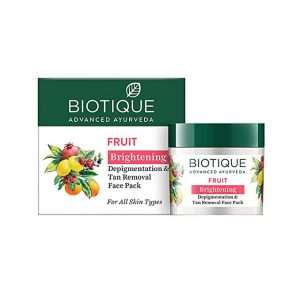 To regain your skin's soft and youthful glow and texture and fight pigmentation and tan, you can use Biotique Bio Fruit Whitening and Depigmentation & Tan Removal Face Pack. Fruits have always been associated with healthy and flawless skin. Biotique brings together pineapple, tomato, lemon, and papaya juice extracts that give you a lighter, visibly fairer, and healthy-looking skin. The dark age spots and blemishes gradually pave the way for smoother, even-toned skin.
Being pure and free of chemicals and parabens, this face pack suits all skin types, and regular use makes the skin look radiant, lighter, and healthy. Do you want to give it a try, or looking for more products like face creams, gels, and lotions? Start using the Biotique promotional codes to save your investment.
Net Quantity: 40 ml, 75g, 100 ml, 120 ml, 150 ml, 190 ml
Suitable For: Combination Skin
Fragrance: Apple
Benefits: Helps in maintaining skin tone, lightens and brightens the complexion
Mamaearth Ubtan Face Pack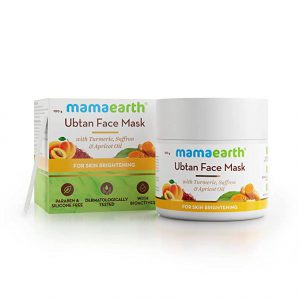 Give yourself a refreshing look with the Mamaearth face mask. This face mask contains natural ingredients like saffron, turmeric, and cucumber to remove tan and make the skin glow. The kokum butter and olive oil extract are known for their moisturising properties. The vitamins and antioxidant properties slow the ageing process and treat skin irritations.
Wash the face with water and let the face dry. Spread a mask layer on the face evenly and allow it to dry for 15 minutes. Now scrub and wash off with lukewarm water. For best results, it is recommended to use twice a week.
Adding up, all the Mamaearth products are carefully tested before releasing into the market. You can get it cheaply using the exclusive Mamaearth deals from GrabOn.
Net Quantity: 100 ml
Suitable For: Combination Skin
Fragrance: Apricot
Benefits: Skin moisturising and lightening
INDUS VALLEY Organic Sandalwood Powder Face Pack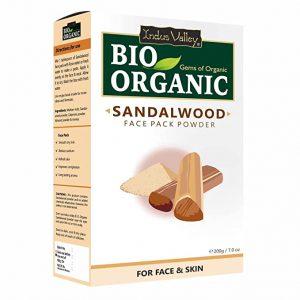 Indus Valley is a famous brand that offers a wide range of products like essential oils, hair colours, and more. The face pack is one among them that is made of chemical-free ingredients to give you a radiant look.
This product effectively removes dead cells, dirt, and pollutants from your skin. When applied as a face mask, it treats sunburns, scars, dark spots, and blemishes due to contents like Multani mitti, calamine, and almond powder. Hence, we have listed among the best organic face packs for women.
Net Quantity: 100 Grams, 200 Grams
Suitable For: Dry, Normal, and Sensitive Skin
Fragrance: Sandalwood
Benefits: Helps for skin brightening, inflammation, wrinkles, and pigmentation
WOW Skin Science Vitamin C Glow Clay Face Mask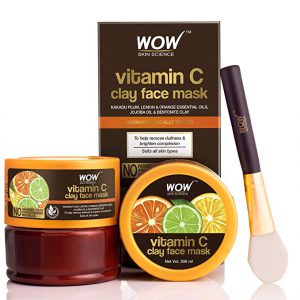 Add Wow Skin Science face pack to your daily routine as it is enriched with Kakadu Plum, Jojoba oil, Lemon, and Orange, without using harsh additives. All of these ingredients promote even skin tone and protect from UV rays and texture.
This product helps to restore moisture levels and removes patchy complexion to give your skin a luminous glow. What are you waiting for? Clean your face thoroughly with water and apply a layer of vitamin C face pack by avoiding the eyes, lips, and hairline. Now rinse with lukewarm water to achieve bright skin.
Unlike other brands, start using Wow coupon codes on the payment checkout page, i.e., after adding items to the cart, to cut down the expenses on your favourite beauty and skincare products.
Net Quantity: 200 ml
Suitable For: Dry, Oily, and Combination Skin
Fragrance: Orange and Lemon
Benefits: Refine pores, reduce excess sebum, and skin nourishment
Bella Vita Organic De Tan Removal Face Pack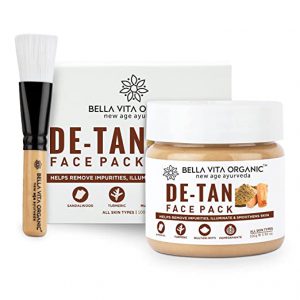 Bella Vita is a brand offering ayurvedic and natural skin care products for all age groups. This product is made using bentonite clay, apricot oil, clove oil, grapefruit, sandal, turmeric, Multani mitti, and pomegranate extracts to remove sun tan, blemishes, and pigmentation.
This product's natural ingredients make it stand out from its competitors. This beauty product for men and women is available at pocket-friendly prices that can be added to the daily routine. Want to get some exciting offers? Take a sneak peek into the Bella Vita Organic coupons to cut overall expenses.
Net Quantity: 100 Grams
Suitable For: All Skin Types
Fragrance: Grapefruit, Sandalwood, and Aloe Vera
Benefits: Brightening Skin, Cleansing, Exfoliating, and Dehydrating
Lotus Herbals White Glow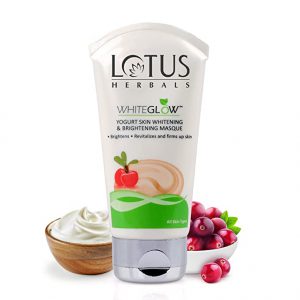 Lotus Herbals is India's leading skincare and beauty products store that has a vast collection of suitable for all skin types. The company curates all its products from natural herbs without adding any synthetic ingredients. It is best at cleansing, disinfecting pores, and removing dead flakes to give you an attractive look.
Adding up, it is composed of nutrient-rich formula to lighten the skin tone by eliminating the dark spots. It is available at reasonable prices. However, if you do not wish to spend more, grab the hottest deals from Lotus Herbals store from GrabOn to get these face packs at a discounted price while shopping at this store.
Net Quantity: 80 Grams
Suitable For: Dry, Oily, Dull, Combination
Fragrance: Yoghourt and Blackberry
Benefits: Whitening, prevents acne, disinfecting pores, and moisturising
Garnier Moisture Bomb Face Mask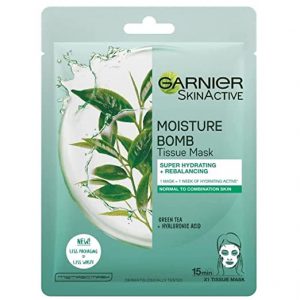 Garnier, one of the best face packs for glowing skin in India is loaded with green tea and hyaluronic acid to keep the skin tone even and nourishing. The presence of vitamin C extracts minimises the dark spots and revitalises the skin in a couple of minutes. Winding up, the Garnier face mask gives your face skin enough nourishment to look stunning while attending parties or other special occasions.
Do you want to get some discounts? Grab your desired face pack today by availing of the promotional offers from Garnier store. This will help you save even more when purchased in bulk.
Suitable For: Combination Skin
Fragrance: Green Tea
Benefits: Suitable for combination skin and offers a fresh look

O3+ D-Tan Pack for Instant Tan Removal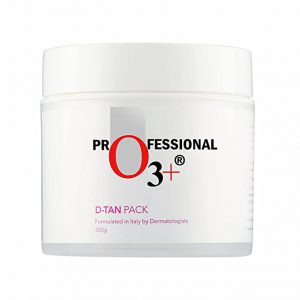 O3+ has emerged as a leading skincare brand in India with its high-quality skin care products. O3+ D-Tan Pack brightens and lightens skin instantly, thanks to the goodness of stone-crop, mint and eucalyptus oil. Not only does the skin look radiant, but it also gets cleansed from within and feels hydrated and calm. The tan gets instantly removed exposing glowing and fairer skin. The skin feels nourished and glows from within.
It suits all skin types and is a great product for people looking to get instant results. Although slightly expensive, it does deliver what it promises.
Net Quantity: 75 Grams, 100 Grams
Suitable For: Combination Skin
Benefits: Helps in Tan removal, skin whitening
Plum Green Tea Clear Face Mask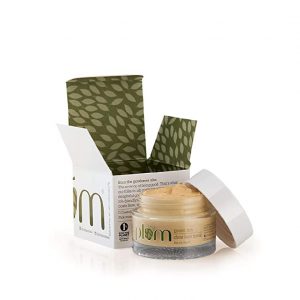 Are you experiencing oily skin and looking for a one-stop solution to cure it? Give it a try with the Plum green tea face mask. It is India's popular beauty and cosmetics brand that aids in improving skin texture.
This FDA-approved face mask is formulated with essential ingredients like bentonite, green tea leaf extract, cetearyl, ethylhexylglycerin, glyceryl stearate, glycolic acid, kaolin, and phenoxyethanol. What we liked most about this product is free of paraben, phthalates, SLS, and other chemicals.
Net Quantity: 60 Grams, 100 Grams, 200 ml
Suitable For: Oily Skin
Fragrance: Green Tea
Benefits: Treats oily and combination skin, acne, and clogged pores
Good Vibes Papaya Glow Face Mask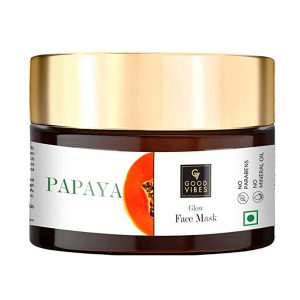 Good Vibes is India's largest natural beauty and skincare brand that provides extensive collections of serums, face wash, toners, shampoos, body washes, and more. The Good Vibes face pack is one of its popular collections as it is made of Papaya ingredient that has myriad benefits.
This readymade face mask for glowing skin is free from parabens, mineral oil, and sulphates. "How to use it?" is your major concern, read on. Apply this papaya face mask and spread it evenly. Now allow it to dry for 15 to 20 minutes and then wipe out with lukewarm water in a circular motion.
Net Quantity: 50 Grams, 100 Grams, 250 Grams
Suitable For: Oily, Combination, Dry, Normal
Fragrance: Papaya
Benefits: Soothing, Hydrating, and Rejuvenating
Aroma Magic Anti Pigmentation Glossy Pack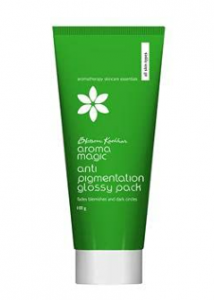 If blemishes are letting your skin down, then you would love the special formulation of Aroma Magic Anti Pigmentation Glossy Face Pack. Packed with the goodness of natural active extracts of clove, nutmeg, manjistha, blackberry leaf, and pennywort, it helps to get rid of hyperpigmentation, skin discolouration, age spots, acne scars and dark circles. The skin gets moisturised and feels soft, thanks to the essential oils of lemongrass, jojoba, and ginger.
Free of parabens and chemicals, this face pack is especially useful if you are fighting pigmentation and are looking to get a clearer complexion with a healthy shine.
Net Quantity: 100 Grams, 200 Grams
Suitable For: All Skin Types
Fragrance: Lemongrass, Jojoba, Ginger
Benefits: Anti pigmentation cream
Glowpink DeTan Face Pack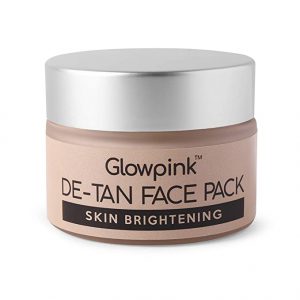 Glowpink is one of the best face packs for whitening and glowing skin due to its advanced natural formulation to remove tan. It is formulated with licorice, aloe vera, orange peel, Multani mitti, and glycerin to brighten the skin. Moreover, this face pack is free from paraben, silicone, and sulphates, so it will not clog the skin pores. To get some additional discounts online, do make use of the latest beauty coupons, which are worth it.
Net Quantity: 50 Grams
Suitable For: All Skin Types
Fragrance: Orange
Benefits: Deters harmful contaminants and removes dead cells
Himalaya Herbals Fairness Kesar Face Pack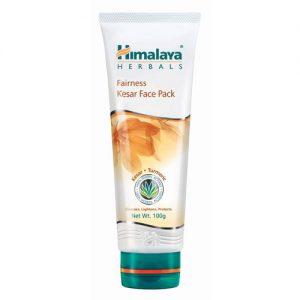 The Himalaya Kesar face pack is infused with turmeric that is rich in anti-inflammatory properties to soothe the skin tone and complexion. And walnut, and aloe vera extracts contain acidic properties that kill the bacteria effectively and heal the skin quickly.
Whether you are a man or woman, do make use of this amazing Himalaya herbals face pack for combination skin for better results. What if we say that you can get some exciting discounts? Yes, you heard it right! All you have to do is head to the GrabOn site and look for the doorbuster deals from the Himalaya brand.
Net Quantity: 100 Grams
Suitable For: Dry and Oily Skin
Fragrance: Aloe Vera
Benefits: Hydrating, moisturising, and natural glow
VLCC Anti Tan Skin Lightening Face Wash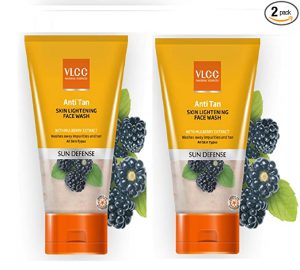 In a tropical country like India, it is impossible not to let the skin face the fierce sun. Sun-exposed skin looks dull, dark, aged and tanned. VLCC's Clear Tan Fruit Face pack works wonders for sun-exposed skin by clearing the skin off deep-seated impurities and tan. The extracts of cucumber, mulberry, pineapple, and several other Ayurvedic herbs reduce the effects of sun damage. Age spots and fine lines also get reduced by regularly using this face pack.
Paraben-free, the face pack also lightens the complexion, makes it supple and leaves it glowing.
Net Quantity: 150ml x 2
Suitable For: Dry and Oily Skin Types
Fragrance: Mulberry
Benefits: Used for Tan Removal, & Skin Lightening
Face Pack Buying Guide
What to Look for While Buying a Face Pack?
When looking for the right face pack, you want to look for one that complements your skin type. If you have Dry Skin, avoid powder-based face packs. Instead, go for one that is creamy. You should look for packs made of hydrating ingredients, such as Multani Mitti, Sandalwood, and Aloe Vera.
If you are struggling with Acne, Cucumber-based face packs are a safe bet. Similarly, Neem works like magic on pimples.
Keep in mind that your face pack should be completely fragrance-free if you have sensitive skin. Fragrances (and even Essential Oils) can irritate the skin. Instead, look for ingredients such as Glycerin and Chamomile, which will not only soothe the skin but will also reduce inflammation.
For oily skin, a key ingredient to look for is Sulphur. It is also a good idea to try Clay Masks and masks that contain Citric Acid. These will help balance out the excess oils in your skin.
If you are looking for a mask that helps you prevent skin-ageing and remove wrinkles, opt for a Thermo Herb facial mask. These use natural ingredients to drive all signs of ageing away. They rejuvenate the skin, diminish fine wrinkles, and leave your skin tighter and radiant.
History of Face Packs
There are very conflicting views on where the first face pack originated from. But three countries are widely recognized as the birth fathers of the 'face glove' mask that today fills our cosmetic shelves. These are:
England: Up until the 18th century, women in Victorian England used toxic mixtures of lead and vinegar on their faces to achieve a pale complexion. It was then in the 19th century that Madame Rowley's face mask hit the markets. It is known to be the first-ever sheet mask to have been sold commercially.
Egypt: Ancient Egypt is known widely for the writing papyrus sheets, black ink, and calendar clocks that it gave to the world. But it is not credited enough for the invention of clay face masks. Yes, we aren't making this up. Ever wondered what was the secret behind Cleopatra's glowing skin? A face mask made out of Dead Sea mud!
India: Ayurvedic masks have been around for 5000 years now. From Haldi masks to Ubtan masks, Ayurveda primarily focused on plant-based ingredients like roots, fruits, herbs, and flowers, making India the father of natural skincare.
Use of Face Packs
Skin cleansing
Removing dark spots and acne
Anti-ageing benefits
Relaxation and hydration
Absorbing excess oils
Conclusion
Wrapping up, no matter what your skin type is, there are always dermatologically tested face packs readily available in the online market to give your skin a glowy look. The above list, backed by our strong research is sure to help you make a better decision. Further, if you have any queries, feel free to reach out through comments. Thanks for reading!!!