Glowing and healthy skin is every woman's dream. But it is not possible for all of us to splurge on ourselves in beauty parlors or indulge expensive skincare products. This is where face packs for glowing skin come into the picture – they are easy to use, affordable and provide quick results. The Indian market is flooded with many face packs that promise to give you tight, taut, healthy and glowing skin. However, you need to careful when choosing the best face pack for glowing skin in the market, since it's all about your face.
Glowing skin does not only look healthy but also radiates positivity. Radiant skin is on every woman's wishlist, but to achieve it, one needs to put in serious efforts. One needs to have a skincare regime that comprises of cleansing, toning and hydrating. You also need to get proper sleep to keep those dark circles away. Fighting acne, blemishes, dark spots, aging lines is not easy. Using the right face packs regularly can give you desired results over a period of time. Applying face packs and face masks can take care of your skin issues and you can look radiant.
So do you wish to know about the best face packs for glowing skin in the market? Well, we have prepared the below list of best face packs and face masks that work effectively.
Have a Look at 10 Best Face Packs & Masks for Glowing Skin in India for 2019
1. VLCC Clear Tan Fruit Face Pack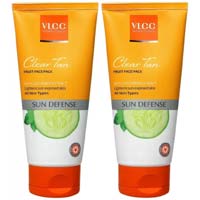 In a tropical country like India, it is impossible not to let the skin face the fierce sun. Sun exposed skin looks dull, dark, aged and tanned. For sun-exposed skin, VLCC's Clear Tan Fruit Face pack works wonders by clearing the skin off deep-seated impurities and tan. The extracts of cucumber, mulberry, pineapple, and several other Ayurvedic herbs reduce the effects of sun damage. Age spots and fine lines also get reduced by regularly using this face pack.
Paraben-free, the face pack also lightens the complexion, makes it supple and leaves it glowing.
Price: Rs. 198
Weight: 150ml x 2
Discount: Rs. 200
Features: Used for Tan Removal, & Skin Lightening
2. Khadi Neem, Basil and Mint Anti-acne Face Mask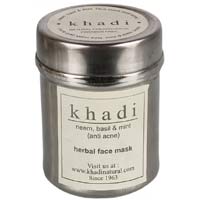 Since ages, neem, tulsi, and mint have been used to treat skin problems ranging from acne and pimples to lose and sagging skin that looks aged. Khadi Naturals brings together all these powerful ingredients in a face pack with the goodness of Ayurveda to fight pimples, wrinkles, dull and loose skin, blemishes and signs of aging.
You can feel your skin feeling fresh and clear after using this face pack. Regular use will make your skin acne free, tight and youthful.
Price: Rs. 145
Weight: 50g
Discount: Rs. 0
Features: Anti Acne Face Mask
3. Aroma Magic Anti Pigmentation Glossy Pack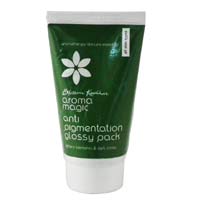 If blemishes are letting your skin down, then you would love the special formulation of Aroma Magic Anti Pigmentation Glossy Face Pack. Packed with the goodness of natural active extracts of clove, nutmeg, majistha, blackberry leaf, and pennywort, it helps to get rid of hyperpigmentation, skin discoloration, age spots, acne scars and dark circles. The skin gets moisturized and feels soft, thanks to the essential oils of lemongrass, jojoba, and ginger.
Free of parabens and chemicals, this face pack is especially useful if you are fighting pigmentation and are looking to get clearer complexion with a healthy shine.
Price: Rs. 410
Weight: 100g
Discount: Rs. 102
Features: Anti pigmentation cream
4. Biotique Bio Fruit Whitening and Depigmentation & Tan Removal Face Pack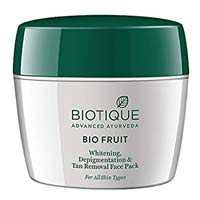 To regain your skin's soft and youthful glow and texture and fight pigmentation and tan, you can use Biotique Bio Fruit Whitening and Depigmentation & Tan Removal Face Pack. Fruits have always been associated with healthy and flawless skin. Biotique brings together juice extracts of pineapple, tomato, lemon and papaya that give you a lighter, visibly fairer and healthy-looking skin. The dark age spots and blemishes gradually pave way for smoother, even-toned skin.
Being pure and free of chemicals and parabens, this face pack suits all skin types and regular use make the skin look radiant, lighter and healthy.
Price: Rs. 199
Weight: 75g
Discount: Rs. 60
Features: Helps in maintaining skin tone, lightens and brightens the complexion
5. Oriflame Love Nature Creme Mask Wild Rose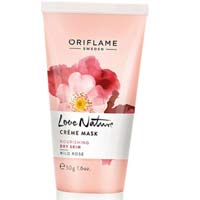 Dehydrated dry skin not only attracts more skin problems but also feels itchy and tight. The Oriflame Love Nature Creme Mask Wild Rose is a crème mask specifically formulated to moisturize dehydrated skin and nourish it from within. Wild rose extracts soften the skin from within and fight the damage caused by dehydration. As the skin gets soothed, it radiates with a velvety soft glow and feels soft and supple.
This face pack is especially suitable if you have dry skin. You might want to use a creme based face pack that provides deep nourishment to your skin and softens it.
6. O3+ D-Tan Pack for Instant Skin Brightening and Lightening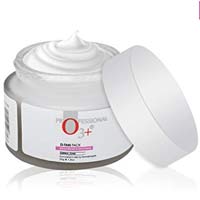 O3+ has emerged as a leading skincare brand in India with its high-quality skin care products. O3+ D-Tan Pack brightens and lightens skin instantly, thanks to the goodness of stone-crop, mint and eucalyptus oil. Not only the skin looks radiant, but it also gets cleansed from within and feels hydrated and calm. The tan gets instantly removed exposing a glowing and fairer skin. The skin feels nourished and glows from within.
It suits all skin types and is a great product for people looking to get instant results. Although slightly expensive, it does deliver what it promises.
Price: Rs. 1,350
Weight: 75g
Discount: Rs. 5
Features: Helps in Tan removal, skin whitening
7. Forest Essentials Facial Ubtan – Narangi and Nagkesar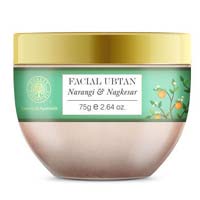 Forest Essentials Facial Ubtan with Narangi and Nagkesar bring the goodness of natural ingredients that are powerful toners. These also have firming properties and are high in antioxidants. This ubtan fights pigmentation, lighten complexion, reduce age spots and tighten the skin exposing a youthful radiance and glow. Premature fine lines slowly fade away with regular use and your skin looks visibly healthier and shinier.
A clarifying blend of fresh sun-dried ingredients, regular use refines the pores, clears the skin tone and gently exfoliates removing impurities from underlying layers of skin.
Price: Rs. 1,025
Weight: 75g
Discount: 5%
Features: Refines pores, clarifies, and lightens skin tone
8. Himalaya Herbals Purifying Neem Pack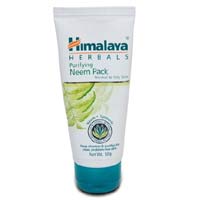 Popular, affordable and effective, Himalaya Herbals Purifying Neem Face Pack is one of the best-selling face packs in India. The medicinal neem along with turmeric and multani mitti become a powerful skin care pack that removes excess oil and dirt cleans clogged pores, fights damage from pollution and reveals a cleaner, brighter face. Multani mitti is known to lighten the complexion and relax the skin, while the turmeric acts as a soothing agent with its anti-bacterial and anti-inflammatory properties. Acne and pimples can also be prevented by regularly using this face pack.
Very economical, Himalaya Herbals Purifying Neem Face Pack should be on your skincare shelf for sure.
Price: Rs. 134
Weight: 100g
Discount: 1%
Features: Eliminates and prevents pimples, and cleanses face
9. L'Occitane Divine Cream Mask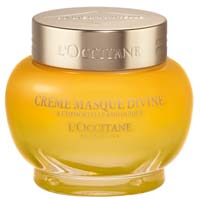 If you are looking for something exquisite for mature skin, then you can try the Divine Cream mask by L'Occitane. Appearance of wrinkles, fine lines, dehydration lines and other signs of aging gradually fades away and the youthful potential is restored. The skin feels intensely nourished and hydrated and radiates from within. Uneven skin tone gradually improves, and you have a skin that looks younger, glowing and free of age spots.
Although a premium face pack, the luxury beauty brand is renowned to bring immediate and supreme comfort to damaged, mature skin. It is a high-end skin care product, but you don't really need a lot for a single application.
Price: Rs. 8,950
Weight: 60ml
10. Lotus Herbals Tea Tree Clarifying Face Pack
Age spots, acne, pimples, blemishes, dull and dry skin – all these skin problems can be taken care of by regular use of Lotus Herbals Tea Tree Clarifying Face Pack. Tea Tree is known to have anti-inflammatory and antimicrobial properties that soothe all skin issues. The face pack removes tan, clears complexion, fights clogged pores, clears breakouts, and soothes acne. Excess oil and dirt get washed away and all that is left behind is clarified healthy and radiant skin.
The skin feels instantly refreshed and revitalized and glows with a shine.
Price: Rs. 345
Weight: 120g
Discount: 25%
Features: Antibacterial, Anti-acne, Anti-microbial, & antioxidant
Regular use of face packs is a must for healthy and glowing skin. Apart from regular cleansing-toning-moisturizing routine, you should also have a schedule for applying face packs so that dead skin cells get replenished. It also helps to make skin look healthy from within. Although there are no shortcuts to get healthy and glowing skin, we hope the above list of best face packs available in India will help you get rid of your skin problems and you glow with radiance.
Face Pack Buying Guide
What to Look for While Buying a Face Pack?
When looking for the right face pack, you want to look for one that complements your skin type. If you have Dry Skin, avoid powder-based face packs. Instead, go for one that is creamy. You should look for packs made of hydrating ingredients, such as Multani Mitti, Sandalwood, and Aloe Vera.
If you are struggling with Acne, Cucumber-based face packs are a safe bet. Similarly, Neem works like magic on pimples.
Keep in mind that your face pack should be completely fragrance-free if you have sensitive skin. Fragrances (and even Essential Oils) can irritate the skin. Instead, look for ingredients such as Glycerin and Chamomile, which will not only soothe the skin but will also reduce inflammation.
For oily skin, a key ingredient to look for is Sulfur. It is also a good idea to try Clay Masks and masks that contain Citric Acid. These will help balance out the excess oils in your skin.
If you are looking for a mask that helps you prevent skin-ageing and remove wrinkles, opt for a Thermo Herb facial mask. These use natural ingredients to drive all signs of ageing away. They rejuvenate the skin, diminish fine wrinkles, and leave your skin tighter and radiant.
History of Face Packs
There are very conflicting views on where the first face pack originated from. But three countries are widely recognized as the birth fathers of the 'face glove' mask that today fills our cosmetic shelves. These are:
England: Up until the 18th century, women in Victorian England used toxic mixtures of lead and vinegar on their face to achieve a pale complexion. It was then in the 19th century that Madame Rowley's face mask hit the markets. It is known to be the first-ever sheet mask to have been sold commercially.
Egypt: Ancient Egypt is known widely for the writing papyrus sheets, black ink, and calendar clocks that it gave to the world. But what it is not credited enough for is the invention of clay face masks. Yes, we aren't making this up. Ever wondered what was the secret behind Cleopatra's glowing skin? A face mask made out of Dead Sea mud!
India: Ayurvedic masks have been around for 5000 years now. From Haldi masks to Ubtan masks, Ayurveda primarily focused on plant-based ingredients like roots, fruits, herbs, and flowers, making India the father of natural skincare.
Use of Face Packs
Skin cleansing
Removing dark spots and acne
Anti-ageing benefits
Relaxation and hydration
Absorbing excess oils