Be it your office or home, many things have to be fitted on the ceilings, walls or doors, such as a painting, a wall hanging or a cupboard, which requires you to use a drilling machine. This powerful tool is a versatile addition to your toolkit, as it has a vital role to play in any repair work, home improvement task or DIY project. These drilling tools come in various sizes, types, and models to cater to different needs.
Utilizing a handy drilling tool for any project will offer a professional look while making it a sturdy and reliable one. You can find a number of brands offering drilling machines in the market with loads of features and at an affordable budget. However, choosing the right one will only help you complete the work quickly. So, we have created a list of best 10 drilling machines in India to help you understand about each product before buying one.
Top 10 Drilling Machines In India For 2022
Last update was on: January 27, 2022 9:38 pm
Black & Decker KR554RE Reversible Hammer Drill Machine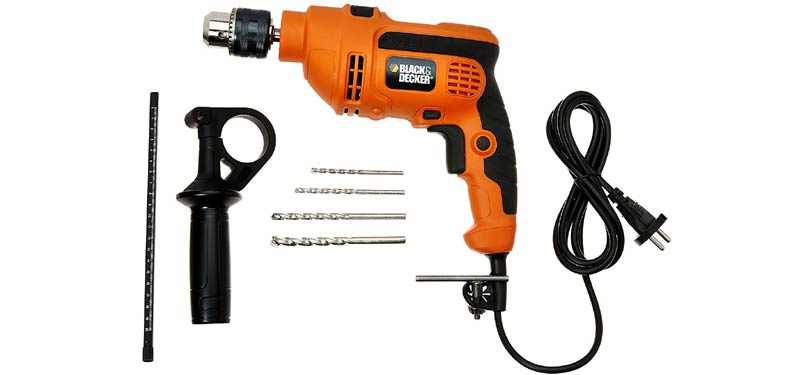 The Black & Decker corded drill machine operates with 550-watt power and has an ergonomic design that includes a side handle with rubberized grip to lower arm strain.
This product has a dual mode of operation, such as drilling and hammering to complete any tasks easily by inducing hammering action while drilling on concrete surfaces.
This drilling tool is equipped with forward as well as reverse drilling functions to drill into metal and wooden surfaces effortlessly.
The 13 mm chuck key made from the durable metal of this drill tool help in loosening up and tightening the drill bits.
It has a lock on the facility to lock the operational speed of the drill and the variable speed feature helps you change the speed easily.
Black & Decker KR504RE 10mm Keyed VSR RBS Drill Machine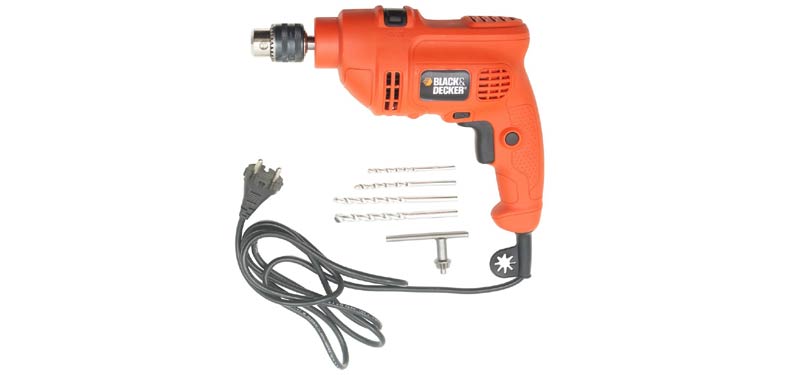 The Black & Decker drilling machine is a powerful tool that can operate with a power of 500 watts to help you complete those home improvement tasks swiftly.
This drilling tool has a sturdy keyed chuck of 10 mm that makes it an apt choice for drilling activities on an array of surface materials, such as plastic, wood, metal, and masonry.
This handheld drill machine is designed to perform dual operations like hammering on tough surfaces and drilling on smooth surfaces perfectly.
The special lock-on button is located near the handgrip for easy operation.
The variable speed feature of this corded drill machine provides excellent control while driving screws on walls.
Bosch GSB 600 RE 13mm Smart Drill Kit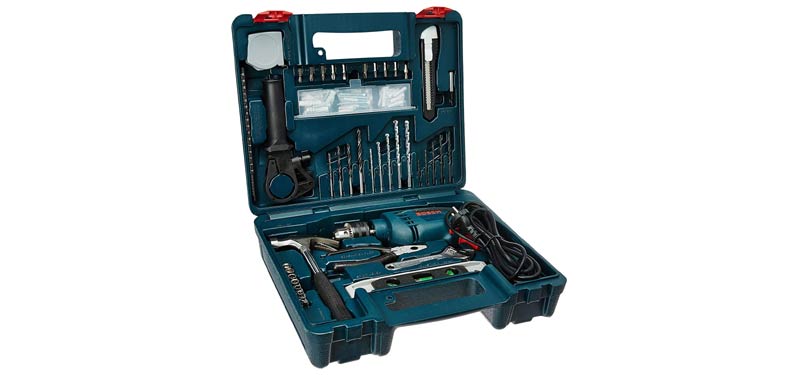 The Bosch smart drill machine is an all-in-one product that can help you handle both the home repairs and professional projects with ease.
It houses a powerful motor of 600 Watts to perform several tasks like screwing, drilling and unscrewing.
This high impact drill can accomplish hammering tasks by producing 44800 blows every minute on plastic, concrete, wood or metal.
It is designed with a detachable handle with a soft grip and can drill perforated holes with up to 20 mm on wooden surfaces and 13 mm on concrete walls.
This drill also has a screw driving mode, thanks to its rotary brush plate that facilitates reverse and forward function.
Black & Decker HD400IN 10mm Hammer Drill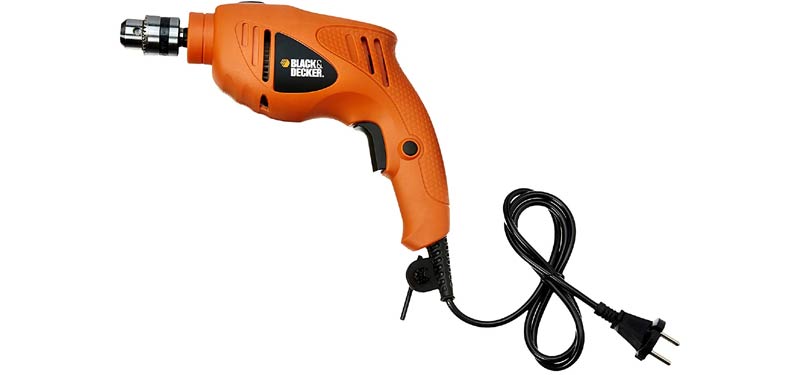 Be it hanging photos on the wall, putting in shelves in the kitchen or repair works, the Black & Decker drilling tool can handle it all.
The drill tool has an efficient hammer mechanism that lets it perform with up to 45000 beats each minute on concrete and brick wall surfaces.
This drill machine is designed with a unique two-finger trigger to use it comfortably and the lock on facility helps in setting a specific speed for the entire task.
Using this drilling tool with a 10 mm chuck, you can drill 100 on masonry and steel and 20 mm on wooden walls.
The side grills on the drill exhibit an efficient cooling system.
CAMEL BRAND 13 mm Reversible Drill Machine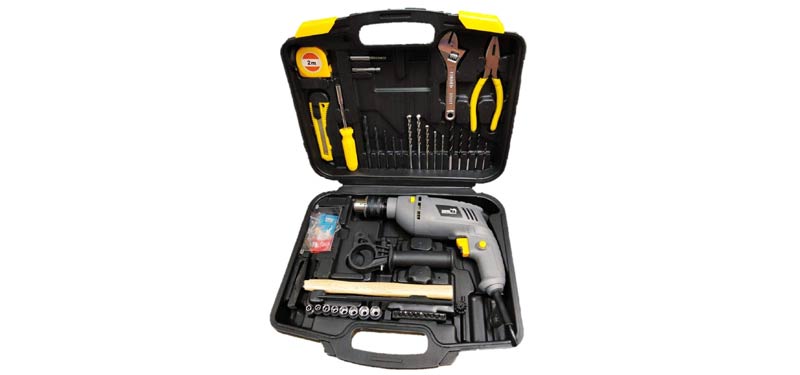 The Camel compact drill machine is a versatile device that can take care of all mid-sized tasks like drilling on plasterboard, concrete, plastic, wood or metal, home repair or full-fledged furniture assembly.
This drilling machine is specifically designed to produce hammering action with up to 45000 beats each minute to drill quickly into hard surfaces.
The drill kit is offered in a sturdy plastic box to hold all the tools and 100 accessories in a compact fashion and it includes an adjustable knife, wrench, socket wrench, etc.
This drill tool kit comes with a set of wood bit set, masonry drill bits, screwdriver bits, and metal drill bits.
Bosch GSB RE Drill Kit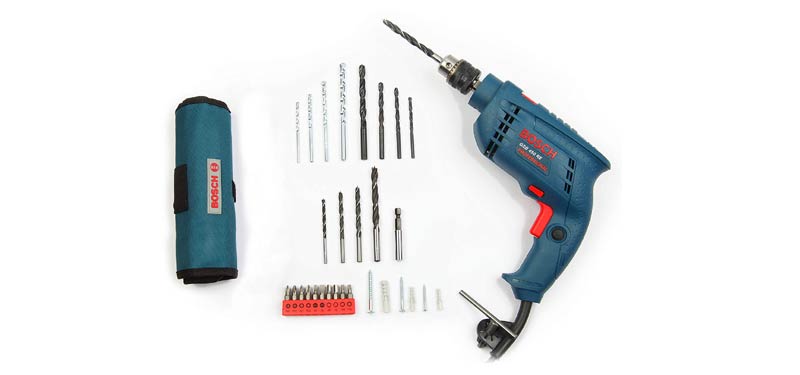 The market leader of the power tools arena, Bosch offers this drilling machine to drive screws and drill holes on concrete, wood and metal surfaces at the speed of 2600 rpm per minute.
The portable and lightweight design of this drilling tool with a keyed chuck system help you perform all tasks using reverse mode and forward mode easily.
This drill machine delivers optimum performance with 450 Watts power with up to 41600 bpm impact rate to drill holes on wood at 20 mm, concrete at 10 mm and metal at 8 mm.
The reverse screwdriver option helps you remove the bolts, nails, and screws from different surface areas.
Generic SK1308 10 mm Drill Machine Toolkit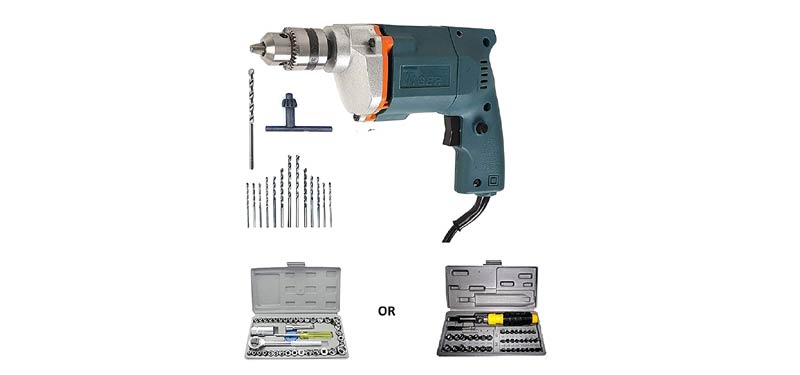 The Generic drilling machine is a perfect choice to take care of your professional and personal drilling needs, as the handy tool kit is crafted out of durable steel and plastic to hold the insert bits perfectly.
This tool kit consists of 41 pieces including drill bits, screwdriver, etc., which are arranged neatly in the compact storage box of plastic.
This semi-metal drilling tool is an apt choice for drilling holes on different surfaces like wood, metal, plastic and so on.
This drill machine toolkit weighs just 1.95 kgs and the drill machine has ventilation at its side for keeping it cool while drilling.
Prithvi / Accord Drill Machine with 2 Drill Kits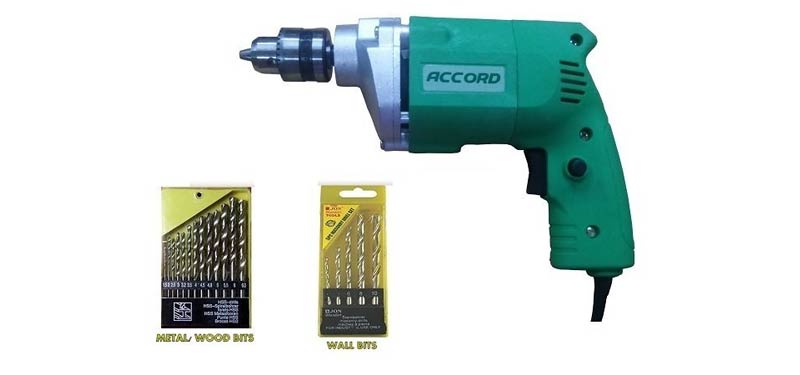 This powerful drill machine is an apt choice to fulfill all your needs related to home repair and DIY projects, as it has a sturdy built body made from metal and fiber to assure durable service.
This tool kit comprises of an efficient lightweight corded drill machine in green along with two drill kits in metal to drill holes on wood, metal as well as walls.
It is designed to perform drilling at top speed with 300 watts power and can make perforated drill holes at 10 mm.
It houses a powerful motor to perform drilling activities at 2600 rpm and this portable device weighs just 1.57 kgs.
Black & Decker CD121K50 12V Cordless Drill Kit with 50 pieces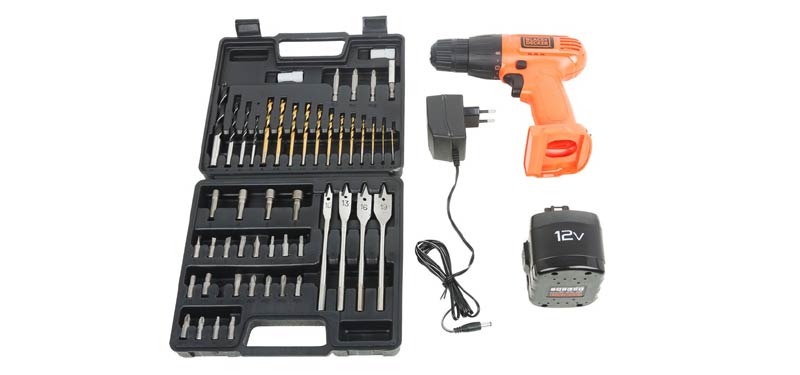 The CD121K50 cordless drill kit offered by the pioneer, Black & Decker is a versatile product that can meet the requirements of almost all applications right from plumbing to building furniture.
This chargeable drill machine tool kit consists of 50 accessories, such as a two-sided screwdriver, screwdriver bits of 25 mm, top speed drill bits with titanium coating, nut drivers, magnetic bit holder, wood spade pieces, wood drill bits and a charger.
The drilling tool of 12 V is designed with an adjustable 17 torque clutch and variable speed control for setting anticlockwise and clockwise functions.
The vertical loading battery system with a snap-fit feature makes it a convenient product.
Bosch Freedom Kit GSB 90-Piece Drill Kit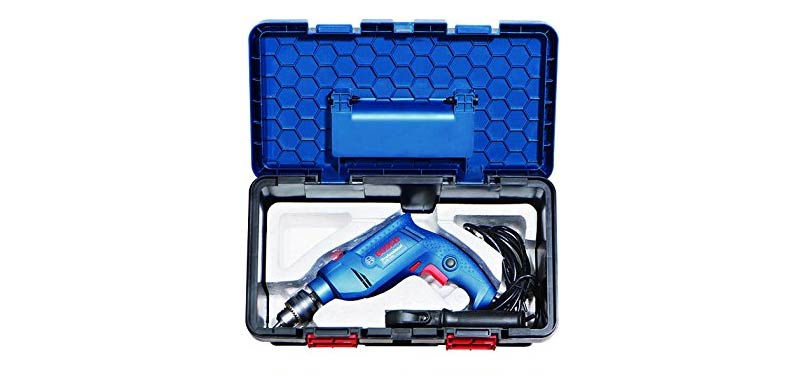 The Bosch drill tool kit is a robust product that includes an impact drill in a sturdy carry box for storing tools and 90 accessories.
It comes with a keyed metal chuck of 13 mm and an auxiliary handle featuring a depth gauge for providing the best output.
The drill machine can perform with dual modes, has a trigger lock and different trigger speed for continuous function.
The tool kit comprises of wall plugs, screws, masonry drill bits, Ph2 screws, wood drill bits, and 40 screws.
The drill tool houses an efficient 550W motor to deliver a speed of 2800 rpm with a high impact rate of 41800 bpm.
Each drilling machine is included in our list after considering its power, design, handling ease and rpm to deliver the best output. Choose the perfect drilling tool to handle your DIY tasks, home repairs and woodworking projects like a pro.