When it comes to shoes, Decathlon is the undenied master. Why do you ask? Well, the brand works with athletes, trainers, and experts from over 70 sports! If that does not guarantee high-quality and performance-driven merchandise, we don't know what does.
Before we get into analysing the top Decathlon footwear, let's have a look at some of the top coupons and deals available for the brand.
2022 Clearance Sale is happening right now at the brand's website where you get up to 60% OFF on 1500+ products
Get free shipping on all orders above Rs. 999
There is a sale going on for Men's shorts. You can grab 2 men's tennis shorts for Rs. 1199
Up to 40% OFF on selected products related to sports, hiking, camping etc.
Lets have a look at some of the other hot deals –

Get 1 men's Bermuda shorts for Rs 799, 3 for Rs 2249 using voucher "BERMUDA500"
Buy 2 men's tennis shorts for Rs 1199 using code "TSH500"
Get 2 arm covers for Rs 599 using coupon "UVSLEEVES"
Grab 1 bottle for rs 299, 2 bottles for Rs 499 with code "ROADBOTTLES"
1 Mask is available for Rs. 299 & 3 for Rs. 699 – coupon code "MASK500"
Men's Football Jersey is available for Rs. 999 for 2 with "FOOTBALL500"
Buy 1 Cricket Track Pants for Rs. 599 & 2 for Rs. 999 with Coupon "9DDV9ZKL"
70% OFF on trekking essentials and trousers
20% OFF on cycles
40% OFF on walking shoes
57% OFF on cycling helmets
So, down below is a list of the best shoes from Decathlon. We have covered shoes for all genders, ages, sports, and cost preferences. Of course, sometimes you may stumble upon shoes that run a little over your budget. You can always come back and check Decathlon coupons and voucher codes for those products.
Best Decathlon Shoes for Men
Most people make the mistake of buying one pair of sports shoes for all their needs. This is something you want to avoid. The technical requirement for every sport is different, and so should be the shoes. While trekking shoes are designed to give you a better grip and support your ankles, basketball shoes are designed to allow movement and agility. Decathlon deeply studies the mechanisms involved in every sport and brings a vast range of shoes for men. Whether your foot structure is broad or narrow, whether your stride is neutral, under-pronated, or over-pronated, and whether your fitness style is casual or intense, there is a pair of shoes for every pair of feet at Decathalon.
1. Kalenji- Run Comfort Men's Running Shoes
The Run Comfort shoes are made for running. With rubber panels on the outsole, the shoes provide maximum grip, whether you are running on the roads or a treadmill. There is also optimum cushioning to absorb impact and disperse the vibrations caused by running.
Pros
Cost: Rs. 1999
Sizes: 5.5 to 12
Warranty: 2 years
Supinator stride type shoes
Synthetic strips encases your foot
Flexible grooves and soft cushioning
Cons
Avoid machine wash
No home delivery option
2. Kalenji- Run support Men's Jogging Shoes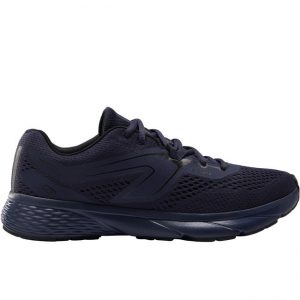 The Run Support shoes are very light in weight, precisely a mere 263 grams which neither burden your feet nor reduce your speed. The shoes are great for regular runners, as they have minimal seams, allowing for sufficient feet movement and comfort.
Pros
Cost: Rs. 2299
Sizes: 5.5 – 12
Warranty: 2 years
X-shaped strap system
Soft foam sole for support
Stylish and lightweight design
6mm drop and neutral stride type
Cons
3. Newfeel – PW 100 Men's Fitness Walking Shoes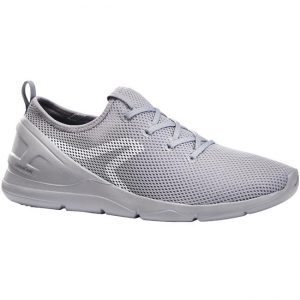 Again a lightweight option is this beauty from Newfeel. This pair is a teeny tiny 190 grams. But its main attraction is the Flex-H technology, which makes the sole super-flexible. The fabric used is 3D mesh, guaranteeing ventilation. The shoes themselves are for occasional walkers that may use it 1-2 times a week.
Pros
Cost: Rs. 599
Sizes: 5.5 to 11
Warranty: 2 years
Made of breathable fabric materials
Easy to wear and clean
Promotes air circulation
Cons
Best Decathlon Shoes for Women
It goes without saying that shoes are the first step to fitness. Whether you are just starting out, or you've been hitting the gym for a while, the importance of shoes cannot be underestimated. This is why Decathalon stocks the widest range of shoes for women. These come in handy every time you got out for a jog or catch a game of badminton. Bear in mind that women's foot structure is different from men's, and therefore getting just any pair off the counter is not a good idea if you plan to exercise every day.
I) Kalenji- RUN CUSHION WOMEN'S JOGGING SHOES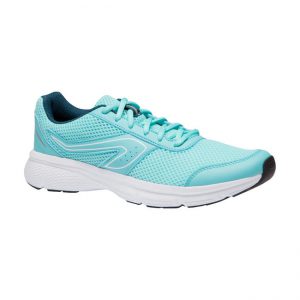 Ideal for novice runners, these shoes have soft, cushioning foam, and an anti-slip front. The material of the inner-foam is super thick, making it doubly comfortable for runners who are just starting out, or hit the gym once or twice a week.
Pros
Cost: Rs. 1299
Sizes: 3 to 8
Warranty: 2 years
Rear gripping outsole
Memory foam inner layer
Available in blue, pink, orange, and black colors
Cons
Not suitable to wear during rainy days
II) Kalenji- RUN 100 WOMEN'S RUNNING SHOES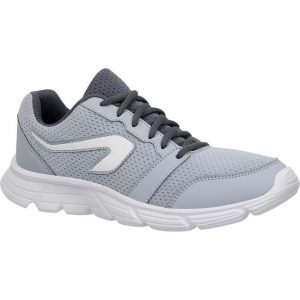 Weighing a total of 160 grams, these shoes are a perfect match for beginners. The EVA foam sole absorbs shockwaves, while the cushioning is all the motivation you need to start running.
Pros
Cost: Rs. 799
Sizes: 3 to 8
Warranty: 2 years
Lightweight and comfortable to wear
Best quality running shoes for women
Cons
III) Kalenji- Women's Run Comfort Shoes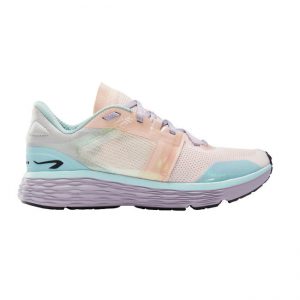 For regular runners, the Run Comfort shoes are a dream come true. They are designed like slippers, with wider tongues, and their Kalensole foam keeps the cushioning untampered for 1000 km! While the pastel-mix pair has a beauty of its own, you can also get the pair in black to get a more rugged look.
Pros
Cost: Rs. 3499
Sizes: 3 to 8
Warranty: 2 years
TPU technology at heel and forefoot
Shock absorption mechanism
Durable cushioning and upper mesh layer
Slipper-type construction with thick tongue
Cons
Not suitable for teenagers
Best Decathlon Shoes for Kids
Kids have the widest choice platter. While the brand covers all the sports that a kid can set his agile mind to, there are also all-in-one shoes that come in handy for all their athletic endeavors and don't just limit them to one sport.
Most popular Kids' Shoes on Decathlon
I) Kalenji- RUN SUPPORT KIDS' ATHLETICS SHOES LACES
The Run Support Athletic Shoes are perfect for kids. They're low maintenance, water repellent, and leave no mark on the gym floors. There is a rear stiffener and side pieces that provide extra support, and the grip itself is optimal in dry as well as wet weather.
Pros
Cost: Rs. 1499
Sizes: 2.5 to 5
Warranty: 2 years
EVA foam midsole
Rear stiffener and non-marking sole
Cons
II) Newfeel- Kids' Walking Shoes PW 500 Fresh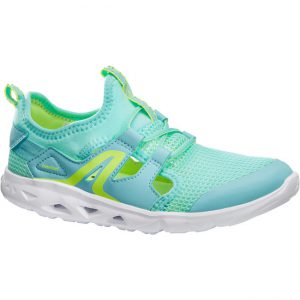 Thanks to the ultra-ventilated soles and fabric, these are the most breathable kids shoes Decathlon has ever created. Its additional benefits include a slipper-like construction, making it easier to get on and off, and a Flex-H technology that provides optimum flexibility.
Pros
Cost: Rs. 1399
Sizes: C10.5 to 5.5
Warranty: 2 years
EVA rebonding foam
Quick drying technology
Best kids walking shoes with soles and breathable fabric
Cons
Not a water-resistant shoe
III) Kalenji- AT EASY KIDS' ATHLETICS SHOES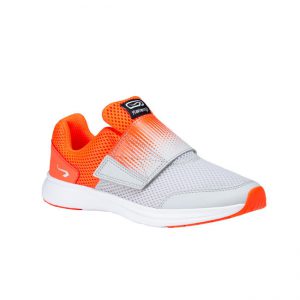 Easy dressing is a major advantage these shoes provide to kids that are just starting out. While the outer strap makes it easy to put on, the inner strap ensures better retention. Again, with a mere 130 grams on the weighing scale, these shoes are lightweight and don't weigh down the kid's natural pace.
Pros
Cost: Rs. 999
Sizes: C10.5 to 5.5
Warranty: 2 years
Natural stride mechanism
Suitable for outdoor usage
Front and back pads to reduces the slipping
Cons
Decathlon Sports Shoes
A good sports shoe goes a long way in turning a beginner into an athlete. Long-term sports regimens require a shoe that does not burn the sides of your feet and adapts to their shape. Sports shoes from Decathlon are great for this purpose. Not only do they keep your feet relaxed, but they also last longer than other sports shoes.
Tips to buy the best Sports Shoes:
Pick a shoe that's wider at the forefoot. This allows for proper toe movement when you are weight-lifting.
Check for a thicker and harder sole, if you prefer high cushioning.
Decathlon Running Shoes
A notable mention here is Decathlon's Running brand, Kalenji. The name comes from a tribe in Kenya that is known for running as a tradition throughout their history. With Kalenji, Decathlon aims to go back to the natural style of running. The shoes are designed to allow runners of all levels to move on to a freestyle of running. So, whether you are hitting the trails or going for a morning jog, rely on Kalenji to have something breathable and something durable for you.
Tips to buy the best Running Shoes
Look for light-weight shoes if you're running a marathon. Studies show that for every additional 3.05 oz in the shoes, your speed decreases by 1%
2. Look for shoes with a solid grip if you're running on a rocky, muddy, or uneven surface.
Best Decathlon Jogging Shoes
There is nothing like a 20-minute jog to pump you up with energy and high spirits. It's a medicine of sorts. This is the philosophy that guides to make the sturdiest, grippiest and most performance-enhancing shoes in the market. Whether you like to run on smooth sand surfaces or rugged terrains, Decathlon knows just what you need.
If you are looking for an alternative to buy jogging shoes online, give it a try with the Adidas brand. All the shoe models are made of high-grade materials that tend to last longer. Excited to shop online? Do check out the latest Adidas promo codes to cut down the cost to a great extent by visiting the GrabOn.
I) Kalenji- RUN ACTIVE MEN'S JOGGING SHOES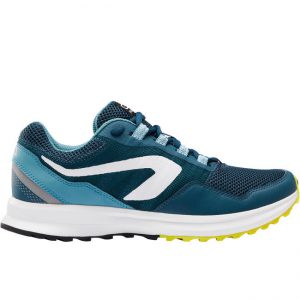 These shoes are all about the traction. A good 3mm lugged sole gives them the grip to handle flat as well as hilly paths. Whatever your jogging preferences may be, the shoes are designed to ensure maximum comfort. The breathable material, the EVA midsole, and the thick foam on the heel and tongue are proof to this.
Pros
Cost: Rs. 2499
For: Men
Sizes: 5.5 to 12
Warranty: 2 years
3mm rugged sole for better grip
Made of thick foam and breathable fabrics
Cons
Not suitable for outdoor games
Damages quickly
II) Kalenji- RUN ACTIVE WOMEN'S JOGGING SHOES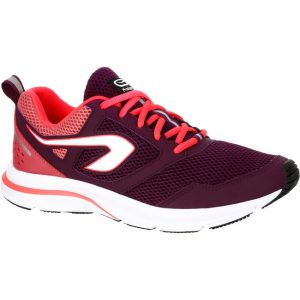 Key features of Run Active Women's Jogging Shoes include light weight, thick inner foam, and CS cushioning technology. Perfect for women who like to hit the road or treadmill on a weekly basis, these shoes have synthetic strips that secure the feet while you run.
Pros
Cost: Rs. 1999
For: Women
Sizes: 3 to 7
Warranty: 2 years
CS cushioning technology
Synthetic strips and inner foam texture
Cons
III) Kalenji- RUN SUPPORT EASY KIDS' ATHLETICS SHOES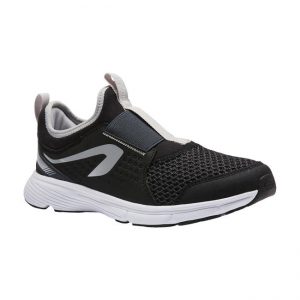 These shoes are designed to enable the athletic agility of kids. The design has 6mm drop from heel to toe, ensuring easier foot motion. Additionally, there is a rear stiffener and side pieces that are responsible for extra support and stability.
Pros
Cost: Rs. 1999
For: Kids
Sizes: 13C to 5
Warranty: 2 years
Best shoes for exercises
Slipper-like shape construction
EVA foam material for extra comfort
Rubber pad and rear stiffener
Cons
Not available in multiple colors
Best Decathlon Running Shoes (Marathon Shoes)
Marathon running has special requirements. These shoes need to hit the right balance between light weight and good grip. This is why Decathlon's Road Running Shoes are so popular among marathon runners. The texture of the soles provides extra grip on wet terrains, while the lighter weight makes you quicker.
I) Kiprun- KD LIGHT MEN'S RUNNING SHOES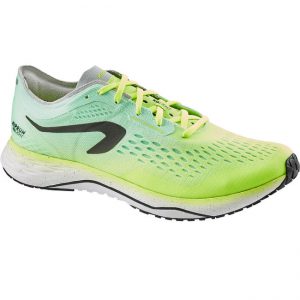 Say goodbye to shoes that wear out after two marathons. This here pair of Kiprun shoes provide over 800 kms of cushioning, thanks to the Kalensole sole. In fact, the sole has another purpose that you might wanna know about. It has good rebound, and gives propulsion to your stride. In other words, you can go about bouncing on your track.
Pros
Cost: Rs. 6499
For: Men
Sizes: 6.5 to 12
Warranty: 2 years
Kalensole with up bar technology
Offers extra grip on wet terrains
Anatomic design quality
Cons
Expensive to buy
Available only in two colors
II) Kiprun- LONG MEN'S WATER REPELLENT RUNNING SHOES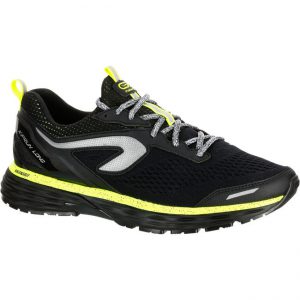 These water repellent shoes are specially designed for long winter runs. With these shoes, you are secured even if it rains. They also have amazing stability, thanks to the exclusive K-only technology and the Arkstab system.
Pros
Cost: Rs. 3999
For: Men
Sizes: 6.5 to 12
Warranty: 2 years
K-RING cushion technology for added safety
Reinforced foam at the heel
Water repellent protection mechanism
Cons
III) Kiprun- KD PLUS WOMEN'S RUNNING SHOES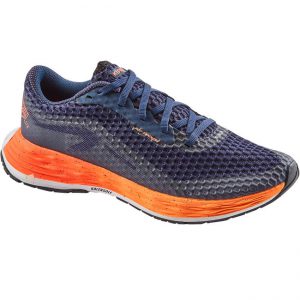 Make your stride smoother and improve your performance with the KD Plus trainer. These shoes are light in weight, have superior geometry, and provide extra grip on wet terrains. What's more, the seamless technology at the forefront reduces friction and enhances your overall performance.
Pros
Cost: Rs. 6499
For: Women
Sizes: 3 to 8
Warranty: 2 years
K-ring technology with extra gripping
Reduced chafing and under-pronator strides
Half-slipper tongue offers maximum support
Cons
Not suitable for limited-budget people
Best Decathlon Trail Running Shoes
A good pair of Trail Running Shoes is what you need if you tend to run on rocky, muddy, or uneven surfaces, where the chances of tripping down are high. Trail running shoes are designed to give you more traction and stability than regular shoes. They are sturdy, and give you a solid grip, while keeping your ankles covered and your feet protected.
I) Evadict- KIPRUN TR MEN'S TRAIL RUNNING SHOES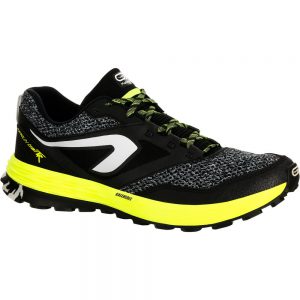 4 mm cleats help the shoe grip hard ground, and stick to it. Flex grooves make the shoe flexible. And, breathable materials and thick foam keep your feet comfortable in the most rugged of terrains. These are the features that make Kiprun TR shoes our first choice for you.
Pros
Cost: Rs. 3499
For: Men
Sizes: 7 to 12.5
Warranty: 2 years
CS cushioning technology for better flexibility
Thick foam and breathable fabric materials
Cons
Inner material is not up to the mark
II) Evadict- MEN'S MT2 TRAIL RUNNING SHOES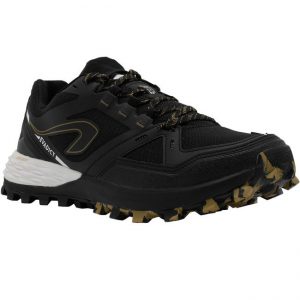 The greatest getaway companion, the MT2 will support you on any grounds and in any weather. The 5 mm lugs account for improved grip, and because the sole occupies a larger surface area, you can expect more stability as well. When it comes to comfort, worry not. Breathable fabric, good cushioning, and an inner lining have got your back.
Pros
Cost: Rs. 5999
For: Men
Sizes: 6.5 to 12.5
Warranty: 2 years
Offers better traction and support
Inner lining for enhanced stability
High-level of gripping with rubber material
Cons
Quality standards can be improved
III) Evadict- XT7 trail running shoes for men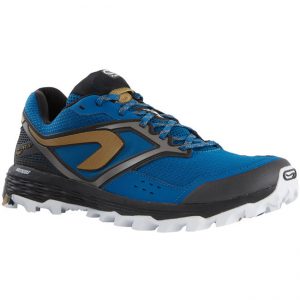 Combining powerful traction with effective cushioning is the pair of XT7 shoes that is popular among trail runners. The rubber on the outsole provides 42% more grip than regular shoes. This, coupled with widely spaced 5mm lugs, makes its traction powerful and absolutely reliable.
Pros
Cost: Rs. 4999
For: Men
Sizes: 7 to 12.5
Warranty: 2 years
Increased traction and fluffing
Thick foam material at heel and tongue
Supinator stride type style
Cons
Available only in black and blue colors
Best Decathlon Walking Shoes
Walking is good. Walking away from an unfit lifestyle, even better. But lots of people make the mistake of buying cheap footwear that leaves blisters on their feet, and kills the motivation to go out walking again. With Decathlon's walking shoes, you don't have the same problem. These are designed for long walks, and are flexible. They take the shape of your foot, and keep it padded and light, no matter how long you walk for.
Tips to buy the best Walking Shoes:
Choose shoes that fit well. There should be enough space in the toe area, and your foot shouldn't feel pinched at the heel or toe
Look for shoes that provide a high shock absorption. You want to be able to walk for long times without feeling any pain.
I) Newfeel- NW 500 FLEX-H MEN'S NORDIC WALKING SHOES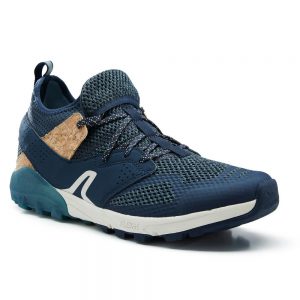 It is not just superior traction and wonderous flexibility that makes the NW 500 so desirable. It has a built-in sockliner that keeps your shoes free from stones. It has a sewn-in pouch on the tongue that stores your laces and keeps you from tripping. If that's not enough, it also has an upper mesh fabric that wicks away perspiration.
Pros
Cost: Rs. 2999
For: Men
Sizes: 5.5 to 12
Warranty: 2 years
Upper mesh fabric and soft cushioning
Perfect choice for athletes comfort
Sew-in pouch to store laces
Cons
Not suitable for rough usage
Expected waterproof nature
II) Newfeel- Women's Fitness Walking Shoes PW 500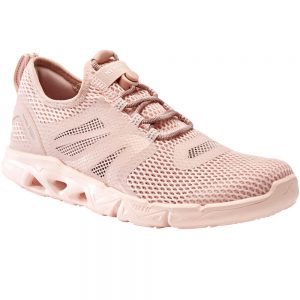 The PW 500 are so breathable, so ultra-ventilated that your feet will always be cool. They also dry twice as quickly as regular shoes, thanks to the newfeelFRESH concept. Not only is the fabric lightweight, the shoes themselves are super light, weighing only 170 grams in size 6.
Pros
Cost: Rs. 1999
For: Women
Sizes: 3 to 8
Warranty: 2 years
Fast drying and seam free mechanism
Best fitness shoes for women during summer
Ultra-ventilated soles ensure ventilation
Cons
III) Newfeel- PW 100 Kids' Walking Shoes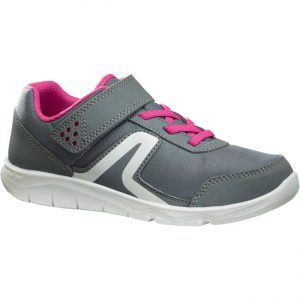 Whether is it the walks or the school activities, these shoes are versatile for each of your kid's endeavours. The shoes are easy-to-wear, easy-to-clean, and affordable. But most importantly, they are durable and will last you a long time.
Pros
Cost: Rs. 699
For: Kids
Sizes: C10.5 TO 5.5
Warranty: 2 years
Easy to clean and maintain
Superior quality rip-tabs and elastic laces
Highly durable kids walking shoes
Cons
Experience rashes at the initial days
Best Decathlon Trekking and Hiking Shoes
When it comes to hiking shoes, Decathlon is an undenied leader. The range of hiking shoes includes low-cut, mid-cut, and high-cut shoes, and is broadly divided into two categories: Light Hiking Shoes, and Mountain/Snow Hiking Shoes. Light Hiking Shoes have a different make from Mountaineering Shoes. They are lightweight and more breathable. On the other hand, Mountaineering or Snow Hiking Shoes are made of leather, are heavier, and much more durable.
Tips to buy the best Trekking/Hiking Shoes:
Choose shoes made of synthetics like nylon or polyester if you're going on a day hike. These are light-weight and easier to carry around.
Pick up shoes made of leather for hiking on mountains. These are more durable and can take a beating.
Low-cut boots are ideal for casual hiking situations. For more demanding trails, prefer mid-cut and high-cut boots that provide maximum support.
I) Quechua- Men's Hiking Shoes NH100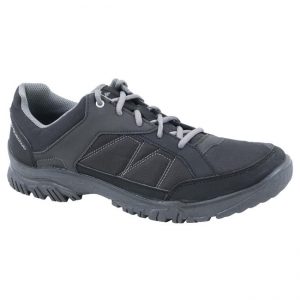 The NH100 is adapted to natural footpaths. From a synthetic stoneguard to protect you from stones to 3.5 mm crampons on the soles, every feature of the shoe is designed to give you the best hiking experience.
Pros
Cost: Rs. 999
For: Men
Sizes: 5.5 to 12.5
Warranty: 2 years
6mm EVA pad and removable insole
TPR soles and synthetic toe bumper
90-days of easy return policies
Cons
II) Quechua- Women's Hiking Shoes NH100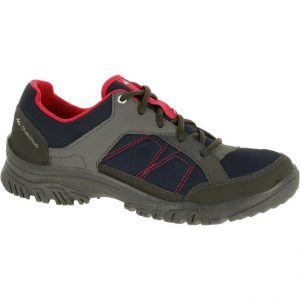 Specially designed to keep you comfortable on off-road footpaths, these shoes are a catch. There is heel cushioning with a 6 mm EVA pad, and there are TRP soles, both of which are responsible for making your hike a hassle-free one.
Pros
Cost: Rs. 999
For: Women
Sizes: 3 to 8
Warranty: 2 years
Budget-friendly hiking shoes for all age groups
Protects from injuries and stones
Easy to wash and maintain
Made of synthetic fabric material
Cons
III) Quechua- Kids Hiking Shoe CROSSROCK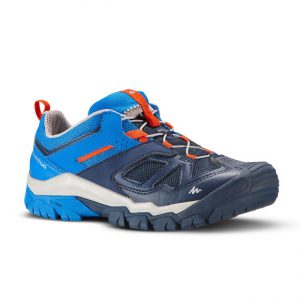 With the rubber sole providing all the grip and durability required, you can take your kid on mountain hikes with confidence. The Crossrock boots are designed to withstand all terrains and are super light in weight, pulling a mere 270 grams on the scale.
Pros
Cost: Rs. 1699
For: Kids
Sizes: 2.5 to 5
Warranty: 2 years
Robust design quality
Protective sole and reinforced upper layer
EVA interlayer for extra comfort
Cons
Available in limited sizes only
Decathlon Trekking/Hiking Boots
While Trekking Shoes are great, Trekking Boots come with their own advantages. The stem of the boot protects your ankle, while the powerful grip ensures safety even on rough terrains.
Tips to buy the best Trekking/Hiking Boots:
Choose a pair that supports your ankle. One of the most common casualties in trekking is a twisted ankle
Choose a high-stemmed shoe if your ankle is fragile. If not, prefer a low-stem shoe, which gives you better freedom of movement.
Opt for waterproof shoes if you're trekking in a location that is rain or snow-prone.
Breathability is a must-have feature if you're hiking in a sunny weather
Go for shoes with full cushioning if you're trekking over 3 hours.
Decathlon Waterproof Shoes
From shoes made of rubber and PVC to those made of synthetic leather, Decathlon has got it all when it comes to waterproof shoes. These shoes are durable, sturdy, and have thick soles to provide extra grip on slippery surfaces. Decathlon also has waterproof shoes made of Gore-Tex. This too is a great option, as its micro-porous structure allows the flow of air while keeping the water out.
Tips to buy the best Waterproof Shoes:
Look for rain boots or rain sneakers if you are often travelling in rainy or wet areas.
Overshoes are also a great option. These are to be worn over your normal shoe to prevent sliding on a slipper surface.
Best Decathlon Badminton Shoes
Choosing the right pair of badminton shoes is super important. You have to see the grip, the rates, and how well they'll hold up in sports halls. Along with that, you also wanna ensure that they're non-marking shoes, which is super important for playing indoor. Well, lucky for you, Decathlon's badminton shoes tick all these boxes, so you no longer have to look elsewhere.
Tips to buy the best Badminton Shoes:
Choose shoes with a non-marking rubber sole. These help you deliver sharp and powerful smashes in a sports hall.
Look for shoes with a breathable fabric to keep your feet ventilated at all times.
I) Perfly- MEN BADMINTON SHOES BS 530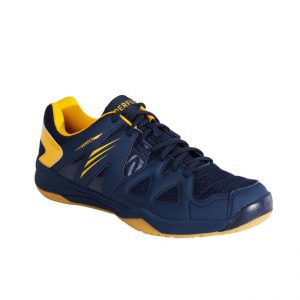 Want to float on the court? These shoes are what you need. Not only is its 3D Mesh upper great for ventilation, it also significantly reduces the weight of the shoe, making it much easier to move in court. The EVA cushioning provides good shock absorption, and the natural non-marking rubber sole makes it a perfect choice for indoor stadiums. What else could one ask for?
Pros
Cost: Rs. 2299
For: Men
Sizes: 5.5 to 11
Warranty: 2 years
Available in different styles, colors, and patterns
Extra foam density layer to minimize pronation
Lightweight and easy to carry
Cons
II) Perfly- WOMEN BADMINTON SHOES BS 190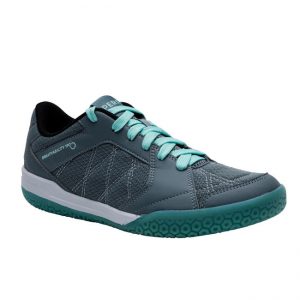 The major advantage of a BS 190 is its breathability. The 3D mesh fabric provides good ventilation and keeps your feet dry at all times. The shoe also has a good gripping on indoor flooring, so you can focus on your game without worrying about slipping.
Pros
Cost: Rs. 1799
For: Women
Sizes: 3 to 8
Warranty: 2 years
Comes at affordable price range
Traditional cupsole design patterns
Hummingbird texture rubber sole
Door-to-door safe delivery services
Cons
Can cause knee pain due to improper size selection
III) Perfly- GIRL BADMINTON SHOES BS 160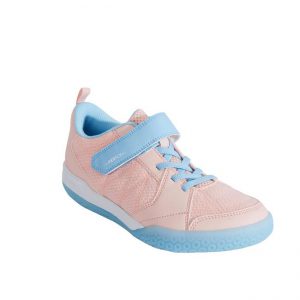 Ideal for junior players just starting out in badminton, these shoes have inserted cushion with foam for maximum comfort. A natural rubber sole makes sure that there is good grip on indoor flooring, and the rip tabs make it super easy for kids to put them on.
Pros
Cost: Rs. 1799
For: Kids
Sizes: 12C to 5
Warranty: 2 years
Natural rubber sole for comfortable gripping
3D mesh layer for better ventilation
Easy to wear and remove
Cons
Not available in dark colors
Cannot be stored in humid place
Best Decathlon Football Shoes
Whether it is football boots, football trainers, or futsal shoes, at Decathlon you can fulfil all your needs as a football player. Abrasion resistance, good grip, and a comfortable insole are only some of the features they provide in their enviable collection.
Tips to buy the best Football Shoes:
Look for football boots with studs. These give you a good grip while playing on soft ground.
A non-marking natural rubber sole is a must in a Futsal shoe. They help you get a good footing in indoor courts.
Pick up a pair with a comfortable cushioning insole. This is important to stabilize your foot and absorb shocks during the game.
Most popular Football Shoes on Decathlon
I) Kipsta- Men's Football Shoes Agility 100 HG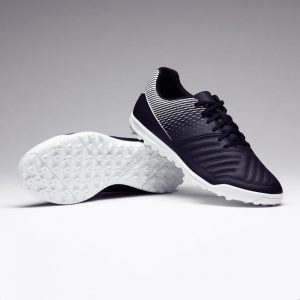 The Agility 100 football shoes are ideal for players that hit the ground on a weekly basis. The shoes are durable, and help you score a solid game. The multiple solid studs give you a good footing on hard pitches. At the same time, there are inner stiffeners that hold your foot in place, and mind in the game.
Pros
Cost: Rs. 999
For: Men
Sizes: 5.5 to 12
Warranty: 2 years
Manufactured with wear and tear resistant materials
Provides optimal foot support
Multiple small stabilized cleats
Cons
Prone to allergies for skin-sensitive people
II) Kipsta- Men's Football Boots Agility 900 Mesh MiD FG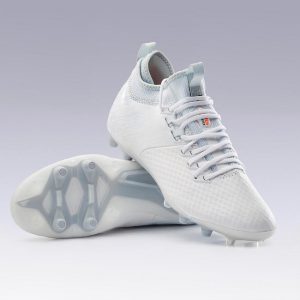 With two lace loops on either side, these shoes are easily the best support you can get on a football field. While the shoes do offer superior grip and durability, their special feature is Kipsta's Air Mesh technology. Thanks to this, you can now get a better ball feel, and thus control the ball like a pro.
Pros
Cost: Rs. 3499
For: Men
Sizes: 5.5 to 12
Warranty: 2 years
Two lace loops for increased support
Comes with 2-section liner with straps
Offers better gripping on dry pitches
Cons
III) Kipsta- Kids' Football Boots Agility 100 FG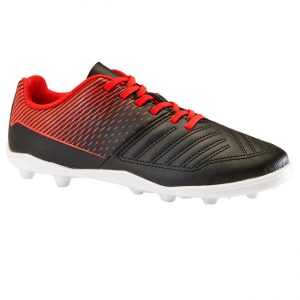 Young beginners have a great option in the Agility 100 shoes. These have multiple moulded studs, which give them more grip on a dry pitch. Along with performance, the shoes are also superior in comfort, thanks to the wider instep in the shoes.
Pros
Cost: Rs. 699
For: Kids
Sizes: C7.5 to 5
Warranty: 2 years
90-days of easy return policy
Hassle-free pick up and delivery services
Cons
Not suitable for overweight people
Best Decathlon Cricket Shoes
Cricket shoes have a character of their own. These coveted shoes have undergone major evolution over the years to extract the best performance out of you. At Decathlon, this is always kept in mind while designing a shoe. Decathlon's cricket shoes help in stability and flexibility, because there is a range of movements you need on the pitch.
Tips to buy the best Cricket Shoes:
Look for shoes with rubber soles if you're playing on a synthetic pitch. On turf pitches, however, you want to go for shoes with rubber spikes.
You also want to use cricket socks overall regular socks as they are highly padded and cushioned, and provide moisture-resistance throughout the game.
Most popular Cricket Shoes on Decathlon
I) FLX- MEN'S ANTI ABRASION CRICKET SHOES CS 300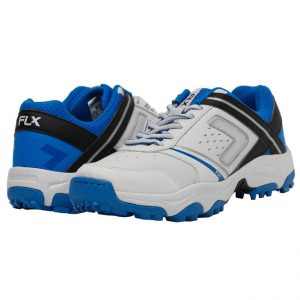 These abrasion-resistant hard ground shoes are designed for regular and intense use. The sole is super durable and provides a great grip on the playing surface. Additionally, the full PU shoe also protects your toe and keeps your feet comfortable.
Pros
Cost: Rs. 1699
For: Men
Sizes: 7 to 11
Warranty: 2 years
Molded midsole cushioning
Impact protection mechanism
Abrasion resistance nature
Cons
Suitable only for adults
II) FLX- MEN'S CRICKET SHOE CS100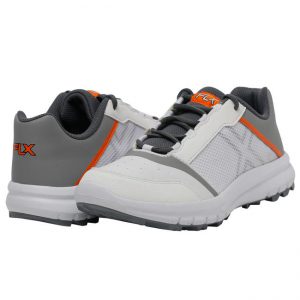 If you are someone who plays cricket on hard and rough grounds, then these shoes are for you. The CS100 cricket shoes are an affordable option for occasional cricket practice. The EVA foam mid sole provides good cushioning. At the same time, the hard rubber sole provides good traction. What mor could you ask for?
Pros
Cost: Rs. 999
For: Men
Sizes: 7 to 10.5
Warranty: 2 years
Hard rubber sole for better traction
Perfect men's shoes for playing outdoor sports
Cons
Not available in many styles and designs
III) FLX- KID'S ANTI ABRASION CRICKET SHOES CS 300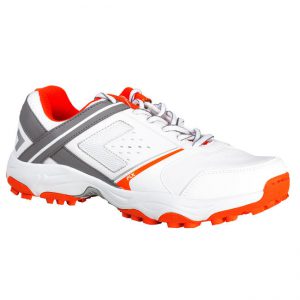 Thanks to the excellent stability and durability of the CS 300, playing on hard grounds is much more comfortable. No matter how intense you practice or how regularly, these shoes have got your back. If you tend to play on a hard surface , that is no problem either, as these shoes hold greatly on hard grounds.
Pros
Cost: Rs. 1699
For: Kids
Sizes: 4 to 6
Warranty: 2 years
Rigid mid foot counter parts
Durable kids running shoes
Cons
Poor construction quality
Best Decathlon Skate Shoes
Decathlon stocks a range of skating shoes for kids and adults. The inline roller skates come in sleek designs and are perfect for urban skating, or even your morning commute. Decathlon's skating shoes are not only a good fit for your feet, but are also a number one choice in glide quality and impact protection.
Tips to buy the best Skating Shoes:
Look for skating shoes with durable laces, soft linings, and multiple fastenings to keep your feet secure at all times.
Prefer shoes with 3D mesh and comfort foams. These are responsible for keeping your feet comfortable on wheels.
I) Oxelo- Adult Freeride Hardboot Inline Skates MF500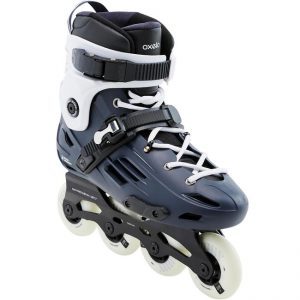 With 80 mm freeride wheels, ABEC7 bearings, and an extruded aluminium plate, these shoes are a must-have for any skating enthusiast. There are removable attachments on the side of the foot for safety purposes. That, coupled with a triple fastening system, ensures that your feet are completely secure.
Pros
Cost: Rs. 6999
For: Men and Women
Sizes: 3 to 11
Warranty: 2 years
Thick foam liner with nylon and lycra interior
Best Decathlon skating shoes for beginners
In-built shell and plastic pads
4-wheels with micrometric buckle
Cons
II) Oxelo- Fit 3 Kids' Inline Skates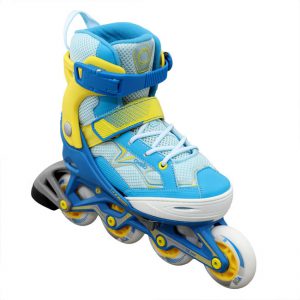 Perfect for your junior's first long skate, these skating shoes are practical, comfy, and grow with your child. That's right, the shoes are adjustable up to 4 sizes, and will give them several miles. With ABEC 3 bearings, the glide quality is as smooth as can be. At the same time, they are free from skidding as the rubber wheels provide a wonderful grip.
Pros
Cost: Rs. 1999
For: Kids
Sizes: C10.5 to 2.5
Warranty: 2 years
Semi-stiff foam boots
Ultra-smooth and comfortable to wear
Triple fastening system with adjustable options
Composite plate, rubber wheels, and brakes
Cons
Not a great choice for indoor usage
III) Oxelo- Play 3 Kids' Skates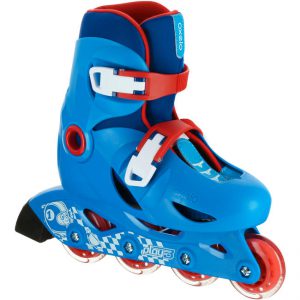 There is nothing better than stable, sturdy shoes for a kid still finding his balance. The shoes also provide support and protection with a precise buckling system. And as for durability? Don't worry. These shoes are adjustable up to 3 sizes, and will last your kid that long.
Pros
Cost: Rs. 1299
For: Kids
Sizes: C8 to 3
Warranty: 2 years
Machine stitched lining for extra comfort
Bearings limits the skating speed for beginners
Shell protection mechanism
Best skating shoes for street skating
Cons
Does not support for 12-years
Best Decathlon Gym/Fitness Shoes
The right pair of fitness shoes can unburden you, accelerate your performance, or be your support system as you put those bench presses together. There are a few, but important, things to consider while picking out a pair.
Tips to buy the best Fitness Shoes:
Pick a pair that is neither too tight, nor too loose. Your ideal shoe should fit you perfectly, on top of your socks.
Select shoes that are light in weight. These are comfy, and do not add extra weight to your legs.
Choose shoes that are designed exclusively for gyms and workouts.
Most popular Fitness Shoes on Decathlon
I) Domyos- Men's Basic Fitness Shoes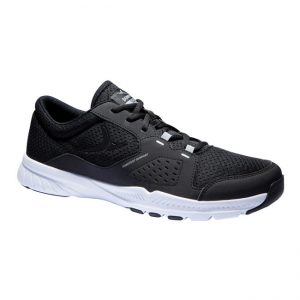 The biggest advantage of the Domyos Basic Fitness Shoes is its multidirectional flexibility. There are grooves placed in the forefoot that help you change direction. As for the sides, there are synthetic stiffeners that give your foot the support it needs while working out.
Pros
Cost: Rs. 1499
For: Men
Sizes: 6.5 to 11
Warranty: 2 years
Thick cushioning soles helps during workouts
Best fitness shoes for high arches
Improves body posture and muscle strength
Cons
Can cause skin irritation when wear outdoors
II) Domyos- Men's High Intensity Training Shoes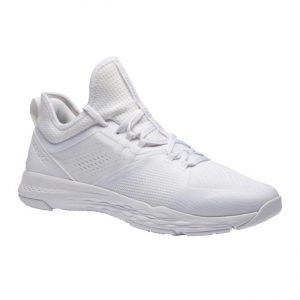 A high-top means approved comfort. But that is not what brings these shoes to our list. These are high intensity training shoes, perfect for when you're pushing your limits. Move 360 degrees, train, jump, and land. The cushioning will protect you, and the sole will propel you forward.
Pros
Cost: Rs. 3499
For: Men
Sizes: 6.5 to 11
Warranty: 2 years
Side webbing support for easy movements
Forefoot support and multi-directional flexibility
Cons
Not crafted for women
Prone to dust and stains quickly
III) Domyos- Women's Occasional Fitness Shoe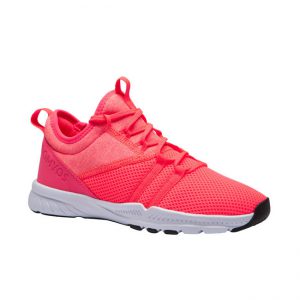 Perfect for women's cardio fitness, these shoes have a reinforced toe that allows for lateral movement. A high ankle gives better support. And the sole absorbs impacts while jumping. So, every time you're pushing to squeeze in that last rep, you know who's gonna be there by your side.
Pros
Cost: Rs. 1899
For: Women
Sizes: 3 to 8
Warranty: 2 years
Provides cardio health and ankle support
High sole outer density protects the feet
Forefoot support with 4mm drop
Cons
Best Selling from Decathlon Shoes Sale
A goldmine while shopping for shoes is Decathlon's Shoes Sale page. Here you will find high-quality Decathlon shoes at clearance rates. Hard to believe? Check them out yourself.
I) Olaian- MEN'S BEACH SHOES AREETA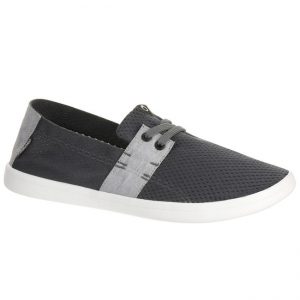 With an average weight of 250 grams, these shoes are light, breezy, and stylish for a day at the beach. While the shoes are great for surfers, beach walkers can use it too. Thanks to the ventilation, you will feel like you're walking barefoot.
Pros
MRP: Rs. 1599
Cost: Rs. 799
For: Men
Sizes: 5.5 to 11
Warranty: 2 years
Lightweight and surfer design
Excellent 90-days return policy
Hassle-free shipping services
Cons
Requires maintenance cost
II) Perfly- WOMEN BADMINTON SHOES BS 100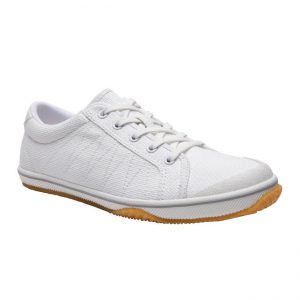 With the upper made of canvas, sole made of rubber, and the fabric made of breathable material, these shoes are designed for good badminton sessions for beginners.
Pros
MRP: Rs. 1299
Cost: Rs. 799
For: Women
Sizes: 3 to 6.5
Warranty: 2 years
Natural rubber sole for added safety
Suitable for the wide and flat feet
Cons
Available in limited colors
III) Perfly- JUNIOR BADMINTON SHOES BS 560 LITE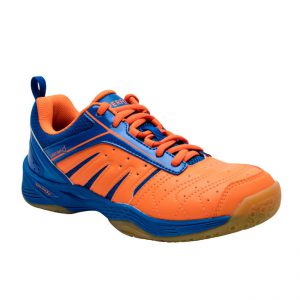 Perfly's BS 560 are some of the most stable badminton shoes out there. Combining stability with lightness, these shoes are especially great in sports halls, where they enhance your performance to a great extent. Thanks to the Diapad heel insert, your feet will always stay protected, and you can focus on acing the game.
Pros
MRP: Rs. 2999
Cost: Rs. 1999
For: Kids
Sizes: 1.5 to 5
Warranty: 2 years
Soft cushioning system
Best badminton shoes for beginners and professionals
Cons
Conclusion
Here was our extensive list of shoes for the enthusiasts out there- the explorers, the nature-admirers that wake up 5 minutes before 5, and the adventurers who never stop seeking. If we helped you find your sole-mate, let us know in the comments below. Tell us if you're getting a shoe that pushes you forward or one that keeps your feet on the ground. Share whether your ideal shoe is black and brutal, or if it is white and wary. Let's start a conversation.
Decathlon FAQs
1. Can I return purchased items at Decathlon?
Yes, you can return within 90-days of purchase if you receive the damaged items.
2. Is it good to buy shoes from the Decathlon store?
Decathlon is well-known for offering numerous sports accessories for kids, women, and men ensuring the quality standards. You can also compare different models, pick the right one, and save money by availing deals and coupons.
3. What are the available shoe brands at Decathlon?
You can explore popular shoe brands like Nike, Adidas, Puma, KALENJI, and more and purchase the one that matches your preferences.