With the hectic lifestyle, we often forget to care for our hair and skin! Not just that, harmful pollutants, stress, anxiety, and genes are some of the key-reasons for hair loss. Do you have hair fall, dandruff problems and looking for an affordable solution? Give it a try with Coconut Oil.
Is Coconut Oil good for Hair?
Yes, coconut oil is good to use for the hair of kids, men, and women. It has rich anti-inflammatory, antioxidant properties that promote natural, frizz-free hair. Further, it is power-packed with vitamins and minerals to give you a glam look.
Last update was on: January 25, 2023 4:18 pm
List of 10 Best Coconut Oils for Hair
Coconut oil is enriched with nutrients to promote hair growth. When it comes to buying, you will be overwhelmed with the plethora of brands available in the online market. Hence, we have compiled the list of the best coconut oils that are in huge demand. Have a look:
Max Care Virgin Coconut Oil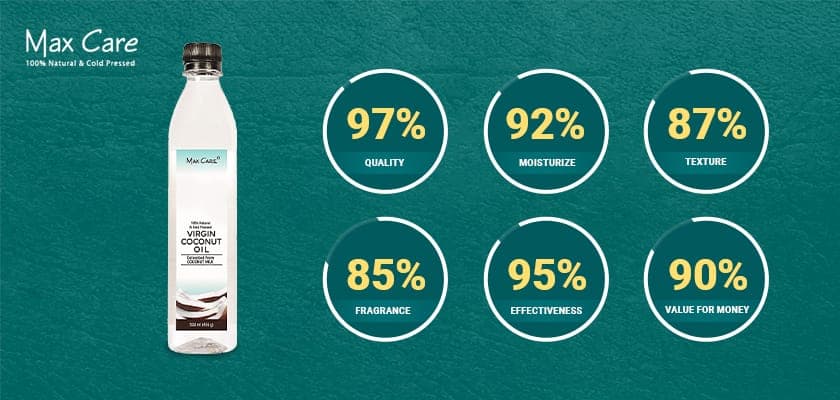 Best For: Hair, Cooking, Babycare, Moisturizer, and Skincare
MAX Care Virgin Coconut Oil is a powerful natural supplement that can help boost your immunity and metabolism. The brand has 35+ years of experience in offering high-quality virgin coconut oil at affordable prices. This FSSAI (Food Safety and Standards Authority of India) approved VCO is enriched with Vitamin E and antifungal properties to fight against dandruff, and boost the scalp health.
Nevertheless, the shelf life of this product is 24-months which ensures long-term usage. It is also known for its anti-inflammatory and antiprotozoal properties to nourish the hair. On the whole, if you are looking for a natural supplement that can help improve your overall health, MAX Care Virgin Coconut Oil is the right choice.
How To Use MaxCare Coconut Oil?
Firstly, take small quantities of coconut oil and then massage it on your scalp for 20 minutes. Now the VCO acts as a moisturizer to loosen the cradle cap flakes while nourishing. After applying oil on the hair, leave it overnight before taking a shower bath.
What We Like
Mild aroma with thin consistency
Cold-pressed and unrefined
Consumed raw or mixed with food items
Key Ingredients: Fatty acids, Antioxidants
Quantity: 500 ML
Price: Rs 356/-
What We Hate
Does not feature flip cap
Forest Essentials Virgin Coconut Oil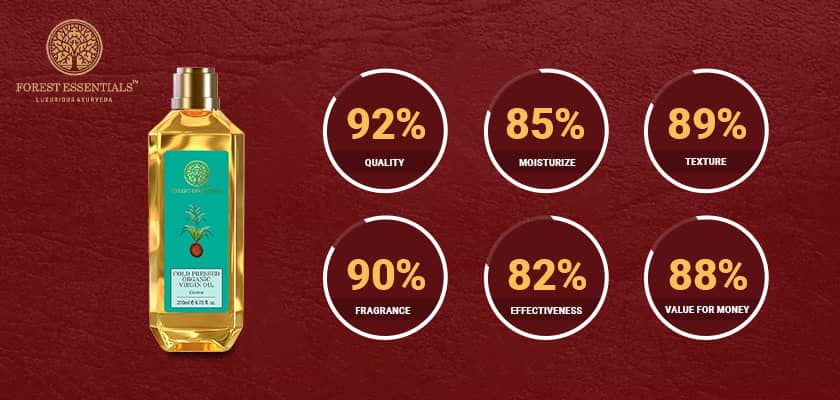 Best For: Skin Nourishment, Muscle Tension, and Haircare
Give your hair a glossy look with the Forest Essentials Virgin Coconut Oil. Forest Essentials is an authentic brand that provides modern-solutions to hair and skincare problems. It is extracted from the freshly grated Cocos Nucifera that can effectively wipe out the toxins.
This amazing product is made using organic ingredients like vitamin E and coconut that are rich in anti-inflammatory and anti-bacterial properties to protect from harmful UV-rays. The oil is extracted using the "Cold Press" method i.e. blended with hand without heat to retain the nutrients.
Do not wish to spend more on this hair care product? Worry not! You can avail the Forest Essentials coupons and promo codes while buying the popular ecommerce stores. This product is enclosed in an eco-friendly packaging, so you get it delivered home without any damage.
How To Use Forest Essentials Coconut Oil?
Take a few drops of oil, warm it for a couple of minutes, and then massage onto the skin gently. Now deter the toxins from your body by taking a cool shower bath.
What We Like
Nourishes and soothes the hair
Makes you look lustrous
Paraben, sulfate, and cruelty-free
Key Ingredients: Vitamin E, Cocos Nucifera
Quantity: 200 ML
Price: Rs 925/-
What We Hate
Vatika Coconut Hair Oil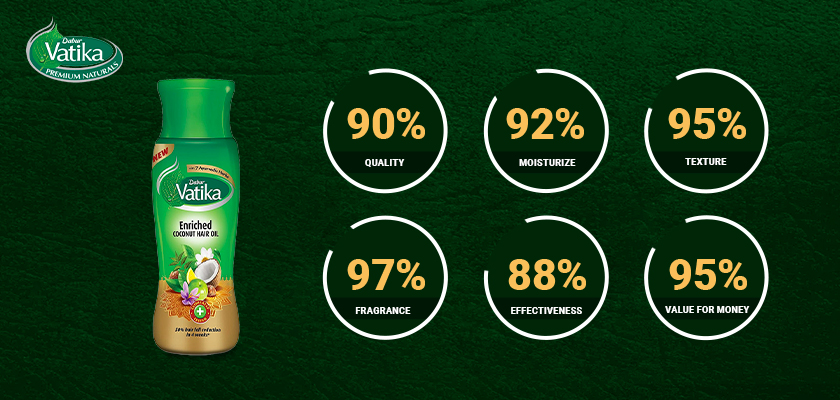 Best For: Natural Color, Sebum Control, and Dandruff
Do you know we lose 50-100 hair strands on an average per day? You may lose confidence and do not even focus on the day-to-day activities. If you are facing the same issues, do shop for the Vatika hair oil. Once you start using this product, you will surely notice hair fall reduction within the 4 weeks.  It is because of the usage of 7 ayurvedic herbal ingredients that promote hair shaft.
The Dabur Vatika VCO strengthens the hair root and aids in deep cleansing of the scalp. Furthermore, the use of lemon ingredient controls sebum flow, prevents dandruff and henna to retain natural hair color. On the whole, Dabur Vatika brand is considered as the best virgin coconut hair oil in India 2023 for its therapeutic benefits.
How To Use Vatika Coconut Oil?
Pour small drops of VCO in your hand and gently massage in circular motion. Now allow it to settle on the scalp for a couple of hours and rinse thoroughly.
What We Like
Suitable for men and women
Rejuvenate scalp and control hair fall
Key Ingredients: Amla, Lemon, Henna, Brahmi, Kapur Kachri
Quantity: 450 ML
Price: Rs 265/-
What We Hate
Mild fragrance
Leakage issues
Kama Ayurveda Coconut Oil
Best For: Dry and Dull Hair, Skin Nourishment
According to the World Health Organization (WHO), hair loss is the most common cosmetic problem in the world, affecting women and men. If you are one among them and want to take care of your hair, do opt for Kama Ayurveda Virgin Organic Coconut Oil.
Kama Ayurveda VCO is versatile and a great choice for massaging your hair. The non-sticky nature can be used to soothe the skin tone  which inturn makes you look beautiful. It is highly recommended by the Cosmetologists to care for the baby's development.
The price seems to be on the expensive side. However, you can make use of the Kama Ayurveda coupons and deals to get the item at a discounted price. Overall, whether you are looking for a new product to add to your arsenal or explore more options, Kama Ayurveda is a perfect choice!
How To Use Kama Ayurveda Coconut Oil?
Boil the VCO for a minute, apply the solution, and massage on your face, hair, and body. Allow it to settle for 30-minutes and then wash with a mild soap. Do not prefer chemical-based shampoos or soaps as it damages the hair completely.
What We Like
Light and non-sticky nature
Experience tropical scent
Prevents premature aging and wrinkling
Key Ingredients: Cocos Nucifera
Quantity: 200 ML
Price: Rs 895/-
What We Hate
Slightly inconsistent when applied on scalp
DiSano Cold Pressed Virgin Coconut Oil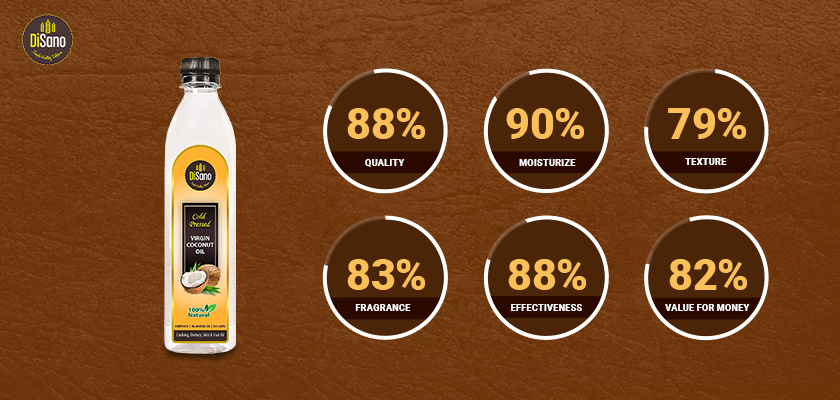 Best For: Scalp Health, Hair Regrowth, Baby Massage
Do you want to add a healthy, coconut-flavored product to your beauty routine? If so, you'll love DiSano Cold Pressed Virgin Coconut Oil! This unique oil is perfect for adding a touch of sweetness and tropical flavor to your hair.
Unlike other products in the list of top coconut oils, DiSano is 100% natural, GMO-free, vegan, and preservative-free. Hence, it is ideal for those who are looking to avoid any animal products in their beauty collections. Wrapping up, the Disano Cold-Pressed VCO comes with 100% natural, unrefined, making it ideal for cooking, dietary, and haircare.
How To Use DiSano Coconut Oil?
Due to the high-contents of fatty acids and antioxidants, it can be consumed directly to achieve even skin tone.
What We Like
Fights against dandruff
Suitable for cooking, direct consumption
Best for anti-aging and skin nutrition
Key Ingredients: 60% MCFA, Lauric Acid
Quantity: 250 ML
Price: Rs 169/-
What We Hate
Non-returnable hair oil
Experience tropical coconut smell
Meera Pure Coconut Oil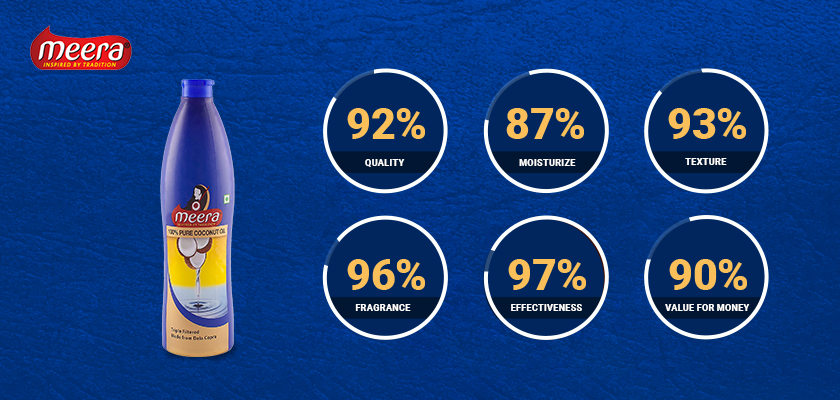 Best For: All Skin Types, Strengthening Hair
As per the survey conducted by NCBI (National Center for Biotechnology Information), reveals that nutritional deficiencies are one of the major reasons for hair loss. Unfortunately, you need to opt for expensive treatments provided by the healthcare industry.
If you are looking for a budget-friendly option and long-term usage, start giving yourself proper hair care with Meera Oil. This multi-purpose coconut oil is enriched with natural saturated fats and coconutty flavor that can be used as cooking oil, skin moisturizer, and hair treatment.
The triple filtration process ensures the best quality ingredients are used to manufacture this product. So, if you're looking for a natural way to enhance your hair growth, experience the magic of Meera Pure Coconut Oil today.
How To Use Meera Coconut Oil?
Place a small quantity of oil in a bowl and heat it on low-flame for a couple of minutes. Now use your fingertips to massage your scalp for favorable benefits.
What We Like
15-months of shelf life
Suitable for straight, curly, wavy hair types
No additives, artificial fragrance, and preservatives
Key Ingredients: Dala Copra, Edible Oil, Argemone Oil
Quantity: 500 ML
Price: Rs 199/-
What We Hate
INDUS VALLEY Virgin Organic Coconut Oil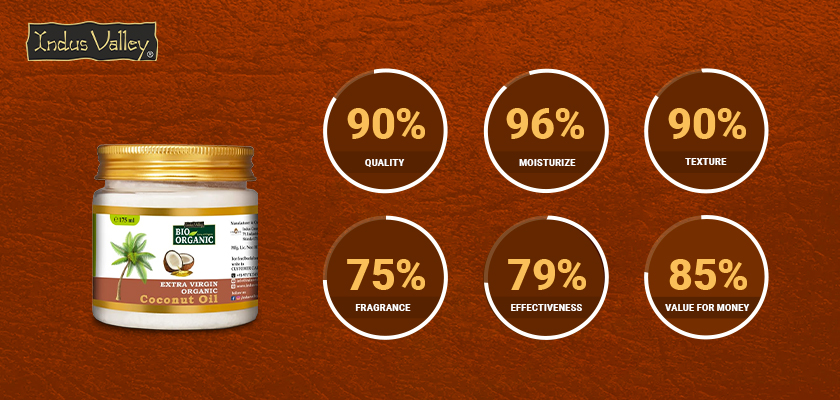 Best For: Split Ends, Damaged Hair, Stress, and Makeup Removal
Are you looking for a natural product to treat hair fall? Give it a try with Indus Valley Organic Hair Oil. This product is obtained from fresh coconuts with the properties being non-sticky, lightweight, and absorbent. All of these tend to benefit women who desire to remove non-greasy makeup, acne, and scars as well.
Infused with extracts of VCO, it hydrates the skin while promoting a healthy appearance. Being free from SLES/SLS, pesticides, and fertilizers, it also improves digestion.
Compared to other brands, we have considered the FSSAI-approved Indus Valley brand as the best virgin coconut hair oil in India for its mineral-rich formula that tends to boost hair growth. In a nutshell, start ordering your favorite Indus valley Coconut oil bottle today and start living the life you deserve.
How To Use Indus Valley Coconut Oil?
Skin Rejuvenation: To get started, add a few drops of coconut oil and lemon oil into a bowl and stir well. Now apply the solution on your face and rub thoroughly.
Hair Mask: To effect use a hair mask, blend coconut oil and fenugreek powder forming a thick paste. Put the mask on hair and allow it to settle for 10-minutes. Now wash the hair with normal water for better results.
What We Like
No added additives or fragrances
Makes you feel soft and smooth
Perfect for normal, sensitive, oily, dry, combination skin types
Key Ingredients: Vitamin E, Lauric Acid, Fatty Acids
Quantity: 175 ML
Price: Rs 219/-
What We Hate
Patanjali Coconut Oil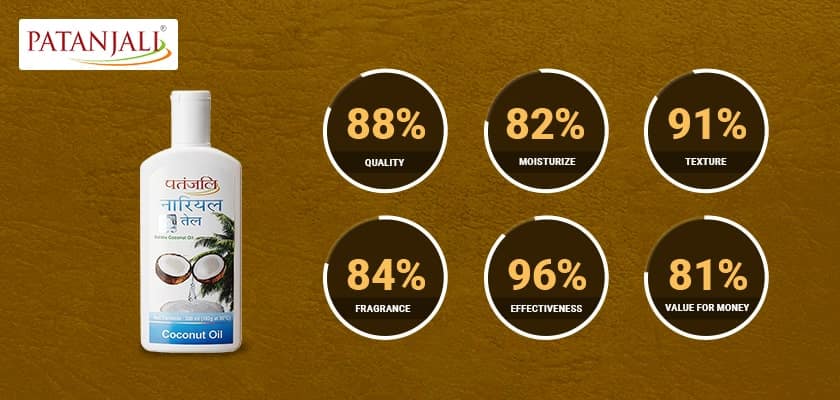 Best For: Hair Growth, Cooking
Do you have no time to take care of your hair health? Look nowhere! Patanjali Coconut Oil has come into rescue to promote hair growth with the extracts of Cocos Nucifera. Hence, we have listed among the best-quality coconut oil brands that are currently in huge demand.
What we noticed is Patanjali oil nourishes, heals, and moisturizes your dry scalp effectively. Due to the Ayurvedic nature, no chemicals or preservatives are used in the manufacturing process. To recapitulate, Patanjali Coconut Oil is a one-stop solution for men and women who care for their hair.
Who doesn't want to save money while buying a hair care product? If so, start using coupons of Patanjali brand to cut down your expenses while making online payments.
How To Use Patanjali Coconut Oil?
If you have silky and shiny hair, apply it an hour before hair wash. For that, you need to massage this oil into your roots to relieve stress completely. You can even apply it on dry and damp hair to make it smooth.
What We Like
Offers sweet aroma and taste
Free from preservatives
Double filtration mechanism
Key Ingredients: Edible Coconut Oil
Quantity: 200 ML, 2 Pack
Price: Rs 164/-
What We Hate
Leakage issues
Cannot treat skin problems
Soulflower Coconut Carrier Oil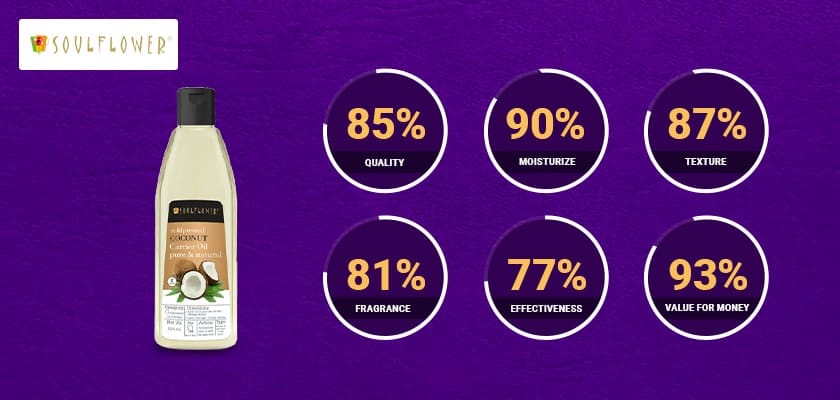 Best For: Cracked Lips, Dry Skin, Hair Detangling
Start using Soulflower Carrier Oil to add shine, moisture, and nutrition to your hair, skin, and face. With this wonderful product, you can use it to nourish the scalp, keep skin hydrated and soothe inflammation on the face. Moreover, it can effectively be used as a daily detangler and protect hair from sunlight and other toxins.
This is a Food and Drug Administration (FDA) approved product which ensures no harmful chemicals are used during the manufacturing. Further, it also builds trust among users globally. Out and out, if you want to experience a stress-free lifestyle by managing the bulk activities at home and office, Soulflower Carrier Oil is the best option.
Looking to save money on coconut oil products? Check out the latest deals and discounts of Soulfower from GrabOn to get the right product for your needs. Whether you're looking for essential oils, edibles, we have the perfect deal for you. Browse from our selection and take advantage of the hottest deals today.
How To Use Soulflower Coconut Oil?
Apply the solution with a cotton ball on your face and leave it for 5-minutes. Now wash off with warm water and mild soap  to remove makeup for women.
What We Like
No synthetic colors and fragrance
Natural remedy for soft and supple skin
Key Ingredients: Cold Pressed Coconut Oil, Vitamin E
Quantity: 225 ML
Price: Rs 309/-
What We Hate
Parachute Coconut Hair Oil for Hair Growth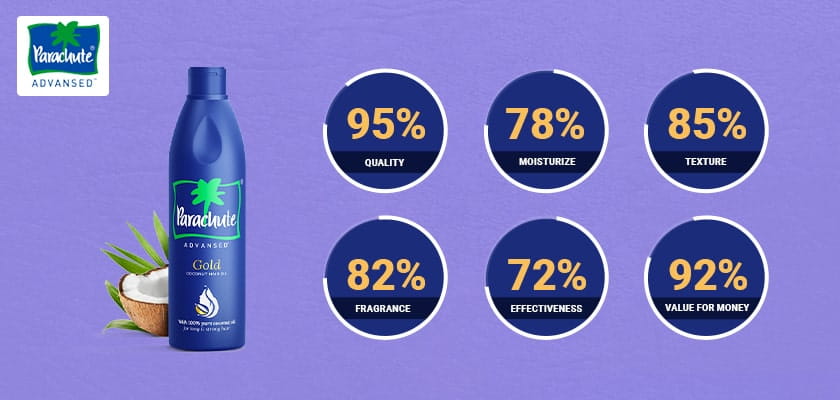 Best For: Scalp Health, Hair Growth
Do you stay in metropolitan cities that are highly polluted? Then there is an urge to protect your hair from harmful contaminants. How is it possible? Well, you can make use of Parachute Hair Oil.
We are pretty impressed with the 100% pure coconut oil formulation that strengthens hair from deep roots and vitamin E containing antioxidant properties promotes scalp health. Moreover, it is absolutely free from Silicone, Mineral Oil, Sulfate, and Parabens. On the whole, the Parachute item is designed to nourish and protect your hair from the inside out, giving you an extra boost you need to achieve healthy hair.
How To Use Parachute Coconut Hair Oil?
Add a few drops of Parachute oil on your palm and massage with your fingertips. Allow it to settle for at least 30-45 minutes to experience 10X nourishment benefits.
What We Like
Controls hair fall
Long-lasting aroma
Easy to apply on hair, face
Key Ingredients: Coconut, Vitamin E
Quantity: 400 ML
Price: Rs 178/-
What We Hate
Need to wash scalp thoroughly
Bottom Line
Winding up, coconut oils are the most popular hair oils in India for its therapeutic benefits of hair, face, and skincare. Not to forget, it can also be used as a dietary supplement to provide enough nutrients to the body. Although it cannot cure the problem, it instantly minimizes the severity to some extent.
Now that you know what are the popular coconut oil brands for hair shafts. It's the high time to pick the right one for hair type. You can even make use of the latest beauty and cosmetic coupons while shopping online.
Which brand of coconut oil do you like the most? Did we miss any of the popular brands? Or Do you have any concerns? Please reach out to us via the comment section given below.
Coconut Oil For Hair Growth – FAQ's
1) Which are the best coconut oil brands for hair?
Parachute, Vatika, Kama Ayurveda are the most popular coconut oil brands as per the research provided by the FSSAI.
2) What ingredients are used in preparing coconut oil?
Lemon, Henna, Aloe Vera, and Hibiscus are widely used in preparing the coconut oil to give a sweet aroma.
3) Is Parachute aloe vera oil good for hair growth?
Yes, the Parachute coconut and aloe vera combo oil is good as it nourishes the hair and scalp, leaving with no dust and toxins.
4) How long can I use coconut oil at home?
You can use coconut oil for up to 2 years when stored in hygienic conditions.
5) Can I use coconut oil for dry hair?
Yes, you can use coconut oil for dry hair as it can dive deeply into the hair roots and repairs the damaged hair.