Keep your car interiors hygiene using the best car vacuum cleaners. They are equipped with a high-efficiency motor, strong suction, nozzles, and trash can to deter the debris, pet dander, and other contaminants at one go when plugged-in to a power source. If you are willing to purchase the branded car vacuum cleaning machine, compact and lightweight models can be the right choice.
Top 10 Car Vacuum Cleaners (Corded and Cordless)
We have done extensive research and compiled the list of best vacuum cleaners for cars by assessing the online reviews, ratings, and customer feedback. Let's discuss each in detail!
BAZKU Portable Car Vacuum Cleaner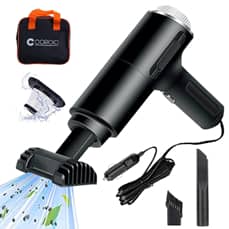 BAZKU Portable Car Vacuum Cleaner comes with wet and dry modes to clean up easily within the car interiors no matter if it's water, pet dander, dust particles, and other pollutants. The presence of HEPA filters in this car vacuum cleaner effectively removes indoor contaminants that cause allergy, asthma and as a result improves indoor air quality.
The high-speed driven fan impeller rotates to make vacuum cleaner collect the dust effectively. When the power is turned on, the suction pressure of 12000 Pa can pick up debris in a single swipe. You will get an instruction manual along with the accessories to simplify the car cleaning process.
What We Like?
Corded electric car vacuum cleaner
Flat suction nozzle
Compact and delicate shape
120-Watts of motor power
Keekos Car Vacuum Cleaner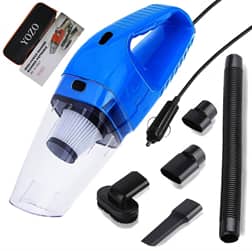 Keekos Portable Vacuum Cleaner for cars comes with 4000 Pa suction power that can effectively pick things like dust, pet hair, bread crumbs, etc that weighs up to 16 oz. This car vacuuming device supports dry and wet application, which quickly absorbs debris and liquid spilled inside.
It has a 5-meter power cord that helps clean hard-to-reach areas with ease. The 120-Watts motor power and strong turbine makes the cleaning process easy. You can simply detach the accessories and wash filters to achieve maximum cleaning efficiency.
What We Like?
Easy to clean and operate
Detachable HEPA filter
EVA hose and suction nozzle
Perfect for interiors and storage spaces
Eureka Forbes Car Vacuum Cleaner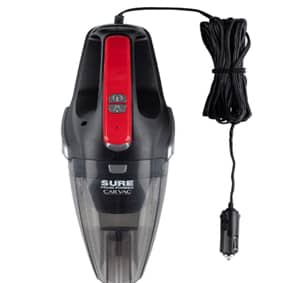 Eureka Forbes Car Vacuum Cleaner offers a fresh look and feel to your automobiles with a wide range of choices – washable HEPA filter, and deep cleaning technology. The 100-Watts motor with its suction power removes hidden dust under the seats, storage boxes, and dicky areas.
The crevice nozzle, multiclean brush, and hose pipe helps an individual to clean without any hassle. An in-built LED torch provides light to the surroundings for better visibility while cleaning the dirt. You don't need any installation, simply plug-in to the power source and start using the device.
This Eureka Forbes corded car vacuum cleaner price seems to be a bit expensive in the online market. However, to get the desired model at a discounted price, start using Eureka Forbes coupons.
What We Like?
Made from ABS plastic material
Power cord for easy maneuverability
Offers superior cleaning performance
Corded electric type car vacuuming device
TUSA Wireless Handheld Vacuum Cleaner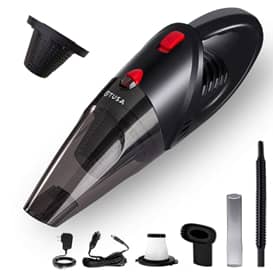 TUSA offers a range of vacuum cleaners, both wired and wireless models that can be used anytime and anyplace. This cordless car vacuum cleaner is equipped with a strong motor and powerful suction capacity that sucks all kinds of dirt and can be used only for dry waste.
Once you plug-in the power source, it usually takes 3-4 hours to charge fully. Adding up, it can effectively be used to clean the hard-to-reach areas like sofas, under seats, corners, and other dust spots. Apart from that, it is backed with a 1-year of manufacturing warranty that will cover up the repairing costs.
What We Like?
22-minutes of continuous runtime
Suitable only for dry use
Crevice and dust brush tool
Deep cleansing mechanism
Woscher Car Vacuum Cleaner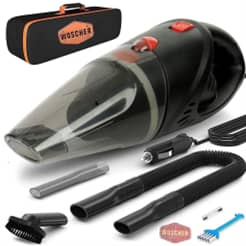 Woscher Car Vacuum Machine deters all the accumulated dust, pet hair, debris, and other contaminants, thanks to its 140-Watts motor and independently sealed metal fan. It can penetrate deep into the difficult to reach places using the powerful 3500 PA suction power.
The double filtration used in this handheld car vacuuming device, captures and cleans dust particles seamlessly. By forcing air through a fine mesh, HEPA filters trap harmful and even microscopic particles. The dust container in this device is quite large too that can hold the contaminants in large quantities. To extend its lifespan, it is good to clean the filters everytime after usage.
What We Like?
Mini tyre inflator
Easy to store and carry
Made of durable plastic outer body
Long power cord and suction nozzle
LACOSSI Car Vacuum Cleaner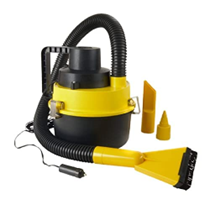 Upgrade to LACOSSI Car Vacuum Machine that is safe to use throughout the usage. It has got a brush that can be used to clean the pet hair and other dirt stuck on the automobile. Moreover, the soft long tube can be used to clean the surface of leather and the long mouth helps to clean the trunk or under seat.
It comes with 3 attachments – brush, soft long tube, and long mouth for better functioning of the device to match with different purposes. The trash container switch and power switch is placed at the front to access without any difficulty. Also, it is possible to disassemble and wash filters to achieve maximum cleaning efficiency. Moreover, if you are looking for a budget-friendly car vacuum cleaner from the same brand, do check out the LACOSSI Portable Car Vacuum Cleaner.
What We Like?
Multifunction – wet and dry modes
Generates 75dB of low noise
Adjustable speed settings
Suitable to use for home, cars, and commercial places
COROID Handheld Vacuum Cleaner for Car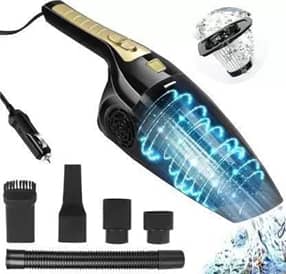 This COROID Car Vacuum Cleaner is equipped with a washable HEPA filter that effectively filters 99.99% of the dust particles. For dust removal from couches, carpets, and other hard-to-reach areas, a 120W motor provides 4300 Pa suction power. Cleaning seats and trunks with the brush mouth can be a great add-on. If you find yourself in a situation where you'll need to dig deep, the flexible tube may be extended.
This multipurpose car vacuum cleaner comes with two types of fittings and a flexible tubing so you can thoroughly clean tiny places with long crevice mouth nozzles. In addition to that, we highly recommend you to keep the suction nozzle flat on the ground for better results. You can also go with the advanced models like robot vacuum cleaners that don't require human interference while cleaning the house and are a bit expensive too.
What We Like?
Easy to disassemble and clean filters
Lightweight and ergonomic design
User-friendly instruction manual
Suitable for car interiors and home
iGRiD Car Vacuum Cleaner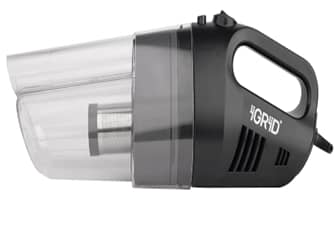 iGRiD Brand Car Vacuum Cleaner has created the optimum suction power required to clean the automobiles to perfection with proprietary technology. The small compact and lightweight design makes it easy to carry around. A filter is included in the kit which can be cleaned multiple times and used when required without the need to change the filters frequently.
Compared to other models, it is environmentally-friendly as it does not require a dust bag to hold the debris and can easily be washed with water. Moreover, it is backed with 1 year of manufacturing warranty that helps to minimize the repairing costs.
What We Like?
Filter made of stainless steel
Compact and ergonomic design body
Performs spotless cleaning
Triple cyclone filtration mechanism
BLACK+DECKER Car Vacuum Cleaner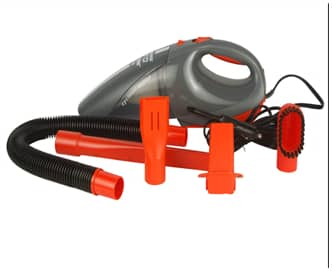 The BLACK+DECKER ACV1205 model is considered as the best vacuum cleaners for cars and homes that are available in a compact and lightweight nature. They are the best in the market in terms of performance, durability and adds great value for the money.
To clean tiny areas, ACV1205 features a crevice tool and brush to access with little effort. It generates an air flow rate of 800 liter/min and 700m of dust bowl capacity. Also, the cyclonic mechanism spins dust and debris away from the filter for sustained suction power.
What We Like?
5-meters power cord length
Twin filtration system
Exceptional support services
Corded handheld vacuum machine
70mai Cordless Portable Car Vacuum Cleaner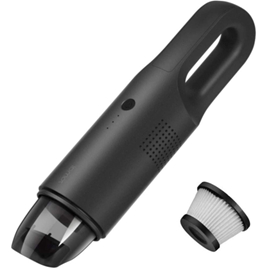 Finally, we end up with the 70mai cordless model, a popular choice from the list of top car vacuum cleaners. The wind blows parallel to the ground due to the unique ventilation design. Adding up, it reduces contamination by using a double filtration system, which ensures that you aren't inhaling the dirt. It is equipped with 4 batteries (4000mAh total) to perform cleaning without getting tired.
You'll never have a hard time cleaning up messes on numerous surfaces i.e. hard or smooth, without leaving scratches because this model features 2 attachments: a flat attachment for small corners and a brush attachment for carpet and hair. Above all, if you are looking for a perfect device to wipe out the debris in garden spaces or room interiors, a vacuum cleaner for home is the best option.
What We Like?
Separate attachments to clean multiple surfaces
Double filtration mechanism
Improves air quality using HEPA filter
Types of Car Vacuum Cleaners
There are many types of car vacuuming devices that are readily available in the Indian market. You need to choose according to your needs – budget and usage. Some of the types of best car vacuum cleaners in India are:
Cordless Car Vacuum Cleaner: Cordless vacuuming machines for cars are very lightweight and easy to move. It comes with a fade-free power feature with a built-in extension power line.
Corded Car Vacuuming Machine: This type of vacuum is old but efficient and gives the best quality service. It is user-friendly and comes with simple functionality.
Handheld Car Vacuum Cleaner: This type of cleaner is very handy and easy to carry. It can effectively clean the dust, and pet hair thoroughly, giving you a seamless cleaning experience throughout the usage.
Wet And Dry Car Vacuum Cleaner: Wet and dry vacuum is the right choice for car owners who often clear their car by themselves. It is very convenient to clean car interiors due to the presence of powerful suction that wipes out the debris at one-go.
Benefits Of Car Vacuum Cleaners
You can benefit in many ways if you buy a good quality vacuum cleaner for your car. Have a look:
Lightweight Nature: These car vacuuming machines are lightweight and come in small sizes, making it suitable for car owners to clean interiors effortlessly.
Mobility: As all the car vacuums are mobile, you can carry them anywhere easily. In case, if you are on a vacation and want to maintain the car clean, this cordless car vacuum cleaner serves your purpose.
Easy to Use and Maintain: Anybody can easily use it and the maintenance cost is very low. All you have to do is simply attach the right tool and then switch on the car vacuuming device to wipe out the stains.
How To Choose Car Vacuum Cleaners
Do you know that car maintenance is important not for your safety but for your health too? Car maintenance means taking care of your vehicle and all the parts and also maintaining its cleanliness. As we all spend a lot of time in a car or any vehicle, that is why we need to clean its interior thoroughly. When it comes to cleaning a car interior, then you must need the best vacuum cleaners for cars.
If you want to choose the best device for your vehicle then you need to give more attention to its functionality and features. Let's thrive into the main features you need to consider while purchasing a good vacuum cleaner for your car.
Size and Weight
Size and weight are the two key factors when it comes to choosing a vacuum cleaner for a car. If you choose a small vacuum cleaner, then the motor is also small and less powerful than the bigger one. But a small and compact ergonomic design and a lightweight cleaner is very easy to carry. Other than size and weight you also need to give importance to the motor and sucking power.
Corded or Cordless: Which Is Better?
If you are in two minds about what to choose between a corded or cordless  cleaner, then you have to know the different qualities of both cleaners. While a cordless cleaner is easy to carry, the battery part is tricky. You need to charge it first before every use. Sometimes the charge is running out while you use it. The corded one comes with  the fade-free power feature of the battery. It gives you straight 30-40 minutes time to vacuum.
Motor and Suction Power
Do you know that the quality of a vacuum cleaner for a car is measured by its motor and suction power? The suction power totally depends on the motor power. The power of the consumption of a motor varies from 1200 W to 2400 W. You must buy a cleaner with a potentiometer, that can easily regulate the power of the vacuum.
The other thing you need to take care of is the suction power of the motor. If the power of the suction is good, then it can collect more dust in very less time. The suction power varies between 250 W to 600 W.
Dust Container
Did you know that the capacity of the vacuum container can easily decide the frequency of the cleaning. The type and size of the container is the most important part of every car vacuum. There are many types available, like textile bags, paper bags, and most important no bags or cyclone vacuum.
Noise Level
The noise level totally depends on the quality, power, and design of the construction. If the noise level is very high that means the power or quality of the cleaner is very poor. The noise level of a modern vacuum is between 54-85 dB.
Filters
As we all know that different vacuums have different filter quality, and the quality is totally dependent on the purification system. The first filter which is installed in the pipe collects the large particles. The second filter that is installed in the engine area collects the fine dust and finally, the third filter is ready to capture the dust from the outlet system. A good quality filter can help to clear the bacteria and solid microparticles.
Electrostatic and HEPA are these two types of filters that are available. The HEPA filter is more expensive and efficient than the other. You need to keep in mind that whenever you change the bag, you must change the filter.
FAQs
Which is the best vacuum cleaner for cars?
Eureka Forbes handheld car vacuum cleaner is the best to buy online due to the presence of HEPA filters, in-built LED torch, and high motor power for smooth operation.
What factors should I consider while buying a car vacuum cleaner?
Corded vs cordless type, dust tank capacity, suction power, warranty, and price should be considered while buying a car vacuum cleaner.
How to use a car vacuum cleaner?
Plug-in to the power source and switch on the device. Now place the vacuuming device near sofas, carpets, storage compartments to wipe out the dust and other contaminants.
How often should I clean the filters of a mini car vacuum machine?
You can clean the filters once in every month to improve the efficiency. You can even replace it with new filters after 6 months of usage.
Final Thoughts
We hope you like the above information and help you in making the right decision while buying the car vacuum cleaners. Did we miss any of the popular car vacuum cleaners brands? Do you have any questions for us? Please let us know in the comment section given below.