Car owners would nod in agreement that cleaning the car interiors is an arduous task. In spite of maintaining the vehicles at a regular pace, interior surfaces attract dust, pet hair, debris, and dirt due to continuous usage. So, it is essential to invest in the best quality car vacuum cleaner for cleaning the interiors correctly. Apart from sucking away the dirt, these cleaning appliances can help in promoting the air quality inside your vehicles. If you are planning to buy a perfect car vacuum cleaning device, then read on to know more about the best products in the market.
Top 10 Car Vacuum Cleaners in India for 2022
Last update was on: January 19, 2022 10:02 pm
1. RNG Eko Green RNG-2001 Car Handheld Vacuum Cleaner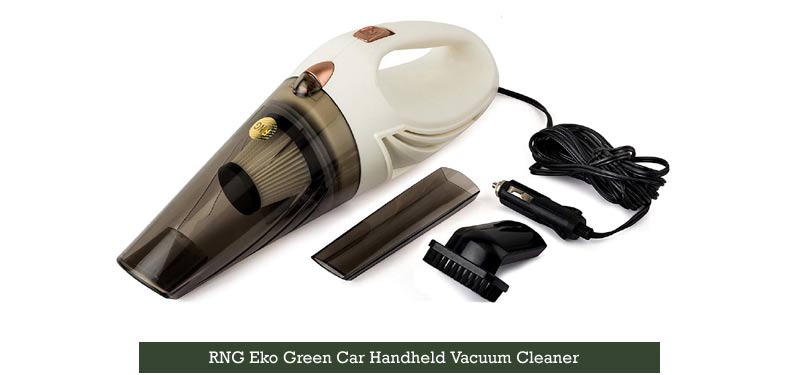 This RNG Eko range of car vacuum cleaner comes with both wet and dry cleaning feature that helps it to clean the dry debris and collect the spilled liquids. The product is designed with a high suction force and durable components, and it finds the top position on our expert's list.
Best Features:
Fitted with a large motor with 3.6 cm diameter
Suction capacity: 4.5 KPA
Power Consumption: 150 W
Noise Level: 72 decibels
Equipped motor with metal fan
Ideal for Jeeps, Sedans, SUVs and hatchback
Brush connectors and extension mouth for deep cleaning
Comes with HEPA filter
Wire length: 5 m
Comes with storage bag
Pros
Can be used on wet surfaces to absorb liquids
Bigger motor (3.6 cm diameter)
Metallic fan with 5.5 KPA suction
The filter can be removed easily for washing
Lightweight than most other vacuum cleaners
Cons
The vacuum cleaner is not stain resistant
Customers have complained about it being noisy
2. Voroly High Power 3500PA 120W 12V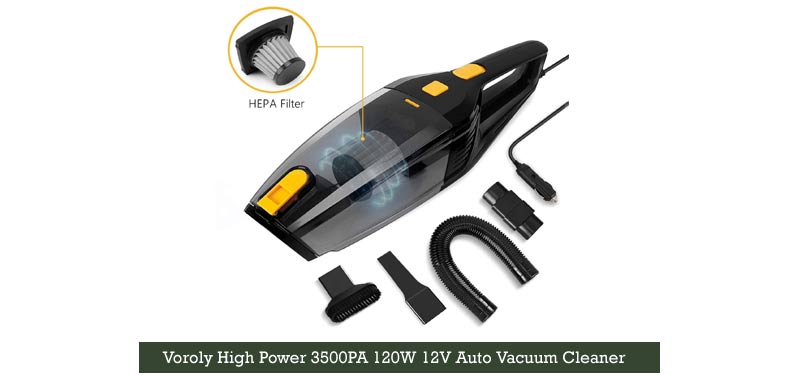 Voroly portable car vacuum cleaner is a lightweight but sturdy appliance that comes with special attachments to clean every nook and corner of the interiors with very low noise. This versatile product can perform wet and dry vacuum tasks at the push of a button.
Best Features:
Comes with a strong suction power of 3500 PA
Noise level: less than 60 decibels
Dual filter for better cleaning
Comes with shark gills turbine
Aluminum motor of 120 W
Can suck up to 1.7 lbs of dirt
Multiple nozzles for collecting debris
One button for emptying trash
Made from ABS plastic material
Pros
Compatible with multiple nozzles
It makes less noise
It is a wet and dry vacuum cleaner
Cons
Can't be used for more than 15 minutes in continuation
The vacuum is non-rechargeable
3. RNG EKO GREEN 200 Watt Cyclonic Power Wet/Dry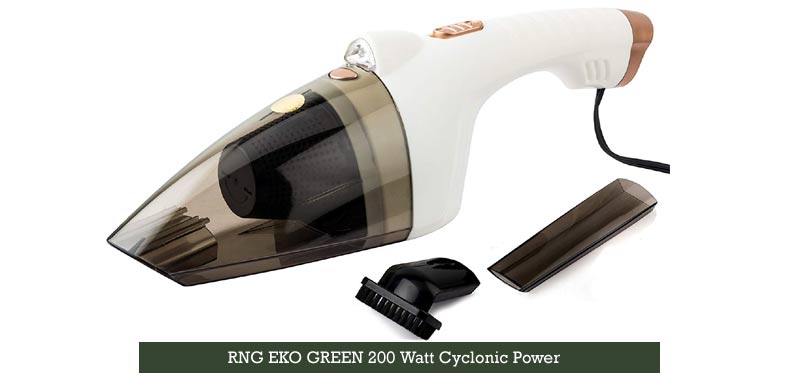 The RNG Eko car vacuuming appliance comes with a long wire of 5 meters along with ROHS and CE certification to assure high-quality vacuum action. It doesn't matter if your child has spilled her drink, as you can use this appliance with LED light to clean at night. It also has easy to wash and removable dual filters.
Best Features:
High power cleaning with 200 W cyclonic power
Noise level: 72 dB
HEPA Filter and Outside Mesh filter
High suction power of 5.8 KPA
Fitted with dust cap and metal fan
Easy to store bag
Pros
It has a dual filter that makes the vacuum cleaner more durable
It has a metallic fan with 6.5 KPA suction
1-year warranty
Easy to use and handle
Cons
Limited service centres for repairing
The 200W rating may not be compatible with some vehicles
4. Voroly 5000PA Power Suction Handheld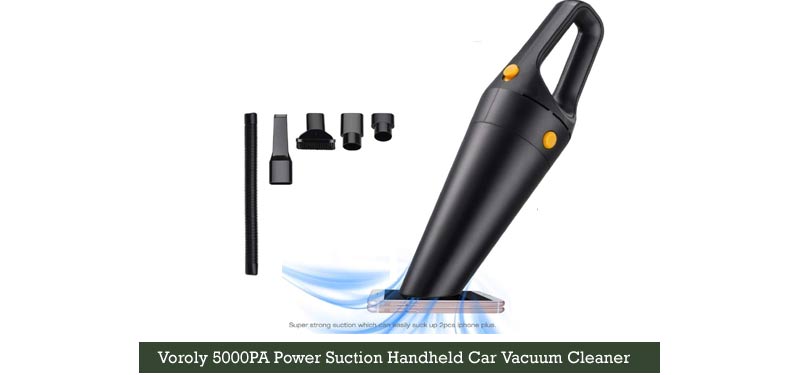 Voroly vacuum cleaner for car houses a potent motor of 120 Watts and utilizes the high-end cyclone technology to deliver cyclonic suction action of 5000 PA. Backed by Smart dustbuster vacuum technology, it can be used for both wet and dry applications. The flip-up brush of this handheld appliance helps in cleaning the car upholstery effectively.
Best Features:
Quiet operation with noise level less than 70 dB
Protection against short-circuit, over-voltage, over-charge, over-temperature, etc.
HEPA filter with multiple layers
Designed with unlock button and On/Off button
Cones with 3 accessories
Unique ventilation design to lower noise
Pros
Easy to use and clean in corners
Stylish and lightweight
Cons
Does not have a carry pouch
Warranty needs to registered separately
5. Yozo Chesssmat Handheld High Power Car Vacuum Cleaner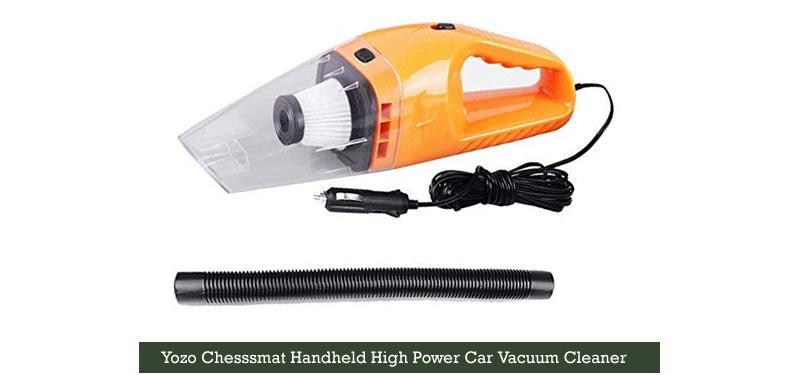 The Yozo car vacuum cleaning appliance with a compact and stylish design can easily take care of all your vehicle cleaning needs. Its lightweight body with a handle and cord measuring 4.5 meters helps in cleaning the trunk of your SUVs effortlessly. It comes with many attachments to deep vacuum debris on woolen upholstery.
Best Features:
Equipped super vacuum power of 5000 PA
One-step On/Off switch for dust container
Total Weight: 299 g
Bread Crevice tool
Compatible with cigarette lighter sockets of 12 V DC
Suction power: 4000 PA
6. Goank 80W High Power DC 12 V Dry/Wet Vacuum Cleaner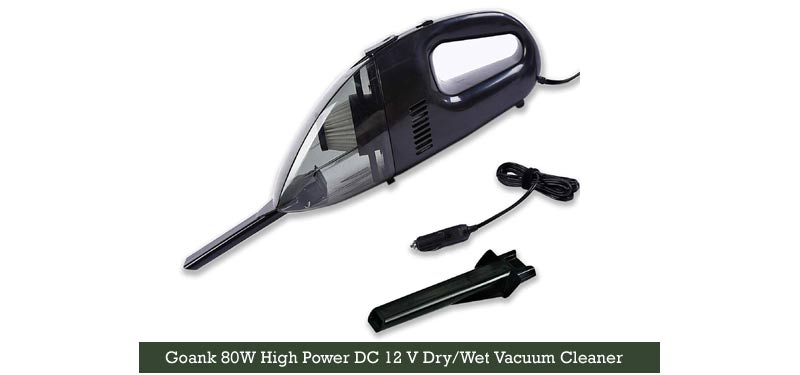 This dry and wet vacuum cleaner for car flaunts a fashionable design in glossy black color and has a comfortable handle for effective handling during cleaning. The unique cooling design for ventilating the powerful motor and built-in safety fuse makes it a secure choice.
Best Features:
Special button for detaching dust bin
Power On/Off switch
Perfect for sedans, small cars and jeeps
Can suck in sand, ash, dust, crumbs and spilled liquids
Comes with 9 feet power cord to reach corners and crevices
Strong suction power of 80 W DC 12 V
Washable and detachable HEPA filter
Effective dry and wet cleaning application
Pros
It can be used for domestic purposes like cleaning sofas etc.
The vacuum cleaner is easy to handle due to its light weight and compact size
Cons
There is no warranty on this product
Users have complained about suction power is too low
7. Black & Decker AV1205 Grey DC Car Vacuum Cleaner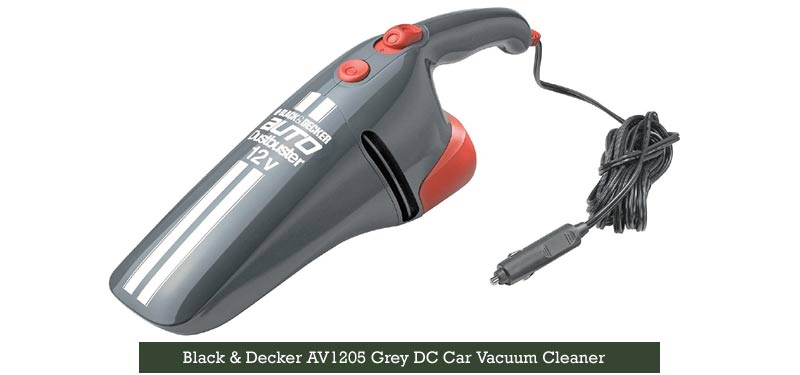 Your search for an ergonomically designed car vacuum machine that comes with convenient attachments to remove the debris from tricky edges and crevices, then the appliance offered by Black & Decker is a great choice. It comes with a super long cable, has a cleaning brush, and a crevice tool for thorough cleaning.
Best Features:
Swanky handle with grips
Simple On/Off control
Power cord with 5 m length
Small adapter to fit lighter sockets
On-board storage for attachments
High quality plastic body with a glossy finish
Lightweight design of 798 g
Pros
Good to clean areas that are difficult to reach
It has a double-action filtration system which reduces the time needed for cleaning
1-year warranty
Cons
It is not stain resistant
Users have complained about dust particles not being contained inside the vacuum
8. Bergmann Stunner Car Vacuum Cleaner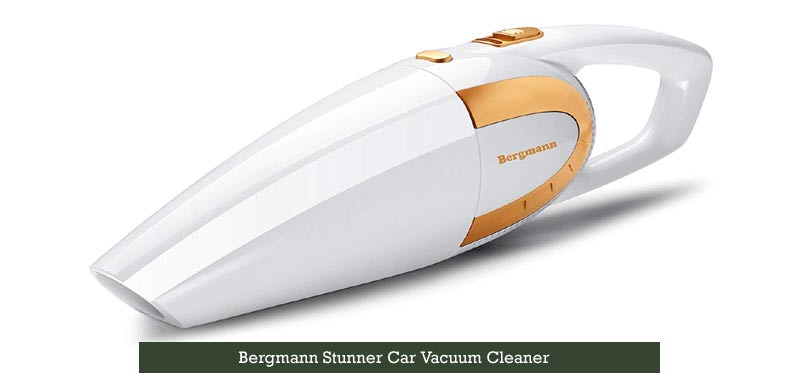 The Bergmann car vacuuming appliance is specifically designed to cater to the cleaning needs of Sports Utility Vehicles and sedan cars. This product looks super sleek in mirror-finish white color with accents in gold. The trendy handle design offers excellent support to its lightweight body and makes car cleaning a convenient task. It is built with plastic material of mobile phone grade to assure exceptional durability.
Best Features:
150 Watts suction power
Low noise operation at 75 db
HEPA filter with no replacement requirement lifelong
Efficient motor with 100% copper components and metal fan
3 attachments
Extra-long cable of 5 m
Pros
Also has a brush and a hose
You get a free storage bag with the product
Can use up to 30 minutes in one go
Looks attractive
Cons
Reviewers have complained of poor suction abilities
9. Getko With Device Portable and 12V Car Vacuum Cleaner

This car vacuum cleaner from Getko is an apt choice for vehicles having a power supply of 12 Volts. It is capable of performing with ultimate suction prowess of 4500 PA, thanks to its powerful fan made of aluminum alloy. This product is built with an upgraded HEPA filter in stainless steel that makes it a durable choice.
Best Features:
Best for mini cars, minivans, trucks, SUVs and sedans
Washable filter
Offered with an extension hose, brush nozzle and crevice nozzle
Cleans dry debris and wet spillages
Space-saving bullet train shaped body
Odor-free vacuum action
Pros
It is easy to use and has a high suction power
Looks stylish
Cons
It does not have a warranty
Difficult to find service center for repair
10. BLEQYS Vacuum Battery and Car Volt Operated Wet and Dry Vacuum Cleaner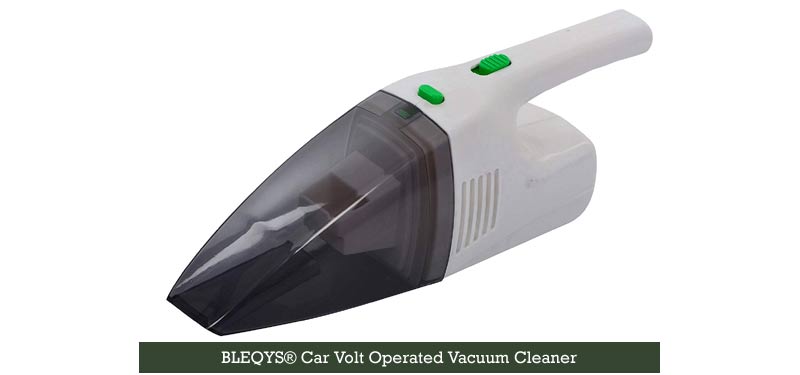 This vacuum device for automobiles comes in elegant white color. It has a grey plastic canister that covers the filter. The vents at the sides of its body prevent overheating issues when used continuously. The power button in green above the turbo motor and the canister release button make it a convenient appliance to use in vehicles.
Best Features:
Designed to perform with 20% less noise
HEPA filter – Removable and washable
Strong and sturdy fan made of ABS plastic
Compact body featuring bullet train shape
Operates on car's power supply and batteries
9 feet long power cable
Ideal for wet as well as dry vacuum cleaning
Total weight: 449 g
So, which vacuum device among the above ten are you planning to buy? The products that we have compiled here are based on their efficiency, convenience, suction power, versatility, and diverse applications. Choose the perfect cleaning tool that can keep your car interiors free from debris, dirt, and odor.