In today's day and age, when people have precious little time for regular health checkups, it's essential to have a weighing machine at home to keep track of things. Owning one could help determine if you need to put extra effort into shedding a few kilos to achieve the desired weight. Here in this detailed and in-depth listicle, we will break down the best personal weighing machines in India that will help you decide which equipment to buy.
Our Top Picks:
| | |
| --- | --- |
| Best Overall | Hoffen HO-18 Digital Electronic Personal Weighing Scale |
| Best Budget | beatXP Blue plus Digital Weighing Scale |
| Best Features | MEDITIVE Digital Human Weight Scale |
| Best Design | ActiveX Ivy Premium Personal Digital Weight Machine |
Top 16 Personal Weighing Machines in India
Last update was on: December 2, 2022 9:30 pm
Best Personal Weighing Machine
Now let's quickly dive into the topic and list the best personal weighing machines in India that you can purchase now.
Hoffen HO-18 Digital Electronic Personal Weighing Scale
The Hoffen digital weighing scale is fitted with the latest strain gauge sensor system with high precision to display the bodyweight accurately. The sturdy bearing platform in a glossy black color is crafted using premium-grade tempered glass. It flaunts a super slim design to facilitate quick storage. This personal scale has a large digital display panel to show the weight and temperature. This digital scale is equipped with an auto power-off feature and indicator for low battery. The digital scale can support the weight from 2.3 kg to 180 kg. It also has an indicator to alert about the overweight issue.
---
Pros:
You get a large and clear LCD Display
Comes with 2 AAA batteries
The machine is light in weight and Easy to use
Cons:
The after-sale service is pathetic, as per some user reviews.
---
HealthSense Ultra-Lite PS 126 Digital Personal Scale
The digital personal scale from the renowned brand, HealthSense flaunts a sophisticated ABS body design in grey color with rounded corners for enhanced safety. The wide platform of this scale is built with step-on technology to get activated as soon as you step on it. Engineered with four G-sensors, it assures accurate weight readings. It has a weighing capacity of 5 kg to 180 kg and sports an anti-slipping surface and skid-proof feet. The clear-lit LCD on the front features white fonts for quick readability. The readings get displayed continuously for 10 seconds, and then it shuts off automatically.
---
Pros:
Looks classic with a wavy shape and LCD display
1 year warranty on manufacturing defects is provided
Cons:
It fully relies on batteries and does not come with rechargeable options. May not be a good option.
---
Healthgenie Digital Weight Machine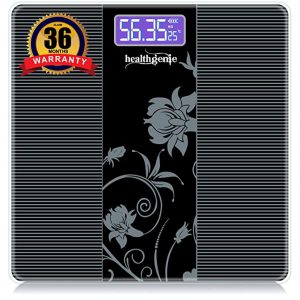 The third on our list of best weight machines is this offering from Healthgenie, a reliable and trustworthy brand that has been around for over five decades. The equipment has a plethora of standout features, like the beautiful-looking floral pattern on its body that gives it a rich and lavish look. The weight machine is powered by two 1.5 AAA batteries that give it a long shelf-life. It also has an auto ON/OFF option that switches on the machine when you step onto it and, similarly, switches off once you step down, ensuring there's no battery wastage.
---
Pros:
The Healthgenie Digital Weight Machine comes with G-Sensors that give you accurate and precise results.
The corners of the weighing scale are smooth and round, ensuring you don't hurt yourself while using the product.
Cons:
The performance of the battery is a big concern. It lasts up to a maximum of 12 days. Some users have also raised concerns in regard to the accuracy of the readings.
---
Dr Trust Electronic Platinum Digital Personal Weighing Scale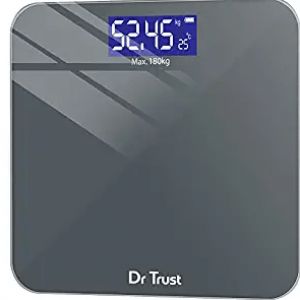 Dr. Trust's digital weighing scale is powered with patented Accu-gauge sensors to deliver bodyweight readings with excellent precision. It has an ultra-slim design and is crafted out of 6 mm tempered glass in a grey mirror finish. This personal scale has round edges to prevent accidental injuries while using it. The simple-to-read LCD with a blue backlight displays weight readings up to 180 kg along with the room temperature. This device houses a powerful battery of 500 mAh and has a USB cable for a quick recharge. It is designed with step-on technology to save battery life and has indicators for overload and low battery life.
---
Pros:
It can also be used to display the temperature of the room
It has USB compatibility for easy charging
It has an auto-off function within 5 seconds of use
Cons:
The LCD display's visibility in low light is not very excellent.
---
Venus Digital Weight Machine
This weight machine comes with a Hi-techG sensor that gives you the most accurate results, with hardly any margin for error. Venus Digital Weight Machine is also extremely lightweight, making it easily portable. The automatic sensor shuts the machine on and off on its own without you having to do it manually. The equipment is stylish-looking with an LCD screen that reflects the weight through a backlight effect for a clear-cut view. Finally, the weight machine's sturdy design and skid-proof legs ensure long-lasting durability.
---
Pros:
It comes with an overload indicator that warns you if the machine is burdened with extra weight than what it can carry.
It also functions as room temperature measuring equipment.
The Venus Digital Weight Machine comes with a 2-year warranty.
Cons:
It is not as accurate as other digital weight machines, and so is the look and design of the product. Too grey!!!
---
Omron HN 286 Ultra-Thin Digital Weight Machine
Though this sleek weight machine by Omron is slightly costlier than other products on this list, its features, more or less, compensate for the high price. Omron HN 286 Ultra-Thin Digital Weight Machine comes with a 4-sensor accuracy technology, with its results being precise to a fault. It also has silver-coated safety glass, which, apart from being stylish to look at, could fit in any place of your house, be it the gym, bathroom, bedroom, and more.
---
Pros:
Powered by a lithium battery that lasts for close to a year.
It comes with a 1-year warranty.
The machine's lightweight ensures it can be kept anywhere in your house, whether it's under the bed or at the top of the almirah.
Cons:
It comes with a plastic base, and may not be a great pick for something priced above Rs 1,600.
---
MCP Deluxe Mechanical Personal Weighing Scale
If you are looking for a personal scale with a discreet design, then the MCP mechanical scale is a perfect choice. It relies on an automatic analog weighing method that saves you the trouble of replacing the battery. This weighing device flaunts a slip-resisting platform with rust-free materials, making it ideal for bathrooms. It has a maximum capacity of up to 130 kg, and the expansive display with distinct demarcations of 1 kilogram each helps in better visibility. The zero adjustable knobs at the scale's side help set the scale to zero before using it.
---
Pros:
The measurements are easy to read and understand.
The hard body of the machine ensures it doesn't get damaged quickly and has a long-lasting shelf-life.
Cons:
Does not have a warranty, while the build of the product as per reviews is poor.
---
MEDITIVE Digital Human Weight Scale
MEDITIVE manufactures an array of medical products, including a Digital Human Weight Scale, which is one of their best-selling equipment on e-commerce platforms. It has many impressive features, most notably that it's equipped with four sensors that ensure your results are highly accurate and precise. Plus, the weight machine's surface with rubber pads provides you with the utmost stability and safety. Additionally, its auto-off feature, battery indicator, and ability to measure weight in both kg and lb make it one of the best machines on this list.
---
Pros:
It has a non-slip design, thus minimizing the chance of you meeting with an unfortunate accident while using it.
The boundaries of the weight machine are made of stainless steel, thus making it long-lasting and durable.
Cons:
Batteries die quickly and may require frequent change.
---
ActiveX Ivy Premium Personal Digital Weight Machine
Established in 2016, ActiveX has slowly built a reputation for being a reliable fitness brand that delivers only the highest quality of products. The company's Ivy Premium Personal Digital Weight Machine has also won over the customers if ratings on e-commerce platforms are anything to go by. The product has ultra-precision weight sensors that give you error-free results. It also comes with many tech-savvy features like a battery-saver, an overweight indicator, and more.
---
Pros:
Alongside the weight machine, customers would get a free kit that includes two e-books to help them achieve their fitness goals.
The product has a 1-year warranty, plus 2 AAA batteries would also be provided to ensure you wouldn't have to go purchasing again.
Cons:
There have been complaints of the machine not functioning properly and causing a lot of inconvenience to users.
---
MEPL LCD Smart App Weight Machine
This equipment from the Maharashtra-based brand is much more than your average weight machine as it helps you measure much more than just weight. From body fat, bone mass, visceral fat, protein rate, and more, the MEPL LCD Smart App Weight Machine helps you monitor 13 essential body components. It is also compatible with Apple Health App and Google Fit and can connect to your phone via Bluetooth in mere seconds to help you easily track things. Since we are talking about tracking one's health, our list of 13 best blood pressure monitors in India could intrigue you!
---
Pros:
The machine comes with a 2-year warranty, a testament to its quality.
The 6mm tempered glass of the weight machine's body makes it resistant to breaking easily, thus ensuring durability.
You can sync all the results with the company's mobile app, where you can track your and your family's data under your profile name.
Cons:
It may not give accurate measurements or may get jammed while in use.
---
beatXP Blue plus Digital Weighing Scale
This cost-effective option isn't only easy on the pockets but also comes with features that can give other big brands in the market a run for their money. The beatXP Blue plus Digital Weighing Scale boasts of Step On technology, through which the machine reflects your weight as soon as you step up with complete precision and accuracy. It also has features like low battery and overload indicators and room temperature capturing ability, making it the right option for customers who give equal weightage to both features and cost.
---
Pros:
The weight machine is scratch-resistant, thus minimizing the need to clean and wash it again and again.
You would receive two free AAA batteries upon purchasing the machine.
Cons:
It is not durable and can break down easily.
---
Voetex Zone's Digital Electronic Weight Machine
Voetex Zone manufactures a range of kitchen and home appliances, out of which their Digital Electronic Weight Machine is one of their finest offerings. The product's array of impressive features, coupled with its affordable pricing, makes it an easy recommendation from our side. The equipment comes with four high-precision sensors to give you accurate results, while its tempered glass ensures the weight machine has long-lasting durability and shelf-life.
---
Pros:
The non-slip bottom ensures you're safe from slipping or falling off while using the Voextex Zone Electronic Weight Machine.
Customers can switch between kilograms (kg) and pounds (lb) seamlessly.
Cons:
The machine can be inaccurate and does not have a backlight for nighttime weighing.
---
Hesley Digital Personal Weighing Scale
The Hesley digital weighing machine comes with a 290 X 290 mm dimension, making it an apt choice for urban apartments. This curvy-edged scale features instant step-on technology to give out precise readings instantly. The bright LED screen with red fonts legibly displays the readings. The anti-skid padding at the base holds it firmly to the floor, and its ultra-slim profile helps portability. It can convert your body weight into stone, pounds, or kgs. It is powered by two advanced technologies, such as the 5th Generation G-sensors, with German design and sense gravity zero technology to provide weight readings with a better accuracy rate.
---
Pros:
Easy to use and read on digital display
Auto power off within seconds is available
Over load and low battery indicator is present
Cons:
The product doesn't come with a warranty. Users may face issues when returning the product.
---
RYLAN Digital Personal Weighing Scale
The personal scale from Rylan comes in a shiny black mirror finish with sleek graphics in white to go well with modern decors. Its body is crafted from sturdy tempered glass with the capacity to hold up to 180 kgs. The suspension of the quad stability pads offers maximum traction while using it. The rectangular-shaped LCD with the backlit feature can exhibit weight readings in kg or lb. In addition, the display screen shows temperature, overload alert, and battery indicator. The automatic off function saves battery life while not in use for 10 seconds. This digital scale works with Step-on technology to switch on automatically when a person uses it.
---
Pros:
It has a thick tempered glass with LCD display
You get a 1-year warranty on the digital weighing scale
Cons:
As per reviewers, the scale doesn't show accurate weight each time you weigh.
---
HealthSense PS 117 Digital Personal Weighing Scale
This glass-top weighing scale from HealthSense is loaded with the best features and latest technologies to provide precise readings that are trustworthy. It sports an anti-skid surface featuring vinyl blocks in grey to prevent slips and skids even if you step on wet feet. The 6 mm tempered glass on top with shatter and scratch-resistant features makes this ultrathin device with curved edges a durable product. The large LCD with white backlight illuminates with white fonts to facilitate simple reading. It is engineered with 4 G-sensors and step-on technology to assure reliable weight measurements between 5 kg and 180 kg.
---
Pros:
The product is made in India
1 year warranty on manufacturing defects is provided
Includes 2 AAA batteries
Cons:
The size of the weighing scale is approximately small, compared to other products.
---
AGARO WS 501 Ultra-Lite Digital Personal Body Weighing
The personal weighing scale from the home of Agaro is a feature-rich product that can deliver accurate readings. It has four sensors with high-precision prowess. As a result, it offers precise, clear, and consistent readings. The large LCD with a backlit feature shows weight in the stone, pound, or kgs. With the ability to measure up to 180 kgs, this appliance has round edges and skid-proof fiber on top. It is backed by the auto-on technology that switches it on once the user steps on it. This scale is offered with a graduation increment of 0.01 st/0.2 lb/100 grams.
---
Pros:
Auto Off display in few seconds is present
It has an ultra-slim design with a 1-year warranty
Displays accurate measurements
Cons:
The weighing machine comes with a plastic body
---
 Types of Weight Machines in India:
Digital Weight Machine:These battery machines have become the go-to choice of customers in recent years since the results it showcases are much more accurate than a traditional weight machine. Moreover, they are easy to use as they come with some great features like step-on technology, through which your weight would be reflected as soon as you step on it.
Electric Weight Machine: Most commonly used in shopping complexes and outlets, electric weight machines are known to give the most accurate results among all types of weight machines. Unlike its digital counterpart, this equipment has to be plugged into a socket.
Analog Weight Machine: They are the most inexpensive option on the market. These machines were a part of every other household until a few years back before the digital ones replaced them. The biggest drawback of an analog weight machine is that it often reflects inaccurate results.
Small Weight Machines: These are used to measure ornaments and other items that are small in size. It's also used by nutritionists across the globe to determine the number of calories their patients are consuming.
FAQs
Which is the best personal weighing machine in India?
The Hoffen HO-18 Digital Electronic LCD Personal Body Fitness Weighing Scale is the best personal weighing machine in India for a variety of reasons. First and foremost, it is accurate and reliable. This scale features a digital display that makes it easy to read even from a distance, as well as an auto-off function that saves your battery life. The scale also has multiple weight settings so you can measure different weights with ease.
How to choose a personal weighing machine?
Weight capacity: Most weighing machines offer a maximum capacity of up to 150 kgs, however, some of the latest ones on the market today can measure as high as 250 kgs.
Accuracy: Another important factor to consider when buying a personal weighing machine is accuracy. It is advisable to opt for a digital weighing machine as they are more accurate than the analog one.
Size and Material:It is mandatory that you check the size of the pan. The bigger it is, the better. And lastly, the material of the weighing machine is another key factor. Weighing machines featuring a plastic base don't last long.
Other Factors:Brand value, online reviews, and importantly, the cost. Anything ranging between Rs 750 to Rs 1,250 would be a great choice.
How do we check the weight at home using a personal weighing machine?
A personal weighing machine can be a great way to check your weight at home, and there are many different models available that you can choose from. Just like with any other purchase, it is important to do your research before making a decision. Choose the model that best suits your needs and budget, and make sure that it has been adequately tested and certified by an accredited body.
Now, make sure you remove your shoes, slippers, and other items before you place your foot on the scale to measure your weight. It's also a good idea to remove heavy clothes like sweaters and jackets, as well as gadgets (like smartphones, EarPods), keys, and other objects for more precise readings.
We are sure that since we gave you a comprehensive analysis of the best-weight machines in India, you're most likely to find the right option that fits your budget and requirement! However, we would still recommend you go through all the details of the product you're interested in before making a purchase. Keep shopping and keep reading; cheers.