Phones are getting better in their specifications and the things that they can do. But one thing that still needs a lot of improvement in phones is the battery backup they offer. My Pixel and even most other flagship phones last for no more a day, and less when used more. The same is the case with most iPhones.
This doesn't help much while travelling and can be frustrating when you don't find a charging port to plug your phone into. So many users prefer power banks to address this issue.
But with power banks comes a great deal of related questions as to are they going to damage my phone battery, will they last long enough and topping the list whether they blast!
Well, all these things might be true, but not if you buy a good power bank. So in this article, we will be making a list of the best power banks you must buy. Without much ado, let's get right into it.
Top 10 Power Banks for Phones
Last update was on: June 27, 2022 4:28 pm
Best Power Banks for Phones
Mi Power Bank 3i 20000mAh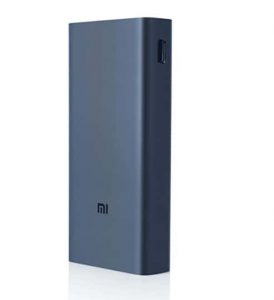 Spend less time looking for outlets and plugging in your devices to charge. With the Mi Power Bank 3i 20000mAh, you can charge up to three devices at once on the go. It has a dual input port that connects Type C and Micro USB type ports.  It has a great price and has the perfect capacity; it can charge your phone, tablet, or even your wireless earbuds multiple times!
Features
It has an advanced 12 layer protection
It has fast charging capacities
Has a dual input port
Specifications
Capacity: 20000 mAh
Connector Type: USB, Micro USB
Power: 18 W
Dimensions: 15.1 x 7.2 x 2.6 Centimetres
Weight: 434 grams
Ambrane 15000 mAh Li-Polymer Power Bank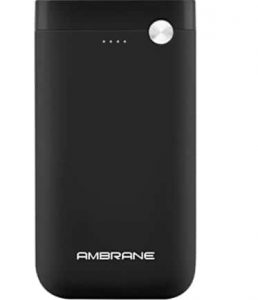 Ambrane's 15000mAh Powerbank can keep you going for hours and hours! It has 9 layers of protection so it will be able to withstand even the highest level of strain that's put on it. The accessory is made of high-quality plastic and has a resistance to extreme temperature (above 100 degrees). It can be purchased at an affordable price and is an ideal partner for trips, travel and emergency situations.
Features
Dual USB inputs
Simultaneous charging for 2 devices
5A for each device
Overall 5V combined rating output
Specifications
 Capacity: 15000 mAh
Connector Type: USB, Micro USB
Power: 10 W
Dimensions: 13.7 x 7.7 x 2.2 cm Centimetres
Weight: 434 grams
Realme 10000mAH Power Bank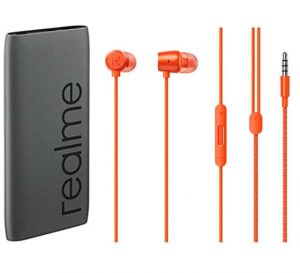 Whether you're a student or a businessman, this can be the perfect power bank for you. The 10,000mAH Realme power bank with 18W fast charge allows you to charge your devices on the go. Its lightweight and compact design makes it easy to carry around. It has 12 layers of circuit protection that protects it even in times of accidents. The Realme power bank has a large capacity and is excellent to use as an emergency device when you're on the go to ensure that your phone or tab keeps on working.
Features
2-way fast charging
High density battery (100% even after 500 cycles)
Realme earbuds free
Specifications 
Capacity: 10000 mAh
Connector Type: Dual output – Type C and Type A
Power: 2-way 18 W
Dimensions: 9 x 6.4 x 6.4 Centimetres
Weight: 230 grams
Syska 20000 mAh Li-Polymer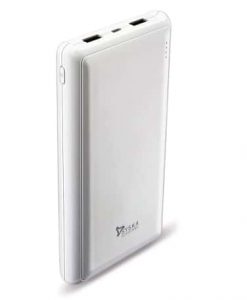 This Syska 20000 mAh Li-Polymer consists of polypropylene, a strong and sturdy material, that protects your power bank quite well. The outer shell is made up of ABS plastic for added strength and durability, which is what makes it highly resistant to breakage. With Syska 20000 mAh Li-Polymer, you can be sure that your phones are juiced up at all times. You get a free 6 month warranty on this product.
Features
10 hour charging time
Standard charging cable
Can charge a 3000 mAh battery 4.3 times in one charges
Specifications
Capacity: 20000 mAh
Connector Type: Micro USB
Power: 10 W
Dimensions: 15.8 x 8.2 x 2.4 Centimetres
Weight: 230 grams 
pTron Dynamo Pro 10000mAh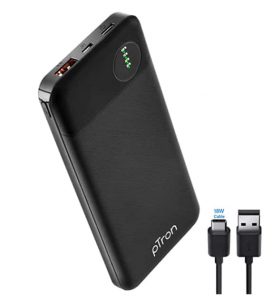 The pTron Dynamo Pro 10000mAh is one of the best power banks in the market today. It is one of the most durable power banks with a capacity of 10,000 mAh that can be used for smartphones, tablets and more. The Power Bank also works with Type C and Micro-USB enabled devices. Moreover, the quad core lithium polymer battery has been designed to provide you with an ample amount of power to have a phone that does not run out of battery.
Features
Portable ergonomic design
2 – Way charging slot
Large capacity Li ion battery
Fast charge
Specifications
Capacity: 10000 mAh
Connector Type: USB, Micro USB
Power: 18 W
Dimensions: 14.3 x 6.7 x 1.5 Centimetres
Weight: 190 grams
Gionee 10000mAh Power Bank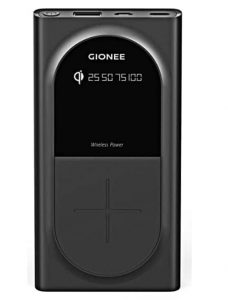 The Gionee 10000mAh Power Bank is a must-have item for you if you carry a few devices around with you as it can charge multiple devices at once. It has a digital power display metre, so that you know exactly how much juice it has. The product has an ergonomic design, with a minimalistic and sleek look, perfect to fit in any pocket. Moreover, it is good against overheating and voltage fluctuations, thanks to its inbuilt protective measures.
It charges a phone with 3000 mAh battery in 1.5 hours and can be charged 2.2 times until the power bank gets drained. For 4000 mAh batteries, the charging takes 2 hours, and you can charge a total of 170% 1.7 times, i.e 100% the first time and 70% the next time. Don't overcharge your phones to increase the durability of the battery in your phone and also save some juice in the power bank.
Features:
Digital battery power metre
Has wireless charging in built
Fast charge support
Specifications
Capacity: 10000 mAh
Connector Type: Input: Type C and Micro USB, Output: USB
Power: 12 W
Dimensions: 1.5 x 6.8 x 13.8 Centimetres
Weight: 247 grams
Philips 10000 mAh Power Bank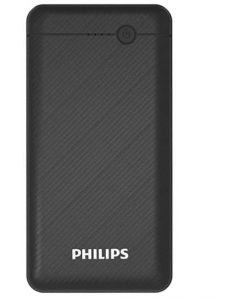 Small, lightweight, and compact, the Philips Power Bank can be slipped into a pocket or bag. Featuring a built-in Li-Polymer battery and dual USB output ports, it can charge mobile devices with one output and power a laptop with the second output. The fast charging technology provides a fully charged power bank within 2 hours when it's plugged into a computer or the wall.
Features
Fast charging support
Dual output ports for charging 2 devices simultaneously
Overheat voltage current protection
Specifications
Capacity: 10000 mAh
Connector Type: Type C and Micro USB
Power: 10 W
Dimensions: 13.4 x 6.8 x 1.5 Centimetres
Weight: 250 grams
Anker PowerCore 20100 power bank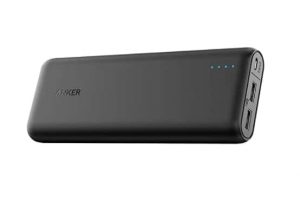 The Anker PowerCore 20100 Power Bank is your best buddy in times of need. It is equipped with an intelligent input circuit that keeps the battery safe. With a 4.8A output, this power bank will get your drained out devices up and running in no time. It is an ultra-high capacity portable charger that effortlessly charges smartphones, tablets and other USB gadgets. It charges the iPhone 7 almost 7 times with its beast sized battery and surely is a great bet for power, price and convenience combined.
Features:
High speed charging
Touchscreen
10 hours recharge time (2 amp charger)
Specifications
Capacity: 20100 mAh
Connector Type: 2 USB-A type ports
Power: 10 W
Dimensions: 16.6 x 5.8 x 2.2 Centimetres
Weight: 354 grams
Romoss 40000 mAh Power Bank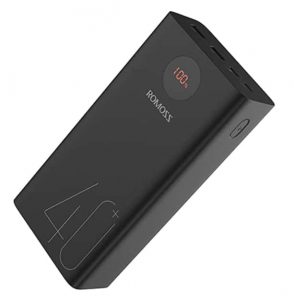 Smartphones, tablets, cameras, headphones – they all need to be charged up. So why not get a power bank which is best for all of 'em? With a Romoss 4000 mAh power bank, you can enjoy the convenience of having a high-capacity back up right at hand. It has a dual output so you can charge multiple devices at the same time.
The power bank can easily charge your phone upto 85% in just 35 minutes. Its charge time is 16 hours when using an 18W wall charger. Once fully charged, it charges an iPhone 11 8 times and even more for Samsung Galaxy S10 etc. It's huge battery capacity makes it suitable for trips, hiking, music festivals and more.
Features:
4 Li Polymer batteries
Fast charge
Charges even while charging your device
Specifications
Capacity: 40000 mAh
Connector Type: 2-input: Micro-USB and Type-C;
Power: 18 W
Dimensions: 17 x 8.1 x 4.4 Centimetres
Weight: 952 grams
Coolnut 60000mAh Power Bank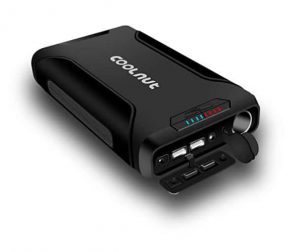 The cool thing about this product is that it can fulfil almost all of your charging needs. With 60000 mAh of power, it can basically charge mobile phones, laptops, wifi routers, and even portable oxygen concentrators, nebulisers, DSLR cameras and so on. It is the most multi-functional power bank in the market right now. Though a little high on price, it's worth every penny if you are willing to spend on it.
Features:
Fast charging
Multi functional
Can charge multiple gadgets at the same time
Solar charging possible
Specifications
Capacity: 60000 mAh
Connector Type: 2 USB outputs
Power: 150 W
Dimensions: 22.8 x 12.5 x 4.4 Centimetres
Weight: 1.27 Kilograms
Frequently Asked Questions
Do power banks damage my phone?
Although power banks are not damaging, you would be better off without them if you charge your phone on time and be prepared. Although some articles on the web mention that they cause no harm, some mobile repair shop owners might suggest otherwise.
Do power banks work with other devices?
Phones, tablets, laptops, you name it. But the device they work on is very much dependent on the capacity of the power bank. The bigger the mAh, the bigger batteries it can charge.
What power bank is the best?
Power banks with high grade polymer batteries are good. Those with low quality power cells should be avoided as they can cause safety concerns, and can even blast when overcharged.
Are power banks allowed in flights?
Yes, but that might depend on the capacity of your power bank. As per Civil Aviation Authority, there is a limitation of carrying a maximum of 1000Wh units. This means that you can get away with a 20000 mAh power bank at max.
Are 20000 mAh power banks good?
It really just means that you can charge your phone multiple times with a fully charged power bank of 20000mAh and suits best for travelling. Power banks with smaller capacities, on the other hand, will simply last less than their high capacity variants. They are, however, cheaper and are good for general use.
Final thought
If there's one thing you can't put a price on, it's peace of mind. By powering up all your devices at home and on the go, you can get rid of the hassle of finding an outlet and the risk of leaving behind vital documents by keeping them to yourself. And when you need it most, you'll be ready with little additional costs and for over-the-top convenience.