Latest Happily Unmarried Coupon Codes & Promo Codes For Mar 2021
| Happily Unmarried Coupon Codes | Happily Unmarried Coupons & Offers |
| --- | --- |
| Happily Unmarried Sale | Up To 60% OFF On Beauty Products |
| Face Scrubs Offer | Up To Rs 210 OFF On Face Scrubs |
| Free Shipping | On All Orders Above Rs 999 |
| Value Packs For Dry/Oily Skin | Up To Rs 360 OFF |
| Moisturising Cream & Lotions | Up To 60% OFF On Creams & Lotions |
Why Happily Unmarried?
Unhappy with the way Grooming Products are made and sold to women, Happily Unmarried took it upon themselves to make the Grooming scene more interesting. Previously the youth destination for cool lifestyle goodies like Printed Mugs, Tees, etc, Happily Unmarried now focuses on natural and chemical-free Personal Care for women. These products are 100% Sulphates & Parabens free, and challenge the harmful grooming products that prevail in the market today.
What's in Store for You?
Happily Unmarried has an elaborate range of products to suit every skin type. There is something for everybody! Here is a list of must-try's from their store:
Face wash: The best part about HU's Face wash is that it is also a Face scrub! That's right, the gel-based scrub gets rid of acne, blackheads, and dead skin, and cleanses your face. The Face wash range has the goodness of Lavender Oil, Tea Tree, Pomegranates, and is available for Oily Skin and Dry to Normal Skin.
Body wash: The Body wash range consists of 6 exquisite bottles: Bergamot & Patchouli; Indigo & Marigold; Neroli & Hibiscus; Orchid & Jasmine; Lavender & Vetiver; and Basil & Grapefruit.
Body Lotions, Body Mists and Moisturizers: Made with the goodness of Marigolds, Plums, and other natural ingredients, these HU products are a delight.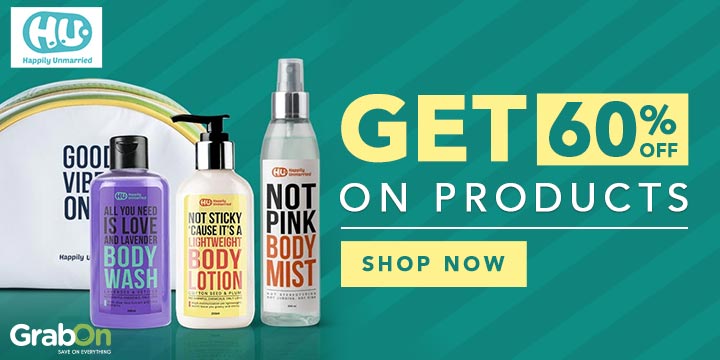 Happily Unmarried Return and Replacement
Return is applicable on all the orders for 7 days since the delivery. To place a return, all you have to do is write to them at help@happilyunmarried.com or call on 1800 103 6121. The team provides assistance within 24 working hours.
Now Know More About Refund Policy
If you return a product, your refund is carried out in the form of Store Credits. You can use these Store Credits to purchase anything in the future from either Happily Unmarried's website, or their men's website, Ustraa. The Store Credits do not have an expiry date. So, you can be at peace, and redeem them anytime you wish.
When will your goods be delivered?
Don't we grow impatient when our order takes forever to arrive? Luckily for us, Happily Unmarried has a Next Day Delivery Policy. Which means no worries about last-minute plans. HU's got your back. The Next Day Delivery option is available @ Rs. 150, and is valid on all the orders placed between 12 AM and 3 PM, Mondays to Fridays. For orders placed after 3 PM, the delivery will be done after the next day.
How much will the delivery cost you?
FREE shipping for orders above Rs. 999.
Rs. 99 for orders less than Rs.999.
How to Save More on Happily Unmarried?
Value Packs: You can save quite a buck on the Value Packs available on HU's website. These bundles are custom-made for each skin type, and can let you save as much as 50%
Coupons at GrabOn: To save more on-season and off-season, bookmark this GrabOn page. Here you will get coupons to avail Maximum Discounts and Free Shipping on your Happily Unmarried orders. Happy savings to you!