CureFit Coupons
all (14)

coupons (0)

offers (14)
Get Flat 50% Off on Dinner Meals Home delivery

show details
Comments (0)

Coupon/Offer Details:

Eat.fit meals give you a boost of energy by incorporating foods from all food groups.
All the meals are engineered to be balanced in terms of macro (carbs, proteins, fats) and micro (vitamins, minerals etc.) nutrients.
Now get flat 50% Off on dinner meals valid for all users.
You will be redirected to offer landing page to avail the offer.
Promo code is not required to avail this offer.

50%

off

GrabOn Suggested

Flat 50% OFF On First 5 Orders (App Only)

Cashback

Flat Rs 50 Cashback On Order Made With Paytm - Cure.Fit

show details
Comments (0)

Coupon/Offer Details:

Now plan your perfect diet with Cure.fit
Order food with Cure.Fit and get Rs 50 Cashback.
Maximum cart value above Rs 200.
Payment needs to made only with Paytm.
Offer is valid only for limited period.

Paytm Offers: Get up to Rs 600 Cashback

show details
Comments (0)

Coupon/Offer Details:

Pay using Paytm at Curefit & get Flat 15% Cashback.
Maximum cashback amount - Rs 600.
Offer applicable for Paytm users only.
Coupon code not required.

Up to 30% Off on Monthly Subscription (Bangalore Users Only)

show details
Comments (0)

Coupon/Offer Details:

Avail up to 30% off on monthly subscription.
This is valid for Bangalore location only.
Cure fit coupon code is not required to avail the discount.
Grab all limited period discount deals today
CureFit Offers & Promo Codes
Refer & Earn Flat Rs 100 OFF On Your Next Meal

show details
Comments (0)

Coupon/Offer Details:

Cure fit offers flat Rs 100 off on your meal without using any Curefit meals coupon
Offer applicable on every referral
Offer applicable to all the users
This is a limited period offer and will expire soon. Refer your friends now.
Terms and conditions applied
Visit landing page to avail the offer

Unlimited Classes For 30 Days at Rs 999

show details
Comments (0)
Valid till 28th Feb, 19

Coupon/Offer Details:

Cult.Fit super century sale pack starting at Rs 999/ month.
Offer is available on celebrating 100 fitness centers.
Limited number of slots are available.
Currently offer is valid only in Hyderabad.

Get 7days Cult Pack Free @ CureFit

show details
Comments (0)

Coupon/Offer Details:

Get Flat 25% off on Paytm Subscription.
Get 7 days pack free on Cult Pack.
Flat 15% Paytm cashback free.
Maximum cashback of Rs 600.
Offer is valid for limited period.

Free Shipping

Subscribe to lunch in Meal Box - eat.fit

show details
Comments (0)

Coupon/Offer Details:

Subscribe to lunch with eat.fit meal boxes.
Get zero delivery charges on order food.
Offer is valid only for limited period.
No voucher required to avail this offer.

Hot Deal

Happy Hours sale: Zero Delivery Charges on Snacks

show details
Comments (0)

Coupon/Offer Details:

Happy Hours Sale starting at Rs 40.
Get healthy and balanced meals everyday.
Perfection in nutrition with Eat.fit
Promo code is not required to avail this offer.

Free Shipping

Free Delivery on All Orders

show details
Comments (0)

Coupon/Offer Details:

Enjoy food with no delivery charges.
Limited period offer only.

Combo Offer

FOMO Sale Get Upto 25% OFF + 750 Paytm Cashback

show details
Comments (0)
Valid till 21st Feb, 19

Coupon/Offer Details:

FOMO Sale upto 25% OFF + Flat Rs 750 paytm cashback.
Get fit with the monthly subscription to a healthy diet.
One year subscription Free JIO Saavn (worth Rs 1,050)
Cure Fit sale is valid only for limited period.
CureFit promo code is not required to avail this offer.

FOMO Get Fit Sale Sale - Cult Fitness

show details
Comments (0)

Coupon/Offer Details:

Get 50% OFF on your fitness sale on FOMO Sale.
Offer valid on 10 months Cult Unlimited packs.
And get additional deals 2 months extension, Fitcash, Myntra vouchers, Zomato gold, Puma or Ixigo flights.
Pick up Cult pack today and get access to unlimited sessions in any center in your city.

Hot Deal

Free Meditation classes - CureFit

show details
Comments (0)

Coupon/Offer Details:

Try 2 free meditation classes Free from CureFit.
Now also stream free meditation classes from CureFIt.
Try all new DIY yoga strength series for free
Become stress free with expertise Doctors.
Cure.fit promo code is not required to avail this offer.

Save 50% OFF on Doctor consultation - Cure Fit

show details
Comments (0)
Valid till 28th Feb, 19

Coupon/Offer Details:

Consult Doctor and get 50% OFF on 1st consultations.
Consulatation of Doctor starting at Rs 175.
Offer is valid only on installing the app.
Get health check-up for all ages with Cure Fit.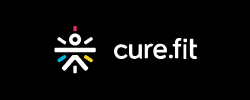 What Is CureFit And What Are The Products?
CureFit is an organization that is dedicated to promoting a healthy lifestyle through nutritious food, meditation, and exercise for body and the mind. They have sections like eat.fit, mind.fit and cure.fit, to cater to your every need for a healthy lifestyle. Eat.fit provides you a wide range of products from health bars to shakes, smoothies, juices along with options for nutritious breakfast, lunch, and dinner. You can choose from non-veg as well as veg options like chapati or roti meals with chicken curry, rajma or salads with quinoa, roasted tomato, bell pepper, and veg/non-veg combo meals. The mind.fit section provides you with specially designed programs for 1 month, 3 months, 6 months and 10 months to unlimited access to sessions. The price range varies from Rs 2500 to Rs 14,990. You can enroll in Hatha, Yoga Nidra or APM (Asana, Pranayama, and Meditation) for meditation. Through these meditation techniques, Mind.fit aims to help you reduce stress and anxiety, and also help you sleep better. Cult.fit allows you to pursue any form of training to increase your core strength and stamina through running, CrossFit and other holistic approaches where the focus is on building a healthy lifestyle rather than lifting weights or using a lot of gym machinery. At cure.fit, you can get your check-ups done and get expert advice from doctors through video consultation or by visiting their centers. You can also get medical and lifestyle plan from care.fit which can then be managed and monitored regularly. There are health checkup plans for males and females below and above the age of 40. CureFit provides diagnostic tests along with consultation from the doctor and also helps you track your health records digitally. So, basically, CureFit provides you with all the products and services required for a healthy and fulfilling lifestyle.
Eat Healthy With Eat.fit
Eating nutritious food is the key to a healthy lifestyle. Often, people neglect the eating part and only concentrate on shedding body weight. But having a balanced diet helps tremendously in developing essential muscles for you to function. Your diet should be complete with macro (protein, fats, carbohydrates) and micro (vitamins and minerals) nutrients, roughage and other essentials. Eat.fit from CureFit helps you do this by providing you with the healthiest meal options like quinoa and chicken salad, quinoa burrito and corn, roti, bhuna sabzi and hyderabadi murgh among others. You can also choose from a wide range of smoothies and health bars like the antioxidant kick, the slim cold coffee, healthy snickers smoothie, chocolate chunk yoga bar, hazelnut toffee yoga bar, nutty pudding, and nutty oatmeal bowl.
Healthy Mind With Mind.fit
At Mind.fit, you can choose programs that help you relax, de-stress and sleep better. You can either choose to practice from home or visit a center. You can enroll in programs like APM which is an amazing combination of Asana, Pranayama, and Meditation to provide you the ultimate relaxing experience. You can also choose from programs that run for 1 month, 3 months, 6 months or 10 months.
Stay Healthy & Fit With Cult.fit
Cult.fit focuses on providing you with an ultimate holistic and well-rounded development rather than focusing on a sole exercise pattern like a gym work out. Going machineless is what separates cult from your regular gyms. Through specially designed classes that include boxing, zumba, resistance training and yoga, cult.fit helps you better yourself physically. You can opt for classes and training sessions as per your interest from running to weight lifting and other exercises. The programs are available for select durations from 1 month to 12 months with weekend exclusive classes also available.
Amazing Offers On CureFit Products With GrabOn
Whether you are looking for a meal combo for your lunch, breakfast or dinner, a health bar, smoothie or juice, maybe supplements, checkup or even meditation/exercise package from Cure.fit, you can the best discounts and deals on all their products right here. The next time you are buying something from CureFit, be sure to check out the regularly updated page of GrabOn!
read more
How To Use Cure Fit Coupons On GrabOn?
Filters
Show coupons/offers for existing/repeat users
More About Cure Fit
In this hustle bustle of modern life, your health often takes a backseat and that has a huge impact on your productivity and lifestyle. CureFit is here to provide you a healthy lifestyle, not only in the form of body fitness but also by improving your eating habits and through mind wellness programs. CureFit has various programs and offerings like eat.fit, cult.fit, mind.fit and cure.fit which help you stay healthy, both body and mindwise. Eat.fit offers you balanced wholesome meals that are made in a completely hygienic environment by trained chefs. These meals are prepared with macro (carbohydrates, proteins, fats) and micro (vitamins and minerals) nutrients and are counted for calories by nutritionists making sure you get just the right amount of essential proteins and good fats among other nutrients. The cult.fit aims to provide you a healthy lifestyle through a combination of various exercises like yoga and boxing. Cult.fit offers you focused training programs instead of going for gym equipment and machines. At Cult.fit, posture and form is of utmost importance and instead of isolating training regimens, they focus on overall exercise and holistic development. You will get to train alongside athletes and professional trainers. The mind.fit programs from CureFit help you handle stress, decrease anxiety and sleep better using specially designed meditation sessions that range from 3 minutes to 15 minutes in duration. Eat.fit offers you a selection of healthy breakfast, lunch and dinner options with juices, smoothies and health bars to choose from. Through cult.fit, you can book weekly and monthly programs for running, strengthening muscles and other core exercises. Join CureFit today to stay healthy and live longer.
show more
CLEAR & RESET
APPLY FILTER