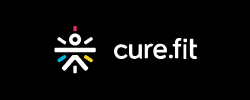 What Is CureFit And What Are The Products?
CureFit is an organization that is dedicated to promoting a healthy lifestyle through nutritious food, meditation, and exercise for body and the mind. They have sections like eat.fit, mind.fit and cure.fit, to cater to your every need for a healthy lifestyle. Eat.fit provides you a wide range of products from health bars to shakes, smoothies, juices along with options for nutritious breakfast, lunch, and dinner. You can choose from non-veg as well as veg options like chapati or roti meals with chicken curry, rajma or salads with quinoa, roasted tomato, bell pepper, and veg/non-veg combo meals. The mind.fit section provides you with specially designed programs for 1 month, 3 months, 6 months and 10 months to unlimited access to sessions. The price range varies from Rs 2500 to Rs 14,990. You can enroll in Hatha, Yoga Nidra or APM (Asana, Pranayama, and Meditation) for meditation. Through these meditation techniques, Mind.fit aims to help you reduce stress and anxiety, and also help you sleep better. Cult.fit allows you to pursue any form of training to increase your core strength and stamina through running, CrossFit and other holistic approaches where the focus is on building a healthy lifestyle rather than lifting weights or using a lot of gym machinery. At cure.fit, you can get your check-ups done and get expert advice from doctors through video consultation or by visiting their centers. You can also get medical and lifestyle plan from care.fit which can then be managed and monitored regularly. There are health checkup plans for males and females below and above the age of 40. CureFit provides diagnostic tests along with consultation from the doctor and also helps you track your health records digitally. So, basically, CureFit provides you with all the products and services required for a healthy and fulfilling lifestyle.
Eat Healthy With Eat.fit
Eating nutritious food is the key to a healthy lifestyle. Often, people neglect the eating part and only concentrate on shedding body weight. But having a balanced diet helps tremendously in developing essential muscles for you to function. Your diet should be complete with macro (protein, fats, carbohydrates) and micro (vitamins and minerals) nutrients, roughage and other essentials. Eat.fit from CureFit helps you do this by providing you with the healthiest meal options like quinoa and chicken salad, quinoa burrito and corn, roti, bhuna sabzi and hyderabadi murgh among others. You can also choose from a wide range of smoothies and health bars like the antioxidant kick, the slim cold coffee, healthy snickers smoothie, chocolate chunk yoga bar, hazelnut toffee yoga bar, nutty pudding, and nutty oatmeal bowl.
Healthy Mind With Mind.fit
At Mind.fit, you can choose programs that help you relax, de-stress and sleep better. You can either choose to practice from home or visit a center. You can enroll in programs like APM which is an amazing combination of Asana, Pranayama, and Meditation to provide you the ultimate relaxing experience. You can also choose from programs that run for 1 month, 3 months, 6 months or 10 months.
Stay Healthy & Fit With Cult.fit
Cult.fit focuses on providing you with an ultimate holistic and well-rounded development rather than focusing on a sole exercise pattern like a gym work out. Going machineless is what separates cult from your regular gyms. Through specially designed classes that include boxing, zumba, resistance training and yoga, cult.fit helps you better yourself physically. You can opt for classes and training sessions as per your interest from running to weight lifting and other exercises. The programs are available for select durations from 1 month to 12 months with weekend exclusive classes also available.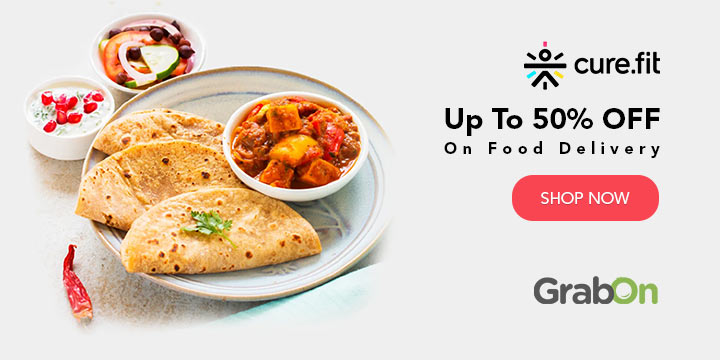 Amazing Offers On CureFit Products With GrabOn
Whether you are looking for a meal combo for your lunch, breakfast or dinner, a health bar, smoothie or juice, maybe supplements, checkup or even meditation/exercise package from Cure.fit, you can the best discounts and deals on all their products right here. The next time you are buying something from CureFit, be sure to check out the regularly updated page of GrabOn!
Take care of your body. Eat healthy. The healthy meals from Cure Fit is something you will love for sure. Maybe a cheat meal is allowed once in a while. If this is your cheat day, you order some yummy snacks from Swiggy app. Or simply use Zomato where you can also see live photos of food uploaded by people on the app.