Cashe Coupons, Offers & Promo Codes | January 2021 - GrabOn
| Cashe Coupons | Cashe Offers & Promo Codes |
| --- | --- |
| Cashe Coupon Code | Loans @ Best Interest Rate |
| Cashe Student Loan Offer | Instant Loans Anywhere |
| Cashe Coupon | Personal Loans Upto 2.58 Lakhs |
| Cashe Best Deal | Pay EMI's Efficiently |
| Cashe Promo Code | Transfer Money To Friends Anytime |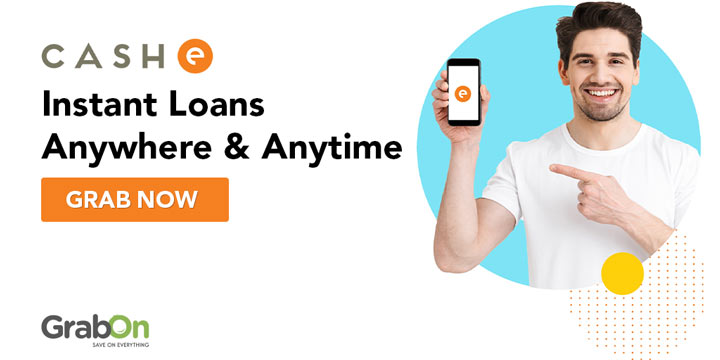 About CASHe
CASHe is an instant personal loan granting platform. It is an app-only platform and is available in both android and iOS. CASHe gives small personal loans without hassles of a conventional loan process and any physical paperwork. The entire process of a loan allowing is entirely automated without requiring personal intervention. The loans taken through the CASHe instant personal loan service are given through an NBFC (NonBanking Financial Company) known as Bhanix Finance and Investment Limited.
Why CASHe?
CASHe is for young working professionals in India who usually require short term personal loans of smaller amounts. Whether it is that holiday retreat and break from work you've been postponing or that road trip with college buddies forever in planning, CASHe has got you back. They have developed a new advanced credit ranking system using big data analytics. CASHe uses predictive tools and artificial intelligence to calculate the Social Loan Quotient (SLQ) of its users. It has various EMI plans depending on the need of different users and very affordable interest rates starting from as low as 1.5% per month.
How To Apply For Loan on CASHe?
Download the app and register yourself by uploading just four primary documents through your smartphone. Based upon your eligibility, you can choose the amount of loan you want to apply for along with the duration of the loan.
CASHe Payment Options
You will receive your loan amount in your account soon after your loan is approved. And you can repay your loan before the due date via bank transfer, check deposit. The same bank can be used to repay the amount which was uploaded in the bank details while applying for the loan.
CASHe Loan Approval Policy & Repayment Policy
CASHe uses Social Loan Quotient to approve your loan. It uses various data points, including social media and mobile footprint, monthly salary, career experience, and education. The repayment would depend on the term and amount of your loan.
5 Things You Didn't Know About CASHe
While being in a hurry, we sometimes overlook many interesting and helpful features that a platform offers. So we bring you five things you probably didn't know about CASHe -
CASHe offers quick personal loans of as low as Rs. 7,000 to as high as Rs. 300,000.
Loan repayment tenure varies from the amount to amount, but you can choose from 15 days, 30 days, 60 days, 90 days and a maximum 360 days.
Your score of Social Loan Quotient is dynamic, and it evolves with your time spent in digital space and with your interaction with CASHe.
You only need a minimum salary of Rs. 12,000 to get an instant personal loan from CASHe.
CASHe also has a fund transfer feature called buddy transfer where you can instantly send money to your friends.
Avail Best CASHe Offers via GrabOn
Now you can avail of best offers on CASHe only on GrabOn. We have a dedicated link to the CASHe website. You can look out for various offers at GrabOn and get the lowest interests on loans. In addition to that, you can opt for a very economical EMI plan at CASHe for your loan. Using GrabOn, you can unlock great offers on instant loans and get the lowest interest rates on your instant personal loan.
If you are looking for more financial technology companies like CASHe, we have got you covered! Go check out BankBazaar if you want to check your credit loan or apply for credit card, and personal, home and car loan. You can also have a look at Policy Bazaar and compare insurance policies offered by top insurers in India.