Popular BHIM UPI Promo Code, Offers and Discount Codes for January 2021
| BHIM UPI Offers | Discount/Price Range | Website |
| --- | --- | --- |
| Medicines Offer | Flat 30% OFF | Netmeds.com |
| Crocs UPI Offer | Flat 25% OFF | Crocs.com |
| Services Offer | Flat 10% OFF | Housejoy.in |
| Food Offer | Get 15% OFF | Faasos.com |
| Travel Offer | Up to Rs 1000 OFF | Ixigo.com |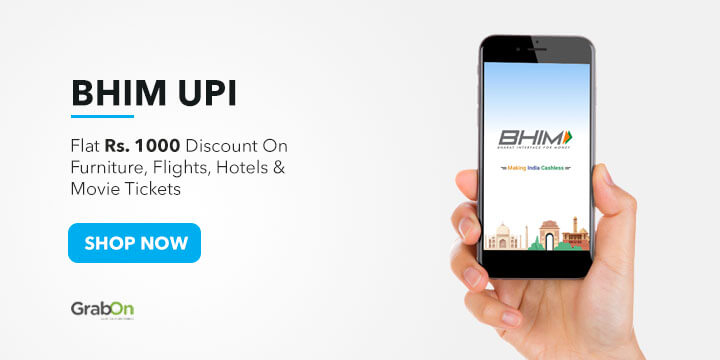 Know About BHIM UPI
Launched by the Hon'ble Prime Minister of India under the Digital India Initiative, BHIM (Bharat Interface for Money) is a payment app that lets you make simple, easy and quick transactions with your phone. The app uses Unified Payments Interface (UPI), which lets you make direct bank payments to anyone, or receive money from anywhere, at any time. In other words, BHIM UPI is your bank in your hands, but it is also much more.
Features
This feature enables you to send money to anybody by various means. You can either use their Virtual Payment Address (VPA), or Account Number + IFSC, or even by scan their QR code and make the payment.
Request Money From Any Person
You can initiate a collect request by entering the VPA on the app. You can also transfer money to another account, whenever you like. Transactions that once took hours to process are now done instantly with BHIM. Don't worry if you do not have a smartphone, or if you are in a zero-internet situation. You can perform the same tasks smoothly by dialing *99#.
You can go cashless without any hesitation the next time you leave your house. The app lets you scan the QR codes of vendors and pay in no time. With its widespread network, you can count on finding vendors with a BHIM account, no matter where you go.
Transactions Details and More
You can check your transaction history with the touch of a finger, on the app. Additionally, it lets you view pending payment requests (if any), so that you can approve or reject them. A 'Report Issue' button also comes handy if you want to raise a complaint regarding any transaction.
Clicking on the 'Profile' option lets you view the static QR code and Payment addresses you have created. The QR code is downloadable and can be shared through various messenger applications like WhatsApp, Email, etc.
Bank Account and Profile Verification
The app lets you check your bank account balance, and keep yourself updated using a simple PIN. If you want to link a different bank account to BHIM, you can do that as well, by clicking on the 'Change Account' tab provided in the menu.
How to Access BHIM UPI?
If you're a first-time user, and need assistance on setting up your BHIM UPI account, then here's a step-by-step guide on how to do so.
STEP 1: Download and Install BHIM app from Google Play store or Apple App store
STEP 2: Select your preferred language
STEP 3: Select the mobile number that is registered with your bank
STEP 4: Login by setting a 4-digit Application Password
STEP 5: Select and link your desired bank account
STEP 6: Set your UPI PIN by providing the last 6 digits and the expiry date of your debit card
STEP 7: Your account is now registered and ready to use. Start transacting!
Get Exclusive BHIM UPI Offers on GrabOn
There are amazing offers and discounts that you can avail on medicines, food, travel, and much more using BHIM UPI. From discounts on flight bookings to cashbacks on making payments, there is a plethora of benefits that the BHIM UPI user can enjoy. To keep yourself updated with fresh offers, simply check this page from time to time.