Latest Imagicaa Offers, Coupons & Promo Codes For Jan 2021 - GrabOn
| Imagicaa Coupons & Promo Codes | Imagicaa Offer Details |
| --- | --- |
| Imagicaa Pre-book offer | Save 30% Off |
| Imagicaa Long Weekend offer | Starting at Rs 999 |
| Imagicaa Water Park Offer | Up to 30% OFF |
| Imagicaa Students Coupons | Flat 25% Off |
| Imagicaa Theme Park Tickets | Up to 30% OFF |
How to save on ticket cost?
With summer nearly here, everyone's planning a trip to the Adlabs Imagica theme park. One of India's top amusement parks Imagica is an all in one theme park, water park and snow park. It has roller coasters, a special house of stars and other thrilling rides of the highest international standards. If you are planning a fun getaway and are looking to save with Imagica offers, your search ends at GrabOn. Here's a list of way to avail some amazing tips to save on your Imagica tickets:
Having fun never gets old! Especially when you have Adlabs Imagica with you. Also, some other websites like Wonderla where you can book your tickets in advance escaping the que and getting the best discounts. And coming to Beyond Enough here you get a chance to explore all Amusements and Water parks and book tickets to your favorite ones.
a)Advance Booking
Adlabs Imagica offers its users a flat 25% with its early bird offer. Pre-booking a minimum 15 to 25 days in advance can help you save on your regular or express tickets. Avail the offer using the suitable Adlabs Imagica coupon code from this dedicated GrabOn page.
b)Happy Tuesday Offers
This deal allows customers to avail a special ticket price of Rs 999 per person only on Tuesdays. This special days discount is only valid on limited pre-booking of tickets and not on park bought tickets.
c)Wat-A-Wednesday Offer
This special offer is valid for pre-booking of Imagica's water park tickets. The offer allows users to avail a flat price of Rs 599 per person's ticket. Pay using Paypal and get additional cashback.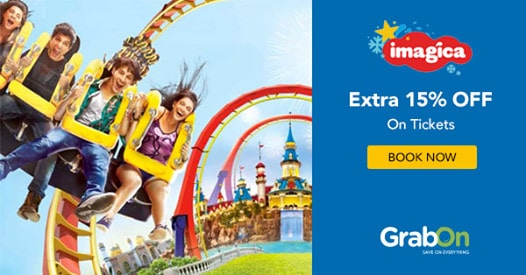 How to get Amazing Deals and Discounts with GrabOn?
No need to fret over the price surges hampering your summer adventures. GrabOn has got you covered. Browse from this curated list of Adlabs Imagica promo codes to avail the best deals available for you to save!
About Adlabs Imagica
Adlabs Imagica is one of India's best-known family holiday destination situated in Khopoli, i.e. near Mumbai and Pune. It boasts an aggregate 15000 visitor base daily while consisting of 3 parks: Water, Snow, and Theme. A proprietary of Adlabs Entertainment Ltd, families can also stay adjacent to the park at their Novotel Imagica hotel. There are several rides including ones suitable for both adults and children. All trips are compliant of the highest safety protocols according to international standards.
A place so exciting you'd wish you were here every day. It is a place where the fun begins and never ends. A place where you'd be friends with a talking dog, dine with a lion chef and fly with an elephant. A place where you'd experience zero gravity, fight Mogambo, feel the thrill of exciting rides and even save a pirate.
Let memories unfold the story of your childhood while you witness your little ones having a gala of a time. The Kids' attractions at Imagica offer joyful rides for every kid in town. Feel the adrenaline rush as you twist, swirl and jerk in the craziest, meanest, spine-chilling and heart-thumping rides at Imagica. Weak hearts stay away!
Travel Options
Families can avail Imagica's "ghar se ghar tak" bus travel facility starting at Rs 599 per seat. Pick up and drop bus service is available from accessible locations in Mumbai and Pune at set timings.
Imagica App and its Features
Easier than ever to plan and book your tickets from your mobile phone.
Get the best deals and Imagica discounts on tickets and in-park meals.
Real-time ride wait times, in-park offer notifications.
Browse restaurant menus and ride videos.
Check user reviews and ride experiences.