Whether you own a small retail shop, supermarket, finance, or a corporate company, counting the cash is a troublesome process. At times, you may feel frustrated and painful.
Time is precious! You cannot spend all day checking the money. You need to prioritise the tasks and bring a balance in life accordingly. Is there any affordable solution? Yes, give it a try with the note counting machine.
In the world of online marketplace, you will find a wide variety of note counters. The main purpose of these machines is to count notes and give accurate data. But are they efficient and reliable? Don't get scrambled! Read on to know more about the working.
How does a money counting machine work?
The money counting machines have come with advanced features like powerful scanning systems that can count and tally huge amounts of cash in a fraction of seconds. It is because it uses optical technology to read each value on individual notes, which makes the process fast and easy. Some of them even detect counterfeit bills by using a black light that illuminates the fluorescent images on real bills.
If you are willing to buy counting machines online, there are a plethora of brands. It is confusing to pick the right one for your requirement. So, you need to consider the buying factors like quality, speed, size, multi-currency support, fake note detection, sensor technology, capacity, durability, price, and warranty details.
List of Popular Cash Counting Machines
Here, in this article, we have done hours of research work online, curated, and brought the top 10 note counting machines in India 2023 by considering the reviews, ratings, customers feedback, e-portals, and more. Let's dive into the topic!
Comparison Table – Money Counting Machines
If you are browsing for "which money counter machine is best for your business?" Your search ends here.  There are hundreds of brands where you will come across. Do not get confused! Instead, before you make a purchase, you need to compare the products w.r.to the key specifications, features, price, and so on. Comparing the note counting devices can help you decide the right one for your requirement, be it for business or home needs. Here in this section, we have provided the comparison table that gives an overview about all the high-end brands.
| Best Quality | Best Choice | Best Budget |
| --- | --- | --- |
| | | |
| KROSS | Swaggers | Smars |
| 1000 Notes/min | 1000 Notes/min | 1200 Notes/min |
| 5 Kg | 5.98 Kg | 500 Grams |
| Buy Now | Buy Now | Buy Now |
Best Note Counting Machine Brands – Reviews, Pros, & Cons
Best Note Counting Machine Brands
KROSS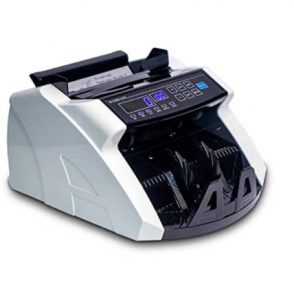 Do you want to count the cash at one-go? Prefer buying KROSS-2300 Currency Counting Machine. This wonderful device is used for counting and verifying currency. It can effectively identify fake notes and coins, making it a perfect choice for your business.
Adding up, it has got 5 different modes – auto, add, batch, count, and manual modes to choose from. It is integrated with high-speed motors to offer top-notch performance throughout the usage. On the whole, the KROSS cash counting machine is used at hotels, restaurants, jewellery shops, supermarkets, financial institutions, and more.
Key Features of KROSS
Advanced counterfeit detection
Half and double note detection
Self diagnostic mode
LED display unit
Weight: 5 Kg
Dimensions: 25*25*25 Cms
Counting Speed: 1000 Notes/min
---
Things we like:
Adding and batching functions
Heavy duty motor operation
Offers better durability
Compact design structure
Things we hate:
Diminishes performance after 8 months.
---
Swaggers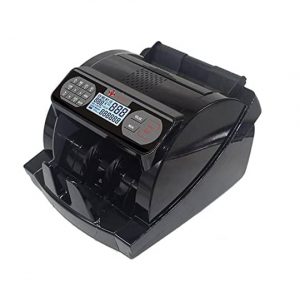 When it comes to the performance, nothing can match with the Swaggers Cash counting machine. It is one of the best brands available in the e-market. It is extremely simple and easy to use as it does not require any particular technical skills or knowledge to operate. Moreover, it automatically counts the cash using the intelligent sensors embedded in it, making it extremely reliable and trustworthy.
In contrast with other popular models, Swaggers note counter features half and double note detection with a capacity of 200 pieces for hopper and stacker. You can view the readings on an LCD display and perform the operations accordingly. In a nutshell, Swagger's counting device is worth buying online.
Key Features of Swaggers
Color changing LCD display unit
High-efficient copper motor
Automatic detection with UV, IR, & MG
Weight: 98 Kg
Counting Speed: 1000 Notes/min
---
Things we like:
Easy and safe to operate
Start, stop, adding, and batching
Adjustable width to fit currency
Electric type model
Things we hate:
Support services can be better
Shows error message on display
---
Godrej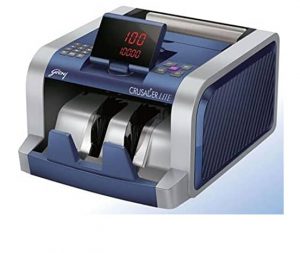 Godrej is a popular brand in India that offers a wide range of appliances like binders, shredders, laminators, printers, and more. One such amazing collection from their list is the currency counting machine. It comes with an easy to follow user manual, which makes the device easy to operate and use.
Furthermore, it has a reliable feature of auto shut-off function which saves the cost of battery and money. Before you start using the device, check whether the UV and MG button is turned On/Off. It is very important how the placement of notes are being placed, else it would not count the cash properly.
Key Features of Godrej
TFT display screen
Fake note detection mechanism
Weight: 2 Kg
Counting Speed: 1000 Notes/min
---
Things we like:
Automatic start, stop, and clearing functions
Excellent support services
Stylish and attractive design
Generates accurate results
Things we hate:
Button damages quickly
No size detection feature
---
GOBBLER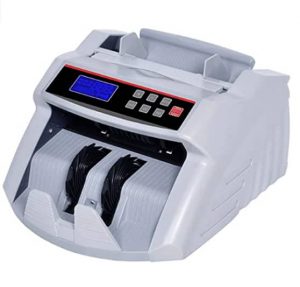 You need to know how much money there is when you own a business or keep track of payroll. There is no easier way than counting your money with the GOBBLER portable counting machine. It can perform counting and display easily without the hassle of entering in a notepad.
The GOBBLER money counter is simple and easy to use. It generates highly accurate, stable, and precise results. Overall, this next-generation design model is used to count the money for various kinds of industries, such as pharmaceuticals, banks, hospitals, finances, etc.
Key Features of GOBBLER
Preset, auto-start, counting sensors
Impeller and feeding roller
High-quality rubber wheels
Weight: 87 Kg
Counting Speed: 1000 Notes/min
---
Things we like:
Simple and easy to use
24/7 availability of technical team
High accuracy and stability
Can be used for long time
Things we hate:
Cannot differentiate paper and money
Roller is bit hard
---
JD9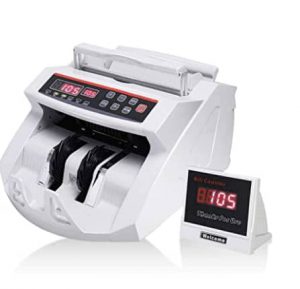 Next one on the list is JD9 Note Counting Machine. The JD9 model has brought a revolutionary change in the electronics industry by counting a total of 1000 notes within a few seconds. Its unique design allows you to pick up the notes at one go.
JD9 cash counting device is an electronic device which can count notes, checks, and cash while they are being used in the bank and the supermarket. What's so impressive is that it has a UV/MG/IR Counterfeit notes detection function. The high-quality sensors and motor ensures the frequent and accurate counting process. The double LED display is designed to view the readings clearly. Out and out, JD9 cash counter devices work well as a business assistant tool in the corporate world.
Key Features of JD9
13 pieces of rubber wheel
External digital display
Dust cleaning brush and power cable
Weight: 33 Kg
Counting Speed: 1000 Notes/min
---
Things we like:
Suitable for currencies worldwide
Accurate counting
Fake note detection mechanism
Easy to read user manual
Things we hate:
Does not add bills or detect denominations
Faulty indicator light
---
VMS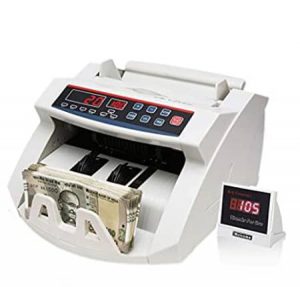 VMS Currency Counter has the best design and technology for counting currency, and it is very easy to use. It is an essential tool with perfect features to keep track of all your money. All you have to do is make sure that your cash is in order, set the device ON and then every note will be counted properly.
The VMS device makes use of internal beam light to detect the notes and gives you the final count. The dust-proof sensors make the device easy to clean and maintain properly for a long time. Finally, the VMS note counting machine can detect the no. of notes but cannot give the total value.
Key Features of VMS
UV and Magnetic counterfeit system
Dust-proof sensors
Double LED display
High-power motor
Weight: 75 Kg
Dimensions: 35*31*21 Cms
Counting Speed: 1000 Notes/min
---
Things we like:
Works as a personal business assistant
User-friendly design
Fast and accurate counting system
Easy to clean and maintain
Things we hate:
Poor packaging
Power cable can be of better quality
---
HEXOR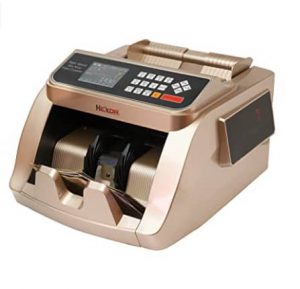 Counting currency is a common practice used by an individual or a businessman. If money is not your biggest concern, then go for the HEXOR note counting machine. This device accurately counts the notes and gives a break up of all note denominations with total.
The key functions like Add, Batch, Count, and Sort help to perform the operations smoothly. For any queries related to the software, device operation, and more; reach out to the support team. They will help you in the best possible way.  On the whole, HEXOR automatic money counting product with fraud detection is best to buy online as you can upgrade the software to detect the new denominations.
Key Features of HEXOR
2 Color LED side display
Multi-color LCD display
Dual Japanese sensors
Weight: 9 Kg
Dimensions: 33*29*21 Cms
Counting Speed: 1000 Notes/min
---
Things we like:
Add, Batch, Count, Sort and Detect functions
Easy to upgrade software
Available in premium gold color
Good packing and delivery services
Things we hate:
Expensive to buy
Cannot detect torn notes
---
Smars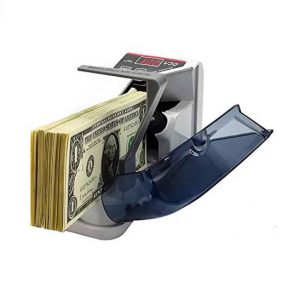 Are you looking for a budget-friendly note counting machine? If yes, Smars brand is the right choice. Smars is a leading brand in India that designs digital microscopes, hair curling irons, extension cords, security cameras, LED strip lights, tripods, and more. It curates the products across all categories by considering the quality standards and affordable prices to meet the requirements of buyers with a low budget.
We are spellbound to inform you that Smars note counter device is suitable for most currencies including INR, USD, CAD, GPB, EUR, etc. On the whole, the lightweight and portable nature makes it easy to carry around during your business trips.
Key Features of Smars
4 AA batteries
V30 LED display
AC 100-240V adapter
Weight: 500 Grams
Counting Speed: 1200 Notes/min
---
Things we like:
Professional grade design
Lightweight and portable nature
Better and faster results
Made of durable plastic material
Things we hate:
Cannot detect fake currencies
No warranty on the product
---
SToK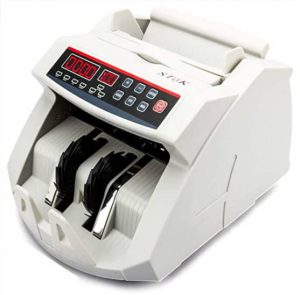 If you are googling for the best cash counters in India, then you should buy one from the SToK brand. SToK manufacturers a wide range of products like massagers, air fryers, coffee machines, travel bags, mobile accessories, and so on. Compared to other brands, SToK products are backed with 1-year manufacturing warranty, so you don't have to bother about the repair costs.
While using the device, you can switch to count, add, and batch modes for seamless operation. The hopper and stacker has the capacity of 200 meeting the maximum range effortlessly. Apart from that, you will be overwhelmed with the brush, spare parts and an instruction manual. To recapitulate, SToK currency counting machine offers top-notch performance throughout the usage.
Key Features of SToK
Large front facing display
UV, MG, and IR technologies
Weight: 9 Kg
Dimensions: 9*25.5*18 Cms
Counting Speed: 1000 Notes/min
---
Things we like:
Counts old and new denominations
Simple and easy to use
1-year manufacturing warranty
Excellent hopper and stacker capacity
Things we hate:
Unstable spare parts
No support services
---
TVS Electronics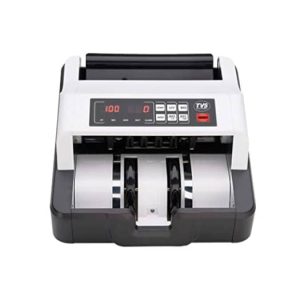 TVS Electronics is the leading manufacturer of products like printers, CCTV cameras, keyboards, barcode scanners, webcams, and much more in India. They perfectly blend the items with the cutting-edge technology, build design, and quality. TVS Electronics note counting machine is one among them and best suits for those who are looking for the premium models at affordable prices.
What we like the most is that it can count old and new cash accurately at a speed of 1200 per minute. The self-check function allows the device to check for the technical glitches and sort it out. Hence, it is easy to maintain even for newbies.
Key Features of TVS
In-built display unit
Automatic count mode
Fake note detector
Weight: 56 Kg
Dimensions: 30*28*17.5 Cms
Counting Speed: 1200 Notes/min
---
Things we like:
Affordable to buy
Best for heavy duty operations
Digital cash counting device
Self-check function
7-days replacement guarantee
Things we hate:
Notes get stuck in the machine
Poor customer support services
---
Benefits of Note Counting Machines
In the past, counting money was challenging to check if their notes are authentic or not. Every bank employee had to do painstaking work to detect the valid currency. All thanks to the cash counting machines! Not only bank employees, anyone who deals with huge money transactions – restaurants, hospitals, food courts, shopping malls, etc., requires a note counter. If you are here to buy the device online and want to know the benefits, scroll down to know more…
Time Saving
These machines can count cash and keep records of the transactions. Hence, it is widely used in business firms. It can calculate millions of rupees on the spot and minimize the time spent on manual counting of notes.
Fake Note Detection
Whether you own a retail or wholesale shop, it is difficult to detect fake currency. Note counters do the work for you. It can detect the fake currencies by counting the number of interruptions in the thread line. If the number of interruptions is zero, it is real cash, else it is fake.
Checks Global Currencies
If you are planning to go abroad and want to check the foreign currency, you need a money counting device. The software is designed to meet the requirements of a global audience by counting the Indian Rupees, US Dollars, and more.
Accurate Results
Note counting machines will automatically count your money and tell you what it is in real-time while ensuring that the note's authenticity is checked 100%. Moreover, the user-friendly design and interface makes it a popular choice for many businesses.
Hassle-free Operation
No need to panic if you are using the device for the first-time. The counting machines can be operated effortlessly without the need of a technician. All you need to do is place the cash and allow it to count automatically. Once the counting is done, it will stop and give you the exact figures.
Money Counting Machine – FAQs
1) Which is the best note counting machine brand to buy online?
KROSS money counting machine  is the best brand in 2023 as it can accurately count 10,20, 50,200, and 2000 Indian currency and detect the fake notes.
2) Can I use a cash counter device for my retail shop?
Yes, cash counting devices are legal to use for retail shops, supermarkets, business firms, and more.
3) Does a money counting machine come with a warranty?
Most of the brands do offer 1-year warranty services when you shop for the money counting machine online. Besides, you can connect with the technical support team 24/7 for help.
4) How fast a note counting machine counts the money per minute?
On an average, TVS and Smars brand products count 1200 notes per minute accurately.
Conclusion
Wrapping up, there are so many brands and one must consider their needs prior to purchasing cash counting machines online. Depending upon the usage, you can go for the basic to advanced models. They make use of magnetic tape, automatic option, sensor technology to count thousands of notes in just a few seconds.
What's your take away on note counting machines? Which brand do you like the most? Are you currently any of the above-mentioned brands in the list for your business? Please drop your concerns in the comment section given below. We are happy to assist you in the best possible way. Happy Shopping!