If mopping and sweeping the floors was enough, you'd find every home spick and span. But as you know, that's not the case. For this very reason, many homes prefer using vacuum cleaners to keep their homes clean and hygienic. Buying the best vacuum cleaner in India can be a daunting experience, though, with so many brands offering so many models. Vacuum cleaners have emerged as the essential home appliance if you want dust mites, pollen, microscopic dust particles away from the inside of your house.
Top 10 Vacuum Cleaners In India for 2021
We bring you a carefully drafted list of best vacuum cleaners in India in 2021 with prices to help you purchase one best suited to your needs.
1. Eureka Forbes Quick Clean DX 1200-Watt Vacuum Cleaner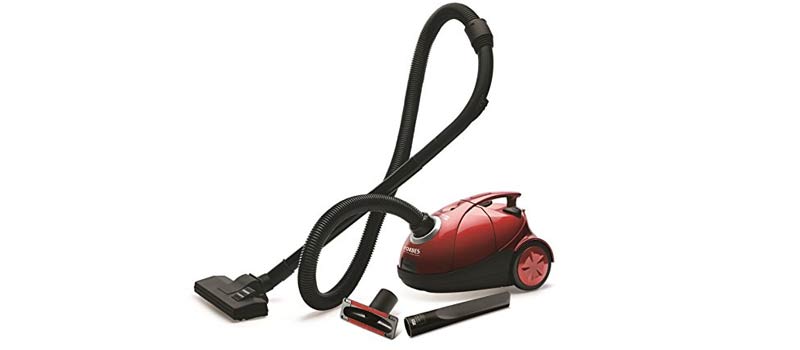 For people who have a clean and hygienic house as their priority but also need something easy to use and convenient to clean, Eureka Forbes Quick Clean DX 1200-Watt Vacuum Cleaner with various advanced features comes to the rescue. Features of this top-selling vacuum cleaner include-
A 1200 watt motor which generates powerful suction to remove dust and dirt from all possible places
A wide range of 6 accessories to clean your house effectively, not leaving behind any nook or corner. Accessories include- Flexible hosepipe, extension tubes, carpet/floor brush, crevice nozzle and an upholstery brush
3 swivel wheels ensure that the vacuum cleaner stays stable and moves around the house pretty easily
It flashes an indicator when the dust bag gets full and needs to be changed
The power cord can be easily winded up in the main body itself – there is no risk of rolling/cutting/damaging the power cord.
Weighing just 3.6 kg, you can easily carry it around and ensure every part of your house is spick and span
With a one year warranty and four free dust bags, you can get this vacuum cleaner for Rs. 3464 on Amazon.com
Price: Rs. 4499
Offer Price: Rs. 3399
Warranty: 1 Year
Power: 1200 watts
2. Karcher WD 3 Multi-Purpose Vacuum Cleaner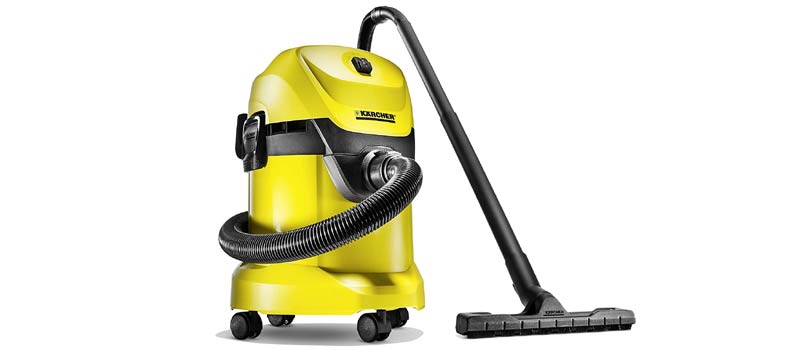 A super-powerful, robust, flexible, and versatile utility. Karcher WD 3 is truly a multipurpose vacuum cleaner. It can be used both as a wet and dry vacuum cleaner and where vacuuming is not feasible, you can use the blower function.
Perhaps the best feature of this vacuum cleaner is that it enables convenient vacuuming of wet and dry dirt, without filter replacement. So say goodbye to wet bathroom floors with this unique vacuum cleaner!
Functions at 1000 watts, and gives the best cleaning results whether it's dry or wet cleaning. Glass pieces, dry leaves, dust from tight spaces, and gravel dirt will now be a thing of the past
It comes with a Crevice Nozzle, a floor cleaner, a hosepipe and extension rods which can be easily attached to the suction hose for effective cleaning
Made with German technology, it allows for easy parking of the suction tube and floor nozzle during working interruptions
Comes with a Push & Pull locking system, ergonomically shaped handle to allow portability and space-saving storage
Amazon.in has some amazing discounts running on vacuum cleaners – you can get this one for just Rs. 5590
Price: Rs. 8999
Offer Price: Rs. 5999
Warranty: 1 Year
Power: 1000 watts
3. American Micronic AMI VC1 10Dx 1200-Watt Imported Vacuum Cleaner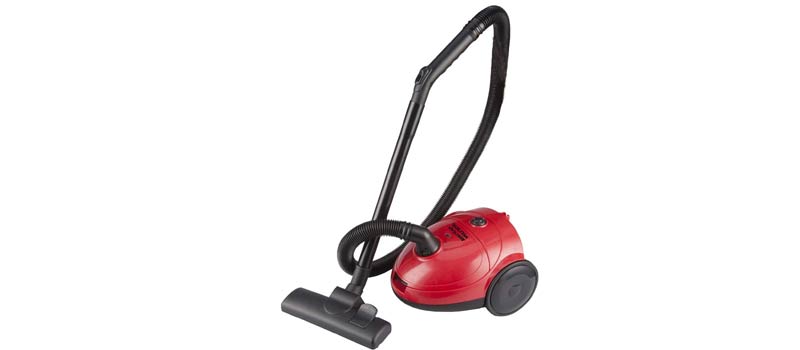 A quality product with advanced features and imported in India, this canister type vacuum cleaner is for dry vacuuming with high power and superb performance. Ideal for both homes and offices, features of this imported vacuum cleaner include-
A powerful suction mechanism supported by a 1000 watt motor (max 1200 watts) of power for effective cleaning around homes and offices
A 2-litre dust capacity reusable dust bag saves you on buying separate dust bags
Comes with an overload protector and has a 3-stage filtration process
6 accessories include a floor & carpet brush, crevice nozzle and an upholstery nozzle for cleaning dust from those tight spaces and your soft furnishings equally well
Being 3.5 kg in weight and with three wheels, it allows for easy portability
With a year warranty on the product, this is an affordable vacuum cleaner priced at Rs. 4180 online
Price: Rs. 4880
Offer Price: Rs. 4280
Warranty: 1 Year
Power: 1000 watts
4. Eureka Forbes Trendy Steel Vacuum Cleaner, Steel Grey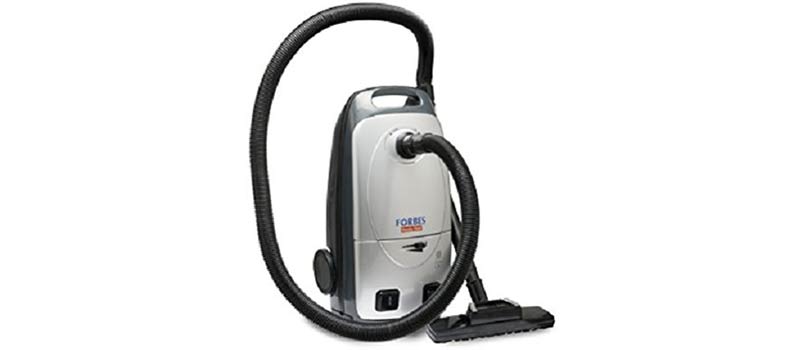 The robust yet modern looking, the Eureka Forbes Trendy Steel Vacuum cleaner has a classic steel finish to give it a stylish look. The performance is a match for its super-sophisticated looks, and you can use it to keep your home or office looking new and clean.
Designed elegantly and equipped with ultra-modern features, this lightweight, sleek-looking vacuum cleaner boasts of a heavy power of 1300 watts
This one boasts of a unique power control feature whereby you can decide the power you want to run it on for various surfaces
Provides an impressive airflow rate and water-lift capability along with a blower function to remove even the last bit of dirt and grime from your home
Comes with 13 attachments to help you do efficient cleaning – dry or wet.
The dust bag is reusable, and there is an indicator that flashes when it's full, the power cord gets winded up automatically, and the vacuum cleaner is easy to use and maintain
Priced at Rs. 7040 on Amazon.in
Price: Rs. 8499
Offer Price: Rs. 7090
Warranty: 1 Year
Power: 1300 watts
5. Black & Decker VH780 780-Watt Multi-Use Vacuum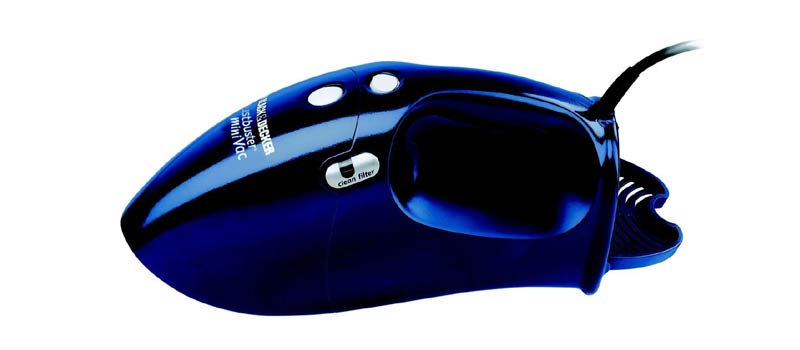 Black & Decker has been a premier home appliances brand, and this vacuum cleaner is a testament to its long-standing reputation. The tedious and boring chore of cleaning your house, office, or a small garage can be eased into a comfortable and convenient task that leaves you feeling accomplished.
A powerful 780 watt motor with strong suction and along with a blower function will clean every corner of your home or office
It is compact, lightweight and can be easily carried from one room to another
Comes with 12 accessories including crevice tool, a fabric brush, 3 blower attachments, a carpet glide to easily clean carpets, 3 suction attachments and 3 piece plastic tubes
It is dust bag-free vacuum cleaner and comes with a clogging indicator to ensure maximum performance and maintain clean filters
VH 780 can also be used to clean your car interiors, and you can even inflate your air mattresses with it. For best results one should use car vacuum cleaners which are specially made for the purpose
You can use this vacuum cleaner for your daily cleaning routine as well as it consumes less power
Priced attractively at Rs. 2849 – this is a budget vacuum cleaner with many advanced features
Price: Rs. 4795
Offer Price: Rs. 3290
Warranty: 1 Year
Power: 780 watts
6. Inalsa Spruce-1200W Vacuum Cleaner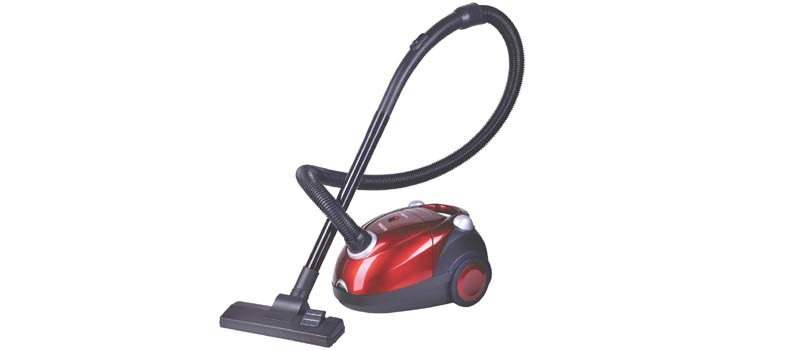 Another affordable vacuum cleaner from the reputed house of Inalsa is the Spruce 1200 Watt. Trendy and compact looks coupled with excellent performance is something that is delivered with this vacuum cleaner.
A powerful 1200 watt motor for that amazing suction power to clean the last bit of dirt from a given surface
Comes with a high-filtration cloth dust bag which is washable and reusable
Comes with an inbuilt blower function that can be used to clean open areas or outside spaces such as garages
Smooth and easy movement around the house and about with 360-degree wheels rotation and lightweight built
Comes with accessories such as a Crevice nozzle, an upholstery brush, a soft brush, a multi-brush for cleaning carpets and floors, extension pipes.
Overheating may be observed if the dust bag has not been emptied or it has been running too long
Priced affordably at Rs. 2839 online after attractive discounts
Price: Rs. 4595
Offer Price: Rs. 2995
Warranty: 1 Year
Power: 1200 watts
7. Eureka Forbes Trendy Zip 1000-Watt Vacuum Cleaner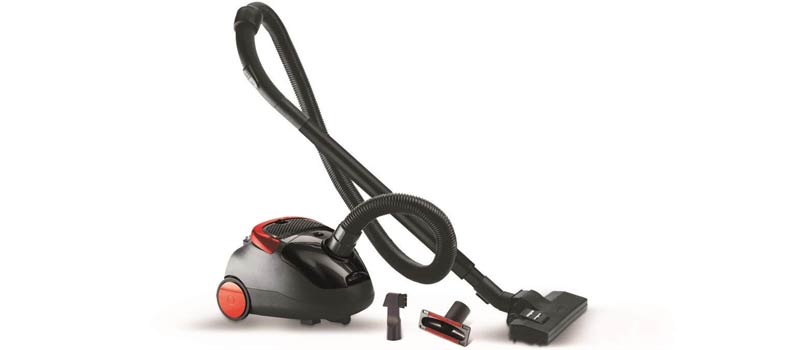 A multipurpose vacuum cleaner that can be used to clean your home, as well as your car, is the trendy looking but with superior performance Eureka Forbes Trendy Zip 1000 watt vacuum cleaner. The looks are stylish, the performance matches.
Portable, lightweight, a compact and stylish vacuum cleaner with a powerful 1000 watt motor for a superior suction
The power cord winds with automatically and it has on-board accessory storage space
Versatile cleaning is made possible with the varied accessories that come to clean various surfaces easily
The dust bag full indicator flashes when it needs to be emptied and changed
The power button is placed at the foot, so you do not have to bend every time you need to switch it on or off
Flexible hosepipe, extension tubes, carpet/floor brush, 2-in-1 multipurpose brush are the accessories you get with this vacuum cleaner
Priced at Rs. 2956 with a year's warranty under discount online on Amazon
Price: Rs. 3799
Offer Price: Rs. 3199
Warranty: 1 Year
Power: 1000 watts
8. Philips PowerPro FC9352/01 Compact Bagless Vacuum Cleaner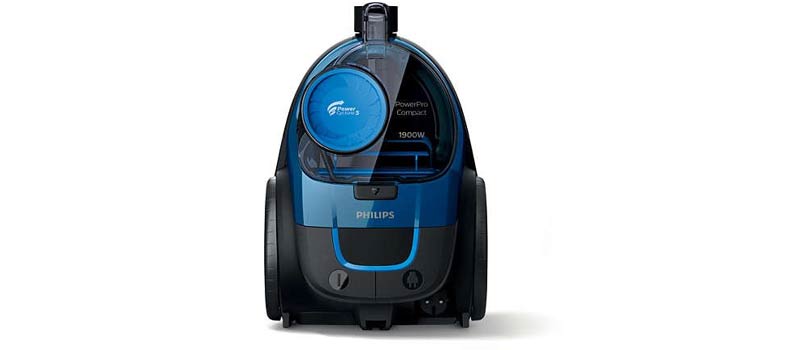 A powerful and stylish vacuum cleaner with the brand trust of Philips and a power-packed performance is the PowerPro FC9352/01. Being a commercial vacuum cleaner, it is suitable for both homes and offices with large spaces.
A 1900 watt motor that ensures powerful suction mechanism leaving behind not a speck of dust
It uses Powercyclone 5 technology to separate dust from air and give you not just clean home but also healthy air
It is a bagless vacuum cleaner and has a reusable bin which can be easily emptied when full
Comes with a EPA10 clean air filter system for healthy air
It does not only look attractive but is also compact and lightweight with large wheels that enable easy movement of the vacuum cleaner about and around
Also has a powerful turbo brush that is the best in the segment, and a soft brush
With a 2-year warranty on the product, you can buy it for Rs. 9415.
Price: Rs. 9995
Offer Price: Rs. 7598
Warranty: 2 year
9. KENT Wet and Dry Vacuum Cleaner 1200-Watt
For a robust and sturdy vacuum cleaner that cleans wet spills as well as dry dirt with equal efficiency, opt for KENT Wet and Dry Vacuum Cleaner. The robustly designed vacuum cleaner is equipped with state-of-the-art technology and provides you with clean, spotless, and hygienic surroundings.
A highly efficient 1200 watt motor coupled with a strong suction power makes cleaning tasks easy and convenient
The blower function can be used to clean deeply embedded dirt from the tightest of spaces
Carry it from one room to another with ease as it is lightweight and has rubberized wheels for moving it around
The body is made of stainless steel, unlike most vacuum cleaners that have a plastic body
Comes with accessories such as floor brush, crevice tool, wet brush, a filter bag, a flexible hose and an extension tube.
Priced at Rs. 6880, you also get a one year warranty with this.
Price: Rs. 7999
Offer Price: Rs. 6840
Warranty: 1 Year
Power: 1200 watts
10. Panasonic MC-CG303 1400-Watt Vacuum Cleaner
One of the best vacuum cleaners for pet hair from the trusted and popular home appliance brands Panasonic, MC-CG303 is a keeper if you have pets in the house. It is an affordable, handheld vacuum cleaner that makes cleaning chores simpler and effortless.
1400 watt powered with a suction power that matches, this vacuum cleaner sucks every spec of dirt and grime from every corner possible
It has eco-feature and thus helps in saving energy.
It is cute and easily portable – carry it around the house with ease
It also has the blower function and an air dust catcher feature to keep your house clean and hygienic
With a year warranty on the product, this is the perfect vacuum cleaner for a home priced at Rs. 4826 on Amazon.in.
Price: Rs. 6595
Offer Price: Rs. 4598
Warranty: 1 Year
Power: 1400 watts
So these are the best vacuum cleaners in India for homes. You should be easily able to pick one for your home basis your preference, features, and budget. Vacuum cleaners nowadays are more of a necessity than a luxury, given the dusty environment we live in. Having a good vacuum cleaner at home always ensures that your home looks good, is free of dust and dirt, pet hair, small bits and pieces, spider webs and other such things. The upholstery shines, and the home looks spic and span. All with a little use of a vacuum cleaner!
What is a Vacuum Cleaner?
Vacuum cleaners fall in the category of small electrical home appliances. They come in various types with many features and work on inbuilt motors that get charged through electricity. You will get them in various sizes, and you can opt for one that suits your requirements and purpose. They suck dust and other microscopic impurities with the low-pressure air that draws small objects to get collected in the dust bag or canisters.
Not only your floor, but a vacuum cleaner can also clean your drapes, upholstery, walls, corners, and dust from little things like keyboards. Vacuum cleaners are incredibly beneficial for people who suffer from allergies and asthma as they help clear the small microscopic impurities from the indoor air.