Mopping and sweeping are not enough to keep the house spick and span. Therefore, we need something that deeply cleans and maintains the hygiene of our house.
There are various brands offering a variety of vacuums, but how do we choose the right vacuum for our house or office? Wondering where you can find a budget-friendly vacuum cleaner? Worry not, as we will make your work easy by suggesting the best vacuum cleaners that you can purchase in India.
10 Best Vacuum Cleaners In India
Last update was on: August 5, 2022 11:12 pm
Let's look at what makes these the best vacuum cleaners brands in India:
Philips PowerPro Compact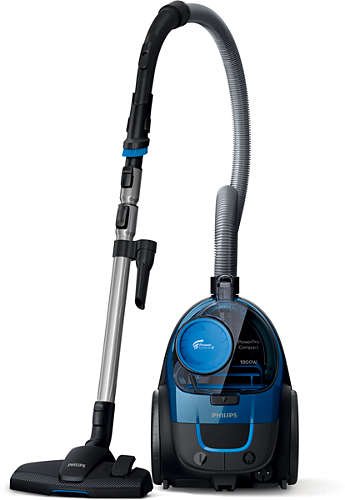 This vacuum by Philips is compact, yet powerful. It is lightweight and can be easily carried. It's PowerCyclone 5 maintains high performance for a longer period. This bagless vacuum cleaner comes with a MultiClean nozzle for thorough cleaning on the floor and is the best vacuum cleaner for the home. Therefore, you don't have to worry about hygiene as it can be emptied with one hand. Furthermore, you can get the best deals on Phillips PowerPro Compact on the GrabOn Offers and coupon page.
Why Philips PowerPro Compact?
This vacuum cleaner works with a fully sealed filtration system that captures 99.9% of the fine dust particles, including pollen, pet hair, dust mines, and anyone who needs a higher level of hygiene.
Specifications
| | |
| --- | --- |
| Type | Wet and Dry |
| Capacity | 1.5 L |
| Filters | HEPA13 level** |
| Suction power | 370 W |
| Cord length | 6 m |
| Warranty | 2 years |
| Includes | MultiClean Nozzle, Soft Dusting Tool Brush, Turbo Brush, ActiveLock couplings |
| Amazon Rating | 4.4 |
Eureka Forbes Quick Clean DX Vacuum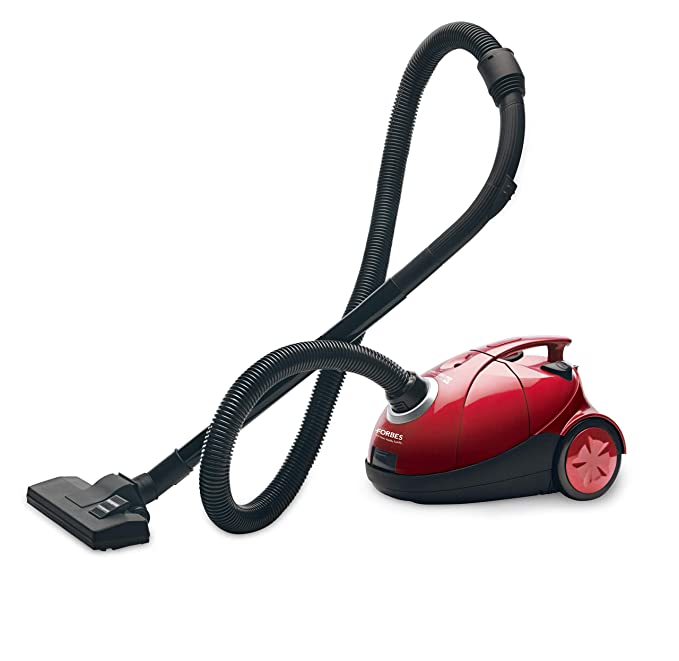 Eureka Forbes is known as the number one brand for vacuum cleaners. The Eureka Forbes Quick Clean DX Vacuum is an attractive, lightweight, and ultramodern-designed vacuum that looks aesthetically appealing when placed anywhere. This compact yet powerful vacuum cleaner is the best for a low price as it can be used daily as it is equipped with an automatic thermal load cut-out, which protects it from overheating. You can get it for a better price by using Eureka coupons, and offers.
Why Eureka Forbes Quick Clean DX Vacuum?
The Eureka Forbes Quick Clean DX vacuum cleaner has a 1200-watt motor and a variety of accessories to meet a variety of cleaning needs. This vacuum cleaner also notifies you when your dust bag is full and has an auto-winding cord for easy usage. Rubber wheels prevent marks on the floor when used and ensure easy cleaning without bending.
If you're interested in trying a robot vacuum cleaner, we've got some of the best options available. Our list of  includes models from several different brands, including Eureka Forbes, and iRobot. Each of these machines has been designed with advanced technologies that make them ideal for cleaning both large and small spaces. With features like automatic navigation and sensors that identify obstacles, these vacuums are perfect for busy households or apartments. Do give it a read, and see if it matches your needs, and budget.
Specifications
| | |
| --- | --- |
| Type | Dry |
| Capacity | 1.5 L |
| Filters | HEPA13 level** |
| Suction power | 1200 W |
| Cord length | 2 m |
| Warranty | 1 year |
| Includes | Upholstery Cleaner, Floor/Carpet Brush, Hose Pipe, Crevice Nozzle, Extension Tubes. |
| Amazon Rating | 3.8 |
AmazonBasics Cylinder Vacuum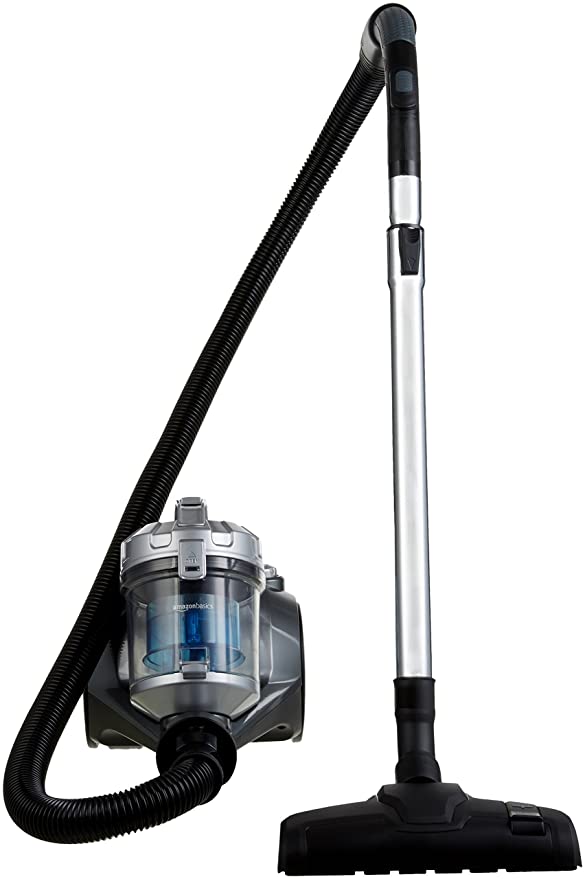 This vacuum cleaner by Amazon is lighter and more compact than any other type of vacuum cleaner. Powered by 700 W, it's a great choice for cleaning hard floors, and stairs, and for navigating around furniture. This vacuum rolls smoothly and comes with a reusable dust bag. It comes with a variety of attachments and can be simply stepped on the vacuum's foot to rewind the cord.
Why AmazonBasics Cylinder Vacuum?
This vacuum cleaner is equipped with cyclonic technology, which provides intense suction power to draw in air, dirt, pet hair, dust, and other debris. It needs no paper dust bags as it comes with a removable and washable filter. Of all the Amazon vacuum cleaners, this is the best one.
Specifications
| | |
| --- | --- |
| Type | Wet and Dry |
| Capacity | 1.5 L |
| Filters | HEPA 12 filter |
| Suction power | 25 kWH |
| Cord length | 5 m |
| Warranty | 2 year |
| Includes | Crevice Tool, Upholstery Nozzle, Dusting Brush, Parquet Brush, Accessory Holder. |
| Amazon Rating | 4.2 |
Karcher WD 3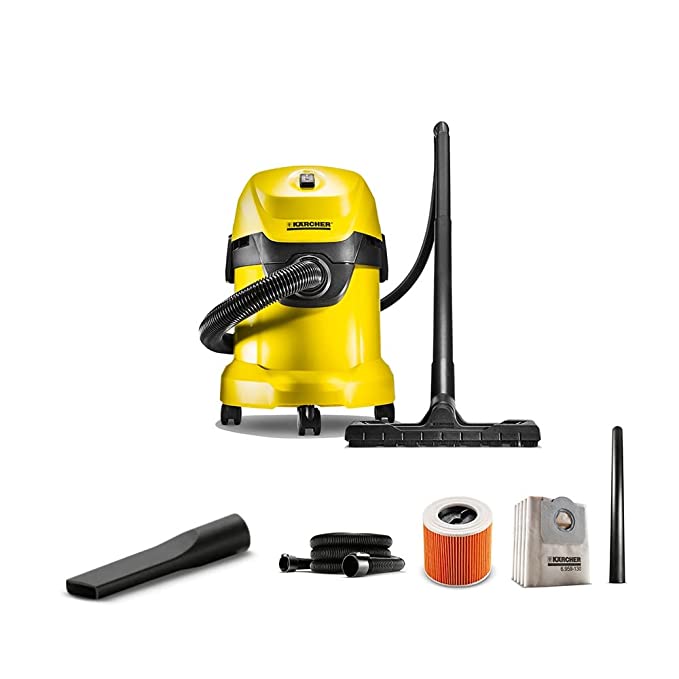 The Karcher WD 3 has a special cartridge filter that helps with wet and dry vacuuming without filter replacement and has super-powerful, robust, flexible, and versatile utility. This 1000 watts is truly a multipurpose vacuum cleaner. By using the blower function, this tough vacuum cleaner reaches places where vacuuming is not feasible.
Why Karcher WD 3?
It does powerful cleaning by reaching right into the corners. It comes with an optimally developed floor nozzle and a suction hose for maximum vacuuming convenience and flexibility.
Specifications
| | |
| --- | --- |
| Type | Wet and Dry |
| Capacity | 17 L |
| Filters | Special Cartridge Filter |
| Suction power | 200 W |
| Cord length | 4 m |
| Warranty | 1 year |
| Includes | Suction Tubes, Wet and Dry Floor Nozzle, Crevice Nozzle, Cartridge Filter, Paperbag -5. |
| Amazon Rating | 4.2 |
Prestige Typhoon -05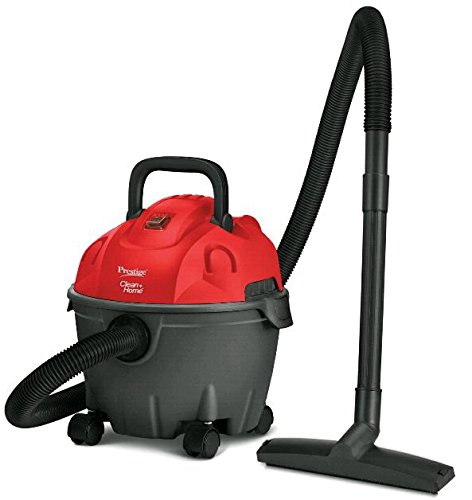 Prestige Typhoon is a multi-utility lightweight cleaner that makes cleaning hassle-free like never before. With its ability to clean both wet and dry surfaces, this vacuum cleaner cleans hard-to-reach surfaces too. This small vacuum cleaner has a high dust capacity that lets you clean large areas without the hassle of emptying the bin repeatedly.
Why the Prestige Typhoon?
It comes with an advanced HEPA filter that traps the fine dust and its powerful 1200-watt motor eliminates the toughest dirt from surfaces such as carpets, floors, upholstery, etc. in seconds.
Specifications
| | |
| --- | --- |
| Type | Wet and Dry |
| Capacity | 10L |
| Filters | Hepa Filter |
| Suction power |  370 W |
| Cord length | 4.5 m |
| Warranty | 1 year |
| Includes | Floor/ Absorbing Brush, Extension Tube, Crevice Tool, Corner Brush, and an Extension Hose |
| Amazon Rating | 3.8 |
American Micronic Vacuum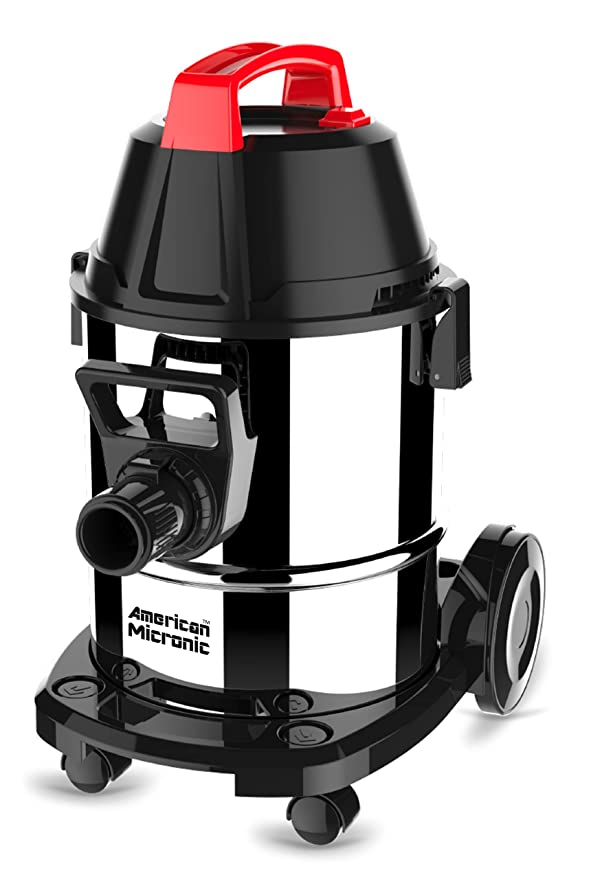 This stainless steel vacuum cleaner is best for both commercial and residential purposes. The motor has 1600 watts of power and comes with a HEPA filter for effective dust filtering. American Micronic Vacuums contain washable dust bags, easy-care, and durability. It conveniently removes dirt, pet hair, tough stains, and more with complete ease.
Why the American Micronic Vacuum?
It comes with a stainless steel body. The superior suction quality of the American Micronic Vacuum allows you to remove both solids and fluids hassle-free.
Specifications
| | |
| --- | --- |
| Type | Wet and Dry |
| Capacity | 21L |
| Filters | Hepa Filter |
| Suction power | 28 KPA |
| Cord length | 4.5 m |
| Warranty |  1 year |
| Includes | Hose Pipe, Extension Pipe, Floor or Carpet Brush, Upholstery, and Crevice Pipe. |
| Amazon Rating | 4.2 |
Black+ Decker WDBD15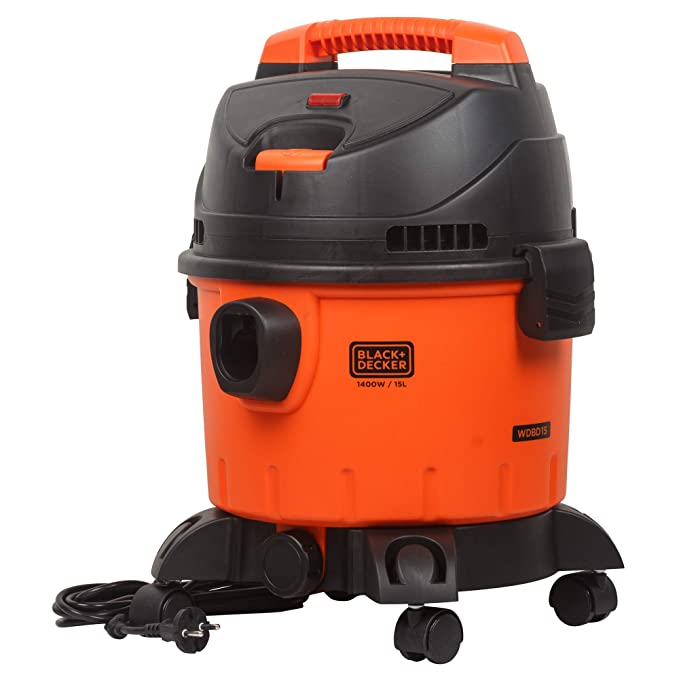 Black+Decker manufactures high-quality vacuums for easier and more convenient cleaning and is the best wet and dry vacuum cleaner. Its high-suction vacuum works best for both wet and dry waste. Accompanied by a 1400 W motor and multiple accessories, it is easily portable with its four self-aligning wheels in all directions. With the HEPA filter, the small allergens or dust particles are captured thoroughly.
Why Black+Decker?
This vacuum can be used for the purposes of blowing and water or dust sucking. This cleaning tool is meant for all small-to-big indoor and outdoor spaces. With Black Decker, you can also clean your car.
Specifications
| | |
| --- | --- |
| Type | Wet and Dry |
| Capacity | 15 L |
| Filters | HEPA filter |
| Suction power | 16 KPA |
| Cord length | 5 m |
| Warranty | 1 year |
| Includes | Plastic Suction Tubes, Flexible Hose, Sponge Filter, Wet/Dry Floor Brush, Crevice Nozzle and Upholstery Brush |
| Amazon Rating | 4.1 |
AGARO Ace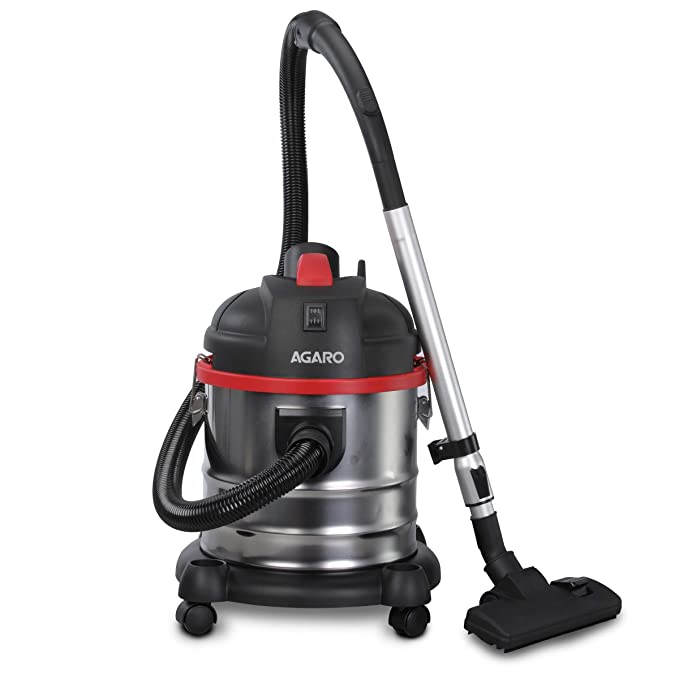 The AGARO Ace wet and the dry vacuum cleaner is an all-purpose vacuum cleaner that quickly removes both fluids and solid particles with ease. It comes with 360-degree swivel wheels to move around conveniently. You can now clean hassle-free as this cleaner collects dust in its jumbo container of 21 liters.
Why AGARO Ace?
This vacuum cleaner has a powerful 1600-watt motor, a great blower function, and comes with a stainless steel jar. It is guaranteed to be tough on dirt and easy on the user. It is equipped with a reusable dust bag to collect dust, pet hair, and tough stains.
Specifications
| | |
| --- | --- |
| Type | Wet and Dry |
| Capacity | 21 L |
| Filters | HEPA  filter |
| Suction power | 21.5 KPA |
| Cord length | 5 m |
| Warranty | 1 year |
| Includes | Floor cum Carpet Brush, Multipurpose cleaning Brush, Hose Pipe, Crevice Nozzle, Cloth bag, Absorbing brush, Telescopic Metal Tube |
| Amazon Rating | 4.1 |
Inalsa Spruce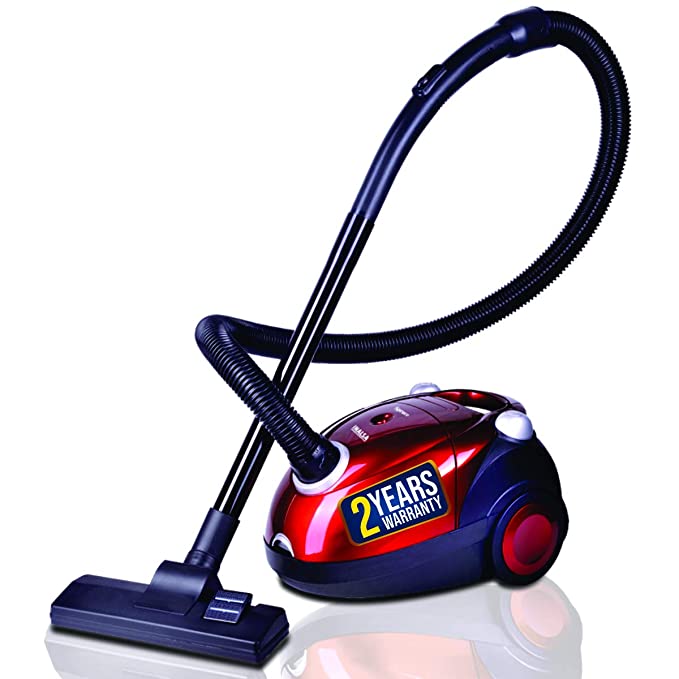 Cleaning just got easier with Inalsa Spruce as it combines excellent performance and strong suction power. Based on its durability and performance, it can be called one of the best vacuum cleaners for homes. Its handy filtration unit removes nearly all dust and allergens. The Inalsa Spruce of 1200 W comes with a multi-handle brush that handles sofas, carpets, floors, and other furniture with the same powerful capability.
Why Inalsa Spruce?
Spruce dust cases are reusable and long-lasting, which saves you from buying new dust bags. This mini vacuum cleaner gives a power-packed performance with the help of a 1200 RPCI pure copper motor. The wheels rotate in a 360-degree direction, which helps clean every corner of your house.
Specifications
| | |
| --- | --- |
| Type | Dry |
| Capacity | 2.0  L |
| Filters | 1 Filtration layer |
| Suction power | 18 KPA |
| Cord length | 4.5 m |
| Warranty | 2 years |
| Includes | Floor cum Carpet Brush, Flexible Hose Pipe with Curved Handle Grip, 2×1 Crevice Nozzle, Blower Plate, Cloth Dust Bag, Upholstery Sofa Brush, Extension Tube. |
| Amazon Rating | 3.9 |
Kent – KSL- 612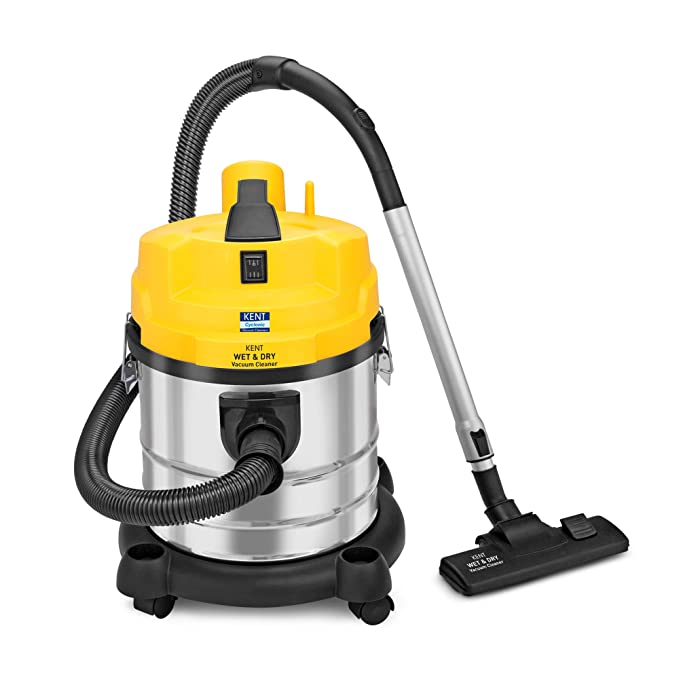 This vacuum by Kent is one of the versatile heavy-duty vacuum cleaners that help you easily clean both wet spills and dry surfaces. It cleans efficiently and with great capacity, which eliminates the struggle to frequently empty the container. Its blower helps eliminate dust from sofas, table gaps, and other corners of your house. Check for Kent coupons, offers, and deals to get Kent- KSL- 612 for the best price.
Why Kent-KSL?
With a great capacity of 20 liters, this vacuum cleaner can clean your entire house and office hassle-free. The Kent-KSL is made of a stainless steel body, which makes the machine a durable choice for everyday use. It also comes with rubberized wheels for easy movement.
Specifications
| | |
| --- | --- |
| Type | Wet and Dry |
| Capacity | 20 L |
| Filters | HEPA  filter |
| Suction power | 1200 W |
| Cord length | 4.5 m |
| Warranty | 1 year |
| Includes | Extension tube, Floor Brush, Wet Brush, Flexible Hose, Crevice Tool, Filter Bag, Multi-purpose Nozzle. |
| Amazon Rating | 4.1 |
Wrapping up
These are some of the best vacuums for your home. It will now be easy for you to pick the right vacuum cleaner, whether it is for your home or office. Having a good vacuum cleaner in this dusty environment is necessary to keep your house clean and hygienic. From spider's web to pet hair, remove all the dirt just by using a vacuum cleaner.
Types of Vacuum Cleaners
Stick Vacuum Cleaners
These vacuum cleaners have a long hose and are used for areas that are deep or large. They are usually the most expensive type of vacuum cleaner and may not be the best choice if you only need to clean small or narrow areas repeatedly.
Handheld Vacuum Cleaners
If you primarily need to clean small areas and don't have a lot of furniture or floors to vacuum, then a handheld vacuum cleaner may be the perfect option for you. These units are lightweight and easy to carry around, which makes them great for cleaning upholstered furniture or tight spaces like under beds. This is commonly used in vacuuming cars. If you are looking to buy one, or want to know how different they are in use, and features, we've also got you covered with the list of best car vacuum cleaners. Do check it out.
Robot Vacuum Cleaners
Robotic vacuum cleaners are the newest and most advanced type of vacuum cleaner on the market. They come in a variety of shapes and sizes, and they have several advantages over traditional vacuums. These units are often more efficient at cleaning floors than standard vacuums, and they also tend to be quieter. Robots also have sensors that allow them to navigate around obstacles while cleaning, which is helpful if you have hard-to-reach or difficult-to-navigate areas. They also have special tools that help them clean hard surfaces like tile or granite quickly and easily.
Upright Vacuum Cleaners
Upright cleaners are the most common type of vacuum cleaners and they work by sucking dirt and debris up from floor surfaces. They're often lightweight and easy to use, making them convenient for people with a lot of furniture or carpeting to clean. Also, they have larger footprints, so they're best for large rooms or areas, and their motors are typically more powerful than canister vacuums.
Canister Vacuum Cleaner
Canister vacuums have a long hose that extends out from the machine, which makes it ideal for staircases or tight spaces. They also have extension cords that make them portable, so you can take them where ever cleaning is required.
Cylinder Vacuum Cleaners
Cylinder vacuums are gaining popularity because of their convenience and ability to suck dirt, dust, hair, and other small items up from floors. They have powerful motors that can move large amounts of air in a short amount of time which helps to clean more surfaces in less time. They also have filters that help to remove all the dirt, dust, and allergens from the air before it is released into the environment.
Hard Surface Vacuum Cleaners
With a hard surface vacuum cleaner, you can easily clean surfaces such as wood or tile. These machines have powerful suction that is perfect for gathering dust and dirt from difficult-to-reach areas. Plus, they are lightweight so you won't feel weighed down when cleaning. The downside to these vacuum cleaners is that they may not be suitable for delicate fabrics or items with fine detailing.
FAQs
Which vacuum brands are best for dust?
When it comes to vacuums, quality is key. That's why we recommend Philips and Eureka Forbes as the best vacuum brands. Both of these brands offer high-quality products that are perfect for cleaning up dirt, dust, and other debris. Philips offers a variety of models that come with great suction power, while Eureka Forbes has a wide range of options that suit different needs and budgets.
Should I vacuum my house every day?
While many people believe that vacuuming is necessary in order to keep the house clean, there is no scientific evidence to support this claim. In fact, many experts say that it may actually be harmful to you. Vacuuming once a week is advised, as per dust accumulation.
Should you vacuum fast or slow?
Most experts say that vacuuming should be done at a slow speed to help prevent dust and other allergens from escaping into the air. If you have a large or dense area to clean, then it might be easier to go faster with less attention paid to detail. But overall, vacuuming at a slow pace will likely result in better results over time. It is also important to clean the filters on all vacuum cleaners regularly in order to keep them working optimally.
Do vacuums spread germs?
Yes. Vacuums spread dust and other allergens, which can trigger asthma attacks and other respiratory problems. Be sure to clean your vacuum regularly and take extra precautions when you're cleaning it in high-traffic areas. It is also advised to keep the vacuum cleaner clean after every use.