Have you often been awestruck with how quickly our mothers and grandmothers stitched clothes for us? Then you'd know how sewing machines were a powerful asset in most homes. Why, the best sewing machines in India found a place in well-lit, comfortable corners of most homes earlier. Are you trying to sew your own clothes and not run to the tailor every time you need a minor fitting done? Then you must be looking to purchase the sewing machine for yourself. And we are here to help.
Sewing machines have seen a lot of change in their technology and utility in the past few decades. They are no longer bulky machines with just a few standard features. Now have an elaborate stitching menu, are more comfortable to use, look stylish and sleek, run on electricity as well can be manually operated. Having the right sewing machine at your home is an investment you won't regret.
If you are wondering whether or not you should buy sewing online, then we want to let you know that you get better deals and discounts on products.
Top 12 Sewing Machine Brands in India for 2023
First, let's take a quick look at the best sewing machines in India, although the most popular brands remain to be Usha and Singer. We'll take you through the top sewing machines, detailing their salient features and prices so you can pick one that perfectly suits your needs and demands.
Usha Janome Dream Stitch Automatic Zig-Zag Electric Sewing Machine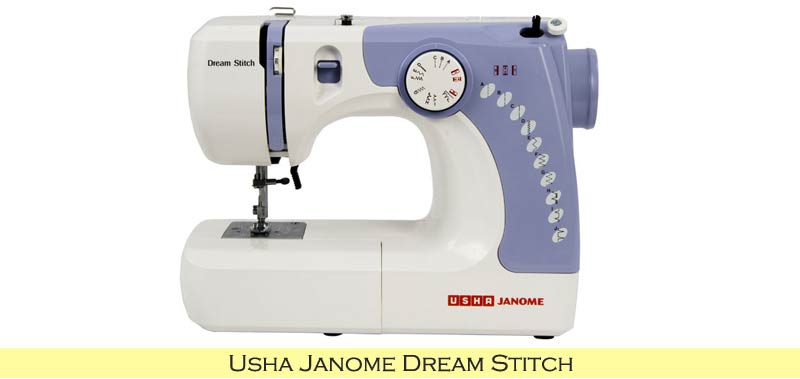 Convenience, comfort, creativity and advanced features come together with the Usha Janome Dream Stitch automatic zig-zag sewing machine. Its compact design allows it can to easily fit in your closet or cupboard, and you don't have to make room, especially for it.
The sewing machine comes with two dials for pattern and stitch length selection on a colour coded functional plate.
This has seven built-in stitches and 14 applications like smocking, lace stitching, zip fixing, quilting, etc.
The sewing light makes it easy to sew even in dimly lit areas.
Has a4-step buttonhole, stitch length control feature and a free arm for circular stitching.
Auto tripping bobbin system, automatic needle threading and drop feed for embroidery are some other features to look forward to.
Triple strength stitch for thicker fabrics
Singer 8280 Sewing Machine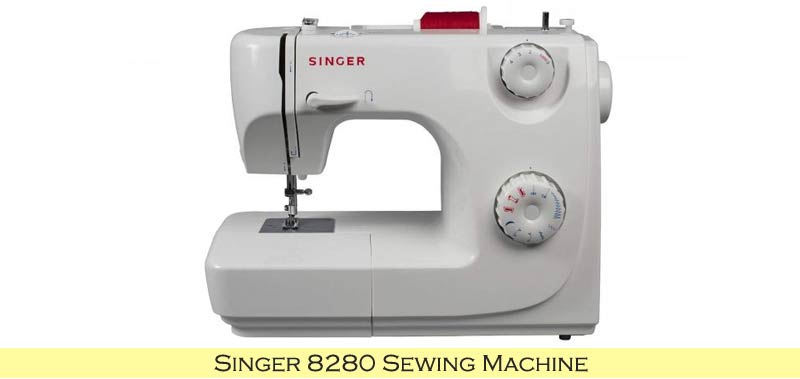 Singer has been another popular sewing machine brand that has stood the test of time. Singer 8280 sewing machine is for those people who want to store it anywhere conveniently and use it as and when desired. Though it looks compact, it can perform the best embroidery and other stitching tasks with finesse.
Easily the most popular sewing machine in India, it comes with as many as 24 stitching functions and seven built-in stitch patterns.
It also has a free arm for circular stitching.
It is lightweight, portable, compact, yet robust with a heavy-duty interior metal frame and powerful motor.
Comes with a 4-step buttonhole foot.
Varmax Sewing Machine with Sewing Kit, New Version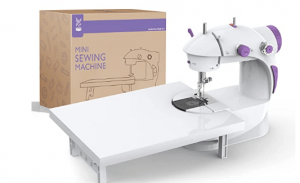 Varmax is a US-based home and electronics brand. Their sewing machine with the sewing kit is a beginner's dream. If you want to quickly pick up sewing as a hobby but do not have the time to collect individual equipment and necessities, this sewing machine is your go-to.
The sewing machine is paired with an all-purpose sewing kit that includes 2 bobbins, a scissor, 5 needles, a threader, a thimble, and a seam ripper.
Simplifies the process of stitching with its one-straight stitch mode.
A manual and video are also included with the set as quick tutorial sessions.
Equipped with a foot controller and adapter (for usage in the United States).
Suitable for various types of fabrics and materials.
Bernette Sew & Go 8 – 197 Stitch Designs Computerized Sewing Machine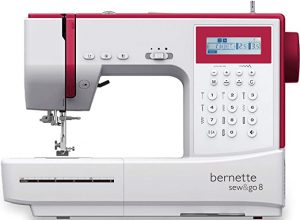 The Bernette Sew & Go 8-197 is a creative and adaptable sewing machine from Bernina International AG, a leading international manufacturer of domestic sewing and embroidery machines based in Steckborn, Switzerland. The updated model of the Go 8 sewing machine offers over 190 different patterns of stitches, including alphabet stitches, several buttonhole options, and even the eyelet stitch. One cannot simply ignore the sleek design of the model and its aesthetic prints. This sewing machine truly means business and is best suitable for experts in the sewing craft.
Offers a computerised sewing system with 197 built-in designs and patterns.
Includes an LCD display screen for precision as well as LED lights and an auto threader.
The sewing machine enables direct stitch selection, a combination of patterns, and an automated feed dog drop facility to control how much of the material is fed through the machine at a time.
Facilitates free motion and is particularly optimised for quilting and embroidery.
Has start and stop buttons to replace the hassle of using feet to control the functioning of the sewing machine.
It is equipped with a full rotation drop-in hook system that allows 7mm zig-zag stitching in width and 5mm in length at once.
HAITRAL Mini Sewing Machine, Portable Sewing Machine
The Haitral Mini Sewing Machine is optimised for comfort, ease of use, and travel. Haitral is a China-based manufacturer of home goods and electronics. The mini, lightweight sewing machine is meant to offer a solution to all your sewing-related pet peeves with its double thread, double speed, and no-reverse settings. If you do not have the patience or the technical skill to fiddle with your sewing machine, this simple product is here to solve all your problems.
The sewing machine is made of plastic, and it is built for travel with its sleek, perfectly lightweight design.
You can choose between hand or foot controls to start and stop the machine.
Includes a bottom and surface line that allows you to make stable, error-free stitches.
It is optimised for most types of fabrics. However, the machine most likely will not be able to stitch thick materials that require multiple stitches.
It has two-speed settings, making it suitable for both novices and experienced users.
The sewing machine comes with a tutorial video to make the usage of the machine simple and easy to understand.
Akiara – Makes life easy Mini Sewing Machine with Table Set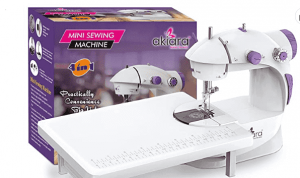 Akiara is a sewing machine manufacturing company based in China. They are particularly specialised in the creation of simple sewing machines that deliver complex functions with ease. The Akiara Mini Sewing Set is well-known in the market for its user-friendly design, ease of use and consistent flawless performance.
Customise your product by choosing between several combos, including a sewing table, refilled bobbins, or a complete set of sewing tools.
It allows stitches over 4 layers of fabric.
Equipped with a built-in light for precise and straight stitches.
Has a built-in thread-cutter and several speed adjustment options.
The sewing machine manual is available in different languages and in video format as well.
Brother LX3817A 17-Stitch Full-Size Aqua Sewing Machine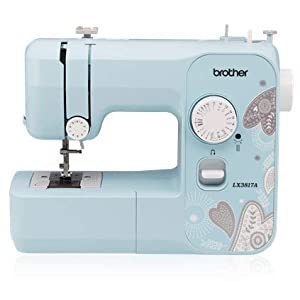 Brother International Private Ltd is a well-recognised and trusted name among other sewing machine manufacturers. The 17-Stitch Aqua Sewing Machine is a testament to their claim and expertise in the industry. With its easy, user-friendly design, multiple stitching options, LED-lit work area, and jam-resistant technology, it is the perfect electronic product to gift your loved one who enjoys sewing.
The model offers 17 unique built-in stitch options.
It has a 4-step auto-size buttonhole.
Offers four options of sewing feet: zigzag foot, buttonhole foot, zipper foot and sewing foot.
Separate settings for sewing cuffs and sleeves.
Jam-resistant design with a quick set drop-in bobbin system.
REVO Bag Closer Sewing Machine with Oil System DA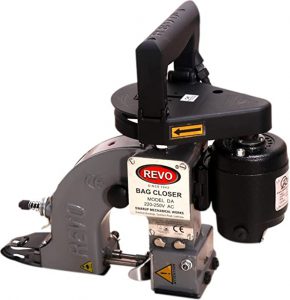 This is not your normal sewing machine! The Bag Closer Sewing Machine from Revo is meant to stitch together all kinds of regular-use household products, including multi-layered wallpapers, kraft paper, burlap, cotton bags, and certain forms of plastics such as polypropylene. Established in 1942, Revo is one of the largest manufacturers of sewing machines in India, with sales of over 2.5 million portable bag sealers under their belt.
It is equipped with an AC/DC motor that is powerful enough to function at 8000 rpm.
The sewing machine is optimised to sew over 5-8 bags per minute.
Allows for a single style of type of thread chain-stitch.
Supports material with a thickness of up to 8mm.
NEX Mini Sewing Machine, Portable and Adjustable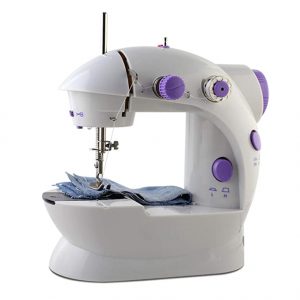 If you want to advance your sewing skills, the portable and adaptable Nex Sewing Machine is your go-to. It is small enough to fit into your shoulder bags, quite lightweight, and perfectly travel-friendly. It is quite easy to use and can be powered via an adapter and four AA batteries.
The size specifications of the product (6 x 5.0 x 7.9 in) make it easy to pack and carry on the go.
Can be powered with batteries or an adapter.
Has an LED-light-lit workspace and adjustable speeds
Suitable for most types of fabrics
Singer Start 1306 Sewing Machine (White)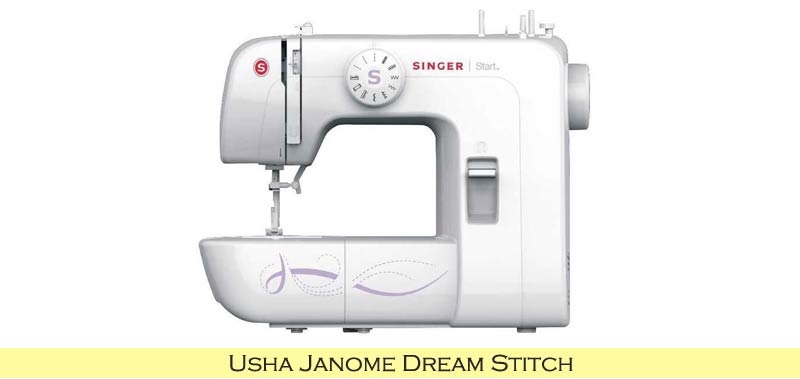 This pristine-looking compact sewing machine is affordable for many people and comes with a host of advanced features. If you are looking for a sewing machine under Rs. 8000, then you will like Singer Start 1306 sewing machine for the price as well as the features.
With six built-in stitches and a 4-step buttonhole, Singer Start is ideal for people who have just started to sew.
Quick and easy threading, dual spool pins for twin needle sewing, a heavy-duty metal frame so that you can sew without the machine skipping, and an extra-high presser foot lifter makes it easy to start your sewing journey.
Comes with a preset stitch length, width, and LED lighting for comfortable sewing.
Lightweight and portable for easy storage and movement.
Singer Promise 1408 Sewing Machine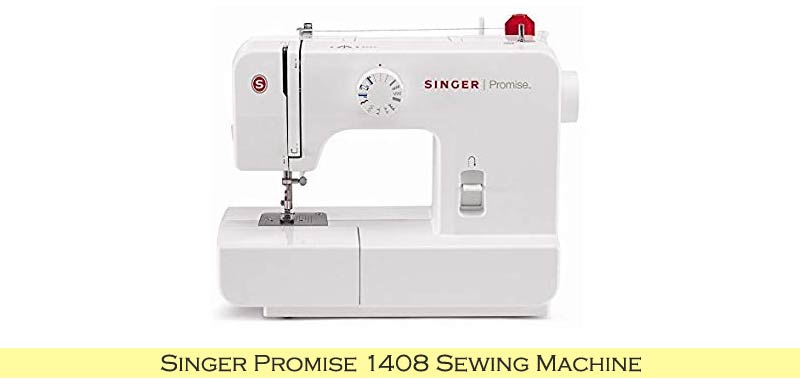 One of the most popular sewing machines in India under Rs. 10000 is Singer Promise 1408. It is as good for beginners as it is for experts. You can unleash your creative potential with this good quality sewing machine and experiment with new stitches, embroidery, zig-zag, and other repair work as well.
Comes with eight built-in stitches – including six basic stitches like straight, satin, zig-zag, one decorative and one automatic 4-step buttonhole.
Easy and convenient threading feature and an automatic bobbin winder make setting up the machine fairly easy
The arm can be removed for circular stitching like cuffs, collars, etc.
Easy on-off in a snap with the snap-on presser feet.
The machine remains in position and still when being used, thanks to the heavy-duty metal frame.
Usha Janome Automatic Stitch Magic Sewing Machine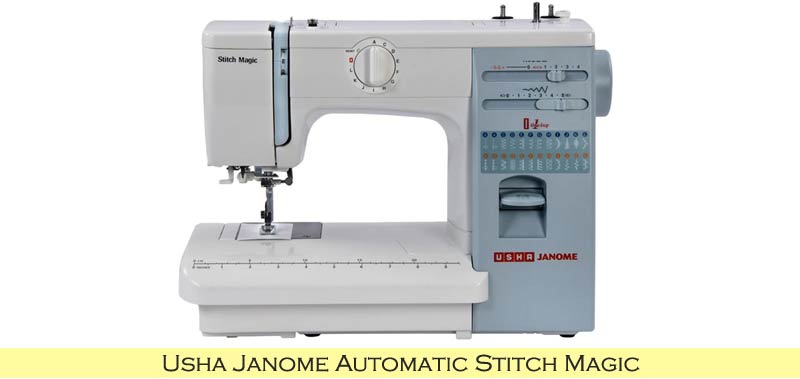 Usha has some brilliant sewing machines which are not just technologically advanced but also offer the same joy as traditional sewing. If you are a beginner, you will find this sewing machine easy to use and can benefit from its many stitching applications.
It is an electronic sewing machine with automatic straight/zig-zagstitch, automatic threading in the needle, automatic thread cutter, and 23 different built-in stitching designs.
It has a full aluminium body and a built-in motor.
The functional display is colour coded.
It comes with a free arm for circular stitching anda 1-step buttonhole.
It offers 57 stitching functions,including button fixing, rolled hemming, stretch stitching, blind stitch hemming, zip fixing, satin stitch, smocking, etc.
For thicker and heavy fabrics, there is a triple strength stitch feature.
Weighing 10.1 kg, it comes with a handle so that it can be carried with ease.
The bottom line
Whether you are a beginner, a professional, or a hobbyist, having a good sewing machine at your disposal will not only save you time and money but will also unleash your creative side. And don't worry, there are tons of tutorial videos on YouTube that can make you a sewing master in no time!
Things to Consider When Buying Sewing Machines Online
When it comes to buying a sewing machine online, there are a few important things to consider before making your purchase. From the features of the machine to the reputation of the seller, here are some key factors to keep in mind:
1. Purpose:Determine what you will be using the sewing machine for before making a purchase. Will you be using it for basic repairs or for more advanced projects such as quilting or embroidery?
2. Features: Look for sewing machines with features that match your skill level and intended use. Some key features to consider include stitch patterns, needle positions, and automatic buttonholes.
3. Brand:Choose a reputable brand that is known for producing high-quality sewing machines. Some top brands to consider include Singer, Brother, and Janome.
4. Reviews:Check out customer reviews of the sewing machine you are considering to get an idea of its overall performance and reliability. Look for reviews that mention the ease of use, durability, and quality of stitches.
5. Price:Consider your budget when shopping for a sewing machine online. While you may be tempted to go for the cheapest option available, remember that a higher price tag often comes with more advanced features and better quality.
6. Warranty:Look for sewing machines that come with a warranty, especially if you are investing in a more expensive model. A warranty will give you peace of mind and protection against any potential defects or malfunctions.
7. Seller:Choose a reputable seller with a good track record of customer service and quality products. Check out their website and read customer reviews to get a sense of their reputation.
8. Accessories:Consider what accessories come with the sewing machine and whether they are compatible with your needs. Some common accessories include presser feet, bobbins, and needles.
9. User-Friendliness:Ensure the sewing machine you select is easy to use, has clear instructions and includes all the basic tools for maintenance and adjustment.
Keep these factors in mind when you are looking for the perfect sewing machine to fit your needs and budget online. Shopping for sewing machines online can be a convenient and efficient way to find the machine you need to complete your next sewing project.
FAQS
1. What are the best sewing machine brands in India?
Some of the top sewing machine brands in India include Singer, Brother, Usha, Janome, and Bernina.
2. What features should I look for in a sewing machine from these brands?
Look for features that match your skill level and intended use, such as stitch patterns, needle positions, automatic buttonholers, and compatibility with different fabrics and threads.
3. How are sewing machines from top brands priced?
Prices for sewing machines from these brands can vary widely, with some entry-level models starting at around Rs. 5,000 and high-end models costing upwards of Rs. 1 lakh.
4. Can I find these sewing machine brands online in India?
Yes, all of these sewing machine brands can be found online in India through official brand websites, e-commerce platforms such as Amazon, and specialized sewing machine retailers.
5. How can I determine which sewing machine brand is right for me?
Consider your skill level, intended use, budget, and personal preferences when selecting a sewing machine brand. Read customer reviews and do research on the different features and capabilities of each brand to make an informed decision. Some brands may offer free demonstrations or trials to help you choose the right machine for your needs.