Every woman spends most of the time with family or at the workplace, and their monthly menstrual cycles can be affected, leading to irregularity. During this period, the most common problems women face are skin irritation and feel itchy due to change in surrounding temperature and humidity levels.
Having sanitary pads play a vital role in returning the regularity of a woman's cycle to normalcy. They absorb blood flow and water to keep the private parts dry, reducing the chances of infection. In contrast with tampons and menstrual cups, organic sanitary pads have a great impact due to the highly absorbent, convenient, lightweight, and affordable nature.
How to use sanitary pads?
We all know that different brands of sanitary pads come in different sizes. So, it is vital for the women to pick the right-sized one to meet their needs and control blood flow during menstruation. If you are using it for the first time or if it is causing rashes on your skin, follow the simple steps below for a trouble-free experience. Have a glimpse:
Firstly, take out the pad from the bundle pack.
Remove the release sheet.
Fix and wrap it across your genitals during the periods.
Change it for every 4-6 hours to prevent soaking and skin rashes. 
List Of Top Sanitary Pads For Periods
Last update was on: January 27, 2023 4:54 pm
Sanitary pads are women's best companions to keep menstrual hygiene. When it comes to purchasing online, different brands are available in numerous styles, designs, and sizes, catering to women's bodies and periods. It is essential to pick the right one that matches your personal preferences.
Here in this article, we have done extensive research and provided the list of popular sanitary pad brands in India to offer extreme comfort. Scroll down to know more!
Top Sanitary Pads For Periods
Whisper – Best Selling Sanitary Pad Brand in India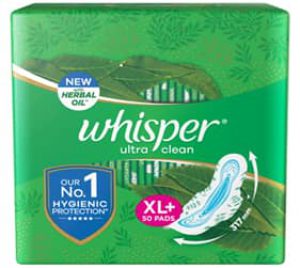 Do you have a problem with managing periods? It's good to use Whisper sanitary pads. You can find a variety of pads online, and nothing can match the hygienic standards of the Whisper brand. The best part is that you never have to be exposed to harmful germs and bacteria.
Compared to Stayfree, Whisper sanitary pads use herbal oil to keep your intimate parts secured and a DRI weave cover to absorb in seconds. What's so unique is that it lasts 40% longer and offers a pleasant fragrance to keep yourself fresh all day. Adding up, it is easy to wrap and dispose once you finish using the pads. It is also advised for you to clean the intimate parts properly, change for every 4-6 hours, wrap and put it in dustbins.
---
What we like:
Available in XL and XL Plus sizes
Herbal oil keeps you protected
DRI weave protective cover
Easy to wrap and dispose
Pack: 50 Napkins
What we don't like:
May find difficult to stick
---
Saathi Pads – Best Sanitary Pads for Heavy Bleeding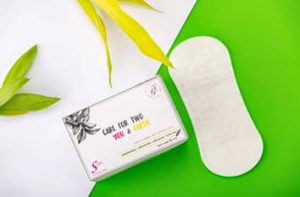 Have you ever googled "What are the best sanitary pads for heavy bleeding?". When buying pads online, you want to get the right product for the money you invested. One such amazing brand is from Saathi. Saathi's vision is to change the way menstrual hygiene is addressed by using sustainable products.
Saathi sanitary pad uses breathable bamboo fibre and corn to stimulate the body and support allergic women. Both the natural ingredients contain anti-bacterial and antioxidant properties to delay ageing and remove free radicals in the body. After usage, you can simply wrap it in paper and throw the pad in a trashcan to dispose properly.

---
What we like:
Made with corn and bamboo fibre
Plastic-Free Pads and Packaging
Biodegradable & Compostable @ 152 Days
Offers better breathability
Free from chlorine and dioxin bleach
Pack: 24 Pads
What we don't like:
Little heavy on the pockets but value for money
---
Nua – Best Rash-Free Cotton Sanitary Pad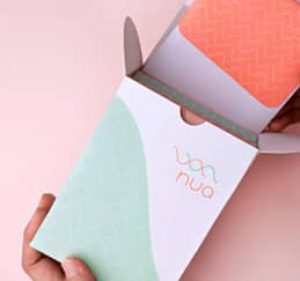 Women have intricate cycles that change from month to month. And the secret to feminine hygiene is to keep the body free from bacterial infections. It is possible through Nua brand sanitary pads. Nua has been a specialized brand in offering intimate care products over the years.
The complete pack contains 12 pads (3-heavy, 4-medium, 5-light), each with free disposal cover, made of non-woven fabric with a super-absorbent core. If your skin is too sensitive to fragrances, Nua is the perfect choice as they do not use perfumes or prints on the top layer to avoid rashes. Overall, the pads are made using organic cotton material to give you a comfy feel.

---
What we like:
Certified as vegan-friendly
Made of non-woven fabric materials
Better coverage with wider backs
Experience the rash-free periods
Suitable for light, medium, and heavy flow
Pack: 12 Pads
---
Sanfe – Best-Rated Sanitary Pads for Periods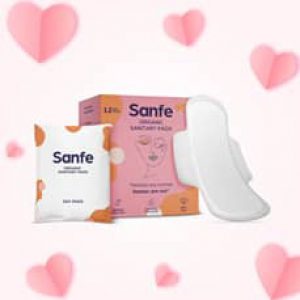 In India, 12 billion plastic sanitary pads are used annually causing drainage and clogging problems. We also know that no woman wants to be uncomfortable while menstruating. With Sanfe organic pads, women can stay confident and feel decent when used day and night.
Sometimes, if you are wearing a wrong-sized pad, the water level goes down and you may feel uncomfortable. This is a quite common problem in females. But, do not worry! You can choose the Sanfe sanitary pads that are made using natural materials to offer high-absorbency from the list of options. Summing up, you can buy these items at the best price possible from the online stores.
---
What we like:
Multi-layer absorption formula
Leak-proof mechanism
Ideal to use while travelling
Can be worn day and night
Bamboo fibre core with top sheet
Pack: 12 Pads
What we don't like:
Suitable only for heavy flow
---
Stayfree – Best Quality Sanitary Pads for Heavy Periods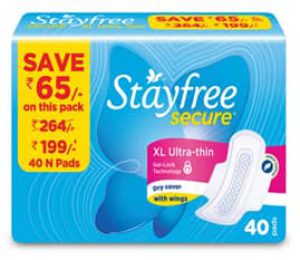 When it comes to keeping your vagina in a healthy condition, you need to be sure that you're taking the right steps. Stayfree sanitary pads are definitely one of them. The pack comes with 40 pads that are made of quality materials to support heavy periods.
The use of gel lock technology converts heavy flow into a gel and then locks it. It has got additional features like dry cover and odour control system to give you a comfy feel throughout the usage. On the whole, start buying Stayfree sanitary pads to keep yourself free from infections.

---
What we like:
Gel lock technology
Odour control mechanism
Suitable for regular to heavy periods
Superior dry feel with the cover
Side-wings helps to wrap securely
Pack: 40 Pads
What we don't like:
Available only in XL size
Experience leakage
---
Plush – Best Sanitary Pad for Sensitive Skin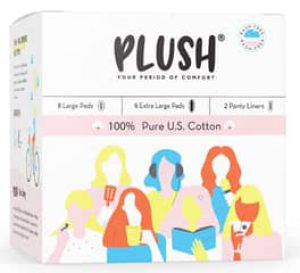 If you're looking for a new brand of sanitary pads that are more absorbent and comfortable, give it a try with Plush. Plush brand is curated with feminene products like hair removals, liners, menstrual cups, etc., to care for periods.
To talk about the sanitary pads, they come in different sizes to meet the requirements of different users. The ultra-soft cotton sheet is dermatologically tested to keep yourself dry and comfortable all day long. All the pads are free from chlorine, paraben, and fragrances to avoid rashes on the sensitive areas.
"How to use pads?" is the biggest question. If you do not use it in the right way, you may be prone to skin allergies and irritations. Firstly, pull the tape away from the back of the pad, stretch it open and stick firmly.
---
What we like:
FSC approved packing
Keeps you dry for longer
Free from chlorine, fragrance, and paraben
Ideal for women with sensitive skin
Pack: 14 Pads
What we don't like:
Cannot be returned
Prone to vulvar itching
---
Paree – Cheap and Best Sanitary Pad for Heavy Flow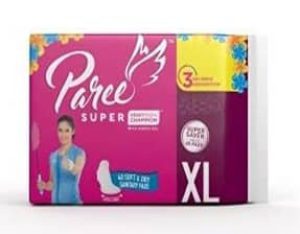 Are you using pads at home and suffering from rashes? Do not buy the brands that cause illness. Immediately switch to Paree sanitary pad. The Paree XL pads have a super soft & dry top sheet that prevents rashes and itching, giving you a snug feel round the clock. It is the best and cheapest pad available online and offers comfort during the periods.
Paree pads come with wings to offer grip and broader back coverage to avoid slipping and leakage. The best part is it can absorb the liquids in 3 seconds without causing irritation on genitals. In a nutshell, Paree sanitary pads are well-suited for women with heavy flows during menstruation.
---
What we like:
Available in regular, large, and XL sizes
Best to use during heavy flow
Quick absorption without leakage
Features extra coverage and protection
Pack: 40 Pads
---
Azah – Best Organic Sanitary Pad for Teenagers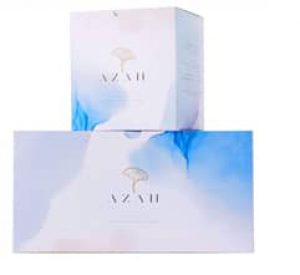 During puberty, girls (between 9-16 years) experience the first period, Menarche, heavy bleeding from the vagina. Periods in girls frequently happen within a gap of 28-40 days and are prone to Premenstrual Syndrome (PMS).  Being a teen, you undergo several menstrual cycles, and frequent bleeding may occur. Are you sick of pulling your clothes every time you change your pads? Try out Azah organic sanitary pads that make sure that there is no friction.
Azah brand is specially curated for women's health by offering maternity pads, menstrual cups, panty liners, jade rollers, and acne patches. It's good to know that they use organic materials approved by the Food and Drug Administration (FDA) to ensure safe and healthy periods. The lightweight and ergonomic shape makes you walk comfortably. On the whole, Azah eco-friendly sanitary pads are worth purchasing from the Amazon store if you wish to use pads with organic materials.
---
What we like:
Supports all skin types
400ml absorption capacity
Non-toxic and rash-free
100% organic cotton and ultra-soft materials
Pack: 40 Napkins
---
Noraa – Best Biodegradable Sanitary Pads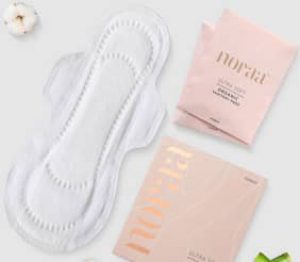 If you are a woman who experiences heavy flow during periods, then you would probably be looking for the most comfortable and long-lasting pads. If so, Noraa's sanitary pad is what you should look into. They are designed with advanced technology to give you the best feeling during those difficult days.
Noraa organic pads come with disposable covers and wider backs to provide a rash-free period experience. It is because they use cotton, corn starch, and bamboo materials. Adding up, disposable pads are more convenient to use than reusable cloth because the blood gets absorbed into the middle layer without causing skin allergies. Overall, Noraa biodegradable sanitary pads make life easier for ladies with menstrual problems.
---
What we like:
Maintains the pH levels
300mm heavy flow pads
Hassle-free disposing options
Blended with cotton, starch, and bamboo
Pack: 12 Pads
---
Everteen – Best Chemical-Free Sanitary Pads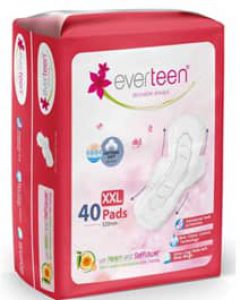 Everteen is one of the best chemical-free sanitary pads that comes with anti-rash and anti-tanning properties. These ultra-thin and biodegradable pads are made from neem and safflower extracts. Unlike other popular brands available in the market today, it features a double-wing shape for a better grip during prolonged use.
It has got you a super-value pack of 40 XXL 320mm long sanitary pads with a soft cotton top-layer designed to make your periods ultra-comfortable day/night, giving you a feather-like touch. The 8-layer protection, odour-locking gel-core system and advanced leak protection boosts your confidence to live life fully during menstruation.
---
What we like:
320mm long pads to use overnight
Anti-rash and anti-tanning properties
8-layer and leak protection
Odour locking gel core system
Affordable to buy online
Pack: 40 Pads
What we don't like:
Not biodegradable
Damages quickly
---
Sanitary Pad Types
Women have been using sanitary pads for centuries to help them deal with their periods. There are many sanitary pad types on the market today, each with its own unique features. Here in this section, we have listed the two popular types – Disposable pads and Reusable pads. Have a look:
Disposable Pads
Disposable sanitary pads are the most common type and used for one cycle. They are usually expensive, have high environmental impact, and have low absorbency. Moreover, they take up a lot of space, and are often incinerated without being recycled.
Most disposable pads have a sticky strip at the bottom. You can peel off the paper strip and press the pad gently. If the pad has wings, you can simply wrap around the bottom of the crotch. To remove the pad, unstick it from your panties and throw it in the trash can. Never flush a pad in the toilet as it gets clogged and becomes more messy.
Reusable Pads
Reusable sanitary pads are more expensive than disposable ones, but they last for several cycles. They are also more environmentally friendly since they can be recycled. What we like the most is that they have the added benefit of being more comfortable to wear than disposable pads. We suggest reusable sanitary pads for all-age groups because they feel they're better for the environment and affordable too.
How To Choose Sanitary Pads For Women
Sanitary pads are an important part of women's hygiene. They help to prevent infections and discomfort, and protect women from reproductive health risks. They are also important for environmental protection, as they can be recycled. However, there are different pad brands available on the market, and it can be difficult to pick the right one for you. In this section, we will discuss the different types of sanitary pads and how to choose the best one for your needs. Check it out!
Know Your Period
Tracking periods is a good way to understand the menstrual cycle patterns. Moreover, it also helps to find out other symptoms like PMS, acne, headache, and more. Every woman experiences periods at different times. In case you are planning to conceive, tracking your period can help you identify your ovulation day. So, purchasing the types of sanitary napkins for your body and skin type can minimize the health issues to a certain level.
Absorbency
Absorbency is yet another important factor that one must consider while buying the top sanitary pad brands in India. It is because a good safety pad absorbs large volumes of blood in a short span. Now it should be locked to eliminate the chance of backflow when pressure is applied.
One of the best ways is by observing the color of the blood on the pad surface. The brighter or fresher the color, the nearer the blood is to the surface, potentially leading to backflow and dampness. If it appears a dull red, blood has been absorbed so you feel dry, confident and focus on daily activities without bothering about leakage issues. However, it is suggested to buy sanitary pads that can tackle heavy flow and medium flow.
Material Quality
The women's safety napkins are made of cotton or plastic netted materials. Be it heavy or light menstrual flow, it can cause discomfort and make your skin red and itchy. To avoid this problem, just switch to cotton sanitary pads for sensitive skin as it can be recycled easily, provides better breathability, and is budget-friendly too.
Online Reviews and Ratings
Next on the list of safety pads buying factors is online reviews and ratings. Yes, you heard it right! These days, with the increase in demand for online shopping, women are purchasing all the beauty and wellness products from the comfort of home. The Safety-period pads are one among them. So, consider the reviews and ratings from the trusted sources to make an informed decision.
Affordable Pricing
Finally, we end up on the buying list with pricing details. Most of the sanitary pads brands offer products at affordable prices to meet the requirements of different users. It is up to an individual to decide which safety pad to buy online depending on the personal preferences and budget options.
Sanitary Pads FAQ's
1) Which is the best sanitary pad in India?
Whisper brand sanitary pad is perfect to use for women of all age groups. The DRI weave absorbs in a few seconds, and herbal oil protection keeps you hygienic throughout the day and night.
2) Is it safe to use sanitary pads for teenagers?
As per gynaecologists, sanitary pads are 100% safe for teenagers as they are made with organic materials and can be disposed of after every usage.
3) What materials are used for manufacturing sanitary pads?
Sanitary pads are made using plastic, polyethylene, cellulose materials that are highly resistant to water. To make it eco-friendly, pads are blended with natural fibres like jute, bamboo, banana, and cotton.
4) How long can I use a sanitary pad during periods?
Change the pad for every 3-4 hours during the menstrual cycle to prevent bacterial growth and infections.
5) How to clean a reusable sanitary pad?
Soak the pad in cold and mildly salty water after each use. After soaking the pad properly, it should be washed and dried under the sunlight to kill the germs and bacteria.
6) Can I clean sanitary napkins with hot water?
Avoid cleaning sanitary napkins and pads with hot water as it can cause the blood to settle inside the layers and leave stains permanently.
7) What are the best sanitary pad alternatives?
You can give it a try with tampons, panty liners, toilet papers, sterile gauze, and menstrual cups to maintain the genital health hygienic during periods.