Microwave ovens are one of the most convenient appliances in a home. They not only make food but also allow you to reheat already cooked food. In India, microwave ovens are becoming increasingly popular, and there are a variety of good ones available on the market. In this article, we have compiled the best microwave ovens in India for 2023. From top brands to budget options, we've got you covered. Without further ado, let's jump right into it!
Our Top Picks
| | |
| --- | --- |
| Best Overall | Samsung's 28 L Convection Microwave Oven |
| Best Budget | LG 20 L Solo Microwave Oven |
| Best Warranty | Croma 20 Litres Microwave Oven |
| Best Auto-Cook Menus | Whirlpool 30 L Microwave Oven |
Best Microwave Ovens In India
We present you with the latest list of the best microwave ovens we've come across in India. Take a look at the list below.
Samsung 28 L Convection Microwave Oven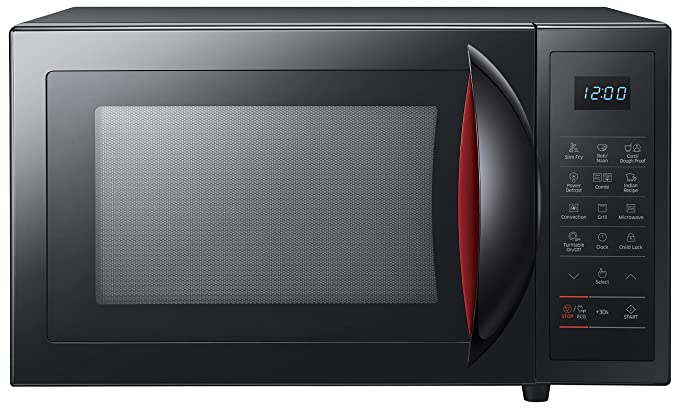 Say goodbye to high energy bills and greasy pans! With the Samsung 28 L Convection Microwave Oven, you can cook your favorite dishes quickly, easily, and in a neater way. The convection technology guarantees even heating and prevents food from sticking to the walls, while the touch keypad controls make it easy to select your cooking mode. With a sleek design and all-in-one functionality, this oven is perfect for those who love to cook large meals on a budget.
This 28 L micro oven, considered one of the best microwave ovens in India has some of the best technologies to offer. It is perfect for large families who cook, defrost and reheat food frequently. Not only that, but its touch keypad makes it easy to navigate – setting the timer and checking the cooking progress is a breeze. And if you're in the mood for some delicious, crispier, and healthy fries, this oven has you covered with its SLIM FRY Technology. Furthermore, the innovative features like tandoor technology and fermentation function allow you to cook perfect naan, rotis, homemade dough, etc with ease. Compared to other products on the market, it has some of the best microwave oven collections, grills, and toasters, apart from smartphones, laptops, etc. Also, do make use of the latest Samsung promo codes on our site for an assured discount.
Features and specifications we like:
The Child Lock feature ensures that children don't operate the microwave on their own.
Eco Mode helps you save energy by automatically adjusting cooking times and power levels.
Turntable On/Off helps stop the tray from rotating for you to use it with ease.
Auto Cook Menu for Indian Recipes makes preparing Indian cuisine a breeze; simply enter your dish's ingredients and it will prepare it for you with just a few button presses!
Comes with a ceramic enamel cavity for the best cooking experience. It is durable, 99.9% bacteria-free, and easy to clean.
Capacity: 28 Litres
Watt: 900 Watts
Voltage: 230 V
Warranty: 1 Year
LG 20 L Solo Microwave Oven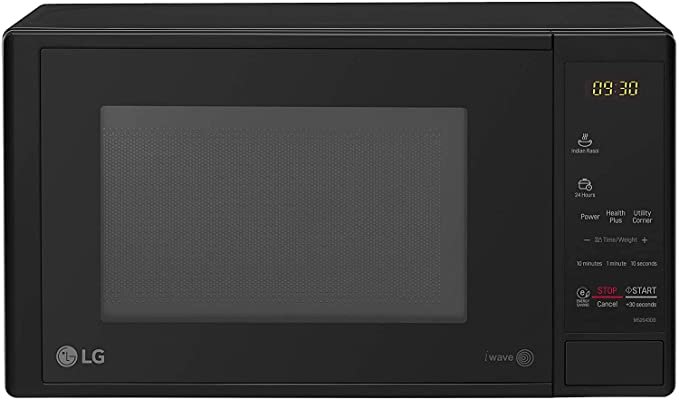 LG's patented i-wave technology helps you cook healthy and quickly by uniformly distributing the microwaves throughout the oven cavity, which is why this 20L solo oven is so popular. This microwave comes with a bacterial buildup and helps keeps the interior odorless. This oven includes several features that are especially noteworthy (for those with busy lifestyles): It can easily accommodate large dishes such as roasts or quiches; its power burners deliver high temperatures quickly and evenly, and its interior scan feature ensures even heating throughout the entire dish being cooked.
Currently, this product offers 28 Indian-themed cooking options with 44 automated cooking options to choose from. Sweets Corner, Health Plus, Kids Delight, Brunch, Snacks, and more are a few to name. The Intellowave system, in addition to its energy-saving potential, makes it one of the most coveted solo microwave ovens on the market.
Features and specifications we like:
When inactive for more than 5 minutes, it helps conserve energy by automatically switching off the display.
This oven's anti-bacterial cavity makes cleaning easier and prevents odors from developing.
Comes with a health plus menu that provides you with easy-to-understand nutritional information for each dish.
The defrost feature helps you to defrost your food in a short time and without any fuss.
It also has a timer that lets you know when the dish is done, helping you to avoid overcooking.
Capacity: 20 Litres
Watt: 700 Watts (Output)
strong>Voltage: 220 V
Warranty: 1 Year
IFB 20 L Convection Microwave Oven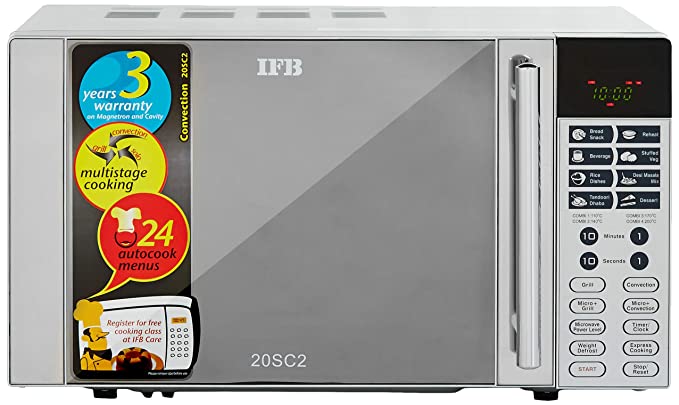 Do you have a lot of food to cook at once? Worry no more! The IFB 20L convection microwave oven has you covered. With 24 auto-cook menu options, this oven can do it all. Whether you're baking your favorite cake or reheating your pizza, this oven will take care of the cooking with ease. The sensitive touch keypad makes it easy to control and makes cleaning a breeze. What's more? With super cool functions like auto-cooking and safety features like child-lock, this one is definitely one of the most purchasable microwave ovens out there.
With its powerful motor and sturdy build, this oven can handle even the largest meals with ease. Plus, its sleek and modern design will complement any kitchen beautifully. And, the blend of power grill and combi tech provides a brown, smoky texture and aroma to your food. The device comes with one year of warranty. It also has three years of replacement warranty on the Magnetron and cavity. Moreover, for those who are willing to get an extra discount on any of the products, head to our IFB coupons section for the latest deals. We are sure you'll save more on your orders.
Features and specifications we like:
Auto Reheat: This feature will automatically reheat your food for you, so all you have to do is put it in the oven. No more waiting for dinner!
Time Display: You'll never mistake an hour for another with this easy-to-read clock that displays both time and temperature.
Weight + Speed Defrost: Automatically adjusts temperature based on how cold your food is so that it can be defrosted quickly and easily. Just enter the weight of the item, and you're good to go.
Auto-Set Cook: Ensures that your food is cooked to perfection every time, and in different styles.
Multi-stage Cooking: This allows you to cook multiple dishes at the same time without having to switch between them.
Capacity: 20 Litres
Watt: 800 Watts
Voltage: 230 V
Warranty: 2 Years
Bajaj 17L Solo Microwave Oven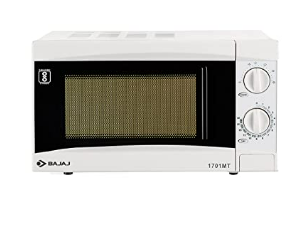 One of the most popular Indian brands, Bajaj is a readily recognizable brand for most because of its iconic 'Chetak'. However, their electronic products are top-notch as well. Take this solo microwave oven for example. With five different power levels and a 30-minute cooking alarm, you can do everything basic and a little more. It is perfect for reheating, defrosting, and cooking your favorite meal.
It is suitable for bachelors or small families and comes with a unique design that makes it ideal for use in any kitchen. This oven has intuitive controls, making it simple to utilize and even a novice can learn how to use it in no time at all. Bajaj provides one year warranty on the oven and the Magnetron. There is no extra installation help needed since the product is ready to use. It may be returned for a ten-day replacement if there are any problems with it.
Features and specifications we like:
It has jog dial controls so that you can easily adjust the settings while cooking.
The oven will notify you when it is ready to be used with an alarm that sounds once your food is fully cooked.
Its Cooking complete alarm ensures that your food will be correctly cooked every time.
The Nutri-pro feature helps to ensure heart-healthy cooking.
With its 30-minute timer, you'll be able to easily time your meals and make sure they're delicious at the same time.
Capacity: 17 Litres
Watt: 800 Watts
Voltage: N/A
Warranty: 1 Year
Panasonic 20L Solo Microwave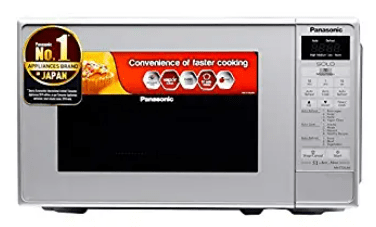 With a capacity of 20 liters, it is perfect for small families or bachelors who want to enjoy delicious and fast cooking results. The 800 watts of high power ensure even cooking and deliver delicious results every time. Plus, the 51 pre-auto cook menu items make cooking quick and easy. The intuitive controls let you customize your meals exactly the way you want them, and the compact design means less clutter on your countertop.
Moreover, The oven comes with a durable steel build, a glass turntable for even heating, and a safety shield to protect your food from accidental burns. Meanwhile, if you are the one looking for more offers on microwaves or home appliances coupons, you're at the right place. Do check them out for extra savings.
Features and specifications we like:
Vapour Clean: This oven doesn't use chemicals or heat to clean itself, which means it's safe to eat food that was cooked in it.
Re-heat: You can re-heat your food quickly and easily in a single click.
Defrost: The oven will defrost your food within a few minutes so you can start cooking again without delay.
Auto Cook Menu: This allows you to choose from a variety of recipes – perfect if you don't know what you want to eat! And lastly, even lets you set your own cooking time and temperature.
Child-lock: Ensures that children don't accidentally operate the oven.
Capacity: 20 Litres
Watt: 800 Watts
Voltage: 230 V
Warranty: 1 Year
AmazonBasics 30 L Convection Microwave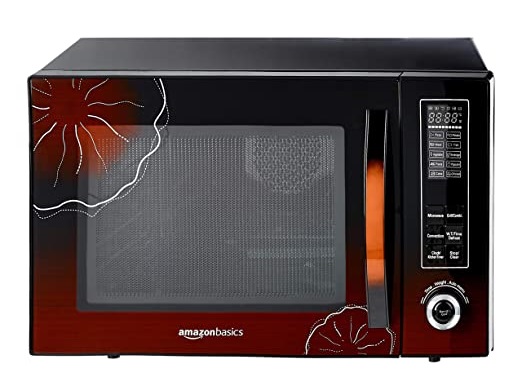 With its sleek design and simple controls, the AmazonBasics 30 L Convection Microwave is perfect for anyone looking for a small, easy-to-use microwave. The microwave comes with a built-in digital timer that allows you to cook food quickly and easily, while the automatic sensor cooking helps to ensure even heating. The compact size also makes it great for tight spaces, and the cord wrap system keeps it organized.
With a simple touch, the convection function can bake, defrost, and evenly heat the oven. The product is equipped with child lock features to ensure the safety of young children in the area and includes 65 auto-cook menu options. You may thaw frozen items with the help of this feature. The gadget is one of the most popular gadgets in its class due to its sleek design and affordable pricing.
Features and specifications we like:
It comes with a stainless steel material that is resistant to scratches and easy to clean.
The child lock feature ensures that your children don't accidentally press any buttons.
Has a sleek design that will fit well in any kitchen, while the interior is easy to clean.
An LED display panel that makes it easy to read at night or in low light conditions.
It has a preheat function, so you don't have to wait for the oven to heat up, and it also comes with an easy-to-use digital display.
Capacity: 30 Litres
Watt: 800 Watts (Output)
Voltage: N/A
Warranty: 1 Year
Godrej 23 L Convection Microwave Oven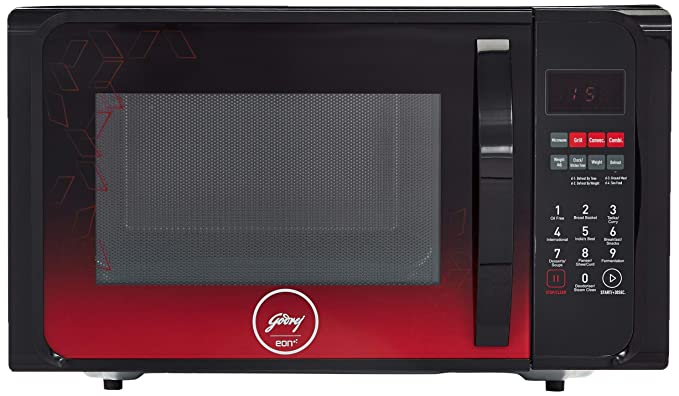 Are you tired of overcooked or undercooked meals? Tired of struggling with your oven? Meet Godrej's 23 L Convection Microwave Oven! This microwave oven is specially designed to make your cooking experience a breeze. Its convection technology ensures even heat distribution and prevents food from sticking to the walls, making it easier than ever to cook up a storm. The oven is also perfect for reheating and defrosting meals, making it a one-stop-shop for all your microwave needs.
This Indian brand with international standards is also popular for offering the best high-security anchor locks, soaps, hair colors, toiletries, and more. Coming back, the 23 L microwave oven comes with lots of instant-cook/auto-mode options, a beautiful LED display, instant defrosting, and cooling, making it the best choice for small families. On the whole, it can effectively perform key tasks like a grill, roasting, and baking, and hence we have considered it as one of the best microwave ovens for baking.
Features and specifications we like:
The tactile buttons, along with jog dials, ensure the device lasts for a long time.
The microwave oven comes with a child lock feature as a safety means for young kids.
Comes with a touch keypad control to make your cooking experience more convenient.
It has a stainless steel material that makes it durable and scratch-resistant.
Offers an instacook menu option to cook a variety of dishes like Shahi Paneer, Goan Fish Curry, and many more from across India.
Capacity: 23 Litres
Watt: 800 Watts
Voltage: 230 V
Warranty: 1 Year
Morphy Richards 25L Convection Microwave Oven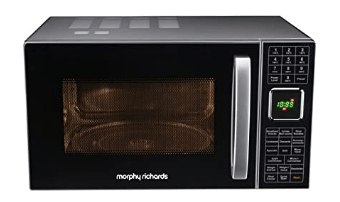 Morphy Richards, one of the top 10 microwave oven brands in the world offers a wide range of features and capabilities. The ovens are perfect for everyone, from the beginner cook to the most seasoned chef. With easy-to-use controls and a variety of cooking options, the ovens will simplify your life while upholding your quality standards. With its 25L capacity, it can cook a large meal in no time at all.
This 25L convection microwave oven offers 200+ menus and a child lock feature that allows you to customize your cooking experience to perfection. Whether you're in the mood for a hearty meal or something light and refreshing, this microwave oven is sure to please.
Features and specifications we like:
Comes with 11 power levels that can be adjusted as per your cooking needs.
The oven has an auto reheat function that will keep your food warm until you're ready to serve it.
Features a deodorizer to eliminate bad smells or odors.
Has tactile buttons for easy operation.
Offers an electric child lock to prevent unauthorized use, and a digital clock for accurate timekeeping.
Capacity: 25 Litres
Watt: 800 Watts
Voltage: 230 V
Warranty: 2 Years
Whirlpool 30 L Convection Microwave Oven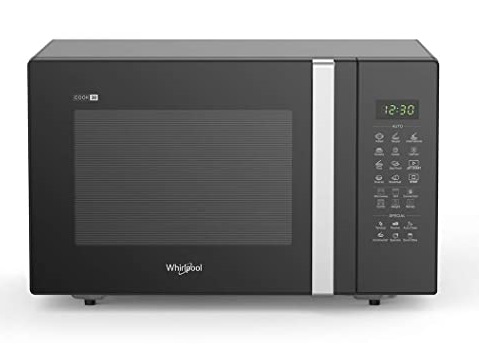 The Whirlpool 30 L Convection Microwave Oven is a popular choice for those who are looking for an affordable, reliable appliance that can cook food quickly and evenly. This oven features a number of convenient features, including: power level indicators on the display screen, an auto shut-off function to conserve energy, a detachable turntable for easy cleaning, and interior light that makes it easier to see what you're doing. Additionally, this oven has been designed with safety in mind.
The turntable design prevents foods from sticking to the sides or bottom of the oven, which makes it easier than ever to get your food ready exactly how you want it. And because each dish is heated evenly from top to bottom, there are never any leftovers or burned dishes when you use a Whirlpool microwave oven in your kitchen.
Features and specifications we like:
This oven has a zero-oil cooking feature which helps you cook meals without having to use any oil. This is achieved by using convection technology and directing heat inside the oven instead of onto the food.
There are 300 auto-cook menus that enable you to quickly and easily prepare your favorite dishes.
Offers smart cooking features that allow you to cook your food 50 percent faster, and is considered to be way better than the conventional air fryers.
With the Whirlpool MagiCook Microwave oven, you may cook a wide range of delicious and healthy meals in only two minutes.
Offers a grill rack for perfect grilling and baking for the best cuisine experience.
Capacity: 30 Litres
Watt: 900 Watts
Voltage: 230 V
Warranty: 1 Year
Croma 20 Litres Convection Microwave Oven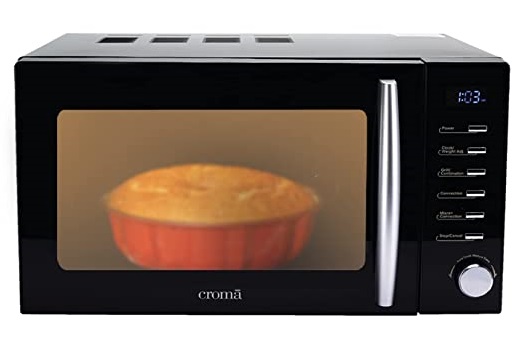 Check Price on Amazon
This 20 liters convection microwave oven by Croma has a variety of features to make cooking easy, from 200 auto-cook menus to a quick 2-minute cook time. With 10 power levels, you can cook anything, including Indian recipes by adjusting the desired temperature. Thanks to its powerful magnetron technology, this oven will save energy by heating up fast and producing less noise compared with other microwaves in the same price range. While its sleek design makes it perfect for any kitchen.
This microwave oven is very easy to clean and comes with a stainless steel cavity. It has powerful on-device controls and is best known for multi-stage cooking functions. The convection mode is ideal for baking and cooking without having to use extra pans or inks, whether you're looking for desserts or savory dishes. Moreover, all meals are cooked evenly and swiftly thanks to the built-in timer.
Features and specifications we like:
Has a pre-heat function, which helps to warm your food quickly.
It also has a defrost function, so you can thaw out food in no time.
The cool-touch handle makes it easy to grasp, protecting your hands from heat-related injuries.
The cavity is easy to clean and comes with an impressive LED display.
The convenient digital touch screen allows you to navigate through your recipes with ease.
Capacity: 20 Litres
Watt: 2200 Watts
Voltage: 240 V
Warranty: 2 Years
Borosil Prima 30 L Oven Toaster & Grill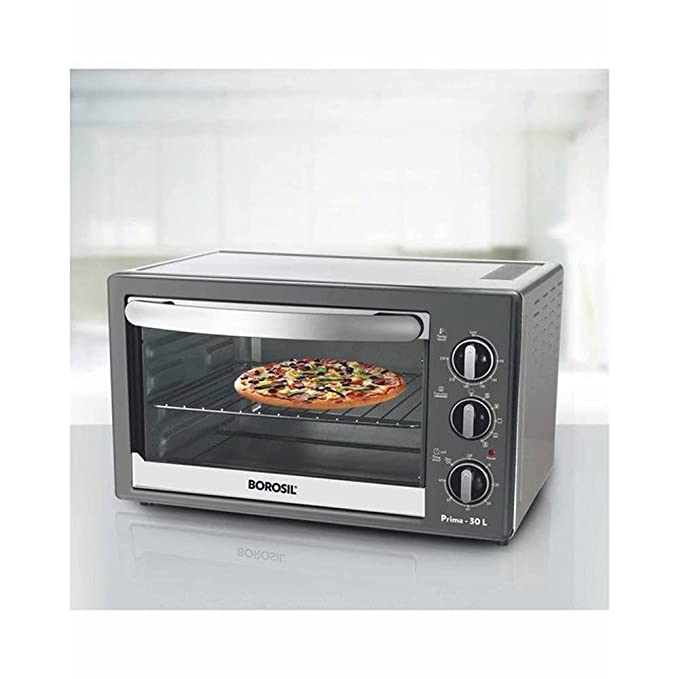 Borosil is a prominent brand in the safe-kitchenware industry for producing the cheapest and finest microwave ovens. It has a variety of features, such as a mechanical timer, temperature settings, temperate capabilities, etc. Moreover, you can prepare delicious meals in no time at all thanks to Borosil's 30-liter oven toaster and grill. This oven toaster grill is ideal for any kitchen, and it's particularly suited for large families due to its durable and easy-to-clean design. The grill allows you to cook some delicious steaks and chicken, while the toaster can make your sandwiches, burgers, and pizzas just the way you like them.
Convection cooking, grilling, baking, toasting, and rotisserie are among the features available with a microwave oven. The food is uniformly heated and grilled thanks to this convection and motorized rotisserie. The oven has a six-stage heating system with temperatures ranging from 90 to 203 degrees Fahrenheit. Cooking Tray, Grill Rack, Handle for Cooking Tray, Rotisserie Rod Set, Rotisserie Handle, and Removable Crumb Tray are all included with the oven.
Features and specifications we like:
It has a Stay-On feature and a mechanical timer with 0-60 minutes. This makes it simple to monitor the cooking times for your meals without having to fear them being burnt or undercooked.
This oven has a robust stay-cool handle that makes it easy to grip and prevent burns.
It has 6 stage heating options that allow you to customize your cooking experience according to your needs.
The chamber is illuminated due to build-in lights that allow you to watch over your cooking preparations as they happen.
Offers a recipe book that covers more than 25 dishes, including meals, and fresh desserts.
Capacity: 30 Litres
Watt: 1500 Watts
Voltage: N/A
Warranty: 2 Years
Samsung 23 L Solo Microwave Oven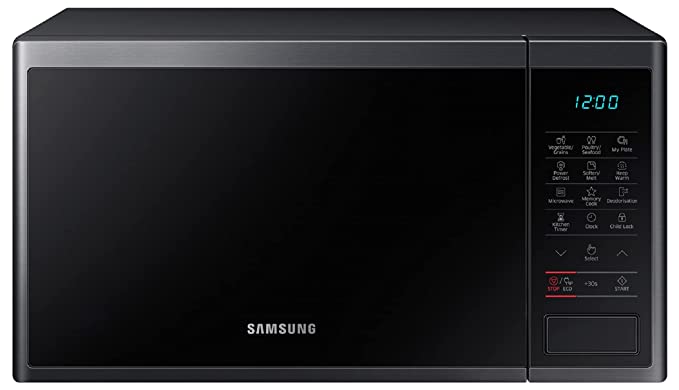 The microwave ovens from Samsung are perfect for those who are looking for a budget-friendly option that still offers some great features. With features such as defrosting and reheating, this solo microwave oven is ideal for a family of three to four people. There are 20 pre-programmed cooking modes, including Indian cuisine, included with the MWO. The 23L solo oven is equipped with tactile buttons and jog dials, which increase the device's lifespan.
The Triple Distribution System (TDS), which cooks food evenly from top to bottom, is one of the many innovative features of this gorgeous-looking oven. Ceramic material with antibacterial and anti-scratch properties is used to make the oven cavity, which powers the longevity of the device.
Features and specifications we like:
Has a touch keypad that allows users to control the oven with ease.
Offers a defrost feature that allows you to quickly and easily thaw out food.
Child Safety Lock prevents children from opening the door on their own or controlling the device.
Features a turntable on/off button that makes it easy to start and stop the cooking process without having to open the door.
Eco mode helps you save energy by automatically adjusting the cooking time and power levels according to your specific needs.
Capacity: 28 Litres
Watt: 900 Watts
Voltage: 230 V
Warranty: 1 Year
Ranking Factors for Best Microwave Oven Brands
Below is a table that reveals the factors we considered to rank these brands.
| | | | | |
| --- | --- | --- | --- | --- |
| Brands | Regulated Movement | Easy To Use | Noise Level | Value for Money |
| Samsung | 4.2 | 4 | 4.1 | 4 |
| IFB | 3.9 | 4 | 4.1 | 4 |
| Bajaj | 3.7 | 4 | 4.1 | 3.9 |
| Panasonic | 4 | 4.1 | 4.1 | 4 |
| LG | 4.1 | 4 | 4.1 | 4.4 |
| Amazon Basics | 3.7 | 4.1 | 4.3 | 4.3 |
| Godrej | 3.8 | 3.9 | 3.9 | 4 |
| Morphy | 3.2 | 3.6 | 3.8 | 3.6 |
| Whirlpool | 4 | 4 | 4.1 | 3.9 |
| Croma | 3.9 | 3.9 | 3.9 | 4 |
| Borosil | 3.9 | 3.9 | 4.2 | 4 |
The Ranking Factors
When it comes to microwaves, there are many factors that you need to take into account in order to find the best brand for your needs. The key research points are — value for money, easy-to-use features, and noise level. These are all important aspects that can make a big difference in how your food reheats, or cooks overall. When comparing microwave ovens side by side, it is important to pay attention to the features offered. This includes things like wattage levels (high or low), cooking times (short or long), automatic shutoff timers, etc. All of these mentioned features fall under our easy-of-use category.
Apart from this, it is also important to consider design considerations when selecting a microwave oven. This includes things like color selection, functionality, etc. Ratings and reviews can give you an idea of how well other customers have found certain aspects of a particular model's performance.
Taking all these parameters into consideration, we conducted thorough research on ranking these best microwave brands. For this, we examined various eCommerce websites in India and rated them as per their overall performance, and offerings. Read further to know who leads the way.
What does the research reveal? The top microwave oven brands
As per our research, Samsung and LG topped the overall list for offering microwave ovens that are easy to use, and best in noise levels, and price. The brands offer a variety of models that are both small and large, making it great for accommodating various cooking needs. Samsung is now known for offering the first-ever 2-dimensional barcode scanning system, which scans smart codes on a variety of food packaging. While LG is India's first brand to offer a microwave that comes with a healthy heart autocook menu and charcoal lightning heater.
The second spot secured in our list of best microwave oven brands in India is by IFB and Whirlpool. Thes appliances from IFB have been redesigned multiple times over the years in order to make them even more user-friendly and efficient. They also come with a variety of features such as reheat functions, temperature quick adjustments, and extra-large interior capacity slots.
And, if you're looking for something truly unique and special in a microwave oven—or simply want the absolute most performance possible—then Panasonic should definitely be on your list. The units by this microwave brand are designed with advanced technologies that allow them to cook food faster.
To conclude by the above-mentioned table by individual category ranking, Samsung tops the regulated movement section, while LG and Amazon Basics top the charts for their easy-to-use features and functionality. LG also ranks high for great value.
Conclusion
The above-mentioned models are some of the most popular ones in India. While they all have made it to our list, it is also important to consider your budget and preferences before making a decision. All the ovens we mentioned can be used as per their functionality. In case you are planning to buy one soon, make sure you check them out first!
Microwave Ovens – What to look for in a good one
Microwave ovens come in all shapes and sizes, but the key features that all of them share are power and easy-to-use controls. Take a look at some of the most important features to look for when shopping for a microwave oven, so that you can make an informed decision about which one is best for you.
Built-in cooking settings
When researching a microwave oven, it's important to consider a few key factors. First and foremost, make sure the oven has an anti-vibration system to minimize noise and make cooking more comfortable. Secondly, find one with built-in cook settings that are specifically tailored to your needs. There are a variety of options out there, so it's important to research which ones are best for you. Thirdly, make sure the oven is large enough to fit your food comfortably and has an interior light for easy viewing. And finally, make sure the oven is durable and will last long. With all of these considerations in mind, it's easy to find the perfect microwave oven for your needs!
Power
Microwaves are a convenient way to cook your food, but make sure you buy one that is of good quality and has features that will suit your needs. A microwave oven should have ventilation to prevent overcooking, timer settings for easy time-management, and a power level high enough to cook your food properly. Ideally, you would want an oven with at least 800 watts of power so it can heat up quickly and evenly.
Preset Cooking Times
Microwaves can cook food quickly and easily, but it's important to know how to use them properly for the best results. One of the most convenient features of microwave ovens is their built-in cook settings which make it easy to customize your cooking time. However, if you want even faster cooking times, consider investing in a microwave oven with preset time options. This will save you time each time you cook something. Furthermore, buying an oven protection plan can safeguard your purchase in case there are any defects or malfunctions with the appliance itself.
Easy Clean Interior
Microwave ovens make it easy to cook your food without having to fuss. Look for an oven with large and clearly visible cook settings, as well as an automatic shut-off function in case of overcooking. The interior should be easy to clean – just wipe it down with a damp cloth! Finally, make sure that the microwave is big enough for your needs – there's no point in buying something small if you only need a small appliance for cooking meals on the go.
Price
When it comes to ovens, there are a few things you should keep in mind. For starters, make sure the price is right and that the oven is of good quality. It's also important to consider features like smart technology and easy-to-use controls. In addition, an oven should cook food evenly and quickly – two factors that can make all the difference in terms of taste and nutrition.
Frequently Asked Questions
How does a microwave oven work?
Microwave ovens use a microwave generator called a magnetron to heat food. They work by transmitting energy in the form of waves that cook your food from the inside out. This is different than traditional stovetop cooking, where heat is transferred from the burner top to the food. The electromagnetic fields generated by a microwave allow hot air molecules to escape and dissipate quickly, which helps speed up cooking times.
Is it safe to leave food in the microwave?
Microwave ovens can be a convenient and time-saving way to cook food, but you need to be aware of the dangers that may come along with them. Food left in the microwave often becomes contaminated with bacteria or fungi, which can cause disease. In some cases, this contamination can lead to food poisoning.
What are the best microwave oven brands in India?
When it comes to microwaves, Samsung and IFB are the top brands in India. Both of these companies have a wide variety of models that cater to every need and budget. They also have some of the most advanced features available, making them perfect for those who want high-quality appliances without spending an arm and a leg.
What are the 3 types of microwave ovens?
A solo microwave is a small, compact microwave that can be used alone. It's best for quick and simple tasks like reheating food or defrosting, etc. A grill microwave is similar to a solo microwave but allows you to cook items directly in the microwave grill section. This type of microwave is great for cooking larger meals or snacks. Convection microwaves use heat circulating within the oven walls to speed up the cooking process. They're perfect if you have thicker cuts of meat or vegetables that need to be cooked evenly throughout.
What is the perfect microwave oven capacity?
Microwave ovens come in all sizes and capacities, so it is important to select the one that best suits your needs. For small families (2-4 members), we would recommend an MWO capacity between 15-20 liters. However, the ideal capacity for a standard household kitchen microwave depends on several factors, including how often you plan on using it and what food items you typically cook in it. Generally speaking, if you mostly cook reheated foods like leftovers or frozen meals, then a smaller model would be appropriate.