Gone are those days when you had to light up the stove every time you wanted a bowl of hot soup or heat the milk. With the invention of the microwave oven, cooking has changed forever. Right from cooking to unfreezing that frozen pizza, it can do everything!
So, if you are looking for some of the best convection microwave ovens, you are on the right page. After carefully inspecting over 100 different products, we came up with our list of top microwaves. Without further ado, let's jump right into it!
List of Top 10 Microwave Ovens In India as of 2021
1. IFB 17 L Solo Microwave Oven (17PM MEC 1)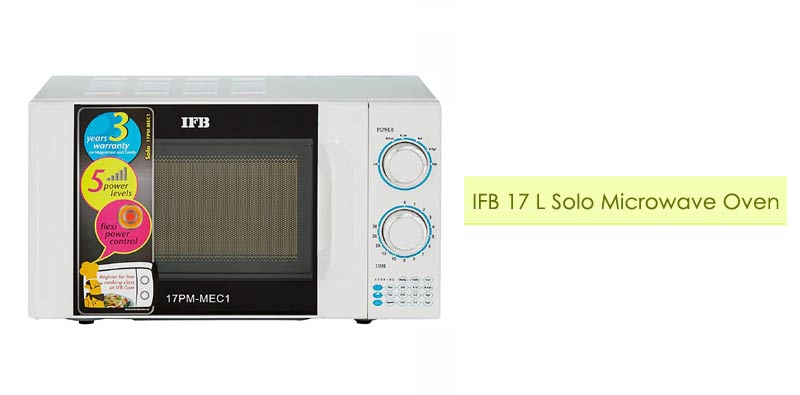 IFB is a popular household name, but that isn't why we placed this product on top. This small yet compact oven is available in 17L capacity, making it perfect for small families and bachelors. The no-hassle appliance comes with auto cook settings featuring three standard menus and Flexi-power control with jog dials. You can change the settings according to what you're cooking. The power grill and combi tech mode give your food the perfect brown look and smoky grilled taste.
The microwave can be used for cooking food and comes with reheating and defrosting features. While the IFB 17L Solo comes with one year of warranty, the Magnetron and cavity have three years of replacement. The oven provides open box inspection and can be replaced within ten days in case of any defects. The package includes the warranty card and user manual, but no starter kit is provided with the product. The users have recommended this product due to its user-friendly build and lightweight design.
Here's a quick glance at the specifications:
Price: Rs. 6090 (offer price: 4028)
Capacity: 17 Litres
Watt: 1200 Watts
Voltage: 230 V
2. LG 20 L Solo Microwave Oven (MS2043DB)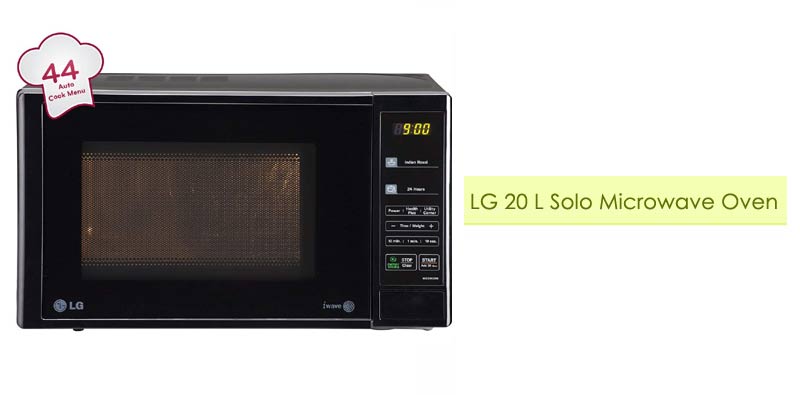 This 20L solo oven sports LG's patented i-wave which helps you cook healthy and fast by evenly distributing the microwaves through the oven cavity. The oven prevents bacterial buildup thus maintaining odorless interiors. The product sports a Next Step Guide feature which takes you through the process of cooking i.e. sequence of pressing buttons. So, you don't need to remember which button to press when!
The oven provides 28 Indian cooking menus along with 44 auto cook menus to choose from. It includes modes such as Sweets Corner, Health Plus, Kids' Delight, Breakfast, Snacks, and more. The Intellowave technology, along with the energy-saving capability, makes it one of the most sought-after solo microwave ovens in its price segment.
Price: Rs 6490 (offer price: 5799)
Capacity: 20 Litres
Watt: 700 Watts (Output)
Voltage: 220 V
If you are not in a mood to cook today, why not check out our Dominos pizza coupons page and get the best deal on order.
3. Samsung 28 L Convection Microwave Oven (CE1041DSB2/TL)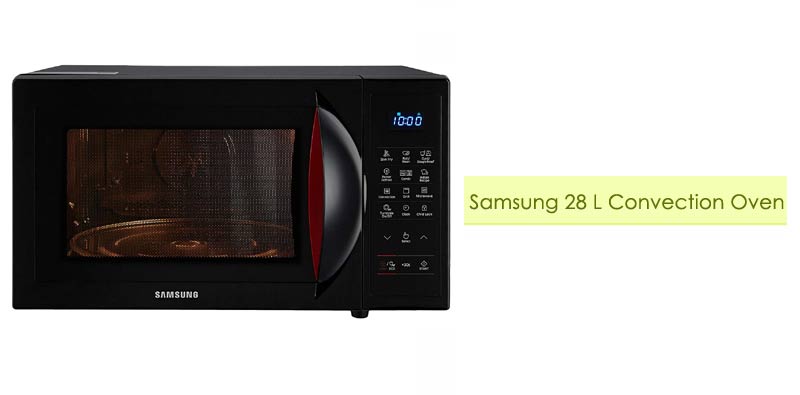 This freestanding, convection MWO from Samsung comes with steam cooking and cleaning, deodorization, and pre-programmed local recipes and auto program modes. The innovative features like Tandoor Technology and Fermentation Function allow you to cook perfect naan/rotis and homemade dough & curd. Slimfry technology helps cook healthy fried food. The touch keypad control helps you set the temperature and the cooking mode easily.
The 28L oven is perfect for large families who cook, reheat, and defrost food very frequently. The product can be replaced within ten days in case of any defects. The product has a one-year warranty, while the Magnetron and the ceramic cavity have five years and ten years replacement warranty. The MWO has a unique child lock feature that ensures safety when small children are around the product. The practical design and ease of usage make this MWO a fan-favorite in its segment.
Price: Rs 11,590 (offer price: 10,599)
Capacity: 28 Litres
Watt: 2900 Watts
Voltage: 230 V
4. Godrej 19 L Convection Microwave Oven (GMX 519 CP1)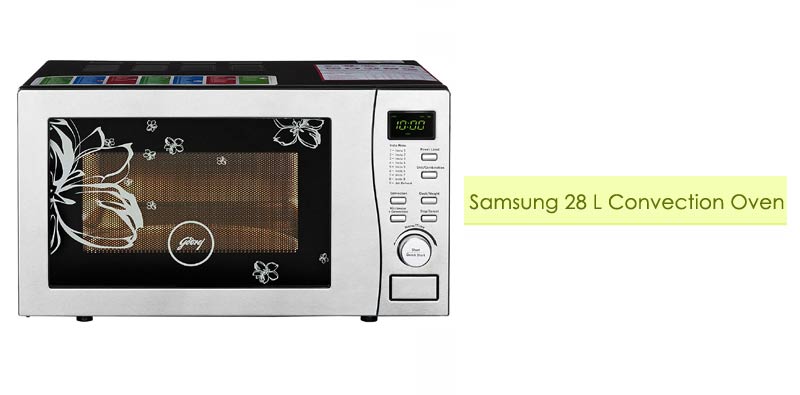 A truly Indian brand with international standards, there is a Godrej product in every household, be it a lock or an almirah or this wonderful microwave oven. The 19L, convection MWO comes with lots of instant-cook/auto-mode options, beautiful LED display, instant defrosting and cooling, making it the best choice for small families.
The tactile buttons, along with jog dials, ensure the device lasts for a long time. The product itself comes with one year of warranty, but the Magnetron can be replaced within five years of usage. The MWO comes with a child lock feature as a safety means for young kids. Using the microwave and convection mode combination, you can cook a variety of different items. Users have praised the product for its intelligent design and usability.
Price: Rs. 10,990 (offer price: 7,249)
Capacity: 19 Litres
Watt: 2000 Watts
Voltage: 230 V
5. IFB 20 L Convection Microwave Oven (20SC2)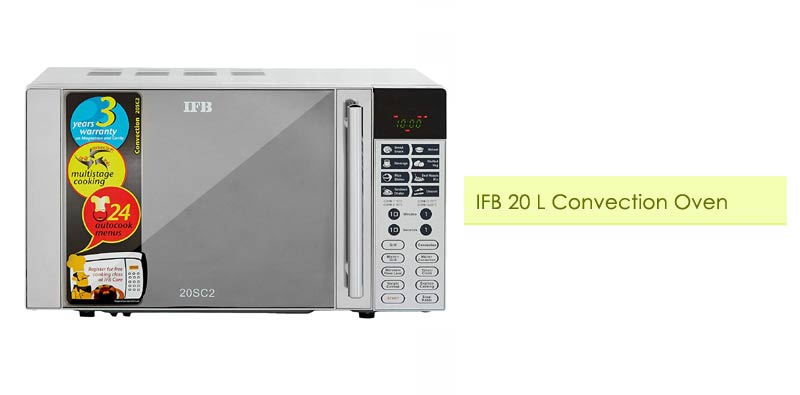 If you are wondering why another IFB product makes our list, it is only a testament to how good IFB products are! With super cool functions like auto-cooking and safety features like child-lock, this one is definitely one of the most purchasable microwave ovens out there. This convection MWO can be used for cooking and baking as well as reheating and defrosting.
The blend of power grill and combi tech provides the brown, smoky texture and aroma to your food. The device comes with one year of warranty. It also has three years of replacement warranty on the Magnetron and cavity. The MWO comes with a silver finish and stainless steel cavity. It is owing to the capacity of the oven it is recommended for small families.
Price: Rs. 9990 (offer price: 8199)
Capacity: 20 Litres
Watt: 1200 Watts
Voltage: 230 V
6. Samsung 23 L Solo Microwave Oven (MS23F301TAK/TL)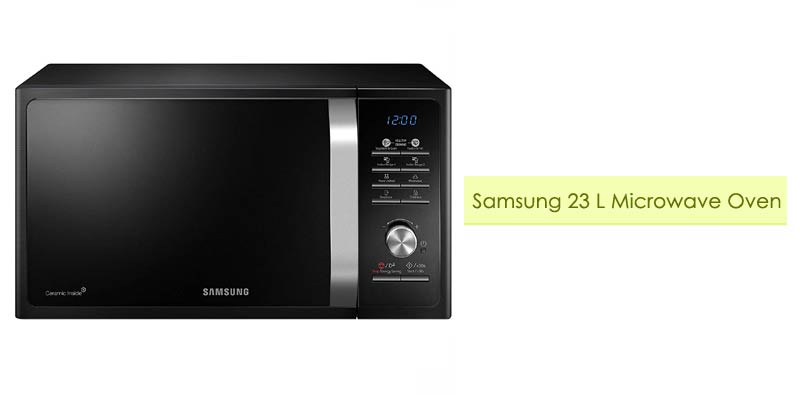 This solo microwave oven is perfect for a family size of three to four members. The device can be used for cooking or defrosting and reheating. The MWO comes with 20 pre-set cooking modes including Indian recipes. The 23L solo oven sports tactile buttons and jog dials which ensure a longer device life.
The oven is not only a great product but also looks classy. The product includes many innovative features like the Triple Distribution System (TDS), which cooks food all the way through via equal distribution of food. The oven cavity is made of ceramic material with anti-bacterial and anti-scratch properties, making it last longer. Check out the Healthy Cooking option and much more. Give it a try, and you will never regret it. We can assure you that! And since at GrabOn, we always prefer savings, this one does too! Their energy-savings mode is pretty good and will not pinch your pocket anytime you use it.
Price: Rs. 6990 (offer price: 5750)
Capacity: 23 Litres
Watt: 1150 Watts
Voltage: 230 V
7. AmazonBasics 30 L Convection Microwave

The 7th place on our list is occupied by the immensely popular AmazonBasics convection microwave oven which is perfect for the daily use of a family of six members. The 30L MWO is fitted with a stainless steel cavity. The product comes with a one-year warranty and a three-year warranty for motor replacement. You can reach out to Amazon customer care for any installation or warranty related concerns. The product can be replaced within ten days in case of any defects or malfunctions upon receiving.
The convection function allows you to bake, defrost, and evenly preheat the oven with just a button press. The oven provides 65 auto-cook menu options and comes fitted with child lock features ensuring the safety of young children in the vicinity. The auto defrost function allows you to thaw food without waiting for a long time. The sleek design and affordable pricing of the product make it one of the most desired products in the category. If you are looking for a feature-loaded great buy at an affordable price, this MWO is the one for you!
Price: Rs 19,999 (offer price: 9,399)
Capacity: 30 Litres
Watt: 900 Watts (Output)
Voltage: 240 V
8. Morphy Richards 23 L Convection Microwave Oven (23MCG)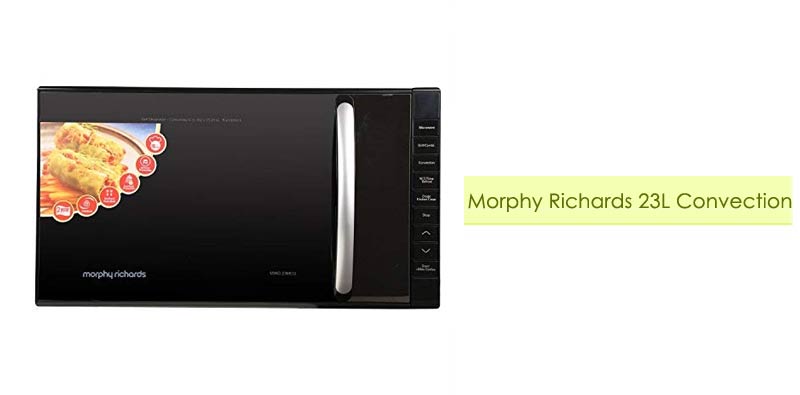 A brand name since the late 50s in India, Morphy Richards has always been a favorite amongst most middle-class families. Primarily known for its affordable products, quality products, with sleek and modern design, this microwave oven is no different. Featuring a well-made mirror glass, your food is not only going to have a good warmed-up temperature but also stays that way for a long time.
The MWO comes with ten auto-cook menu options and five different power levels to cook food as per your need. The 23L convection microwave oven has child lock features enabled for the safety of kids. The touch keypad is both easy to control and clean. The product has a two-year warranty and a ten-day replacement option and is eligible for an open box inspection. The capacity makes it the best fit for small families.
Price: Rs 14,590 (offer: 8,370)
Capacity: 23 Litres
Watt: 1300 Watts
Voltage: 230 V
9. Bajaj 17 L Solo Microwave Oven (1701 MT)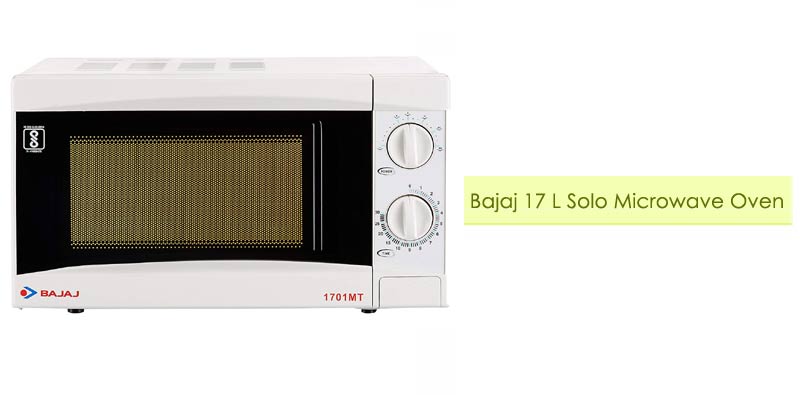 One of the most popular Indian brands, Bajaj is a readily recognizable brand for most because of its iconic 'Chetak'. However, their electronic products are top-notch as well. Take this solo microwave oven for example. With five different power levels and a 30-minute cooking alarm, you can do everything basic and a little more.
Bajaj provides one year warranty on the oven and the Magnetron. The product is ready to use and doesn't require any extra installation help. The jog dials ensure longer shelf life. The MWO is eligible for an open box inspection and 10-day replacement in case of any defects.
Price: Rs 4049
Capacity: 17 Litres
Watt: 700 Watts
Voltage: 230 V
10. Borosil Prima 48 L OTG, with Motorised Rotisserie and Convection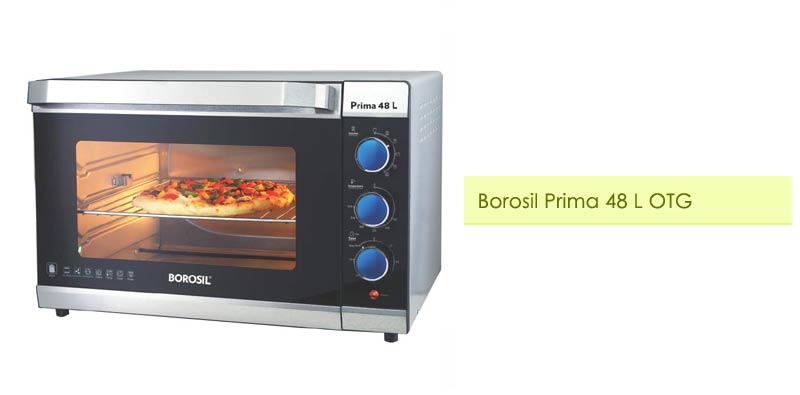 Borosil is a popular name in the oven-safe kitchenware segment when it comes to heating food. So, naturally, when this unparalleled giant of an organization rolls out its own series of microwave ovens, you know its the real deal. As a manufacturer, Borosil's understanding of how ovens work is unrivaled and this 48L beast of an MWO is a testimony.
As the name suggests, the microwave oven comes with multiple functionalities like convection cooking, grilling, baking, toasting, and rotisserie. This convection and motorized rotisserie ensure uniform heating and grilling of the food. The oven provides a six-stage heating option along with adjustable heating from 90-203 degrees. The oven comes equipped with Cooking Tray, Grill Rack, Handle for Cooking Tray, Rotisserie Rod Set, Rotisserie Handle, and Removable Crumb Tray. The silver finish with blue knobs gives it a premium look. The product comes with a two-year warranty which includes the toaster and the grill.
Here are the important specifications to help you make a wise decision:
Price: Rs 8450
Capacity: 48 Litres
Watt: 2000 Watts
Voltage: 230 V
And with that, it brings us to the end of our best convection microwave ovens in India and as of 2019. In case you use a different one and think that yours is better, please let us know in the comments. We always love finding out newer and better products. And if you plan on purchasing one from this list, let us know your verdict!
Microwave Oven Buying Guide
How Does Microwave oven work?
It works on the principle of electromagnetic radiation and heat. Inside a microwave oven is a microwave generator called a magnetron. It takes and converts the electricity into high-powered radio waves (or heat). These waves bounce back and forth, reflecting throughout, while the food rotates in one spot, evenly cooking the food. After a fixed/predefined time, this process stops, and voila! Hot and tasty food!