How many times have you hit a salon because you want to get your hair blow-dried? Well, men and women both want their hair to be frizz-free, well-styled, shiny and blow-dried to accentuate their looks. But salons charge a bomb, and it may be possible to get perfect hair by visiting salons. Having a hairdryer at home at your disposal can make all these things achievable, without burning a hole in your pocket. You can dry your hair faster, style them as you like, eliminate frizz, set your bangs or get shiny, lustrous hair whenever you want with the best hairdryer at home.
Buying the best hair dryer is not easy though. You visit a showroom and buy the one that the salesman recommends without bothering about the specifications and type of hair you have. And then, you tend to feel that the result of using even the best hair dryer is not giving you desired results. That is why it is crucial to ascertain the type of hair dryer you may need, drawing a budget and buying accordingly. Alternatively check out the Amazon promo code at our website for buying hair dryers.
In this article, we will help you make a wise choice when buying the best hair dryer so that you get salon-like hair within the comfort of your home without spending a lot of money.
List of Top 10 Hair Dryer Brands in India for 2021
| | | | | |
| --- | --- | --- | --- | --- |
| Brands | Wattage | Warranty | Weight | Dimensions |
| Wahl 5439-024 | 2000 Watts | 1-Year | 1.35 Kg | 25.2*9.5*24.5 Cm |
| Philips HP8100/46 | 1000 Watts | 2-Years | 370 g | 12.8*7.5*22.5 Cm |
| Braun Satin 3 – HD 350 | 1200 Watts | 2-Years | 350 g | 15.2*15.2*25.4 Cm |
| SYSKA HD1610 | 1200 Watts | 2-Years | 440 g | 22*12.3*9 Cm |
| CHAOBA | 2000 Watts | – | 560 g | 24*10*22 Cm |
| Panasonic EH-ND21 | 1200 Watts | 2-Years | 388 g | 7*14.1*21.4 Cm |
| Vega Pro Touch VHDP-02 | 1800-2000 Watts | 1-Year | 894 g | 10*23.5*25.5 Cm |
| Havells HD3151 | 1200 Watts | 2-Years | 335 g | 18.3*7.7*25.2 Cm |
| Braun Satin 3 HD385 | 2500 Watts | 2-Years | 871 g | 25.1*10*28.6 Cm |
| Morphy Richards HD-031 | 1200 Watts | 2-Years | 480 g | 21.8*14*8.6 Cm |
1. Wahl 5439-024 Super Dry Professional Styling Hair Dryer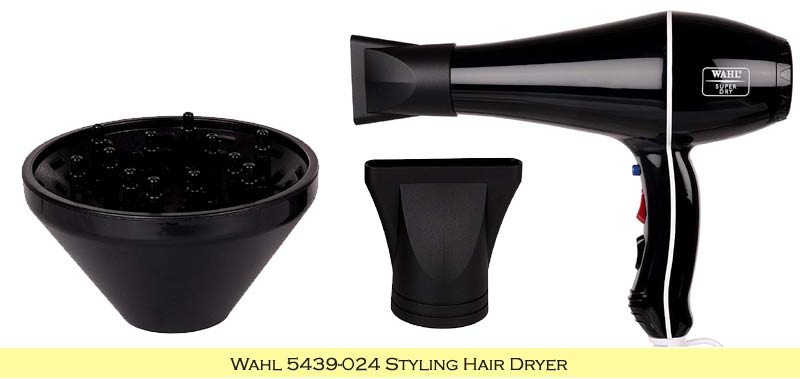 The best-selling hair dryer in India is the powerful 2000 watt Wahl 5439-024 hairdryer with the latest tourmaline technology to give you well-styled, shiny hair effortlessly.
Key Features
A cold shot mode to reduce hair damage caused by heating
Equipped with three variable heat settings and two effective speed settings to give you professional-quality hair
Equipped with the latest tourmaline technology to infuse shine and gloss in your smoothened hair
Comes with a diffusor a concentrator to help create volume and mend the frizz
Gives great drying experience with the powerful 2000 watt motor and fan combo
It is priced at Rs. 2887 against an MRP of Rs. 3000 on Amazon.in. Although it may seem expensive, it is one of the best hair dryers for regular use with minimal hair damage.
Drawbacks
Poor customer support services
Blower function may not work after few months
2. Philips HP8100/46 Hair Dryer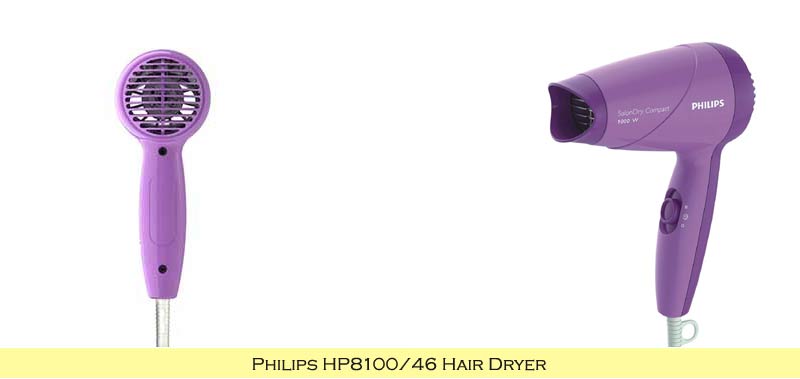 If you are looking for a budget hair dryer with a gentle drying power, then Philips HP8100/46 would fit the bill. It is suitable for short and medium length hair, and the brand's trust has made this product a popular choice.
Key Features
The design is ergonomic and compact, with a 1.5-meter cord and a storage hook
Gentle drying with the optimum level of airflow with a 1000 watt motor
It comes with 2 speed settings (low and high) and thermal protect temperature settings
Comes with a narrow concentrator for precise styling and perfect finishing
It does not have a cold shot option and cannot be used for long or thick hair.
At Rs. 779, it is one of the most affordably priced hair dryer in India
Drawbacks
Material quality can be better
3. Braun Satin Hair 3 – HD 350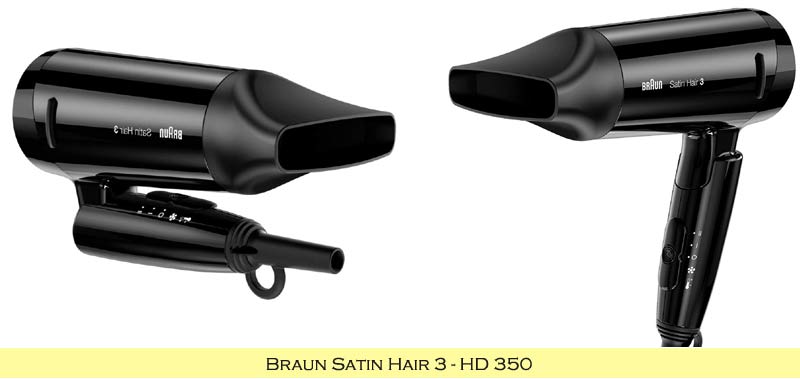 If you are looking for a travel-friendly lightweight hair dryer for fine hair, then you would love Braun Satin Hair 3 – HD 350 which can be folded and stored in a small way.
Key Features
Has a powerful motor of 1600 watts with a lightweight, ergonomic design
Has the multi-voltage functionality so you can safely use it in any part of the world
Equipped with IONIC and Infrared heating system technology for efficient, fast and flexible styling options
Has a styling nozzle for precision drying and two temperature settings and one airflow setting for that salon finish hair every day with minimal effort
Priced at Rs. 1975 when bought online from Amazon.in
Drawbacks
Can damage the hair if overheated
Air blow button may not work properly
4. SYSKA Hair Dryer HD1610 with Cool and Hot Air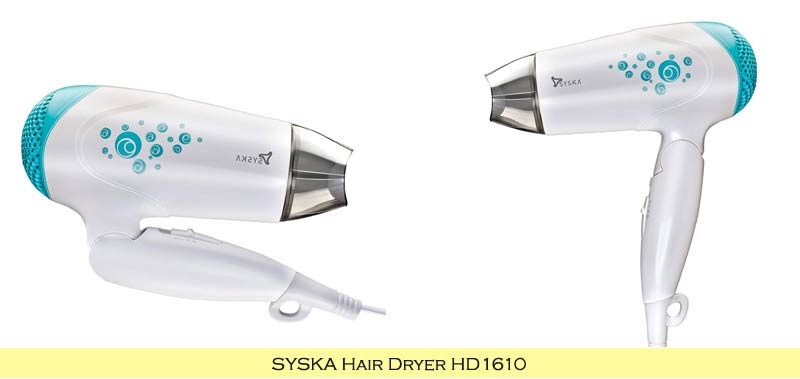 A budget-friendly hair dryer with both cool and hot drying options may seem implausible, but SYSKA has made it possible with its HD1610 hair dryer.
Key Features
Easy everyday styling hair dryer with a 1200 watt motor
Offers 2 speed functions and heat settings for optimal, efficient and flexible styling everyday
It is also foldable by the handle making it easily portable
Comes with heat balance technology and prevents heat concentration and low noise
With its overheat protection feature, the hair do not get damaged and retain their moisture
A narrow concentrator for great styling experience
All these features in just Rs. 885 when purchased online
Drawbacks
Made of poor quality plastic material
Experience heating issues while hair drying
5. CHAOBA 2000 Watts Professional Hair Dryer 2800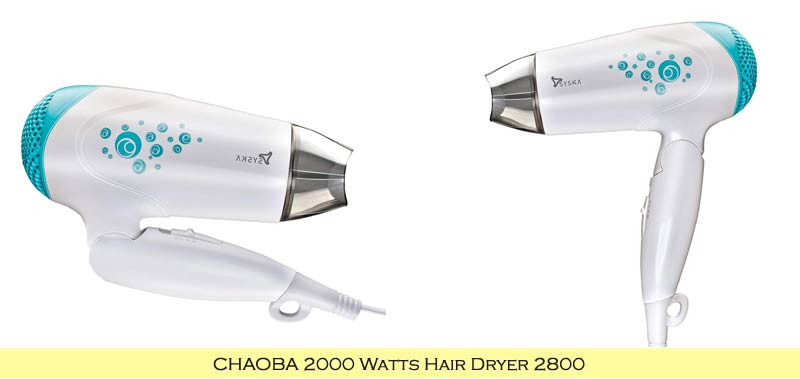 One of the finest and most popular hair dryers in India is the CHAOBA 2000 watts professional hair dryer 2800 that offers various features in a budget. It is also popular as a men's hair dryer because it suits short hair.
Key Features
Heavy duty 2000 watt motor makes it free of overheating problems
Powerful airflow with both hot and cold air options for flexible and desired styling results
Comes with a detachable concentrator nozzle for efficient and quick drying experience
Equipped with an overheat protection mechanism to maintain the natural moisture of your hair
Also has a healthy breeze mode for gently drying and styling your hair
Thermo protect temperature settings prevent hair damage
Priced affordably at Rs. 799 against an MRP of Rs. 999 online
Drawbacks
Emits smoke when coil gets overheated
Motor stops working at times
6. Panasonic EH-ND21 Hair Dryer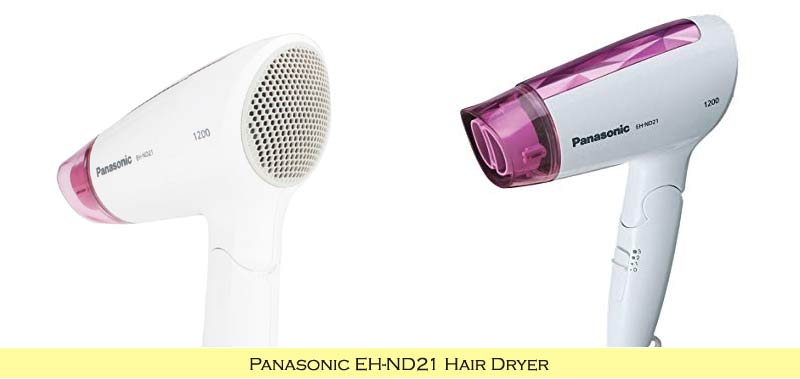 Getting glossy, shiny, salon-finished hair every day can be a reality with the beautiful looking Panasonic EH-ND21 Hairdryer. A compact and powerful hairdryer in this segment, this one is sure to steal your heart with both its looks and features.
Key Features
A decent 1200 watt motor with a rather long 1.8-meter swivel cord makes hair drying convenient and easy
It features three-speed selections with two hot and one cold setting. You can opt for the one depending on the look you want and the hair type you have
It also has a Healthy Mode feature which keeps the airflow at 50 degrees thus drying and setting the hair without damaging the same
A foldable handle makes it compact to carry along when you are travelling
Also has a quick-dry nozzle for effective drying and a concentrator attachment for focussed airflow
Priced at Rs. 1135 online.
Drawbacks
Fan speed is too slow
Experience heating issues
You may prone to hair tangles
7. Vega Pro Touch VHDP-02 Hair Dryer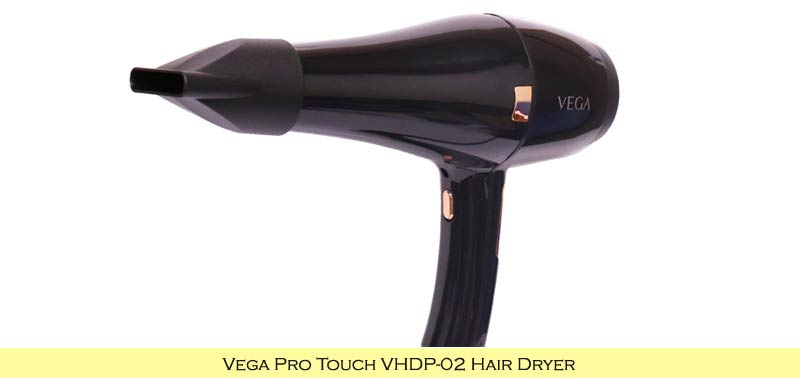 For a hairdryer that suits all hair types and is ideal to be used by an entire family, you can opt for Vega Pro Touch VHDP-02 hairdryer. Everyone with different hair types can use this one hairdryer to get desired hairstyles easily.
Key Features
A powerful wattage of 1800-2000W makes it ideal for both hair drying and hair styling
The safety automatic overheat cut feature protects your mane from excessive drying and heat
Also features two heat/2 speed settings and the removable endcap is an added benefit
The dryer comes with two heat and two-speed settings as well as a cold shot mode
The detachable nozzle and a concentrator in precise styling with controlled airflow
You can get it for Rs. 1740 online against an MRP of Rs. 2499.
Drawbacks
Dryer caps can broke quickly
Poor packaging issues from the manufacturer
8. Havells HD3151 1200W Powerful Hair Dryer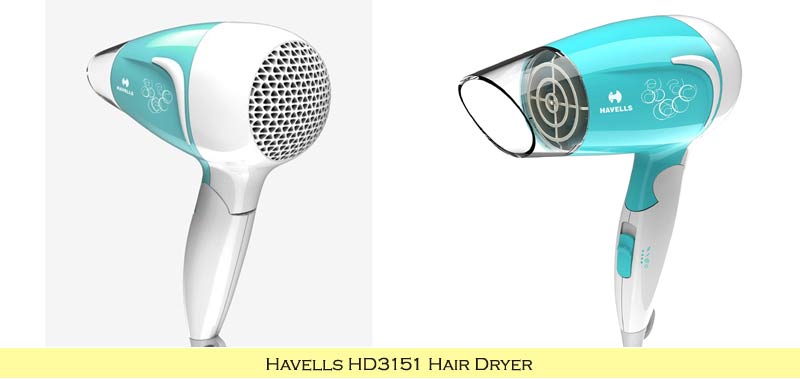 For a complete hair drying system at a budget, grab the Havells HD3151 hair dryer that comes loaded with various features to allow you to dry and style your hair conveniently and effortlessly.
Key Features
1200 watt motor makes up for a gentle blow-dry as well as a powerful salon-finish professional hair drying
Retain your style by using the cold shot feature at the end of your styling regime to have hair that stays set and styled for long
For precise drying and directing the optimum level of airflow to specific sections, make use of the detachable nozzle
Less heat exposure to hair with the heat balance technology that ensures uniform heat distribution
Prevents tangling of hair by providing the honeycomb inlet at the backside of the hair dryer
This is a travel-friendly hair dryer with its lightweight and compact built and a foldable handle
Get it for Rs.899 and experience hair drying as never before
Drawbacks
Available only in two colors
No customer support services
9. Braun Satin Hair 3 HD385 Power Perfection Dryer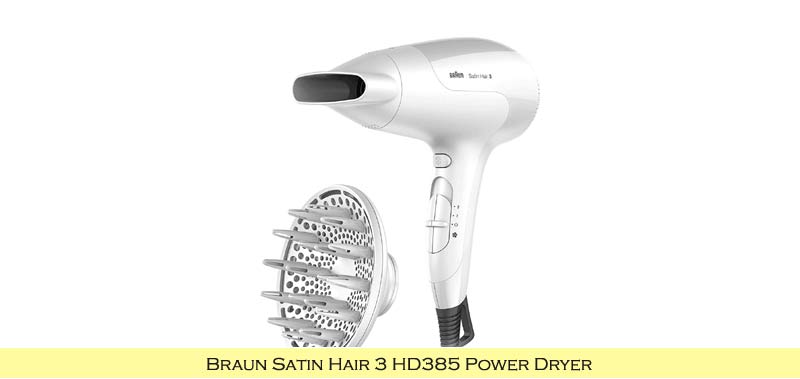 For professional drying and styling experience every day without damaging your hair, you should opt for the premium and powerful Braun Satin Hair 3 HD385 Power Perfection Dryer. Not only does it give a professional finish to your hair, but it also combats frizz.
Key Features
A powerful 2000 watt motor ensures a great drying and styling experience everyday
The ionic function makes the hair glossy and shiny by millions of ions enveloping each hair strand thus controlling frizz. It is a suitable hairdryer for curly hair
three heat and two airflow settings to get perfect hair every time you step out – fast drying without causing heat damage
Styling nozzle and diffuser are a part of the package and provide optimum airflow and speed settings to get desired hair style
Finish up your styling with the cold shot to retain the style for longer period
Although expensive at Rs. 4,032.00, it is one product that you can use every day without worrying about damaging your hair
Drawbacks
Iontec technology does not provide impressive results
Cool air blow button does not work effectively
10. Morphy Richards HD-031 Hair Dryer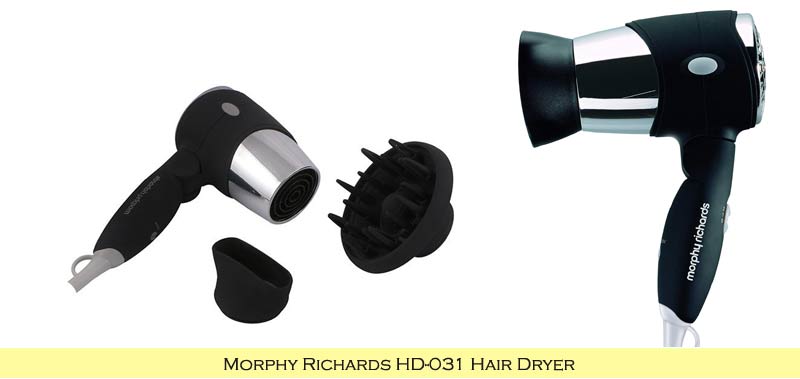 One of the highest-rated hair dryers in India and the most recommended hair dryer for curly hair is the Morphy Richards HD-031. Though it does not have the cold shot feature, yet it has various features that make it easy to use and gentle on curly hair that is frizzy and needs extra care.
Key Features
A 1200 watt motor makes for a gentle blow-drying and styling experience
Two-speed settings and one temperature setting allows you to style your hair as per your desire
The product comes with safety overheat cut-out and dual voltage for travellers
Comes with a concentrator and diffuser for accurate hair styling and shaping, adding volume and bounce
This hair dryer is compact, portable, lightweight, travel-friendly and comes with the flexible voltage feature for people who travel overseas frequently
Blow dry your hair every day with this hair dryer by spending Rs.1414.
Drawbacks
May cause discomfort while holding the device
Wrapped in a cheap quality packing materials
So this is the list of top and best hair dryers in India. We have included hair dryers for fine hair, hairdryer for curly hair, budget hairdryers, and men's hairdryer. However, before you decide to buy, you should also make a note of your preferences for the features you want in your hairdryer.
Hair Dryer Buying Guide
Before you purchase a hairdryer, do go through the below tips that will help you choose the best hair dryer for your hair.
Wattage – put, the higher the wattage, the more heat will it release and you can dry or style your hair in lesser time. Thick, long and curly type hair need higher wattage hair dryers while fine and thin hair types can be styled with gentler drying options.
Weight and size – A bulky hairdryer will make you tired especially if you have long or dense hair. A lightweight hairdryer will not put a strain on you because hair drying and styling takes time.
Technology – From ionic feature to tourmaline or ceramic coating, from metal to coil material, from diffusor to concentrator – all these technologies make a difference to your hair drying experience. A hairdryer with a cold shot helps retain a hairstyle for a longer time.
Heat control features – To avoid exposing your hair to high heat for longer periods, features like auto heat cut off are very desirable. The levels of heat and temperature settings will enable you to choose the desired setting as per your requirement.
Travel-friendly features – If you travel frequently, then hair dryers that are compact, lightweight, foldable, and easy to carry are your best bet. People who travel overseas should also check for the dual voltage feature.
Final Thoughts
Now that you know all about choosing the right hair dryer for your precious curls, and the best hair dryer models. You can also refer to the hair curling iron kits that come at reasonable prices to style your hair with waves. We hope you can easily choose one for yourself and rid yourself of hairstyling woes. Look great, every day!
Frequently Asked Questions on Hair Dryers
Which hair dryer brand is best in India?
Of all the popular brands, the Philips hair dryer offers top-notch performance with a perfect blend of compact design, thermoprotect mechanism, and adjustable speed settings. Above all, it comes with a 2-years of manufacturing warranty, so you do not have to spend extra on repair costs.
Is it safe to use a hair dryer for women?
Yes, it is 100% safe to use a hair dryer for women. But, using the device at high-speed settings to blow the hot air can damage the hair roots, texture and may result in hair loss.
How does a hair dryer work?
The hair dryer comes with in-built attachments like a motor, fan, and heating element to blow hot air. When you plug the device into a power source, internally, the circuit and coil (infused with tourmaline and ceramic coating) get heated up. Finally, it converts the electric energy into heat and distributes hot air evenly to hair using the adjustable speed settings.