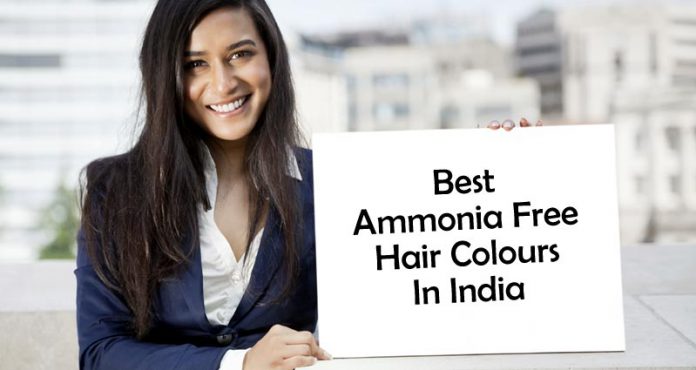 Hair dying is one of the most common traditions that has existed for a really long time. Right from fashion to cultural festivals, hair dyes have taken a very important and integral part of human civilisations, and continues to do so. However, in today's time hair coloring enjoys a much more important place in fashion, than it did in the last 100 years. In fact, 75% of women and 18% of men living in Copenhagen reported using hair colours, in a study conducted by the University of Copenhagen.
The first synthetic dye for commercial purposes is credited to Eugène Schueller, the founder of L'Oréal in 1909. However, it was not until 1947 that the first home colour product was available by Schwarzkopf. Over the years, it has evolved massively and is now a multi-billion dollar industry. One of the most popular and frequently used cosmetics, hair colours are used for not only dying hair back to the original colour but also for celebratory purposes.
People also dye their hair to express different kinds of opinions or to make a statement. Considering its uses, it is important to dye your hair right, with the correct kind of colours. In this aspect, the product you choose also plays a very important part. Some cheap products use harmful synthetics, that can affect your health and your skin. So, considering that in mind, we decided to curate a list of the most trustworthy and safest hair colouring products.
Top 10 Hair Colours in India for 2019
1. L'Oreal Paris Excellence Creme Hair Color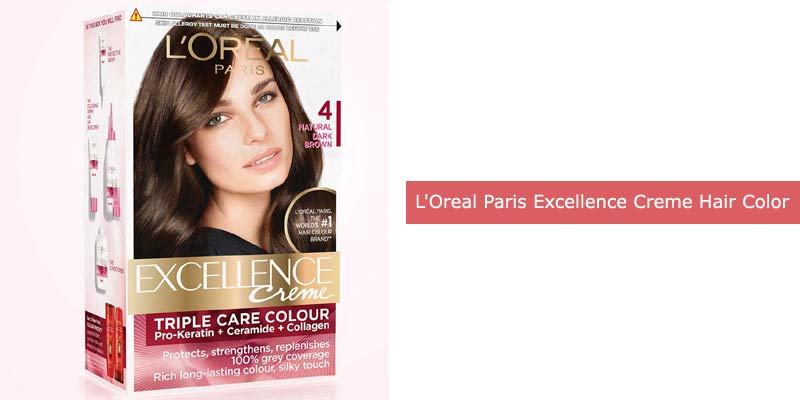 Some of the finest hair colours are from L'Oreal and this one is no exception. In fact, it tops our list, when it comes to hair colour. Since most Indians have black hair, this one is perfect for a majority.
Why Do We Like It?
Long lasting, coverage, ammonia free, easy to use –
Ammonia Free
It is pro-keratin, that helps in strengthening of the hair
It helps in holding the hair colour due to its unique formula
Makes the hair look thick and lustrous
The shade looks amazing
Price: Rs. 590
Quantity: 72ml+100g
2. Garnier Color Naturals Creme Hair Color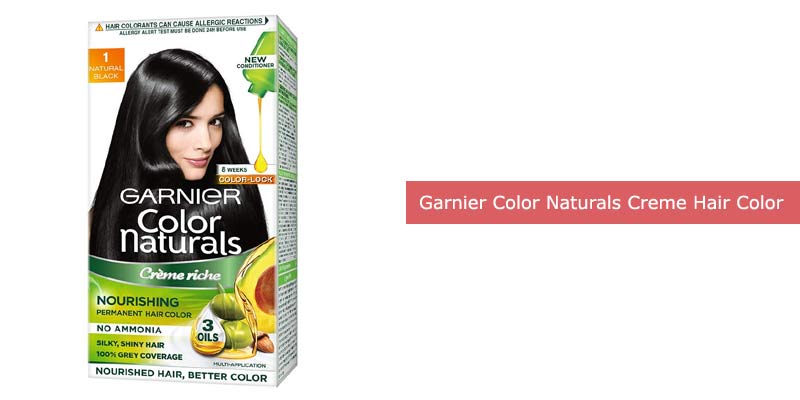 One for the ages, Garnier Color Naturals has always been one of the most popular hair colouring products. It comes with all of the required things, including plastic gloves and an information leaflet. All you need is to mix it and apply on your hair, and wash it off! Boom! New and young!
Why Do We Like It?
Ammonia Free
Made out of natural ingredients like olive oil
Non-drip formula ensures it sticks to your hair till you wash it off
Gives your a thick texture look that doesn't wash off easily
Available in multiple colours and different shades of black and brown
Price: Rs. 180
Quantity: 70ml + 60g
3. L'Oreal Paris Casting Creme Gloss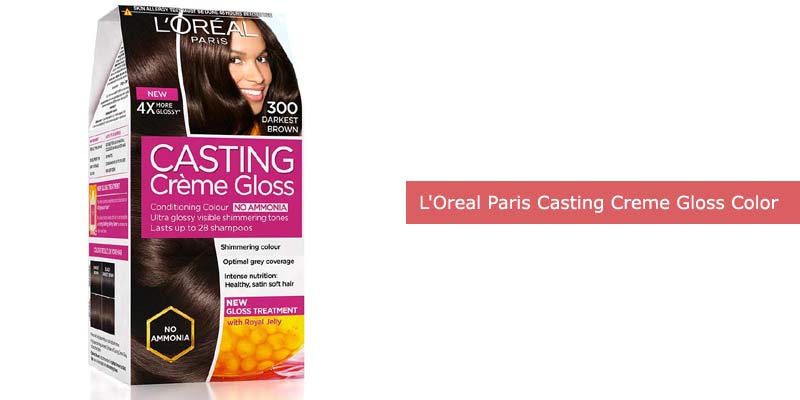 If you are looking for some of the finest textures available, this one justifies why it is at the top of the order. Colour your hair to perfection and ensure that there is no visible gray hair for prolonged periods of time. L'Oreal is known for its quality and this one justifies all the questions!
Why Do We Like It:
Ammonia Free
Long-lasting, lasts up to 28 shampoos
It's conditioning makes your hair feel soft and lustrous
Impeccable finishing
Price: Rs. 550
Quantity: 87.5g + 72ml
4. Godrej Expert Rich Crème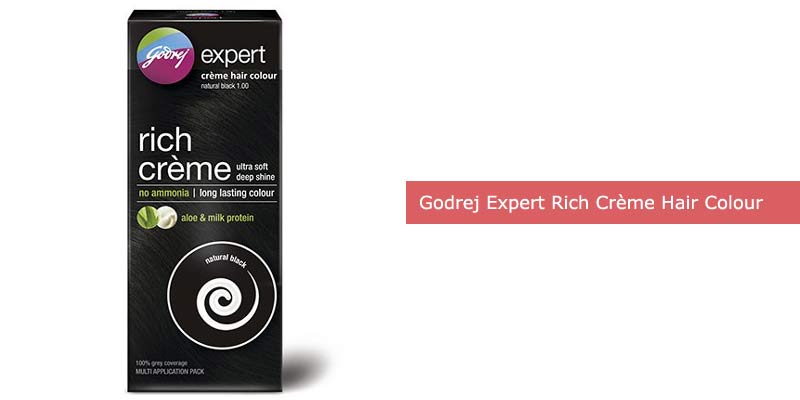 If you are a 90s kid, you probably remember your mom applying Godrej hair colours on your dad's new grey hair. Godrej has managed to produce the best colours for a really long time.
Why Do We Like It?
Ammonia Free
Pre-measured sachets, so no more mixing and other problems
Natural ingredient extracts like Aloe Vera and milk protein
Price: Rs. 120
Quantity: Pack of 4
5. Schwarzkopf Essensity Ammonia Free Permanent Color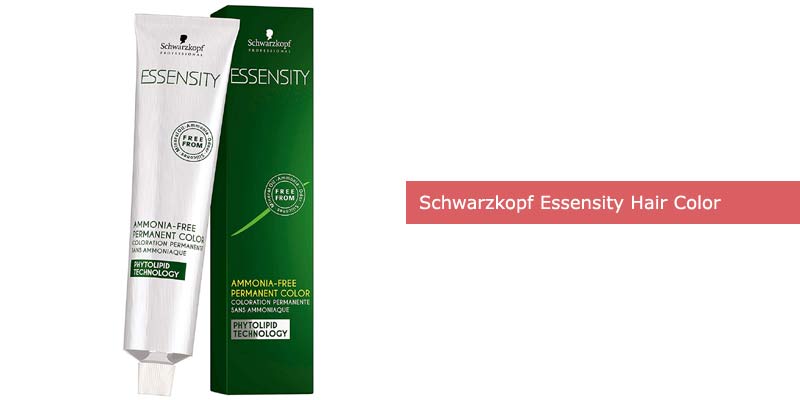 Schwarzkopf is one of the best brands and is renowned globally. Full of rich ingredients, it lasts for prolonged periods of time and is hard to wash off unless there are regular shampoo washes.
Why Do We Like It:
Ammonia Free Hair-oil colour
Full of ingredients which colours the hair as well as strengthens it
Comes in different colours and shades like brown or black
Price: Rs. 449
Quantity: 60ml
6. Bblunt Salon Secret Creme Hair Colour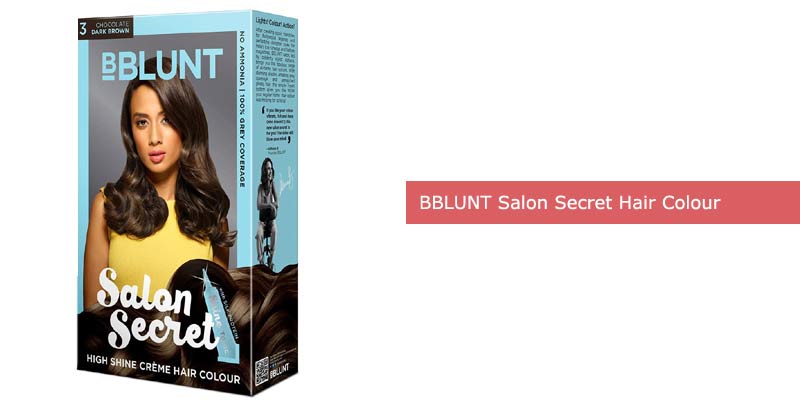 This brand from India has been making waves. The founders are expert hair-stylists and have been part of movies like Dil Chahta Hai, Don and Dangal. It is wise to say that they really know their products since they also have a salon.
Why Do We Like It:
Ammonia Free
Comes with a kit that takes care of everything
Comes in 6 shades
Enriched with silk proteins
Price: Rs. 185
Quantity: 100g with Shine Tonic, 8ml
7. Streax Ultralights Highlighting Kit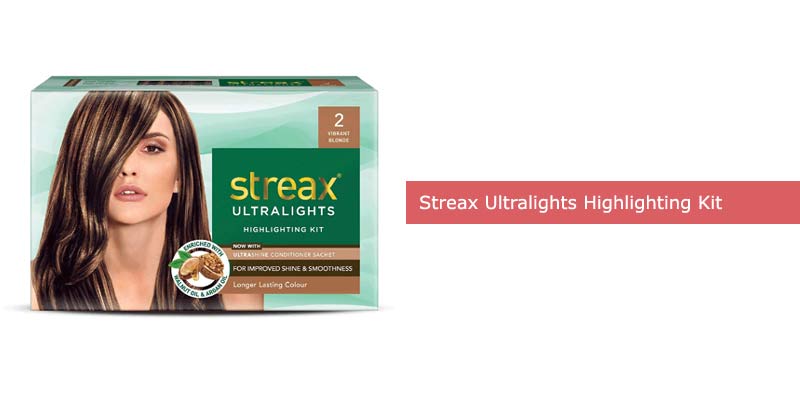 Known for their vibrant colours, Streax is an easy-to-use hair highlighting kits, designed for your everyday use from your own house. In one hour, you are ready to flaunt your new hair colour, thanks to this really popular hair-dye kit.
Why Do We Like It:
Ammonia-Free
Available for both men and women
Multiple colours
Quick and easy
Price: Rs. 160
Quantity: 1 Highlighting Kit
8. Revlon Top Speed Hair Color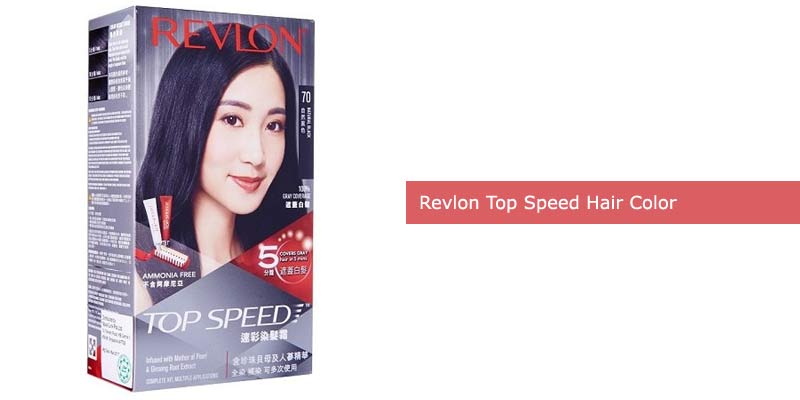 Revlon Top Speed is another great hair dye you can always opt! It comes with a professional brush, covers tip to the roots and has a unique speed technology, which helps in colouring your hair in 15 minutes!
Why Do We Like It:
Ammonia-free, like most of the good ones
Available in multiple shades of colours for both men and women
Fast and easy
Price: Rs. 699
9. Indus Valley Organically Natural Hair Color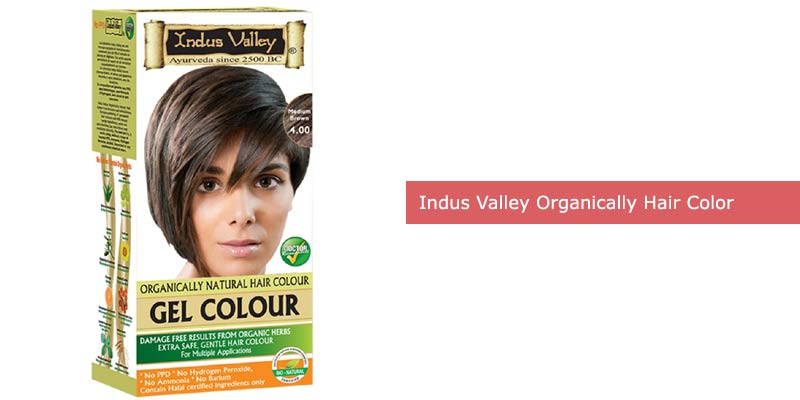 Devoid of any kind of harmful synthetics, Indus Valley is a must-have for anyone who wants to colour their hair without putting a lot of chemicals, and yet wants a splendid job with their hair.
Why Do We Like It:
No chemicals
Can be used by both men and women
Tested and recommended by doctors
Comes in sachets for easy mixing
Price: Rs. 575
Quantity: 300 gm
10. Revlon Colorsilk Hair Color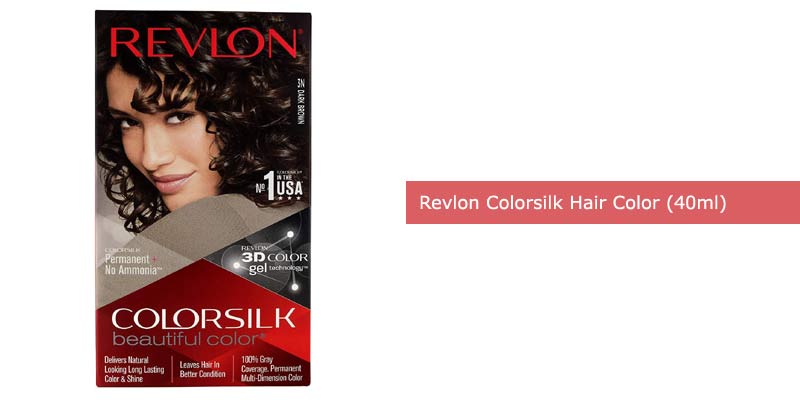 Another popular hair colour by Revlon, this one ensures your hair stays soft and yet adds a deep texture to it. Its pH balance ensures your hair is dried to perfection without making it too dry or wearing down the quality of your hair.
Why Do We Like It:
Free of harmful chemicals
Comes with an entire kit
No unpleasant colours
Gentle on the hair yet colour can't be washed off easily
Price: Rs. 435
Quantity: Ammonia Free Colorant (40 Ml), Cream Color Developer (40 Ml), After Color Conditioner (11.8 Ml)
And with that, we conclude our list of the best hair colours that are available in the market. Most of these are, if you have noticed, are ammonia-free. We intentionally listed out only the ones free of ammonia, which can have adverse effects on your hair. You can always try with a natural substitute but they wash off easily. You can go with anyone of these on the list, without worrying about how much they will harm your hair. So happy colouring and stay away from the grey zone!