Introduction
India can have rough summers. So, it is necessary to find ways to keep yourself cool and avoid heat waves.
Air coolers are one of the greatest cooling options for regions where the summers are hot and dry. They're popular since they're both cost-effective and environmentally beneficial. On the other hand, choosing the correct air cooler can be a bit puzzling.
So here are the 15 best air coolers in India that you can choose based on your preference, budget, and features.
Here are 15 of the best air coolers in India that you can choose from:
Last update was on: March 30, 2023 9:24 pm
Orient Electric Smartcool Dx CP2002H 20 litres Air Cooler
Orient brings together cutting-edge features and superior cooling experience with its wide range of personal and desert air coolers. The Smartcool Dx CP2002H is the brand's bestselling with a host of attractive features.
Capacity- 20 liters
Benefits:
Coupled with a powerful air gust and supercooling abilities thanks to 3-speed air delivery with four-way cooling and a 20 litres water tank, this one is an absolute buy for hot and humid summers. It has a dust filter, ice chamber, a mechanical knob control, water level indicator, and oscillating louvers for maximum cooling. It also features the innovative DenseNet technology, making the honeycomb pads give you 25% more cooling by retaining 45% water. It is also inverter compatible, energy-efficient, and has an ABS body for safety. Ideal for small to mid-sized rooms.
Cons: At times, the noise levels may get too high. The water tank too could need refilling again and again in run continuously.
Crompton Ozone Desert Air Cooler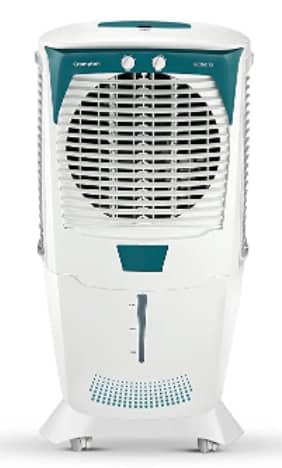 Crimpton's unique range of air coolers for superior cooling helps you beat hot summers. You can now stay cool and refreshed with its excellent features like wood wool cooling pads, wide-angle airflow, and easy-to-clean chambers.
Capacity- 75 liters
Benefits:
The powerful air delivery of the Ozone 75 air cooler helps to keep the room cool and refreshing for a long time.
This weighs 14 kg (500 gm) and holds a capacity of 75 litres. This cooler has an ice chamber, which ensures that chilly air is infused with a boost of ice-like chill.
The Everlast pump prevents clogging in the cooler even with harsh water, ensuring its lifetime. Adjust the direction of the air according to your needs with 4-way air deflection, which not only keeps your room cool, but also relaxes you.
The inverter compatibility of the Ozone 75 enables continuous cooling even during power outages.
Note: It is better to ask for a demonstration before you start using.
Kenstar Slim Line 30-Litre Air Cooler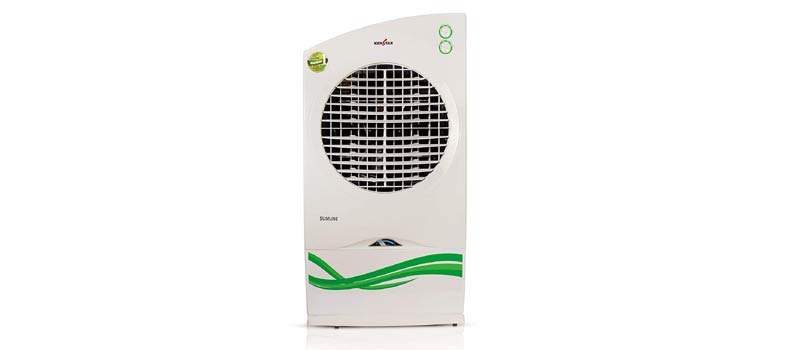 Kenstar Air coolers are designed in tune with the changing needs of consumers. As it is with all things, Kenstar has introduced Slimline coolers that are compact and occupy lesser floor space but provide fast and effective cooling.
Capacity- 30 liters
Benefits:
Ideal for medium-sized rooms, Kenstar's Slimline comes with wood wool evaporative pads for an efficient and lasting cooling experience. The tank capacity is also ideal even if you use the cooler for long hours. With an air throw capability of 35 feet, Slimline ensures the whole of the room, including the corners, is uniformly cooled. The Kenstar Slimline cooler also saves on electricity and is compatible with inverters. It features four-way air deflection and three-speed settings for a pleasant cooling experience. You can use it both indoor and outdoor.
Cons: Some people have pointed out that it is challenging to get Kenstar Cooler repaired because of fewer service centers. Do check in your area whether it is the right after-sales provision.
Symphony Hicool i 31 Litre Air Cooler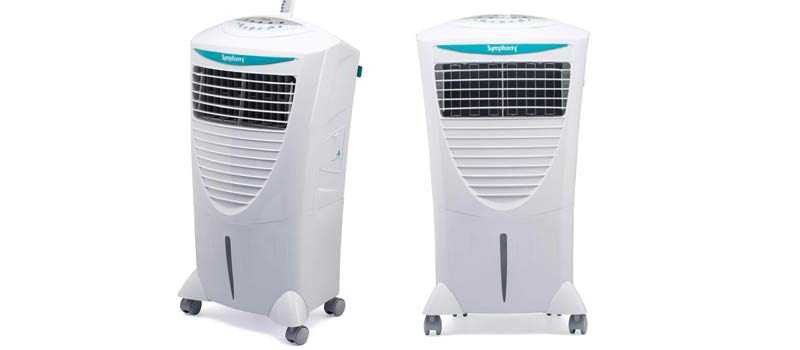 The leading brand Symphony's HiCool is one of the most popular personal air coolers. Stylish with a performance to match HiCool is one of the best under Rs. 10000 with many advanced and modern features on offer.
Capacity- 31 liters
Benefits:
It is ideal for bedrooms because of its optimum airflow at bed-level. Symphony's HiCool looks stunning, has a compact design, and comes with a full-function remote control. The digital touch control panel is made of feather-touch technology. It comes with the innovative cool flow dispenser for even distribution of water on cooling pads thus higher and better cooling performance overall. SMPS feature protects against voltage fluctuations, while the i-Pure technology filters air five times to give you allergy-free and bacteria-free air. A 31 litres tank capacity and other features like empty water tank alarm, timer function, Dura Pump technology, humidity control, etc. make it one of the tops in India.
Cons: Though the buttons are feather touch, the control panel sometimes gets damaged especially if kids press the buttons again and again.
Havells Freddo Cooler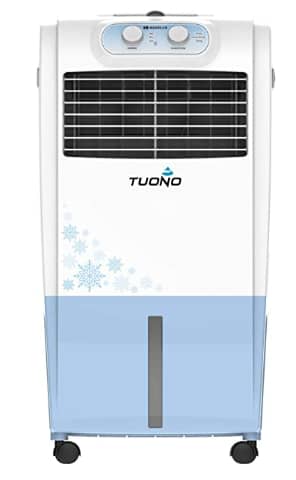 Havells, being a pioneer in product innovation, has once again brought in a unique range of smart coolers with Breatheezee Technology TM. Havells' excellent features, compact design, and air purification system make it one of the best desert coolers in India for summer.
Capacity- 70 liters
Benefits:
The Havells Freddo Cooler is one of the small air coolers that comes with a dust filter and honeycomb cooling pads that keep dust and insects out of the cooler.
The fan is designed elegantly with large space wings for a comfortable cooling experience. It holds up to 18 litres of water and is ideal for indoors, children's rooms, small shops, and personal spaces.
Other features include three-side dust filter nets, an ice compartment, and three-sided honeycomb cooling pads, making it one of the best home coolers!
Note: When you receive the package, make sure you look for the remote control.
Bajaj Platini PX97 Torque 36 Ltrs Room Air Cooler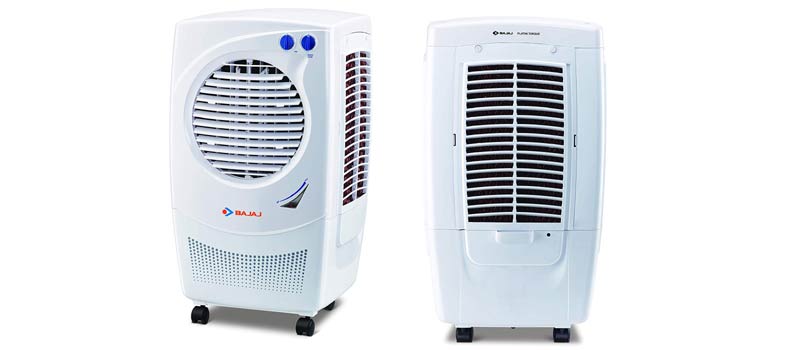 Bajaj's Platini PX97 air cooler tops our list of best air coolers in India. One of the top-selling in India, it is durable, compact, affordably priced and comes with the promise of Bajaj, the leader in home appliances in India. You can certainly not go wrong with this one.
Capacity- 36 liters
Benefits:
Bajaj Platini PX97 is suitable for both small offices and rooms. It has a cooling capacity of 150 square feet, and the air throw distance is 30 feet. Honeycomb pads on three sides ensure fast and efficient cooling while 4-way air deflection makes sure the air goes to every corner of the room. The water tank capacity is 36 litres, so you don't have to refill it again and again. The body is corrosion-free, the caster wheels make it easy to move it between rooms, and it also comes with chill trap technology for active cooling. What's more, it is durable and lasts long. The noise level is considerably low.
Cons: We could not find any cons. It works best in a well-ventilated room.
Maharaja Whiteline Arrow Dlx CO-124 50 L Air Cooler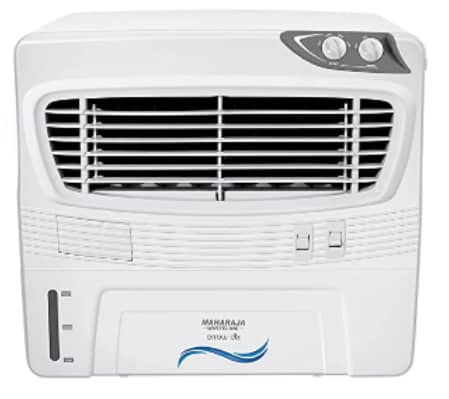 Maharaja Whiteline has been one of the leading consumer durable brands in India for more than 40 years now. Quality, innovation, durability, and affordability are some factors that have made the brand immensely popular, especially in North India. The Arrow Dlx CO-124 air cooler is a dessert window air cooler. It can also be used as a tabletop cooler.
Capacity- 50 liters
Benefits:
The cooler has been designed for large rooms, ideally up to 400 sq ft. The water tank has a capacity of 50 litres, which lasts long even after continuous use. The body is shockproof, and the cooler has wood wool padding that ensures effective cooling with good water absorption. A heavy air throw of 30 feet covers the entire room, including the corners. It has a blower feature for powerful air blast and comes with a mosquito net at the back panel that ensures the water does not become a breeding ground for them.
Cons: For the price it commands, it is a great summer cooler, but it may take a long time to get delivered if you buy it online.
Hindware Snowcrest Arctic 90 Liter Air Cooler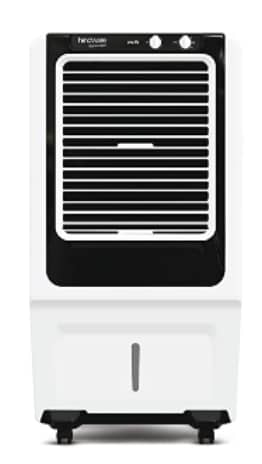 The first-ever air coolers with a changeable color panel were from Hindware Snowcrest. These coolers are manufactured with high air delivery, honeycomb pads, anti-skid top cover, inverter compatibility, auto-fill tank, ice chamber, humidity controller, dust-filter, and water level indicator, which makes it the best air cooler under 10000.
Capacity- 90 liters
Benefits:
Hindware Snowcrest is designed for smarter cooling where the manual full-close louvres prevent dust and insects from entering the cooler.
It weighs 18 kg (500 gm) and ensures low maintenance and longer life. You can now choose between preferred levels of cooling from high, medium, or low levels of cooling.
It is compatible with inverters, which means that you can now enjoy stable cooling even during power cuts.
Cons: Some have said that the wheels are not strong enough to hold 90 liters of water.
USHA 45BD1 Desert Cooler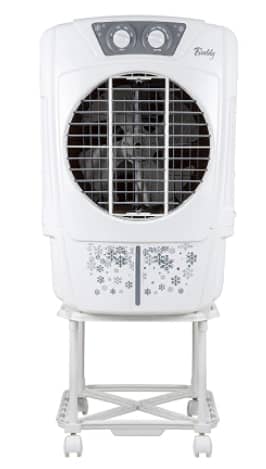 Usha's personal coolers are the best air coolers in India because they are light, zippy, and fashionable to the max. They're ideal for spot cooling because they can be put in any corner of the room or right by your side when you need a custom cooling experience.
Capacity- 45 liters
Benefits:
The Usha desert cooler comes with a foldable trolley to give the cooler a better height and the probability of a better cooling experience.
It holds up to 45 litres of water and consumes low power with the ability to work on inventors, making it energy efficient even during power cuts.
The float valve technology ensures that there's water in the tank while minimizing water usage. Its large tank capacity and wider grill for superior airflow makes it one of the best small air coolers.
Note: Make sure to check for the folding trolly after receiving the package.
Singer Tower Cooler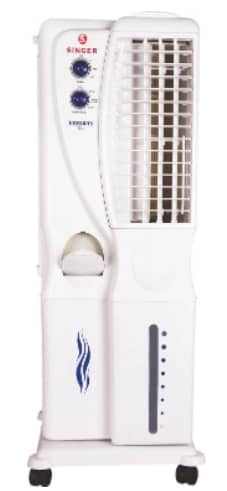 Singer's room coolers are ideal for homes, workplaces, and retail stores, as well as for those who live in apartments and studio flats. Singer offers a variety of coolers to meet your needs. As a result, this makes the Singer Tower cooler the best air cooler under 10000.
Capacity- 20 liters
Benefits:
A Water Level Window, an ABS Body for Longer Durability, Castors, and Wheels for Easier Portability are all features of the Singer Tower Cooler.
It has a stylish front with horizontal louvers, air delivery up to 1600 cubic meters per hour, a HoneyComb Cooling Pad, and motorized vertical louvers.
It works with inverters and can cool a large area of up to 300 square feet. It has three-speed settings and a drain plug for easy cleaning.
Cons: Some have reviewed that the cooler might not be a great choice for coastal areas.
HAVAI Bullet Tower Air Cooler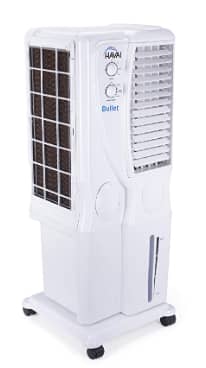 Havai aims to make the process of choosing and owning a product stress-free for their clients by focusing on honest product descriptions with major benefits.
Capacity- 20 liters
Benefits:
The tower cooler has a 20-liter water capacity and is packed with compelling features, such as a high-grade ABS blower with a 34.5 cm height.
The electric motor has a Thermal OverLoad Protector to ensure safety while the cooler is in use. The ABS grade base ensures great stability for the tower cooler.
Mosquito nets for both the Honeycomb Pads are provided.
The Tower Cooler has an air delivery of 1400 m3/hr and is equipped with a 3-Pin ISI Power Cord, ensuring the plugs fix well into the fuse, making it the best cooler for home.
Note: There may be times when the cooler does not provide cool air.
Cello Tower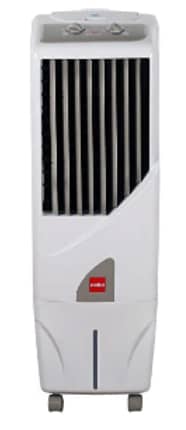 Cello manufactures advanced personal coolers with robust airflow technology with which, you can make those unbearably hot and lazy summers comfortable and exciting.
Capacity- 15 liters
Benefits:
The Cello Tower is ideal for a room up to 160 sq ft. It has a 15-litre capacity and is fitted with a strong turbo tower cooling system, innovative honeycomb cooling pads, a mosquito net, and a powerful air throw with auto swing, allowing you to enjoy the hot summers in comfort and style.
It also has a water intake to help with cooling. It is energy efficient and inverter compatible, making it cost-effective and highly effective.
Cons: At times, the cooler may not provide cool air.
V-Guard F50T Desert Air Cooler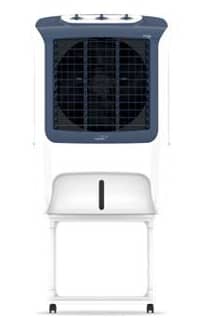 Get ready to skip the summer heat with V-Guard coolers as they are designed and manufactured to last for a long time.
Capacity- 50 liters
Benefits:
The Akido F50T is a beautiful daily cooler that weighs around 11 kg and comes with a trolley for easy transportation.
Its 50-litre tank, simple water level indicator, cellulose honeycomb cooling pad, cable wrapping provision, and ability to function on an inverter ensure hassle-free cooling for long periods of time.
These elements work together to provide continuous cooling for several hours.
With automatic vertical louvre movement, easily removable cooling pads, and thermal overload protection, you've got yourself the best desert cooler in India that is easy to use.
Note: Occasionally, the cooler may be unable to provide cool air.
Croma CRRC1205 Tower Cooler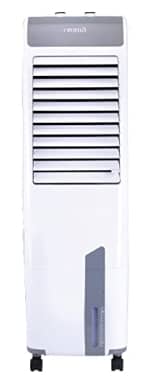 With over a decade of retail expertise, we at Croma have gained a greater understanding of India's needs and ambitions. It is able to create a range of goods that have the newest features at fantastic rates.
Capacity- 47 liters
Benefits:
With this Croma Polar Tower Cooler, you can enjoy the luxury of a chilly lake wind in the comfort of your own home. It has an optimum air delivery of up to 30 feet, and its coverage area is 280 sq. feet.
This tower cooler weighs 12.2 kg, and since the unit is tiny and readily movable, you can place it near the sofa, bed, or work table, making it one of the best small room coolers.
It also has built-in castor wheels. For custom cooling, choose from three speeds.
The dust and mosquito filter net keep out irritants and pollutants that are generally carried in the air, allowing only clean air to enter the cooler.
Some have complained that it is difficult to move the cooler after filling the tank.
Voltas Alfa 15 Personal Air Cooler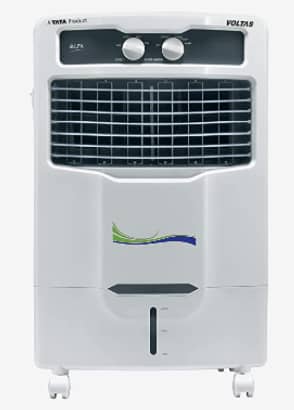 Voltas is known to be the most trusted brand of air coolers as it offers a wide range of high-performance air coolers to its customers. Personal Coolers, Desert Coolers, Tower Coolers, & Window Coolers are the products manufactured by Voltas.
Capacity- 15 liters
Benefits:
Enjoy pleasant air and fight the heat with the excellent Voltas Alfa Personal Air Cooler. It features a 15-liter water tank that may easily last for several hours.
It has honeycomb cooling media, which distributes air evenly and quickly cools the space.
Additionally, the cooler's compact design makes it easy to fit into any corner of the room, and its wheels make it portable.
Note: There is a chance that the remote control will be missing in the package, so check for it when you receive it.
Tips to Make the Air Cooler Perform Better This Summer
In addition to keeping our summers cool with coolers, it is also essential to take care of them properly to keep them lasting for a long time! Here are some tips to make your cooler perform better this summer!
Maintain proper ventilation in the room
In contrast to air-conditioners, air coolers need open spaces to evaporate hot air. It works efficiently by providing smooth airflow for better cooling.
Fill the water with ice
You can increase the cooling efficiency by adding ice to the water in the tank. Some coolers come with ice compartments, making the pads and air cooler.
Make sure the air cooler is well-maintained
Check the air coolers before using them in the summer. As dust and pollen build up on the pads, they should be cleaned regularly. Clean the blades and get the cooler serviced for better cooling!
Pre-saturating the cooling pads
Let the pump run water through the cooling pads and allow them to soak before using the cooler. This helps with efficient cooling as soon as you turn the cooler on.
Place your air-cooler near the window
Air-coolers work on the principle of evaporative cooling. Place the air-cooler near the window and adjust it a little so that it provides better cooling.
Wrapping up
Air coolers are one budget-friendly way to survive dry summers. They are popular as they are easy to maintain and can be used both indoors and outdoors. Through this article, you can find the best air coolers under Rs 10,000 and how you can maintain them. These environmentally friendly air coolers provide fresh, filtered, and cool air to beat the heat!
Check out the GrabOn page to shop online with the latest deals and offers!