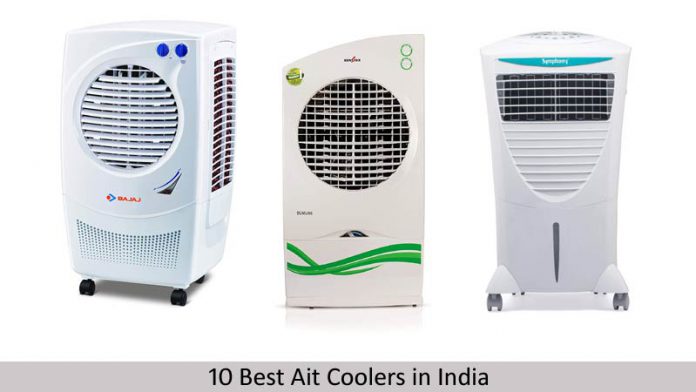 With summers being rough on most of India, looking to buy the best air cooler is just about right. It is the best and cheapest way to beat to summer heat and be comfortable, without the costs going overhead your budgets. Various brands have come out with multiple air coolers that cater to different needs, such as room, jumbo, and central air cooling coolers.
Selecting the best can be quite a confusing task. The market has so many variants in so many brands that it is but natural to feel lost. Bigger rooms need more powerful ones, and smaller ones need accordingly. The features of a cooler are also important when making a purchasing decision. After thorough research, we have prepared the list of best in India with their prices in 2019. You can safely choose one of their basis your preference, budget, and features.
Have a Look at Top 10 Best Air Coolers In India for 2020
1. Bajaj Platini PX97 Torque 36 Ltrs Room Air Cooler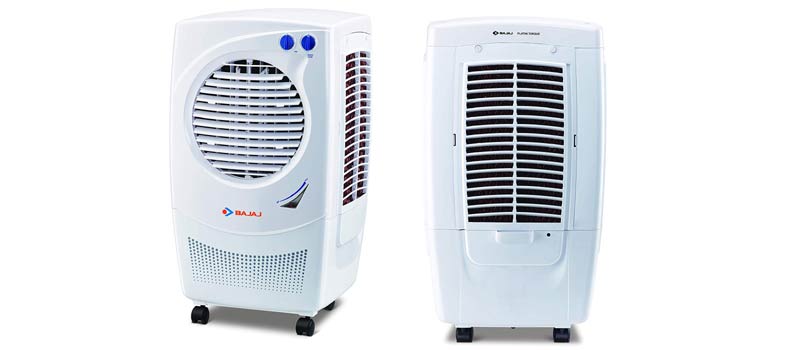 Bajaj's Platini PX97 air cooler tops our list of best air coolers in India. One of the top-selling in India, it is durable, compact, affordably priced and comes with the promise of Bajaj, the leaders in home appliances in India. You can certainly not go wrong with this one.
Benefits: Bajaj Platini PX97 is suitable for both small offices and rooms. It has a cooling capacity of 150 square feet, and the air throw distance is 30 feet. Honeycomb pads on three sides ensure fast and efficient cooling while 4-way air deflection makes sure the air goes to every corner of the room. The water tank capacity is 36 litres, so you don't have to refill it again and again. The body is corrosion free, the caster wheels make it easy to move it between rooms, and it also comes with chill trap technology for active cooling. What's more, it is durable and lasts long. The noise level is considerably low.
Cons: We could not find any cons. It works best in a well-ventilated room.
Price: Rs. 5595
2. Symphony Hicool i 31 Litre Air Cooler – with Remote Control and i-Pure Technology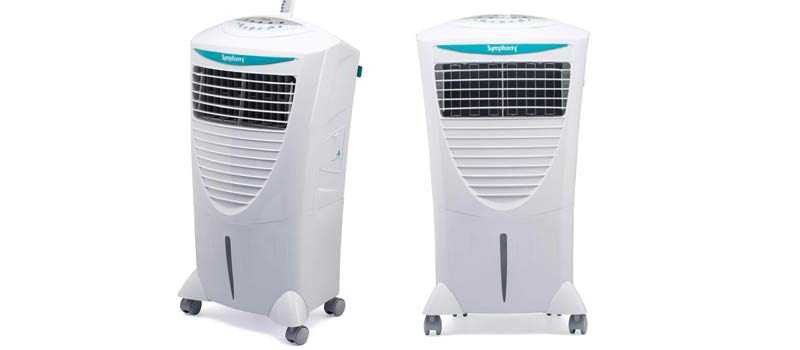 The leading brand Symphony's HiCool is one of the most popular personal air coolers. Stylish with a performance to match HiCool is one of the best under Rs. 10000 with many advanced and modern features on offer.
Benefits: It is ideal for bedrooms because of its optimum airflow at bed-level. Symphony's HiCool looks stunning, has a compact design, and comes with a full-function remote control. The digital touch control panel is made of feather-touch technology. It comes with the innovative cool flow dispenser for even distribution of water on cooling pads thus higher and better cooling performance overall. SMPS feature protects against voltage fluctuations, while the i-Pure technology filters air five times to give you allergy-free and bacteria-free air. A 31 litres tank capacity and other features like empty water tank alarm, timer function, Dura Pump technology, humidity control, etc. make it one of the top in India.
Cons: Though the buttons are feather touch, the control panel sometimes gets damaged especially if kids press the buttons again and again.
Price: Rs. 8599
3. Kenstar Slim Line 30-Litre Air Cooler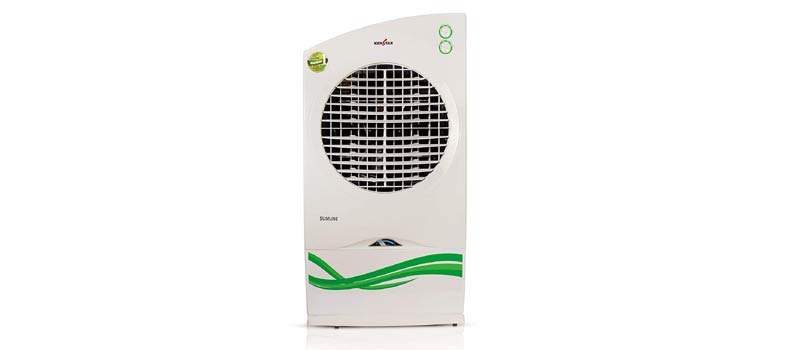 Kenstar Air coolers are designed in tune with the changing needs of consumers. As it is with all things, Kenstar has introduced Slimline coolers that are compact and occupy lesser floor space but provide fast and effective cooling.
Benefits: Ideal for medium-sized rooms, Kenstar's Slimline comes with wood wool evaporative pads for the efficient and lasting cooling experience. The tank capacity is also ideal even if you use the cooler for long hours. With an air throw capability of 35 feet, Slimline ensures the whole of the room, including the corners, is uniformly cooled. The Kenstar Slimline cooler also saves on electricity and is compatible with inverters. It features four-way air deflection and three-speed settings for a pleasant cooling experience. You can use it both indoor and outdoor.
Cons: Some people have pointed out that it is challenging to get Kenstar Cooler repaired because of fewer service centers. Do check in your area whether it is right after-sales provision.
Price: You can get Kenstar's Slimline for Rs. 8960 on amazon.in
4. Bajaj DC2016 67 Ltrs Room Air Cooler (Desert Cooler)
A wonderful and economical alternative to using air conditioners, Bajaj's DC2016 is just the right air cooler to buy this summer. Your perfect companion for hot and humid days and nights, the product looks attractive and performs even better.
Benefits: If you stay in a hot and humid place and are looking for a big room cooler, then you can consider buying Bajaj DC 2016 67 litres. This mega-sized cooler has a cooling coverage area of 750 sq ft and air throw of 90 ft. With a storage tank of 67 litres, you can run it continuously without having to refill. The four-way air deflection ensures cool air reaches all parts of the room, and caster wheels make for easy mobility. It comes with 3-speed control settings and is compatible with inverters as well. The body is made of thermoplastic, making it corrosion resistant and durable.
Cons: Except for the fact that it is huge and will perform best only in large rooms, there is no other con for the product.
Price: Available from Rs. 11500 online by various sellers.
5. Symphony Diet 22i 22 Litre Air Cooler – with Remote Control and i-Pure Technology
Symphony's DIET range of personal air coolers is exactly what you perceive them to be- sleek, compact, shapely, and attractive, as people on a diet! But because it is a Symphony, it does not lack on performance either.
Benefits: Symphony's Diet comes with i-Pure technology. It mostly consists of multistage air purification giving you smell-free, allergy-free, dust-free and bacteria-free cool air. Suitable for rooms up to 150 sq ft, it comes with honeycomb pads and a remote for convenience. There is also a remote dock on the top of the cooler. You will save on electricity bills with this product thanks to its energy-saving feature. It also works on the inverter. You can quickly move it around the house as well.
Cons: Some people have felt that it works in a well-ventilated room.
Price: Rs. 8655, it is one of the most popular product under Rs. 10000.
6. Bajaj Frio 23 Ltrs Personal Air Cooler
The brand has stood the test of times and has won consumers' trust in more than one way. That's why Bajaj products are marked for quality and price both.
Benefits: Bajaj Frio is ideal for small rooms with a cooling capacity of 150 sqft. The honeycomb cooling pads are there on three sides and give the best cooling experience. The water tank has a capacity of 23 litres, ideal for stretched out times too. Castor wheels make for easy movement while three-speed controls let you decide how to use it. With an air throw capacity of 30 feet, it tosses cool air at bed level. Four-way air deflection ensures consistent cool air in the entire room with the feature of humidity control.
Cons: Some people complain it makes quite a bit of noise. We recommend you check it at a store before you buy it.
Price: Bajaj Frio is priced at Rs. 5190 online.
7. Symphony Siesta 70 Ltrs Air Cooler
Symphony's reputation as the best air cooler brand largely remains unchallenged because of various air cooler models it has launched in the market. It has brought together innovation and design with the utility to create a mark for itself.
Benefits: Symphony's Siesta is ideal for a medium-sized room having area of 370 sq ft. A water tank of 70 litres capacity ensures long hours of uninterrupted cooling. Symphony's Siesta has a large 16-inch fan with a specially designed grill that provides maximum air throw. Caster wheels make it easy for you to move the cooler from one room to another. The shockproof, high-grade plastic body has ensured safety. The aesthetics are neat and easily blend in any room.
Cons: The ideal summer cooler, Symphony's Siesta does not have any disadvantages, except, perhaps the price is a little high.
Price: Rs. 11668
8. Orient Electric Smartcool Dx CP2002H 20 litres Air Cooler
Orient brings together cutting-edge features and superior cooling experience with its wide range of personal and desert air coolers. The Smartcool Dx CP2002H is the brand's bestselling with a host of attractive features.
Benefits: Coupled with a powerful air gust and supercooling abilities thanks to 3-speed air delivery with four-way cooling and a 20 litres water tank, this one is an absolute buy for hot and humid summers. It has a dust filter, ice chamber, a mechanical knob control, water level indicator and oscillating louvers for maximum cooling. It also features the innovative DenseNet technology, making the honeycomb pads give you 25% more cooling by retaining 45% water. It is also inverter compatible, energy-efficient and has an ABS body for safety. Ideal for small to mid-sized rooms.
Cons: At times, the noise levels may get too high. The water tank too could need refilling again and again if it is run continuously.
Price: You can get it for Rs. 7995 at MRP, while some offers have it online for Rs. 5239.
9. Cello Artic 50 Ltrs Window Air Cooler
Cello has designed powerful air coolers that are not power-hungry – but give you the experience of better cooling. Cello Arctic is specifically designed to provide a winter-like experience even in hot and sultry summer months.
Benefits: Cello Arctic is loaded with attractive features such as a high capacity 50 litres water tank, powerful 18-inch fan blades, oscillating louvers, and turbo cooling feature, for a corner to corner cooling, Aspen wood wool cooling pads, powerful air throw capacity, and low maintenance. It features three-way speed settings and is ideal for larger rooms having an area of 800 sq ft. The noise is negligible, and it consumes lesser electricity. Use it in a well-ventilated place and experience coolness like never before.
Cons: Though Cello has been around for many years now, it makes sense to check for after sales in your area.
Price: Priced at Rs. 8650, it is a steal of a deal and one of the best dessert coolers under Rs. 10000.
10. Maharaja Whiteline Arrow Dlx CO-124 50 L Air Cooler
Maharaja Whiteline has been one of the leading consumer durable brands in India for more than 40 years now. Quality, innovation, durability, and affordability are some factors that have made the brand immensely popular, especially in North India. The Arrow Dlx CO-124 air cooler is a dessert window air cooler. It can also be used as a tabletop cooler.
Benefits: The cooler has been designed for large rooms, ideally up to 400 sq ft. The water tank has a capacity of 50 litres, which lasts long even after continuous use. The body is shockproof, and the cooler has wood wool padding that ensures effective cooling with good water absorption. A heavy air throw of 30 feet covers the entire room, including the corners. It has a blower feature for powerful air blast and comes with a mosquito net at the back panel that ensures the water does not become a breeding ground for them.
Cons: For the price it commands, it is a great summer cooler, but it may take a long time to get delivered if you buy it online.
Price: Affordably priced at Rs. 6310
The above is the list of top 10 air coolers in India with a price. Based on your need, budget, and personal preferences, you can choose any one of the above, and we assure you that you won't be disappointed. Beat the heat of extreme temperatures with these products and experience summers refreshingly. Remember to choose a cooler based on the room size, cooling pads, water tank, and ventilation of the room to have a good experience.