If you wish to get rid of the allergy and flu symptoms like nose blocks, breathing issues and cough without taking any medicines, then it is important to have a personal steamer at home. These versatile devices are designed with a compact steaming system to provide maximum steam while not burning your skin. As there are a lot of steamers and inhalers available online, choosing the right one can be a tricky process. Read this article to know more about the best-selling products before buying one.
Top 10 Steamers For Cold And Cough
1. Healthgenie 3 In 1 Steam Sauna Regular Vaporizer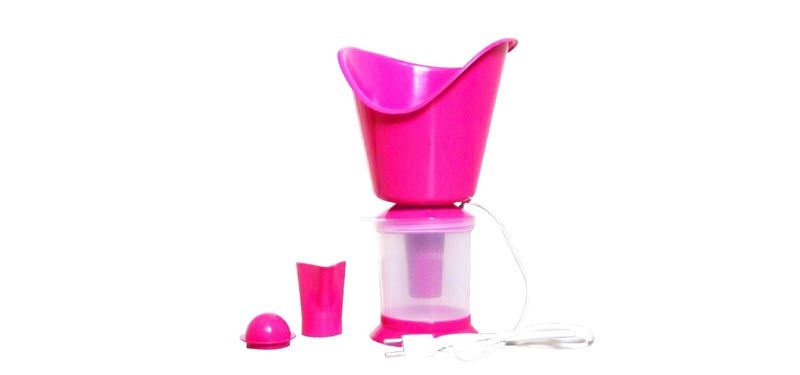 Be it a respiratory issue or a cold symptom, the vaporizer from Healthgenie can handle it effectively. The shock-resistant, high-quality plastic body in pink and white color offers it a funky look. This product can perform as a vaporizer, sauna, and steamer with a cord length of 105 cm.
You can also use it for hair spa and facial sauna procedure to get parlor like beauty results at home. This steamer comes with 3 attachments and a reservoir unit with a decent capacity to hold water and essential oils. The nozzle at the top is designed to offer steam uniformly.
Price: Rs. 249
2. Asbob 3 In 1 Steam Vaporizer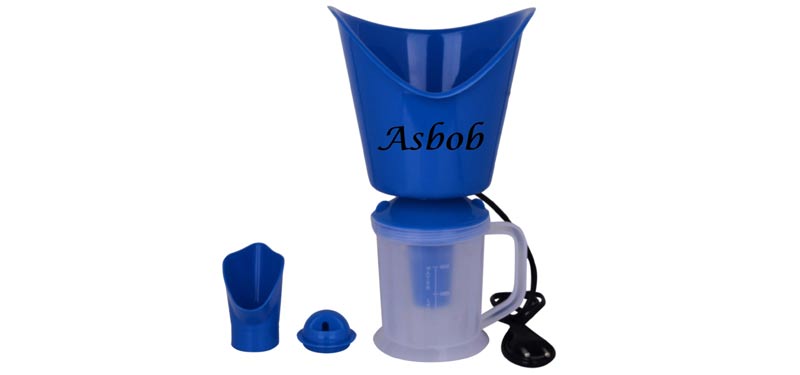 If you are looking for a steaming machine that will keep your allergy or cold signs at bay, then look no further than the three-in-one vaporizer from Asbob. It is capable of producing steam within a few seconds. It can also perform as a facial steamer to get rid of the blackheads, whiteheads and other impurities clogging the skin.
This product is ideal for aromatherapy, asthma, throat irritation, bronchitis, and hay fever symptoms. It comes with a small transparent container of 40 ml capacity with water level markings. The 3 attachments of this product help you use it as a nose vaporizer, nose steamer, and cough steamer.
Price: Rs. 255
3. HealthSense Nano-Cure FS 550 Medical Steam Inhaler Vaporizer & Facial Steamer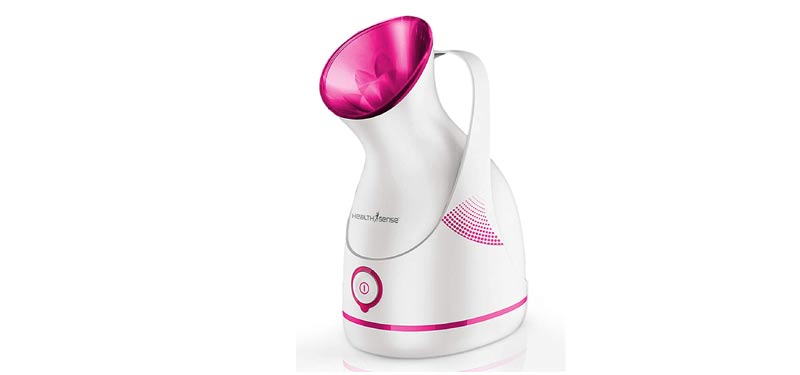 Your search for a safe steaming device to take care of the flu symptoms of your child will be fulfilled by the medical steamer offered by HealthSense. It utilizes the latest segmented atomization system and nano ionic steam technology for providing minute ionic steam particles that are 4000 times smaller than the regular steamers.
It is built with a water tank of 55 ml, Power On/Off switch, PTC heating element in ceramic and a steam outlet. This child-safe facial steamer can produce mist in just 40 seconds and has a timer to set a hot steam cycle of 8 to 10 minutes.
Price: Rs. 1299
Related Article you might want to read
– Best Essential Oil Brands In India
– Best Digital Thermometers in India
4. Dr Trust Home Spa Vapouriser Steamer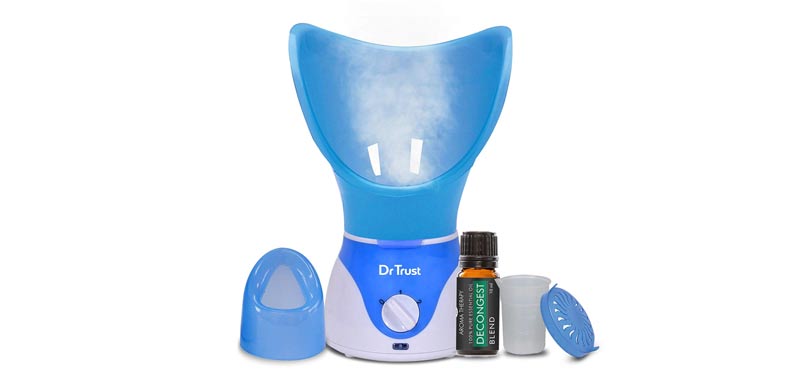 The Dr Trust steamer is specifically built to offer personalized inhalation experience for allergy and flu sufferers, as it can restore moisture to the respiratory tract and the lungs. It sports a plastic hood with a patented design to match the contours of your face while directing soothing moist air.
This home steamer has a Power On/Off switch with an LED indicator and works with very little noise. The frequency of the steam can be set with the 2-level speed regulator. This product comes with special attachments like aroma tray, steam mask and nasal mask.
Price: Rs. 999
5. Healthgenie Steam Sauna Vaporizer & Facial Steamer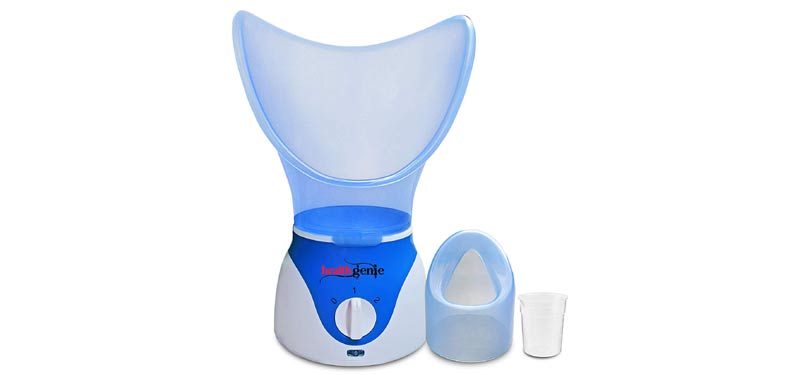 The Healthgenie steam inhaler and a facial steamer can be used for purifying the skin while cleansing and hydrating it. Plus, it can also be used to get immediate relief from throat irritation, headache and nose congestion. Flaunting a portable design, this steamer is designed with security features to prevent hot water sprinkling and electric shock issues.
The nasal mask with a rotatable design helps you use it with comfort. The facial mask attachment supports gentle steam flow to deliver the best spa experience. The heat-insulated body also has an adjustable steam control regulator and power indicator.
Price: Rs. 799
6. Dr. Trust USA 3-in-1 Nano Ionic Facial Steamer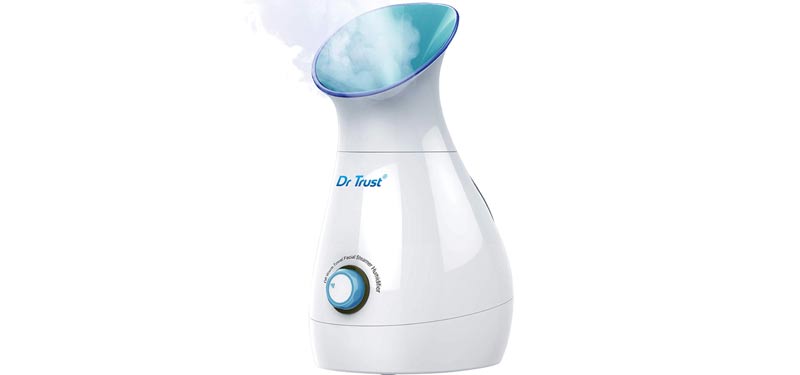 This facial steamer from Dr. Trust is powered with the Nano-atomization technology to get rid of all skin-related problems while cleansing the skin pores. It can also be used as a steamer to get good relief from cold and nasal blocks. It can humidify your room within 30 seconds and keeps dryness away.
The built-in towel warming compartment provides warm wash clothes and hand towels to feel rejuvenated. It is designed with a big water tank to hold water and has a diffuser for putting aroma oils. There is a mode switch on the front and it operates very quietly.
Price: Rs. 1424
7. Asbob 3 In 1 Steam Vaporizer (AH-01)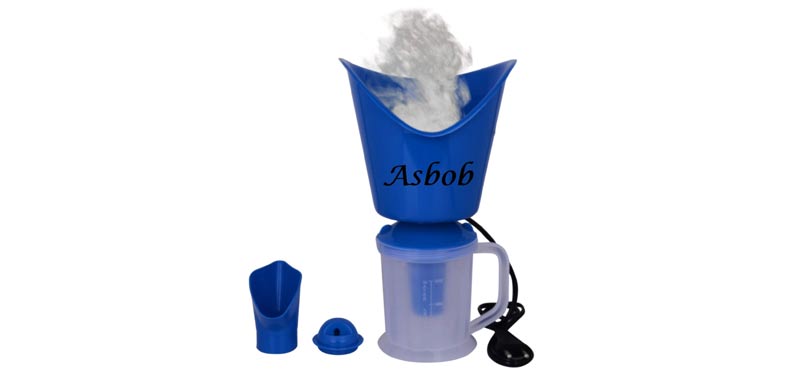 This 3-in-1 vaporizer and steamer is made from virgin plastic material and can cater to varied needs, such as inhalation, steaming, and vaporization. Flaunting a hand-held and compact design, this appliance is child-safe, as it does not splutter water. The 3 attachments offered with this appliance helps you to use it for getting relief from respiratory issues, cold treatment, and cough.
The facial steam attachment will serve the skin cleansing routine during skin clean-up and facials. The handle on the side of the water storage of the Asbob Steamer can help in carrying it to any room easily.
Price: Rs. 269
8. Newnik V108 Vaporizer & Steam Inhaler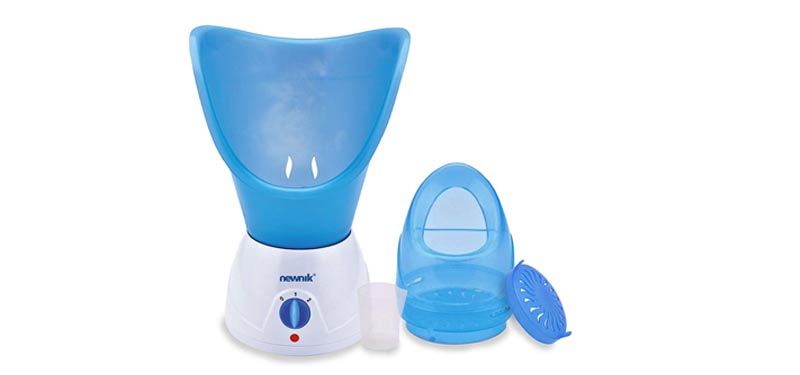 The Newnik steamer and vaporizer is designed to produce warm and moist steam that can penetrate well into the sinus cavities to offer good relief from congestion, bronchitis, and cold. The sleek heat insulation design of this product with a nasal mask in white and blue is ideal for kids and adults.
The innovative design of its attachments helps in spreading the fine mist to the face while not sprinkling hot water. You can adjust the steam volume with the rotary regulator switch with light indicator. Just add a few drops of essential oil on a cotton pad in the aroma tray to enjoy aromatherapy treatment.
Price: Rs. 1215
9. Asbob 3 In 1 Steam Vaporizer (AH-02)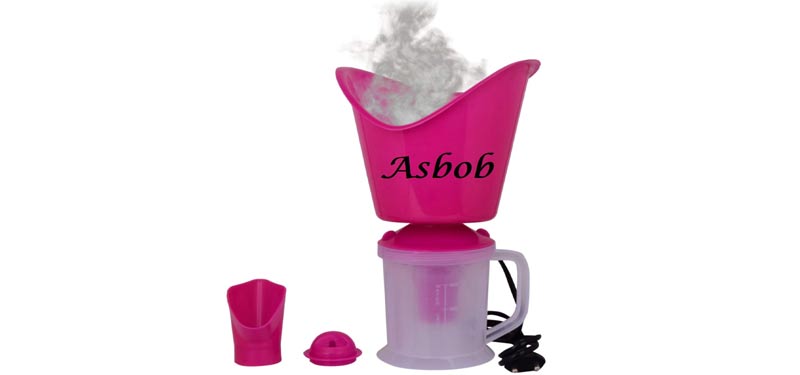 This product from the home of Asbob works both as a vaporizer as well as a steamer. It releases soothing steam to clear the blocked airways and can unclog the pores of the skin. The vapor pot is made of high-quality plastic and has water level marking on the surface.
It is offered with many attachments, such as a facial steamer cup that can produce a good amount of steam during a massage, facial and cleanup procedures. The nasal inhalation mask is ideal for people who require relief from a throat infection, bronchitis, respiratory problems, asthma, stuffed nose, etc.
Price: Rs. 269
10. Asbob® 3 In 1 Steam Vaporizer (AH-06)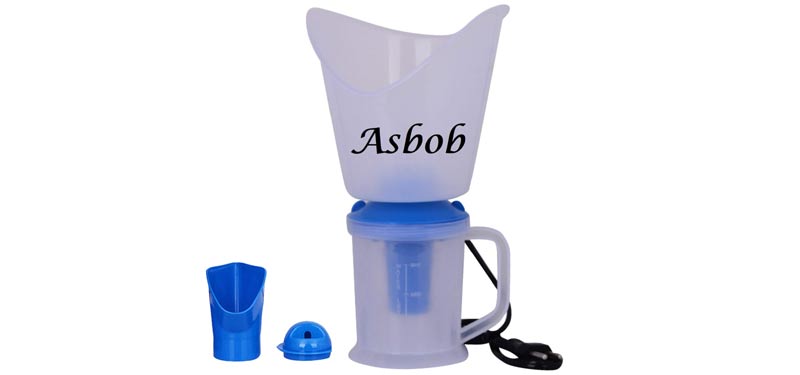 This Asbob product performs the triple role of a vaporizer, steamer, and inhaler. It is manufactured using top-grade virgin plastic that makes it a durable choice. It is suitable for your aromatherapy sessions, as it can produce calming and fine steam that can make your skin feel rejuvenated and clear your airway passages simultaneously.
It has 3 different attachments like a facial steam cup, nasal inhalator and vaporizing hub. The handle fitted water storage tank has markings to pour water accurately. The power cable with a plug-in feature helps in using it immediately. This affordable steamer can also be used for aromatherapy purposes. This product is suitable for sensitive, dry, oily and combination skin.
Price: Rs. 269
Apart from taking the role of facial steamers, these sterile appliances also double up as steam inhalers, towel warmers, nozzle inhalers, room humidifiers, nose vaporizers and nasal steamers. With one of these multipurpose devices at home, you just need some plain water and a couple of essential oils to stay flu-free and feel beautiful.