Are you tired of battling colds and coughs every time the weather changes in India? With pollution levels on the rise and rapidly shifting weather patterns, it comes as no surprise that respiratory issues have become increasingly common. However, there's a powerful weapon you can add to your arsenal to fight against these pesky ailments – steamers.
In this blog post, we will introduce you to the best steamers for cold and cough available in the Indian market, which will prove to be a game-changer in alleviating your discomfort and promoting faster recovery.
Steam inhalation has been a tried and tested remedy for generations, helping to clear out nasal congestion, improve breathing, and reduce throat irritation caused by dry coughs.
As more and more people are seeking out ways to stay healthy and improve their quality of life, various brands and manufacturers have developed innovative and efficient steaming devices, optimizing them for the unique needs of today's users.
We understand that there are countless options to choose from, making it difficult to determine which one will serve you best. That's why we have conducted comprehensive research and compiled a list of the top steamers in terms of durability, ease of use, and efficiency, to help you make an informed decision and breathe easy.
Our Top Picks
| | |
| --- | --- |
| Best Overall | Asbob |
| Best Value | Meditative |
| Most Multifunctional | Wonder |
| Best Design | HealthSense |
Top 10 Steamers For Cold And Cough
Are you suffering from cold and cough and looking for an effective way to relieve your symptoms? Steam therapy can be a simple and natural solution. We've compiled a list of the best steamers for cold and cough help you find the right one for your needs.
Asbob 3 In 1 Steam Vaporizer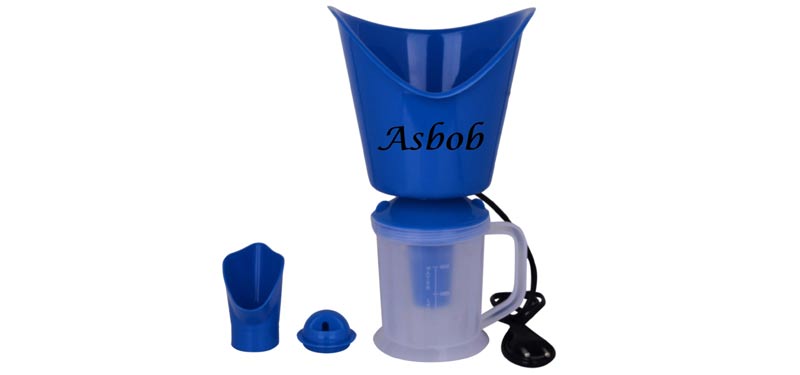 Check Price on Amazon
If you are looking for a steaming machine that will keep your allergy or cold signs at bay, then look no further than the three-in-one vaporizer from Asbob. It is capable of producing steam within a few seconds. It can also function as a facial steamer to eliminate blackheads, whiteheads and other impurities clogging the skin.
This product is ideal for aromatherapy, asthma, throat irritation, bronchitis, and hay fever symptoms. It comes with a small transparent container of 40 ml capacity with water level markings. The 3 attachments of this product help you use it as a nose vaporizer, nose steamer, and cough steamer.
Benefits
Features RO filter
Ergonomic design steam inhaler
Can be used for facial and massaging
Suitable for oily, dry, and sensitive skin types
Drawbacks
Can damage after a couple of month's use
Should be washed with lukewarm water
HealthSense Nano-Cure FS 550 Medical Steam Inhaler Vaporizer & Facial Steamer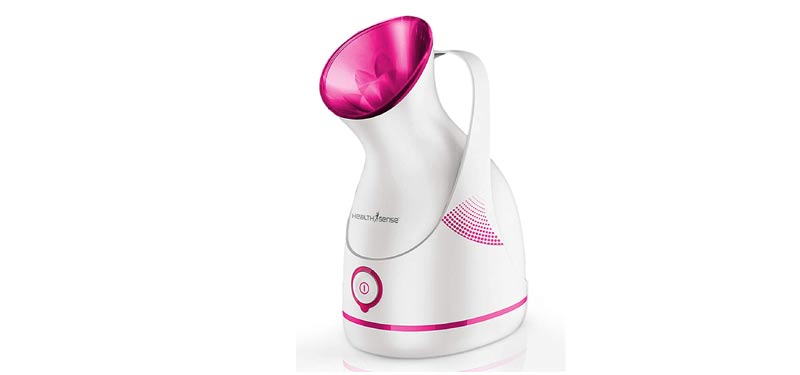 Your search for a safe steaming device to take care of the flu symptoms of your child will be fulfilled by the medical steamer offered by HealthSense. It utilizes the latest segmented atomization system and nano ionic steam technology for providing minute ionic steam particles that are 4000 times smaller than the regular steamers.
It is built with a water tank of 55 ml, a Power On/Off switch, a PTC heating element is and a steam outlet. This child-safe facial steamer can produce mist in just 40 seconds and has a timer to set a hot steam cycle of 8 to 10 minutes.
Benefits
UV steam sterilization method
Steaming at 40°C temperature
1 year of manufacturing warranty
Lightweight portable and handheld design
Made of odor-free ABS plastic material
Treats sinusitis, allergies, and other breathing problems
Drawbacks
No return policy
Occasional burning smell
Wonder Steam Inhaler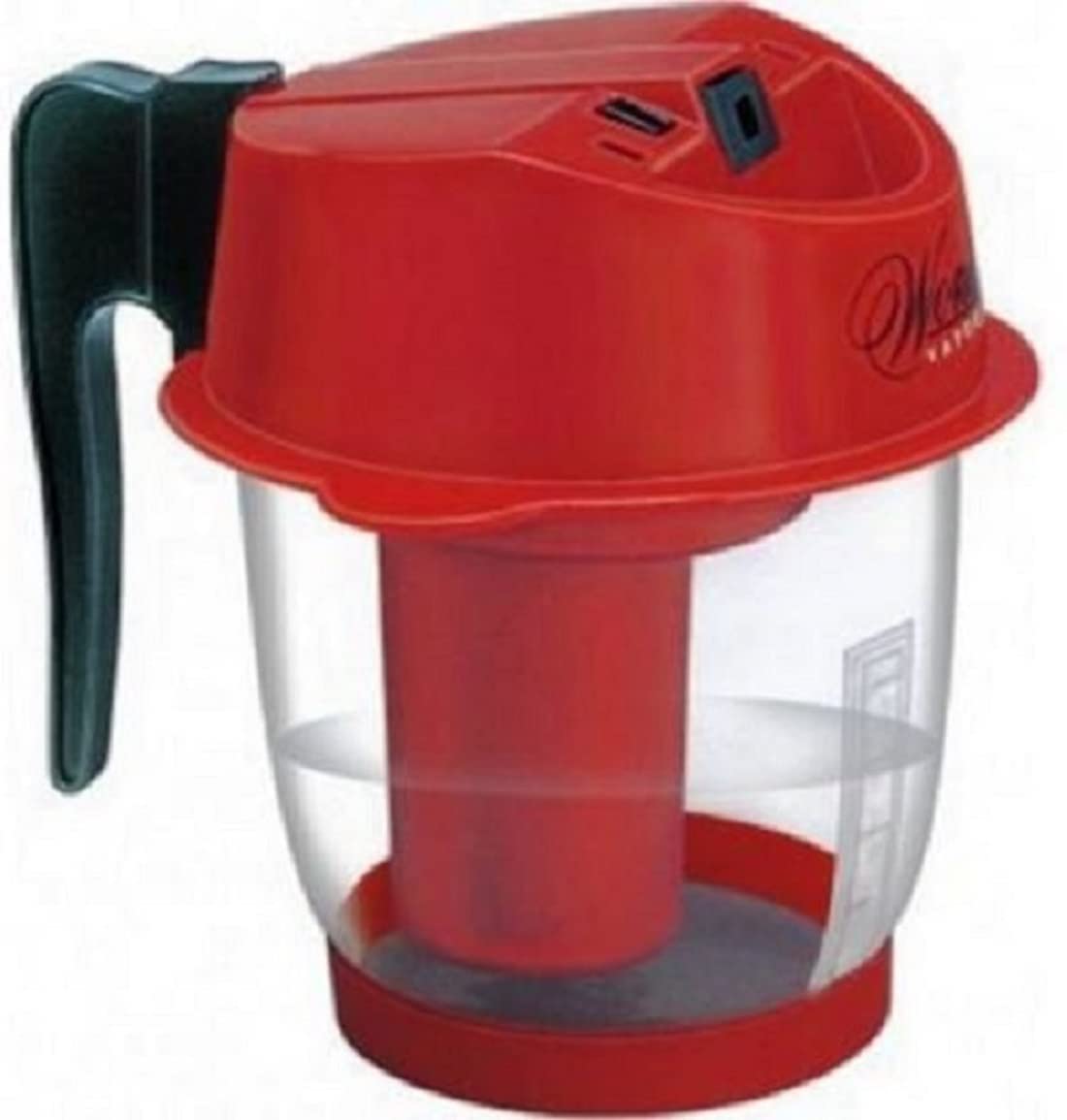 Wonder Steam Vaporizer is a versatile and innovative solution designed to help you breathe easier during cold and flu season. This powerful device offers instant steam generation for prompt symptom relief.
It has the added benefit of accommodating inhalants like Eucalyptus Essential Oil for enhanced effectiveness. It can also be used for cosmetic purposes such as blackhead removal and rejuvenating the youthful complexion of dull skin.
Benefits
Effectively relieves common colds, coughs, stuffy noses, headaches, sinusitis, and bronchitis in a drug-free, natural way
Compatible with inhalants and medicinal vaporizers for a customized therapeutic experience
Instant steam creation ensures quick relief and alleviates congestion and inflammation in the upper respiratory system
Compact, portable, and convenient design allows for easy use at home or on the go
Drawbacks
The device may require regular cleaning to maintain its effectiveness, which could potentially be a hassle for some users
Dr. Trust USA 3-in-1 Nano Ionic Facial Steamer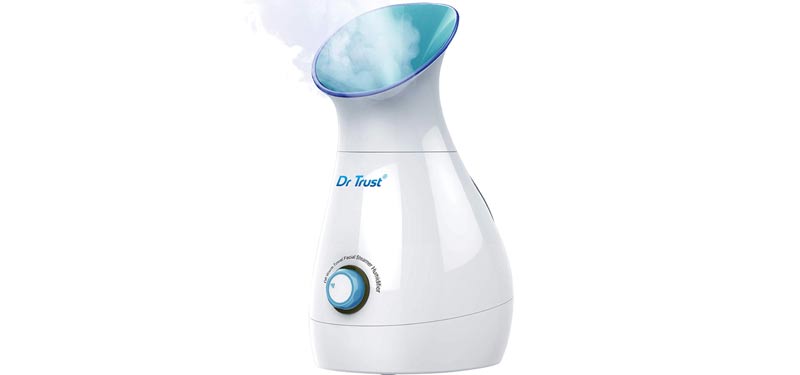 Check Price on Amazon
This facial steamer from Dr. Trust is powered with Nano-atomization technology to all skin-related problems while cleansing the skin pores. It can also be used as a steamer to get good relief from cold and nasal blocks. It can humidify your room within 30 seconds and keeps dryness away.
The built-in towel warming compartment provides warm wash cloth and hand towels to feel rejuvenated. It is designed with a big water tank to hold water and has a diffuser for putting aroma oils. There is a mode switch on the front and it operates very quietly.
Benefits
Simple and easy to use
Affordable to buy
Nano ionic steam mechanism
Add essential oil for fragrance
Drawbacks
No warranty provided by the manufacturer
Water dispenser can break quickly
Newnik V108 Vaporizer & Steam Inhaler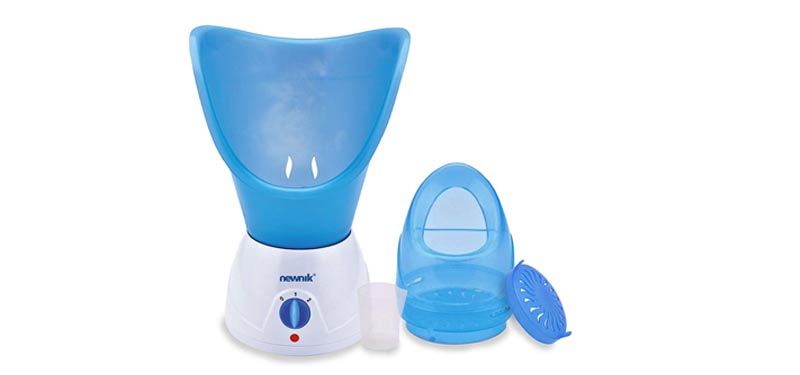 Check Price on Amazon
The Newnik steamer and vaporizer is designed to produce warm and moist steam that can penetrate well into the sinus cavities to offer good relief from congestion, bronchitis, and cold. The sleek heat insulation design of this product with a nasal mask in white and blue is ideal for kids and adults.
The innovative design of its attachments helps spread the fine mist to the face while not sprinkling hot water. You can adjust the steam volume with the rotary regulator switch with a light indicator. Add a few drops of essential oil on a cotton pad in the aroma tray to enjoy the aromatherapy treatment.
Benefits
Sleek and stylish design
6-meter cord length
Highly safe steamer for kids
2-level switching control options
1-Year warranty on steam vaporizer
Features LED power indicator and aroma tray
Drawbacks
Poor customer support services
Expected a better quality
Healthgenie Steam Sauna Vaporizer & Facial Steamer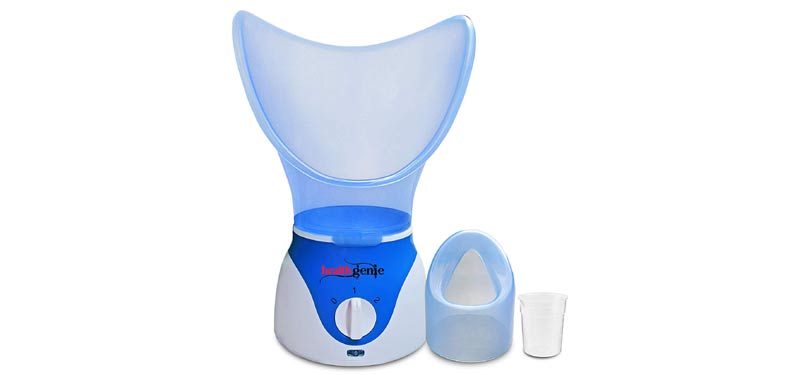 The Healthgenie steam inhaler and facial steamer can be used for purifying the skin while cleansing and hydrating it. Plus, it can also be used to get immediate relief from throat irritation, headache, and nose congestion. Flaunting a portable design, this steamer is designed with security features to prevent hot water sprinkling and electric shock issues.
The nasal mask with a rotatable design helps you use it with comfort. The facial mask attachment supports gentle steam flow to deliver the best spa experience. The heat-insulated body also has an adjustable steam control regulator and power indicator.
Benefits
Best to treat sinus and clogged nasal
50ml capacity ensures 15mins runtime
360° rotatable nasal mask
Auto power-off mode
1-Year warranty on the steamer
Drawbacks
Takes time to produce steam
Vandelay Facial Steamer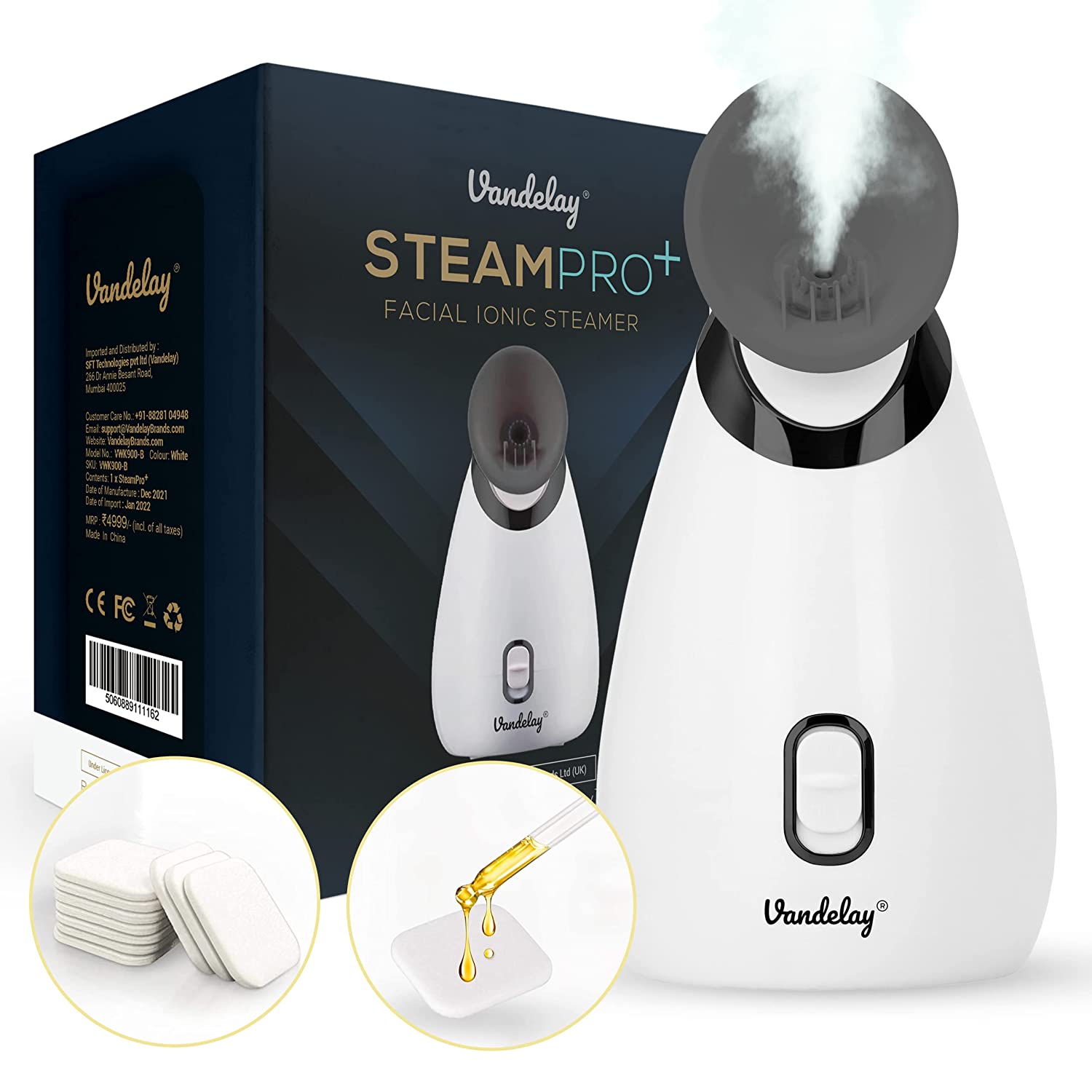 This advanced medical facial steamer provides effective relief from cold and cough symptoms while revitalizing your skin. This dual-purpose steamer works wonders in alleviating congestion, throat irritation, and breathing problems while simultaneously enhancing your skincare routine.
Enhance your steaming session with cotton pads for fragrances and medication, easily catering to your personal preferences and specific health needs.
Benefits
Effectively lubricates dry or irritated nasal passages for better respiratory health.
Opens pores, releases acne-causing bacteria, and stimulates natural oil production for a hydrated and glowing complexion.
Improved absorption, ensuring the therapeutic benefits of our facial steamer penetrate deep into your skin and nasal passages.
Drawbacks
It is on the pricier side of the spectrum
Sahyog Wellness 3 in 1 Steam Vaporizer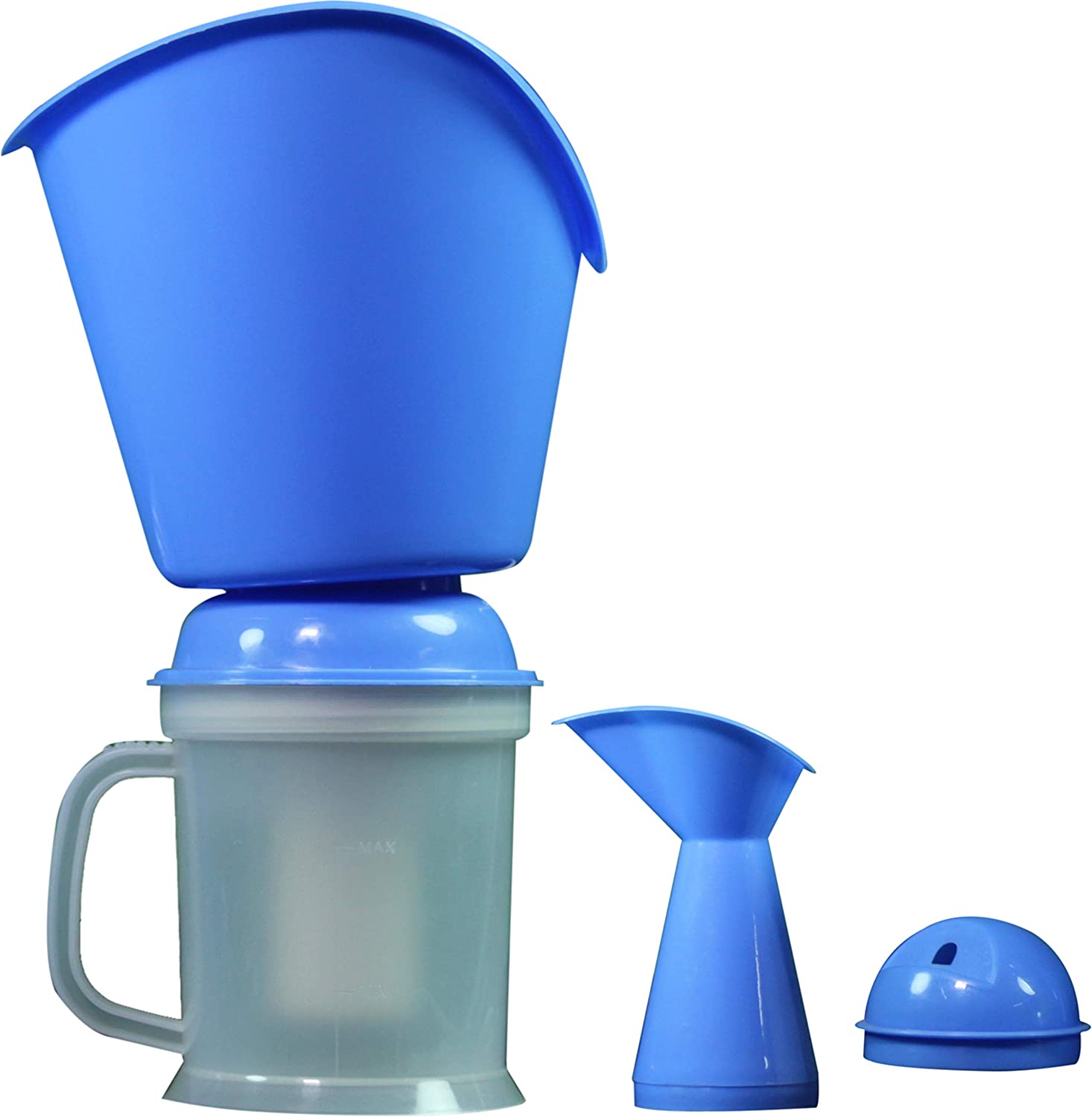 Check Price on Amazon
The 3-in-1 Steamer from Sahayog, is a multipurpose steamer designed specifically for skin care enthusiasts looking to breathe a little life into their daily routine. However, the steamer can also be used to alleviate the symptoms of flu, cold and congestion.
Sahayog Wellness is a health and wellness brand that offers natural and organic products for holistic wellbeing. Their product range includes herbal supplements, skin and hair care products, and natural remedies for various health conditions.
Benefits
Deeply cleanse the skin of impurities and toxins for a healthier complexion
Aids in opening pores for better absorption of nourishing products
Creates long-lasting hydration for soft and glowing skin
Offers 15 minutes of steam at the press of a button for convenience
Drawbacks
Must maintain a minimum amount of water during usage
Wait time before steam is produced can be up to 15 minutes.
Meditative Facial Steamer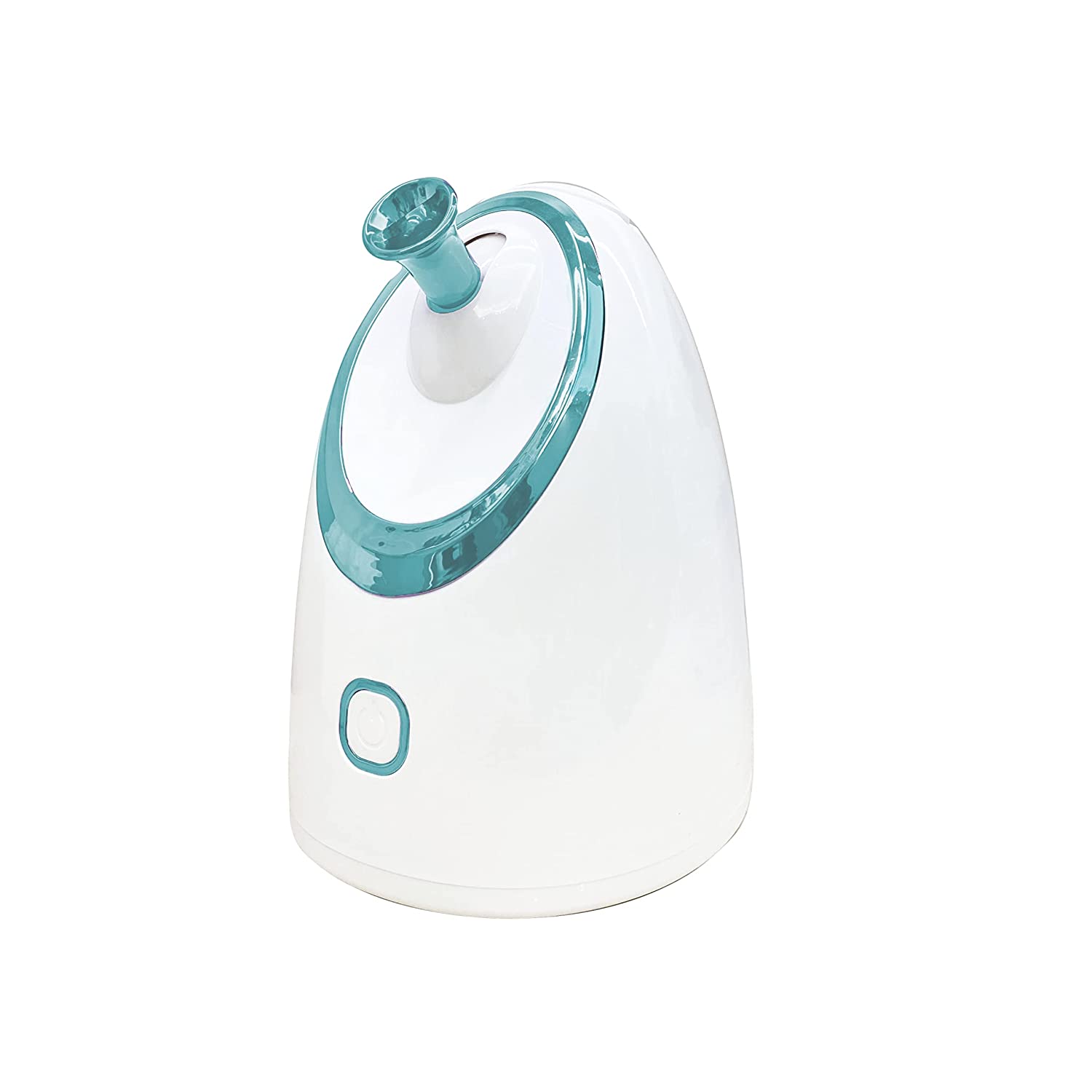 Check Price on Amazon
This facial steamer is an innovative skincare solution that penetrates your skin up to 10x more effectively with its advanced nano-ionic steam technology. Use this steamer to enhance your medical symptoms such as cold, fever and congestion.
You may also safely enhance your skincare routine with the added convenience of the separate compartment for essential oils or vapor rubs, and the auto cut-off feature for secure operation.
Benefits
Nano-ionic steam technology for improved effectiveness in penetrating the skin compared to basic hot water steamers.
Environmentally friendly, non-toxic and non-irritating ABS material used in manufacturing.
Separate compartment for incorporating essential oils or vapor rubs to enhance the streaming experience.
Auto cut-off feature for safety, ensuring that the appliance shuts off when the water tank is empty.
Drawbacks
Limited to a working time of only 10-15 minutes per session, which may not be sufficient for extensive skincare routines.
The device may require frequent refilling of the 100 ml tank, especially for users who prefer longer or multiple steaming sessions.
Dr. Amgenic Steam Vaporizer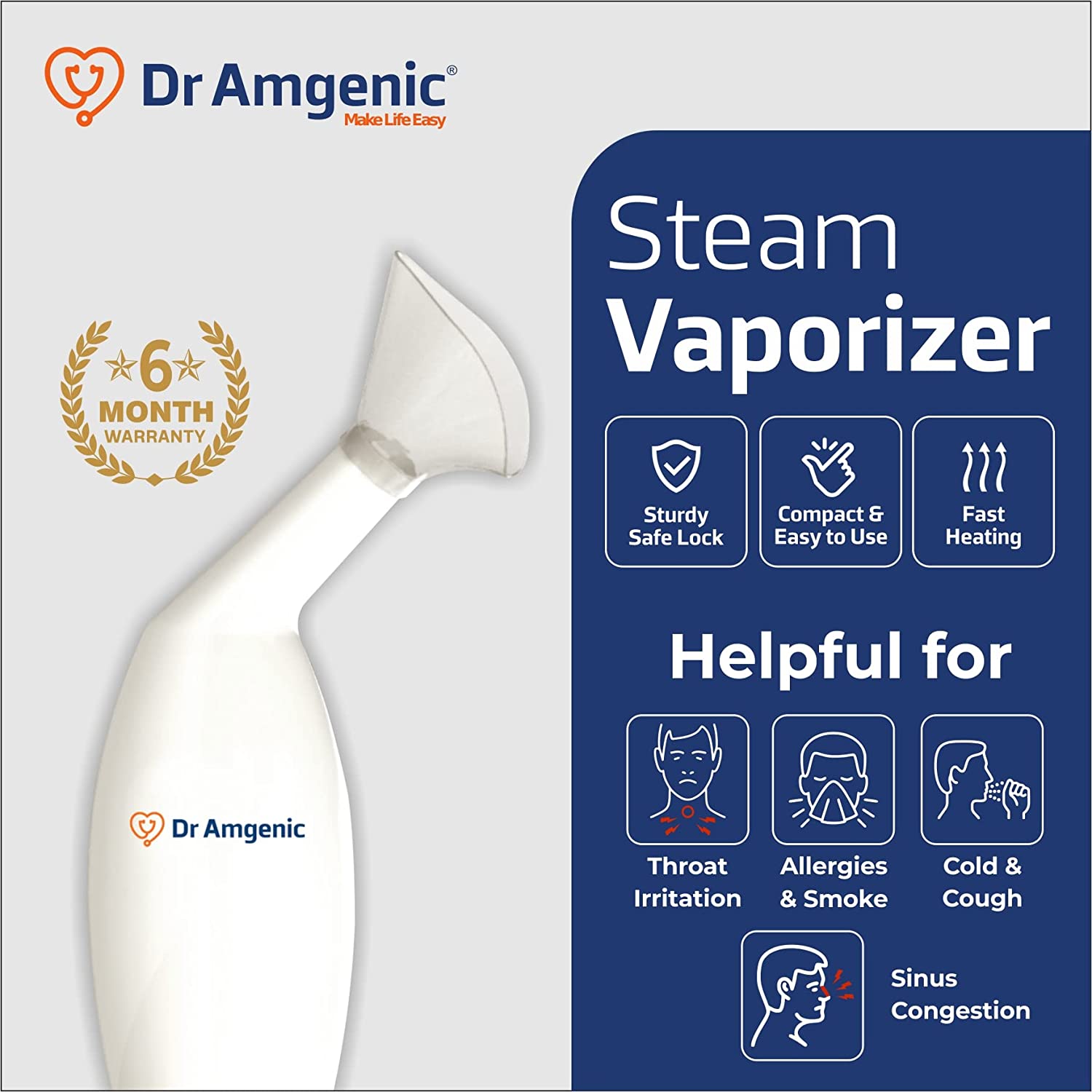 Meditive Facial Steamer is a versatile and compact multitasker for all your facial and respiratory care needs. Designed to alleviate a range of ailments, this handy device is perfect for treating colds, bronchitis, sinusitis, and more.
Enjoy the relaxing sensation of gentle steam mist opening up your pores, leaving your skin feeling refreshed and rejuvenated. With its quick heating capability and child-safe features, this steamer is ideal for the whole family.
Benefits
Effective in treating a range of conditions, including colds, bronchitis, sinusitis, asthma, and more.
Steam mist helps open pores, offering deep cleansing and protection against acne and pimples.
Fast heating technology ensures the device is ready to use quickly and efficiently.
Child-safe design and sturdy lock ensures the whole family can enjoy the benefits safely.
Drawbacks
Continued use may cause wear and tear of internal components, potentially reducing longevity.
How To Pick The Right Steamer?
If you're experiencing symptoms of cold or cough, using a steamer can provide quick and effective relief. Steam therapy can help alleviate congestion, soothe irritated airways, and loosen mucus in the respiratory tract. But with so many different types of steamers on the market, it can be challenging to choose the right one. Here are a few things to consider before you buy a steamer:
Size
The size of the steamer is an essential factor to consider when choosing the right one for your needs. If you plan to use the steamer at home, a larger tabletop model may be more suitable, as it can produce more steam and be used for longer periods. If you plan to travel with the steamer, a handheld model may be more convenient.
Features
Some steamers come with additional features that can enhance their effectiveness. For example, some models include aromatherapy functions that allow you to add essential oils to the water, which can help relieve congestion and promote relaxation. Other features to look for include adjustable steam settings, automatic shut-off, and easy-to-clean components.
Safety
When using a steamer, safety is a top priority. Look for models with built-in safety features such as automatic shut-off or overheat protection. Make sure to follow the manufacturer's instructions for use carefully, and always supervise children when using a steamer.
Price
Steamers come in a range of prices, from budget-friendly handheld models to high-end tabletop models. Consider how often you plan to use the steamer and how much you're willing to spend before making a purchase.
By taking the time to evaluate your needs and preferences, you can find a steamer that provides effective relief and fits your budget. Remember to always follow the manufacturer's instructions for use and prioritize safety when using a steamer. With the right steamer, you can breathe easier and feel better in no time.
Frequently Asked Questions
1. What is the cost of a steam vaporizer in India?
The cost of a steam vaporizer ranges from Rs 1000/- to Rs 3000/- maximum. Depending on the brand, quality, and usage, the prices may differ.
2. How to use a steamer for inhalation?
Follow the simple steps below to effectively use the steamer at home:
Firstly, add clean water into the small tank of the inhalation device.
Add additional relievers like essential oils for a smooth aroma.
Plugin the vaporizer to a power source and wait for the vaporization.
Start inhaling the purified air to cure a cold and breathe comfortably.
3. How to clean a steamer?
It is essential to clean the steamer regularly for a healthy lifestyle. If the device is kept uncleaned, harmful bacteria and viruses will accumulate and result in sickness. Here is the procedure that everyone must follow to clean the steamer:
After usage, allow the steamer to cool down for 15-20 minutes.
Discard the hood and vent.
Do not immerse the steamer base in water or any other liquids.
Now, wipe the device and its attachments thoroughly with a clean cloth.
4. Does Steam inhalation fight against Covid-19?
Nope! Steam inhalation is a method used only to treat colds, throat pain, cough, and headache.
5. Which steamer is best for cough and cold?
Of all the popular brands, HealthSense FS 550 Steam Inhaler is the perfect choice to treat cough and cold. It is made of fine-grade ABS plastic material to ensure long life and its lightweight nature makes it easy to carry.
Final Thoughts
Apart from taking the role of facial steamers, these sterile appliances also double up as steam inhalers, towel warmers, nozzle inhalers, room humidifiers, nose vaporizers, and nasal steamers. With one of these multipurpose devices at home, you just need some plain water and a couple of essential oils to stay flu-free and feel beautiful.