There's nothing quite as satisfying as a good sandwich – and now you can enjoy one at home, without having to go out to a restaurant. With the proliferation of sandwich makers in India, it's now easier than ever to make your own delicious sandwiches. In this article, we'll take a look at the best sandwich makers in India. From portable models that you can take with you anywhere to sandwich makers that make gourmet sandwiches, we have everything you need to make the perfect sandwich at home. So what are you waiting for? Start making your favorites today!
For all the healthy eaters who like multigrain bread with everything healthy stuffed inside, this snack can be the best option for those who live on quick bites. Let's not even start discussing the unlimited types that one can make at home. For the same reason, it is one thing that's essential in your kitchen every day. To help you choose the best one, here's our comprehensive guide for picking up the best.
Our Top Picks:
| | |
| --- | --- |
| Best Overall | Philips |
| Best Budget-friendly | Pigeon Egnite |
| Best For Quality | Morphy Richards |
| Best For Easy to use | Prestige |
List of the 15 Best Sandwich Makers in India
Top 15 Sandwich Makers in India 
From simple and easy-to-use options to more complex and stylish machines, we have you covered! Read on for our list of the best sandwich makers in India for 2023.
Prestige PGMFB 800-Watt Sandwich Toaster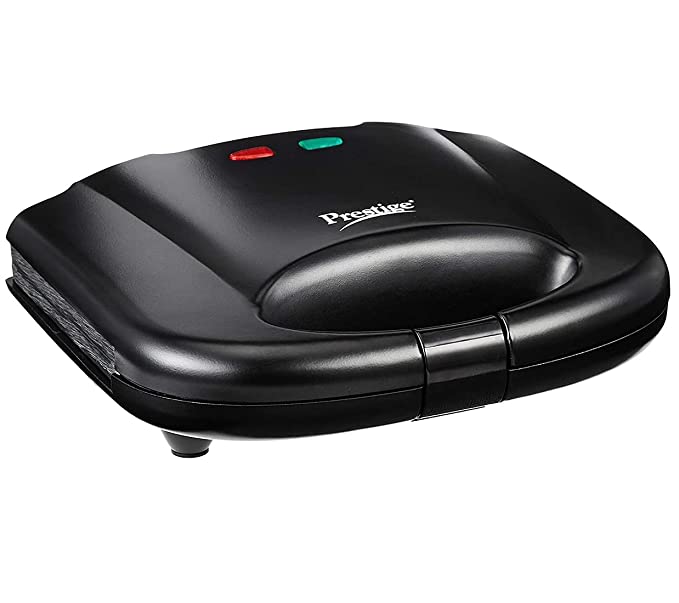 It is your standard product for a quick evening meal. Prestige has a name in the market, and most products live up to the mark. This one is a nonstick, anti-skid with a black body. The product is easy to use and doesn't require a lot of effort, but it's not ideal for big sandwiches.
What do we like about the Prestige sandwich toaster?
Comes with an ergonomic handle for easy use.
Offers a top-notch heat-resistance handle that prevents your hands from burning.
Consumes less power, and advanced non-stick and non-toxic plates.
Borosil 2000-Watt Grill Sandwich Maker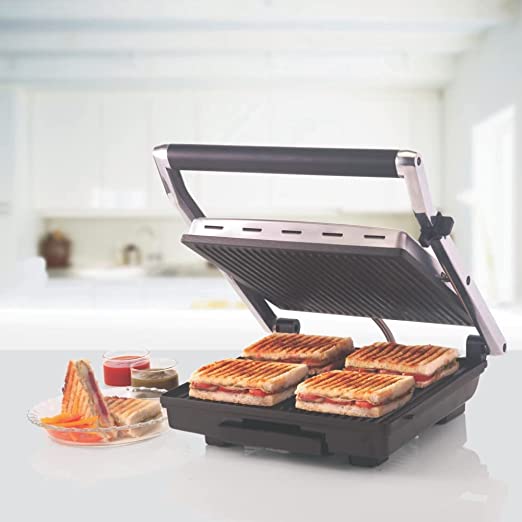 This 2000-Watt unit by Borosil offers plenty of power and features that make it perfect for making large batches of sandwiches. The sandwich maker's double heating system ensures even cooking throughout each sandwich. This means that your bread will be perfectly toasted and your fillings will be evenly seasoned. It also comes with an easy-to-use menu system that allows you to choose from a variety of preprogrammed recipes or customize your own recipe using simple controls.
What do we like about the Borosil sandwich maker?
Its oil collector tray helps you collect excess oil from your sandwiches while cooking.
The temperature control knob lets you customize your sandwich to your liking.
Has a sleek design that makes it a perfect addition to any kitchen, and is easy to clean.
Havells 800-Watt Grill Sandwich Maker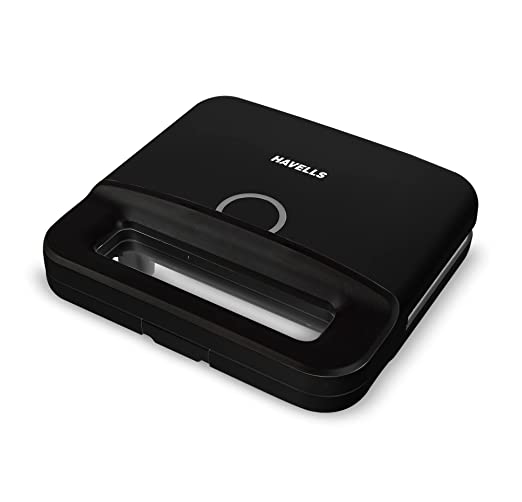 If you're trying for an inexpensive and best grill sandwich maker, this Havells 800-Watt machine is a fantastic option. It's ideal for small groups or gatherings because it has two plates that can each hold up to two sandwiches. It features a light indicator and one of the best cool-touch knobs available, as well as a food-grade non-stick coating plate. A sturdy die-cast aluminum grill plate is also included with the appliance for a variety of cooking.
What do we like about the Havells sandwich maker?
Comes with a top-notch heat-resistant bakelite body for the best heat resistance on the outer body of the maker.
It is easy to clean and offers a hinged lock system for safety.
Has the best temperature control system.
Morphy Richards 750-Watt 2-Slice Grill Toaster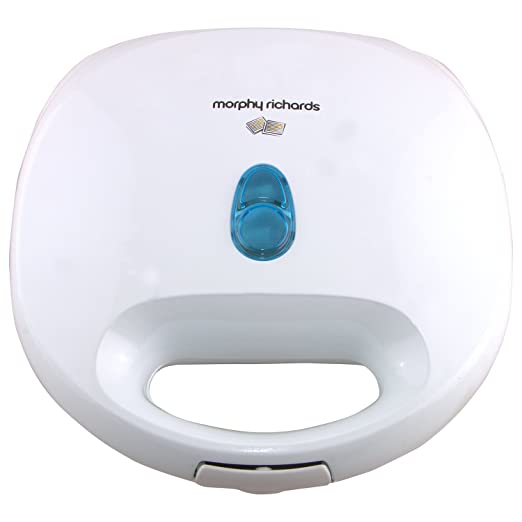 Morphy Richards has been a forever favorite brand among Indian audiences. It is one of the best breakfast machines as it is quick and easy to operate. The features will help you make it in a hurry or otherwise, without worrying about messing up the kitchen table. It comes with Oil Dripping and an anti-skid feature to avoid movement of the tool while making the sandwiches. You can also check out our latest list of Morphy Richards coupons for massive savings.
What do we like about the Morphy Richards grill toaster?
Offers non-stick plates that are easy to clean, and a neon light system that shows the toasting progress.
The best grill toaster with an overheating indicator system, and fast heating capabilities.
The front handle is best known for easy movements. and preheating feature makes it a top choice for a crispier outer toast.
PHILIPS HD 2393 820 W Sandwich Maker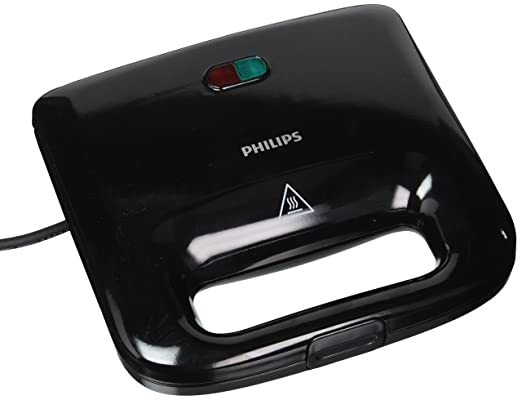 Another amazing product on the list is the Philips HD 2393 820 W. It has a sleek body and a rubber grip attached to it at the bottom to keep the machine in one place. This particular product is great if you want to grill a sandwich with cheese as the product has seal plates. This product comes with a cool handle and an additional button to turn the device on/off at ease.
What do we like about the PHILIPS sandwich maker?
Non-stick coating for easy cleaning and an 'On' and 'Off' switch that makes handling easy and safe.
Fast heating due to high power usage, and a handle that remains cool.
Light signal that shows the readiness of the device for cooking.
Borosil 1000-Watt Grill Sandwich Maker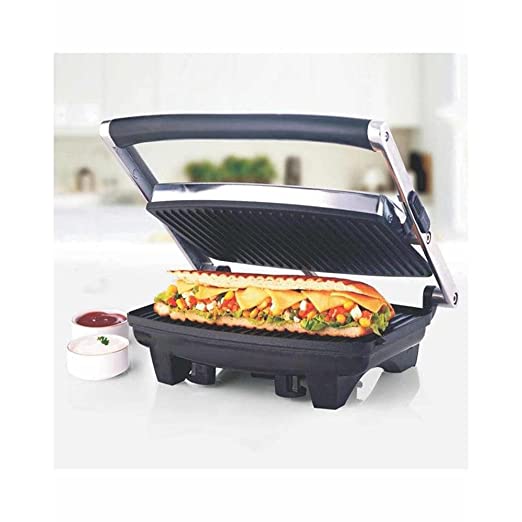 Borosil's 1000-Watt grill sandwich maker is a great option for those in search of a high-quality sandwich machine. It is designed to make delicious and easy grilled sandwiches that are sure to satisfy your taste buds. Plus, it has a locking mechanism so that it will not accidentally slide while in use.
What do we like about the Borosil sandwich maker?
Its stainless steel mirror finish body makes it look very sleek.
It is easy to use and its rubber feet help prevent it from slipping on the countertop.
Comes with an indicator display that lets you know when your sandwich is ready.
AGARO Elegant 1500-Watt Sandwich Maker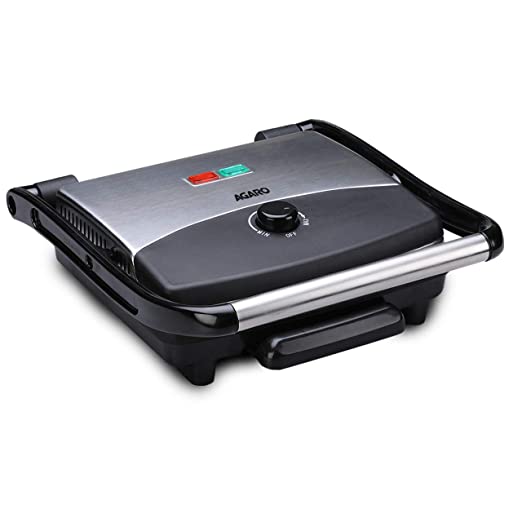 AGARO is a brand that provides high-quality kitchen appliances at an affordable price. The Elegant 1500-Watt sandwich maker by AGARO features non-stick grill plates, which makes it easy to prepare your favorite sandwiches without any hassle. The machine is compact and lightweight, making it perfect for busy households or small kitchens. Moreover, for those looking for a variety of deals, you can also take a look at our latest offers on kitchen appliances.
What do we like about the AGARO sandwich maker?
Comes with a build-in oil collection tray and an automatic thermostat with light indicators.
Offers a cool-touch handle, and anti-skid feet for extra sturdiness.
Not only does it have a grill plate that allows you to cook your sandwiches evenly, but its sleek design will complement any kitchen décor.
Nova NSG 2439 700 Watt Panini Grill Sandwich Maker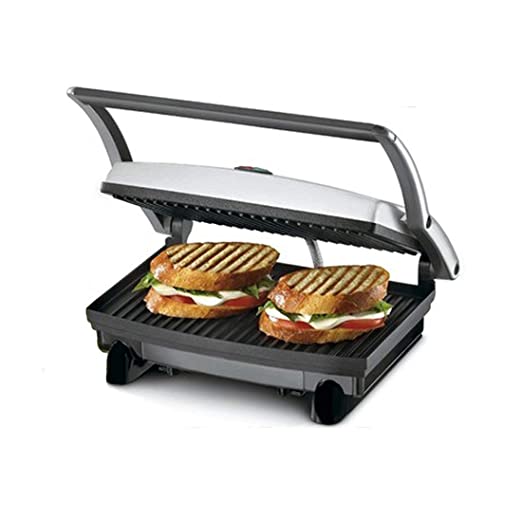 This ultimate product is everything that you need at home. It's a sandwich maker, a toaster, and a panini press, giving you the comfort to use it according to your needs. NOVA NSG 2439 700W Panini lets you grill your chicken and paneer pieces, make that delicious cheese sandwich and even grill burritos to perfection. The device's body is big enough to hold two big bread slices and three to four skewers with kebabs. The best part about this product is that it has a fantastic touch body.
What do we like about the NOVA Panini grill sandwich maker?
Has one of the best efficient grilling systems.
It seals and grills the sandwiches with ease due to its hinged lock system and fixed grill plates.
One of the main benefits is its long power cord length of 1.2 meters.
Cello Toast-N-Grill Plus Sandwich Maker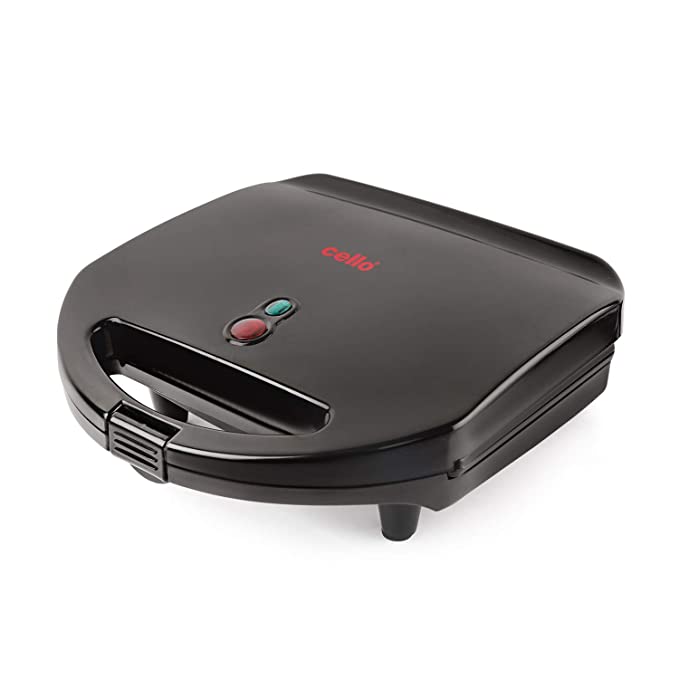 The Cello Super Club Toast-N-Grill Plus Sandwich Maker is ideal for creating mouthwatering sandwiches, hassle-free. This sandwich maker features a durable die-cast aluminum body that's nonstick, meaning your sandwich will come out without any oil residue. In addition, the heat-resistant bakelite ensures your food remains hot even after prolonged baking times. Best of all, it also has an easy-to-use button system that makes creating your masterpiece simple and fun.
What do we like about the Cello sandwich maker?
Has a sleek black finish that is sure to impress.
It comes with light-up indicators that make it easy to understand what is cooking and when it is done.
There are numerous cooking options that let you customize your sandwich exactly the way you want it.
Inalsa Easy Toast 750W 4-Slice Sandwich Toaster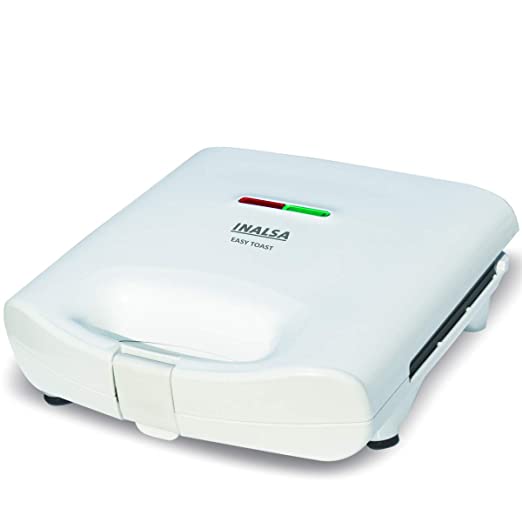 Perfect for everyday use at home, Inalsa Easy Toast 750W 4-Slice Toaster comes with a cool body and temperature indicators to help you to taste the perfect munch for a quick evening snack grab. This easy-to-use product has easy locking features and nonstick coated plates. The machine has vertical storage, and it can easily make two large ones at a time.
What do we like about the Inalsa sandwich toaster?
It is shockproof and heat resistant, making it great for those times when you need your bread toasted quickly but don't want to risk burning yourself.
Has an automatic thermostat that makes sure your toast is cooked evenly and doesn't come out too dry or burnt.
Its quick heating system ensures that your bread gets perfectly grilled every time.
Pigeon Egnite Sandwich Grill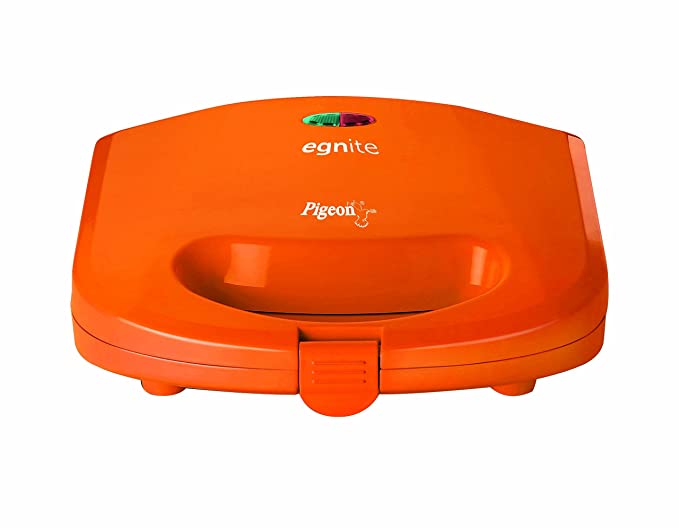 Pigeon is not unknown to Indian households for its extraordinary performance. This brand has offered multiple appliances that have time and again proved their quality. Pigeon Egnite Sandwich Grill is one such product that is just the best for making perfect sandwiches. It has a heat-resistant body along with an indicator to help you serve the snack grilled to perfection.
What do we like about the Pigeon sandwich grill?
The nonstick grill plates make it easy to cook your sandwiches without having them stick to the surface.
The grilling function makes it possible to cook your food in an even and delicious manner.
The preheat function makes it easy to get started right away no matter what time of day it is.
NOVA 1800W 4-Slice Grill Sandwich Maker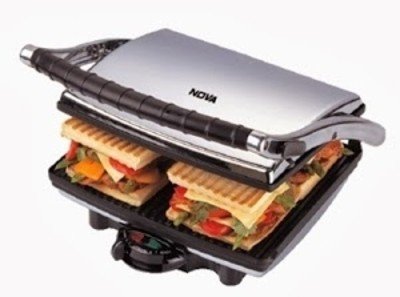 Nova is a brand that's created its space in the hearts of people. You can either grill two heavily filled sandwiches or keep four with light stuffing to get them grilled. The maker has nonstick plates and a temperature control knob to help you get the perfect crisp.
What do we like about the Nova sandwich maker?
The non-stick Teflon plates make it incredibly easy to cook your bread without having to constantly wipe down the unit.
Offers the industry-best thermostat control that ensures that your food remains at the correct temperature throughout the cooking process.
Cooks four slices of bread in a go, and folds up neatly so you can take it with you wherever you go.
Havells Toastino 2000-Watt Grill Sandwich Toaster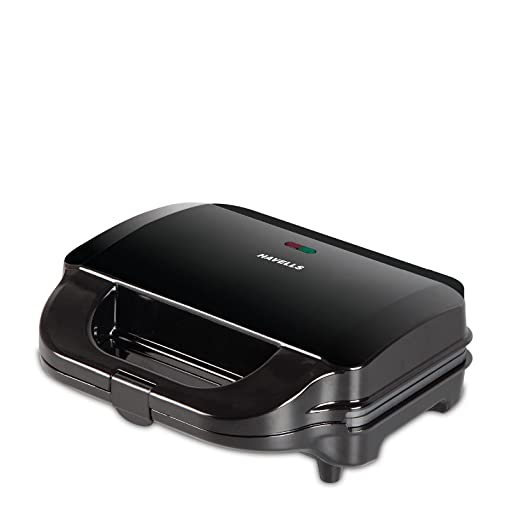 Havell's Toastino 2000W is again one of the best picks. This product comes in an attractive stainless steel body that looks elegant and beautiful. The openable grill plates make it easy to clean the dishes after grilling a fully-loaded cheese sandwich. Another attractive feature is the extra oil collector that collects the excess oil and prevents dripping. It also has a temperature control knob that prevents over-grilling and gives just the munch you wanted.
What do we like about the Havells sandwich toaster?
It has three interchangeable plates that make it perfect for the pocket, grill, and sandwich variations.
The LED indicator indicates when the toast is ready so you don't have to wait long.
It is easy to clean, which means that cleanup will be quick and hassle-free. Plus, the durable construction ensures years of faithful service.
BAJAJ Majesty Grill Ultra Sandwich Press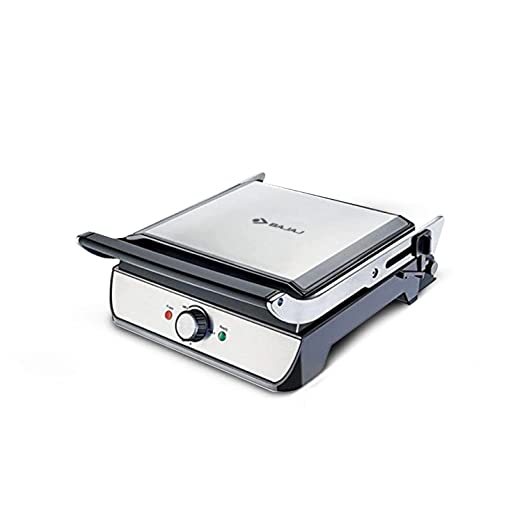 Pretty easy to use, Bajaj Majesty Ultra Grill and Open Contact Grill is a basic yet handy product for easy usage. The durable, stainless steel body makes the product attractive, and the neon indicators help you pick up when grilled to perfection. This one is a must-have in the medium price range in every household.
What do we like about the Bajaj sandwich press?
Has a drip collector bowl so you don't have to waste any oil.
Comes an open contact grill pre so your sandwiches will be evenly grilled every time.
Is easy to use and has an indicator that tells you when the power is on and your sandwiches are ready to cook.
Hamilton Beach Panini Press and Indoor Grill Sandwich Maker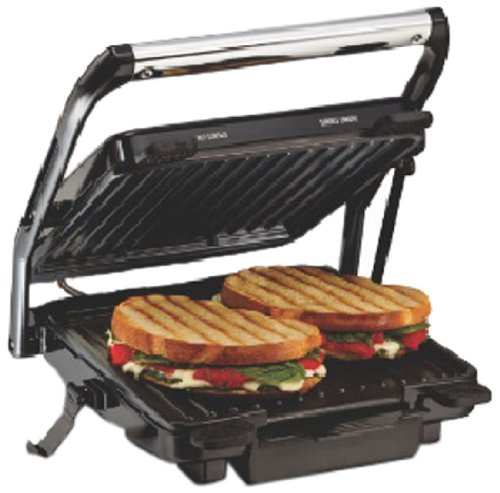 Hamilton's sandwich maker is perfect for grilling pizzas, open face, and thickly stuffed sandwiches. It comes with two skewers for kebabs and can grill your favorite kebabs to perfection within minutes and without putting in much effort. This product is the best buy at the price it comes, and it is a worthy addition to your kitchen top.
What do we like about the Hamilton sandwich maker?
With its removable nonstick cooking plates, this appliance makes it easy to clean up after your meal.
The low-fat cooking and drip tray make it easier than ever to create healthy and nutritious sandwiches without any added fat or calories.
Perfect grill system and does the cooking job in 10 minutes or less.
Types of Sandwich Makers
There are mainly two types that you can choose from. Depending on your requirements and preferences, you can pick the one that's precisely what you need. Take a look before you settle on buying yours.
Four Triangle
The four triangles are used to make sandwiches and cut them into triangles. This kitchen appliance is easy to use and maintain. It's best for you if the needs aren't particular.
Panini Press
Panini Press makes grill sandwiches and other snacks like Tikkas, etc. It has two grill plates that are useful for all kinds of grilling purposes. Priced at a little higher side, this might make you think twice before making the payment, but the product is worth every penny.
Pro Tip: You can stuff your sandwich with your favorite filling, as much as you like as a Panini Press is best for grilling or making the big stuffing, unlike the Four Triangle Sandwich maker.
Guide to Buying Perfect Sandwich Maker
There are a lot of things that you need to check and look into before buying it. There are so many kinds available in the market that we usually get confused about which one to pick. Don't worry. Here's a detailed guide to help you bring home the best one. Look out for these features before buying –
Heat Resistant Body
It's essential to have a product that's heat resistant. It will not only help you prepare the best munch without burning your hands but will be very easy to use for every member of the family, irrespective of age.
Nonstick Coating
Your kitchen appliance might make you cry if it doesn't have a nonstick coating. The plated layer needs to be nonstick to avoid sandwiches from getting stuck on the plate if there's cheese or mayo.
Dishwasher Safe
Just like any other kitchen appliance, the maker also needs to be washed after use. Keeping the machine clean is very important as the germs might stick to the cooking plates and cause health problems. It's imperative to choose one dishwasher resistant as there are so many appliances that tend to stop working if washed with water.
Heat Setting
Considering sandwiches are a quick snack, there are high chances that you might end up burning them in a hurry while making light toast. It's essential to look for a product with a temperature control panel to monitor and adjust the temperature according to the requirements.
Proper Latch
A product without a proper latch is an invitation to everything scary. Without a stable and stiff latch, there are chances that you might burn your hands as well as the food item, and that's not what you want.
Warranty
We know that you manage your appliances well. The product needs to come with a warranty to replace or get it fixed if it gets out of order.
How to Use a Sandwich maker
It's one of the most suitable kitchen appliances for bachelors, students, and corporates for whom grabbing breakfast is run-of-the-mill. It is an easy-to-use tool that doesn't consume a lot of storage and is also easy to clean and keep. You need to follow these steps to operate it properly-
Wipe it before and after use with a clean cloth or a thick tissue.
A nonstick product doesn't require greasing oil/butter, but in case you have one that's not nonstick, paint it with oil before placing it on the plate.
Keep a check on the temperature to avoid over-grilling.
Do not put it under cold water when it's hot.
Keep a check on the latch before turning on the power. Also, check the handle for heat in case you do not have a heat-resistant device.
Top 12 types of sandwiches from around the world
Bookmaker
Broadway
Checkerboard
Closed Tea
Double Decker
French
Grilled
Mosaic
Open
Pinwheel
Plain
Ribbon
Sandwich Cake
FAQs
Which brand is best for sandwich makers?
While both brands have their advantages, Morphy Richards may be a better option if you are looking for a reliable sandwich maker. This brand is known for its high-quality construction and long warranties, which means that you can count on it to last. Additionally, the sandwiches made with this appliance are typically very tasty and moist. Philips also makes excellent sandwich makers, but its reputation might not be as well-known as Morphy Richards'.
How much does a sandwich maker cost in India?
A sandwich maker can vary in price depending on the brand and features, but a basic model costs around Rs 1,000. If you are looking for an electric sandwich maker that is affordable and easy to use, then we might recommend the Prestige PSMFD 01 800W Sandwich Maker.
What are the key features to look for in a sandwich maker?
A sandwich maker should have a variety of sandwich recipes to choose from.
The machine should be easy to use and have a clean design.
It should be sturdy and have a non-stick coating so that your sandwiches will come out nice and fluffy.
It should have indicator lights that notify you when the machine is ready to make your sandwich.
We hope you enjoyed the list of our best sandwich makers in India that are perfect for everyone. From easy to use and simple to clean sandwich makers, to those with more sophisticated features – we've listed all of them! Please let us know if there are any products that you appear to make to the list in the comments. Thanks for reading.