Are you tired of spending few more minutes in front of the mirror trying to conceal those dark circles that earned you the nickname "Panda girl"?
Despite taking good care of your skin, dark circles can haunt you like a nightmare each day. While it is difficult to zero in on the exact cause behind the darkening under the eyes, factors like irregular sleeping habits, harsh pollutants, and hectic lifestyles can be the culprits behind it.
The undereye skin, known as the periorbital skin, is very delicate. It can get damaged or pigmented when there is a formation of excess melanin pigment. However, with the right undereye product, you can put an end to your panda eyes situation. To help you maintain healthy undereye skin and keep pigmentation at bay, we have compiled a list of the ten best undereye creams available in the market.
List of Top 10 Undereye Creams To Buy In India 2022
Last update was on: January 27, 2022 4:52 pm
Mamaearth Bye Bye Dark Circles Cream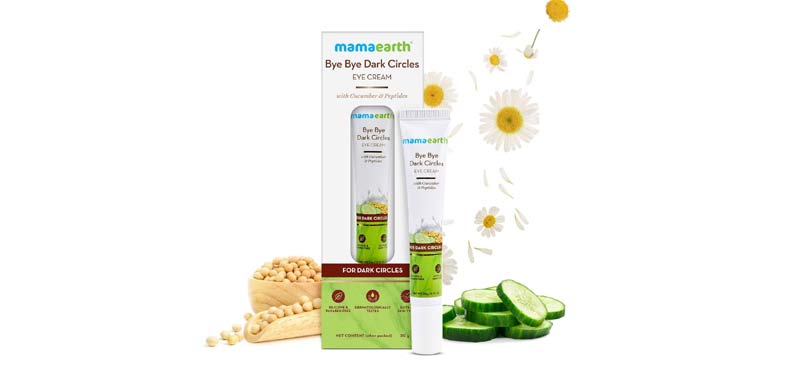 This undereye cream has the goodness of peptides. Cucumber extracts rich in skin tightening and lightening properties to reduce dark circles caused by pollution, stress, iron deposit, and melanin deposit. The nourishing and soothing properties of daisy and hawkweed extracts help diminish the darkness under the eyes and brighten it. The peptides in this cream repair and kindles collagen production to prevent skin damage.
Top Features
Comes in a sleek flexible tube with a tiny nozzle to fit inside your travel bags, purses etc.
Enriched with the goodness of bioactive ingredients
It undergoes strict dermatologist testing to assure safety for the skin
This cream is free from silicones and parabens that may induce hormonal changes in your body
This product is free from artificial ingredients like petroleum, SLS, sulfates and colors
Cons:
May not be suitable for all skin types
Note: The brand has lot of other beauty products that rank on top of their categories. Before checking for the products, check out the top coupons offered by Mamaearth.
Himalaya Herbal Under Eye Cream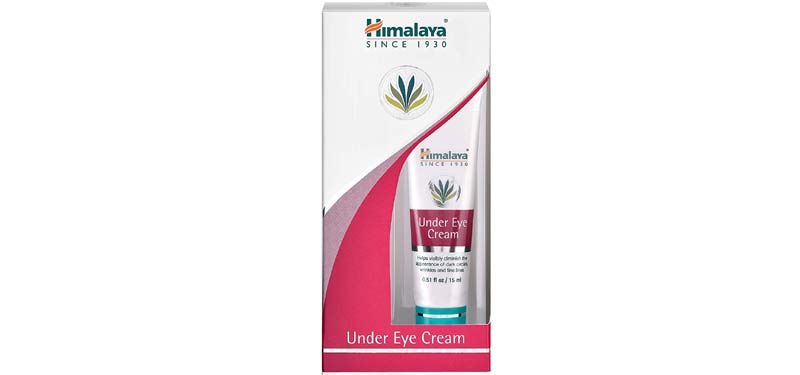 This undereye cream from the Himalaya brand has a safe and proven blend of herbs. It takes care of the delicate eye area. Apart from lowering the occurrence of dark circles, it also protects sensitive skin from the sun's rays. Regular usage of this eye cream will help moisturize and detoxify the skin under the eyes while reducing fine lines and wrinkles.
You might also check out the top discounts by Himalaya at our main website.
Top Features
Enhances the glow of undereye skin
Suitable for all skin types
Contains powerful ingredients like wheat germ oil, vitamin E and winter begonia
Offers visible results in just 4 weeks
This dermatologist-tested cream is hypoallergenic and comedogenic
This cruelty-free cream fights against laxity and scaling of eyes
It comes in travel friendly packaging
Cons:
It is not free from parabens
Re'Equil Under Eye Cream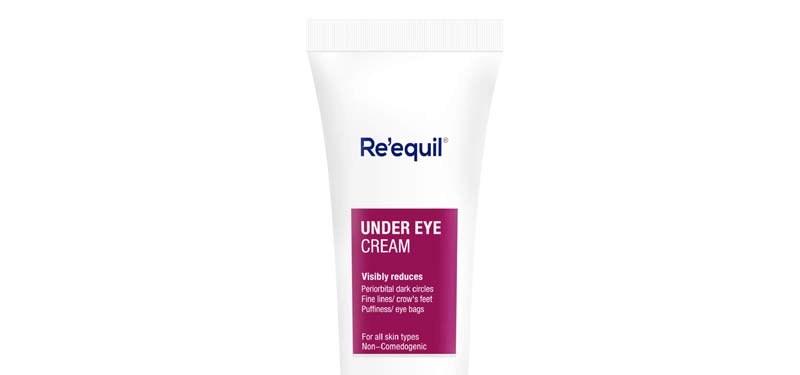 The Re'Equil under eye cream comes with a well-researched formulation created in a high-end facility certified by WHO-GMP. It is made using highly active ingredients like Chenopodium quinoa seed extract, hyaluronic acid, and lumiskin to minimize wrinkles, crow feet, puffiness, and sagginess. With consistent use, this undereye cream repairs periorbital pigmentation in red and blue.
Top Features
Formulated with efficient botanical extracts
Designed to rejuvenates the skin under the eyes
Created by scientists with clinically proven ingredients
This dermatologically tested products is free from SLS as well as parabens
Offered in travel friendly packaging
Reduces the signs of aging and stress
Cons:
Takes time to show the difference in undereye area
mCaffeine Naked and Raw Coffee Under Eye Cream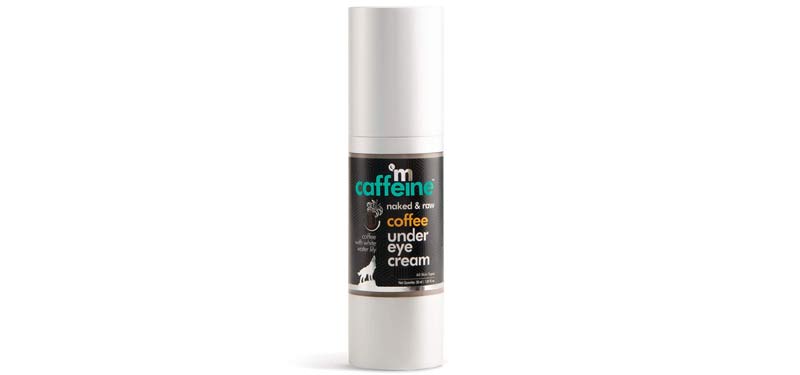 The undereye cream from mCaffeine formulated with pure and natural ingredients like Arabica coffee helps rectify the damage caused by free radicals. The fantastic blend of sweet almond oil, white water lily, caffeine, and vitamin E erases wrinkles and fine lines by hydrating the skin. This antioxidant-rich undereye cream also protects the delicate eye area from the sun's UV damage.
Top Features
It does not contain toxic substances and fragrance
Helps in de-puffing under the eyes
It is free from harmful parabens, minerals and SLS
This undereye cream is clinically tested and approved by FDA
It is a unisex cream
Pea-sized cream will be sufficient
Easy to apply
Cons:
The product for under eye area requires many days to show difference in undereye skin
Less cream quantity
It is not suitable for sensitive skin
St. Botanica Pure Radiance Under Eye Cream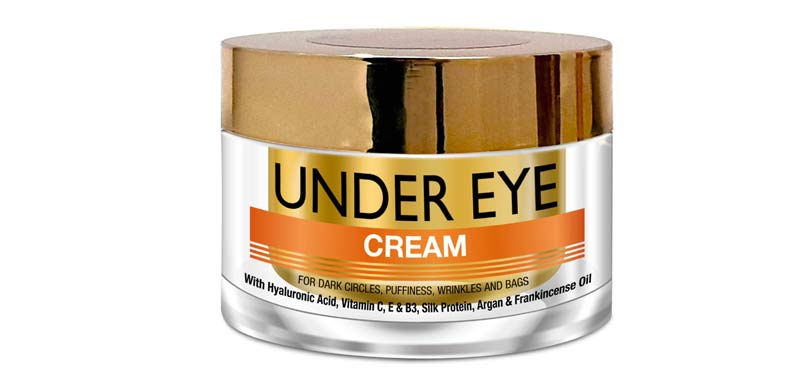 This product from the trusted brand St. Botanica gently hydrates and nourishes the delicate area around the eyes. Enriched with skin-friendly vitamins E, C, and B3, this cream can make your skin tone look even. Hyaluronic acid in the cream improves the moisture balance while preventing puffy eyes and dark skin. This cream with cucumber, gotu, licorice, and aloe vera can leave your under eyes youthful, bright, and pigmentation free with regular use.
Top Features
Developed for all skin types
Easy to absorb lightweight formula
Available in travel friendly packaging
This non-greasy undereye cream is a cruelty-free product
It does not contain harmful fragrance and parabens
It has nourishing ingredients like Frankincense oil and argan oil
Cons:
This cream takes a bit of time to show results
Comes in unhygienic tub pack
Bit pricey
Fine Care Dark Circles Eye Cream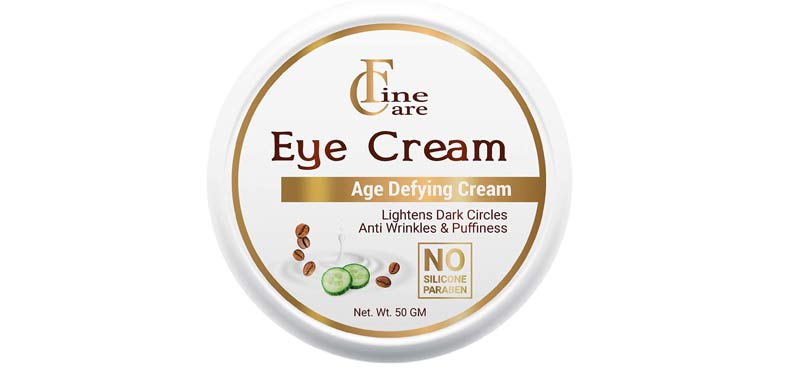 Delicate Care eye cream is enriched with the fine blend of nourishing antioxidant-rich oils of Frankincense, jojoba, and argan to boost and hydrate the undereye skin. It contains pure extracts of cucumber, vegetable glycerin, jojoba oil, vitamin E, and aloe vera to brighten and rejuvenate the undereye area. The presence of caffeine, vitamin B3, E, and C help the skin to remain soft, smooth, and young. It also has hyaluronic acid to promote the moisture balance consistently to repair and protect the tissues.
Top Features
This cream can also get rid of dullness, dryness, fine lines, discoloration and uneven skin tone.
It is free from toxins and chemicals
The cream does not contain any silicones, mineral oil, sulfates and parabens
This lightweight cream has non-sticky base and alleviates puffiness
It is PETA certified product that uses only natural ingredients
Cons:
Users feel the product is expensive
Quantity of the cream is less
Comes in tub packaging
Mamaearth Natural Under Eye Cream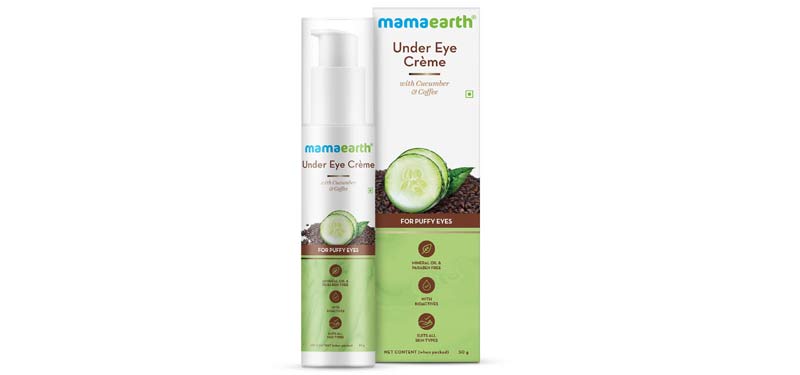 This product from the renowned brand, Mamaearth is developed with pure organic ingredients, making it a safe choice for your skin. The presence of lily extracts in the cream improves and strengthens skin elasticity. It contains caffeine to cut down the development of eye bags and puffiness. The addition of cucumber extracts enhances the antioxidant property to combat premature aging signs while alleviating the damages caused by free radicals.
Top Features
It is a non-sticky and lightweight cream
Easy and mess-free application
Does not have any SLS and parabens
It is free from phthalates and mineral oils
Cons:
It is not fit for all skin types
The Moms Co. Natural Age Control Cream For Under Eye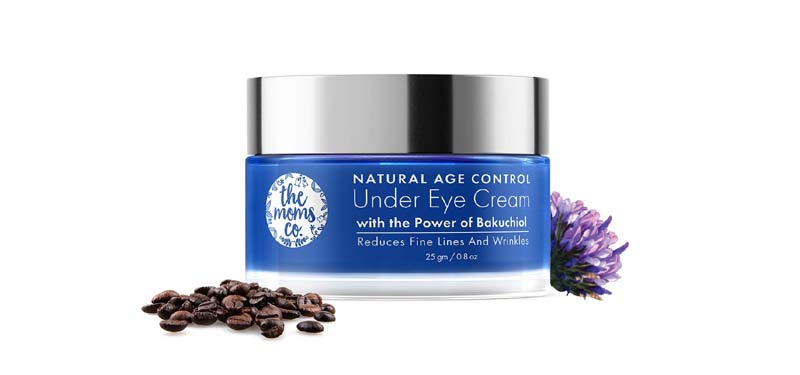 The Moms Co. undereye cream is specifically created as an apt solution to reduce dark circles, wrinkles, and fine lines while enhancing the eye contour's look. This Natural Age cream is formulated with a Retinol's natural alternative called Bakuchiol, along with five plant extracts, Hyaluronic acid, and niacinamide to promote undereye health. It has the goodness of cucumber extracts rich in caffeic acid and vitamin C to cut down water retention and lower puffiness and swelling.
Top Features
It has vegan ingredient derived from Babchi plant
This cream has non-irritating formula, which makes it ideal for sensitive skin beauties
This product can be used during day and night
Pregnant women and nursing mothers can use this dermatologically tested undereye cream
This PETA certified and Australia Allergy certified product doesn't react with the UV light
Cons:
This cream has slightly sticky consistency
May not be suitable for sensitive skin
Note: The effective Moms Co. coupon codes are available at GrabOn using which you could save further on the brand's website.
RedRoot Vitamins Rooted Under Eye Cream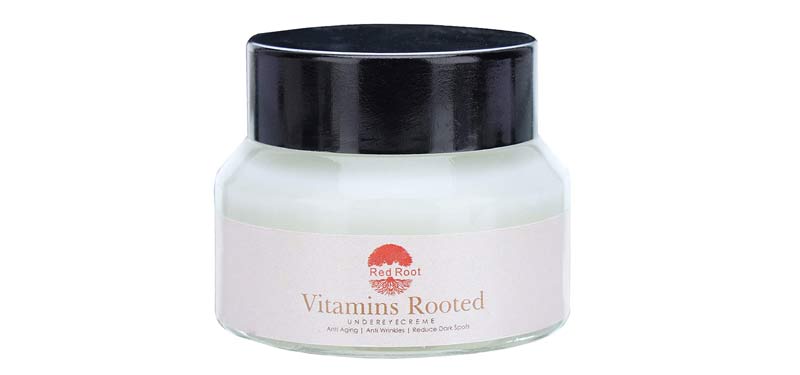 This undereye cream is a specialist to deal with eye wrinkles, dark circles, fine lines, puffiness, eye bags, and dryness. This product is loaded with the goodness of saffron extract, Xanthan gum, jojoba oil, aloe vera, vitamin E, and carrot extracts to brighten up your eye contour area. It contains Vitamin C and hyaluronic acid to draw in moisture and lock it effectively.
Top Features
This cream is formulated with natural ingredients to slow down the signs of aging
It has a unique formulation that enables the undereye cream to get absorbed quickly like a gel product
It can be used under your regular makeup or alone to prevent pigmentation of undereyes
This dermatologist tested product has a non-comedogenic formula
It is also free from dye, fragrance, oil, etc.
Cons:
The cream is offered in a plastic tub packaging, which can be unhygienic
Olay Eyes Ultimate Eye Cream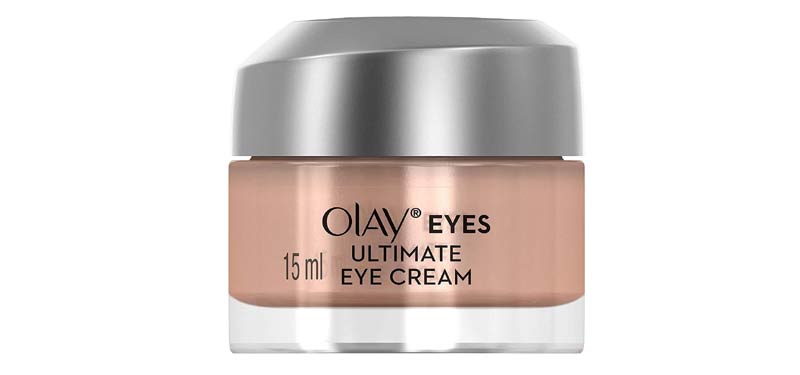 You can now fight against puffy eyes, wrinkles, and dark circles with the Olay Eyes cream that assures instant results. It is a three in one product that takes up the roles of a de-puffer, de-wrinkler, and de-circler to keep the undereye area smooth and bright. It is loaded with vitamins and peptides to renew the skin and lowers puffiness by penetrating the skin layers.
Top Features
It comes with a powerful formula charged with vitamin B3 and peptides to work on the skin effectively
This cream is developed with the unique color correcting technology of Olay to assure excellent results within a short period
It can be used as a concealer under makeup
Cons:
Regular users of this Olay cream feel that it is on the pricier side
With this, we wrap up our list of the best ten undereye creams that can brighten up the skin while preventing damages and pigments. These products are formulated with nourishing ingredients that are efficient enough to hydrate the delicate area under the eyes. For stubborn dark circles, chose undereye creams with ingredients like retinol, peptides, or niacinamide to see a visible difference. Most of the creams mentioned above are suitable for all skin types and are dermatologically tested. Be it dark circles or puffy eyes. These undereye creams can help you bid goodbye to such issues within a few weeks.