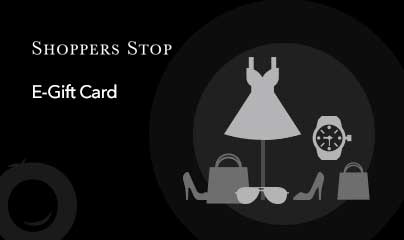 Shoppers Stop Gift Card
7 Gifting Options
1 Active Offer
i
Shoppers Stop Gift Cards Info
Ongoing Gift Card Offers
Purchase giftcard using PayPal & get 50% cashback (Maximum cash back Rs. 100) by PayPal. Limited time offer for new users. Cashback will be credited within 5 days of transaction. T&C
Are you looking for the perfect gift for your loved one? There are numerous options out there but there is one way to make sure it is something that they will love. The Shopers Stop Gift Cards have made gifting easy and more convenient. Shoppers Stop Gift Cards provide you the opportunity to choose a gift that your loved ones can customize or use it according to their wish. Shoppers Stop gets you the best of fashion accessories and apparels that you and your dear ones will appreciate.
Shoppers Stop Gift Voucher
type
value
you pay
savings
₹100

₹100

--

buy now
₹250

₹250

--

buy now
₹500

₹500

--

buy now
₹1000

₹1000

--

buy now
₹2500

₹2500

--

buy now
₹5000

₹5000

--

buy now
₹10000

₹10000

--

buy now
About Brand
FAQs
terms & conditions
One Stop Shop For Everyone
Shoppers Stop offers its customers with a wide range of products in almost every department. You will never have to look back to shopping from different stores again. It has a wide selection of brands and items that will make you one-stop shop right there! It has numerous products and apparels in Women Category, Men's Category, Kids Category, Beauty, HomeWare, Brands, Gifts Combos and a lot more. You must check their website if you're looking for the perfect gift and want to really please your loved and dear ones.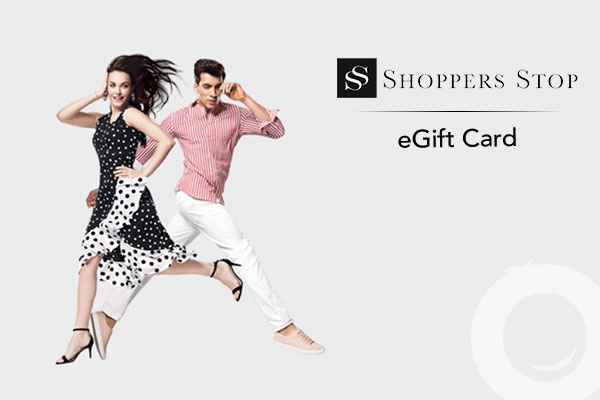 Latest Fashion at Your Prices
Shoppers Stop offers you the best of fashions and trends in their store and getting the most suitable gift for your loved and dear ones that adore fashion is not a problem anymore! Get them something they will definitely love with Shoppers Stop e-Gift Cards. They can choose from a wide variety of apparels and accessories, all sorted in accordance with the current fashion and trends that will not only make their search easier but also keep them updated about the upcoming and latest trends in the industry. With a whole another level of quality of products and a plethora of options to choose from, Shoppers Stop becomes the number one option to get a Gift Card for your dear ones! Check them out now.
Best Deals and Discounts
Get the best deals, offers and discounts on the products including apparels and accessories offered by Shoppers Stop through their Gift Cards from GrabOn. Find the best and most suitable deal for yourself and loved ones out there!
+ read more
Shoppers Stop Gift Card FAQs
1. What does the Shoppers Stop Gift Card do?
With Shoppers Stop you can get the shopaholic out of you and with a Shoppers Stop gift card you can do it with a little less guilt. A lot of people refrain themselves from shopping, give them one and see its wonders. With the gift cards that can be given to your loved ones or yourself for a later buy, you indulge in more creativity and individuality. Something with which one can pamper themselves with.
2. How do I buy Shoppers Stop Gift Card?
To purchase a Shoppers Stop gift card follow the below steps:
Go to:https://www.grabon.in/shoppers-stop-gift-cards/
Choose the desired card from the list.
Choose the required denomination for your gift card.
Available denominations range from Rs 100 to Rs 10,000.
Make the payment. You can pay via credit card/debit card/Net-banking.
3. Till when is my Shoppers Stop Gift Card valid?
Please refer to the terms and conditions to know the validity of your gift card.
4. What type of Shoppers Stop Gift Cards are available?
We provide e-Gift Cards as well as Physical Gift Cards.
5. How will I receive my Gift Card(s) after purchase?
You'll receive your Shoppers Stop gift card in your email within 24 hours from the time we receive your payment. As for physical gift cards we can make arrangements to get them delivered to your doorstep.
6. How can I redeem my Shoppers Stop Gift Card?
Choose the pay by Shoppers Stop gift card option and enter your 16 digit Shoppers Stop gift card number and the corresponding 6 digit PIN number while making the payment of your order to redeem your gift card.
7. Can I use my gift card on the Shoppers Stop mobile app?
Yes, you can use the Shoppers Stop gift card online as said provided merchant has an app.
8. Can I use multiple Gift Cards during one purchase?
Yes, you can use multiple Shoppers Stop gift cards with one purchase.
9. What happens if the transaction amount is lower than the balance in my Gift Card?
Shoppers Stop doesn't allow partial redemption so you can use the gift card only once the rest of the gift card balance will be void.
10. If I cancel my purchase or booking what happens to the Gift Card that I have used?
You have to check with the Shoppers Stop customer support for the available options of repayment.
11. Upon applying my Gift Card the transaction failed. But the amount has been deducted. What do I do?
In such a case reach out to us as soon as possible and we will look into the matter and revert accordingly.
12. What are the customer support details?
Drop us a mail at giftcards@grabon.in or call us at 7997692233 and our team will get back to you.
+ read more
E-gift voucher is redeemable for merchandise at Shoppers Stop, Shoppers Stop Airport Stores, HomeStop & Mothercare* (*Operated by Shoppers Stop Limited) within India.
This e-gift voucher is redeemable online at the Shoppers Stop website i.ewww.shoppersstop.com
Purchase of Mobiles, Mobile Phone Accessories, Cameras, mp3 players, laptops, 22K & 24K Gold Jewelry & Gold Coins of any Jewelry brand is not allowed through this e-gift voucher.
E-gift voucher is not redeemable for cash or credit nor can be exchanged for a gift voucher/Gift card.
E-gift voucher cannot be reloaded.
Only a credit note shall be issued for part utilization of the e-gift voucher.
If the e-gift voucher is lost or stolen, neither will a new e-gift voucher will be issued nor will the money be reimbursed in any manner. No duplicate E-gift card will be issued.
Shoppers Stop Limited shall not be liable and responsible for any unauthorized and/or fraudulent purchase/s made using this e-gift voucher. The holder of this e-gift voucher shall be solely responsible for the safe custody of the e-gift voucher and the credentials mentioned on it.
E-gift voucher is property of Shoppers Stop Limited to whom it should be returned on request.
For balance enquiry & expiry, contact a cashier or SMS GCBAL16 digit e-gift voucher number to 56161 or log on to www.shoppersstop.com
Shoppers Stop reserves the right to amend the terms & conditions at its discretion without prior notice. Dispute/s subject to Mumbai jurisdiction.
Please carry a print out of e-gift voucher to the outlet to redeem it.
E-Gift Cards are normally delivered instantly. But sometimes due to system issues, the delivery can be delayed up-to 24 hours.
No returns and no refunds on gift cards, E- gift cards and gift vouchers shipped by woohoo.in. Please check the refund policy at http://www.woohoo.in/faq for further details.
Note: A convenience fee might apply on the purchase at the payment gateway.
+ read more