Ongoing Gift Card Offers
Purchase giftcard using PayPal & get 50% cashback (Maximum cash back Rs. 250) by PayPal. Limited time offer for new users. Cashback will be credited within 5 days of transaction. T&C
Purchase any gift card at GrabOn and get a unique code to avail Rs. 250 cashback on Lybrate – The digital healthcare platform. Know More
If you like the shop, then Jabong can be your haven, your one-stop shop for all your fashion needs and wants. It is known that different people have different tastes, so similarly people believe one thing can't be given to everyone. While in general sense that is true, a gift card can be given to everyone. We totally get that gifting can't be everyone's cup of tea and that's exactly why we are here to provide you with Jabong Gift Cards, an answer to all your gift-giving dilemmas. Never again do you have to sit and wonder what to gift them? Will they like your gift? With a Jabong Gift Card? The answer is always going to be yes. Yes, they'll like it.
Jabong Gift Voucher
type
value
you pay
savings
₹100

₹100

--

buy now
₹500

₹500

--

buy now
₹1000

₹1000

--

buy now
₹2000

₹2000

--

buy now
₹5000

₹5000

--

buy now
₹7500

₹7500

--

buy now
₹10000

₹10000

--

buy now
About Brand
FAQs
terms & conditions
Jabong Gift Cards for Everyone Only @GrabOn
Whether it's the most hardworking employee or your boss who has never failed you, or maybe your colleague who has done something extraordinary, rewarding them is always a good option. Jabong Gift Cards can be the perfect gift to reward talent and let them know they deserve it. So yes the next time you are planning to appreciate someone's efforts, you know a Jabong Gift Card is a great way to do that. Gift Cards work even when you have to say sorry, it promises an instant smile!
Why should I buy Jabong Gift Cards?
Jabong eGift Cards can be your best bet while gifting someone a meaningful gift! At Jabong, there's something for everyone, for every occasion, and definitely something new for every season. Gifting a Jabong Gift Voucher from GrabOn will not just make your dear ones smile but also give them the flexibility to pick what they want from the largest online shopping website. Jabong has multibrand collection for men, women, and kids along with accessories and home utilities.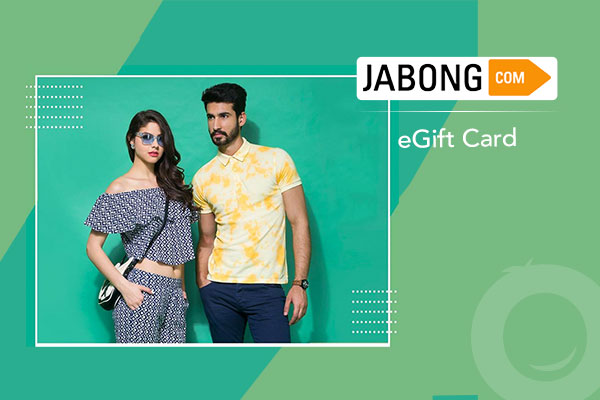 When can I use Jabong Gift Vouchers?
Jabong eGift Cards are suitable for every occasion and every individual. They say distance can make your heart grow fonder! Send your loved one Jabong Gift Vouch and let them know you love them beyond distance. Gift Vouchers from Jagong can be used as a gifting option for every occasion, from Birthday to Work Anniversary, Valentine's Day to Mother's Day, even No-Shave November! Just purchase a Gift Card from GrabOn and it will be sent to your loved one's email id.
Gifting with GrabOn
Time and again Gift Cards have been making life easier for both the sender and the receiver. You don't have to spend long hours choosing the best gift for someone special and live the disappointment when your gift doesn't fit! Now, you can buy a Gift Card on GrabOn and let your friends and family pick whatever they want. Freedom to choose gifts according to one's needs and like is something each one of us love.
1. How to buy Jabong gift card?
Here's a step-to-step guide for buying Jabong Gift Cards on GrabOn
Go to GrabOn Website and click on Gift Cards. Select Jabong
Once you choose the denomination for your Gift Card, enter the receiver's and sender's details. Click on Proceed to Checkout.
Verify your Mobile Number and choose a method of Payment from the given options
Once the Payment is completed, the Gift Card will be sent to the given email.
2. How to redeem Jabong gift card?
Follow these steps to redeem your Jabong Gift Voucher
Select the items for purchase and click on Checkout
While making the payment, click on Gift card
Enter the 16 digit gift card code and 6 digit Pin to redeem your gift card
The amount of your purchase will be deducted from the Gift Card Value and the balance value, if any, will be credited back to the Gift Card for future use, till the validity.
+ read more
What can a Jabong Gift Card do?
A Jabong gift card lets the gift card recipient buy the best of fashion. So whatever occasion is coming up, be it a birthday, anniversary, festival, even corporate occasions, it is all sorted. The Jabong gift cards are available in seven denominations.
Jabong Products You Can Buy
Clothes
Footwear
Bags
Watches
Beauty Products
Sports
Home Needs
Gift Card Queries and Redemption Details
How do I redeem my Jabong gift card or voucher?
Go to https://www.grabon.in/giftcards/jabong-gift-vouchers/
Select from a list of available Gift Card denominations.
Click on 'Buy Now'
Enter the recipient details
You can enter a personal message
Verify through SMS
Finally, proceed to Checkout and make the payment. You can pay via credit card/ debit card/ Net- banking.
The Jabong gift card will be sent to the respected recipient once your payment transaction is complete.
2. Can use I my Jabong gift card to withdraw cash?
No.
3. How do I use my Jabong gift card or voucher?
Once you have added products to your cart, place your order.
Confirm details
While checking out, Choose the pay by Jabong gift card option
Enter your 16 digit Jabong gift card number and the corresponding 6 digit PIN number while making the payment of your order to redeem your gift card.
4.I need more information on my gift card balance and expiry date, where do I look?
Go to the gift card section on Jabong
Enter your gift card 16 digit number and PIN
5. Can I can extend the validity of my Jabong gift card?
No.
Jabong Gift Card Purchase/ Transaction Related Queries
1. Can I use my Jabong gift card on other online stores?
No.
2. What happens if the transaction amount is lower than the balance in my Jabong Gift Card?
Since you can use the gift card only once the rest of the gift card balance will be void.
Customer support details
Drop us a mail at giftcards@grabon.in or call us at 7997692233 and our team will get back to you.
+ read more
Jabong Gift Card is issued by Qwikcilver Solutions Pvt. Ltd which is a private limited company incorporated under the laws of India, and is authorized by the Reserve Bank of India ("RBI") to issue such Gift Cards.
This Gift Card is redeemable only on Jabong marketplace platform.
This Gift Card shall have a validity period of 1 year .
Gift Cards cannot be redeemed for Cash or Credit and cannot be reloaded.
This Gift Card can be redeemed online against all sellers listed on www.jabong.com or Jabong Mobile App.
In cases where the order is cancelled or returned, the Gift Card amount shall be refunded to the source Gift Card.
The balance amount, if any, of the cost of the item being purchased by the Customer, after the discount has been availed, will have to be paid by the Customer at the time of purchase. If the order value exceeds the Gift Card amount, the balance must be paid by Credit Card/Debit Card/Internet Banking/Cash on Delivery.
GST may apply in addition to the unit sale price on certain products, but the final inclusive price will not exceed the 'M.R.P.'
All taxes, duties, levies or other statutory dues and charges payable in connection with the benefits accruing under the offer shall be borne solely by the Customer
If the order value is less than the amount of the Gift Cards balance, the outstanding balance (after deduction of order value) will reflect under the same Gift Cards and can be used for subsequent transactions.
Gift Cards can be redeemed by selecting the payment mode at the time of checkout.
You are solely responsible for the safety and security of the Gift Cards. Jabong.com/Qwikcilver Solutions are not responsible for any acts of omission or commission if Gift Card is lost, stolen or used without permission.
Once the Gift Card has been sent to the customer, then the customers are bound to protect the Gift Card PIN or Gift Card number. In the event of any misuse of Gift Card due to loss of any such confidential details due to the fault of the purchaser/customer, Jabong.com/ Qwikcilver Solutions Pvt. Ltd shall not be held responsible for the same and no refund can be issued against such Gift Cards. .
Jabong.com/Qwikcilver Solutions assume no responsibility for the products purchased using the Gift Card and any liability thereof is expressly disclaimed. Product warranty shall be regulated by the terms and conditions mentioned on the warranty card of respective products.
Validity of Gift Card cannot be extended, new Gift Card cannot be provided against the expired/unused Gift Cards.
Qwikcilver /Jabong reserves the right to cancel the Gift Card if the same have been found to be purchased with fraudulent means and/or the beneficiary/Know Your Customer ("KYC") details as per RBI Guidelines are found to be incorrect/insufficient. In such cases, the funds shall be credited back to the same source from where these were received.
You agree and understand that Gift Cards are a pre-paid payment Instrument subjected to regulations by RBI. Under the RBI guidelines, Jabong/ Qwikcilver Solutions Pvt. Ltd may be required to share KYC details of the purchaser/ redeemer of the Gift Card and/or any other information with relation to the purchase of the Gift Cards and/or transaction undertaken using the
Gift Card with RBI or such statutory authorities. Jabong/ Qwikcilver Solutions Pvt. Ltd may contact the purchaser/redeemer of the GC for any such information.
Jabong along with its sellers reserves the right to change the terms and conditions of the Gift Card, including extending, withdrawing or discontinuing the same without notice, at its sole discretion.
All orders would be subject to availability at the time of purchase and will be governed by the standard terms and conditions on jabong.com. In case of return of the purchased item, please refer to the "Return Policy" on our website or write to care@jabong.com
All disputes arising out of or in connection to this scheme are subject to exclusive jurisdiction of the courts in Delhi only.
Jabong Digital Gift Cards are not valid on 22K & 24K Gold Jewelry, Precious Jewellery, Gold Coins & Smartwatches
Note: A convenience fee might apply on the purchase at the payment gateway.
+ read more